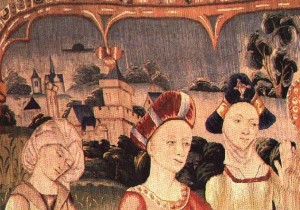 (Last Updated On: January 20, 2016)
Date: 140?
Location: Fundao  portugal
Summary: A little girl disappears for three days. It is found and she finally told when she was taken by a "white lady" who had offered him water to drink in a "bell".
Source:
---
Date: 140?
Location: Basilica Notre-Dame in Beaune, Burgundy
Summary: "The Magnificat" Created in the 15th century. It depicts the life of Mary.  A Hat shaped object can be clearly seen in the tapestry . ABOVE
Source:
---
Date: 1400?
Location: Florence, Italy
Summary: On the canvas of Masolino Da Panicale (1383-1440), in the Church of Santa Maria Maggiore, depicting Jesus and Mary on very non vaporous "lenticular clouds" (flat and circular), or accompanied by an armada of flying saucers stretching beyond the horizon.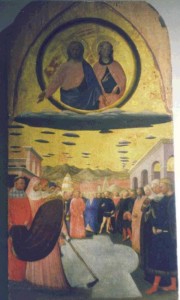 Source: The Miracle of the Snow
---
Date: 1400
Location: Cajamarca, Argentina
Summary: God the rainbow, UR a drawing dating from 1000 to 1400 after f-C. -and from the province of Cajamarca, in Argentina, there are "locked in the graphics of i (¬ God-Arc en Ciel" four singular representations whose interpretation may be: the figurative ¬ tion of figures dressed ¬ combination of sounds, or robots. be fu ¬ figuration Sees fitted caps and even connected to the ground by their scales.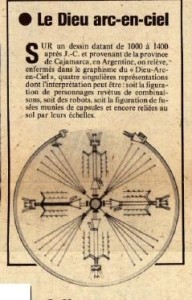 Source:
---
Date: June 14, 1403
Location: Russia
Summary: Three objects appeared in the sky on June 14, 1403. They were "sun-like," and they emitted blue, green, and crimson rays. They formed a pattern that was something "like an arc." The last object was cross-like, great in size, and it appeared to remain, pulsating, at the heart of the moon. It hovered there for over an hour before disappearing.
Source:
---
Date: June 30, 1400
Location: Myers Spring Canyon, Texas
Summary: what I have is a picture of stone age art painted at myers spring canyon that looks like a shaman standing next to a ufo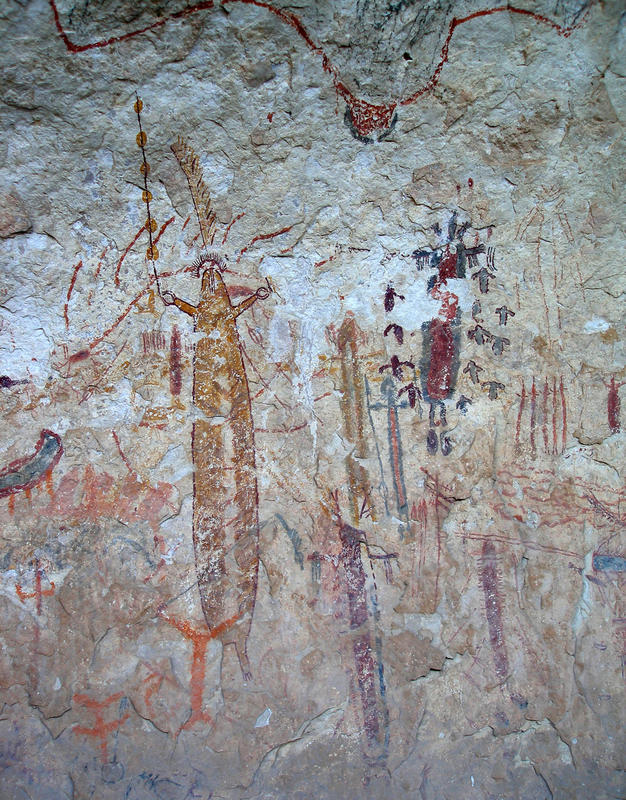 Source: NUFORC
---
Date: 1404
Location: China
Summary: "Volume Nian Qi Ming," Yongle Yongle year (1404) Dragon October 14, with stars like light yellow,
Source:
---
Date: 140?
Location: China
Summary: This is an old Chinese illustration from a fictional book entitled "Illustrated Survey of Weird Countries" (c.1400 A.D.) and had the following original caption: "Ji Gung Land: The people could make flying cars that travelled far with a suitable wind. In Tarng's day (c.1700 B.C.), Ji Gung people flying a car on a westerly reached Yew Jo. Tarng dismantled their car so it could not be demonstrated to the people … Later an east wind came on which he had them fly the car back to their own country [5,000 km] west of our gateway."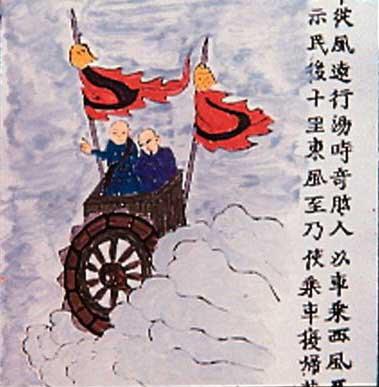 Source:
---
Date: 1400's
Location:
Summary: This 15th century fresco from Kiev seems to show Jesus in a rocket type device. Notice that the attendants seem to be wearing helmets like the glass globe space helmets from popular science fiction ~ more than simple haloes, these completely encircle the heads.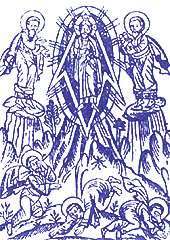 Source:
---
Date: September 16 1408
Location: Rome, Italy
Time:
Summary: Three "stars" were seen to fly over Rome. The incident was described by Antonio Di Pietro, canon of the Vatican, in his Diarium Romanum (Diary of Rome from 1404 to 1417), now conserved in the Vatican Archive. Di Pietro narrates that on that evening he was going to supper with friends near where the ancient Basilica of Saint Peter stands today.
"Suddenly after sunset…we saw…a beautiful star that, coming from the sky of Tarrione, headed towards Castel Sant' Angel with two other small, splendid bright stars. And we were all very surprised by that spectacle."
Source: Antonio di Pietro, Diarium Romanum (Diary of Rome from 1404 to 1417), preserved at the Archivio Capitolare Vaticano. This Latin manuscript was found in the Library of Modena by L. A. Muratori, who inserted the text in Volume XXIV (ed. 1734) of the Rerum Italicarum Scriptores. See also Coelum astronomy magazine, No. 5-6, Ma> June 1977, article "Gleanings from science fiction medieval texts" by Umberto Dall'dmo, 107. Credit: Umberto Cordier.
---
Date: 1411
Location: Arras France
Summary: Jacques Duclerc relates in his memoirs that "steel rod" was seen in the sky for an hour and a quarter.
Source:
---
Date: October 25, 1415
Location: Agincourt (or Agincourt in old French) Pas de Calais France
Summary: That day took place the battle of Agincourt in the Pas de Calais, which was won by British troops of Henry V with those of French, superior in numbers. That day the English archers were considered the real winners, but most of them affirmed that they had subsequently been helped by "fiery beings that moved through the air at high speed and throwing rockets fire on the enemy. " We can not exclude the use of powder at the time known and widely used in conflicts
Source: Michel BOUGARD: "The chronicle of UFO" – Delarge 1977 p.73
---
Date: July 2, 1420
Location: Castle Godego, Treviso, Italy
Summary: In the evening a Hungarian merchant, Peter Tagliamento, was leading his herd of cattle to Bassano del Grappa. As he came to an area of thick brush, close to Castel di Godego, he realized he had lost the way. All around him were only shadows, the woods, and deep silence. In despair, Peter started praying and suddenly he saw a great light. Still trying to realize where he was and what was happening, Peter saw a young woman of great beauty, who told him how to get to the road towards Bassano, but requested that a chapel be built at that place. She planted a cross in the earth as proof of her visit. Peter found his herd and reached the leaders of the community of Godego to fulfill the mandate he had received. At first no one believed him, but they found the cross planted in the woods. This convinced them and they decided to erect a chapel, where
people came in solemn processions.
Source: Marino Gamba, Apparizioni mariane nel corso di due millenni (Udine: Ediz. II Segno, 1999).
---
Date: 1420
Location: San Francesco in Arezzo Italy
Summary: In this fresco exposed to the Church of San Francesco in Arezzo in Italy can be seen lenticular clouds. The lenticular clouds are rare and involve them in some of UFOs by form on the concept of camouflage or hidden form during penetration of a craft in the atmosphere
Source:
---
Date: 1425
Location:
Summary: Baptism of Christ by Fra Angelico c. 1425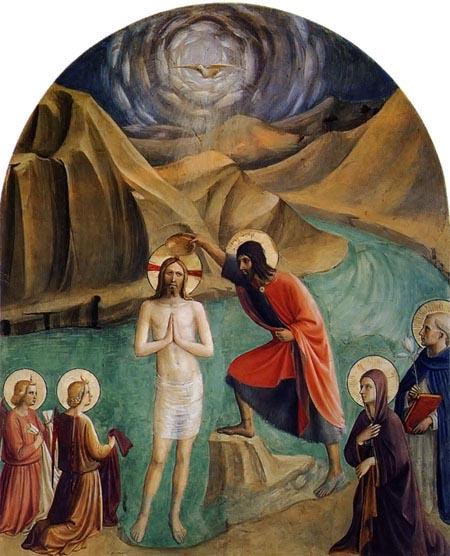 Source:
---
Date: March 3, 1428
Location: Forli Italy
Summary: The sky of Forli was again driven by strange things. Here's what the city archives tell us about it: "the third day of March, at half past one at night for many many people and trustworthy in all things, was seen in the city of Forli, above the Friars Minor, a very high flame-shaped tower was a column that seemed to fire rising into the air. people Forli saw them: many of them monks and also those of the plains. ""That same day March 3, you live in Forli a lamp of fire in the air, which lasted from 3:00 until the hour of the night".
Source: Filippo Guarini, I Terremoti a Forli (Croppi, Forli, 1880), 12-13 and 143.
---
Date: 1430: Strangeness in Jaen, Andalusia, Spain
---
Date: 1431
Location: Angkor Wat
Summary: The entire population of the village of Angkor Wat mysteriously vanished. Large airships were seen in the area.
Source:
---
Date: January 5, 1433
Location: Nice France / Ciudad Rodrigo, Salamanca, Spain
Summary: a luminous globe remained visible for many hours
Source: G. Tarade, Soucoupes volantes et civilisations d'outre-espace (Paris: J'Ai L 1969). Also Cielo e Terra, April 1972, 9.; Ballester Olmos, Vicente-Juan Vicente-Juan Ballester Olmos investigation files
---
Date: June 1444
Location: Bibbiena, Arezzo, Italy
Summary: Over three months multiple witnesses saw globes of light, golden in color, both inside and outside a church. The story by Don Massimo, a Benedictine monk, mentions that "turning to the church he and his companions saw a globe as thick as a printing press." Mr. Lorenzo Piovano of Bibbiena stated that he saw more lights day and night, moving around the church and leaving a smell of remarkable sweetness. Don Massimo is careful to add that the mayor and others who ran into the church saw nothing, but they did notice the smell.
Source: Don Massimo's manuscript of "Miraculous facts that occurred near Bibbiena, etc." inserted in the Moreno Frullani Collection No. 29, 56, in the Riccardiana library in Florence.
---
Date: 1449
Location: China
Summary: "Ming Chronicle": "Ming Hidemune Orthodox 14 years (in 1449) in August of the Xinwei day, month, day and see, and Japan and that"
Source:
---
Date: May  29, 1453
Location: Constantinople
Summary: "Every night [during the siege by the Turks] a fire descended from the sky, stood over the City, and enveloped her with light all night long. At first the Christians read this light as a sign of God's wrath and the coming destruction of the city, but initial success against the Turks led to the reinterpretation that God had sided with the Christians and that they would prevail. "Thus the sultan and his entire retinue became visibly depressed…and were considering lifting the siege…On the night before their scheduled departure the heavenly sign descended in its customary manner but did not envelop our City as it had before…[N]ow it seemed to be far away, then scattered quickly, and vanished at once. The sultan and his court were immediately filled with joy."
Source: Makarios Melissinos, "Chronicle of the Siege of Constantinople" in George Phrantzes, Fall of the Byzantine Empire (Amherst, MA: University of Massachusetts Press, 1980), 97-136.
---
Date: 1455
Location:
Summary: Baptism of Christ by Rogier van der Weyden
Source:
---
Date: Late December 1456
Location: Piacenza, Italy
Summary: "In the Annali Piacentini of Antonio da Ripalta, we read of the apparition "of four wonderful stars that proceeded directly from the east to the west and were positioned almost in the sign of a cross."
Source: U. Dall'Olmo, "Meteors, meteor showers and meteorites in the Middle Ages," Journal for the History of Astronomy 9, 1978.
---
Date: March 17, 1458
Location: Kyoto, Japan
Summary: Five "stars" appeared over Japan. They circled the moon, changed colors three times, then disappeared. The citizens of Kyoto, Japan, were so distressed by this event that they ran and hid, expecting the arrival of horrible disasters.
Source: The Taiheiki: A Chronicle of Medieval Japan, trans. Helen Craig McCullough (North Clarendon, VT: Tuttle Publishing, 2004). 
---
Date: 1460 – 1465
Location:Florence
Summary: "La Tebaide" ~ Academy of Florence, painted c.1460-1465 by Paolo Uccello The close-up (right) shows a reddish, classic saucer shaped UFO near Jesus. In addition, the tall pine trees in the foreground display the same patterns as seen in the lenticular clouds of other similar religious UFO paintings.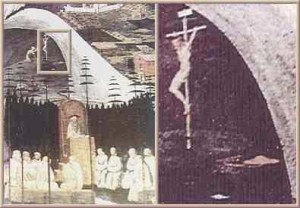 Source:
---
Date: October 1461
Location: Metz, France
Summary: "Between Saint Remy's day (October 1st ) and All Saints' Day (November 1st ) numerous and marvelous signs like great firebrands the length of four fathoms and a foot large were seen in the air. "It lasted for half of a half quarter of an hour and was seen twice. Some people also said they had seen by night the like of a battle, and heard a great uproar and noise." Two significant meteor showers happen in October: the Draconids (between the 8th and 10th day of the month) and the Orionids (around the 21st). The sightings might have been caused by these events, but meteors would not account for the report of "great uproar and noise."
Source: 
---
Date: November 1, 1461
Location: Arras, Nord-Pas-de-Calais, France
Summary: On November 1, a fiery thing like an iron rod of good length and as large as one half of the moon was seen in the sky, over… Arras, France for less than a quarter of an hour. This object was also described as being "shaped like a ship, from which fire was seen flowing."
Source: Jacques Vallee, "UFO's in Space: Anatomy of a Phenomenon", p. 9; Harold T. Wilkins, "Flying Saucers on the Attack", pp. 187, 188
---
Date: February 19, 1465
Location: Italy
Summary:  From the Notabilia Temporum of Angelo de Tummulillis: "There appeared many signs in the air in the same month, always in the morning, at daybreak. At the first hour of the 19th of this month a kind of great flaming ship appeared in the air towards the north and it appeared again on the 20th and 21st, not at the same time but later."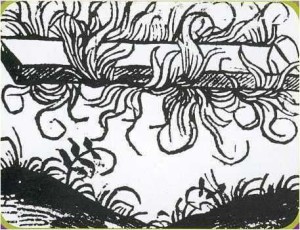 Illustration of Temporum Notabilia Temporum by Angelo Tummulillis.
Source: U. Dall'Olmo, op. cit.
---
Date: March 8, 1468
Location: Mt. Kasug Kasuga, Japan
Summary: …on March 8, 1468, a dark object, which made a 'sound like a wheel,' flew from Mt. Kasuga toward the west at midnight." Its size was estimated as 9 by 6 feet.
Source: Brothers Magazine I
---
Date: September  27, 1477
Location: Japan, location unknown
Summary:A luminous object crossed the sky. A cotton-like substance fell for the next six hours.
Source: Case summary in Brothers I
---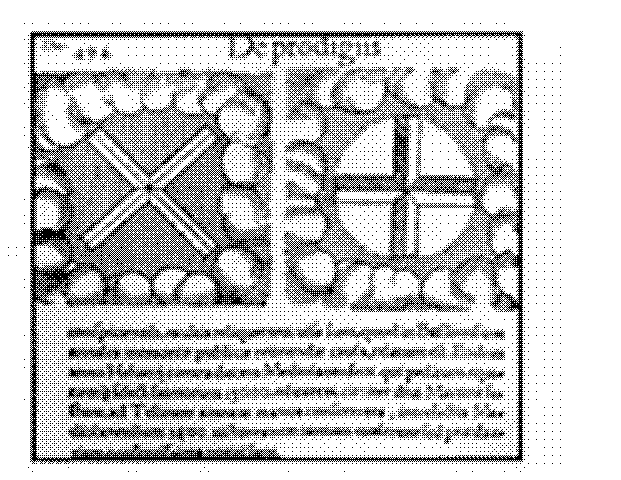 Date: 1478
Location: Milan, Italy
Summary:Two unexplained flying objects are observed during a battle.
An engraving of the scene accompanies the text in Lycosthenes' edition but there is no guarantee it was made especially for the book because images such as these were recycled from publication to publication.
Source: Lycosthenes, Prodigiorum ac ostentorum Chronicon (Basel, 1557).
---
Date: 1478
Summary: fireballs flew over the Swiss
Source: Michel BOUGARD: "The chronicle of UFO" – Delarge 1977
---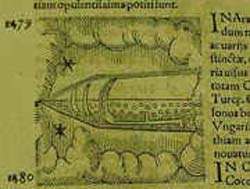 Date: 1479
Location: Arabia
Summary: There is a woodcut of UFO that was sighted over Arabia in an illustrated volume published in 1557.  The Prodigiorum Ac Ostentorum Chronicon, text by Conrad Lycosthenes, is one of the best-illustrated books of the Renaissance depicting medieval superstition.  On page 494 is a woodcut showing a spaceship seen over Arabia in 1479.
Source: The Prodigiorum Ac Ostentorum Chronicon
---
Date: October 18, 1482
Location: Albisola, Savona Province, Italy
Summary: The facts date back to when the inhabitants of two neighboring villages, Albisola and Stella, decided to fight over territorial issues. A bloody attack took place. The sky was totally clear of clouds, when, an hour after midday, a small white cloud came from the east, so bright it seemed to collect all the rays of the sun. Dazzled by the light, the fighters heard a sweet clear voice repeating three times the word "peace," and then everything disappeared. All were astonished, their eyes looking up at the sky, and they abandoned their weapons.
Source: Giovanni Bernardo Poggi in the manuscript of his Memoirs.
---
Date: August 1487
Location: Forli, Italy
Summary: "In that same year, on a morning (two hours before day) a big star seemingly appeared, coming from the mountain and going toward Ravenna. It looked quite like a butterfly flying in the air. I saw it and so did a lot of peasants who had put either wood or wheat onto their carts, and also those coming to Forli. I was in the country and had risen to come to Forli in the cool hours. It lasted a very short time. Some people say they had seen it when on the mountain, half an hour before." Others saw it as a huge 'cartwheel' floating in the sky.
Source: Leone Cobelli, an Italian historian, in Cronache Forlivesi dalla Fondazione delttf Citta all'anno 1498 (Bologna, 1874).
---
Date: 1490 A.D.
Location:  Ireland
Summary: Silvery disc-shaped object over church at morning mass. UFO flew over church several times. Bell dislodged, cows burned.
Source:  Phillips, Ted R. Ted Phillips investigation files
---
Date: 1490 A.D.
Location:
Summary: …~ "The Assumption of the Virgin" ~ Painted circa 1490 ~ by an unknown artist. Saucer shaped "clouds" intrigue modern ufologists. Could so many have appeared in the sky at one time? Or, are the hat shaped UFOs depicted so numerous here to -punctuate- certain events as being particularly holy?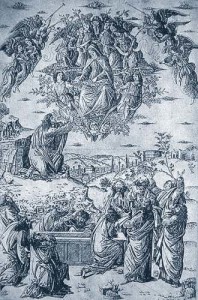 Source:
---
Date: 1491
Location: Vladimir, Russia
Summary: The apparition in the air of the Saint Grand Prince Alexander Nevsky. "In the year 6999 (of the old Russian calendar) in the great city of Vladimir there was an awe-inspiring apparition and frightful and terrible sign of the wrath of the Lord. Thus the Lord punishes us and leads us from sin toward repentance. "On a certain day after morning Mass many saw the following appearance above the stone church of Our Lady and the residence of the abbot: just above the place where the remnants of the Saint prince Alexander repose, on the very dome of that church, they saw a strange sign.
"It was as if a light cloud or thin smoke spread around, white as a pure frost and bright as the sun. Then the people saw the likeness of the Holy Prince on a white horse rising up toward the sky. The people who saw it were very frightened and began to toll the bells all over the city."
Source: Francesco Guicciardini, Storia d'ltalia (Turin: Giulio Einaudi, 1971).
---
Date: 1491: Fazio Cardano Sighting in Milan
---
Date: October 11, 1492 A.D.
Location: Atlantic Ocean near Guanahani, Bahamas
Summary: Two hours before midnight Christopher Columbus and a crew member saw a light alternately going higher and lower. The actual passage reads as follows: "The land was first seen by a sailor called Rodrigo de Triana, although the Admiral at ten o'clock that evening standing on the quarter-deck saw a light, but so small a body that he could not affirm it to be land; calling to Pero Gutierrez, broom of the King's wardrobe, he told him he saw a light, and bid him look that way, which he did and saw it; he did the same to Rodrigo Sanchez of Segovia, whom the King and Queen had sent with the squadron as comptroller, but he was unable to see it from his situation. "The Admiral again perceived it once or twice, appearing like the light of a wax candle moving up and down, which some thought an indication of land. But the Admiral held it for certain that land was near; for which reason, after they had said the Salve which the seamen are accustomed to repeat and chant after their fashion, the Admiral directed them to keep a strict watch upon the forecastle and look out diligently for land, and to him who should first discover it he promised a silken jacket, besides the reward which the King and Queen had offered, which was an annuity of ten thousand maravedis."
Source: Personal Narrative of the First Voyage of Columbus to America: From a Manuscript Recently Discovered in Spain, trans. Samuel Kettell (Boston: T. B. Wait and Son, 1827), 32-33. "
---
Date: 1492
Location: Fesula, Italy
Summary: Moreover, it was sayd that burning torches ran up for three nightes togeather from the hilles of (Fesula) upon that Church where the bodies of the house of the Medices are buried, somewhat to have sparckled and immediatelye to have vanished away […]
Source: Lycosthenes, Prodigiorum ac Ostentorum Chronicon.
---
Date: 1494
Location: Apulia, Italy
Summary: "Upon the coming of the little King Charles the FIFth in Naples…in Apulia during the night three suns appeared in the middle of the sky which was all around covered with clouds, accompanied by many lightnings and horrible thunders."
Source: Francesco Guicciardini, Storia d'ltalia (Turin: Giulio Einaudi, 1971).
---
Date: October 11 1492     10:00 PM
Location: Sargasso Sea Atlantic Ocean
Summary: Christopher Columbus and Pedro Gutierrez while on the deck of the Santa Maria, observed, "a light glimmering at a great distance." It vanished and reappeared several times during the night, moving up and down, "in sudden and passing gleams." It was sighted 4 hours before land was sighted, and taken by Columbus as a sign they would soon come to land.
Source: 
---
Date: September 20, 1498
Location: Japan
Summary: A bright object resembling an umbrella crossed the sky with a rumbling sound.
Source: Brothers 1,1, Dainihon Jisin Serio Nihon-jisinsiriyo; Takao Ikeda, UFOs over Japan.
---
Date: 1499
Location: South Atlantic, off Africa
Summary: A phenomenon difficult to explain as a meteor occurred when Pedro Alvares Cabral left Portugal on an expedition of 13 vessels and a crew of 1,200 men. The expedition was plagued with incidents. However, had it not been for one such near-disaster they would never have headed west and gone down in history as the first men to reach Brazil in the year 1500. As they were sailing around Africa they saw a luminous object in the southern sky. It only remained in sight for 8 minutes, moving slowly towards the Cape of Good Hope. Shortly after, a hurricane arose. Six ships sank or ran aground. The remaining seven went on to the Americas. These vessels made it back to Lisbon bringing with them a fortune in spices and news about the discovery of Brazil and Madagascar.
Source: W. B. Greenlee, ed., The Voyage of Pedro Alvares Cabral to Brazil and India (London: Hakluyt Society, 1937).
---
Date: 1406-1469
Location: Sur la toile de Filippo Lippi
Summary:  ou Domenico Ghirlandaio, "La Vierge et Saint-Jean enfant", conservé au Palazzo Vecchio, un homme et son chien observant attentivement un objet sombre semblant émettre des rayons lumineux.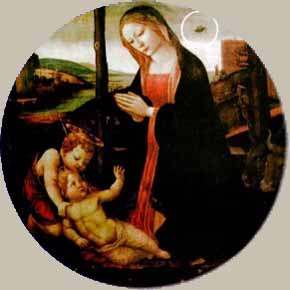 ~ "The Madonna with Saint Giovannino" ~
Above Mary's left shoulder is a shining, or glowing, disk shaped object.
A man and his dog can clearly be seen looking up at the floating object in the composite below.
Painted in the 15th century, Palazzo Vecchio lists the artist as unknown ~ although attributed to the Lippi school.
In 1496, in "The Annunciation" stored at the National Gallery of London, Carlo Crivelli (1430-1496) replaced by the Archangel Gabriel a "UFO" which launches a beam of light on the front of the Saint V L'Annonce Emidius (1486)
Painting by Carlo Crivelli (1430-1495) "Classified Emidius Saint" (1486) seen at the National Gallery, London. A shiny disk above the table, by magnifying one can see angels swirling inside this big cloud in a circle …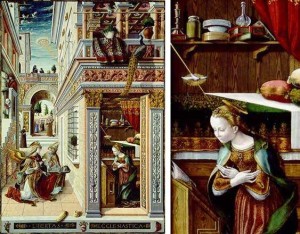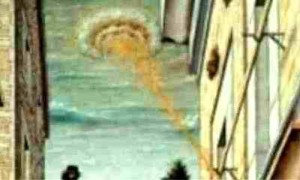 Detail of "UFO" from "The Annunciation" by Carlo Crivelli.
Source:
Related articles