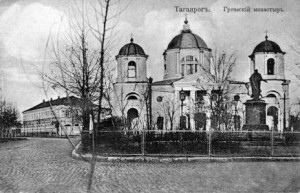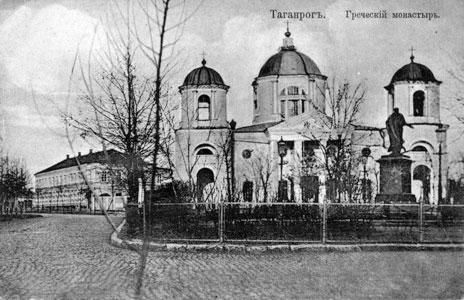 (Last Updated On: January 1, 2018)
Date: 1825: Kolomenskoye, Moscow, Russia
---
Date: 1825
Location. Poland, Ohio
Time:
Summary: A brilliant object was visible in the sky for more than an hour.
Source:
---
Date: January 2 1825
Location. Arezzo, Toscana, Italy
Time: Night
Summary: Altitude of 10 fathoms or less, a luminous object in form of truncated cone suddenly appeared, with globe of fire in fore part. Traveled 350 paces under 5 seconds. Lit up area like day. No smell, no explosion.
Source: Corliss, William R. Remarkable Luminous Phenomena in Nature The Sourcebook Project, Glen Arm, 2001
---
Location. at sea near Hawaii, Pacific
Date: August 12, 1825
Time:
Summary: English naturalist Andrew Bloxam and others saw a large red luminous object rise, illuminating everything. It fell out of sight, rose and fell again: "About half past 3 o'clock this morning the middle watch on deck was astonished to find everything around them suddenly illuminated. "Turning their eyes eastward they beheld a large, round, luminous body rising up about 7 degrees apparently from the water to the clouds, and falling again out of sight, and a second time rising and falling: it was the color of a red-hot [cannon] shot and appeared about the size of the sun.. .It gave so great a light that a pin might be picked up on deck."
Source: The Diary ofAndrew Bloxam (Honolulu, 1925). As reported in UFO Investigator (NICAP) 4, No. 5 (March 1968)
---
Location. Stapleton England
Date: December 18 1825
Time:
Summary: Objects were observed. Physiological effects were noted. An unidentified object at close range and its occupants were observed by two male witnesses in a forest.
Source:  FSR
---
Date: 1825: Taganrog, Russia did Alexander the First not die and go to Heaven?
---
Location. English Channel
Date: 1826
Time:
Summary: Sailors in the Channel reported seeing a gray, torpedo-shaped object flying overhead.
Source:
---
Location. Saarbrucken, Germany
Date: April 1, 1826
Time:
Summary: A grayish object, whose size was evaluated at over 1 meter, rapidly approached the ground with a sound like thunder and "expanded like a sheet."
Source: American Journal of Science and Arts 26 (July 1834): 133; The Quarterly Journal of Science, Literature, and Art, by the Royal Institution of Great Britain 24 (July to Dec. 1827): 488; E.F.F. Chladni, "Ueber eine merkwurdige meteorische Erscheinung, am 1. April 1826, nicht weit von Saarbriicken", in Annalen derPhysik 83, no. 7 (Leipzig, 1826): 372-377
---
Location. Tjerwerk, Friesland, The Netherlands
Date: 1827
Time: night
Summary: A man named Lieuwe Klaasens together with a local pastor saw a fireball descending from the sky and land nearby. The fireball took the shape of a human; it then strolled towards a small "terp" (an ancient Frisian burial ground). There, the fiery human rolled itself up to a ball and disappeared in the air.
Source: M D Teenstra, K. ter Laan, Folkloristisch Woordenboek Van Nederland
---
Location. North of Wingen Australia
Date: March 1828
Time: unknown
Summary: The Australasian Post reported that a large silvery cigar shaped object had landed at the Burning Mountain Nature Reserve setting fire to all the vegetation and killing nearby cattle. "The noise was dreadful and there was a serious of loud bangs." Tall man-like strangers later appeared in the town. They never said a word but always pointed to the things they wanted. Around the same time several locals and domesticated animals disappeared.
Source: Strange Nation
---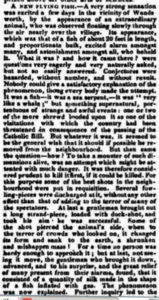 Location.  Wandsworth, England
Date:  1829
Time:
Summary: "A very strong sensation was excited a few days ago in the vicinity of Wandsworth, by the appearance of an extraordinary animal, who was observed floating slowly through the air nearly over the village. Its appearance, which was that of a fish of about 20 feet [6 m] in length, and proportionate bulk, excited alarm amongst many, and astonishment amongst all, who beheld it.What it was? and how it came there? were questions very eagerly and naturally asked, but not so easily answered. Conjectures were hazarded, without number, and without result. Nobody could give a satisfactory explanation of the phenomenon, though every body made the attempt.
"It was a fish–it was a serpent,–it was 'very like a whale' but something supernatural, portentous of strange and awful events: one or two of the more shrewd looded upon [called out] it is one of the visitations with which the country had been threatened in consequence of the passing of the Catholic Bill [Catholic MPs could sit in the British parliament for the first time since 1728]. But whatever it was, it seemed to be the general wish that it should if possible be removed from the neighbourhood. But then came the question–how? To take a monster of such dimensions alive, was an attempt which might be attented with much danger. It was therefore considered prudent to kill it first, if it could be killed.
"For this purpose some of the best shots in the neighbourhood were put in requisition. Several fowling-pieces were discharged at it, without any other effect than that of adding to the terror of many of the spectators. At last a gentleman brought out a long strand-piece [a gun for waterfowl], loaded with duck-shot, and took his aim, he was successful. Some of the shot pierced the animal's side, when to the terror of crowds who looked on, it changed its form and sank to the earth….
"For a time no person was hardy enough to approach it; but at last, not seeing it move, the gentleman who brought it down, advanced, and to his surprise, and the great relief of many present from their alarms, found, that it consisted of a quantity of silk made in the shape of a fish inflated with gas. The phenomenon was now explained."
The Wandsworth "flying monster" was a novelty hydrogen-filled blimp. It'd escaped from the Vauxhall Pleasure Gardens, a fashionable amusement park in London and drifted a few miles to the village where it met its Waterloo. The press noted "The proprietors, it seemed, had prepared the monster, intending that it should rise from the waters of the Hydro-pyric Temple, and float amidst the fire-works over the heads of spectators. Having been properly inflated, it was slightly fastened to that part of the temple from which it would ascend, but, in the course of the night, the strings became loosened and it escaped!"
Source:  London Standard 18 June 1829, p4.
Sydney Monitor (NSW) 3 March 1830, p4
http://www.fiddlersgreen.net/models/Aircraft/Balloon-Charles.html
---
Location. Kensington, Pennsylvania
Date: July 17, 1829
Time:
Summary: Between 11 P.M. and midnight "a meteor of rather singular character" arose from the neighbourhood of the Schuylkill, passed over Kensington and the river Delaware, and disappeared behind the woods of Jersey. "A long trail of light, like that of a shooting star was seen to follow it in the beginning of its ascension; large sparkles that separated themselves from it and descended slowly, were distinctly visible until hidden from view by the tops of the houses. Its motions were rapid, irregular, and wavering, like the fluttering of a kite or the rocking of an air balloon. "Its appearance was of a deep red colour, and remarkably brilliant, seemingly about half the size of the moon. It arose until it crossed the Delaware, when it appeared but an inconsiderable speck scarcely discernable, and then descended with astonishing velocity until within a short distance of the horizon, where it remained stationary for a few moments. "Suddenly it became exceedingly large and brilliant, sparkles again separated from the main body, and descended as before. It soon after became dim and disappeared behind the trees. Altogether, I should suppose it was visible about fifteen or twenty minutes."
Source: Hazard's Register of Pennsylvania A, 3 (July 18, 1829): 48.
---
Location. Joseph Smith and Moroni
Date: 1820s:
Time:
Summary: Joseph Smith, at the young age of 14 or 15 in his hometown of Manchester, New York, reported that a "cloud of darkness" descended over him, but then a "pillar of light" suddenly appeared and two luminous beings stepped out of it. One of these visitors was the angel Moroni, who returned several times, and eventually led Smith to a set of golden plates which he translated through a pair of spectacles he called "Urim and Thummim." These plates formed the basis of the Book of Mormon. The "angel" Moroni reported that there were many inhabited worlds in the cosmos, and that the God of the Bible was really a being which dealt near the star Kolob. Mormonism has a strange obsession with genealogy and some curious doctrines about the afterlife, and it also suggests that there may have been ancient advanced civilizations in the Americas which were destroyed in a cataclysm. Recently, some documents have come to light – many of which may have been forgeries – that suggest that, before he became a religious prophet, Smith may have been involved in "scrying" for gold (e.g. 'gold-digging'), alchemy, occultism, and Freemasonry.
Source:
---
Date: 1830: Mermaid near Benbecula, Outer Hebrides, Scotland
---
Location. Faridpur, India
Date: February 9, 1830
Time: 12 o'clock P.M.
Summary: "I had been doing my work at a meadow, when I perceived at the hour of 12 o'clock the sky gather clouds, and began to rain slightly, then a large fish touching my back by its head fell on the ground. Being surprised I looked about, and behold a number of fish likewise fell from heaven. They were saul, sale, guzal, mirgal, and bodul. I took 10-11 fish in number, and I saw many other persons take many."
Source: The Journal of the Asiatic Society of Bengal; December 1833.
---
Location. Faridpur, India
Date: February 19, 1830
Time: 12 o'clock P.M.
Summary: "On Friday, at 12 o'clock P.M., in the month of Phalgun…when I was at work in a field, I perceeived the sky darkened by clouds, began to rain a little and a large fish fell from the sky. I was confounded at the sight, and soon entered my small cottage, which I had there, but I came out again as son as the rain had ceased and found every part of my hut scattered with fish; they were bodul, mirgal and nouchi, and amounted to 25 in number."
Source: The Journal of the Asiatic Society of Bengal; December 1833.
---
Location. Paris, France
Date: Summer 1830
Time: night
Summary: 24-year old novice of the Sisters of Charity, Catherine Laboure, was awakened by a young child, about five years old, dressed in white who called to her: "Catherine, Catherine, wake up. Come to the chapel, the Blessed Virgin is waiting for you." Catherine decided to follow the child down to the chapel. The candles were burning as if at a midnight Mass. About 30 minutes later, at midnight, she heard a noise that sounded like the rustle of a silk dress. When she looked up she saw a beautiful young woman surrounded by a blaze of white light sitting in the Father Director's chair. The child who brought her to the chapel told her: "Here is the Blessed Virgin!" Catherine fell to her knees and placed her hands on Mary's lap. During this discourse with the Blessed Mother, Catherine was warned of dire future occurrences. Mary told her: "The times are very evil. Sorrows will befall France; the throne will be overturned. The whole world will be plunged into every kind of misery." Catherine was to have another encounter that same November.
Source: Our Lady of The Miraculous Medal
---
Location. England (southern part)
Date: June 30, 1830
Time:
Summary: I will never forget one day when he told us about about an occurence in 1830, long before planes, in southern England on a clear summer afternoon that he claims was reported to the authorities by peasants working in the fields of a large cigar shaped craft that came floating across the clear blue sky above the field they were working in and that it had what appeared to be some type of windows on each side. It appears this caused much talk in the area and was written up in the publications of the time.
Source: NUFORC
---
Location. Comrie, Scotland
Date: October 23, 1830
Time:
Summary: Objects were observed. Metallic traces found. An unidentifiable object was observed at close range and caused physical effects.
Source: British Assn Advancement of Science
---
Date: 1831: Large man-like figure near Zarnow, Germany
---
Location. Thuringia, Germany
Date: 1831
Time:
Summary: It was reported that a brilliant luminous disc was seen in the night sky.
Source:
---
Location. Puget Sound, Washington
Date: May 31 1831
Time: 20:10
Summary: A hovering object was observed. One object was observed on the ocean for 80 minutes.
Source:  Aerial Phenomena Research Organization
---
Location. Lisboa, Portugal 
Date: May 5 1832
Time:
Summary:  An unidentified object was sighted, but with appearance and behavior that most likely would have a conventional explanation. One object was observed by one male witness (Fisher).
Source:   Contact U.K.
---
Location. Tyrol, Germany
Date: November 14, 1832
Time:
Summary: A ball of bright light accompanied by "falling stars" hovered for 15 minutes. Our primary source is based on a letter received from Bruneck (Tyrol, Germany). While it is true the
phenomenon occurred at the usual time of the Leonids meteor shower, the event does not naturally involve a ball of light suspended in the sky for a quarter of an hour, so the case merits our attention.
Source: The Annual Register or a view of the History, Politics and Literature of the year 1832 (London, 1833): 444-445.
---
Location. Canada
Date: 1833
Time:
Summary: A large, square, luminous object was seen for more than an hour over Niagara Falls.
Source:
---
Location. North Carolina
Date: March 16, 1833
Time: 6:35 P.M.
Summary: At 6:35 P.M., during twilight, a man observed an object as bright as Venus, about the same elevation but a little to the right of it. It was running in a northerly direction until it changed course, running parallel to the horizon. It assumed a serpentine shape and became stationary extending over 12 to 15 degrees and retaining its brilliance for about two minutes. The witness reports: "It continued gradually to fade, appearing more and more216 like a thin whitish cloud; and at 6:40 the last vestige of it disappeared, being visible just 5 minutes."
Source: Boston (Mass.) Investigator, 17 May 1833.
---
Date: 1833:  Mermaid off of Isle of Yell, Scotland 
---
Location. Poland, Ohio
Date: November 13, 1833
Time: 0500
Summary: Luminous object in northeast for several minutes, possibly as long as an hour. Very brilliant, shaped like a "pruning hook" observed by a male witness for over 15 minutes (Pease).
Source: Fort, Charles Book of the Damned Boni-Liveright, 1919
---
Location. Niagara Falls, N.Y.
Date: November 13, 1833
Time: night
Summary: A large luminous square object was observed in the sky for an hour. It remained stationary, and then went away slowly. shaped like a "square table" stationary in sky, emitted large rays of light.
Source: American Journal of Science 25: 391.
---
Location. West Point, N.Y.
Date: November 13, 1833
Time: Dawn
Summary: A woman milking her cow at sunrise saw an object descend "with a sposh" sound. She discovered a flattened, jelly-like transparent mass. By 10 AM it had sublimed.
Source: Lore, Jr., Gordon I. R. Mysteries of the Skies: UFOs in PerspectivePrentice-Hall, Englewood Cliffs, 196
---
Location. Cologne (Koln), Germany
Date: 1834
Time:
Summary: Bright object flying NE-N parallel to the horizon, reappeared and split in two.
Source: Frangois Arago, Astronomie Populaire, vol. IV (Paris, 1840): 266.
---
Location.Cosenza, Italy
Date: October 6, 1835
Time:
Summary: A pyramid-shaped meteor appears and heads off towards a mountain, leaving a "gloomy tail." It first appeared as a lighted object seen flying West of Cosenza. It rose into the air and changed shape, leaving a vaporous trail, moving slowly towards the south. It followed a parabolic curve and disappeared towards Fiumefreddo harbor.
Source: "Casistica dei Fenomeni Straordinari" in Orizonti Sconosciuti 5, "Periodo: 1819-1857" (1976); Nicola Leoni, Delia Magna Grecia e delle tre Calabrie (Napoli, 1844), 325-326.
---
Date: 1836: Szeged, Hungary Sightings
---
Location. Cherbourg, France
Date: January 12, 1836
Time: 6:30 P.M.
Summary: A "luminous body, seemingly two-thirds the size of the moon" was witnessed at 6:30 P.M. "Central to it there seemed to be a dark cavity." The object was traveling at around half a mile per second at an altitude of 1000 feet or so and seemed to rotate on its axis. It cast shadows on the ground as it whistled past.
Source: Rept. British Assoc. for the Advancement of Science 77 (1860). The object was not 4doughnut-shaped' as many have written.
---
Location. Szeged, Csongrad, Hungary
Date: July 1836
Time:
Summary:  Close encounter with a an unidentified craft and its occupants. More than one object was observed by numerous witnesses in a city.
Source: Hobana, Ion UFOs from Behind the Iron Curtain Bantam Y8898, New York, 1975
---
Location. Saratov Province, Russia
Date: July  8, 1836
Time: 10 P.M.
Summary: At 10 P.M. there appeared, almost on the horizon to the north, a globe-shaped whitish mass as large as the moon; for several minutes it hovered in the air, after which it slowly descended to the ground and disappeared, leaving a zigzag trail.
Source: Mikhail Gershtein, Potu storonu NLO (Beyond the other side of UFOs) (Moscow: Dilya ed., 2002), 159, citing Utkin S.NLO 200 let nazad? (UFO 200 years ago?) in the newspaper Zarya Molodezhi, Saratov, 3 Feb. 1990.
---
Location. Scarborough, England
Date: 1837
Time:
Summary: By a clear starlight night Mr. White, chief officer of the preventive service of the Scarborough station ("a most respectable authority") was proceeding from his house to a cliff where one of his men, named Trotter, had the lookout. According to a letter from his son to a science magazine, "He passed a plantation in his way, in which he heard a loud crash among the trees, as if it had been the fall of an aerolite (…) He saw before him what he thought were balls of fire, about the size of an 218 orange, appearing and disappearing with an undulating motion, about five or six feet from the ground; not accompanied by any noise, nor did they move over the hedges; but he observed other luminous appearances shooting across the road and sky, emitting a hissing noise like a rocket, but not so loud. "The same appearances (particularly the latter) had so frightened the man, that he had actually hid himself for fear of them."
Source: The Magazine of Natural History (Longman, Orme, Brown, Green and Longmans, 1837): 550-551.
---
Location. Geneva, Switzerland
Date: August 9 1837
Time: Night
Summary: Three objects, larger than a star, were observed.
Source: Contact U.K.
---
Location. Tirgu Neamt, Romania
Date: August 29 1837
Time: Night
Summary: One object, about 10 feet across, was observed on a farm.
Source: Hobana, Ion UFOs from Behind the Iron Curtain Bantam Y8898, New York, 1975
---
Location. India
Date: 1838
Time:
Summary: A flying disk, about the apparent size of the moon but brighter, from which projected a hook-shaped appendage, was reported by G. Pettitt. It was visible about 20 minutes.
Source: Baden Powell. "A catalogue of observations of luminous meteors," Annual Report of the British Association for the Advancement of Science (1849): 1-53, at 2, 44.
---
Location. Green Dragon Alley, UK
Date: February 18 1838
Time: Night
Summary:  Close encounter with a an unidentified craft and its occupants. An unidentified object at close range and its occupants were observed by two witnesses (Scales).
Source: Sparks, Brad Computer Catalog of Type 9 Cases (N=150)
---
Location. Old Ford, UK
Date: February 20 1838
Time:
Summary: Close encounter with a an unidentified craft and its occupants. An unidentified object at close range and its occupants were observed by two witnesses (Alsop).
Source: Sparks, Brad Computer Catalog of Type 9 Cases (N=150)
---
Date: 1838: Spring Heeled Jack sighted in London, England
---
Date: 1838: Spring Heeled Jack Sighted in London
---
Date: 1838: Spring Heeled Jack still in London England
---
Location. Rome, Italy
Date: October 2, 1839
Time:
Summary: Astronomer De Cuppis of the Royal College: unknown body similar to a planet passes in front of the sun. This is one of the main observations selected by Le Verrier to compute his orbit of Vulcan. The object was "a perfectly round and defined spot, moving at such a rate that it would cross the sun in about 6 hours."
Source: E. Dunkin, "The suspected Intra-Mercurial planet." Monthly Notices of the Royal Astronomical Society 37 (February 1877): 229-30.
---
Location.  Pedang, on the coast of Sumatra
Date: 1841
Time:
Summary: Mr. M. N. Ward, a gentleman connected with the mission at Pedang, on the coast of Sumatra, has published a well attested account of a flying serpent seen by the narrator. He saw the animal fly from a tree at the height of some fifty or sixty feet, to another tree some forty fathoms distant. It supports itself in the air by drawing its belly, widening itself and forming an arch as far as the ribs extend, and forces itself ahead with the rapidity of a bird, by sinuous motions, like a serpent swimming. There is nothing in the reptile which bears any resemblance to a wing. Its length is about four feet, and bite is dangerous. Another description of flying or darting serpents, is described by the natives, whose bite is instant death. It leaps or flies only about half the distance of the other, and makes none of the sinuous waving motion in the air. This discovery, of the truth of which there can be no doubt, shows the portion of Scripture which speaks of "burning fiery serpents" had a literal fact for the basis of its figurative language, though the species is now extinct in the region spoken of in the Bible. What a terrible scourge must be such an animal. Give us the sterility of the frozen, rather than the fertility of the torrid zones with such drawbacks. Polar bears are more agreeable than flying serpents. –
Source:   Holly Springs Gazette (Holly Springs, Mississippi), August 04, 1841
---
Date: 1842: Man encounters Fairies in Stowmarket, England
---
Location. Orenburg, Soviet Union
Date: 1842
Time:
Summary: Small metal objects, perfectly hexagonal, fell out of the sky after a "strange cloud" appeared.
Source: Hobana, Ion UFOs from Behind the Iron Curtain Bantam Y8898, New York, 1975
---
Location.  Cupar, Scotland
Date: June 30 1842
Time:
Summary: A daytime disc was reported.
Source: Hatch, Larry
---
Location.  Bucharest (Bucuresti), Romania
Date: March 5 1843
Time: 01:00
Summary: One pyramidal object was observed by a male witness in a city for six hours.
Source: Contact U.K.
---
Location. Greenville, Tennessee
Date: April 9, 1843
Time:
Summary: According to the Greenville (Tennessee) Miscellany "About eight o'clock, there was seen in the south-western sky a luminous ball, to appearance two feet in circumference, constantly emitting small meteors from one or the other side of it. It appeared in brightness to outrival the great luminary of day. 2 "On its first appearance it was stationary one or two minutes, then, as quick as thought, it rose apparently thirty feet, and paused – then fell to the point from whence it had started, and continued to perform this motion for about fifteen times. Then it moved horizontally about the same distance, and for nearly the same space of time. At length it assumed its first position; then rose again perpendicularly about twelve feet, and remained somewhat stationary, continuing to grow less for an hour and a quarter, when it entirely disappeared."
Source: Brother Jonathan, Vol. 5:2 (May 13, 1843): 55.
---
Location. Quebec City, Quebec, Canada
Date: May 7 1843
Time:
Summary:  An object with the "resemblance of a ship" sailed through the air over Quebec, and cast a shadow on the ground.
Source: Colombo, John Robert UFOs over Canada: Personal Accounts of Sightings and Close Encounters Hounslow Press, Willowdale, 1991
---
Location. Warwick, England
Date: October 3 1843
Time:
Summary: A remarkable cloud passed over Warwick and Charles Cooper reported seeing three beings in the sky.
Source:
---
Location. Near Warwick Ontario Canada
Date: October 3 1843
Time: daytime
Summary: A man was laboring in a field under a slight rain when soon the sky became clear and the witness heard a distant rumbling coming from the west, he did not see anything so he kept working. The rumbling sound became louder and seemed to approach. The witness looked again and saw a strange cloud approaching and underneath the cloud, the saw three men, all three completely white in color. These men sailed through the air one following the other. The three men passed directly above the witness at treetop level. The men were motionless and seemed to emit "moaning" sounds. The moans sounded like loud "Woe's." The three figures eventually drifted out of sight.
Source: John Robert Colombo, UFOs over Canada
---
Location. Montreal S30M, Quebec, Canada 
Date: October 22 1844
Time: Around 2200
Summary: Nocturnal lights were reported
Source: Lore, Jr., Gordon I. R.  Mysteries of the Skies: UFOs in Perspective  Prentice-Hall, Englewood Cliffs, 1968
Related articles