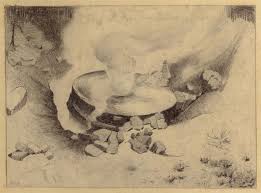 (Last Updated On: June 21, 2016)
Date: 1906
Location: Canada: In the North Atlantic, NE of Newfoundland, deck of the ship St Andrew.
Time: 
Summary: "I saw three meteors fall into the water dead ahead of the ship one after another at a distance of about five miles. Although it was daylight, they left a red streak in the air from zenith to the horizon. Simultaneously the third engineer shouted to me. I then saw a huge meteor on the port beam falling in a zigzag manner less than a mile away to the southward. We could distinctly hear the hissing of water as it touched. It fell with a rocking motion leaving a broad red streak in its wake. The meteor must have weighed several tons, and appeared to be 10 to 15 feet in diameter.  It was saucer shaped which probably accounted for the peculiar rocking motion. When the mass of metal struck the water the spray and steam rose to a height of at least 40 feet, and for a few moments looked like the mouth of a crater. If it had been night, the meteor would have illuminated the sea for 50 or 60 miles."
Source:
---
Date: 1906
Location: China Sea
Time: 
Summary: Giant luminous wheels were seen by a British steamer.
Source:
---
Date: 1906
Location: Woodville, England
Time:
Summary: A British UFO bulletin reportedly told that one evening of 1906, in England, whereas they walked between Great Navy Pit and Woodville, Mr. George Fowler and two of his friends noticed two silhouettes on a very close path. Fowler called them and decided to approach. As he did, the two silhouettes rose in the air and "disappeared" above the trees, which causes witnesses panic.
Source: Mufob, Vol. 5, #6."
---
Date: 1906
Location: Mitchell, South Dakota
Time: 
Summary: The Democrat-Herald newspaper, of Albany, Oregon, for August 27, 1973, reportedly told that in 1906, a boy named Herbert DeMott, from Mitchell, South Dakota, allegedly boarded an airship that had landed near his family's well. The boy claimed: "As I approached it, a door rolled back and I was welcomed inside. Its two occupants sat inside on camp stools." They looked like ordinary human beings and they spoke fluent English, but they would not tell him where they were from. The boy claimed the outer shell of the craft was filled with helium gas, and "when the lever was moved the magnetism from the Earth was cut off. In this fashion the ship was able to ascend." He claimed that the occupants took water from the farm's horse trough "for use in manufacturing electricity.
Source:The Democrat-Herald newspaper, of Albany, Oregon, for August 27, 1973
---
Date: June 1906
Location: Bertha, Nebraska
Time: evening
Summary: The author indicates that in June 1906, in the evening, in Burt County, Nebraska, USA, one Carlson, Swedish immigrant, 17-year-old, rode by horse-drawn carriage in direction of Bertha to go to a public party. The night had not fallen yet and little before sunset, the witness saw two young men walking before his carriage, at a distance of one half-mile, without obstacle to hide them for the harvests of the end of spring were done and all the landscape is "is flat on the level of the ground" according to the original expression, if one excludes the ditches on each side of the road.Each one of them had his jacket suspended on a shoulder. As Carlson approached these two men with the intention to invite them to go up in its vehicle, his horse expressed nervousness. When the carriage was no more than a half-dozen yards (5,50 m), and his horse became reluctant, he called the two walkers, offering to take them along. But at this time the horse became practically impossible to control, it stopped and started to move back. The witness spent less than one minute to take control of the animal, and when that was done both young people had disappeared. Jean Sider indicates that the ground was clear as far as the eye can see, and that there was no place where the two individuals could have hidden, not even in the not very deep ditches, without mentioning that daylight was still strong. Carlson knew all the young people of the neighborhoods, therefore as soon as he arrived at the dance hall, he looked in the assistance if he could recognize both "disappeared" persons, although he did not see their face. No dancer carries a jacket as those they had. When the ball is finished, he looks again in vain. Thus, he started to wonder whether these two characters could be something else that ordinary men, to end up thinking that he must have seen two ghosts. Jean Sider indicates that the source is Albert Rosales, according to a communication by Bill Carlson, witness son, wtc at mchsi com. Jean Sider comments on that "in the possibility of an authentic testimony, we rather think of a temporary or final body abduction of two ordinary young men who went to the ball. In which case, it would be demonstrated, once more, that the Aliens have no need for a flying machine to capture human beings any time and anywhere, and that they want that this is known, otherwise nobody would not see anything." He ensures that the reaction of the horse is a proof of authenticity because animals "are often disturbed by the side effects produced by the interferences of the phenomenon, whether visible or invisible."
Source:JEAN SIDER
---
Date: August 17, 1906
Location: Orinoco, Indiana
Time: 
Summary: A ufologist found an article in the Columbus Republican newspaper, Columbus, Indiana, USA, for August 18, 1906, page 5, with the headline "Saw an Airship." It told that "last night", one John Warner, who lives in Orinoco, Indiana, and "who is the most truthful man in the county, next to George Washington", said he saw an airship. Warner was sitting on the back porch "listening to the tune of the potato bug as he rubbed his wings against the fence, when an airship dropped low over his garden. He says he did not know the occupants of the ship but they knew him, and asked him the way to New York. He directed them as far as Jonesville and they left in a hurry. Mr. Warner says the ship was painted green and carried green lights." Another article was found by another ufologist, in the Rockport Journal, Rockport, Indiana, USA, page 2, for August 31, 1906. He told that John Warner, an old soldier and resident of Orinoco, a suburb where alcohol is supposed to be forbidden on Sundays, insisted that he saw an airship "that night." The story was just a bit different: John Warner "says he was sitting on his back porch when he heard a noise in his barn made by his family driving horse. He went to see if the horse was sick and on returning to the house he heard a rushing noise overhead. On looking upward, he declares he saw a cigar-shaped airship, painted green and carrying green lights, which sailed gracefully down into his garden and stopped. There were four men in the ship, he says, and they informed him they were on their way to New York, from Chicago, and asked him which direction to take. He directed them as far as Seymour, when they turned on their power and sailed away."
Source: Columbus Republican newspaper, Columbus, Indiana, USA, for August 18, 1906, page 5
---
Date: September 1906
Location: Syracuse, New York
Time: 
Summary: A ufologist discovered a newspaper article which later entered a "UFO chronology". The Emery County Progress, of Emery County, Utah, USA, for September 15, 1906, told that one Sackville G. Leyson, president of Society for Psychical Research, stated he recently went to Mars thanks to his psychic powers, while his body remained home. The man told that after 40 minutes of psychic travel, when he approached Mars, it resembled a large fiery sphere and it seemed to him that he was on the verge of diving into a molten mass. Mars was "surrounded by blood red clouds mixed with others of greenish hue."The astral traveller then explains that there are two tribes on Mars. The tall ones are so high that he only came up to their knees and the other so small that they only came up to my knees. They had no clothes on, they were covered with hairs. The tallest tribe "had huge ears, a nose like a lion, and only one eye in the middle of the forehead. Their lungs do not move up and down in breathing but expand crosswise". They had "houses made of rock". As for the little ones, they "had web feet and slipped over a moss like substance as though skating. They could walk up perpendicular walls like flies." They had "two eyes, one in each temple", "no noses but there was a hole in each cheek." They "lived in holes in the ground or rocks."The Martiens trees seemed made of rubber, none was in decay, and there was a substance which resembled snow but was not cold and was easy and soft to walk on. In a deep ravine, he "men working with some sort of machines which was guiding lights across transparent rocks. The rays seemed to be reflected clear to the atmosphere on earth". Mr. Leyson said he will "go to Mars again when he has an audience of scientists and psychologists to testify to the truth of his statement."
Source: Emery County Progress, Emery County, Utah, USA, September 15, 1906.
---
Date: November 25, 1906
Location: Pleasantville, New York
Time: 
Summary: The New York Times, New York, USA, for November 25, 1906, reported that the day before, late in the afternoon, a balloon with two men landed in the woods back of Pleasantville. The newspaper said that it is supposed that the occupants of the balloon were Dr. Samuel Ottinger and John Gratz, who were said to have departed from Philadelphia for this balloon trip at noon that day. The newspaper said it was believed that the men intended to come to Atlantic City after landing, but they could not be found, although inquiries have been made everywhere. The balloon was reported that the balloon was good condition and that the men had landed without mishap.
Source: The New York Times, New York, USA, November 25, 1906.
---
Date:  1906
Location:  
Time:  
Summary:  
Source:  

Related articles