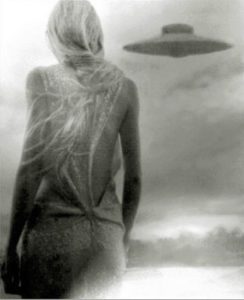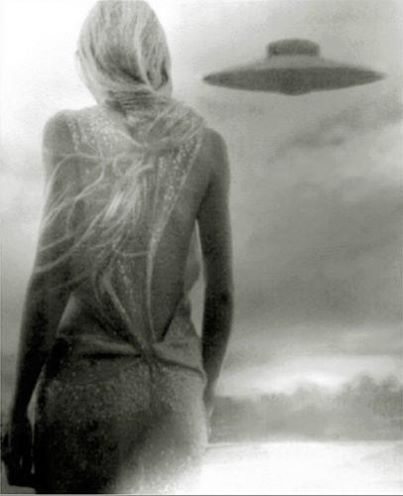 (Last Updated On: June 22, 2016)
Date: 1922
Location: Poland
Time:
Summary: Many witnesses in observe a silvery object, two hemispheres divided by a rotating ring. The object 'shoots' a beam of light, and then rises with a loud noise.
Source:
---
Date: 1922
Location: Lincoln, Nebraska
Time:
Summary: Close encounter with a an unidentified craft and its occupants. Two objects were observed by one witness.
Source: Keel, John A. UFOs: Operation Trojan Horse G. P. Putnam's Sons, New York, 1970
---
Date: 1922
Location: Tuna, Sweden
Time:
Summary: Trace remnants
Source: UFO Information Sweden
---
Date: 1922
Location: Portage la Prairie, Manitoba, Canada
Time:
Summary: An object was sighted that had an appearance and performance beyond the capability of known earthly aircraft. An unidentifiable object was observed at close range (Woodard).
Source: Eberhart, George M. A Geo-Bibliography of Anomalies Greenwood Press, Westport, 1980  ISBN:0-313-21337-2
---
Date: 1922
Location: Davenport, Iowa
Time: daylight
Summary: Twin girls aged 8 see a daylight disc UFO near Davenport.
Source: 
---
Date: Feb. 22, 1922
Location: Hubbell, Nebraska
Time: 5:00 a.m.
Summary: William C. Lamb was following strange tracks when he heard a high-pitched sound and saw a circular object intercepting starlight. It became brilliantly lighted and landed in a hollow. Soon afterward, a creature over 2.4 m tall was seen flying from the direction where the object had landed. It left tracks in the snow, which Lamb followed without results. acques Vallée found in the Air Force file at Dayton, Ohio, a letter by William C. Lamb, who said that as he was hunting near Hubbell, Nebraska, at 5 a.m. on Wednesday, February 22, 1922 he heard a high-pitched sound and saw a large dark object fly above him, blocking the light of the stars. Hiding behind a tree, he watched the object land, and next saw a "magnificent flying creature", 8 feet tall, land like an airplane and leaving tracks in the snow. It passed by the tree where lamb was hiding. Lamb tried to follow its tracks but did not catch up.
Source: Magonia #44, Anatomy 22
Witness William C. Lamb reported multiple bible related UFO sightings (Devils Tower, WY etc.) .. even a UFO crash in 1955.     Traced to article "Flying Saucers Are Spirits of Themselves." in 1965 Yearbook issue of Duplantier's Saucers, Space and Science.     Credit: Michael Strainic, Chris Aubeck and Jerry Clark.
---
Date: April 1922
Location: County Donegal, Ireland
Time: Morning 
Summary:  An object was observed. Traces found. One object was observed by several male experienced military witnesses in rocky terrain (Bradley).
Source:  Steiger, Brad Flying Saucers are Hostile Award A234S, New York, 1967
---
Date: Mid 1922
Location: Detroit, Michigan
Time: 22:00
Summary: An object was observed. Occupants of the craft were seen. One object was observed by two witnesses in a city (Hinz).
Source:  Webb, David HUMCAT: Catalogue of Humanoid Reports
---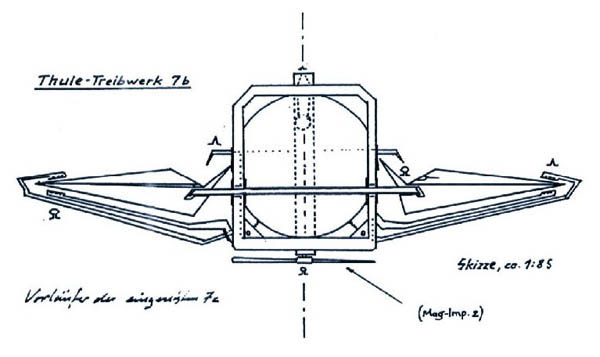 Date: Summer 1922
Location:
Time:
Summary: First saucer-shaped flying machine built. Drive based on implosion. Consisted of three disks, one eight metres across, one six and a half metres above and a third disk seven metres in diameter below. All three disks had a whole at the centre "one metre eighty across in which the drive which was two meters forty high was mounted. At the bottom the central body was cone-shaped, and there a pendulum reaching the cellar was hung that served for stabilisation. In the activated state the top and bottom disk revolved in opposing directions to build up an electromagnetic rotating field." Experiments are conducted on it two years before it is dismantled and possibly stored in the Messerschmidt factory at Augsburg. A drive called VRIL (formally SSM-L or "Schumann SM-Levitator") emerged from this machine.  
Illustration of Schumann Levitator
Source:
---
Date: July 24, 1922
Location:  Medford Sw, Oregon
Time:
Summary: An unidentified object was sighted, that had an unusual appearance or performance. One object was observed by numerous witnesses in a city.
Source: Skylook
---
Date: August 1922
Location:  Warszawa (Warsaw), Poland
Time:
Summary: Many saw silvery object, shaped like two hemispheres divided by rotating ring (Saturn shape). UFO shot beam of light, ascended with loud noise.
Source: CUFOS
---
Date: Sept. 9, 1922
Location: Barmouth, Wales
Time:
Summary: John Morris and William James saw an object fall into the ocean so slowly that it was thought to be a plane. A boat was sent out, but nothing was found.
Source: Magonia #45, Fort 639
---
Date: 1922
Location:  
Time:  
Summary:  
Source:  
Related articles