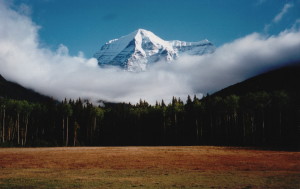 (Last Updated On: July 3, 2016)
Date: 1938
Location: Near St Louis Missouri
Time: unknown
Summary: The mother, in a family involved with numerous encounters, recalled seeing a craft on the ground and numerous entities that appeared to be in a rush, around it. They re-entered the craft, which left the area at a tremendous rate of speed. One of the entities appeared to be a little girl, hybrid in nature, fragile looking, with large black eyes and no white parts apparent, but with more rounded eyes than a "typical gray humanoid." The girl also had a pointed chin, high forehead, and very fine thin hair. The mother noticed at least one other entity accompanying the hybrid girl that looked entirely human. It was described as a 6 ft tall white woman, with brown hair and brown eyes wearing some sort of tight-fitting one-piece uniform. No other information.
Source: Bob Buck
---
Date: 1938
Location: Northwest of Stewart, British Columbia, Canada
Time: unknown
Summary: While searching for a missing trapper in a remote glacial area near the Alaskan border, constable Larry Requa entered a cave and discovered 5 "alien skeletons" which had extended craniums. One of the entities had a metal medallion on, imprinted with star symbols. All 5 entities were facing a stone altar and it was Requa's impression that these beings had been "stranded" as they could not leave the earth. The cave had unusual characteristics as it appears to wind in a vertical configuration and the walls were extremely smooth as if these beings had used a "boring device" to make the tunnels within the cave. Apparently as of July 2000 the skeletons were still in the cave. It is not known what the present status is.
Source: Rob Bailey, & UFO BC
---
Date: 1938
Location: West Yaroslavl Province, Russia
Time: unknown
Summary: A local villager, Ivan Ivanov went out to one of the lakes near the village, apparently on a fishing expedition (though the locals warned that nobody was supposed to fish in said lake because of the damaged "ship" of strangers that sank into it, which apparently poisoned the waters). On the banks of the lake Ivanov encountered several entities with greenish tinted skin, large heads and hoofed legs. They told him that they had a technical problem with their ship that caused a fire inside one of the compartments. They had to flood the compartment with water, and the spacecraft sank into the lake. The aliens spoke to him in a respectful tone. They earnestly requested that he buy them ink and paper. They even gave him money (Russian rubles) for that purpose. He agreed and after the initial contact he reportedly met the aliens on numerous occasions mostly engaged in running errands for them. Unfortunately, later Ivanov became blind for unknown reasons, possibly because of his long exposure to the aliens
Source: Valeriy A Kukushkin, Yaroslavl UFO Group "Chimeras of The X Location", Anton Anfalov
---
Date: 1938
Location: Baiao, Alto Duro, Portugal
Time: various
Summary: Bonifacio, a local shepherd reportedly met on top of a nearby mountain a "shining lady", which apparently communicated with him. Others living in the area reported seeing strands of an unknown material falling to earth and dissipating as they reached the ground.
Source: Inforespace # 55
---
Date: 1938
Location: Red Oak, Texas
Time: night
Summary: Several men were out coon hunting in an isolated area and had built a campfire when they noticed that the normally fierce dogs appeared quiet and scared and had crowded around the fire. At that moment one of the men noticed a huge white figure standing about 30 yards away; just watching them. He pointed out the creature to the rest of the men. All were then overcome with fear and took off running as fast as they could, dogs, and all. Other local residents reportedly heard strange screams coming from the wilderness area. Two other men driving on a dirt road reported seeing a huge white haired creature step out of the brush and started heading toward the car. They drove away from the area as fast as they could.
Source: R P Chapman
---
Date: 1938
Location: Pialia Village, Pindos Mountains, Greece
Time: night
Summary: Farmer Vassilis Zorbas was going to his trefoil field near the small chapel of the Holy Trinity when he heard a loud bang, which seemed to come from a nearby creek. Initially he could not see anything that could explain the sound. Later he saw a small (1 meter) humanoid creature, dressed in a black gown with hood. Its face was shining. The creature stood for a while in front of him and then went inside the chapel and vanished.
Source: .Antonis Bousboukis
---
Date: 1938
Location: Arizona Desert
Time: afternoon
Summary: Steve Brodie and a friend were searching for precious stones in an isolated Mesa, when Brodie heard his companion give a sharp shout of surprise. As he looked up from his work, he saw a black-cowled figure at the base of the mesa. Another man in black immediately joined this strange figure. The first intruder pointed a rod at Brodie, and the young man found himself unable to move. He then heard his friend begin to run. The other cowled figure then pointed a similar rod at Brodie's companion and Steve heard him scream. At once the air was filled with the acrid odor of burnt human flesh. Brodie then watched helplessly as a third figure approached him with what appeared to be a set of small earphones. When the black-cowled, shadowy faced figure went behind, Brodie felt something beneath his ears, and then he blacked out. All Brodie could remember about his captivity was three or four brief periods of consciousness, during these times he found himself penned with other humans in cage-like enclosures. On each occasion, just as Brodie's head would begin to clear, a black-cowled figure would approach him, freeze him into immobility with the rod, and adjust the headset. One day he found himself walking near Times Square not remembering how he got there.
Source: Brad Steiger, Monster Among us
---
Date: 1938
Location: Danvers Massachusetts
Time: night
Summary: Six-year old Raymond Fowler (A present day UFO researcher) experienced recurring dreams of seeing a dark figure in his room, preceded by " a strange electric like tingling sensation." He would try to scream to his parents but found that he could not move a muscle. The figure would come closer and closer. He would be frightened beyond measure.
Source: Chris Aubeck, Return To Magonia, also Fowler in UFO Testament
---
Date: February 1938
Location: Outside B'Bugia Bay, Malta
Time: unknown
Summary: Several people spotted a "Zeppelin-type" object moving at great speed over the sea a few km out of B'Bugia Bay. One of the witnesses was a soldier that had a telescope. He said that he could see people inside a gondola wearing strange helmets.
Source: David Pace
---
Date: February 1938
Location: Sinnet, Saskatchewan, Canada
Time: night
Summary: A man walking along the Sinnet road saw a figure approaching, and he thought it was a friend. The figure suddenly transformed, unbelievably, into a huge fireball, which flew up high, over the cemetery gate and telephone wires, then descended, still flaming, and disappeared among the tombstones.
Source: Unidentified in Saskatchewan
---
Date: Feb. 8, 1938
Location: England
Time:
Summary: Things like glowing spheres that were floating in the British sky
Source: Strange Company (2007), Keith Chester
---
Date: Spring 1938
Location: Near Kilfinney Ireland
Time: daytime
Summary: A student walking along a country road was nearing some cross roads when he came upon a short two-foot tall man dressed in red & sporting a beard. He asked the little man where he was from and was told "The Mountains." The student ran to obtain additional witnesses and they also saw three short men all in red and one wearing a white cape. The witnesses chased the little men but these disappeared among the hedges and marshes in the area.
Source: Janet & Colin Bord, Unexplained Mysteries > Of The 20th Century
---
Date: Summer 1938
Location: Silver City, New Mexico
Time: Twilight
Summary: Four children, including Ann Alley saw a gray-clad man sail over them at treetop level. Alley would later recall that "he seemed to be wearing a belt which was wide and had points sticking out of it." He also wore a Flash Gordon like cap and a wide cape. The flying humanoid drifted across the sky above the children as they all stood and stared, speechless. He finally disappeared from sight into the distance.
Source: .Jerome Clark, The Unexplained
---
Date: Summer 1938
Location: Muñico Spain
Time: noon
Summary: A young cowhand had taken a herd of cows to a nearby spring by a small wooded area when he heard a loud humming sound coming from above him. Looking up he saw a bright silvery blue object descending slowly; it landed next to the woods. It was a round silvery craft with dark porthole like openings, it landed on four leg like protrusions and had multi-colored flashing lights around its perimeter. A door opened and a ramp was lowered to the ground. Two tall men-like figures emerged, while a third shorter figure stood by the opening just inside the craft. All three humanoids wore gray silvery outfits with boots and gloves. The two tall figures appeared to collect something from the ground. As the witness walked towards the craft the smaller figure at the door pointed something at him that flashed and knocked him down. This happened twice, the witness then hid behind some bushes and watched as the humanoids re-entered the craft, one appeared to wave at him before entering the object. The object rose up and left the area at high speed emitting a loud whistling sound.
Source: .J J Benitez, La Punta Del Iceberg
---
Date: Summer 1938
Location: Somerville Massachusetts
Time: night
Summary: Malcolm B Perry saw an object approach from the east, which he at first thought it was a blimp; but it was silent, & showed no gondola or propeller. At one of the several portholes in the side of he could see the silhouette of a person sitting and apparently watching him, and he could also see "people" moving about behind the other portholes. He yielded to a strong impulse to wave, feeling "as if they were old friends." The object moved off between clouds & was seen no more.
Source: .Coral & Jim Lorenzen
---
Date: beginning of June 1938
Location: West Yaroslavl Province, Russia
Time: evening
Summary: The witnesses, 10-year old Alexander P Gusev, his friend Lesha (Alexey) Volkov and his two brothers had gone into the forest in order to collect mushrooms. After finishing they lit a bonfire and sat around it preparing the food. Suddenly a strange, old "man" walked out of the forest and joined the boys. He had a beard and mustache, shoulder length hair and carried what appeared to be a staff in his hands. The stranger was small in height, thin and slim-build, his face was greenish. His general appearance was that of a Hindu. He wore a strange shirt, black in color, with a large number of buttons, almost overlapping each other. He had a belt with a red sash, high top boots with pointed tips. He greeted the boys and reproached them for burning a fire in the forest. He began to ask questions about the village and numerous other questions. During the conversation, he took a tobacco pipe from his pocket and made believed he was looking for tobacco, but soon hid the pipe and said that he just remembered he had no tobacco. The boys mentioned that the men in the village had tobacco. But the stranger smile and said, "We do not smoke" He took his sash, which resembled a red kerchief and put it on his head, it now resembled a turban. Alexander noticed that the stranger had a wire sticking out of one of the pockets that was connected to his ear, possibly a portable communication device. The old "man" was not in a hurry, and said he had half an hour. So they had time for additional conversation (in the Russian language). The man then mentioned something about God and Lesha Volkov responded, "There is no God" The old man frowned and said, "You must not talk like that, God will punish you". (By coincidence (?) Volkov died soon after in an accident). When the food was ready, the boys invited the stranger to eat mushrooms with them. He took out an object resembling a plate, but very deep, like a deep saucer, and also a cup a spoon engraved in Slavic lettering. When he ate, the boys noticed that the man had strange teeth; his upper and lower teeth were even, forming a smooth plain surface. The teeth in his mouth were shaped like the Russian "P" so his mouth was like a horizontal line with 2 vertical lines. His jaws were square-shaped. In the front he had a large metallic tooth that apparently hindered him as he ate. While eating the boys began to ask the stranger questions about who he was and where he was from. He told them that his ship was on the ground "ventilating" near the river and added that he had to go out of the ship. He also stated that there were 3 others with him but they were gone and were returning in 24 hours "they have a place to stay the night". The stranger then asked the boy, "Who are those people with dogs" referring to the guards from a nearby concentration camp (GULAG). He also asked how many snakes and frogs were in the area and mentioned that he had placed a protective net on his ship's hatch in order to keep them out. (As was established later, the alien was a human/Zonnerian hybrid descendant of those taken to Zonneri from ancient India.
Source: .Valeriy A Kukushkin, Yaroslavl UFO Group "Chimeras of the X Location", Anton Anfalov
---
Date: July 25 1938
Location: Guadalajara Spain
Time: 2330
Summary: A military man & his assistant saw a strong white light, which came from a dark lens shaped object about 35 ft in diameter, hovering about 6 ft above the ground 60 yards away. Without sound, a sort of column bearing a platform started to come down from the center of the object, & 2 moving silhouettes were observed on this platform. A circle of blue light was projected on the ground & focused on the witnesses, who felt a sensation of chill. The platform rose again, and the upper & lower sections of the object started spinning in opposite directions. The whole craft glowed with an intense white light & flew away.
Source: .Ballester Olmos in FSR Special Issue # 4
---
Date: Fall, 1938 (or following year)
Location: Juminda, Estonian coast
Time:
Summary: Two persons saw a strange "frog-man" 1 m tall with a round head, no neck, and a hump in front of the body. The mouth was a large, straight slit, the eyes were like smaller slits. The skin was brown-green, compared to pegamoid, hands normal. The creature walked in a peculiar "but elegant" fashion, the head waving up and down while the legs moved "carefully." When pursued, the creature accelerated very fast, with feet "fluttering." About 100 m away it vanished completely'.
Source: .Magonia #49
---
Date: Fall 1938
Location: Provincetown Cape Cod Massachusetts
Time: night
Summary: Area residents reported a mysterious attacker described as being more than seven-foot tall with fierce looking eyes and pointed ears. He supposedly would breath blue flames into victim's faces and had incredible leaping abilities. One farmer reported that the weird being jumped an eight-foot high fence in one leap.
Source: .Jerome Clark, The Unexplained
---
Date: October 31 1938 or thereabouts
Location: Provincetown, Cape Cod, Massachusetts
Time: night
Summary: Several local children reported briefly spotting something black and reptilian far off among the dunes or peering at them from behind trees or big rocks. The children were frightened, but their parents tended to toss it off, saying it was just some Halloween prankster or an eccentric summer tourist.
Source: .Joseph A Citro, Passing Strange
---
Date: Fall 1938
Location: O'Donnell Heights, Maryland
Time: unknown
Summary: Residents complained to police that a tall, thin prowler dressed in black was terrorizing them. He eluded capture by police. Witnesses swore that he possessed extraordinary leaping abilities. "He ran and jumped like a gazelle." Another witness who got a good look at his face described it as "horrible."
Source: .Jerome Clark, Unexplained!
---
Date: September 1938
Location: Near New Apollonia Greece
Time: before sunrise
Summary: A man had gone into an isolated area in order to cut down trees and gather leaves. He suddenly saw two human like figures standing on a nearby clearing. He approached them carefully and was now able to see that the "men" were very tall with large heads, short hair, large red-colored staring eyes, and dark bronzed skin. Their faces seemed sunburned and bloated and both appeared to be wearing military type uniforms. The beings were standing in front of a large metallic egg shaped craft that was standing on 3-4 legs and its top half was transparent. The witness, who was holding an ax, shouted at the beings, this seemed to startle them since they quickly climbed up into the object via a round open hatch. The witness could now see the two beings inside the craft; one stared at him while the other appeared to operate some controls. Something resembling a balloon suddenly inflated on the back of the object apparently causing the object to rise up vertically and disappear quickly from sight. A peculiar flask with a flammable type liquid was later found at the site.
Source: .Thanassis Vembos, Strange Magazine # 13
---
Date: October 1938
Location: Garganta la Olla, Spain
Time: night
Summary: A witness, T G Lopez, encountered a huge luminous spherical object on the ground next to some trees. Near the object moved a very tall female entity that had long flowing hair. She appeared to be wearing a dark flowing robe.
Source: .J C Benitez, La Punta del Iceberg
---
Date: 2nd week of November 1938
Location: Provincetown, Cape Cod, Massachusetts
Time: night
Summary: Maria Costa was on Commercial Street near the Town Hall and she prepared to cross the road toward the coffee shop, something caught her eye. Some large creature was moving about in the shadows outside a closed up shop. It then jumped right at her as if were on springs, spreading its cape like vast black wings. Maria froze, too startled to scream. The dark, menacing presence loomed over her like a giant. Then it vanished. She described it as all black, with eyes like balls of fire and at least 8 ft tall. The most unsettling thing of all, it appeared to make a sort of buzzing sound, like a monstrous insect.
Source: .Joseph A Citro, Passing Strange
---
Date: November 1938
Location: Ingenheim, France
Time: night
Summary: In a local vineyard several witnesses reported seeing large greenish spheres of light on the ground and moving within the lights, mysterious humanoid silhouettes. Apparently no traces were found.
Source: . Denys Breysse, Project Becassine
---
Date: middle of November 1938
Location: Provincetown, Cape Cod, Massachusetts
Time: night
Summary: Charles Farley's dog cornered a creature in the yard. Farley went out, shotgun in hand, and was confronted by a tall black monster with what looked like long silver ears. Thinking it was some kind of wild animal he shot at it. But it didn't react like any wild animal; the thing just laughed and vaulted over the 8-foot fence and out of Farley's yard. Around the same time a local boy was coming home from the library when a tall black figure jumped out at him from nowhere and "spit blue flames into his face."
Source: .Joseph A Citro, Passing Strange
---
Date: winter 1938
Location: Campagne Di Fiuggi Italy
Time: night
Summary: A man was returning from work when he noticed a bright light shining from behind some nearby trees. He approached to within 150 ft and noticed a silvery object on the ground. It was shaped like an upside down dish with a dome on top, approximately 30 meters in diameter. 4 metallic "legs" supported the object and between these there was a long ladder extending all the way to the ground. At the base of the ladder stood 4 short man-like figures, about 4 ft tall, & wearing coverall like suits. Curious, the witness approached the group and these suddenly scrambled up the ladder & into the object. Immediately the ladder & the legs retracted back into the craft and a very bright orange light came on. The craft lifted up, at first very slowly then it increased its speed and shot up into the sky and disappeared.
Source: Itacat
---
Date: Fall 1938, or 1939
Location: Juminda, Estonia
Time:
Summary: Coming apparently from the Swedish ufologist Sven Schalin, some 30 years after it allegedly occurred, a report indicates that in Juminda, Estonia, in Fall 1938, or 1939, at a date and hour that are not specified, two Estonians, not more identified than that, had seen a "frog man." They chased it on approximately 30 meters to apparently lose sight of it behind some lattice close to a path. The size of this entity was around 1.06 meters. Its legs were slightly longer than half of its body. Its head was hemispherical and directly on the body, without neck, and the body had a bump on the chest. Its skin resembled brown-green synthetic leather. Its mouth was a straight slit prolonged on a large part of the head and the eyes were also like slits. The hands were "of human color." Its walk had been described as quite weird: it raised its legs in a cautious but gracious manner, as if our gravity were too weak, the head waving up and down, which makes think of a wader. When it was pursued, it accelerated enormously, like "propelled by a terrible fluttering of its feet."
Source: "Passport To Magonia – On UFOs, Folklore, and Parallel Worlds", book by Jacques Vallée, Contemporary Books publisher, USA, pp 189-190, 1969.
Related articles