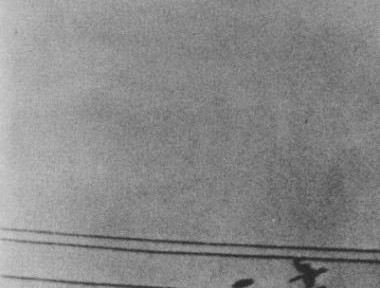 (Last Updated On: February 7, 2016)
Date:  1950
Location:  Souza, Paraiba Brazil
Time: unknown
Summary:  Silvia Medeiros saw at her farm near the city a large disc shaped object land on a field. A hatch opened and three small creatures resembling Dwarfin (Dwarfs) emerged, for 15 minutes they walked and looked around seemingly looking for something. The small men finally collected some rocks and went back inside the craft, which promptly took off at high speed.
Source: Centro Paraibano de Ufologia 
---
Date:  1950
Location:  Monterrey Mexico
Time: unknown
Summary:  and produced a soft whistling sound. As the witness stood paralyzed unable to move he was able to see several human like figures looking down on him form the several portholes on the object. Meanwhile his friends had run away. No other information.
Source: Scott Corrales, Samizdat Vol. 2 # 2
---
Date:  1950
Location:  Pittsburgh Pennsylvania
Time: early morning
Summary:  Mrs Kathleen Compardo woke up early one morning in order to prepare breakfast for her husband. Then she went back to bed to get some additional sleep. Moments later she suddenly woke up to see two 90 cm tall transparent figures standing next to her bed. In child like voices the beings communicated by using telepathy with the witness. Among other things they told her that they were very advanced and possessed a device that could cure cancer and laser-beam like weapons of mass destruction. They added that they wish to help humanity, but that humans were too aggressive. Soon they told her that they had to leave since they could not stay in our "atmosphere" for to long.
Source: Bitacora
---
Date:  1950
Location:  Sonoma County, California
Time: afternoon
Summary:  Two men, one 17-year old boy were exploring some old mine shafts when they started hearing clicking noises. They could smell a fire so they were curious as to what was on fire all the way down in a mineshaft. They went further down and they started to see a weird substance on the walls of the mine. Then they saw the fire farther down and they noticed that there was something near it, but they could not make out what it was. Upon closer inspection they realized that it was some sort of hideous beast that resembled a boar with human features. It had hands and patches of red hair on its body. It appeared to be bashing an animal skull of some sort against a rock to be cracked open. As soon as the creature saw the witnesses it charged after them. One of them suffered a deep gash on his back as he crawled out of the shaft.
Source: The Unexplained
---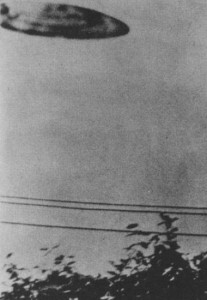 Date: 1950
Location:  San Bernardino, California
Time: 
Summary:  
Source:
---
Date: 1950
Location:   Maldegem, Ost-Flandern, Belgium
Time:
Summary:  A flying disc was observed. One disc was observed by two teenage witnesses for over three minutes (Van Canneyt).
Source: SOBEPS
---
Date:  1950
Location:  El Techo, Gran Canaria, Spain
Time: afternoon
Summary:  Pablo Montesdeoca was walking on a mountain trail when suddenly he began to hear what sounded like the sounds of "church bells". It was very peculiar since it did not appear to be anyone around. He stood looking around still hearing the bells but not seeing anybody. Suddenly out of nowhere a strange creature became visible. It ran by the witness at incredible speed, and he barely could see what it exactly looked like, it had a dog-like body and appeared to run without touching the ground but very close to it.
Source: Ramon Navia, "La Verdad Oculta"
---
Date: 1950
Location:   Malaysia
Time:
Summary:  Crashed Disc Flying discs were observed. Metallic traces found. Three discs, about 40 feet across, were observed.
Source: CUFOS
---
Date:  1950
Location:  Floridablanca Bucamaranga Colombia
Time: 1900
Summary:  13-year old deaf mute, William Ortiz was riding his horse on a gravel road in his parent's property when peering through the growth of vegetation on one side of the road, he noticed a child-like figure, but continued on his way. Then in an opening through the brush and in top of a large rock, he saw a disc shaped object with little figures around it. After staring at it he stopped in confusion, looked over his shoulder, and noticed one of the child-like figures next to him. He noticed that the entity wore some type of uniform, very tight fitting and covering the neck and legs. He also wore boots. The collar ended like a turtleneck, and he could see something like a seam in the form of a V on the shoulders. The hands only had four fingers, he was not really so sure. The being had a large hairless head. The eyes were big, oval shaped and very black, some of the other crewmember's eyes were smaller than the others. There were no ears, just a little hole on each side of the head; the nose was small as well as the lips, which never moved. The skin color was grayish brown. The entity closest to him appeared to be a male. The others looked the same. The entity closest to him, looked directly into Ortiz's eyes and started sending him messages and at the same time using hand signals or language. Eight enigmatic words were given by the entity, which included "sky" "love" & "secret." After the message, the entity made a turn toward the rock. At this moment Ortiz could not see the rest of the crew. The entity went back to the object half walking, half floating, very fast. Then the object went straight up, made a turn to the southwest, and disappeared into the horizon. The rock on which the object rested has many peculiar symbols carved on it that included lines, circles, disk shapes, serpents and other symbols.
Source: Virgilio Sanchez Ocejo, Cufos Associate Newsletter Vol. 3 #
---
Date: 1950
Location:  Rio de Janeiro, Brazil
Time:
Summary:  Close encounter with a an unidentified craft and its occupants. Three objects were observed by one experienced male witness at a building (Cleto Nunes Pereira). One humanoid was seen.
Source: Flying Saucers Magazine (Palmer)
---
Date:  1950
Location:  Bavarian Alps Germany, exact location not given
Time: unknown
Summary:  A mountain climber had gotten lost on a remote mountain area, when suddenly a bright sphere of light appeared, it transformed into an oriental looking human figure, that bowed to the witness, spoke a few words and then led him to a tourist path and out of danger. It then changed itself into a ball of light again and vanished.
Source: Janet & Colin Bord, Unexplained Mysteries of the 20th Century
---
Date: 1950
Location:   Key West, Florida
Time:
Summary:  Objects were tracked by radar. More than one object was observed.
Source:  Flying Saucers Magazine (Palmer)
---
Date:  1950
Location:  Nacaome, Honduras
Time: various
Summary:  Several local peasants reported seeing a bizarre creature resembling a gigantic bird that flew low over their homes. The next day several dead cattle were found on the fields under strange circumstances. One of the peasants reported seeing the huge winged creature attacking a bull, using its massive tail to wrap it around the animal and strangling it. The creature then pulled the unfortunate animal's tongue out and ate it. Other locals found their cattle dead under similar circumstances.
Source: Literatura Oral de La Zona Sur, Karen Ramos Melissa Valenzuela
---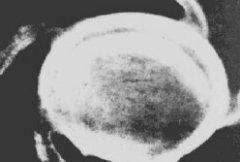 1950  –  Majorca, Spain
---
Date:  1950
Location:  Sevilla, Spain
Time: various
Summary:  Two elderly spinsters, began telling family members and close associates that they were going through some rough times due to the interference of certain "Martians" or "extraterrestrials" (a term hardly used in Spain during the time) were keeping a watch on them and would sometimes "experiment" with them. The bizarre extraterrestrials supposedly had the ability the enter their homes through closed doors and walls and would sometimes place strange apparatuses around their heads, which caused them extreme pain. At night they would hear the footsteps of the intruders in their home and other noises caused by the same intruders. There is no exact description of the extraterrestrials, except that they were apparently man-like. The elderly sisters reported the intrusions to the local police, which promptly ignored them. The intrusions continued in earnest especially when it involved a strange "machine" that emitted beams or rays. According to the sisters the constant bombardment of these rays contributed to their failing health. Several years after the incidents were reported by the sisters, one of them died as a result of lung cancer, the other sister never did mention any more intrusions after that.
Source: Ignacio Darnaude, Miguel Peyro Garcia
---
Date: 1950
Location:  Wilmington, Delaware
Time:
Summary:  A hovering object was observed. One dark cigar-shaped object was observed by two witnesses in a city. One bigfoot was seen.
Source: Eberhart, George M. A Geo-Bibliography of Anomalies Greenwood Press, Westport, 1980 ISBN:0-313-21337-2
---
Date:  1950
Location:  Anthony Kansas
Time: 0210A
Summary:  A husband and wife farmers were awakened by a bright light shining outside the window. They went out to see what it was and they saw a large triangular shaped glowing object hovering above the barn, a smaller object detached itself from the larger craft and landed behind the barn. The husband walked towards the barn to investigate and the wife stayed behind, she was suddenly started to see standing ten feet from her a man shaped being composed of pure light. She was not able to move or speak. The entity told her not to be afraid that he was a messenger sent to reveal certain knowledge to humanity. He made several predictions.
Source: Bill Caulfield, Intl UFO Library Magazine Vol. # 2
---
Date: 1950
Location:  Conrad, Montana
Time:
Summary:  A daytime disc was reported.
Source: Eberhart, George M. A Geo-Bibliography of Anomalies Greenwood Press, Westport, 1980 ISBN:0-313-21337-2
---
Date:  1950
Location:  Cellino Attanasio Italy
Time: morning
Summary:  A young girl was playing in her grandmother's yard when she noticed a strange metallic object approaching. It was top shaped on the upper section, with an upside down cone on the bottom with a rotating red flange circling its center section. It had a transparent dome on the top and inside the witness was able to see a man wearing a dark outfit and wearing some type of "respiratory" gear and a helmet. The object neared the witness and at the same time its center-rotating flange increased its speed. The frightened witness began screaming and the object then departed quickly moving in a zigzagging fashion.
Source: Maurizio Verga, Itacat
---
Date: 1950
Location:   Dorrigo, New South Wales, Australia
Time: Night
Summary:  An object was observed. Occupants of the craft were seen. Traces found. One object, about 20 feet across, was observed by several witnesses (Gilbert).
Source: Chalker, Bill Bill Chalker investigation files , North Sydney
---
Date:  1950
Location:  Oracle Arizona
Time: daytime
Summary:  Juan Urrea was playing in the yard when suddenly the door of the outhouse creaked open. There, to his surprise, lurked a tall, kangaroo like creature with blazing red eyes. It peered out around the edge of the door, and then beckoned him to come forward. Urrea believed the creature meant to do him harm. He ran and never saw it again.
Source: Gregory McNamee & Luis Albert Urrea
---
Date: 1950
Location:  Sebree, Kentucky
Time: Night
Summary:  An object was observed. Physiological effects were noted. One object was observed by two witnesses, including one teenager, on a railroad.
Source: Lorenzen, Coral E. Shadow of the Unknown , New York, 1970
---
Date:  1950
Location:  Near Maranguape Brazil
Time: mid-day
Summary:  A young man named Faustino had gone into the mountains to get some bananas. He had been walking some distance ahead of two other men when he came upon an object sitting on the ground. Nearby stood a man & a woman, both about six-feet tall and skinny. They were somewhat "ugly," had wraparound eyes, and wore long yellowish robes. Their arms were loaded with branches. Faustino called out to them. They looked at him, and then hurried into the object, which suddenly took off with a blast of air that nearly knocked the witness down. The craft was described as large, silvery and shaped like a squashed oval.
Source: Bob Pratt, UFO Danger Zone
---
Date:  1950
Location:  Indianapolis Indiana
Time: afternoon
Summary:  The 3-year old witness remembers a tall blond Nordic looking male with perfect features that approached her while she was out playing blocks and told her that she would be on a mission involving leading people through mountains in the year 2011.
Source: Bill Hamilton
---
Date:  1950
Location:  Malselv, Norway
Time: afternoon
Summary:  The witness, a 7-year old girl at the time had stayed out late fishing at a local pond. Suddenly she saw a large oval-shaped object quickly approaching her position. The craft flew over her and disappeared into a forested glade. Moments later three short human-like figures appeared and approached the girl. She described them as about her height, round eyes and a "very visible" nose. They wore tight-fitting flying suits. The girl felt no fear. Using telepathy one of the beings told the girl that they wanted to examine her mouth and teeth. The humanoids then invited the girl to go away with them, but she thought about her mother and refused the invitation. The humanoids then bade farewell and promised the witness that one day they would return and walked back into the glade. The girl then saw the oval shaped craft disappear into the sky.
Source: Rapportnyt April 2 1994, UFO Sweden
---
Date:  1950
Location:  Minas Gerais, Brazil
Time: evening
Summary:  In a rural area a witness reported seeing a very luminous object sitting on the ground. It was shaped like a plate with a transparent dome on top. Inside the dome he could see a human-like figure sitting down with one hand holding its chin and the other one on his knees. He appeared to be observing its surroundings.
Source: CIPFANI, Brazil
---
Date:  1950
Location:  Pelotas Rio Grande Sul Brazil
Time: night
Summary:  A couple were walking along a wooded path by the ocean front one night when two fast moving shadows suddenly crossed their paths ahead, looking up they saw two large winged beings flying at treetop level. The beings descended vertically and landed near the witnesses. They were described as human like and about six-foot tall, these beings crouched down and appeared to observe the witnesses, who quickly left the area
Source: Janet & Colin Bord, Unexplained Mysteries Of the 20th Century.
---
Date:  1950
Location:  Dar-Es-Salaam Tanzania
Time: night
Summary:  The young witness was suddenly awakened by a strange vibrating noise outside the house. She had the feeling of being watched and a tingling sensation followed. She then saw at the foot of her bed a two ½ tall figure, described as having a pale grayish face, a large domed head, pointed chin and large staring eyes. As the figure moved towards her the witness screamed. Her father rushed into the room but the little figure had vanished.
Source: Jenny Randles, Abduction
---
Date:  1950
Location:  Lincoln Nebraska
Time: night
Summary:  The witness, a young boy, remembered being outdoors watching with some other people when a craft with swirling lights suddenly appeared. The witness felt unable to move as he saw the craft land nearby, three little men appeared and apparently began repairing the object. He was taken inside the object where he saw everybody else apparently paralyzed or frozen in time. A woman now approached him and communicated with him, telling him that she had changed her appearance so he would not be traumatized. He was then taken into an examining room where several lizard or reptilian like humanoids examined him.
Source: UFONS # 258
---
Date:  1950
Location:  Moscow, Russia
Time: night
Summary:  On Kalyaevskaya Street, while the witness slept she heard the window of the balcony opened. She felt as if someone was watching her. As she opened her eyes she saw a small man, about 1 meter in height, black in color with small wings and on the neck area an object resembling a backpack or "chute". He stood at the entranceway to the bedroom from the balcony. Suddenly he departed through window emitting a noise similar to the flapping of wings. A feeling of fear remained with the witness.
Source: Igor Anantolevichem, UFOZONE Russia
---
Date:  1950
Location:  Winter Hill, near Bolton, England
Time: night
Summary:  The witness, R Chapman sees a dark flatiron shaped object hovering close to the ground. Suddenly out of nowhere a "majestic" being appears. He is tall, well built, with black hair and beard, dark eyes and very pale skin. There is telepathic contact between Chapman and the humanoid for several minutes. The humanoid then turns around and glides back to the UFO apparently decreasing in size as he did. After he enters the craft the UFO leaves leaving a vapor trail behind. The witness apparently encounters the same being again at the same location. (No details on that).
Source: Gemini Vol. 1 # 2
---
Date:  1950
Location:  Jacksonville, Florida
Time: 2100
Summary:  The main witness and a companion were heading home cutting through a neighborhood park. Looking up at a clear starry sky one of them remarked how many stars were out that night when suddenly he noticed something very strange. Almost directly overhead there was a circle of sky without a star in it. No clouds, no nothing but a perfectly round blackness. His companion dismissed the matter, suggesting they sit on the bench in front of the apartments to talk for a while. When they reached the bench, she pointed to a spot about half a block away where very quietly, a small silver-gray craft had appeared. It looked smaller than a school bus. There was a broad, shallow dome on top but no discernable windows or lights. They stared for some moments before something moved on the left side of the saucer. She could make out what appeared to be an "awning" slowly lift from the saucer's left side. Instinctively they began walking backwards into the apartment building. Three "grays" in jumpsuits came in as soon as they were inside the apartment. One was stationed at each doorway and a third entered the living room. He went straight pass the main witness and stared at her companion, face to face. The creature was short, bald, with a flat faced profile. She thought it was wearing some type of dark glasses but she did not see any "stems" on the lenses. She "heard him" on his head, saying, "We did not come for you, this time. You were able to see us because of the attachments. You will not remember this." He repeated that portion of his statement. The witness only remembered the episode 50 years later when she was hypnotized
Source: http://www.ufoitalia.net
---
Date:  1950
Location:  Texas, exact location not given
Time: late night
Summary:  A vague report describing how as a boy the witness encountered on several occasions, little red men about three-foot tall, thin, and bald that usually stood around in his bedroom. Most of the time he was paralyzed during the encounters, except for one time that he was able to throw a bottle at the creatures. No other information
Source: Skyscan Vol. 3 # 1
---
Date:  1950
Location:  Between Castle Rock & Franktown Colorado
Time: 2200
Summary:  Marc Demarest, driving without lights by the light of the full moon, came over a hill and saw an elliptical object 500 feet off the road, hovering 75 feet above the ground. He stopped the car and got out to watch. Lights came from a row of windows that encircled the object, "like portholes around the body of the craft. There were blue exhaust flames coming straight down from it." No noise like an engine, but a quiet hum. He could see shadows of figures moving past the windows, "but I was too far away to distinguish form or shape." He watched for 45 minutes, and then reached for a cigarette; the moment he flicked his lighter, the object suddenly streaked off, disappearing in ten seconds. Demarest had numerous subsequent sightings, but none as close or detailed.
Source: Humcat quoting newspaper source
---
Date:  1950
Location:  Valenca Brazil
Time: night
Summary:  Lucia G Borges reported being contacted by two tall human like beings with olive skin, dark hair and large dark almond shaped eyes. One was a woman who had long blond hair. Both wore shiny silvery coveralls and appeared to float just above the ground. No other information.
Source: Antonio Faleiro, Brazil
---
Date:  1950
Location:  Near Athens, Greece
Time: midnight
Summary:  A Greek Army major and several others had gone hunting in a jeep. Around midnight, the light beams of the car caught a strange creature, about 20 meters away. It was human from the waist up and hairy and animal like from the waist down. The creature was dancing and hopping in front of the astonished men. The major took his gun out but he was so afraid that he could not hold it straight. They made a u-turn and returned to town as fast as they could.
Source: Ralf & Eve Blum
Related articles