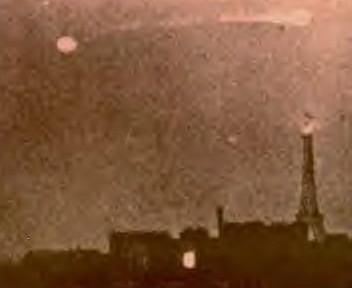 (Last Updated On: December 27, 2015)
Date: 1953
Location: Paris, France
Time:
Summary:
Source:
---
Date: 1953
Location: Moumra, Italy
Time:
Summary: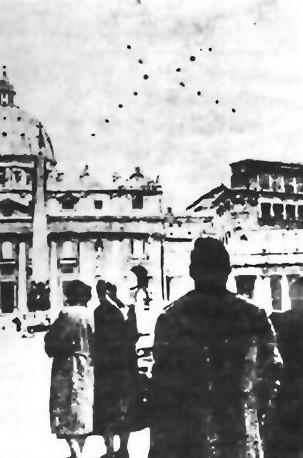 Source:
---
Date: 1953
Location: Long Beach California
Time: unknown
Summary: Paul Villa, an employee of the Water & Power Company suddenly felt compelled to go to the beach. There he met a man about seven-feet tall that communicated with Villa and was apparently able to read his mind. Villa was told to look beyond the reef and there he saw a metallic looking disc shaped craft, which seemed to be floating in the water. He was then invited to go onboard the object with the tall "spaceman." Villa reported that the saucer occupants were human like in appearance, though more refined in face and body.
Source: Timothy Good, Alien Base
---
Date: 1953
Location: Near White Sands New Mexico
Time: unknown
Summary: Army helicopter pilot states that a crashed "saucer" ovoid in shape about 18 ft by 30 ft and bodies about 4-feet tall were retrieved from a crash site and later stored at Langley AFB Virginia.
Source: Todd Zechel
---
Date: 1953
Location: Arizona Desert
Time: unknown
Summary: An air National Guard flight commander reports seeing four alien bodies in crates being off-loaded in hangar, and packed in dry ice. Bodies were 4-feet tall, large heads. The bodies had brown skin, and small dark eyes that were open, one of the humanoids appeared to be a female since it had what appeared to be breasts. Possible independent confirmation of this case.
Source: Leonard H Stringfield
---
Date: 1953
Location: Mar De La Plata Argentina
Time: unknown
Summary: Witnesses reported seeing a half human, half fish creature that appeared in a cloud of mist over the waters during a siesta. No other information.
Source: Fabio Picasso, Strange Magazine # 20
---
Date: 1953
Location: Detroit Michigan
Time: unknown
Summary: Sitting in her patio, Emma Jungbert saw, slowly and silently descending, something like "a brown boat maybe 12 ft long," with a glass dome on top. Riding on a beam of red light in front of this, she saw a man dressed in a black coat, closed at the neck like a priest's. His right hand was manipulating a lever. He had a "small long face," slim body, dark hair, and he looked at her as if she were an insect. He rode past and she followed him with binoculars until he was gone between the other houses. The word "Mercury" came spontaneously to her mind, which puzzled her.
Source: J. Allen Hynek
---
Date: 1953
Location: Linderos Maipo, Chile
Time: unknown
Summary: J. Zeñabi, a writer reported being visited in his home by two men and a woman of striking appearance that apparently hypnotized him and took him on a short trip to the planet Mars, apparently onboard a disc shaped craft. No other information.
Source: Luis Altamirano, Cuadernos de Ufologia # 28
---
Date: 1953
Location: Belgorod-Dnestrovskiy, Odessa region, Ukraine
Time: night-early morning
Summary: Local rumor talked about strange horned humanoids that periodically appeared at night in this area south of Odessa near an ancient fortress and at times stealing food. A local bakery truck driver transporting bread to a local grocery store was waiting to reload his truck full of bread products and was sitting in his cab and decided to go outside to smoke a cigarette. Suddenly the stunned man felt strong muscular hands grab him from behind. He remembered seeing quite well a tall, 2 meter or taller, muscular humanoid that gave off a strange musty smell. The last thing he remember seeing was several horned shadowy figures, visible due to the bright moonlight walking on the asphalt road. Immediately after that he lost consciousness and when he later woke up he found that all the bread in his truck had disappeared. The driver wasn't beaten or traumatized and did not noticed any smell of chloroform so he couldn't understand why he lost consciousness. The strange horned "bandits" were never found by the local militia. Another witness, a metalworker at a local sewage plant reported that while he was working on a local well he heard voices coming from somewhere below underground, he couldn't understand what the voices were saying since they were speaking in an unknown language. There are persistent rumors of underground passageways located in the immediate vicinity and directly under the ancient fortress.
Source: Yuriy Misyuk, student of local lore, quoted in "Komsomolskaya Pravda" Newspaper, Moscow September 15 2004 and September 16.
---
Date: 1953
Location: 500 km southwest of Caracas Venezuela
Time: evening
Summary: J. P., the sole remaining member of a gold expedition deep in the Amazonian jungle had wondered out of the jungle to some elevated ground where he saw a far off volcano and on its flank something glittering. After a three-day trek he came upon a circular object, eight or ten meters in diameter, surmounted by a cupola. The object was emitting a sound resembling a "beep, beep." He decided to camp out near by and watch what happens. Gradually the beeping sound fades away. Timidly J P approaches the object and touches the rim of the craft with his gun, which sticks to it as though to a magnet. The object is slightly inclined, and standing on three supports. After examining it he finds an opening beneath the disc and a sort of ladder with several steps, and at the foot of the steps, a small being stretched out on the ground. Terrified he notices that the being is about 1.20 metes in length; the head is big in relation to the body. The arms are longer proportionally than human arms. The hands appeared to be claw-like. The being wore a one-piece garment that was torn, revealing testicles that were abnormally long, reaching down almost to the level of the knees. The face was rather triangular in shape. The chin pointed the lips thin, the nose almost non-existent, with two vague nostrils. The eyes were covered with a mask. The eyes were large, "almond shaped" drawn out towards the temples. The skin was somewhat yellowish. Soon J P buried the unclassified humanoid near the object and kept the mask. He tried the mask, which during the day made everything obscure, but at night the mask revealed to him the infinity of the stars, the immeasurability of the galaxies. Examining the object further J P discovers a sort of "Plexiglas" window, and through it he sees three more little beings, all dead, all identical to the first one. Facing them was a sort of control panel, with dials and switches. The three little entities are also wearing masks. He attempted to break the Plexiglas covering but was unable to. On day J P decides to search the object and enters it through the opening on the bottom section. Once inside he finds that the floor is made out of a transparent material beneath, which, with the aid of his flashlight, he sees what looks like bones. He has no idea to whom or what those bones might have belonged to. Somewhat scared he exits the object and leaves the area, taking the mask with him. One night while staying in a Caracas motel unknown persons broke into the room and apparently stole only the mask.
Source: Joel Mesnard, FSR Vol. 44 # 3
---
Date: 1953
Location: Bagan Jermal, Pulau Pinang Malaysia
Time: 0930A
Summary: Vague report stating that a crowd stomped to death a tiny 5-inch tall man-like being. No indication as to what happened to its body. Need more information.
Source: Ahmad Jamaluddin
---
Date: 1953
Location: Lermarken Varmland Sweden
Time: daytime
Summary: 17-year old Lyyli Nilsson was cycling to a nearby village, when she felt something warm on her body and soon saw an object which folded out a couple of legs and landed on a ridge. Four persons, wearing strange "equipment" on their backs, like divers, came out. They wore some kind of helmet, which seemed to be fastened to their light colored overalls. They started to dig in the ground and the witness thought they were taking samples. Frightened the witness fled on her bicycle.
Source: Sven Olof Svensson
---
Date: 1953
Location: Sorel, Quebec, Canada
Time: daytime
Summary: 5-year old Richard Glenn is playing outside in the sand with some toy trucks when he sees a shiny metallic disc hovering nearby. A short man-like figure wearing silvery coveralls approaches and says he wants to "play" with the witness. The being is apparently able to move the toy trucks by using "telepathy" and before leaving promises a return visit. At age 18 Richard sees a UFO landing and finds tracks on the soil. Later he becomes active in Contactee circles and invites "Rael" and Migueres to Quebec.
Source: Marc Leduc and Bourbeau "Recontres Nationales de Lyon" 1990
---
Date: 1953
Location: Near East Driefontein Mines, South Africa
Time: afternoon
Summary: The young witness remembered seeing an object land on the farm. The object was metallic and was shaped like two shells stuck together, it was about 10 meters in diameter and it was standing on three metallic legs. A human like figure came out of the object and approached the witness, apparently communicating with him, telling him that he was going to be taken for a ride in the object. The man was described as thin, with long black hair, fairly dark skin, a young face, white teeth, and dark angular eyebrows. He accompanied the witness to the house to get a basket of food and on the way there one of the dogs apparently attacked and bit the strange visitor. According to the witness the man then made a strange "crowing" noise, resembling that of roosters, he made that noise continuously after the bite. Inside the object he saw small windows all around, little lights around the window frames. It had light brown upholstery on motor car seats. The object took off silently. Apparently the witness does not recall what happened next. He later found himself in his bed.
Source: UFO Afrinews # 3
---
Date: 1953
Location: Indianapolis Indiana
Time: afternoon
Summary: The young witness was playing with toy boats in a water fountain near her home when one day a beautiful blond haired woman appeared standing besides her. She had perfect features and beautiful blue eyes. Almost angelic in appearance, she wore a white gossamer gown. She communicated with the child using telepathy. Then she would just fade out and vanish.
Source: Bill Hamilton
---
Date: 1953
Location: Botafogo, Rio De Janeiro, Brazil
Time: night
Summary: About a month after seeing mysterious lights over the area, the witness, Mr. E was waiting for a taxi to take him to another district when a man passed by, wearing a hat and a dark colored raincoat. The man stopped and stared at him very fixedly. He stared back. At this moment, an acquaintance of his, a very fast driver, stopped by and offered him a lift, which he accepted. To his utter surprise, upon reaching his destination and getting out of the car, he was once again confronted by the same strange man he had seen only a few moments earlier, staring at him. One evening some time later, he suddenly decided he wanted to buy some cigarettes. He took his car and under some kind of compulsion, found himself driving to the other side of town, to Leblon, which in those days was still quite a deserted district. He felt as though he was obeying an order. But he could not remember anything of what he had been doing during this time. He slept soundly. The next day he tried to remember what had happened and sometimes he recalled having seen a person. On another evening sometime after that, he again felt this compulsion to go out, and was met by the same person he had seen on that rainy day; the man approached him. This time he recollects having drawn his Parker fountain pen from his shirt pocket in a familiar gesture, to jot something down. In doing so, he immediately felt something warm strike his cheek and burn it. For a long time after this he had a scar on his right cheek. At the same moment, he let go of his pen, which fell to the floor of his car. One of the things he was able to remember is that the stranger did not speak but he himself understood all that was being said by the man (telepathically?). The next day, he found his pen and, to his surprise the cap was now pierced by a perfectly round, quarter inch hole. There followed a long period during which Mr. E suffered a dreadful loss of memory. Every time he tried to recollect what had happened, he suffered severe pain in the nape of his neck. He remembers that in one of his subsequent dreams he had a feeling of weightlessness. He refused to undergo hypnosis. An interesting detail he reported in his description of the person he encountered was that, although his eyes were very large, there were no tear ducts.
Source: Irene Granchi, UFOs and Abductions in Brazil
---
Date: 1953
Location: Vegas De Coria, Spain
Time: late night
Summary: Gregorio Martin Dominguez had been transporting a load of wine through some fields and had stopped for a brief rest. Suddenly he heard some strange music and concerned hid behind some trees. It sounded like different types of instruments and whatever it was appeared to be approaching his LocationSeconds later several strange figures appear next to the river, there were six to eight figures that appeared to be engaged in a frenetic dance. They had very pale facial features and were wearing brilliant white clothing. Moments later the figures formed a circle and another individual dressed in the same manner and with long thin pale facial features began manipulating what appeared to have been a square panel-like device, from which the music and sounds appear to emanate. At this point bright flashing lights also reflected from the device. Nervous, Dominguez made a sudden move making a slight noise; this caused the figures to stop dead in their tracks. Scared and amazed he watched as the strange group disappeared in plain sight, to his great relief.
Source: Iker Jimenez, "El Paraiso Maldito" (Cursed Paradise)
---
Date: 1953
Location: Cerro Del Valle Argentina
Time: midnight
Summary: Sleeping outdoors, Mr. Villafane was awakened by a feeling of heat and malaise. Sitting up, he saw a beautiful woman approaching and beckoning. She was wearing a sort of tight fitting green elastic mesh garment. Then he noticed that her feet had the shape of serpent's heads, with shining eyes on her insteps. He fled form her, to sleep a couple of km away from that spot. But he saw her lie down on his sheepskin "bed." The sheepskins were later "yellowed, as though scorched."
Source: FSR Vol. 19 # 3
---
Date: early 1953
Location: Burragorang Valley New South Wales Australia
Time: daytime
Summary: Following sightings of low flying objects in the area, a lone hiker at a remote location saw from a distance and hiding behind some scrub brush a group of man-like figures wearing shiny white "space suits" like outfits. The figures appeared to be searching the ground with strange metallic devices, apparently collecting soil samples. Soon after this incident three young hikers were reported missing in the same area and to this date never located.
Source: Rex Gilroy, Nexus Vol. 2 # 17
---
Related articles