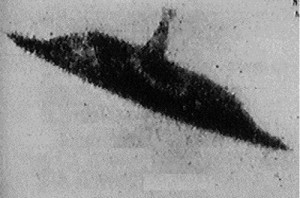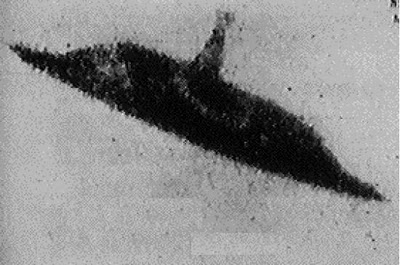 (Last Updated On: May 30, 2016)
Date: March(?) 1954
Location: Rouen, France
Time:
Summary:
Source: UFOE
---
Date: 1954
Location: Near Cincinnati Ohio
Time: unknown
Summary: A reported landing of a silvery disc from which a tall human like occupant resembling the "Adamski" type beings, with long blond hair and wearing a sky blue coverall emerged. He reportedly walked to a nearby stream and obtained some water; he then went back into the object and took off. No other information.
Source: Michael D Swords, IUR Vol. 18 # 5, quoting Hunt-Williamson Files
---
Date: 1954
Location: Tenterden Kent England
Time: unknown
Summary: The witness was alone in her house when she encountered, standing in the passage on the landing in front of her, a man over six-foot tall. He wore a metallic blue siren type suit that was glimmering. She stood looking at the entity and he looked at her without a word being spoken. The entity had a very high forehead, a slit for a mouth, large eyes, and high cheekbones. He also had a large pointed chin and his eyes were deep blue in color. He wore a very tight fitting helmet made out of a translucent material; his skin appeared to be pink. After a brief moment he suddenly vanished in plain sight.
Source: Norman Oliver, UFO Magazine Vol. 11 # 5.
---
Location: Nord (Northern) France (exact location not given)
Date: 1954
Time: unknown
An anonymous witness reported seeing a disc-shaped object land and a small man come out of it. He was entirely covered in a dark tight-fitting diving suit, which did not allow distinguishing none of his features. The little man then communicated in French with the witness saying the following absurd sentences:
"Intelligence is prohibited to the constipated and cancer comes from a tooth ache" The little man then walked back into the disc, which then took off and disappeared.
Source: Eric Zurcher quoting Aime Michel
---
Location: Near Minyushino, Yaroslavl region, Russia
Date: 1954
Time: unknown
A local resident reported seeing a flying object shaped like a "box or basket" flying towards the village of Staroye Merzleyevo. The object flew at a low altitude and emitted a muffled humming sound. The object then touched and tree and landed and two strange "men" of unusual appearance then exited the object. Both men seemed occupied in performing several tasks around the environs. After a few moments the two strangers returned to the object which then lifted up again and flew away. Local villagers, though simple people, noticed that the strange device was neither an airplane or a helicopter or an air balloon with basket, it was something they had heard or seen before.
Source: Vadim A. Chernobrov "Encyclopedia of UFO visits" Moscow 2008 quoting Valeriy Kukushkin
---
Location: Near Rushden England
Date: 1954
Time: afternoon
An eight-year old boy was digging in his garden when he saw a strange oval shaped "cloud" and heard a voice giving him instructions. Apparently he has been involved in other encounters. No other information.
Source: Northamponshire UFO Research Club
---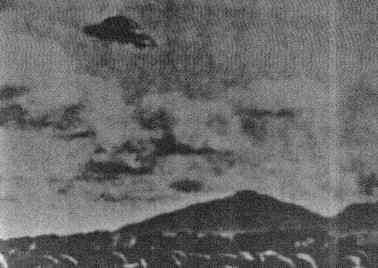 Date: 1954
Location: Australia
Time:
Summary:
Source: W. C. Hall
---
Date: 1954
Location: Queensland Australia, exact location not given
Time: afternoon
Summary: In an isolated farm area a man named Harry saw a being step out from behind a tree. The being wore a maroon tight fitting body suit with a broad belt. The entity was described as tall with long golden hair. No other information.
Source: .Keith Basterfield
---
Date: 1954
Location: South Pasadena California
Time: afternoon
Summary: The witness was out cutting wood in his yard when he saw a disc shaped object descend and hover about 20 feet from the ground. Three man-like figures descended to the ground by means of a ladder. The men approached the witness and attempted to communicate by using sign language. The witness reported that the three men apparently did not have any mouths, or were wearing some type of half faceplate or mask.
Source: George Hunt Williamson, Other Tongues Other Flesh
---
Location: Pantelleria, Sicily, Italy
Date: 1954
Time: afternoon
A 14-year old boy, Giuseppe Gabriele was exploring the island on his motor scooter and was rounding a bend on the path when he saw four small human-like figures standing next to a landed disc-shaped craft, afraid, he rode away from the area and did not investigate.
Source: Antonio Blanco "Catalogo degli avvistamenti della Regione Sicilia"
---
Location: Bankstown New South Wales Australia
Date: 1954
Time: just after dark
Two persons working late at the local airport observed what resembled a disc shaped object hovering above the control tower. Several lighted portholes could be seen and dark figures could be seen moving inside. The object changed colors then shot up into the air at great speed.
Source: Keith Basterfield
---
Location: Chelsea England
Date: 1954
Time: evening
Air Marshal Sir Peter Horsley reported that a certain General Martin invited him to the apartment of a Mrs Markham. There he met an apparent extraterrestrial of humanoid appearance, pale, with penetrating eyes and not totally human, which called himself "Mr. Janus." Fixing the Marshal with a steely gaze, the "alien" talked for hours about traveling in space and time. On a return visit, Horsley found the apartment empty.
Source: UFO-Mind
---
 Location: Near Madras, India
Date: 1954
Time: evening
In a small village a disc-shaped object was seen landing on a field. Several human-like occupants exited the object and they approached a local woman and communicated with her and also walked to nearby several homes and communicated with its occupants. No other information.
Source: Denys Breysse Project Becassine
---
Location: Wright City, Missouri
Date: 1954
Time: evening
The witnesses were driving home on a gravel road heading east when one of them looked out the window and noticed something flying over them and observing them. It was just high enough that the driver could not see it. The witness could see human-like persons walking around inside the object which was lit up. They wore some type of uniform like clothing. There was no sound or exterior lights and the object was going roughly the same speed of that of the car. The car drove for about a mile or two and then turned left into an area that had a lot of trees and lost sight of the object.
Source: http://www.uforc.com/ufo_reports/
---
Location: Near Terra Alta West Virginia
Date: 1954
Time: night
The young witness was coming back from a visit to the outhouse when the family dog began whining and looking up to a nearby hill. The witness looked up and saw a large flat object with three yellow-lighted windows, hovering low above the hill. The object was emitting a humming noise. Suddenly a human face appeared on one of the windows and apparently looked at the witness. The object then moved slowly away and disappeared over the hill.
Source: Bob Teets, West Virginia UFOs, Close Encounters in the Mountain State
---
Location: Near Lancaster New York
Date: 1954
Time: night
A couple living in a farm had been seeing mysterious maneuvering lights over the area for several nights in a row, then one night as they were watching television in their living room a foggy white beam of light shot through one of the windows. They then noticed, looking in the window the face of a man who appeared to be of a dark complexion. He was estimated to have been only about four-foot tall, judging by the height of the window. The beam of light seemed to emanate from the entity's face. The witnesses approached the window several times but each time they did the face would disappear.
Source: George Hunt Williamson, Other Tongues Other Flesh
---
Location: Saratov region, Russia
Date: 1954
Time: unknown
Several (at least 2) UFOs were detected visually and on radars by the Soviet military. Objects flew over the secret missile and radar sites located in Saratov and Volgograd regions near the river Volga and towards the launch missile positions of "Kapustin Yar" state central test range # 4, one of the first Soviet missile test ranges. According to military opinion "the flight appeared to be for reconnaissance purposes". Three or four Mig-15 aircraft were immediately scrambled from Volsk airbase NE of Saratov with orders to force the UFOs to land. After several aggressive attempts to compel the UFOs to land, the Migs opened fire. Immediately after that the radio communication with the all the Migs was interrupted and the Migs did not return to their base. A search and rescue operation brought no results—no wreckage was found. The pilots were reported missing. Apparently the Migs were either totally destroyed or abducted by the UFOs. A state commission was created to investigate the case. A member of the commission, a Mr. Popov emphasized the similarity between the incident near Moscow in 1938 and this new case. A classified report was submitted to the special military Soviet archive on UFOs which was created in 1955 almost a year after the incident. The Soviet Ministry of Defense kept a special archive on UFOs inside an underground bunker in a military garrison named Beryezovka-2 on Krasnyi Kut range in the Saratov region. The archive existed from 1955 to 1991. The archive was reportedly destroyed by orders from Moscow in 1991.
Source: Egveniy Valmer, retired officer in "Fourth Dimension and NLO" # 5 1999 and Victor A. Zdorov
---
Date: 1954: Osceola, Iowa Abduction
---
Location: Near March Field California
Date: early 1954
Time: unknown
Several witnesses were passing by the airfield in a vehicle when they observed a shiny disc shaped craft resting on the ground. In order to get a closer look they exited their vehicle and approached the object. The craft was smooth and silvery and there appeared to be no one around the object. The witnesses then decided to get even closer to the object when suddenly a man appeared and stepped in front of them. He raised his arm and threw what appeared to be a fireball at them. The fireball passed by them and struck their vehicle. The witnesses immediately fled the area, driving to the nearest police station. The being was described as tall, man like and wearing some sort of half mask on his face, apparently metallic. The fireball reportedly dented the side of the vehicle and burned the paint.
Source: George Hunt Williamson, Other Tongues Other Flesh
---
Date:  1954  
Location:  
Time:  
Summary:  
Source:  
Related articles