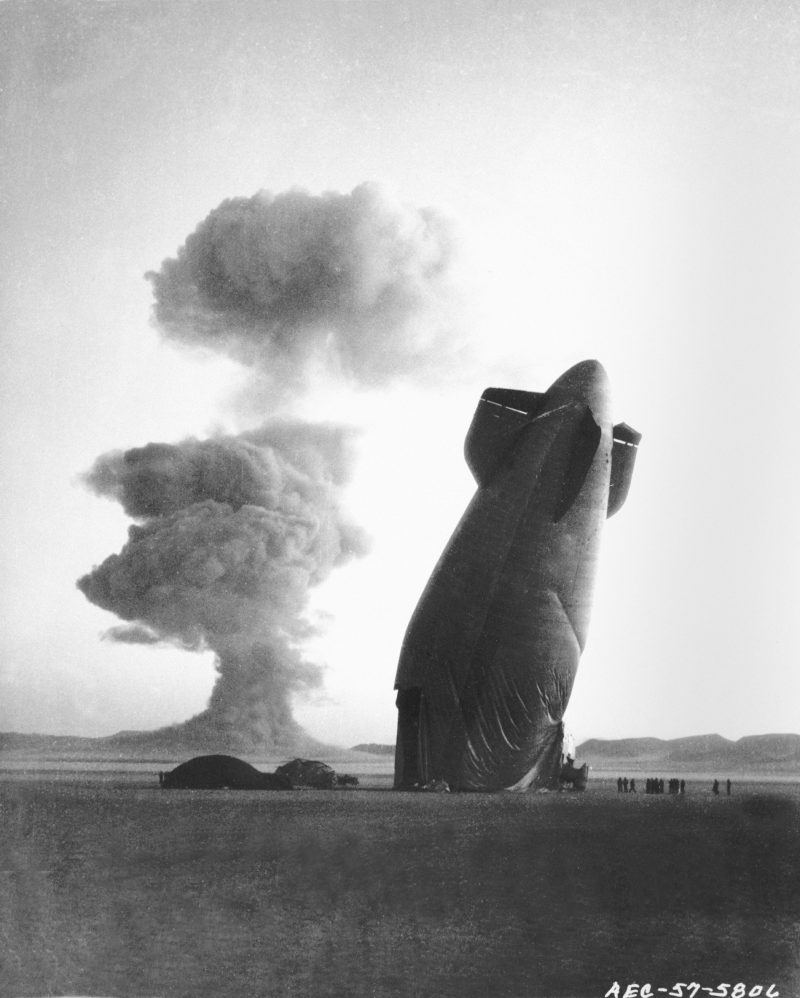 Date: August 1, 1957
Location: Toronto, Ontario, Canada
Time:
Summary: Large glowing object hovered 20 minutes, sped away. 
Source: UFOE, VII
---
Date: August 3, 1957
Location: About 175 SW of San Francisco, California        BBU
Time: 7:45-8:24 a.m. (PDT).
Summary: USAF 965th Aircraft Early Warning & Control Sq (552nd AEW&C Wing), pilot 1st Lt. Robert J. Springer, Jr., Tech. Sgt. Herman L. Giles, and 16 other air crewmen, while on routine Airborne Operations Center radar early warning patrol over the Pacific aboard RC-121D aircraft (s/n 53-3400) detected a target on IFF Mode 2 transponder only. At 7:56 the IFF target became a direct radar "skin paint," at 8:02 the IFF equipment APX-6/APX-7 was turned off but target was still tracked on airborne radar. At 8:15 target was at 2 o'clock position 10 miles range when aircraft started a right turn to reverse course putting target at dead ahead and target "suddenly" took off to the NW at "very high" speed, disappearing at 58 miles range (within 1-2 mins? at 1,800-3,600 mph?). Regained radar contact at 8:18 at 1 o'clock position 22 miles range moving right to left, crossed in front of aircraft again, closing distance to 8 miles at 11 o'clock position at 8:20 when target turned to head on parallel path. Lost contact at 8:24 at 7 o'clock position behind the plane at 15 miles, IFF remaining off, no visuals. () 37-39 mins  
Source: Jan Aldrich
---
Date: August 7, 1957
Location: Ohio-Central Indiana                    BB
Time: 1:51 a.m. (radar) 
Summary:  Starting at around midnight strange objects with colored lights were sighted by troopers, local police and local citizens over Alexandria, Yorktown, Portland, Pendleton, Greenwood, Elwood, Tipton, and Kokomo, all in Indiana. The sightings lasted until nearly 2 a.m. It was at 1:51 a.m., Portland reported object still sighted northeast and that District 5 (Piqua area?) in Ohio picked up an object on radar at between 6,000 and 8,000 feet but was unable to identify. Bunker Hill AFB was alerted of the sightings by State Police and the 319th Fighter-Interceptor Squadron made a sweep of the local area with their radar installation but there were no contacts. (Reference: Logansport Pharos-Tribune, August 7, 1957, page 1) The speed of the objects was given as from a stand still to high speed.
Source: The Project Blue Book report for Bunker Hill AFB for August 7, 1957 is listed on the Master Index as (CASE MISSING). There is a Project 10073 Record Card. (Dan Wilson)
---
Date:
Location:
Time:
Summary: August 14, 1957; Nr. Joinville, Brazil
Varig Airlines pilot observed domed disc, which affected aircraft engines. [UFOE, X]
Source:
---
Date:
Location:
Time:
Summary: August 15, 1957; Woodland Hills, California
Retired Navy pilot watched disc wobble, climb away. [UFOE, IV]
Source:
---
Date:
Location:
Time:
Summary:
Source:
---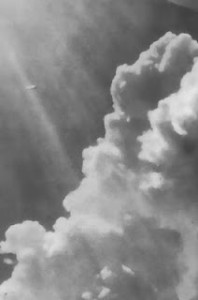 Date: August 20, 1957
Location: Fujisawa, Japan
Time: 11:28 a. m
Summary: The picture was observed and photographed by Mr. Shinichi Takeda of Fujisawa City, Japan, near Enoshima Miami Beach at 11:28 a. m. on 20 August 1957. Thc object was also seen by Mr. Shinichi's sister, who called his attention to it. It was silvery in color, gavc off a brilliant glow and at 3 or 4,000 fect attitude, traveling in a north to south direction. Whcn directly overhead, the object made a 80-degree left turn and increased its speed from about 250 mph to 500 mph and disappeared into the clouds. A few minutes later, 15 bathers at Enoshima-MiLianti Beach spotted a very similar object which passed over the beach at high speed. No sound accompanied thc observations.
Source:
---
Date: August 20, 1957
Location: Quilino Argentina
Time:
Summary: An Air Force man inside a tent heard a loud, shrill sound and saw a disk that came down as grass and plants fluttered wildly under it. He found himself unable to draw his gun, which "seemed to be glued in its holster." A voice came from the craft, telling him in Spanish that UFO's had a base in the Salta area and would soon show themselves to warn all people about the dangers of a nuclear catastrophe. ()
Source: Humanoids 36; Magonia 398
---
Date: August 20 or 22, 1957
Location: Quilino, Cordoba, Argentina
Time:
Summary: A story, probably from a newspaper of the time and place, surfaced without much details in the ufology literature, about a UFO encounter near Quilino, in the Province of Cordoba, in Argentina, on August 20, or 22, 1957. An unnamed male officer was on a mission with two other officers to guard a downed air force plane until proper men and equipment could reach the site and recover it. He was left alone in a tent tent, when he heard a strange buzzing sound, extremely loud and high pitched. Rushing outside, he saw a disc going down slowly, while the plants and the grass were violently agitated. He was terrorized and tried to pull out his revolver, but under some influence that came from the disc, according to what he said to have felt, he could not bring his weapon out, as it seemed to be stuck to its holster. Then, a voice coming from the disc told him in Spanish not to be frightened, because the Interplanetary Space Force had already a base in the area of Salta nearby, and would soon show themselves to all the people of the Earth so that everybody gets informed of the danger of the bad use of atomic energy.
Source:
---
Date: August 22, 1957
Location: Cecil Naval Air Station Florida
Time: 1540
Summary: ). A black, bell-shaped object bearing two bright, white lights at the top and measuring 15 m in diameter was chased by a civilian in a car until the engine stalled. The object was then hovering 3 m away. The underside of the machine resembled a disk with fins. When a jet air- craft took off from the airfield, the object went out of sight almost instantaneously. The car battery was found completely dead. There was no helicopter in the area, although the two witnesses compared the noise made by the object to that of a helicopter.
Source: Magonia 399
---
Date:
Location:
Time:
Summary: Aug. 22-23, 1957; Cambria AFS, Calif (BBU)
7:35 p.m. local time. Two or three round, red and orange objects the size of a pea at arm's length were observed in a stack formation one above the other to the southwest at 15 degrees elevation. The objects were observed through binoculars.  FPS-6 radar HRI was detecting objects in the same direction. Two F2H Navy fighter aircraft out of Moffet Field were sent to the area and made visual contact. When the fighters got within 50 miles of the objects both fighter's IFF disappeared from PPI of FPS-3 radar. The fighter aircraft IFF did not reappear until the fighters were approximately 70 miles from the objects. Total length of observation was approx. 1 hour and 30 minutes. (Dan Wilson, Brad Sparks, McDonald List, FUFOR Index)
Source:
---
Date:
Location:
Time:
Summary: Aug. 24,1957; Ninigo Islands, South Pacific
Night (?) According to the South Pacific Post, a newspaper published at Port Moresby, Papua, New Guinea, a strange object was sighted from a government trawler. A patrol officer and four Europeans watched the UFO hover near their ship for 20 minutes. The Acting Director of Native Affairs, Mr. J. K. McCarthy, stated that the patrol officer, Mr. E. S. Esdale, was on the government trawler Eros when he and the others saw the object. Mr. Esdale reported that he was in the Ahu passage, in the Ninigo Group, when a strange light appeared in the west. "It assumed the appearance of a large yellow star. It hovered in one place for 20 minutes, but changed from yellow to red, then to green and finally to crimson. "It remained still for 20 minutes, then moved violently in a small area. It eventually turned from crimson to green and appeared to enter the sea." (Rullan;Flying Saucer Review, Vol. 4, No. 4, p. 7 July/August 1958)
Source:
---
Date:
Location:
Time:
Summary: Aug. 27, 1957; Dry Tortugas, Florida (BBU)
4:45 p.m. (EDT?). Crew of military aircraft saw an object with bright red to reddish-yellow pulsating light. The speed of the object was approximately 950 knots at an estimated altitude of 20,000 feet. The object was also picked up on an aircraft APG-51A radar as large blip at 20 miles range. An intercept was attempted and was discontinued because of the speed of the object. Pilot visually followed the object as it faded from sight. (Dan Wilson, Brad sparks, Project 1947) 
Source:
---
Date:
Location:
Time:
Summary: Aug. 27, 1957; Eglin AFB, Florida (BB)
9:35 p.m. EST. At least six airmen including control tower operators observed a round object with a white light over Eglin AFB for approximately 5 minutes. At one point the object was seen at an estimated 700 feet altitude going straight up and then back down. The object appeared to circle the hanger at an estimated 2000 feet and at this time a red and white light were seen. (Dan Wilson, BB files)
Source:
---
Date:
Location:
Time:
Summary: Aug. 29, 1957; Paso Robles, Calif. (BBU)
Daytime? Taylor and Bunting saw silver circular object flying N to W. (Hynek UFO Rpt p. 44; FUFOR Index) 4 mins
Source:
---
Date:
Location:
Time:
Summary: Aug. 30, 1957; Chesapeake Bay, nr. Norfolk, Virginia
Night. A Capital Airlines pilot with 17 years & 3,000,000 miles logged was flying a Viscount at 12,000′ approaching Norfolk, Va., with a Northeast Airlines DC-6 "directly above" on the same heading at 20,000. The Viscount pilot saw a "brilliant" object which "flew fast and then abruptly halted 20 mi. in front of us at 60,000 ft. altitude." The Northeast pilot tried to acquire the object on radar: with the antenna at 0 degrees elevation nothing was detected, but with the antenna elevated to 15 degrees he acquired "an excellent blip right where I told him to look for the object." According to the Viscount pilot, the object "dissolved right in front of my eyes, and the crew above lost it from the scope at the same time. They said it just faded away." The entire incident lasted "several minutes". (NARCAP Report item # 14)
Source:
---
Date:
Location:
Time:
Summary: Early Sept.; Ubatuba, Brazil
This is the only one of the crash-retrieval incidents supported by physical evidence that also has the pieces of the reported craft to study to go with it, and a number of people have taken part in the analyses. Although still surrounded in controversy the case is worthy of inclusion in the NICAP files. The latest addition to this case file is the complete 33-page analysis report by Dr. Peter Sturrock. Our thanks to Dr. Sturrock and all the other participants who made this report available on the NICAP site. 
Source:
---
Date:
Location:
Time:
Summary:
Source:
---
Date:
Location:
Time:
Summary:
Source:
---
Date: September, 1957: Fort Belvoir, Virginia Photo
---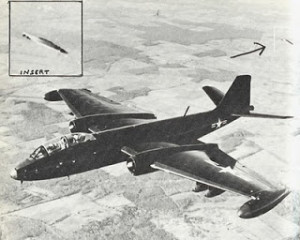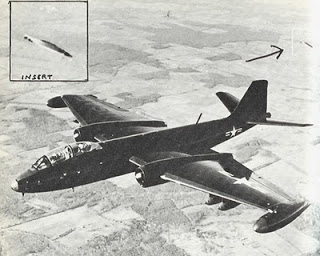 Date: September, 1957
Location: Near Edwards AFB, Ca-California
Time:
Summary:
Source:
---
Date: September 1, 1957
Location: Porthcawl, Glamorgan, Wales
Time: Midnight
Summary:  Two policemen patrolling the seafront saw a blood-red object with a jagged black streak across its centre rise out of the water on the horizon. Chief-Inspector Reginald Jones, of "D" Division, Glamorgan Police, told Flying Saucer Review that the two policemen thought at first that they were seeing a ship on fire on the horizon towards Ilfracombe. But then it rose out of the water like a blood-red sun, a good deal larger than a full-sized harvest moon. While the two police officers watched, two more streaks appeared above and below. It remained at sea level, then suddenly took off at a fantastic speed towards the Atlantic. Chief-Inspector Jones said the report had gone to top level. An Air Ministry spokesman said that one possible explanation of the phenomenon was that it was "a planet playing tricks." "Venus does at certain times of the year play all kinds of tricks–often due to climatic conditions." Flying Saucer Review has since ascertained that Venus went below the horizon one hour after sunset on that evening. Sunset was at 7.48 p.m. (Summer time). So it could not possibly have been visible at around midnight!
Source: Rullan; Flying Saucer Review, Vol. 3, No. 6, p. 9, November/December 1957, "UFOs Ahoy!" by Janet Gregory
---
Date:
Location:
Time:
Summary:
Source:
---
Date: September 3, 1957
Location: Binghamton, New York
Time: about 9 pm
Summary: This event happened when I was 12 years old. I was in bed at night and looking out the window through my open curtains. It would have been about 9 pm, maybe a little later. The house next door was dark and the neighbors were away. Suddenly, in the yard between our houses, a glowing light appeared. It was oval in shape and the lights it gave off were whitish but with many other colors mixed in. These lights seemed to shift and change but they made no shadows on the ground. Whatever this was seemed to simply materialize out of the air and was possibly about 10 feet off the ground. It might have been just a few feet high but the size seemed to shift and change. The light appeared to open up and something began to come out. I was terrified and called out to my father who was passing my bedroom door on his way to bed. He came in and sat by the window to watch it with me. I asked him what it was and he said he didn't know. I had the feeling we were seeing something we were not meant to see. Then we both either fell asleep or passed out. We woke up at the same time and the lights were gone. I don't know how much time had passed. It could have been seconds or an hour. It felt like a long time. I asked my father again what happened and he again said he didn't know. After that, whenever I asked him about the event he would get angry and say he had no idea what I was talking about. Soon after this happened, I began to have physical problems and a few years later was put on thyroid medication. When I was in my 40s, I asked my father one last time if he knew what happened that night. This time he did not deny it but he wasn't able to recall anything much about it. I am now 70 years old and my father has been dead for a few years, so I am the only witness. I have told very few people about this experience, but having recently found out about Mufon, I thought I should record what I could remember. I'm sure what I saw had an intelligence behind it. I have no doubt that we are not alone in the universe.

Source:
---
Date: September 4, 1957
Location: Portugal
Time: Evening
Summary:  Portuguese Air Force jets encounter UFO for forty minutes. 
Source: Clear Intent, pg. 147; Ferreira, Captain Jose Lemos, FSR, Vol. 4, No.3, 1958, pp.2-3
---
Date: September 7, 1957
Location: Runcorn, Cheshire, England
Time: 02:15 a.m.,
Summary: The story of James Cooke entered in ufology literature by the good care of English eccentric Brinsley Le Poer Trench, Earl of Clancarty, who reported about it in the Flying Saucer Review in 1958. It was picked up later by journalist/paranormalist John Keel who loved this kind of twaddles; but no serious ufologist put it forth as an authentic encounter with extraterrestrials. The fact is that the American so-called "contactee" George Adamski had made followers, and much more people than it is generally thought, in the Fifties, also invented stories of their visits of some home planet of "space men", almost invariably bringing back an assuaging message of universal peace and warnings in connection with the madness of the men. Cooke's story, like quantity of similar stories, obviously and with reasons, was not believed by the serious ufologists of his time; thus, almost forgotten, it survives nowadays as an "example" in the so-called "skeptic" UFO literature, aimed at pointing how silly ufology and extraterrestrial encounters are supposed to be, and also remains as a "case" to illustrate weird thesis of the Keel/Vallée school of though, which asks to view it not just as a then fashionable fable, or attempt at getting publicity, or imaginary starting point for UFO cults, but as "interventions" of some generally undefined "superior" or "evil" earthly intelligence of some parallel world or other realm, supposed to "manipulate" the very fabric or reality. James Cooke, a resident of Runcorn, Cheshire, England, had already told several alleged flying saucers sightings, when he became part of the "contactee" crowd by claiming that on September 6, 1957, he received, by telepathy, the injunction to go to the top of the hill of Runcorn, which was opposite the city of the same name, and said he did just this, in the middle of the night, 02:15 a.m. on September 7, 1957.
His history is that there, he saw a spaceship in blinding light arriving, coming to hover a few inches above ground-level at some 20 meters in front of him, or less, according to certain sources. The apparatus changed colors from blue to white, then blue again, then dark red. A slope or staircase with balustrade emerged from this saucer, and a voice told him to enter, by jumping over the ramp without touching it, for the ground was wet of rain. Cooke, hardly startled, willingly did so, thus this case is not "the first alien abduction in England" that some writers thought it was. Inside the craft, a strong light reigns, without shade, coming from everywhere at the same time, with no visible source. He is commanded to strip himself naked, does so readily, then asked to slip into a kind of plastic suit. He then went into another spaceship that had to be there somewhere, and inside, met a crew of more than 20 men of space, similar to the men, but much taller since 2.10 meters in height, with well-built bodies, black hair, blue uniforms. As usually in such stories, these people take him along in a saucer trip towards their planet of origin, "Zomdic", orbiting another star or another galaxy, depending on ufological sources. He visits Zomdic, describing its vegetation as yellow instead of green, and the residents hermaphrodites – not bisexual as it will be reported later. "Zomdic" is governed by Wise Seniors, a Master, and as it should be, Cooke would come back from his visit with a teaching to propagate to Earthlings: "The inhabitants of your planet will upset the balance if they persist in using force instead of harmony. Warn them of the danger." Brought back home 45 hours after his departure for Zomdic, Cooke thought to make his story sound more true to specify than he forgot to jump over the saucer's ramp as requested when boarding, which caused him an electric shock: indeed the vessels of Zomdic function by electrifying the air, and this is besides the reason why they do not function well in wet weather and why your are not supposed to touch the ramp when the air is damp – Zomdiciens could however think of insulating the ramp, if they are so wise. As a physiological proof, he claimed that others saw the burns that this caused on him.
A little dubitative, he indicated, as for the chance of success, or perhaps as of the relevance or the interest of the extraterrestrials' preaching, reassured by the space man, Cooke then set up "The Church of Aquarius", a UFO cult having its Church in Runcorn. He sat there as a messenger and ambassador of the space men of Zomdic, receiving by telepathy their wise words of peace for the benefit of an audience about which John Keel told it was so numerous that he had to open a second Church in the city, the story not specifying if he was gifted of bilocation to sit there too. It is claimed that this UFO cult lasted ten years there, and that Cooke "disappeared" in a puff of mystery according to certain sources, or quite simply made himself forgotten – the public interest in the "contactees" had vaned at the end of the Sixties, and it was certainly a wise inspiration of his to "disappear" from public view.
Source: "Recent Contacts And Landing Reports: Mr. Cooke Goes To Zomdic", by Brinsley Le Poer Trench (editor), article in the ufology magazine Flying Saucer Review (FSR), U-K., Volume 4, #4, July 1958.
---
Date: September 10, 1957: A Report on the Investigation of a UFO Explosion Over the Sea in Brazil
---
Date:
Location:
Time:
Summary: Sept. 12, 1957; Tulsa, Oklahoma (BBU)
5:00 p.m. CST. The witness, an electronics technician, was conducting a ground check of the APS-64, which is a component of the MA-7 bombing system of a B-47 jet bomber, when he noticed a radar return at approximately 60 miles range traveling at an estimated 24,000 mph from north to south. The length of the observation was 9 seconds.(McDonald list; FUFOR Index)
Source:
---
Date: September 16, 1957
Location: Smithfield (Australia
Time: 930
Summary: ). Les McDonald, 17, and Gladys Smith, 14, saw a red light changing to green, spreading around them like a mist and covering an area about 100 m diameter. They became nearly paralyzed and "felt a warm glow." They had no fear, but were "merely cognizant of things as they were without being able to react." This sensation lasted two min.
Source: UFO Bulletin Dec., 57; Magonia 402
---
Date:
Location:
Time:
Summary: Sept. 17, 1957; Ft. Devens, Mass.
Army report on eight round, orange UFOs which flew over base, one oscillating up and down. [UFOE, IV] 
Source:
---
Date: September 19, 1957
Location: Point Pleasant New Jersey
Time: 1840
Summary: A boomerang-shaped
object bigger than a house was reported to have landed. Grass flattened.ept. 19, 1957; Point Pleasant, New Jersey (BBU)
6:40 p.m. A lady had taken her dog for a walk and was looking into the sky checking the weather. She saw an object moving north to south, descending straight down onto a nearby lot. She described the object as white, noiseless, and boomerang-shaped and looked to be larger than a house. When it landed she heard a voice tell her very clearly not to say anything of this. She called her husband and asked him if he had said anything, and he said no. She said she watched the object while her husband checked on it. The object then rose straight up above the trees to about 1500-2000′ then took off at high speed. and disappeared. Report says object was observed about 25 minutes. Her husband searched the lot and found the grass flattened and tracks that looked like from a child's wagon. (Vallée Magonia 403; FUFOR Index)
Source: Magonia 403
---
Date:
Location:
Time:
Summary: Sept. 20, 1957; Nr. Buffalo, New York
Several CIA documents confirm that an unidentified flying object (UFO) was tracked by US radars. It was flying on a relatively straight course from the eastern tip of Long Island to the vicinity of Buffalo. The object was reportedly moving westward at an altitude of 50,000 feet and speed of 2,000 knots. "Jamming" was reported by several radars in this vicinity and westward as far as Chicago. (CUFON, Ridge files, foia.cia.gov site)
Source:
---
Date:
Location:
Time:
Summary: Sept. 20, 1957; Montauk, New York – Benton, Penna, (BBU)
4 p.m. High speed 2,300 mph radar target on E-W path at 50,000 ft altitude tracked by multiple radars, including 1-min track by FPS-3 at Montauk Point and 9 mins by CPS-6B at Benton, from E Long Island to Buffalo, New York (with alleged 11 min gap in between??), triggering a White House alert, high level CIA, USAF Intelligence, IAC Watch Committee meetings. Speed varied from 1,500 to 4,500 mph. (FOIA; Sparks, FBI/CIA docs – Ridge) 20+ mins ? The incident resulted in an immediate alert by both SAC and ADC. F-102's were scrambled from Kinross AFB, Michigan, and Truax  AFB, Wisconsin. (Dan Wilson)
Source:
---
Date:
Location:
Time:
Summary: Sept. 20, 1957; Kadena AFB, Okinawa (BBU 4959) 
8 p.m. S/Sgt. H. T. O'Connor and S/Sgt. H. D. Bridgeman saw an object, shaped like a coke bottle without the neck, translucent and fluorescent, make four 5-10 second passes from N to S, with 4-5 mins between passes. (Berliner) 4 x 5-10 secs ?
Source:
---
Date:
Location:
Time:
Summary: Sept. 26, 1957; Paris, France
Confidential report, from U.S. Embassy officer and wife, of bright elliptical UFO. [UFOE, X]
Source:
---
Date:
Location:
Time:
Summary:
Source:
---
Date: September 26, 1957
Location: Yellow Falls Texas
Time: sunset
Summary: Three hundred people were said to have seen three elongated objects with a series of portholes, maneuvering at ground level in an area with many empty oil wells. One of these objects, said to be 150 m long and 20 m high, pearl-colored, glistening under the setting sun and showing a series of circles painted on its surface, landed for 20 min. An occupant emerged, observed the abandoned derricks and took off again. Observed through binoculars, he appeared as a "monster," 1 m tall, moving with strange jumps. He picked up something from the ground.
Source: Magonia 404
---
Date: September 29, 1957
Location: Deerwood Nike Base Maryland
Time: 0500
Summary: Undocumented report of a landing observed by missile men.
Source: Magonia 405
---
Date: October, 1957
Location: Pescara, Italy
Time:
Summary: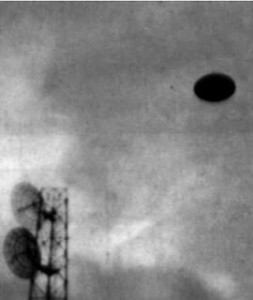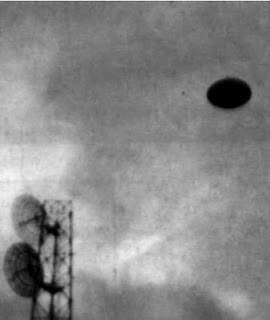 Source:
---
Date: October 1, 1957
Location: Martelle, IA
Time: 20:30
Summary: I Fly and have been in Viet Nam and around the world and have never seen anything like it again. I am not sure if it was 1956 or 57 as I was only 9 or 10 at the time. We had left my grandfathers farm a mile west of the martelle just over the Linn county line and were going north on highway 1. We were going to my aunts farm near Anamosa with my mother in the back pass side and my grandmother in the front. My Grandfather was driving and I was in the back on his side. We were were 2 or 3 miles north of Martelle when the radio on the car stopped playing music and had nothing but static. The car then started to stall and my grandfather pulled off the right side of the road. Just as he stoped it became like daylight out as a vary bright cigar shapped object appeared to the west of the car over a field. All I can remember is that it looked huge and was so bright that I was able to see all the picked corn rows in the field. It was a bright orange and with what looked like large port holes that were bright orange. This may have been for 20 or 30 sec. and the next thing that I remember is it being dark and that I rolled down the window and stuck my head out looking up and seeing all the stars as it was a clear night. We all said what happened and then just looked at each other. My grandfather started the car and the radio came on and we went on to my aunts farm. When we got there they wanted to know where we had been as we then realized that it was 22:00. I have always wondered about this but as my mother is the only one still living and she never wants to talk about it I have never told anyone else about this event. If anyone might have also seen this event I would be interested in what they saw.
Source: NUFORC
---
Date: October 1, 1957
Location: Northeast Cape AFS, AK
Time: 22:00
Summary: Radar sighting and filming I was a radar operator at an early warning radar sight. At about 2200hrs we painted a target about 200 miles west, in Soviet territory. It was moving eastward at a high rate…about 10,000kts. We had no height finding radar, so could only guess at the altitude. We thought it was a missile. In accordance with SOP for picking up unidentified targets, we turned on the scope camera. As the target continued eastbound we lost radar contact, but the next site, at Cape Romanzoff picked it up. We were later told that the target was carried continuously until it was east of Iceland, and that the total time was about twenty minutes.
Source: NUFORC
---
Date: October 1, 1957
Location: Shippingport, Pennsylvania
Time:
Summary: From the direction of the nearby town of Ohioville something strange approached at an altitude of 2,000 feet.  The two men spotted it and were astonished.  The thing was a big luminous torpedo they estimated was 200 feet long.  The top half was green-colored and the bottom half was reddish-orange. It was the  witness' opinion the mystery ship made a U-turn over the nuclear facility.  This suggestion was taken seriously by the Air Force and the FBI."  ()
Source: The Beaver County Times, Beaver, Pennsylvania, 8 November 1957.
---
Date: October 5, 1957
Location: Sao Francisco, Brazil
Time:
Summary: Antonio Villas-Boas. Early abduction, sexual encounter with alien-human hybrid. DETAILS
Source: Dr. Olavo Fontes of APRO
---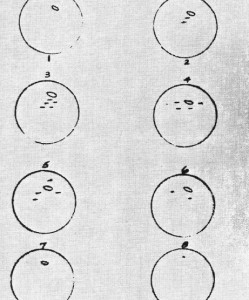 Date: October 6, 1957
Location: Tucson Arizona
Time: 4:15-4:30 p. m. MST.
Summary: large, Small UAOS Over Tucson ln 1957 Earl E. Sydow, engineer and amateur astronomer of Tucson, submitted the following account of a sighting of unconventional aerial objects to APRO in 1962. The original account and drawing were sent to Dr. McDonald of the Atmospheric Phyics Institute, University of Arizona, in 1958. DRAWING: The drawing shown aboae illustrates objects seen bE EarL C. Sadow on October 6, 1957 wi.th aid of telescope (see tert). Sunday, Oct. 6, 1957 – 4:15-4:30 p. m. MST. Observed UFO's at 60 degrees elevation, 135 degrees Az. Bright object was seen having the magnitude approximately of the planet Venus or approximately -3. The single object measured approximately 3 minutes in diameter along the major axis and measured about 1 minute along the minor axis. Smaller objects seemed to exit from the larger object as observations continued. A total of 6 objects were seen at one instant, but other observers noted a total of 10 objects. The objects appeared to be flat white to a silver white. The shape of the smaller objects appeared to be short traces of light at times and at other times appeared to be somewhat semiwedge shaped. The objects moved from the SE toward the NW. The smaller objects disappeared from the field of the telescope until in the final phases of observations there was only one object still in the field of view. This object was the original object sighted and it slowly disappeared from view as if it were moving away from the observer. I would estimate the diameter of the smaller objects to be about 15 to 30 seconds. The last object was observed at about 180 degrees Az. and 85 degrees elevation. Condition of sky: Clear, light blue. Wind conditions: None. Type of instruments used: 1 20mm x 15x; 1 70mm x 140x Astro scope. Number of observers: 7
 Source: 
---
Date:
Location:
Time:
Summary: Oct. 7, 1957; Cape Canaveral, Fla.
White oval object seen near Cape for second consecutive night. [UFOE, XII]
 Source: 
---
Date: October 08, 1957
Location: Nabouwalu Fiji Islands
Time: 1500
Summary:  Two couples going from Nabouwalu to Nawaca in a motor boat saw a white object come down from the sky, thought it was a plane in trouble and went closer. They found the object hovering 7 m above the water, and a figure on board the craft aimed at them a beam so bright they "felt weak." The figure disappeared suddenly, and the object took off vertically at high speed.Oct.8,1957; Nabouwalu, Bua, Fiji Islands
3:00 p.m. Two middle-aged couples saw an object that came down from the sky near the island of Nawaca [sic-Nawaka], eight miles away from Nabouwalu, southwest of Viti Levu. The witnesses were in a punt1 with an outboard motor, and when they saw the object, they first thought it was an airplane in trouble and decided to go near it. As the Fijian[s] came closer, they found it hovering about 20 feet above the sea and it appeared to be revolving. The witnesses said they picked out what looked like a figure of a man standing on the outside of the object. This figure shone a very bright light on their boat which was so powerful that they were dazzled and "felt weak." When the boat was about five chains from the rotating object, the figure disappeared and the object then rose in a rapid vertical movement and was soon out of sight. The newspaper is said to have emphasized that all four agreed on the details, that they lived in a fairly isolated area "without access to comic books or other literature on flying saucers." The witnesses['] statement was obtained by R. O. Aveling, an official of a local Adventist Church, who, in the night of the sighting by the four Fijians, had seen a light, apparently at an altitude of 5.000 feet, between the islands Beqa and Viti Levu. This light was at first stationary, then started sliding slowly through the sky for about five minutes, then vanished entirely, although there were no clouds. (Rullan; Website: UFOs at Close Sight)
Source: Round-up 202; Challenge 18; Magonia 408
---
Date:
Location:
Time: Oct. 8, 1957; Bua Province, Fiji Islands
Natives in small boat saw UFO descend vertically, hover about 20 feet above sea.
Summary:
Source:
---
Date:
Location:
Time:
Summary: Oct. 8, 1957; Nr. Boston, Mass.
Pan American Airways pilot saw a brilliant object flying at high speed in daylight. [UFOE, V]
Source:
---
Date:
Location:
Time:
Summary: Oct. 8, 1957; Seattle, Wash. (BBU 5003)
9:17 a.m. PST. M/Sgt. Walter W. Housley and Sgt. First Class Merrel E. Lee, observed two flat circular objects the apparent size of a dime held at arm's length appearing in the NW and banking away to the SW. The objects remained in line astern at all times while flying along an irregular path, frequently banking. The length of observation was 25-30 seconds. The two witnesses were from the 313th AAA MSL BN (NIKE).(Berliner) 
Source:
---
Date: October 10, 1957
Location: Schenectady New York
Time:
Summary: ). Mrs. Edward Yeager who lived in a trailer on the Duanesburg-Church Road near Mariaville, saw a circular object go down behind the hill. Two min later it flew up again, very bright. The next day she was feeding animals that ran away as the same or a similar object came within 2 m of the ground. Two dark, little men came out of the craft and went into the woods. The object remained there two min, then left. A search for the occupants proved futile. A bus driver was said to have seen two craft land in a nearby field at the same hour.
Source: FSR 58, 3; Magonia 409
---
Date: October 10, 1957
Location: Quebracoco Brazil
Time: night
Summary: Naval officer Miguel Espanhol and another man, traveling to Ceres, saw a bright object that illuminated the countryside and came down to ground level as the truck stalled. It was oval or saucer-shaped, over 150 m in diameter and 40 m deep, with a dome supporting a long "aerial" with a red light on top. The bright light went off and the witnesses saw seven childlike beings, with long hair and luminous suits, who looked down at them for about 3 min. The craft flew south and released a smaller disk, which flew north.
Source: Humanoids 36; Magonia 410
---
Date:
Location:
Time:
Summary:
Source:
---
Date: October 11, 1957
Location: Roulon France
Time: 2000
Summary: ). Two witnesses in a car saw something they described as "a dark, transparent ball" about 50 cm in diameter rising from the side of the road. It had appendages trailing behind.
Source: Magonia 411
---
Date:
Location:
Time:
Summary: Oct. 11, 1957; nr. Nawaka, Fiji Islands
Afternoon. Two middle-aged couples boating, observed a circular white object descending vertically from the sky to the surface of the ocean. When they got close to the craft, they found it hovering about 20 feet above the water. As the Fijians moved closer to the craft, they saw what they took to be the figure of a man standing on the outside of the UFO. This figure shone a very bright light on the boat ­ a light so powerful that they were dazzled and left weak. Then the figure disappeared and the craft went into a high speed vertical climb and vanished in a few seconds. (Rullan; MUFON UFO Journal, #234, October 1987, p. 18
Source:
---
Date:
Location:
Time:
Summary: Oct.12, 1957; near Martha's Vineyard, MA
3:20 p.m.  Three members of the Woods Hole Oceanographic Institution, Ronald A. Veeder, Capt. Scott Bray, and Capt. Eugene Mysona, with these three men were two fliers from Charleston, South Carolina, one a Air Force jet pilot. All five men where aboard Veeder's boat, the Sports Fisherman. At 3:20 p.m., a strange round object bearing southeast approached the boat at high speed. As seen by Veeder and the others, through binoculars, the UFO appeared to be a sphere with sensing elements or spikes protruding from it. The tips of the "spikes" were red. The object hovered for about two minutes then took off to the southwest at a speed greater than any object the witnesses had ever seen. The sighting was reported to Otis AFB, Mass. (UFO Investigator / JULY – AUG 1960, page 6)
Source:
---
Date: October 14, 1957
Location: Francisco de Sales Brazil
Time: 2145
Summary: )Second observation by
A. Villas-Boas. He was plowing a field with his brother when they saw a red light at the edge of the field. He went toward it, but it shifted its position every time he went close. It vanished on the spot.
Source: FSR 66, 4; Magonia 412
---
Date: October 15, 1957
Location: Covington Indiana
Time: daylight
Summary: )Mr. Moudy, a farmer, observed a silvery disk which hovered above his tractor; the engine failed when the object rose.
Source: Magonia 413
---
Date:
Location:
Time:
Summary: Oct. 16, 1957; Australia
Round UFO sighted by former Commander-in-Chief of Royal Australian Air Force. [UFOE, X]
Source:
---
Date:
Location:
Time:
Summary:
Source:
---
Date: October 16, 1957
Location: Francisco de Sales Brazil
Time: 0100
Summary: )Third observation by A.
Villas-Boas. Alone in the fields on a clear night, he saw a big, red star which took the appearance of a luminous, egg-shaped object and stopped 50 m above his tractor. Its light was brighter than that of the headlights as it landed 15 m away. The top part was spinning. It became green as it slowed down, was then seen as a flattened dome. Three legs emerged from the machine as it settled down. The tractor engine stalled, and the witness was seized by unknown individuals and carried aboard the craft, where he was medically examined, then left with a woman of short stature with whom he had sexual intercourse. Villas-Boas reported that crew members wore tight, white clothes with a light on the belt, heelless white shoes, big gloves, and opaque helmets with a slit at the level of the eyes. Their language was shrill, and he could establish no verbal communication with them.
Source: FSR 66, 4 et seq.; Magonia 414
---
Date: October 16, 1957
Location: Holloman Air Force Base, New Mexico
Time:
Summary: On the 16th of October 1957, Miss Ella Louise Fortune, Welfare Nurse at the Mescalero Indian Reservation, photographed an unconventional aerial object which was hovering over the Holloman North Test Range. Her camera, a Kodak Pony 135, was loaded with color film' but she didn't think of a picture when she first saw the object.  Nurse Fortune tooled her little station wagon up the railroad overpass Just north of Tularosa, and when she reached the top and angled down the decline, she saw the object to the WNW, a glowing white flattened egg-shaped object Srinrt a clear blue sky. She continued to drive' watching as much as she could without taking unnecessary chances with her driving. At about 6 miles north of Tularosa, she decided to snap a picture so that she would have pictorial evidence of what she had seen. She stopped, made one exposure, then continued on her way to the Three Rivers Settlement where she checked and visited an Indian patient. The object had appeared to be motionless at all times, with a clearly defined edge. There was little or no wind. The picture first appeared In the Portales, New Mexico paper and the editor seemed to think the object might probably be a parachute or balloon with the linen trailing to the south. The object did not  reflect light, and according to Ella Fortune, it had density, and appeared to emit its own light. The absence of wind precludes the possibility that the object might have been either balloon or parachute, as there was no billowing of the object, so characteristic and obvious in a balloon or parachute flight.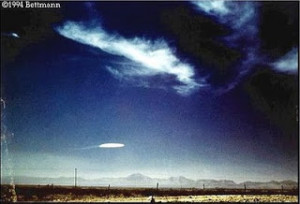 When Miss Fortune was interviewed by Mr. and Mrs. Iorenzen, she was very positive about the impression that the object was a dense object-not nebulous and filmy like a cloud. The high-lying wind-blown clouds in the sky which are also obvious in the picture indicate wind at high altitude, at least 10,000 feet. When asked whether she felt the object night have been a lenticular cloud, Miss Fortune said that she was very familiar with lenticular cloud structures, and was positive the object in question was not a cloud of any kind. A preliminary analysis was done by Mr. Brown. He found, in heightening the contrast, that a rim and other contours on the object were brought out, but that the "trail" faded almost to nothing. The apparent distance between the object and the mountains is about 15 miles, or approximately hallway between Highway 54 and the San Andreas Mountains, seen in the background. Miss Fortune felt that the object was about halfway between her position and the mountains. It is regrettable that she did not take other exposures of the object at several points along the road; they would have been invaluable for the purpose of triangulation to gain some knowledge as [o size. Professional mathematicians and analysts in the Alamogordo membership, who are employed at Holloman and familiar with current missile, balloon and parachute research projects, have admitted that their evaluation must conclude that the pictured object is an unconventional aerial object. A more detailed and intensive analysis is being exerted by Mr. Hopf, our photographic consultant, and we hope to include the results in the July Bulletin.
Source:
---
Date: October 17 1954 or 7
Location: Cabasson France
Time: 1430
Summary: Maxime Pignatelli was hunting with his dog when he saw a gray object, about 4 meters long and 1 meter high, on the ground 40 meters away. It had a dome, from which 2 helmeted figures emerged. The witness fled, but his dog started toward the object; but it soon retreated, walking awkwardly as if partially paralyzed.
Source: Jacques Vallee, Passport to Magonia
---
Date: October 19, 1957
Location: Mildenhall, England, UK                 BBU
Time: 5:40 p.m., local.
Summary: A/2C Pringle and A/2C Warsewich on duty in the control tower at Mildenhall RAF Station, observed a circular disc-shaped object, yellow to orange in color to the SW of the station. The object appeared as large as a dime held at arm's length. The object when first sighted was approx. 5 degrees above the horizon and appeared to be stationary. At 5:55 p.m., the weather observer working in the tower was notified. The wx observer said he could not identify the object , but it definitely was not a star or other celestial body. At 6:03 P.M., Lakenheath RAPCON was advised of the UFO. The UFO was obscured from the tower's vision at Mildenhall at 6:09 p.m. by clouds. At 7:28 p.m., Lakenheath RAPCON advised Mildenhall tower they could see an object to the SW of Mildenhall. At 7:30 p.m., Lakenheath advised Mildenhall they had 3 targets on their radar. Two of the targets were NW of Mildenhall at approx. 11 miles. The two targets were also stationary. The 3rd target was north and moving slowly towards the station. Also the targets NW were visible from Lakenheath. Mildenhall GCA was notified and also picked up the targets which coordinated with Lakenheath. At 8:40 p.m., Sculthorpe WX station picked up the unidentified targets on their radar. The positions coincided with those of Lakenheath Control and Mildenhall GCA had reported.   The UFO report's preparing officer, 1st Lt. David A. Zillmer, wrote in his report on this incident. After investigating possible confusion with some known object the sighting was considered to definitely involve an unidentified object. ()
Source: Dan Wilson, Brad Sparks, McDonald list
---
Date:
Location:
Time:
Summary: Oct. 21, 1957; RAF Gaydon, Warwickshire, England (BBU)
9:18 p.m. RAF pilot flying Meteor fighter had near collision with object near atomic base, 6 lights emerged when fighter approached, object disappeared suddenly, ground radar tracking confirmed sighting. (Project 1947; FUFOR Index; Mary Castner/CUFOS)
Source:
---
Date:
Location:
Time:
Summary: Oct. 22, 1957; Wiesbaden, West Germany (BBU)
2:00 p.m. local time. A target was picked up on an AN/TPS-1D radar at 286.5 degrees azimuth at 160 miles range. The blip was 2 to 3 times larger than any blip seen on radar set. The shape of the target was that of a normal aircraft target as seen on a PPI scope. The speed of the target was estimated at 6240 nmph. The target closed to a range of about 45-50 nm, reversed direction and went outbound on same azimuth without turning around or changing speed until disappearing at a range of 160 nm (at the rim of the PPI scope).  After a few seconds the "blip" reappeared and followed path as mentioned above. This happened again for a third time and then the blip disappeared from view. The total length of the observation was 5-6 minutes. (McDonald list; FUFOR Index)
Source:
---
Date:
Location:
Time:
Summary: Oct. 22, 1957; Pittsburgh, Pa.
Family saw six UFOs in two separate groups, changing position in formation. [UFOE, II]
Source:
---
Date:
Location:
Time:
Summary: Oct. 23, 1957; Kent,  England
Disc traveling on edge. [UFOE, XII]
Source:
---
Date:
Location:
Time:
Summary: Oct. 23, 1957; Lake Wales and Bartow AFB, Florida (BB)
3:15 p.m. (approx) A large oblong object with a tail projecting north horizontally was observed high in the sky by five pilots in a Piper Apache aircraft The object was described as too shiny to be a weather balloon. The object stayed stationary over Haines City for more that two hours as the plane flew approximately 10 mile circles around it. All the witnesses were licensed pilots who have been flying for many years and have seen many such weather balloons, and therefore, discounted the weather balloon theory on the basis of their experience. A B-47 aircraft with the call sign Venice 37 also observed the object as well as others on the ground in central Polk County. The object was estimated to be at 66,500 to 76,500 feet in altitude. Winds were reported to be 22 mph at 50,000 feet. The object was kept in sight until 5:42 p.m. when at that time the object appeared to be ascending rapidly and the next circling of the aircraft the object had completely disappeared. (Dan Wilson, BB files)
Source:
---
Date: October 25 1957
Location: Petropolis Brazil
Time:
Summary: ). A girl suffering from cancer appeared about to die when the house was suddenly illuminated by a strong light, as if a searchlight had been aimed at the room. It came from an object whose top part was reddish yellow. Two figures emerged from it and entered the house. They were about 1.20 m tall, had long yellow-red hair, small green, slanted eyes, and wore white gloves and glowing white clothes. Before the astounded witnesses (the author of the report and the family of the girl), they used a device producing a bluish-white light and another instument, in what appeared to be radiation treatment of the patient. After 30 min they went away, leaving her completely cured. The report was anonymous.
Source: Magonia 415
---
Date:
Location:
Time:
Summary: Oct. 30, 1957; Casper, Wyoming
Cat. 3. Car motor kept stalling as motorist tried to turn around to avoid UFO sitting on road.
Source:
---
Date:
Location:
Time:
Summary: Oct. 31, 1957; Lumberton, N. Carolina
Cat. 3. Car motor failed as UFO observed.
Source:
---
Date: October 31 1957
Location: Longchaumois France
Time: 0000
Summary: A businessman and his wife saw a large, lighted object with openings, which hovered, came to ground level, and took off with a great increase in brightness at very high speed, but without noise.
Source: Magonia 416
Related articles