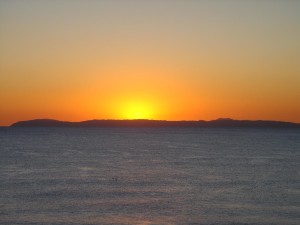 (Last Updated On: June 5, 2016)
Date: June ??, 1957
Location: Baltic coast and the Mazurian Lakes District of Poland.
Time:
Summary: Among the best documented accounts of underwater UFOs were three sightings. In early June of 1957, there were strong rumors from Soviet-occupied Poland of mysterious sightings at Koszalin, a coastal town. Two strange objects were allegedly seen emerging from the depths offshore. They climbed into the sky at high speed and vanished.
Source: Rullan; Official UFO Magazine, May 1977, Vol. 2, No. 3, "Mysteries of the Deep" by Lucius Farish and Dale Titler, p. 41.
---
Date:  Summer  1957
Location:  Bacuranao, Cuba.
Time:  4:00 a.m. 
Summary:  Two sport fishermen, Raul and Luis, observed "a huge and brilliant UFO, color white-pink," come to the surface of the sea creating white surf waves. The UFO illuminated the clouds, flying over the witnesses' yacht and creating an "artificial rain" with the dripped drops of salt water.
Source:  Rullan; E-mail dated 11-08-2004 of case file from researcher Virgilio Sanchez-Ocejo of the Miami UFO Center
---
Date:  Summer  1957
Location:  Catalina Island
Time:  7:00 (8:00?) p.m.
Summary:  Witnesses were watching the radar scope for surrounding ship traffic. Hard contact blip showed up on their screen. The surface radar gave the bearing and range of the blip contact, the range being about 20 miles from the ship After a minute or two, another blip appeared (popped up) alongside the first one, not very far away from it. The CIC officers were observing the scopes and taking pictures. Then the two blips were joined by three more contacts making 5 total in V formation. Blips were at 5000 feet and hovering in one spot. After about 10 or 15 minutes, the five contacts began to disappear, one at a time.
Source:  Rullan
---
Date:  Summer  1957
Location:  Camden, Maine
Time:  
Summary:  A young boy and his mother are having a picnic when their lives will be forever changed. This story takes place off the shores of this town. While enjoying the view of the sky and water of the Penobscot Bay area, which leads out to the Gulf of Maine, the witnesses become aware of a pinpoint in the sky that is growing and descending rapidly. Thinking at first that it is a plane, the reality of what it is becomes rapidly vivid. The craft is a silver, disc-shaped object and has what appears as a metallic dome. However, the shocking part is that it crashes into the bay at a rapid speed approximated at about 100 mph with very little disturbance of the water. In the witness's own words: "It entered the water at a steep angle making no sound and barely a ripple or splash." The distance to the craft from the shore is given as several hundred yards. From a nautical chart of Penobscot Bay, the water depth in the area of the sighting is 60 feet or less. Yet the craft is estimated to be about 100 feet in diameter. The witness has stated that he expects that wreckage might be in the location of the assumed crash, however, I have cases where UFOs have entered shallower water and yet nothing was found. (Case investigation files of Carl Feindt dated 11-29-2007 and added to MUFON's CMS
Source:  Computer Management System
---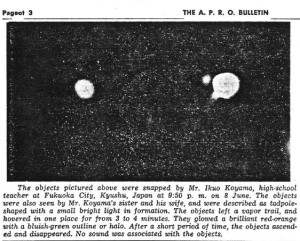 Date: June, 1957
Location: Fukuoka City, Kyushu, Japan
Time: 9:50 p.m.
Summary: the object was snapped by mr ikuo koyama high school teacher at Fukuoka City, Kyushu, Japan at 9:50 p.m. on 8 June. The objects were also seen by Mr. Kojima's sister and, his wife, and were described as pole shaped with s small bright light in formation, The objects left a vapor trail, and. hovered in one place for 3 to 4 minutes. They glowed a brilliant red orange with a bluish-green outline or halo. After a short period of time, the objects ascended and disappeared. No sound was associated with the objects.
Source:
---
Date:   June 3 1957
Location:  Shreveport to Converse, Louisiana (BBU)
Time:  8:30 [9:35?] -9:30? p.m. (CST).
Summary:  Shortly after takeoff from Shreveport Airport, heading for Lake Charles, La., and climbing, Capt. Lynn Kern and FO Abbey Zimmerman flying Trans-Texas Airlines Flight 103 were told by the control tower that a small light was visible nearby. They saw the star-like blue-green pulsating [?] object hovering (approaching?) at their 10 [2?] o'clock position at about 400 ft then climbing rapidly to 1,000 ft paralleling the airliner then at 110 knots speed (130 mph later 165 mph) but at higher altitude and 1/2 mile away. Kern flashed landing lights and object responded with a beam [?] of light. 2nd blue-green pulsating object joined the first on the opposite side of the airliner (then at 9,000 ft), air crew confirmed from tower that it had both objects on radar and visually through binoculars, objects headed S at 170° climbing to about 10,000 ft and followed airliner to Converse, La., (about 45 miles S of Shreveport) where pilot queried ADC radar site, England AFS, Alexandria, La., which confirmed the 2 targets in the airliner's vicinity at 9,700 ft. Objects disappeared from sight in a cloud deck to the SW. 1 hr ? 
---
Date: June 5, 1957
Location: Uriman Venezuela
Time:
Summary: Undocumented report of a landing and of "bellicose dwarfs."
Source: Magonia 395
---
Date:   June  1957
Location:  
Time:  
Summary:  
Source:  
Summary: June 7, 1957; New Jersey and Atlantic Coast
Cat. 9, ground radar.
Source:
---
Date:   June  1957
Location:  
Time:  
Summary:  
Source:  
Summary: June 12, 1957; Milan, Italy (BBU 4760)
7:30 p.m. G. U. Donadio, translator for export-import firm, saw an object "big as a hen's egg" [at arm's length?] fly very fast, zigzag, hover and revolve, then shoot up. (Berliner) 17 mins
Source:
---
Date:   June  1957
Location:  
Time:  
Summary:  
Source:  
Summary: June 14, 1957; McChord AFB, Washington (BBU)
1:14 p.m. PST. One normal radar target was picked up at a 25 miles range at 355(0?) degrees and descending straight down at 2,000 FPM. One T-33 aircraft was diverted from McChord AFB, no sighting was made. The length of observation was 33 minutes. (McDonald list; FUFOR Index) 
Source:
---
Date: June 15, 1957
Location: Sao Sebastiao, Brazil's southern shore. 
Time: 7:10 p.m.
Summary: Professor Joao Freitas de Guimaraes, attorney and professor of Roman Law at the Catholic Law School, observed two tall men (1.80 mts.) with shoulder-length blond hair, fair complexions, youthful demeanor and a look in their eyes which expressed wisdom and understanding. They wore one piece greenish outfits that were snug around the neck, wrists and ankles. Professor Guimaraes was able to see a luminous, hat-shaped object which descended not too far from his position.
Source:
---
Date:   June  1957
Location:  
Time:  
Summary:  
Source:  
Summary: June 15, 1957; Lancashire, England
Saturn-like UFO with "portholes" observed through telescope in bright daylight. [UFOE, XII]
Source:
---
Date:   June  1957
Location:  
Time:  
Summary:  
Source:  
Summary: June 18, 1957; Jackson, Mississippi
Physics professor sighted UFO with "a halo of light around it and what appeared to be three portholes." [UFOE, VI]
Source:
---
Date:   June  1957
Location:  
Time:  
Summary:  
Source:  
Summary: June 18, 1957; Pacific Ocean, 150 miles off San Francisco
Captain and crew of freighter Hawaiian Fisherman saw three brightly lighted objects "like small moons." [UFOE, II]
Source:
---
Date:   June  1957
Location:  
Time:  
Summary:  
Source:  
Summary: June 19, 1957; Clinton, Tennessee (BB)
Two women, one named Wiggins, saw a teardrop shaped object that seemed to give a blue and orange jet like light, it flickered. The object was estimated to be 4 to 5 feet long. It flew towards the observers and seemed to hover above them, rose straight up then moved off at an angle and flew off towards Knoxville. No sound was heard. The object was seen for approximately 4 minutes.  (Dan Wilson, BB docs)
Source:
---
Date: June 23, 1957 
Location: Carmichael, California                     BB
Time: 11:30 p.m. PST.
Summary:  Six persons saw a bright yellowish-white light about 10 degrees off the horizon at a bearing of 220 degrees. The object remained in this position for approximately 10 minutes. During this time the object was viewed through binoculars. The object began to move upwards fairly quickly to a height of an estimated 20,000 feet, or about 45 degrees off the horizon. The object then appeared to lose altitude and then moved towards the observers and was seen to pass overhead at an estimated altitude of 3,000 to 5,000 feet. The object was triangular in shape and had a weird sound like a high frequency hum or vibration when overhead. One of the witnesses was a USAF 1st Lt. Navigator and Briefing Officer, 965th AEW&C Squadron, McClellan AFB, Calif.
Source: BB docs, Dan Wilson
---
Date:   June  1957
Location:  
Time:  
Summary:  
Source:  
Summary: June 25, 1957; Baltimore, Maryland
Cat. 3. Car radio stopped playing and street lights went out as a formation of seven white discs with red rims passed overhead. 
Source:
---
Date:   June  1957
Location:  
Time:  
Summary:  
Source:  
Summary: June 26, 1957; Edwards AFB, California (BB)
12:00 p.m. local time. While watching a test drop of a "stores" container by a B-52 two Air Policemen observed a solid looking red or orange colored rectangular shaped object in the sky. The object first appeared to the west and after first movement it appeared to stand still and pulsate. The object began to move again and large oscillations were reported. The reported oscillation covered a fairly wide portion of the sky and the observers reported extremely horizontal movement of the object. The apparent size of the object was reported to be a pea or a dime held at arm's length and the actual size was estimated to be as large as a fighter aircraft (100 ft. major dimension). The UFOB report completed at Edwards AFB in accordance with AFR 200-2 stated the probable cause of sighting is unknown. The observers were T/Sgt. Charles B. Fisher, 6510th Air Police Squadron, and T/Sgt Jackson. The estimation of the length of the observation varied from 1 1/2 to 5 minutes. (Dan Wilson, BB files)
Source:
---
Date:   June 26 1957
Location:  McKeesport, Pennsylvania (BB)
Time:  6:55 p.m. EST.
Summary:  Mrs Pollard while sitting on her porch saw a large round object in the sky and then two more objects in back of it. The objects had the apparent size of an orange or grapefruit held at arm's length and  were white silverish in color and slightly oval then elongated when disappearing. The objects were in a triangular formation 35 to 40 degrees above the horizon. They moved in a floating motion from west to east on a straight flight path. The length of the observation was 3 to 5 minutes. Later at about 8:20 p.m. the Greater Pittsburgh Control Tower had a report of unidentified flying objects. Two aircraft, Vanguard Target and Vanguard 11, were vectored to the scene.
Source:  Dan Wilson
---
Date:   June 30 1957
Location:  Belo Horizonte, Brazil
Time:  
Summary:  Disc-like object paced, maneuvered around airliner
Source:  UFOE, X
---
Date:   June  1957
Location:  
Time:  
Summary:  
Source:  
Related articles