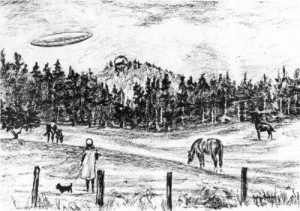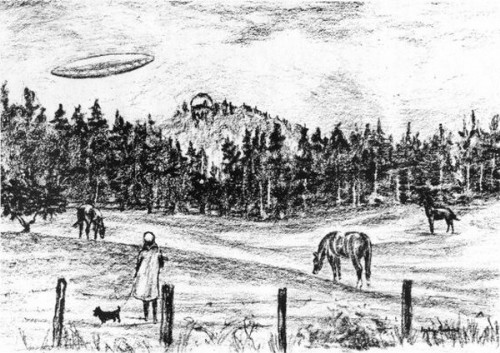 (Last Updated On: February 24, 2016)
Date:   February  1960
Location:   Ammanford, Wales, UK
Time:   Dawn
Summary:   A daytime disc was reported.
Source:  Schoenherr, Luis 
---
Date:   February 1 1960
Location:   Melbourne, Victoria, Australia
Time:   
Summary:   Bright object emitting flashes west to the east over Melbourne.
Source:  Hervey, Michael UFOs Over the Southern Hemisphere Robert Hale, London, 1975 ISBN:0-7091-4724-4
---
Date:   February 2 1960
Location:   Hamburg, Germany
Time:    21:40
Summary:   Nocturnal lights were reported.
Source:  UFO Nachrichten (Veit)
---
Date:   February 3 1960
Location:   Santa Maria, Argentina
Time:   
Summary:   One object was observed by two witnesses.
Source:  Vallee, Jacques
---
Date:   February 3 1960
Location:   Nashville, Tennessee
Time:   13:35
Summary:   One object was observed.
Source:  NICAP
---
Date:   February 3 1960
Location:   Hayden, Colorado
Time:    15:15
Summary:   Electromagnetic effects were noted. An object, larger than a star, was observed (Prewitt)
Source:  Villard, O. 
---
Date: Feb. 3, 1960 
Location: Intervale, New Haven
Time: 20:53
Summary: Former Air Force PT Boat Commander watched UFOs rendezvous, travel in formation. Unidentified objects were sighted, that had an unusual appearance or performance. Five objects, larger than a star, were observed by three witnesses for over three minutes (Kendrick).
Source: NICAP UFOE, VII
---
Date:   February 4 1960
Location:   East Madison, New Hampshire
Time:   Around 1900
Summary:    Three objects were observed by two witnesses, a married couple (Bartho).
Source:  NICAP 
---
Date:  Feb. 5/6, 1960 
Location: Hollywood, CA
Time: 23:10
Summary: Several witnesses (about 11:15 p.m. each night) saw a distinct round UFO hover and maneuver slowly. A hovering cigar-shaped object was observed. One cylinder was observed by several hundred witnesses in a city for 45 minutes (Jaffee).
Source: Los Angeles NICAP Subcommittee investigation report on file.
---
Date:   February 6 1960
Location:   Kent, Washington
Time:   
Summary:    An object was observed at close range by a male witness (Thompson).
Source:  Eberhart, George M. A Geo-Bibliography of Anomalies Greenwood Press, Westport, 1980 ISBN:0-313-21337-2
---
Date:   February 6 1960
Location:   San Miguel, Argentina
Time:   Night
Summary:   More than one object was observed by more than two witnesses (Reyna).
Source:  Flying Saucers Magazine (Palmer)
---
Date:   February 7 1960
Location:   Western, Nebraska
Time:    00:03
Summary:   One object was observed.
Source:  NICAP
---
Date:   February 8 1960
Location:   Capo Passero, Italy
Time:   
Summary:   One disc, around 500 feet away, was observed on the shore for over one minute. Nautical UFO. Disc sinks 200m offshore.
Source:  Verga, Maurizio
---
Date:   February 8 1960
Location:   Pembrey, England
Time:   Night
Summary:   An object was observed and photographed.
Source:  Schoenherr, Luis 
---
Date:   February 9 1960
Location:   Bonn, Germany
Time:   22:36
Summary:   Nocturnal lights were reported.
Source:  Schoenherr, Luis 
---
Date:   February 11 1960
Location:   Pacific Ocean
Time:   17:00
Summary:    One object was observed.
Source:  Trench, Brinsley LePoer Flying Saucer Story Tandem, 1973
---
Date:   February  1960
Location:   
Time:   
Summary:   
Source:  
---
Date: Feb.14, 1960 
Location: Nome, AK
Time:
Summary: Airline employee, others, saw a silvery rocket-like object with orange flame trail curving up and away "as if it were manned and controlled." A similar second UFO was sighted at Unalakleet moving rapidly NW leaving contrails.
Source: NICAP UFOE, X
---
Date:   Mid February  1960
Location:   Russelsheim, Germany
Time:    Around 2000
Summary:   Nocturnal lights were reported.
Source:  UFO Nachrichten (Veit)
---
Date: Feb. 16, 1960 
Location: Laguna Beach, CA
Time: 09:15
Summary: Retired chemical manufacturing company executive observed rendezvous of two oval UFOs. Two objects were observed by one witness on the shore for 12 seconds (Ross).
Source: NICAP UFOE, VII, Hall, Richard H. The UFO Evidence NICAP, Washington, 1964
---
Date:   February 17 1960
Location:   New Martinsville, West Virgini
Time:   16:17
Summary:   Fireball or black saturn shaped disc with exhaust, cruised tops of hills, lighter-colored ring emitted smoke from rear end. One gray Saturn-shaped object was observed by two witnesses on a river for over one minute (Thomas).
Source:  Teets, Bob West Virginia UFOs: Close Encounters in the Mountain State Headline Books, Terra Alta, 1995 ISBN:0-929915-13-5
---
Date:   February 20 1960
Location:   Grand Blanc, Michigan
Time:   
Summary:   Men in black later interviewed witnesses. Men in black were encountered by one experienced male witness in a town (Perry, J). A man in black was seen.
Source:  FSR
---
Date:   February 20 1960
Location:   La Garriga, Barcelona, Spain
Time:   Afternoon
Summary:   A daytime disc was reported
Source:  Ballester Olmos, Vicente-Juan
---
Date:   February 21 1960
Location:   Sarnia, Ontario, Canada
Time:    17:30
Summary:   Flying discs were observed. Multiple independent witnesses. Five discs were observed by five experienced witnesses on a railroad (Bart). A noise was heard.
Source:  FSR
---
Date:   February 22 1960
Location:   Montreal, Quebec, Canada
Time:   Evening
Summary:   Nocturnal lights were reported (Bart).
Source:  UFO Nachrichten (Veit)
---
Date:   February 23 1960
Location:   Tokyo, Japan
Time:   
Summary:   An object was observed. It moved with a falling-leaf motion. One object was observed on the ocean.
Source:  NICAP
---
Date:   February 26 1960
Location:   Norrkoping, Sweden
Time:   
Summary:  One object was observed by two experienced male witnesses on a railroad (Melin).
Source:  Rehn, Karl Gosta 
---
Date: Feb. 27, 1960
Location:  Rome AFB, NY    BBU 6663
Time: 6:27 p.m. 
Summary: Control tower officer Capt. J. Huey and 4 other tower operator saw a light trailing a white fan shape make a mild descent. A nocturnal light trailed after a white, fan-shaped UFO in the skies over Rome AFB, New York at 6:27 p.m. Five military witnesses including control tower officer Capt. J. Huey and four other tower operators witnessed the two UFOs. They moved slowly in a three to four minute descent.
Source: Berliner
---
Date:   February 29 1960
Location:   Moffat, Scotland, UK
Time:    08:00
Summary:   A hovering object was observed. One object was observed by four male experienced witnesses.
Source:  Flying Saucers Magazine (Palmer)
---
Date:   February 29 1960
Location:   Wiedenbruck, Germany
Time:   19:40
Summary:   Nocturnal lights were reported.
Source:  UFO Nachrichten (Veit)
---
Date:   February  1960
Location:   
Time:   
Summary:   
Source:  
Related articles