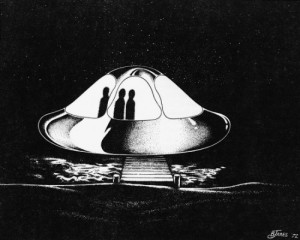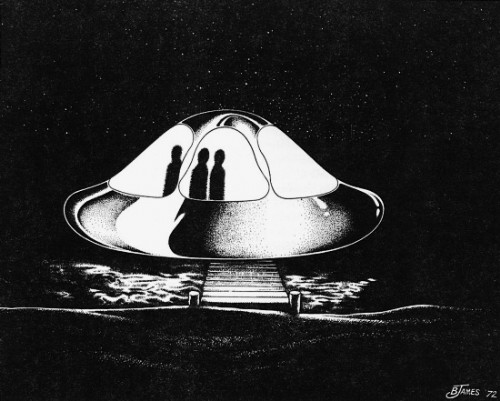 (Last Updated On: November 7, 2016)
Date: August, 1962: UFO with three beings hovers over boat dock at Minnesota cabin (Lake Movil)
---
Date: August 2, 1962
Location: Camba Punat Airport Argentina
Time:
Summary: Luis Harvey, airport manager, and his staff thought that an unannounced aircraft was about to land, as they saw a luminous object circling at high speed. It came down to hover about 1 m above the runway for some four min. It was spherical, spinning, and emitted flashes of blue, green and orange. When approached, it took off at very high speed.
Source: Magonia 540
---
Date: Aug. 2, 1962 
Location: Liberal, Kansas
Time:
Summary: Series of brightly lighted colored objects seen by airline pilot, airport personnel, and passengers at airport.
Source: NICAP UFO Evidence, V
---
Date: Aug. 7, 1962 
Location: Oracle, Arizona
Time:
Summary: UFO over Titan missile silo. Jets sent up.
Source:
---
Date: Aug. 15 (approx), 1962 
Location: Near Denver, CO
Time:
Summary: Large UFO hovering over a high line tower, chased by Air Force helicopters.
Source: This is in the area of the Lowry AFB Titan I  ICBM Complex
---
Date: Aug. 17, 19, 20, 1962
Location: Duas Pontes (Brazil)
Time: evening
Summary:
Rivalino da Silva, a diamond prospector, told his associates that he had seen two strange dwarfs digging a hole near his house. They ran away as he came near them, and moments later an object took off from behind the bushes. It was shaped like a hat and surrounded with a red glow.
Raimundo, the son of Rivalino da Silva (see previous case), was awakened by the sound of steps and saw "a weird shadow" in the room. It was small and not human in shape. Voices were heard saying, "This one looks like Rivalino," and later that they would kill him. The family stayed on the alert all night.
Raimundo da Silva (see previous cases) testified before the police that while working in a field, he saw two spherical objects hovering 2 m above ground, a few meters from the house. One was black with an antenna-like protrusion and a small tail; the other was black and white. Both emitted a humming sound and a flickering fire through an opening. The boy's father warned him to stay away as Rivalino walked toward the objects, praying. When he was 2 m away, the two spheres merged into one, raising dust from the ground and spreading a yellow mist that enveloped the man. The boy ran after his father, noting that the cloud had "an acrid smell." As it dissolved, everything had vanished. Police investigation, headed by Lieutenant Lisboa, failed to reveal any clue. Many terrified people left the area.
Source:APRO Sep., 62; Magonia 541
---
Date: Aug. 18 [19?], 1962
Location:  Bermuda            BBU 8064
Time: 5 p.m. 
Summary: Owner M. Sheppard and chief announcer A. Seymour of radio station saw 3 dull-white, egg-shaped objects waver as they moved. 
Source: Berliner
---
Date:  August 30 1962
Location:  Brendon Hills. England
Time:   between 10.30 p.m. and 10.55 p.m.
Summary:  On the evening of August 30, 1962, the world was about to change drastically for a teenager named Anne Henson when she was plunged into a late-night UFO/bedroom encounter of a very weird kind. When I tracked her down, in the 1990s, Henson told me about the incident: "At the time that this happened, I lived on a dairy farm and was still at school; I was sixteen at the time. I actually moved back here with my family some years ago and we run a nursery business now. It was the middle of the night and something must have woken me up because I sat up in my bed and I could see through the window what looked like a round ball of light in the sky; my room over-looked the Brendon Hills. It seemed to change color from red to green to yellow and I could see a circle with rays of light coming from it. "At first I thought it was a star, but it wasn't static. Then I thought that it must be a helicopter or something like that, but there was absolutely no sound from it. Well, it then began moving backwards and forwards and went from left to right. I was very intrigued by it because it was making fairly rapid movements. But it was the colors of the lights that attracted me first; they were nice bright colors. It would come towards me quite quickly and appeared to increase in size, and then reversed and moved sideways at a middle speed. But it always returned to its original position just above the hills.
"Over an hour or so, the light gradually receded until it was just like a pin-prick of light. Well, I went to sleep, but the next night I wondered if it might be there again – and it was. This happened on a few occasions and I got quite used to seeing it when it was a clear night. To be honest, I got quite friendly with it, really. I didn't feel threatened by it, because although it came close to our farm, it didn't come that close. Now, when I'd seen it a few times, I decided that I would get a compass and graph paper and try to track where it was coming from because this was intriguing me. I thought, this is a bit different."
It was what happened when Henson approached officials that really set wheels in motion:
"After I saw the light for a few times and tracked the movements of it, I contacted [Royal Air Force] Chivenor. I told them what I'd seen and then I got a letter saying that my sighting was being looked at. Then this chap turned up at the house. It was an evening when he arrived for the first time, and he pulled up in this old black car; and when he came in the house he was wearing a black suit and tie. I would imagine that he was in his late thirties and I was most disappointed that he wasn't wearing a uniform. He announced himself as a Royal Air Force official and, of course, I took it as such. To me, he was an authority, put it like that. He actually came to visit me on several occasions. I assumed he was from RAF Chivenor; he didn't actually say so. I was a bit over-awed that somebody was actually coming to see me. Altogether," Henson explained, "he came on three nights. On the first night he came up to my bedroom and we sat there waiting for the clouds to clear. Unfortunately, that night and the next night he came, we couldn't see anything. So, he said that he would have to come back again. Now, on the third night, he saw it."
Did he have any opinion as to what the phenomenon was?
"No, none at all, he was just concentrating on looking at it. But he was very cagey. He wasn't very friendly, but he wasn't nasty either. But on this night he took some photos of the light. He didn't seem very surprised by what he saw. It was all very, very low-key, which I suppose is the way to play it if it was something unusual. If he'd have got excited, I'd have got excited. He then left and he took his camera and took my compass drawings and notes – and I never got them back. But before going he said that nobody else would believe what I'd seen and there was no point in me talking about it at school. At that age, you don't want to be laughed at – and my family had laughed at me, anyway."
Henson was puzzled about her bizarre experience: "I thought originally that it was some military object, but then the Ministry of Defense said it was a planet, although that didn't explain the way it moved. Now, it all hinges on whether or not you believe in UFOs. I can't see why there shouldn't be life on other planets. And if there is, why shouldn't they come here to have a look at us?"
men-in-black
Anne Henson's case is a classic Man in Black encounter. It started with the sighting of a strange object and was followed by a visit from a dark-suited authority figure who warned her not to talk about what she had seen, and who confiscated her compass drawings and notes that displayed the movements of the phenomenon she had observed. But Henson's account differs in one striking aspect to many other Men in Black accounts that remain unverifiable. The official files on her experience identify her mysterious, black-garbed visitor as an employee of the British Royal Air Force's elite Provost and Security Services – the equivalent of the United States' Air Force Office of Special Investigations (AFOSI). That an organization of this caliber would take a keen interest in the subject of UFOs is intriguing, to say the least.
The files, held at the National Archives, England, state: ""MISS ANNE HENSON, aged 16, said that on 30th August, 1962 between 10.30 p.m. and 10.55 p.m. she opened the window of her room which faces N.N.E. and saw a diminishing star-like object with what appeared to be red and green colored flames coming from it. It was slightly larger than the average star and appeared to be round. After about 21/2 minutes it became very small and she could only see it with the aid of binoculars. She was quite sure that it was not the navigation lights of an aircraft because she had seen these many times and could recognize them immediately.
"She did not look for it again until 17th October 1962, when she saw the object again which was partially obscured by fog. With the aid of binoculars she compared the object with several stars and noticed that the stars were silvery white whereas the object was red and green. Near to and above the object she noticed another exactly similar but smaller object. She noticed a difference in the color of the original object which was now emitting green and orange flames in the same way as before.
"MRS. C. HENSON, mother of ANNE HENSON, said that she had seen the object described by her daughter. She could offer no explanation as to the identity of the object but was of the opinion that it was not a star. She declined to make a written statement. A visit was made on 1st November, 1962 when the sky was clear and all stars visible. MISS HENSON, however, said that the object was not in view on this particular night. Observations were maintained for one hour but nothing was seen. MISS HENSON was asked to continue her observations and on the next occasion on which she saw the object or objects to compile a diagram showing its position in relation to the stars. This she agreed to do.
"On 28th November, 1962, the next available opportunity, [the witnesses address] was again visited. However, although observations were maintained for 2 hours the sky remained obscured and nothing was seen. MISS HENSON was interviewed and said that she had seen the objects again on two occasions and although she had compiled a diagram she had omitted to note the date. She said that she would again watch for the objects noting times and dates and compile another diagram which she will forward by post to this Headquarters.
"MISS HENSON reports unidentified aerial phenomena and provides a diagram showing their position in relation to stars. The objects have not been seen by the Investigator who cannot therefore give an opinion as to their identity. It is considered that MISS HENSON is a reasonable person, although at 16 years of age girls are inclined to be over-imaginative. However, MISS HENSON is supported by her mother, a person of about 50 years of age, who seems quite sincere. The matter should be brought to the notice of [the] Department at Air Ministry set up to investigate such phenomena."
The Air Ministry concluded that Anne Henson encountered nothing stranger than a celestial body, such as a star or a planet – a theory that she strongly disagrees with.
Source:  
---
Date:  August 1962
Location:  
Time:  
Summary:  
Source:  
Related articles