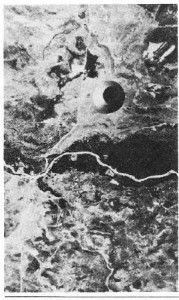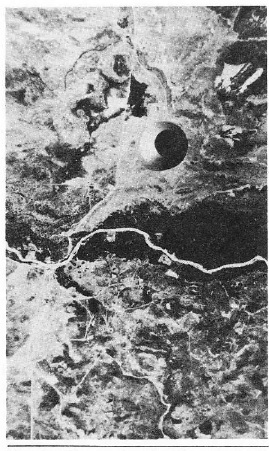 (Last Updated On: May 25, 2016)
Date:  February 2 1966
Location:  Salisbury, NC (BBU 10193) 
Time:  11:15 p.m.
Summary:  Mr. and Mrs. L. J. Wise saw a silver, diamond-shaped object with several balls constantly in very fast motion around it, and much light. Object hovered over the trees for 3-4 minutes, while a dog barked, and then zipped out of sight.
Source:  FeBerlinerb. 2, 1966; 
---
Date: February 3 1966
Location: Malaga Spain
Time: 0030A
Summary: Trinidad Gomez Sanchez was getting ready to go to sleep late at night when she decided to go out to her terrace to check the doors and the garden, as she looked around without knowing how, a strange creature appeared in the patio area, which had no access to the street. She described the creature as very thin, gaunt, covered with long black hair; it was about a little bit over a meter in height. It had a round hairless head, like that of a "newborn", terrified she screamed and ran into the house. A later search for the creature proved fruitless.
Source:  FSR Vol. 13 # 2, Iker Jimenez
---
Date:  February  1966
Location:  
Time:  
Summary:  
Source:  
Time: Feb. 6, 1966; Nederland, TX (BBU 10196)
5:45 [6:05?] a.m. Mr. and Mrs. K. R. Gulley saw tadpole-shaped object about 14 ft long 2 ft wide with 8 yellow and red neon-like lights at 250-500 ft altitude, casting a pulsating red glow on the lawn. House and street lights went out, high frequency sound bothered the witnesses' ears. Object blinked out when aircraft passed overhead then came on again afterward. Object departed to W [or from W to SW] about 1-1/2 miles to vicinity of airport, where an aircraft's landing lights lit up UFO, then disappeared about 20°-25° elevation in a slow climb. (Hynek UFO Rpt pp. 186-8; Hynek UFO Exp ch. 8, case CEI-3)
Summary: 
Source:
---
Date:  February  1966
Location:  
Time:  
Summary:  
Source:  
Time: Feb. 6, 1966; Madrid, Spain
8:00 p.m. LT. Several civilians and soldiers saw a glowing orange disc with three legs landing and taking off again. Rectangular imprints of the legs (15 cm x 30 cm) and scorch marks were found at the site. Electromagnetic (EM) effects occurred in the area at the time of the sighting. (Ballester-Olmos, 1976, p. 9; Flying Saucer Review, 12:3, 1966:28-31, Flying Saucer Review, 15:5, 1969:3-4.)
Summary: 
Source:
---
Date: February 11, 1966
Location: Skowhegan, ME          BBU
Time: 11:55 p.m. EST.
Summary: A glowing orange object with domed top, hovered, maneuvered over the area, seen by police and citizens. The object was tracked on Air Force and FAA radar "making tight turns at a low altitude." 
Source: (NICAP report; U.F.O. Investigator, Vol. Ill, No. 6, Jan. -Feb. 1966, pp. 1-2.) [This case is not listed in the PBB Master Index – Dan Wilson
---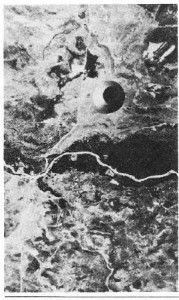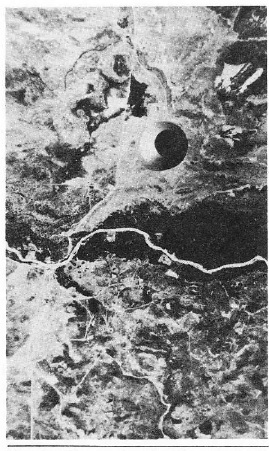 Date: February 13, 1966
Location: southern part of the state of Guarico, Venezuela
Time: Around 10 a.m.
Summary: UFO Photographed From Airplane On an aerial photographic flight as part of a geoglyphic study lor a mining enterprise, Mr. Inake Oses was flying over the southern part of the state of Guarico, Venezuela on the morning of February 13, 1966. Around 10 a.m. the plane was surveying a region 80 kilometers south of the city of Calabozo, flying at 8,000 feet, when suddenly Mr. Oses' attention was attracted by a brilliant yellow incandescent object flying erratically at high speed below the plane. The object would stop suddenly in midair for a few minutes, then rush off again in a different direction. Oses instructed the pilot to try to follow the object while he began taking pictures. The chase continued until both the plane and the object were over a mining site near the "Paso del Caballo dam." Here the object stopped again and was photographed as appears in the picture reproduced above. It then accelerated to fantastic speed and flew off towards the south where it disappeared. In a written report to the Caracas newspaper, "El Universal," Mr. Oses said: "The object which we saw and appears in this photograph floating in midair, due to its shape and performance in space appears to be a flying machine of some sort completely different than those we know about. . . " Due to the confidential nature of the aerial survey project that he was engaged in, Oses waited until his contract was terminated and he had left Venezuela before he sent the negative to APRO'S Venezuelan representative, Horacio Gonzales G. IIe was using Kodak fast pan film with a special camera adapted for such aerial photography. The editorial staff of "El Universal" has accepted the authenticity of the negative and the good faith and integrity of Mr. Inake Oses
Source:
---
Date: mid February 1966
Location:  Near Ballard Washington
Time: night
Summary: The witness, a mechanic, was helping a man deliver some barrels of oil by truck; the man placed a homing device in a field, and soon a round object 30 ft in diameter settled down on 3 legs. It looked like a disc with a pillbox on top, and was non-luminous. He was allowed inside, where the 5-foot pilot told him, in Spanish, that the craft was used only for travel around the earth. "The whole outside was a sort of giant fan;" there was a control seat with instruments & gauges. The pilot said it took 18-20 years to get to Earth from their system. The witness also had received letters from "M", a spaceman living in Seattle, giving further information.
Source: Don Duncan, Seattle Times
---
Date:  February  1966
Location:  
Time:  
Summary:  
Source:  
Time: Feb.14, 1966; Witbank, South Africa
7:40 p.m. LT. A farm woman heard a very loud sound and saw a cigar-shaped object descend and hover, the sound level increasing. The UFO had a very bright light at the front, small portholes along the side, and a bluish glow at the trailing end. The object suddenly shot upwards and disappeared. (Flying Saucer Review, 12(4), July-August 1966, pp. 32-33.)
Summary: 
Source:
---
Date:  February  1966
Location:  
Time:  
Summary:  
Source:  
Time: Feb. 16, 1966; Brunswick NAS, ME (BBU) 
8:30 p.m. A luminous object flashing red, blue, and green lights, landed in the woods. A second object was later seen to join the first one. (Vallée Magonia 726)
Summary: 
Source:
---
Date:  February  1966
Location:  
Time:  
Summary:  
Source:  
Location. Quipapa Pernambuco Brazil
Date: February 25 1966
Time: 2215
3 young women were walking home after dark when they came upon an object hovering just above the road which resembled an upside down dish, 9-12 ft wide, with 2 large "headlights." Beside it were 3 small individuals the size of 9-year old children, wearing "large headgear," who seemed to be conversing; all wore one-piece garments with an extremely luminous band across the chest, whose colors constantly changed. There was also a man more than 6 ft tall, wearing a brightly luminous headgear likewise of varying colors, whose face could not be seen. The girls ran past the object & the beings, but soon found it had landed in front of them again, though the beings were not now to be seen. They had to run past it again. Arrived home, they went back with the mother of the Da Silva girls, but met the object flying toward them, 18 ft above the ground. The UFO, its luminosity waxing & waning, flew in circles above the house before rising & vanishing.
Source: Rubens do Couto Soares, SBEDV
---
Date:  February  1966
Location:  
Time:  
Summary:  
Source:  
Location. Rome, Italy
Date: February 26 1966
Time: 0200A
Postal employee and painter Luciano Gasbarri woke up in the middle of the night when a bright light illuminated his bedroom and a loud voice called his name. Standing in front of him was a humanoid almost 2 meters in height wearing a silvery helmet and a coverall. On his chest area he had a scintillating multi-petal "daisy" that appeared to be moving and emitting flashes of light. The humanoid said his name was "Nicodemo" and that he was an extraterrestrial that could materialize into a tangible body whenever he needed to. The helmet had a transparent visor and inside Gasbarri could see an "anatomically diverse" human face with glowing red eyes. The humanoid suddenly disappeared. After this encounter the witness would go into trances and paint bizarre scenes.
Source: Moreno Tambellini, Archivio S.U.F.
---
Date:  February  1966
Location:  
Time:  
Summary:  
Source:  
Time: Feb. 26, 1966; 5 miles E of Farmington, 5 miles W of Hanna City, IL (BBU) 
Civilian witness was driving when a flying oval object, the size of a car, came within 10 ft of him, then circled twice and left toward the N. It emitted a bright red glow, supported a sort of dome with a green light on top, caused radio interference, and made a strange "signal like noise." (Vallée Magonia 727)
Summary: 
Source:
---
Date:  February  1966
Location:  
Time:  
Summary:  
Source:  
---
Location. Wetaskiwin Alberta Canada
Date: Spring 1966
Time: 0200A
Two members of a family sleeping in their house, observed a man-like figure standing in the hallway, he wore a gray metallic divers suit. The figure suddenly vanished. The witnesses felt relaxed during the encounter. No other information.
Source: John Brent Musgrave, UFO Occupants & Critters
---
Date: Spring 1966
Location: Rural area Long Island New York
Time: night
Summary: A man was alerted by his daughter that there where several two foot tall men in skin tight silvery suits darting around their backyard. As he glanced out the door he was able to see three very short figures in silvery metallic outfits. The witness stepped out and the figures ran into the brush and vanished.
Source: John Keel, UFOs Operation Trojan Horse
---
Date: Spring 1966
Location: Near Drogheda County Louth Ireland
Time: night
Summary: Two witnesses were driving along a remote country road passing a local estate when suddenly a huge figure appeared on the road ahead. They stopped the car and one of the witnesses looked out and saw a creature resembling a huge horse with a man's face with large bulging eyes. Both witnesses were paralyzed with fear and could not move. The being had a huge hairy man like face and was standing across the road completely blocking the car's path. The creature stood there for a few moments then left.
Source: Graham J MacEwan, Mystery Animals of Britain & Ireland
---
Date: Spring 1966
Location: Eliot Maine
Time: night
Summary: During some unusual UFO activity in the area a group of prominent people from nearby Portsmouth decided to go to the area to watch for UFOs. After driving around in a caravan of 3-4 cars, they decided to pull over in a gravel pit and watch the skies. Suddenly they all got out when a huge dark "dog" ran through the pit. The dog was larger than any they knew sot they decided to try to follow it. They ran through the pit, but the last one in lien was stopped by a strange odor. He could not identify it, and as he stood there, a large form glided towards him. The form was giving off this odor and he had the feeling he was to follow this gliding form. He broke away and ran back to the car. He told a person there to call the others back, & she did. As they walked back, the man jumped out of the car, saying that he had to go back, and started for the woods. The others grabbed him and held him until he quieted down, and they all left the area.
Source: Jerome Clark, Loren Coleman, "Creatures of the Goblin World"
---
Date: Spring 1966
Location: Near McGuire Air Force Base New Jersey
Time: night
Summary: A female air force sergeant returned home late at night when she heard a sound in her bedroom. She went to investigate and found her window opened and a pair of very pale hands with extraordinary long fingers resting on the windowsill. She screamed and the figure left. Air force police searching the area reportedly chase a very tall figure apparently wearing a dark sweater over his head. No other information.
Source:  John A Keel, Strange Mutants
---
Date:  February  1966
Location:  
Time:  
Summary:  
Source:  
Related articles