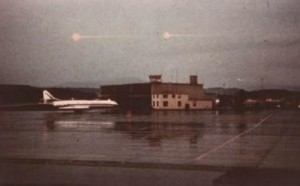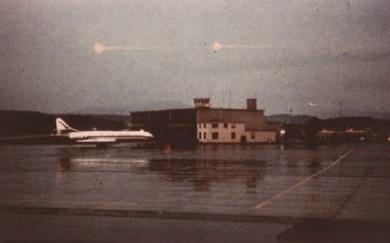 (Last Updated On: September 28, 2016)
Date: Summer 1966
Location: Near Fort Knox Kentucky
Time: daytime
Summary: The witness was alone sitting in a wooded area when a man wearing a peculiar outfit suddenly confronted him. The man wore a one-piece outfit closed at the neck, long sleeves, and pants that seemed to go right into the boots. The beige outfit had a single metallic belt with a silver box attached on the front. A small blue light flickered occasionally on the box. The man had very fine blond hair, and friendly pale blue eyes. He communicated with the witness telling him he was from a world a great distance from earth and that his name was "Zo." Eventually the being left, leaving behind a low buzzing sound that lasted a few minutes. The witness claims additional contacts.
Source: Joseph Randazzo, Witness ET, The Contactee Manuscript
---
Date:  June 1966
Location:   
Time:   
Summary:    
Source:  
---
Location. Toppenish Ridge Yakima Washington
Date: Summer 1966
Time: evening
Two men sitting outside their homes watched a huge cigar shaped object moving slowly towards their house. It was described as "as long as a football field," with layers of observation decks and giant well lit portholes. Numerous moving shadows could be seen moving back and forth behind the portholes. It had a massive round hold on its bottom from which a bright white light poured out. A lime green fog suddenly shot out from the luminous hole floating down to the ground, then a green ball of light entered the witness house and circled around several times, it then left leaving a pale green glow behind.
Source: Greg Long, Examining The Earth Light Theory The Yakima UFO Microcosm
---
Date:  June 1966
Location:   
Time:   
Summary:    
Source:  
---
Location. Gulfport, Mississippi
Date: Summer 1966
Time: evening
12-year old Eve was playing in her backyard with her cousins when she began to feel a strange sensation, like something or someone was calling her, or watching her. She turned to look behind her, and was stunned by the sight of a craft in the distance. The craft had an array of colored lights. The lights were blinking on and off. They encircled the strange craft, and these lights seemed to be of a color she had not seen before, and were extremely bright and clear. She said: "The more I looked, the more I wanted to keep looking." The sight of the beautifully colored lights somehow made her feel happy. She could not taker her eyes off the craft and its twinkling lights. While some of the other children ran inside the house, Eve remained outside staring at the craft, which now appeared to be much closer. Now she could see two beings through a window, she could make out part of one of their bodies and another being seemed to be controlling the UFO. The two appeared to be conversing among each other. The beings appeared thin, with long dangling arms. Suddenly a beam of light shot out of the craft and seemed to head towards her, she ran into the bushes with the beam of light close behind her. She was now kneeling, shaking and crying to herself. The beam was moving, apparently scanning the ground close to her. The object was totally motionless as the beam angled towards the ground. Soon the light disappeared up into the craft, not turned off, but drawn into the craft in one motion. Within a moment, the craft disappeared. Looking up into the sky, Eve now saw three other similar craft that appeared to be moving in unison. Soon the objects made a type of jerking motion and in a flash they were gone.
Source: UFO Casebook Newsletter, Issue # 27

---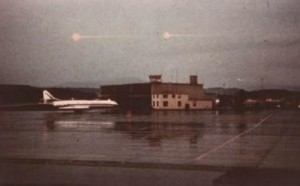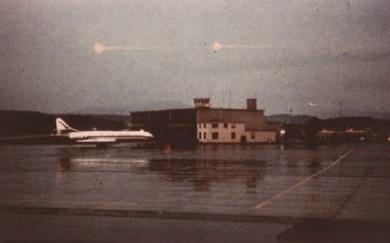 Date:   Summer 1966
Location:    Zurich, Switzerland Kloten Airport
Time:   night
Summary:     In the summer of 1966, a flight security official photographed two red spheres over the Swiss airport Zurich-Kloten. The photo was later released by SWISSAIR-pilot Ferdinand Schmid.
Source:   Original source webpage / article
---
Date:  Summer  1966
Location:   Cherry Hill New Jersey
Time:   night
Summary:    Four witnesses in a car watched a huge metallic blimp shaped object hovering low over the roof of a local computer plant. Several men on the roof appeared to be transferring boxes onboard the object. 
Source:   John A Keel, Disneyland of The Gods
---
Date: June-July 1966: Near Topolovka, Russia UFO Crash
---
Date: June 1966: UFO incident in Nha Trang, South Vietnam
---
Date: June 1966
Location:  Anion Lake, British Columbia, Canada
Time: late afternoon
Summary: An elderly couple and their teenage son went fishing in a lake situated among deserted sand pits. Upon settling down on the lakeshore an unbelievably sinister darkness covered them. They were overcome by a foul odor and suddenly the boy disappeared. Despite all efforts, the boy wasn't found in the darkness. Instantly, the sky began to clear up and the parents saw their son. He told his parents he had seen some round "plane", but could not remember what happened next. Within a few days, the boy fell seriously ill and suffered from mental problems for the rest of his life.
Source: Pravda.RU
---
Date: June 1 1966: Los Morros Chile Sighting
---
Date:  June 1966
Location:  Scotch Plains, NJ 
Time:   
Summary:   It was a sunday late afternoon – early evening, post family dinner with my parents, uncles and brothers, i was tasked with taking out the garbage, garbage cans were on the side of the house, i am outside and i hear static crackling and see/feel my hairs standing up, i look up and see a large craft-modern, long, big front window, dull and shiny, humming, crackling, wierd vibration hovering and three figures looking – pointing at me, i am scared stiff, unable to move, i know that they have come for me, they are pointing at me, they want me, i remember it being day light outside when i took out the garbage,running back into the house screaming i saw a ufo, and everybody laughing at me and finally going outside to see my ufo, it is dark now an there is nothing out there. I am insistent and finally convince make my father call in a report to the police who say other people have reported strange lights near the Watchung mountains, a short time later my father receives a call and informs my mother that i need to stay home from school and that someone wants to talk to us tomorrow (monday). My brothers go to school, my father does not go to work and a dark blue air force car, with numbers on the door comes to the house, 2 guys get out, come into the house and talk with me and then with my parents and finally with all of us together. they tell us not to talk to anyone about this, that my life will be ruined if i report a ufo, kids will tease me unmercifully for the rest of my life, that what i saw was a weather balloon from the air force and not to talk about it anymore.  Trauma for many years, did not ever want to be outside alone in the dark, have many strange dreams of free flying around and seeing my house, out of body type experiences, feel the sensation of falling, dropping in my sleep/dreams many times over the years even after moving to tampa, going to school in hyde park, even in Honduras where currently reside. Many many strange dreams, semi-lucid, waking my self up, frozen terror dreams and even my my son with same types of dreams
Source:  MUFON CMS
---
Date:  June 1966
Location:   
Time:   
Summary:    
Source:  
---
Date: 
Location: 
Time: June 1, 1966; Lake Ontario, Canada
10:30 p.m. LT. A former RCAF pilot and a friend were cruising on the lake when they saw lights on the water ahead. As they approached within a mile, the lights rose with an audible "swish" and a pulsating humming sound. The two men now could see that it was a disc with dome on top, and it cast an oval reflection on the lake surface. Around the dome was a row of bright yellow lights, and blue-green lights were visible around the lower perimeter (body lights). After hovering briefly, the UFO took off at high speed and quickly disappeared. (U.F.O. Investigator, Vol. Ill, No. 9, Aug.-Sept. 1966, p. 5)
Summary: 
Source:
---
Date: 
Location: 
Time: June 2, 1966; Massillon, OH
Day. A moving luminous cigar-shaped object stopped, then discharged three smaller objects which rose, separated, and flew off in different directions. The parent object then went straight up at terrific speed. (NICAP notes.)
Summary: 
Source:
---
Location. Cape Canaveral Florida
Date: June 3 1966
Time: 1930
James, 7, & Michael Harkins, with another boy, went to the beach after seeing a "rocket or jet" apparently dive into the sea. There they saw 2 men standing talking; they wore glass encased helmets, gray suits, and had what looked like scuba tanks on their backs. On hearing one boy whistle, they dashed to the water & boarded a "round white thing" that sped to a strange vessel 100 yards offshore. The craft, which bore a gray star and the letters "HU HR PS RED," had windows through which people could be seen. When the 2 men reached it, it submerged & vanished.
Source: Tom Longhurst, Orlando Sentinel
---
Date:  June 1966
Location:   
Time:   
Summary:    
Source:  
---
Date: 
Location: 
Time: 
Summary: June 6, 1966; Spooner, Wisc. (BBU 10626) 
9:30 p.m. Dorothy Gray saw 2 domed discs with sparkling upper surfaces and square windows in their tops, revolve above a lake, apparently causing strange behavior of the lake water. (Berliner)
Source:
---
Date: 
Location: 
Time: June 8, 1966; Between Kansas and Toledo, Ohio (BBU 10629) 
6:45 a.m. Max Baker, 43, driving W on Sandusky Road, suddenly saw a bright silver, cigar-shaped object, as long as an airliner, silently buzz the witness' car to 100 ft distance then flew low to the NE. (Berliner; cf. Vallée Magonia 771)
Summary: 
Source:
---
Date: 
Location: 
Time: June 8, 1966; Castlegar, British Columbia, Canada
11:00 p.m. LT. Three persons reported that their car was followed by an oval object about 6 feet in diameter moving about 10 feet above the power lines on a parallel path. The object was emitting a bluish glow, and two light beams extended from it, one pointing upward and the other downward. No sound was heard. (Flying Saucer Review, Vol. 12, No. 6, Nov.-Dec. 1966, p. iii; from the Castlegar News.)
Summary: 
Source:
---
Date: 
Location: 
Time: June11, 1966; Westport, MA
3:45 a.m. EDT. A disc shaped like two plates one on top of the other, with a dome on top, white, yellow, blue, and green flashing lights around the circumference (body lights), buzzed over a car and hovered ahead over the road.  (Fowler, 1974, p. 341; Boston Traveler, June 13, 1966, quoted in Flying Saucer Review, Vol. 12, No. 5, Sept.-Oct. 1966, p. 30.)
Summary: 
Source:
---
Date: 
Location: 
Time: June 13, 1966; Milan, MI (BBU) 
Policeman who saw the object over Milan on March 17 saw another object on the ground at a street intersection. He drove toward it with his headlights illuminating the object, which took off like an airplane, flying away to the SE. (Vallée Magonia 773)
Summary: 
Source:
---
Date: 
Location: 
Time: 1966, Mid-July; Pacific Ocean bt. Hawaii & Seattle, WA
Late afternoon. During submarine USS Tiru SS-416 cruise, five of the crew reported a strange contact at a range of 2 miles bearing 315 degrees relative. The three men looked through their binoculars toward the area reported and were astounded to see a metal craft larger than a football field tumble from the clouds into the ocean. At about the same time a crew member below queried the bridge about a radar contact at the same range and bearing, which gave them a range of 3 nautical miles. Sonar also reported strange echos. See detailed report. (Carl Feindt) 
Summary: 
Source:
---
Date: 
Location: 
Time: June 15, 1966; Whiteman AFB, MO
Power to missiles lost and regained as UFO passes over Minuteman ICBM complex. (Call to NUFORC)
Summary: 
Source:
---
Date: 
Location: 
Time: 
Summary: June 16, 1966; Mt. Sunapee, NH
Time not reported. A woman saw a large glowing object hovering near telephone lines. An articulated glowing pink to red-colored rod extended to the wires, withdrew, and then the object sped away over the mountains. (New Hampshire NICAP Subcommittee report.) The time probably is included in the NICAP file report.)
Source:
---
Date: 
Location: 
Time: 
Summary: June 16, 1966; Elista, Kalmuk; USSR
Scientists report UFO maneuvering near missile test. (Joel Carpenter: No record of a missile launch for that date. However, see "1966", no exact date entry at top of this chrono from Larry Hatch *U* Database.)
Source:
---
Date: 
Location: 
Time: 
Summary: June 17, 1966; Abington, Berkshire, England
8:50 p.m. LT. Two nuclear scientists reported seeing a very bright yellow object above a cloud bank on the western horizon, moving slowly. The object then accelerated northward and disappeared behind a tall bank of clouds. About 10 minutes later the same or a similar object appeared traveling from north to south, stopped and hovered in the northwest sky for about 30 minutes. The object then diminished in apparent size and was hidden by clouds near the horizon. When viewed through 10 x 60 binoculars, the object had a conical shape and was reflecting sunlight. Its length was computed to be about 60 feet. (Flying Saucer Review, Vol. 12, No. 5, Sept.-Oct. 1966, pp. 27-28.)
Source:
---
Date: 
Location: 
Time: June 18, 1966; Burnsville-Mt. Mitchell, NC (BBU 10663)
12:30 a.m. 4 Boy Scout campers, including Sterrett, using binoculars saw a red bell­shaped object with 3 flashing red lights hover then land 700 ft away, remaining all night, joined by 6 other objects, then rose at dawn. Broken trees and other traces found. (Berliner; cf. Vallée Magonia 776
Summary: 
Source:
---
Date: 
Location: 
Time: June 19, 1966; Nha Trang, Vietnam
9:45 p.m. LT. UFO descends on hundreds of witnesses and shuts down vehicles, illuminated terrain. A brilliantly lighted object approached from the north, alternately speeding up and slowing down. The object descended and hovered about 300-500 feet overhead, illuminating the terrain at the Army base. Widespread EM effects occurred on vehicles and machinery for about 4 minutes. Finally, the object shot straight up out of sight, disappearing in seconds. (Fowler, 1981, p. 187; Hall 2001, p. 80.)
Summary: 
Source:
---
Date: 
Location: 
Time: June 19, Mt. Mitchell, NC
12:05 a.m. EDT. A group of Boy Scouts while camping out, saw three red pulsating lights in a triangular pattern approaching (body lights), then hovering from about midnight to 5:00 am. At sunrise the object lifted up, appearing red and bell-shaped through binoculars, Six smaller objects were hovering nearby on either side of the larger object, changing formations, and then the group disappeared behind a mountain. When the Scouts started to explore in the direction of the objects, about 60 feet from their camp they discovered trees with broken branches and some crushed undergrowth, plus three holes in the ground forming an equilateral triangle (physical traces). (Report to Center for UFO Studies.) 
Summary: 
Source:
---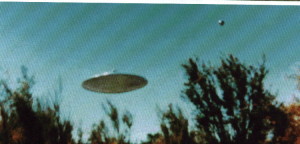 Date: June 19, 1966
Location: Albuquerque New Mexico
Time: 
Summary: 
Source:
---
Date: 
Location: 
Time: June 23, Placitas, NM
3:42 a.m. MDT. Julian Sandoval, a NASA contract flight engineer, also an experienced pilot and navigator, and two independent witnesses saw a glowing elongated object with a blunt end. It had a series of four body lights varying from brilliant green to a bluish tinge, and was hovering at an estimated 12,000 feet. When the object moved, its glow brightened and it appeared to be a powered craft (luminosity/motion correlation). The witness watched the object for an hour and a half, after which it climbed vertically, accelerated to a high velocity and disappeared to the northeast in about 12 seconds. In a report to NICAP, Sandoval estimated the departure speed at "Mach 6 or better." (Christian Science Monitor, July 11, 1966; I/. P.O. Investigator, Vol. Ill, No. 9, Aug.-Sept. 1966, p. 3.)
Summary: 
Source:
---
Date: no later than June 23 1966
Location:  West Chelmsford Massachusetts
Time: 0315A
Summary: The witness awoke at 0315A to find his bedroom illuminated as if by daylight. Behind each window shade there seemed to be a light. He heard a "pinging" sound from that direction. On starting to go to the windows, he felt paralyzed and fell back on the bed, losing consciousness. The next day he had a dim recollection of having seen at the front door a group of large headed individuals 4'2″-4'4″ tall, dressed in all white, and grinning. He recalled feeling admiration & respect for these beings.
Source: Raymond E Fowler for Nicap
---
Date: 
Location: 
Time: June 23, 1966; Hamburg, NY (BBU) 
9:30 p.m. Civilian woman, 63, was reading when an intense red light lit the ground near her house. She went outside and saw a 3 ft lighted object 60 ft away, which backed up and flew away "like a bullet." 3 other witnesses in the next house. (Vallée Magonia 777)
Summary: 
Source:
---
Date: 
Location: 
Time: June 24, 1966; Richmond, VA
3:30 a.m. EDT. A police officer on patrol saw a hovering elliptical object with body lights, surrounded by mist or vapor. The lights were alternately yellow and green. As he approached to investigate, the UFO began moving away, leading him on a cat-and-mouse chase. Finally the object accelerated and sped away. Separate police witnesses observed a UFO in the same general area about 40 minutes later. (U.F.O. Investigator, Vol. III, No. 9, Aug.-Sept. 1966, p. 3; Keyhoe & Lore, 1969a, p. 9.)
Summary: 
Source:

---
Date: 
Location: 
Time: June 24, 1866; Charlotte, NC
Night. A school teacher, ex-member of Army intelligence saw a flattened ellipse with fuzzy edges, two or three port-like black spots along the body, flying overhead. The object was visible for about 2 minutes in hazy conditions. (NICAP report form.) 
Summary: 
Source:
---
Date: 
Location: 
Time: 
Summary: Location. La Riccia, Italy
Date: June 26 1966
Time: midnight
Several motorists in separate vehicles including Carlo Casagli reported seeing and almost striking a strange humanoid figure that was standing in the middle of the road. Casagli's vehicle came to a screeching halt, as he had to apply the brakes abruptly. The figure was described as wearing a luminous metallic suit and a helmet with antennae. It seemed to move stiffly, like a robot. It was last seen walking into nearby woods and disappearing from sight.
Source: UFO Toscana
Source:
---
Date: 
Location: 
Time: June 27, 1966; Pacific, 400 miles E of Wake Island (BBU 10693) 
4 a.m. Radio Officer Steffen Sorensen, of the S/ [SS?] Mt. Vernon Victory, saw a "cloud" expand with a light inside, then accelerate away. (Berliner)
Summary: 
Source:
---
Date: 
Location: 
Time: 
Summary: June 27, 1966; Cistella, Spain
4:00 a.m. LT. A farm woman and farm hands saw a large disc-shaped object with bright green, red, yellow and blue body lights descend behind some woods about 500 meters away. A few minutes later two cylindrical objects also with body lights appeared, and the disc reappeared, taking up position between the two cylinders, which closed in on the disc, turned, and all three as a unit shot up at terrific speed and disappeared in less than a second. A column of smoke was then seen rising from behind the woods that spread and enveloped one of the men as the woman and the other man took shelter in their car. The three then went to the clearing beyond the woods to investigate and found a freshly broken tree branch and scorched potato plants (physical traces). The man who had been enveloped by the smoke cloud later experienced extraordinary sleepiness. (Investigated by Antonio Ribera. Flying Saucer Review Vol. 12, No. 6, Nov-Dec. 1966, pp. 3-4.)  
Source:
---
Date: 
Location: 
Time: June 28, 1966; Anderson AFB, Guam
A significant air intercept was made at 12:45 a.m. local time of unidentified radar targets by an Anderson AFB Air Rescue Squadron C-130 aircraft equipped with a APS-59 radar. Radar contact was made and maintained for 20 minutes and numerous intercepts were attempted. Vectors called by the ground radar controller checked perfectly with the return identified on the airborne radar. A third radar an FPS-6 Height Finder was also in operation and showed a return. The C-130 crew reported that there seemed to be a cloud associated with the target at all times. Whenever the crew tried to spot it visually it was always in a cloud. The target was lost to both the FAA radar and airborne radar at the same time 1:15 a.m. The Project Blue Book documents give exact dates and times of  24 radar sightings over a 9 month period of unidentified targets observed at Anderson AFB.  These were radar beacons with no known or identifiable source and were noted by Guam FAA Controllers, using FPS-20 Surveillance radar since October 1965. FPS-6 Height Finder radar and an APS-59 airborne radar were also involved. Phenomena occurrence times were Oct. 65 (one), Nov. 65 (two), Dec.65 (one), Mar. 66 (one), Apr. 66 (three), and June 66 (nineteen).  Interception Attempts were made on June 23, 1966 by KC-135 and C-97 aircraft. (Dan Wilson)
Summary: 
Source:
---
Date:  late June 1966
Location:  Qualicum Beach British Columbia Canada
Time: night
Summary: Charlotte Horsfall woke to hear a humming motor-like sound, and saw a very large luminous sphere in the garden. Then she saw "a tall humanoid clothed in a bright silvery metallic material" standing by her bedroom window in the moonlight. The suit also covered the man's head, but she could see his eyes looking at her. He raised his hand, and from it emanated a ray of light that shone on her chest, then her pelvis region. She felt nothing. Then the entity, the sphere, and the sound all disappeared.
Source: Saga UFO Report October 1976
---
Date:  June 1966
Location:   
Time:   
Summary:    
Source:  
Related articles