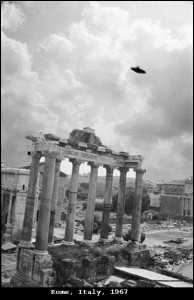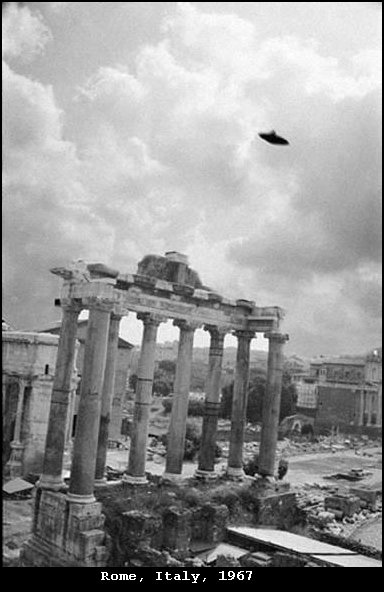 (Last Updated On: February 14, 2016)
Date: July 1967
Location: Miami Florida
Time: midnight
Summary: The witness was lying in bed on her stomach when she felt a strange sensation on her back, like a suction pulling her up. Moments later she sat in bed and looked around, then she heard a noise in the hallway, like someone dragging their feet. The frightened witness pulled the sheet over her head and apparently dozed off. Later she woke up and began inspecting the house. As she walked past a closet door she noticed a shadow and turned the lights on and on a corner she saw a three-foot tall deep red humanoid figure described as having skin that was layered like fish scales, no feet, no waistline, no neck and no facial features at all. It had its right arm extended up pointing to the closet. As the witness moved closer an arm like protrusion started coming out of the left side of the chest area. The now terrified witness stepped back and turned around hoping that the creature will go away. She began hanging clothes and as she turned around again the creature had disappeared.
Source: Cufos Associate Newsletter Vol. 4 # 2
---
Date: July 1967
Location: Boston Township Ohio
Time: 1400
Summary: An Akron woman, fishing at a private lake with her husband, went to their car to get something from the trunk. Hearing a noise behind her, she turned and saw six strange individuals; two male adults, two female adults and a boy and a girl. They were dressed in ordinary clothing—the men in short sleeved shirts, and both women had bulges in their stomachs, as though pregnant. One male held the hand of the boy, pulling him back as he began to approach the witness. Otherwise, there was no movement. They had black hair, the men's being shorter than the women. The adults were about 6-foot tall. The witness, frightened by their appearance, walked away, then ran, to get her husband. When they returned, the figures were gone.
Source: Patrick Kaforey
---
Date: July 1967
Location: Oosterchelde, The Netherlands
Time: night
Summary: Industrialist Stefan Denaerde was at anchor in his sailboat accompanied by his son when their radar began to malfunction. Later on he starts to sail towards Burgsluis. At this point they see what they described as "a blue sun" descending from the sky emitting a strident noise. Denaerde then sees a figure that appears to be injured floating in the water. He jumps in the water and retrieves the body. At this point the "blue sun" descends over them and Denaerde can see that it is a metallic saucer shaped craft a door opens and a staircase is lowered down to the water, a figure is seen standing at the door. Denaerde is suddenly absorbed into the saucer and is confronted by several humanoids about 1.40 meters in height, equipped with astronaut-like uniforms adorned with multiple ornaments. They have a very high face, pointed ears and speak in a mechanical English voice. They thank Denaerde for helping their injured comrade in the water and tell him that they are from a distant planet, which they call Iarga, about 10 light years away. People live there in cylinder-like structures because of the rampant overpopulation. They practice a sort of Communism and advice Denaerde that private property does not exist. Their only goal is "an omni spiritual creativity".
Source:Contact from Planet Iarga, UFO Geheimnisse.
---
Date: July 2 1967
Location: Vizcaino Desert, Baja California, Mexico
Time: night
Summary: Military intelligence units were called to a remote desert location where a UFO had crashed. Several big trucks went to the scene, including some equipped with what appeared to be special devices. When the special unit arrived at the UFO crash site, a pungent odor permeated the air. The object itself, which was oblong in shape, was broken in two, but apparently landed before exploding. Lying around in several places were bodies of the occupants. They were described as four of the most hideous looking creatures ever imagined. They were huge, about 9-feet tall, covered with a fine hair, and were a perfect likeness of what has been described as Bigfoot. Their faces were hairless, Mongoloid in appearance, with flat, wide noses. The mouths, which appeared to have been in agony, showed a row of teeth with what looked like stubby fangs. One of the creatures was apparently found alive and one of them attempted to give it water, the creature then reached up and grabbed the man's shoulder hard, then gasped and died. Each of the creatures wore a copper colored belt with a huge buckle rifted with small buttons. It is said that the belt glowed when activated but the source did not say what it was used for. On the creature's feet were boots resembling sandals but with very thick soles. Apart from these things the creatures had nothing else on them. The remains of the disc and its occupants was seized by the US military and transported to Yuma Air Base in Arizona, later from there, to an unknown location.
Source: Bobbie Ann Slate & Peter Guttilla also Anton Anfalov, Ukraine
---
Date: 
Location:
Time: July, early, 1967; Taipei, Taiwan
Time not reported. Personnel at Yuanshan Observatory saw a red, cigar-shaped object that flew low and fast to the southwest. They observed it through a telescope. A news agency reported that citizens in southern Taiwan saw the object again later that evening. (Pacific Stars & Stripes, 7/6/67, copy in NICAP files.)
Summary:
Source:
---
Date:  July 3, 1967
Location:
Time: July 3, 1967; Saginaw, MI
12:05 a.m. EDT. Two people saw a large bright object that emitted four smaller objects, each with an attached ray of light (light beam). At a certain point, these rays of light disappeared, and the four objects sped off in different directions and disappeared after about 3 minutes. (NICAP , report form, 7/18/67.)
Summary:
Source:
---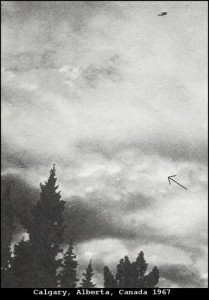 Date:  July 3, 1967
Location: Calgary, Alberta, Canada
Time:
Summary: A salesman (Warren Smith) and two companions, one a 16 y/o boy. Someone spotted a disc-shaped object moving through the air above the tall evergreens. The salesman readied his camera and snapped photographs of the UFO. The object was described as being "shiny, and approximately 25-feet in diameter." It had a "silvery hone to it." One particularly interesting assertion that was made by the RAF was that the UFO object in the photograph "had a toroidal shape. Only the blurred image (plate 62) is pitched up towards the observers, and a light shone not quite centered in the dark disk can be interpreted as a highlight, as opposed to a central hole."
Source: "Metal Ejecting UFOs" in CONFRONTATIONS: A CHALLENGE TO SCIENCE, © Jacques Vallee
---
Date: July 3 1967: Cumberland, Rhode Island Photo
---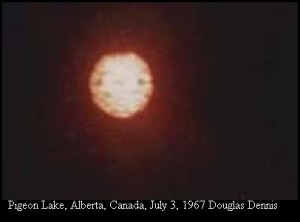 Date: July 3 1967
Location:  Pigeon Lake, Alberta, Canada
Time: evening 
Summary: Mr. Douglas Dennis, fishing at Pigeon Lake, near Buckhorn, was amazed by the appearance of a soft, orange-colored ball of light in the sky above him.
It descended quite low, and Mr. Dennis took his camera and snapped a color picture of the brightly luminous mass hovering in the air. This remarkable night photograph clearly shows a round, luminous object directly overhead. Others present observed the object and Mr. Dennis photographing it.
Source:
---
Date:  July 3, 1967
Location:
Time: July 3, 1967; Nr. Richards-Gebauer AFB, MO
9:30 p.m. CDT. At least seven adults saw a highly reflective disc with three bright orange lights on the rim (body lights) approach from the northeast going on a southerly course. The object had a slight roll and pitch (oscillation) in its forward motion. It was visible for 3-4 minutes until it apparently exploded, dropping fragments to the ground. (Report submitted to University of Colorado UFO Study, copy in NICAP files.)
  Summary:
Source:
---
Date:  July 3, 1967
Location:
Time: July 3, 1967; Durban, South Africa
Evening. Four people, including a retired U.S. Air Force major with missile tracking experience, saw an egg-shaped, bright orange, glowing light that hovered, moved erratically, and flashed. (Cape Argus 7/5/67, copy in NICAP files.)
Summary:
Source:
---
Date:  July 4, 1967
Location:
Time: July 4, 1967; Corning, CA
5:15 a.m. PDT. At least five witnesses from two independent locations saw an odd oblong, metallic-appearing object with a brilliant light on top and a smaller light on the bottom near the front (body lights). Two policemen and a businessman described it as a dark gray flattened sphere with a brilliant light beam on top directed upward, and a smaller and dimmer light on the bottom directed downward. A dark band circled the midsection. Two men north of Corning independently saw the object. The witnesses estimated a diameter of 50-100 feet. At first the object appeared to be hovering, then it moved slowly at a few hundred feet above the ground, finally picking up speed and disappearing from view to the south after being visible for about 10 minutes. (Corning Daily Observer, 7/6/67, UFO NICAP files; McDonald, 1968b, p. 74, reprinted in Vaughan, 1995, pp. 129-30.)
Summary:
Source:
---
Date:  July 4, 1967
Location:
Time: July 4, 1967; Shakhty, Russia
9:15 p.m. Docent Y. Krasuntsev and his son were resting near the Don River when they saw a half moon shaped object. They first noticed two luminous points that looked like artificial satellites. They moved to the southeast, making no sound. A shower of orange sparks flew out of one object and turned into a moon shape that went on flying. (Ref.3)
Summary:
Source:
---
Date:  July 5, 1967
Location:
Time: July 5, 1967; Harrisburg, PA
9:30 p.m. EDT. A woman saw a torpedo-shaped object with two bright white lights and three vertical lines of light toward the rear (body lights). The object was directly over the trees about 300 feet away, and as it approached two smaller red lights were seen. The object passed over the back yard about 40-50 feet off the ground, then turned 90 degrees to the south (maneuvered). The front end of the object raised,  and it climbed up and disappeared over a stadium. The witness said that she was "petrified" and insisted that her name be kept confidential. (Cook report, NICAP files.)
Summary:
Source:
---
Date:  July 6, 1967
Location:
Time: July 6, Palmer Park, MD
9:30 p.m. EDT. A 13-year-old girl saw an oval object with pointed ends (ellipse), a dome on top,  a red light at each end, and two rapidly blinking white lights in the center (body lights). It had what appeared to be a "tail" (appendage) on one side, and while hovering emitted light beams from top and bottom. [Compare to July 4, Corning, California.] The object moved slowly horizontally "tail first" making a buzzing noise, then shot straight up and disappeared after half an hour. (Telephone call 7/7/67, notes in NICAP files.)
Summary:
Source:
---
Date:  July 6 or 7, 1967
Location:
Time: July 6 or 7, Canyon Ferry, MT
Nr. midnight. A relative of NICAP member George Earley saw a bright cigar-shaped object with revolving lights of red, white, and blue, that hovered for 12 minutes (timed by watch). He looked away for a moment, and when he looked back the object was gone. (Letter to George Earley, 1/4/69.)
Summary:
Source:
---
Date:  July 7 1967
Location:
Time: July 7, 1967; Kenora, Ontario, Canada
Evening. Air traffic controllers, while monitoring an eastbound Air Canada flight on radar, noticed an unidentified object moving at high speed toward Kenora. Later the same or a similar object was detected on the Kenora radar headed northeast. For three hours the object executed various maneuvers, including 180-degree turns, and twice followed Air Canada flights before resuming its northeast course and disappearing off the radar scope. (Good, 1987, p. 200.)
Summary:
Source:
---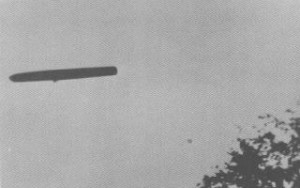 Date:  July 7 or 8 1967
Location: Cumberland, Rhode island
Time: 19:15
Summary:
Source:
---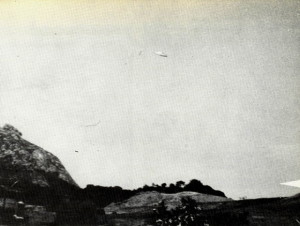 Date: July 7 1967
Location: San Luis Obispo, California
Time:
Summary: Photo snapped over San Luis Obispo, California, on July 7, 1967
Source:
---
Date: July 7 1967
Location: Milan, Italy
Time: 11:30 p.m.
Summary: At 11:30 p.m. Antonio Brambila and another man in Milan, Italy saw a glow coming from a domed disc-shaped UFO, 6.5 meters in diameter and 2.5 meters high. The UFO had four telescopic legs, which emitted a strange vibration.
Source: Jacques Vallee, Passport to Magonia: A Century of Landings, case 853, citing Lumieres dans la Nuit, issue # 91.
---
Date: July 7 1967
Location: Palma De Majorca Balearic Islands Spain
Time:  0300A
Summary: An intense light that came from the patio awakened the daughter of the Count de Ribas. From her window she saw two small figures apparently speaking to one another. They had very large heads, possibly due to the presence of helmets, and huge eyes. The witness tried turning on the lights but they did not work; she went to get candles and when she returned all had vanished. Two small marks on the outside of the wall were found that could only be removed by scraping the wall; after it had been painted, the marks reappeared.
Source: Antonio Ribera
---
Date:  July  8, 1967
Location:
Time: July  8, 1967; North Sea off English Coast
Time not reported. A ship captain and his crew saw a saturn-shaped object hovering over the sea. It then moved off until out of sight. (Letter from captain, NICAP files.) 
Summary:
Source:
---
Date: July 8 1967
Location. Cradle Hill, Warminster England
Time: night
Summary: 3 people with flashlights (Bob Strong, Sybil Champion, and an anonymous man) discovered a tall man standing at the edge of a wood, clad in a one-piece close fitting garment, shiny "as if made of leatherette;" his face was pale, and on his head he wore a black hood or helmet. He suddenly vanished. A 4th witness, the man's wife, had been very much frightened by seeing this being; she had gone to the copse to investigate a sound like a swarm of bees, and found herself paralyzed when she saw the man. When she brushed against his clothing it made a crackling sound. Later, recovering in her husband's car, she suddenly started to run back toward the wood again, and had to be dragged back to the car. Then a torpedo shaped red luminous UFO rose with a droning sound, & flew away. The next day, a pear-shaped or crescent impression was found in the grass 650 yards behind the copse, as well as large footprints in the copse, showing crisscross ridges on the soles.
Source: Arthur Shuttlewood
---
Date:  July 9, 1967
Location:
Time:
Summary: July 9,1967; Harrisburg, PA
10:25 p.m. EDT. Two boys, 12 and 14, saw a round object with red lights on top and bottom and two bright white lights on the front, (body lights). The object approached about 60 feet off the ground with a fluttering motion and making a humming sound. Witnesses beamed a flashlight at the object, and it directed a white light beam onto the witnesses (light reaction), and then reversed course and disappeared. (The Evening News, Harrisburg, 7/12/67, copy in NICAP files; Cook report, NICAP files.)
  Source:
---
Date:  July 10, 1967: Meridian, Mississippi Sighting
---
Date:  July 11, 1967
Location:
Time: July 11, 1967; Lone Butte, British Columbia, Canada
Evening. Witnesses saw 13 objects in units of three, with red and green blinking lights (body lights). One was seen to be saucer shaped. The objects shifted, bobbed, and weaved in the sky (maneuvered). They made droning noises when  hovering. Dogs, cattle and horses reacted (animal reactions). (Vancouver Sun, British Columbia, 7/27/67, copy in NICAP files.)
Summary:
Source:
---
Date:  July 12, 1967
Location:
Time: July 12, 1967; Irving, NJ
9:47 p.m. EDT. Three witnesses saw a solid disc with a thick rim and windows. Light was coming out of the windows. The object revolved and disappeared behind trees after 2-3 minutes. (NICAP report form.)
  Summary:
Source:
---
Date:   July 12, 1967
Location:
Time: July 12, 1967; Bristol, VT
Bt. 10:00-11:00 p.m. EDT. Several witnesses saw a bright object with two sets of lights, some of them green (body lights). The object landed in a pasture about 500 feet from the witnesses. It appeared to grow in size, changed colors, and appeared to have landing gear. (Burlington Free Press, Vt., 7/14/67, copy in NICAP files.) 
Summary:
Source:
---
Date:   July 12, 1967
Location:
Time: July 12, 1967; Orion, MI
Nr. midnight. A family saw two large orange; spheres that hovered over their driveway. One ball disappeared inside the other (objects merged), which then ascended and disappeared. (Pontiac Press, Mich., 7/14/67, copy in NICAP files.) 
Summary:
Source:
---
Date:   July 14, 1967
Location:
Time: July 14, 1967; Palmerston North, New Zealand
1:30 a.m. LT. A youth saw a "ring of lights" (also described as a huge white oval light the length of a football field). The objects stopped (hovered) two or three times. It separated into smaller lights as it moved away. The lights were flashing and revolving. (Evening Standard 7/15/67, copy in NICAP files.)
Summary:
Source:
---
Date:   July 14, 1967
Location:
Time: July 14, 1967; Harrisburg, PA
10:30 p.m. EDT. Two couples, including an ex-military pilot, saw an orange ball (sphere) hovering at low altitude, clearly visible beneath a heavy overcast. (See July 12, Orion, Mich., orange spheres and following reports.) The object suddenly ascended into the clouds. (NICAP report form.)
Summary:
Source:
---
Date:  July 15, 1967
Location:
Time:
Summary: July 15, 1967; San Jose, CA
2:00 a.m. PDT. Two people saw two bright lights that flew in parallel emitting a humming sound. (California NICAP Subcommittee report, NICAP files.)
Source:
---
Date: July 15 1967
Location:  Fairmont Park Philadelphia Pennsylvania
Time: 0500A
Summary: Charles S, out for a morning's jogging, was doing his roadwork in Fairmont Park when he was joined by two young men who ran along with him. Blond-haired and with eyes set close together, they were wearing mustard colored coveralls, and said nothing to him. After the run, they led him up a trail into a wooded area of the park, where she saw a landed flying saucer, about "one third of a football field" wide, brown on the underside and white on the upper side, resting on four pods. He was conducted inside, where he found no sign of instrumentation except for several tubes of different shades of yellow, and a computer like machine no bigger than a typewriter. The walls were decorated with photographs of women "who looked Scandinavian, except for the eyes being closer together." Then the craft took off, and "we spent the whole day flying around." The next morning they let him off a the park again, giving him for a souvenir a metal disc, white on one side and black on the other, which he found would levitate for 10″ at intervals of 123 minutes. No more information.
Source: Richard Hall from Nicap
---
Date:  July 15, 1967
Location:
Time: July 15, 1967; Harrisburg, PA
10:30 p.m. EDT. A couple saw an object with a red light on one end and green light on the other, with a row of revolving flashing white lights on the top (body lights). The object moved slowly at low altitude until lost behind trees. A short time later, an orange glowing object approached and ascended into the sky. (Pennsylvania NICAP Subcommittee report, 9/15/67, NICAP files.)
Summary:
Source:
---
Date:  July 15, 1967
Location:
Time: July 15, 1967; Enola, PA
10:30 p.m. EDT. About 50 witnesses reported seeing an orange-red ball (see July 12, Orion, Mich., and July 14, Harrisburg, Pa.) that hung over the WHP radio towers, moved toward a mountain, hovered again, then dropped out of sight behind the mountain. (Cook report, NICAP files.)
Summary:
Source:
---
Date:  July 15, 1967
Location:
Time: July 15, 1967; Silver Spring, MD
11:30 p.m. EDT. An MIT graduate and retired Army engineer saw a small cylinder (estimated 4 feet long and 1 foot diameter) made of material like clear plastic with lighted grillwork and an open top. Initially, the object approached in the sky as a red light. It descended slowly to within 6 feet of the street and about 50 feet from the witness, then rose to clear a nearby building and ascended into the sky. (Phone call from witness, 8/26/67, NICAP files.) [The description and motions for the most part fit exactly with those of a hoax hot-air balloon device common at the time, made of a plastic laundry bag or similar material with suspended candles or flares.]
Summary:
Source:
---
Date:  July 15, 1967
Location:
Time: July15, 1967; Kirkwood, MO
10:30 p.m. CDT (11:30 p.m. EDT). A chemist and other witnesses saw a luminous orange sphere (see above reports) at tree-top level. The object slowly ascended, then broke in half. Each half broke into two pieces and their light went out (multiple lights/objects). Another bright light sped over the trees 20 minutes later, and still another brighter light sped over the trees changing color from red to yellow to green 30 minutes later. An officer at Scott AFB said about 50 calls had been received about the lights. (Epstein letter, NICAP files.)
Summary:
Source:
---
Date:  July 16, 1967
Location:
Time: July16, 1967; Lovelock, NV
Time not reported. Three miners reported a honeycomb-shaped object with windows and with glowing lights inside. First seen on the ground (landed), the object then ascended vertically. No marks were found on the ground. (Reno Evening Gazette, Nev., 7/20/67, copy in NICAP files.)
Summary:
Source:
---
Date:   July 16, 1967
Location:
Time: July 16, 1967. 21:00 Kudepst, Russia
V.N. Chernyavski and his wife, with N. Ognevoy and S. Voronov, were close to the shore when they saw a yellow-rose disk-shaped object moving from west to east in the sky from the direction of the sea. It passed behind some clouds. The witness had the time to take a two-kopek coin from his pocket and he observed that the coin covered the object exactly when held at arm's length. (Ref. 30
Summary:
Source:
---
Date:   July 17, 1967
Location:
Time: July 17, 1967; Washington, DC
2:00 a.m. EDT. A witness saw a "blob" described as yellow and "rosy gold" (i.e., red-orange) that contracted and expanded in one spot until it disappeared after 10 minutes. (Phone call to NICAP)
Summary:
Source:
---
Date:    July 17, 1967
Location:
Time: July 17, 1967; Sukhumi (Agudzeri), Russia
11:00 p.m. L.V.  Antonova, an editor with the publishing house "Thought", and T.I. Dantseva, fellow of the Kurchatov scientific institute, observed a strange object along with four other people. The weather was clear at the time. The object looked like a flat disk with shining edge, flying at an altitude of some 350 feet at the speed of a propeller aircraft. (Ref. 3)
Summary:
Source:
---
Date:    July 17, 1967: Beings in Arc-sous-Cicon Doubs, France
---
Date:    July 17, 1967
Location: Newville Pennsylvania
Time: 0100A
Summary: While driving home, Stanley L, noticed a light that he first thought was the moon, but it moved towards him and dropped into a position directly in front of his car, keeping 15 to 20 yards away, while he drove at 55 mph. It was a rounded object, 10-15 in diameter, and was glowing brightly with an orange light. Stanley thought he could see the shadowy silhouette of a man-like figure inside the object, apparently working at controls of some sort. When he slowed down, the UFO rose above the telephone wires, but continued to pace him all the way home. There he called out his sister, Joanne, and her boyfriend, Carl, and all saw the object hovering over a field. When he drove away it followed the car again, and returned with him to the house, where all three could now make out the form of the occupant inside the object. There was no sound. While they were in the house the UFO disappeared. This encounter occurred during a continuing spate of UFO sightings in south central Pennsylvania.
Source: Ivan Kerns for Nicap
---
Date: July 17 1967
Location: Arc-sous-Cicon, Doubs France
Time:  1500
Summary: A 5-year old girl, Patricia Bepoix, ran to her parents in terror, saying she had come upon some "little Chinamen" who had tried to catch her. 15-year old Joelle Ravier went to the spot and saw a strange little creature running very fast among the bushes, with leg movements more rapid that a human's. The being was 3-foot tall, black, and had a protuberant belly and very short legs; his arms were not seen. He wore a short jacket that floated behind him as he ran. Joelle and another, Marie Reine Mairot, also heard someone beyond the bushes talking in a strange singsong fashion. More than a dozen yellow patches subsequently appeared in the grass at the site. Several hours later, there were widespread reports of objects and fireballs by hundreds of people all over Europe; it was reported that these sightings were the result of satellite re-entry decay or, possibly, a spectacular fireball.
Source: Joel Mesnard for GEPA
---
Date: July 17 1967
Location: Belfast Northern Ireland
Time: evening
Summary: Mr. E Browne was walking in a wood near his home when he came upon a "dish-like" object hovering 8 feet above the ground. It was of a dull blue-gray color with a rough and pitted outer surface, and about the size of a car. As he looked at it, an opening appeared in the center of the underside and two silver suited human-like figures dropped slowly to the ground and then walked away into the woods. Several minutes later they came back and drifted back into the craft, which rose silently into the air and vanished from sight.
Source: FSR Vol. 13 # 6
---
Date: July 17 1967
Location: Near Millertown, New York
Time: 2325
Summary: Emma Funk was driving down RT 22 north of town when a black shiny object about the size of a baseball flew into the headlights. It came right up to her car, seemed to brush against the windscreen then veer off to the left. When it made contact the car lit up "like a giant electric light bulb." The engine and headlights failed and she lost consciousness. When she recovered the car was pointing in the opposite direction, there was a cracked area the size of a man's fist in the windscreen. In September she underwent hypnotic regression in which she spoke of the radio being filled with static, and unspecified beings, which turned the car around and struck her across the chest with a rod.
Source:Peter Rogerson, quoting William Donovan
---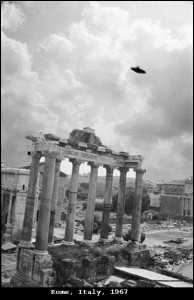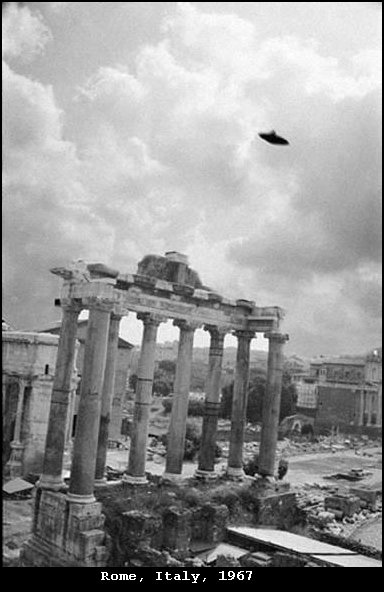 Date: July 18 1967
Location: Rome, Italy
Time: 10:00 AM.
Summary: Drew Wright took this picture in Rome on July 18 at 10:00 AM. "I had a terrible hangover from all the cheap red wine I had imbibed the night before, my first night in Italy. "As I saw the 'thing,' some local boys were saying 'il disco,' and pointing skyward. I snapped this quick shot before it vanished. I never made it to the Sixtine Chapel.
Source: 
---
Date: 
Location:
Time: July 18, 1967; Amvrosiyevka, Russia
2:47 p.m. Student Y. Divak and a friend were fishing when they saw the reflection of a strange flying object in the water. Looking up, they saw a lusterless craft in the sky. It seemed to affect the sounds from the trains and from the nearby town. (Ref. 3)
Summary:
Source:
---
Date: 
Location:
Time:
Summary: July 18, 1967; Miami, FL
10:20 p.m. EDT. Seven witnesses saw an orange, yellow, and red (red-orange) glowing oval, apparently translucent, pass by at an estimated altitude of less than 500 feet. This was followed about 10 minutes later by a similar object that was at a somewhat higher altitude. The sightings lasted 1 to 2 minutes. One of the witnesses was a World War II flier. (NICAP report form, Stokesberry report, NICAP files.)
Source:
---
Date: July 18 1967
Location: Boardman Ohio
Time:  0130A
Summary: Rev. Anthony De Polo, in bed, heard a very loud whining sound that rose and fell in pitch. Then he received a distinct mental message telling him to go to the window. He did so, and saw a 5-foot tall figure wearing a luminous tight fitting garment; there was also a source of light coming from above the figure. He stepped out onto his porch and mentally heard these words; "You have nothing to fear." He began to walk toward the being when the whining noise began again and he heard, "Danger; I must go." Then the figure dissolved into a blurred glow of light. Before it's passing De Polo received another message of a personal nature. On the same night and not to far from De Polo's home.
Mr. and Mrs Frank Dixon, hearing a loud noise outside, looked out and saw an object hovering over their house. It moved off toward the south after about 5 minutes. De Polo has had a number of sightings and "contacts" subsequently.
Source: John Keel, Virgil Tarleton, & Prof. Theodore Spickler For Mufon
---
Date: 
Location:
Time: July 19, 1967; Webster City, IA
11:30 p.m. CDT. Two brothers saw a circular object with a large white light in the middle, two red lights and two green , lights along the outer edge (body lights). The shape was discernible only with binoculars. The object approached at low altitude, passed overhead, made a tight U-turn (maneuvered) and returned, hovered, and moved away slowly. (Letter : received 12/26/67, NICAP files.)
  Summary:
Source:
---
Date: 
Location:
Time: July 19, 1967; Enderby, British Columbia, Canada
10:00 p.m. PDT. A Pacific Western Airlines pilot flying at 14,000 feet sighted a pink object that zigzagged through the clouds, hovered, then disappeared. He reported the sighting to the Royal Canadian Air Force. (Vancouver Sun, B.C., 7/25/67, copy in NICAP files.)
Summary:
Source:
---
Date: Sao Benedito Do Sul Pernambuco Brazil
Location: July 19 1967
Time: unknown
Summary: A young girl saw a saucer shaped object hovering above a cornfield; inside the object she could see a humanoid entity of small stature, and a second similar entity was observed outside. The second entity made gestures at the girl, who interpreted them to be an inquiry about the edibility of the corn. At some point a dog nearby began barking, and the second entity quickly boarded the vehicle, which ascended rapidly.
Source: Enock Burgos for SBDEV
---
Date: July 20 1967
Location: Titusville Florida
Time: 2115
Summary: Elizabeth Douglas had tripped and fallen on her lawn and was just rising when she saw an aerial object about 200 feet away about 60-70 feet above the ground. The object was 50-60 feet in diameter, shaped like a dome on an inverted saucer, and had five square windows around the dome brightly illuminated from within by a white light. In the fourth of these, as the object passed slowly over the street, was visible a lean humanoid figure with an egg-shaped head and long arms, which were raised in front of it. She viewed this entity for about two minutes. The object appeared to be of dull finished metal. Mrs Douglas's daughter, Ingrid, joined her and also saw the object as it moved away, but did not see its occupant.
Source: Clark McClelland for Nicap
---
Date: 
Location:
Time: July 20, 1967; Summerdale, PA
10:45 p.m. EDT. Three people saw a round green light hovering over the WHP radio towers. The light turned red and descended to 200 feet above the ground. An intense white light came on and the red light disappeared. Finally the object moved away and disappeared behind the tree line. (Cook report, NICAP files.)
Summary:
Source:
---
Date: 
Location:
Time: July 20, 1967; Jewfish Creek,  FL
11:30 p.m. EDT. A woman (Barbara Fawcett) driving alone saw a large light in her rear-view mirror apparently following the car. The burning yellow light seemed to be floating 6-8 feet off the ground, and it stayed over the road. She accelerated to 100 mph as the light overtook her car and seemed to a be about to land on top of it. As a car approached in the opposite direction, the object emitted a bright yellow glow that lit the road and then disappeared.
Summary:
Source:
---
Date: 
Location:
Time: July 21, 1967; Jewfish Creek [Homestead?], FL (BBU)
2:30 a.m. Barbara Fawcett [Faucett?], 18, and her sister saw a yellow "jagged" object rise above a swamp and land on a hill. USAF investigators found a very large scorched area at the spot. (Vallée Magonia 858; APRO July 1967; FUFOR Index) Same as Pompano Beech, FL, Cat. 4. Dog in car fearful at low flying light (Woodward, The South Dade News Leader, 8/2/67, copy in NICAP files; U.F.O. Investigator, Oct. 1967, p. 4; Sparks, 2001, from ' Vallee, 1969, p. 858; APRO Bulletin, July 1967.) 
Summary:
Source:
---
Date: July 21 1967
Location: Pamlico County, North Carolina
Time: afternoon
Summary: 14-year old Ronnie Hill was playing in the garden when he noticed a strange odor in the air. His eyes began to tear. He then saw a spherical object about 3 meters in diameter descending from the sky and landing on a field nearby. Thinking that nobody would believe him, he ran inside his home and obtained a small Kodak camera. Once outside he saw a small figure emerging from behind the object. The figure was about 1.25 meters in height. It wore a tight-fitting silvery suit and it carried a black object in its hand, which the figure inserted into the ground, he then returned to the object, which took off into the sky at high speed. The odor was described as resembling propane gas. Hill also noticed a total lack of sound during the encounter. A controversial photograph of the humanoid was reportedly taken.
Source: John Keel
---
Date: July 21 1967
Location: Wissons, France
Time: 0030A
Summary: The 40-year old witness was out in his garden when he noticed a greenish glow on the ground. The glow was on a nearby field next to a cemetery. Within the glow he could see two shiny silvery figures moving about, apparently just above the ground. The figures soon disappeared from sight. In the area two V-shaped depressions were found on the ground.
Source:LDLN # 195, Denys Breysse Project Becassine
---
Date: 
Location:
Time: July 23, 1967; Popponessett Beach, MA (BBU) 
Mr. And Mrs. McEnroe. (Hynek-CUFOS-Willy Smith files; FUFOR Index)
Summary:
Source:
---
Date: July 24 1967
Location:  Between Mareuil & Ste. Hermine France
Time:  2200
Summary: Between Mareuil and Ste. Hermine, Daniel Bonifait and his family saw a red disc, the size of a building, fall 300 yards away behind a hill. Dark forms were observed on the disc's surface, and the forest seemed to be ablaze as the witness drove away in fear.
Source: Jacques Vallee
---
Date: 
Location:
Time:
Summary: July 25, 1967; Garrison, ND
Round, blue-white object hovered near missile site, animals reacted. Object started, stopped, moved up and down; changed color to red when accelerating (section VI).
Source:
---
Date: 
Location:
Time:
Summary: July 25, 1967; Garrison, ND
10:30 p.m. CDT. A farm family saw a luminous object that moved erratically, both horizontally and vertically, almost touching the ground at times. The object was round or top-shaped with a well-defined edge. It was blue-white when moving slowly and bright red at faster speed (color change/speed correlation). Animal reactions by dogs and cattle initially alerted the witnesses. An object of this description had been repeatedly sighted in the area near a Minuteman Missile site for 8-9 months. (Hall, 2001, pp. 212-13; NICAP Report Form and North Dakota subcommittee report, NICAP files; U.F.O. Investigator, Vol. IV, No. 2, Oct. 1967, p. 4.) [Near Minot AFB, Minuteman ICBM Complex]
Source:
---
Date: 
Location:
Time: July 25, 1967; Southern part of State, MI
11:30 p.m. EDT (10:30 p.m. CDT). A woman and several teenagers about 1,200 miles to the southeast reported a very similar phenomenon. They saw 5-6 objects radiating bright white lights "wobbling" over a field. When a plane flew into the area, the objects (lights) rapidly disappeared after turning bright red (color change/speed correlation). As the color changed, dogs in the area howled (animal reactions). (Stinson letter, NICAP files.)
Summary:
Source:
---
Date: 
Location:
Time: July 26, Rowley, MA
11:15 p.m. EDT. A woman looked out her bedroom window when she heard a loud whining, whirring sound and saw a glowing orange object in the sky. Others in the neighborhood also saw and heard the object. Seven miles away to the northwest, the superintendent of a military school heard a loud intermittent whistling sound, but could not find the source. (Fowler, 1974, pp. 151-52, 349.) 
Summary:
Source:
---
Date:  July 26 1967
Location: Near Big Tujunga Canyon, California
Time: unknown
Summary: Two witnesses were driving near a park when they heard a bodiless voice, which instructed them to watch for something strange. Suddenly there was a flash of light in the sky and a large glowing disc shaped object descended near them. Moments later a very tall being appeared, he was both boneless and eyeless and said he was a "space robot encased in a time capsule." (!) And that his name was Kronin.
Source: John A Keel, The Mothman Prophecies
---
Date: 
Location:
Time:
Summary: July 26, Dauphin, PA
11:20 p.m. EDT. A woman saw a red light hovering near her house and illuminating the interior of her house. The color changed to white and then to rose, and the light seemed to rotate as the color changed. TV interference was reported (EM effects). (Pennsylvania NICAP Subcommittee report, 10/4/67, NICAP files.)
Source:
---
Date: July 26 1967
Location: Colon, Buenos Aires, Argentina
Time: night
Summary: Near Colon, several persons saw a huge violet object getting brighter and descending to the ground. A little being emerged from the craft but went back in a few seconds later. Witnesses felt a strange sensation and found themselves unable to move. Traces were found where the object had landed.
Source:CADIU, Newsletter # 2
---
Date: 
Location:
Time:
Summary: July 27, 1967; Farmville, NC
12:30 a.m. EDT.  Two witnesses saw an orange-yellow, "tri-level" object with lights coming from the upper area, apparently from within. The object appeared to be spinning. It hovered, crossed the highway, and was joined by three other objects (rendezvous). (Greenville Reflector, N.C., 7/28/67, copy in NICAP files.) 
Source:
---
Date: 
Location:
Time: July 27, 1967; Newton, NH
1:00 a.m. EDT. Three people, including an electronics technician and former Air Force radar operator, and a laboratory technician and former Navy radar operator, saw an orange-red star-like light that began to move. Through a telescope they could see an elongated oval object with bright white lights at front and rear (body lights). Other red and white body lights were visible, a string of white lights along the side flashing in sequence. When a flashlight was shone at it, the object responded by reversing direction without a turn and flashing its lights back in the same sequence (light reaction). When a jet approached the object, its lights disappeared until the aircraft had passed (aircraft avoidance). Afterwards the object reappeared as a brilliant white oval. Additional signals were flashed at it, and the object responded in kind. After responding to a pattern of four light flashes, the object disappeared behind trees. (Fowler report, 8/14/67, NICAP files; NICAP report forms; U.F.O. Investigator, Vol. IV, No. 2, Oct. 1967, p. 3; Fowler, 1974, pp. 152-55, 349.)
  Summary:
Source:
---
Date: 
Location:
Time:
Summary: July 27, 1967; Alexandria-Leesville, LA
2:00 a.m. EDT. Throughout several states, distress calls were heard on Citizen's Band radio from a pilot whose plane reportedly crashed. The pilot said that a red glowing object with a bright glow toward the tail approached the side of the aircraft and then the tail, forcing the aircraft down. The Civil Aeronautics Board reported a plane down and the pilot killed, but to the northeast of this area and at 8:00 pm on July 27. No apparent follow-up investigation report. (Shreveport Times, LA., 7/28/67, copy in NICAP files.)
Source:
---
Date: 
Location:
Time: July 28, 1967; Gilroy, CA.
Oval object approached fire lookout tower, hovered, illuminated ground (section IX).
Summary:
Source:
---
Date: 
Location:
Time: July 28, 1967; Pacheco Pass (Gilroy), CA
9:30 p.m. PDT. A state forestry employee at a fire lookout tower saw an oval blue-white light coming toward him at low altitude, a dark band visible around the middle (see July 4, Corning, Calif.). A bright white light also was visible on the top (body lights). The object alternately hovered and moved around, circling the fire tower. At one point it emitted a blue-white light beam which illuminated the ground. As the object circled the tower, the citizen's band radio emitted a variable pitch whining noise (EM effects), interfering with any effort to communicate. Finally the object accelerated and sped away leaving a comet-like trail behind it. (NICAP report form; U.F.O, Investigator, Vol. IV, No. 2, October1967, p. 3; Gillmor, 1969, case 28.)
Summary:
Source:
---
Date: 
Location:
Time:
Summary: July 29, 1967; Arnold, CA
1:00 a.m. PDT. Two witnesses saw an orange light "like a ball of fire" that approached from the horizon. It stopped (hovered), changed color to white, ascended slowly, changed direction (maneuvered), and continued ascending. After the color change, it moved in a "pulsating fashion as though leaping through space." (NICAP report form.)
Source:
---
Date: 
Location:
Time: July 29, 1967; Olympia, WA
9:00 p.m. PDT. A woman saw an oval light, sometimes silver and sometimes red and blue, that descended suddenly, hovered moved laterally, then descended until lost behind the horizon. A light ray (light beam) was seen between the object and the horizon before it disappeared. (Civil Defense report form, 8/28/67, NICAP files.) 
Summary:
Source:
---
Date: 
Location:
Time: July 30, 1967; Kernville, CA (BBU)
Petyak. (McDonald list; FUFOR Index)
Summary:
Source:
---
Date: 
Location:
Time: July 31, 1967; Privilny farm, Kavkazkiy, Russia
9:15 p.m. I. Kosov, his wife and farmer P.I. Marchenko saw a dark red disk flying from the southwest to the northeast. The witness had time to count to forty-two before the object disappeared. (Ref. 3)
Summary:
Source:
---
Date: July 31 1967
Location: Churchville New York
Time: 2215
Summary: Sidney Zipkin, a county park employee, was just pulling into County Park parking lot when the lights of his truck fell on an object sitting on the ground. It was a spherical central body with two extensions on either side tipped with several green lights. At that moment, two black-clad beings appeared in the beams of the truck lights and made a beeline towards the object disappearing through a door that closed behind them. They moved very fast. The object then ascended straight up with a hissing noise. There were attendant sightings in the area on the next several nights.
Source: Jeffrey J Gow & James E Sipprell for Nicap
---
Date: 
Location:
Time: Late July or Early August, 1967; Wurzburg, West Germany
9:00 p.m. LT.  A glowing, round, pale yellow object that sometimes pulsated, moved slowly and precisely in a pattern over a military facility was seen by many witnesses. The object rose vertically and hovered at high altitude when an aircraft passed by (aircraft avoidance), then returned to the original flight pattern. Radar contact with an unidentified object was reported. (Campbell letter, 8/31/67, NICAP files.)
Summary:
Source:
---
Date: late July 1967
Location: St. Stanislas de Kostka Quebec Canada
Time: unknown
Summary: About a year before the encounter of 7/28/68, 11-year old Denis Leger said a flying object, "resembling a round and shiny saucer," followed him for about 5 minutes, at 20-foot altitude, as he rode his bicycle. The bottom was made of glass 3 or 4 inches thick, and he could see three persons inside, one seated at one end and the others at the other. "They were small and black."
Source: Saucers, Space & Science, fall 1968
---
Date:
Location:
Time:
Summary:
Source:
Related articles