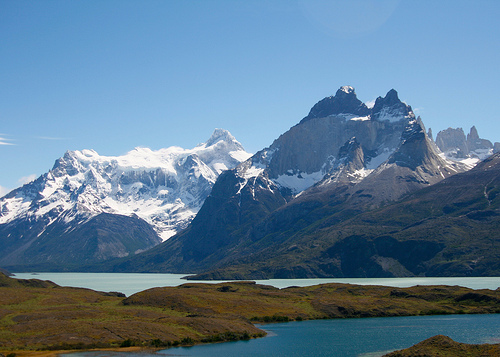 (Last Updated On: October 12, 2016)
Date: 1968
Location: Nellis Air Force Base Nevada
Time: unknown
Summary: Military personnel reported watching a large object hovering above the base for three days consecutive. Three small objects were seen departing the larger craft and one landed on the base grounds. A Colonel accompanied by an armed security detachment was sent to meet the landed craft. While waiting outside the men watched a short stocky humanoid disembark from the craft. A green beam of light was then aimed at the Colonel from inside the object causing him to become paralyzed. Orders were then issued to fire on the object and humanoid but all weapons mysteriously jammed. The object and humanoid eventually departed into the larger hovering craft. No other information.
Source: Len Stringfield, UFO Ohio Yearbook 1979
---
Date: 1968
Location: Between Conchali & Santiago, Chile
Time: unknown
Summary: Agronomist Roberto Iglesias reportedly encountered a landed metallic object shaped like a child's top on the side of the road. The craft emitted a propeller-like sound. He was then approached by two human-like figures who communicated with him in perfect Spanish. Burn marks were reportedly found.
Source: "Ovnis Extraterrestres y otros en Chile"
---
Date: 1968: Georgia Abduction

---
Date: 1968
Location: Sverdlovsk, Ural, Russia
Time: 0400A
Summary: A 6-year old girl named Oksana Plotova who lived in a house near the base of Old Uktus Mountain awoke early one morning, sat on her bed and suddenly saw a strange entity standing at the corner of her bedroom. The entity was dwarf-like, about 60-80 cm in height, somehow resembling a "wrinkled woman". The girl although thought that the entity also looked like a doll. The entity's skin was completely black and the eyes were totally white in color. The humanoid stared at the girl with its large eyes, unblinkingly. Very frightened, Oksana laid on her bed refusing to move. When her parents awoke early in the morning she looked at the corner and the entity was already gone. She later speculated that she had seen a "chud" an entity described in numerous Uralian legends as inhabitants of underground realms that had gone underground ages ago and still live there.
Source: "NLO" UFO Magazine Saint Petersburg # 35 August 23 2004
---
Date: 1968
Location: Brodowo, Poland
Time: 0900A-1000A
Summary: The 11-year old witness (involved in a previous encounter) was walking through a forested area when he came upon a hunched creature clad in gray clothing. A bundle or a bun was seen on the entity's back. At first the witness thought he knew who it was and offered a "Dziendobry" (Good Morning) but he heard no reply.
Source: woe_@vp.pl quoting Marcin Mizera "UFO Encounters in Brodowo" "UFO" # 2 April-June 2005, NPN group Poland
---
Date: 1968: USMC Vet Observes Objects Following Jet Aircraft
---
Date: 1968
Location: Brodowo, Poland
Time: daytime
Summary: Andrzej (involved in other encounters) his brother and a friend had gone walking into a local forest. After some time they parted but soon their colleague screamed, "Go away, someone is here." All of them began running in different directions. When they met again Andrzej asked his friend what he had seen and he replied he had encountered two small beings that frightened him. Some time later the owner of the land reported seeing strange lights over the trees.
Source: woe_@vp.pl quoting Marcin Mizera "UFO Encounters in Brodowo" UFO # 2 2005 and NPN ORG Poland www.npn.ehost.pl
---
Date: 1968
Location: South of Novyi Vasyugan, Tomsk region, West Siberia, Russia
Time: daytime
Summary: A hinting inspections officer flying on board a Mi-4 helicopter, with several other men and 3 pilots on a routine flight from Omsk saw at approximately 300-400 kilometers north-northeast of Omsk in the taiga a huge disk-shaped object on the ground, stuck in a bog. According to the witnesses report the disk was quite large in diameter, probably 30 meters in size, with a silvery surface which reflected the sun, probably lens-shaped, with a convexo-convex structure. The disk-shaped craft was partially sunk into the bog, near the pine forest in a tilted position. There wasn't any safe area around to land for the helicopter and it had to continue its flight. They heard nothing more about it.
Source: Mikhail Rechkin, Omsk, The Okynyevo Crystal—the Pearl of Russia. Siberia will save humanity? Vol. 2 Moscow 2005
---
Date: 1968
Location: Kuibyshev, (now Samara) Russia
Time: 1400
Summary: 7-year old Elena Sokolova was returning home from school, and when walked inside the yard of her multistory apartment complex she was amazed to see the yard totally devoid of people. She thought that it was impossible, since at this time of day there were usually dozens of people about, mothers with their young children, elderly residents, people walking their dogs, etc, but on this date there wasn't a single soul around. She kept walking and suddenly saw a strange "man" appear near her. The man looked extremely weird, he was of a small height, completely bald, and dressed in a red colored loose overall with unknown symbols on the breast area, which resembled hieroglyphs. In general the strange man somehow resembled a monk. The stranger stood staring at the witness and then made a gesture with his hand, beckoning Elena to come closer to him. Terrified she turned around and ran to her apartment without looking back. (She would have further encounters)
Source: letter from the witness in: "Anomalous News" Newspaper, St Petersburg # 28, 2007
---
Date: 1968
Location: Savsjon, Varmland Sweden
Time: evening
Summary: Lyyli Nilsson had been out fishing with her 11 year old daughter. The girl left her and went home. As the child came to a ridge she saw two persons wearing overall like outfits and a bit further up a brownish bell shaped object. A while later her mother passed the same place and saw the men who talked between themselves in an unknown language. Hiding about 40 meters from them, she saw that they were of a Nordic type and wore silvery overall like outfits. Their craft stood a bit further up on the ridge. When she came home her daughter confirmed Mrs Nilsson observation.
Source: Sven Olof Svensson
---
Date: 1968
Location: Near Mansfield Dam Texas
Time: evening
Summary: C. W. Hickman saw a lighted, oval shaped object land on 4 legs 40 ft away. From an opening, unlike a door, emerged 4 women and 2 men; the women 6 ft tall, slender and light complexioned, with curly hair under 3 inch headbands and dressed in two piece suits with short skirts and high boots, reassured him as they escorted him back to their craft. The men remained silent and were of dark complexions, wearing tight fitting uniforms. He was taken on board the craft into a large central room, then into a smaller adjoining room where he was compelled to inject some white powder, after which his clothes were removed. He was sponged with a fluid while being monitored by a small device like a camera. The ship took off, arriving at its destination after a short flight. He was taken into an oblong white building, in a landscape covered with white sand. In the building he saw complex electronic equipment. He felt no fear, but believes he was heavily sedated. He believes he may also have been sexually molested. He was then taken back aboard the craft and returned, after another short trip, to the site where he had been abducted. He suffered no ill effects upon his return but did develop pneumonia about 3 weeks later. The signification of the experience eluded him, although he later reported seeing one of the women in an Austin Texas supermarket; "Oh, they're right here with us. They are all around us," he told the investigating reporter.
Source: Jack Unger for The Calvert Tribune
---
Date: 1968 (date is approximate)
Location: Northern Adamawa Province, Nigeria
Time: evening
Summary: The witness, 10-11 year old, Nevin Pfaltzgraff, son of missionaries posted in this isolated area near the border with the Cameroons was exploring an area several hundred yards from the back of the house not far from the base of a very large hill that had a sloped rock escarpment going up it. He was about 100 yards from it separated by large berry bushes through which he could see the rock. Suddenly, movement drew his attention and looking in that direction he saw several "humanoid" beings walking across the rock in single file, staring ahead. He does not remember the number but he thinks that it was between 3 and 5. The distance made it hard to judge their height, but his impression was that they were about 5ft tall. They were orange/red in color and did not appear to be clothed or carrying anything, they seemed asexual and could not see any details on the facial features. The most significant aspect of the experience (according to Nevin) was his reaction: He instantly "knew" that what he was seeing was abnormal, although at the time, being cut off from the news and the rest of the world he had no knowledge of UFOs or aliens. He was "electrified" as though all his hair over his body was standing on end and he ran from the there as fast as he could. The witness at first thought that these had been orange monkeys, but the beings he saw were too tall, had no tails and walked like humans.
Source: Nevin Pfaltzgraff nevingo8@msn.com
---
Date: 1968
Location: Danvers, Massachusetts
Time: late evening
Summary: At the same time that his cousin, Gail Wilkins watched a gigantic cylindrical shaped object while driving along Linebrook Road, Jeffrey Morgan Foss (involved in other encounters) was taken aboard an object that was apparently launched from the large cigar-shaped mothership. Onboard the craft he remembered that several female and male "grays" were kind and gentle to him. The male being reflected tenderness by placing his hand on Foss' while the female was helping Foss to remember about their mutual love for waterfalls (?). He was shown a simple test tube with yellow and red blood cells; genetics/incubation technology; self-sustaining deep voyage artificial environment production technology; and microscopic liquid chips. Then they escorted him through a curved corridor running between the inner drum shaped central control room and the outer edge of the disc. Just 15 feet or so around the curved corridor to the left was a room on the right which was very dark without room or control lights. There was a "homeworld head" there that examined Foss closely and then reflected approval to the male and female grays about the project which in this case was Foss himself. He noticed, as his eyes adjusted to the dark, bumps all over the being's head. At first he thought it was a disease but then he saw they were laid out in a perfect pattern. Then he saw a hair-thin line on his forehead. He was wearing a skin-tight cap with perfectly matched the gray of his skin bearing sensors. Upon telepathic inquiry, it was revealed they were for (wireless) multitask fleet communications.
Source: Jeffrey Morgan Foss liastar@usermail.com
---
Date: 1968
Location: Western Australia, exact location not given
Time: night
Summary: A Mr. Terry W, now aged 30, related that at about 6-7, two small beings entered his bedroom and tried to persuade him to leave with them. He has the recurring memory of them saying, "Come with us, come with us…" He remembers being petrified and thinking; I don't like the looks of you. I want to go back. In 1990 he dreamt of being taken away by taller beings wearing black capes. Terry asserts he is very psychic.
Source: Keith Basterfield, Brian Richards UFORUM
---
Date: 1968
Location: Kern County California
Time: night
Summary: The witness, who had been experiencing several strange events and other visitations in her home, woke up one night feeling paralyzed and with difficulty breathing. She then saw grotesque faces with large, round baldheads, dark slanted eyes, thin lips, no nose, and light skin. The beings seemed disembodied as they floated in the air. They were only 3 feet tall and were dressed in shiny suits, which made them shimmer. No sound was heard but her paralysis lasted half an hour, during which the beings told her telepathically that they wanted control of her body.
Source: Ann Druffel & Idabel Epperson
---
Date: 1968
Location: Delaware County, New York
Time: night
Summary: Farmers reported encountering a giant broad shouldered grinning man with silver hair. He was described as very agile and when chased made impossible leaps across wide ditches. He reportedly had small eyes and a fixed grin. No other information.
Source: John A Keel, Strange Mutants
---
Date: 1968
Location. Walcha, New South Wales, Australia
Time: night
Summary: Two young girls had gone outside to check why the family dog was barking. They rushed in saying they had seen a small man walking out the side gate. The whole family then ran outside and saw a large circular red object hovering over the front gate. It moved away five minutes later.
Source: Keith Basterfield
Date:  1968
Location:  
Time:  
Summary:  
Source:  
---
Date: 1968
Location: Smithfield, New South Wales Australia
Time: night
Summary: A young woman walking home across a small park saw an object moving at slow speed nearby. Arriving home she took out a telescope and was able to see that it was a disc with a square window on the top. In the window she watched a black figure with its arms outstretched surrounded by a yellow light.
Source: Keith Basterfield
---
Date: 1968
Location: Potomac Maryland
Time: night
Summary: Pat Hill and a group of her friends saw an enormous humanoid creature bolt through their backyard. The creature had a head the size of a pumpkin. The youths were paralyzed with fear as they watched the creature run off into the woods.
Source: Mark Opsasnick, The Bigfoot Digest
---
Date: 1968 Location. Odenton Swamp Maryland
Time: night
Summary: The witnesses were driving down a dirt road when they came upon something huge blocking their way. They turned on their high beams and were then able to see a ten-foot tall creature, three foot wide covered with slimy green hair. The witnesses apparently left the area quickly. No other information.
Source: Mark Chorvinsky & Mark Opsasnick, Strange Magazine # 5
Date:  1968
Location:  
Time:  
Summary:  
Source:  
---
Date: 1968 Location. Poltava Province, Ukraine
Time: night
Summary: A local 20-year old woman was walking back to the village on a moonlit night when she suddenly encountered a strange man-like figure. When she looked at the body, she was struck by fear. The whole body of the stranger was covered with hair. The "alien" had less hair on his face. The color of the hair was dirty gray. They stood facing each other for a few minutes, after that the alien without saying a word, made a slight sound with his lips and walked away into the darkness. With a little difficulty the stunned woman walked back to her home.
Source: Yaroslav Sochka, UFODOS
Date:  1968
Location:  
Time:  
Summary:  
Source:  
---
Date: 1968 Location. South Central Louisiana, exact location not given
Time: 2100
Summary: The witness was getting ready to go to bed and was clothing the bedroom window when she noticed, not 6 ft from the trailer a "being", Sasquatch in appearance. She told her husband but this one ignored her. The being suddenly got up, as it had been sitting under a tree and walked toward the window. He was tall, about 8 to 9 ft tall. The being was looking directly into her eyes. He was completely covered in light and dark tan fur, except for its face which was a light tan color; the eyes were large, dark, dark brown not black as she could see the pupil and slightly protruding as they seemed to be the most prominent feature. As she started to back away from the window, it raised its right hand (huge and there were 4 fingers and a thumb) and she heard in her mind a soft voice saying, "Do not be afraid, I will not harm you." As she heard this a feeling of peace and calm came over her and the being smiled and started talking to her…telepathically. Her next memory was of waking up the next morning sleeping next to her husband and not remembering what had happened.
Source: UFO Casebook Forum
Date:  1968
Location:  
Time:  
Summary:  
Source:  
---
Date: 1968
Location: Wright Patterson AFB, Ohio
Time: night
Summary: Two Air Force Policemen reported that they had been guards outside a top-secret aircraft hanger and were instructed never to enter inside. Yet one night they both decided to enter and check it out, inside they found themselves staring at the wreckage of a saucer type craft, and some small bodies lay side by side. A government civilian contractor entered the hangar after them. Shortly thereafter they were reduced in rank and transferred to Hickam Air Force Base.
Source: Brian Vike, Director HBCC UFO Research
---
Date: 1968
Location: Mont Tremblant, Quebec, Canada
Time: night
Summary: An anonymous adult male reported seeing a strange figure in a wooded area. It had glowing red eyes on a dark background. No other details could be seen. 3 German shepherds with the witness do not react. The witness had seen on December 24 1967 a group of 10 luminous and silent bowl-shaped objects passing over his vehicle.
Source: CASUFO file, M Leduc, F. Bourbeau "Contact Magazine" # 158
---
Date: 1968 Location. River Amur, Primorskiy Kray region, Far East, Russia
Time: night
Summary: Because of the tense relations between the USSR and China at the time, Soviet KGB frontier troops intensified their patrols in the territories of the Russian Far East which bordered the People's Republic of China. One night the crew of a Soviet patrol boat on the River Amur spotted a suspicious object flying in from the Chinese bank of the Amur. When the strange object came closer the men on the boat realized that the object resembled a winged human figure. The wings were visibly flapping in the air as the entity flew overhead. At the moment that the winged figure crossed the frontier into Russia the frontier guards opened fire with their automatic weapons. The flying entity stopped moving its wings and glided down sharply to the nearby taiga and dense pine forest. The crew of the patrol boat radioed headquarters about the incident and the order was given to find the object or creature whatever it was. The KGB frontier guards suspected that the figure was probably a Chinese spy, wearing some kind of flying apparatus or equipment. However a thorough search which included dogs conducted by the frontier guards proved fruitless. The mysterious flying man had disappeared.
Source: Polina Belova in: "Mir Uvlecheniy" newspaper Kiev Ukraine # 1 December 6 2005
Date:  1968
Location:  
Time:  
Summary:  
Source:  
---
Date: 1968
Location: Malaga Spain
Time: late night
Summary: The eight-year old witness woke up one night to see three short humanoids with rough skin and very large heads standing in her bedroom. The beings apparently took her from her room and led her into an object where she was examined and apparently implanted with a microscopic device. No other information.
Source: Antonio Huneeus, UFO Universe, Fall 1992
---
Date: 1968
Location: Huelva Spain
Time: late night
Summary: Eight-year old Julia G. was in her bedroom when she suddenly saw the figure of a dark skinned woman that was at the same time extremely luminous, standing at the foot of her bed. The entity wore a white robe and was smiling at the witness. Julia became frightened and hid under the covers; she then felt the entity approach and touched her several times.
Source: Pedro P. Canto, Visitantes de Dormitorio
---
Date: 1968 Location. Sacramento California
Time: late night
Summary: The witness was suddenly awakened in the middle of the night to see a large disc shaped object hovering just outside her front door. The object had sort of a hypnotic effect on the witness, which suddenly found herself being pulled from her body and out of the bedroom window. She then found herself in a garden adorned with oriental statues, standing in a long line of people who all waited silently. Soon she was on a chair surrounded by several beings. The room she was in was dark and she was unable to see the being's features clearly, but they were apparently humanoid. She was handed an object and was told to do something, she refused, thinking that the beings were evil. She began screaming and suddenly found herself back on her bed.
Source: Jeane Davis letter, Fate Magazine, January 1994
Date:  1968
Location:  
Time:  
Summary:  
Source:  
---
Date: 1968 Location. Derinkuyu, Turkey
Time: late night
Summary: Archaeologists exploring burial chambers, tunnels, and catacomb-cities (several of which are linked together at the lower levels) had reached a depth of 900 feet when they were suddenly attacked by a group of 7 ft tall albino haired creatures. One team member was killed and another was hospitalized for several months, and all had serious wounds.
Source: Raymond Bond, UFO Annual 1980 & Kurt Braun, Beyond Reality December 1968
Date:  1968
Location:  
Time:  
Summary:  
Source:  
---
Date: 1968 Location. Southern end of Guam
Time: late night
Summary: A brother and sister were asleep, when the sister awoke to a noise outside. She then awoke her brother. The noise was loud, but no one else woke (even another brother nearby refused to rouse when they tried to wake him). The sound turned higher in pitch, like whistles, and a bright light shone through the curtains. The sister was getting hysterical, saying that they were going to die. Then the sound grew softer. Their pet chickens were running around excitedly, and a small disk went over the house. The object seemed to land or at least stop right over the house. There were then three "zzzf" sounds and a light so bright that it was like daylight. A ladder-like object descended very shiny metal. Both the sister and brother fainted. The next morning both of them were in one bed covered with sweat. The parents wanted to know what had happened. "And I said to her, "We've come to visit you like you've come to visit us. We mean no harm. Please do not be frightened. We see that you are frightened. We shall leave, but we shall return. When we return, please do not be frightened." And then they all went away. Mom was saying, "What are you saying! What is it? Get out of there!" So my dad took me to the kitchen and my mom took my sister to the bedroom and let her tell her story.
Source: Michael D. Swords, "Grassroots UFOs"
Date:  1968
Location:  
Time:  
Summary:  
Source:  
---
Date: 1968
Location: Campo Grande, Mato Grosso do Sul, Brazil
Time: late night
Summary: The 5-year old witness (involved in other encounters) was lying down on his bed when a ball of light came into the bedroom. It was bluish in color, violet. And it was very bright, but the light did not hurt his eyes. This light transformed into a woman. She was about 2.20m in height, the witness was just a small child so it was difficult for him to ascertain her exact size, but she was very tall. She had raid hair and her eyes were green, but water green, transparent green, very strange eyes. She had very white skin and her lips were pin, perfect, her features were perfect. He remembers that she leaned over him and said, "Don't worry". He heard that inside his brain (telepathy). "Don't worry everything is going to be OK." Then he found himself inside a room with a metallic bed and there was a bubble around him, like a soup bubble, transparent. And the same woman was outside the bubble looking at him. She was "talking" to him, telling him that they were going to put something in him. "Don't worry, relax, everything is going to be OK. We are your friends." He was very afraid, but when she began talking to him, somehow his fear diminished and he became calmer. She could penetrate the bubble, with a very thin crystal, shining crystal in her hand, and she said she was going to put that on him, on the back of his neck. And she did that, he felt pain. This is the end of his memories.
Source: Earthfiles.com
---
Date: 1968
Location: Ovsjannikovo, Tselinskiy area, Altay region, Russia
Time: late night
Summary: Together with her younger sister, Korobkova Tatyana Nikolaevna saw in the darkness the silhouette of a strange figure highlighted by light wearing loose-fitting overalls with long sleeves. The luminous figure contrasted with the dark sky in the background. A luminous area was also seen in the bottom of the figure which made several movements. Residents of the nearby village of Popovichi saw a bright light in the sky.
Source: Korobkov Vladimir Vasilevich, Barnaul, and Mikhail Gershtein
---
Date:  1968
Location:  
Time:  
Summary:  
Source: