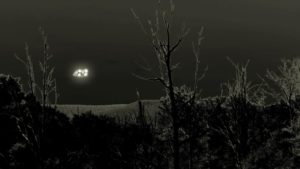 (Last Updated On: January 17, 2017)
Date: December  1971
Location:  Rowsham, Buckinghamshire, England
Time:  0130A
Summary:  The 23-year old witness was walking home after visiting his fiancée when he spotted a light over the roadway, the light flashed and turned into a greenish bullet shaped object. A beam projected from the object and hit the ground; from the beam a very tall being wearing a silvery one-piece suit emerged. It glided towards the witness who was then paralyzed and could not move. The being moved its hand up and down over the witness face that felt a tingling sensation. He also felt that information was being somehow drawn out of his mind. Eventually the figure returned to the beam of light and was pulled up into the hovering craft, which vanished, in a brilliant flash of light. The witness then ran for a mile until he met a police car.
Source:  Jenny Randles, Abduction
---
Date: December 5 1971
Location:  Rio Carangula, near Itaperuna Brazil
Time:  1900
Summary:  Paulo Caetano Silveira's fourth "contact" occurred near the bridge over the Carangula River outside Itaperuna. He was invited inside the object and heard its occupants "jabbering" with each other unintelligibly, although he never observed their lips move. He did understand their message that they were on a mission of peace, preparing people for eventual contact.
Source:  Dr. Walter Buhler
---
Location. Near Tel Aviv, Israel
Date: December 7 1971
Time: night
Following a pre-arranged with mysterious entities Uri Geller and Andrijah Puharich drove to the appointed place near Tel Aviv. There they saw a bluish light pulsating over a small square of open land. Geller felt an irresistible attraction towards the light. They exited the car and heard a cicada like electronic noise. The light was attracting Geller towards it. He remembered asking Puharich and another witness, Iris, to wait and he set off towards the fascinating light. As he approached it he felt like he was entering a sort of trance. Everything became silent around him and he felt as he had entered some type of "vacuum" (Oz factor?). The very air had changed quality. He then remembered seeing a strange "building" having no discernible shape whatsoever. Soon a shapeless dark figure parted from the strange building and approached him. It put something in his hand. Geller felt a sudden fit of fear and ran back to Andrijah and Iris. Before he reached them he realized what was in his hand: it was the very same pen that had mysteriously vanished from their experiment box. Andrijah was able to compare an inscription on the pen that had been previously unknown to Geller.
Source: A Puharich, "Uri Geller"
---
Date: December  1971
Location:  
Time:  
Summary:  
Source:  
---
Date: December 13 1971
Location: Muchalls, Scotland
Time:  late night
Summary: The witness was returning home form some late piano lessons when he saw three red pulsating lights over the area, one of the lights seem to follow the witness. The light then swooped very low almost at ground level, the witness then turned and headed home, he then saw in the middle of the road by the a figure dressed in a long gown, it seemed to glow. The witness took one step towards the figure and it suddenly vanished. The witness then ran home frightened and totally confused.
Source: SPI May/June 1989
---
Date: December 14 1971
Location:  Cavetown, MD
Time:  11:45 p.m.
Summary:  Several residents (near Hagerstown), including a Maryland State Trooper and a college professor, reported seeing a bright light circling over Holiday Acres, a local subdivision. The object has been reported by local residents on several occasions, and is usually seen around 11 p.m. The object appears to circle the area, changing speeds and sometimes hovering in one place. No satisfactory explanation for the sighting has been found, despite interviews by NICAP investigators
Source:  UFO Investigator / Jan 1972, page 3
---
Date: December 14 1971
Location: Waikerie South Australia
Time: 2300
Summary: Two youths, Tom Yates and Glenn Schiller, were parked near a golf course "keeping watch for unusual phenomena," when they saw a figure of humanoid appearance, closely surrounded by a mist-like aura, floating through trees about 20 yards away. It had a dog like head, pointy ears, and a long nose; the head was brown in color, with no eyes or mouth visible. Although it was clear of the ground, they could see no legs. The young men said it appeared to be 6-feet tall, with a body of "lump appearance." It headed in a direction away from Waikerle, and the two moved their car about 300 yards towards the golf course, at which time they saw an object "about the size of a semi-trailer" and in the shape of a half-dome, resting on the ground; windows were seen on its surface and a row of lights encircled it, wile several "spotlights" pointed upwards. After watching it for about 15 minutes, the object appeared to "dissolve," disappearing in 10 seconds. The entire incident lasted approximately 30 minutes.
Source: South Australia UFO Research Group
---
Date: December  1971
Location:  
Time:  
Summary:  
Source:  
---
Location. Forsyth County, Georgia
Date: December 15 1971
Time: night
A local woman was reportedly kidnapped by aliens and given a physical examination that left marks on her body, including blisters and burns. She also experienced backaches, nightmares, and insomnia, and her eyes became sensitive to light. No other information.
Source: Jim Miles, Weird Georgia
---
Date: December  1971
Location:  
Time:  
Summary:  
Source:  
---
Location. Itaperuna Rio de Janeiro Brazil
Date: December 20 1971
Time: night
Manuel Da Silva E Souza, the manager of an airfield at Itaperuna, observed on the ground a transparent egg-shaped object, lit up by a powerful bluish light. The witness approached to within 150 feet of the object, which was about 8 feet high and less than that in width, and could see a humanoid figure less than 3-foot tall and wearing a khaki uniform with boots who walked around the UFO once, then stopped and seemed to be looking at the witness for a minute or two. Then the being rose up into the air above the craft, and entered it feet first. De Silva could see two other similar entities inside the transparent object. After the first had entered, these others put their hands on something beside them, and the craft rose into the air and flew off. The incident lasted no more than 4 minutes.
Source: Dr. Walter Buhler
---
Date: December  1971
Location:  
Time:  
Summary:  
Source:  
---
Date: Dec. 29, 1971
Location: San Martin de los Andes, Argentina
Time: B-727 crew.
Summary:
Source:
---
Date:  December 31 1971
Location: Tulancingo, Hidalgo, Mexico
Time: evening
Summary: Evita Ochones, a goat herder, saw a UFO with a curved top and a flat bottom bearing a brilliant light, which made a "sizzling" sound, that hovered above Tulacingo and then landed about 150 feet from her. The noise ceased, and a door opened; inside the object she could see by a reddish light several figures clad in white one piece suits, with hoods fitting closely about the face. Their noses were slit-like, and she could see no mouths. Three or four of them, carrying instruments of some sort, got out and walked about, taking soil samples; they remained in the neighborhood of the UFO for about half an hour before reboarding the object. Then it rose up, with a sizzling noise, and took off at great speed. Landing mark traces of two skids and three leg marks were found at the site. Residents of Tulacingo, Pacheco, and other points made numerous sightings of the object.
Source: Ignacio Valdez, Emile C Schurmacher, Saga's 1973 UFO Special
---
Date:  late December 1971
Location: Brushy Creek Missouri
Time: 0200A
Summary: Reggie Bone, his wife, and two other couples were driving down a deserted road early in the morning around Christmas time, when they saw a figure walking up the road toward them in a "frogman's " outfit, complete with flippers and carrying something in his hands. They could not see his facial features, and the wetsuit covered his body and did not appear wet. The nearest body of water was Black River, about a quarter mile away and not easily accessible to that part of the road. Temperatures were below freezing and the witnesses were so taken aback its appearance that none of them said anything for several miles then one said, "Did you see that?"
Source: Jerome Clark, Fate
---
Date: late December 1971
Location: Barrio Quebradas, Puerto Rico
Time:  2030
Summary: Efrain Albino saw in a wooded area behind his house a pyramid shaped object on three leg-like supports on the ground. A door opened on its side and a small ramp was lowered to the ground. Three creatures carrying a long tube-like object then emerged down the ramp. The beings were of different heights, one tall, one medium, and one short. A bright light was emitted from the long tube like object partly blinding the witness. The beings were described as thin, with a little larger than normal heads, and large pointy ears. They all had large black eyes, very small noses, and mouths. All wore tight fitting silvery outfits. Albino became frightened and ran back into his house. The next day he found scorched marks at the side of the landing and noticed an unpleasant odor in the area. Other locals had apparently seen the object landing.
Source: Jorge Martin, Evidencia OVNI # 20
---
Date: December  1971
Location:  
Time:  
Summary:  
Source:  
Related articles