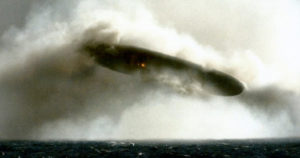 (Last Updated On: October 15, 2016)
Date: early spring  1971
Location:  Mobile, Alabama
Time:  night
Summary:  Residents of a local neighborhood claimed to have had nocturnal encounters with an extraordinary creature. "The top half was a woman" and "the bottom was a wolf." One witness added, unnecessarily, "It didn't seem natural." That's an understatement.
Source:  Jerome Clark, Unexplained!
---
Date: March  1971
Location:  Near Paiyunopo, near Mongolian border, China
Time:  evening
Summary:  Sun Trha Wong and five other soldiers were on a routine patrol in the area of the artesian wells near the road leading to Erhlieh when they saw resting on a large rock promontory a huge luminous sphere the size of a large 2 story house. They hid to observe the phenomenon. After about ten minutes the luminosity of the sphere began to slowly decrease, they could see that the sphere was made out of a metal or plastic like material, they could not see any openings on it. However soon they spotted three beings walking around the sphere holding strange apparatuses in their hands. The humanoids appeared to be searching for something and frequently looked in all directions. They were much taller than the average human and wore helmets. A few minutes later the figures somehow disappeared and the sphere took off disappearing towards the north.
Source:  Gilles Danjou "Nostra" 11-18-1972
---
Location. Near El Garrobo, Sevilla Spain
Date: March 1971
Time: night
Vicente Osuna, driving home to Guillena, observed on one night the passage of an oval object that knocked out the motor of his vehicle and left him feeling a strange malaise. On or around the same time he also observed, along the same route, "some strange heads, non-human, nor those or animals, illuminated by their own light."
Source: Ignacio Darnaude
---
Date: March  1971
Location:  
Time:  
Summary:  
Source:  
---
Location. Boreham Field, Warminster, England
Date: March 1971
Time: midnight
Looking out her bedroom window, Dorothy Fear, observed about six "gray figures" rather tall, with unusual heads appearing to "float" in single file across the garden.
No other information.
Source: Ken Rogers, The Warminster Triangle
---
Date: March  5 1971
Location:  Between Trenal & Condamine, Jura, France
Time:  0110A
Summary:  Gilbert Camus, a radio technician, was driving to his shop in Savigny when he noticed lights at the right side of the road ahead. As he approached, he saw that these were on a line of 8 bluish luminescent rectangles on the ground in a marshy meadow beside the road. Above them he could then distinguish, in the moonlight, a flattened hemispherical dome, apparently of dark metal, about 25 ft high and 50 ft wide. When he arrived near the object, he saw 3 "animals" on all fours, climbing up the road bank; their heads were level with his windshield, so they "must have been of great stature." Their heads were like an ant's with "a rounded lobe flanked by 2 other lobes swelling out like cheeks"; he saw no faces. In the meadow he could see about 20 more of these beings, some upright and others on all fours. His car had just passed them when it was filled with bluish white light from behind, as if a "ray" had been projected at him. He ceased to control the car, which spontaneously slowed down to about 12 mph, then recovering its initial speed as he reached the outskirts of Condamine. Later, when he took his clothes off, he found on his shirt, below the belt several golden yellow rectangles about 1″ by 2″. These disappeared after a few minutes. 3 days later, on his undershirt appeared similar chocolate brown rectangular marks, which persisted through 3 or 4 washings. The paint began to come off his car when he washed it. Most surprisingly he found himself completely cured of a liver ailment, which had given him excruciating headaches previously. In the meadow the next day was found a semi-elliptical imprint, about an inch deep, with a long axis of about 36 ft. Inside this trace the dandelions elsewhere abundant in the meadow were absent, and where it crossed a drainage ditch the ice in the ditch was melted, and the water actually seemed still warm. At the edge of the woods beside the trace, a large tree branch was freshly broken off. In the snow were to be seen footprints like those of "shoes without heels", some as much as 16″ long.
Source:  M Tyrode, Fernand Legarde
---
Date: March  1971
Location:  
Time:  
Summary:  
Source:  
---
Location. Near Apache Junction, Arizona
Date: March 14 1971
Time: night
Two young men, Brian Scott and Nick Corbin, were in the Superstition Mountains, near Apache Junction, to gather snakes. During the night, a light was seen coming over the mountains; it approached, and the next thing they knew, they were hastily leaving the campsite, following an unexplainable lapse of time. Five years later, under hypnosis, Scott described how the object, emitting a purplish light from underneath, approached and hovered over them. He felt a "pulsating, pulling feeling" and the two young men were "lifted" up into the craft. Inside, they were separated, and Scott was led by a 7 ft tall entity down a corridor to a door which, upon approaching, "shattered;" inside, in a small room filled with mist, he encountered 4 or 5 similar creatures, 7 foot tall and with grayish skin similar to that of a crocodile, and with 3 fingered hands. Scott was stripped and placed against a wall panel very brilliantly lighted; the room was cold and the mist emerged from vents in the floor. A machine directly in front of him appeared to "scan" him, and a new entity, this one 9-foot tall, communicated telepathically with him, and asked why he was afraid. His mind was briefly transported to, presumably, the being's home planet. The beings that examined him had huge ears, no hair, and slit-like mouths; their feet were elephant like, with three broad toes. When the examination was completed, Scott was reunited with his friend and returned to the ground, with no conscious memory of what had taken place. However, both felt and unspecified terror of such degree that they immediately packed their gear and returned to town. Brian Scott also learned that these beings had a method of "displacing" their ships through space by using a series of hops. The spacecraft were guided in their trajectories by a number of space navigational beacons that are placed strategically throughout the galaxy.
Source: Al Lawson, Mufon, & Cufos, Dr. William McCall
---
Date: March  1971
Location:  
Time:  
Summary:  
Source:  
---
Location. Itapoa, San Salvador de Bahia, Brazil
Date: Mid March 1971
Time: night
While standing on the beach 2 female witnesses see 1 red sphere of light rise up from the sea, in front of the beach area. It turns and emits green flashes, and then it approaches the witnesses. The witnesses can see a small metallic antenna on the sphere. One human-like "extraterrestrial" comes to meet the two girls on the beach. The witnesses speak to the alien about 3 underwater UFO bases and tell a "poetic" and "astonishing" story.
Source: Irene Granchi, "UFOs and Abduction in Brazil" p. 121
---
Date: March 25 1971
Location:  Monte Pani, Cabo De Creus, Spain
Time:  0030A
Summary:  Six soldiers stationed at a local radar base were alerted by a seventh soldier to the presence of a fiery red disc shaped craft moving slowly over the area. The guard dogs began howling and yelping in fear. They all watch as the object suddenly shot away at high speed. Moments later one of the soldiers screamed in pain as he observed a sudden bright flash that seemed to emanate from the nearby ocean. In the meantime one of the men released one of the fierce wolfhounds guard dogs that was going literally insane inside his guard cage. The animal then ran towards some nearby buildings quickly followed by two of the men. The dog slowed down and began growling menacingly, one of the men felt heavy static in the air and his tongue began to itch. Both men then heard a loud noise coming from some nearby bushes; they then observed a huge bulky figure that seemed to move clumsily among the brush. The men yelled at the figure to stop but it quickly changed directions and began moving rapidly away. Moments later the men heard another noise and felt something heavy moving towards them. They then fired their weapons in the direction of the noise and suddenly everything became silent. A search of the area the next day proved fruitless.
Source:   Antonio Ribera, Los Doce Triángulos De La Muerte
---
Date: March 29, 1971: Large reddish disc seen in Draguignan, France
---
Date: March  1971
Location:  
Time:  
Summary:  
Source:  
Related articles