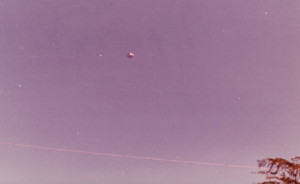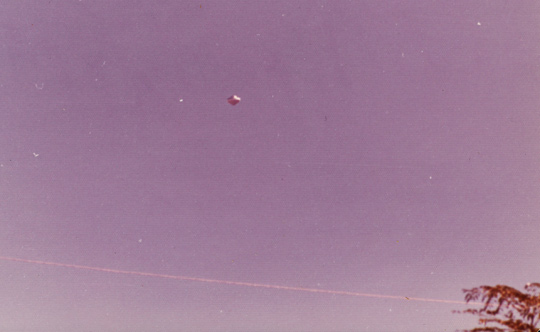 (Last Updated On: January 18, 2017)
Date: July 1972
Location: Lower Hutt New Zealand
Time: 0200A
Summary: An unidentified woman reported that she had been awakened in her bedroom, by a blue light shining in her second story window, and by a noise like a spinning top. Going to the window, she saw an object like an inverted soup dish hovering over the next-door building. In the top, which was a clear dome, she could see two human male figures wearing shiny blue, satin-like suits; their heads were bare. One appeared to be controlling the object; the other had his back to the witness. The far figure turned toward the one seen from the back, said something, and laughed. After about a minute, the object shot straight up and then disappeared over the Wainuiomata Hill. Her sighting frightened the witness and she said nothing about it for five years.
Source: K J Drake, Xenolog # 115
---
Date: July 1972
Location: Melton Mowbray, Tas – Ca. 
Time: 2000 hours
Summary: A twenty five year old housewife was driving at sixty five km/h from Kempton to a cabaret, when looking out her rear vision mirror she saw a light. At first she thought it was a car with one headlight, but it was soundless and no car was to be seen. The light came up behind her and seemed to swoop over the car. The incident lasted some thirty seconds. The engine started to splutter and jerk as if stopping. The car slowed down but was alright when the light had gone.
Source: TUFOIC
---
Date:   July , 1972
Location:  
Time:  
Summary:  
Source:  
Date: July 1972
Location: Cervia de les Garrigues, Lleida, Spain
Time: afternoon
Summary: Antonia Marti was collecting snails in a field near town when she notices a strange "car" (pseudo vehicle) driving by slowly on the road; it appeared to be a SEAT 600 white-gray in color without a driver. The car did not have any glass and in its place it had some sort is luminous celluloid type material, it hardly made any engine sound as it disappeared into the distance. Around the same time and in the same area, there were 3 other encounters with anomalous pseudo vehicles, one which resembled a tractor without tires.
Source: http://alaluzdelasvelas.iespana.es/ovnisenespana/
---
Date:   July , 1972
Location:  
Time:  
Summary:  
Source:  
Date: July 1972
Location: Near Defiance Ohio
Time: late afternoon
Summary: A railway worker was busy working on some tracks when he looked up to see coming down the tracks a figure with an estimated height of seven to nine feet. As the figure approached more closely, the worker described seeing "fangs" like large canines, protruding from this figure's mouth. The creature was also very hairy. He reported two very odd things, first the creature walked in a rather peculiar "side to side" manner as if it was shuffling down the track. Secondly it was carrying a big stick over its shoulder, with which it struck the railroad worker. After beating the witness it disappeared into the brush. Bruises were found on the witness.
Source: The Northeastern Ohio Bigfoot
---
Date:   July , 1972
Location:  
Time:  
Summary:  
Source:  
Location. Toledo Ohio
Date: July 1972
Time: night
A number of people in the area, saw something which appeared to be human, with an oversized, wolf like head, and an elongated nose, between six and eight feet in height. It had huge hairy feet, fangs and ran from side to side, like a cave dweller; it also had red glowing eyes.
Source: Jerome Clark & Loren Coleman
Creatures of the Goblin World
---
Date:   July , 1972
Location:  
Time:  
Summary:  
Source:  
Location. Roachdale Indiana
Date: July 1972
Time: night
A red glowing object was seen descending over a cornfield, later a farm wife and other witnesses saw a tall hairy figure walking and then running through a muddy field, it seemed transparent as the witnesses could see through it. It seemed to jump without touching the ground as it never left any tracks. When it ran through the weeds, nothing was heard. A farmer in the area lost all but 30 of his 200 chickens to the creature, which ripped them apart, draining them of blood but not eating them, and spreading their remains over a huge area. It was shot repeatedly from about 100 feet but seemed unaffected. There were at least 40 witnesses.
Source: Don Worley, UFO Annual Tri-County UFO Study Group
---
Date:   July , 1972
Location:  
Time:  
Summary:  
Source:  
Date: July 1972
Location: Ponce, Puerto Rico
Time: night
Summary: Astral projection had been one of Hector Aybar's gifts since boyhood and these out of- the-body experiences eventually led him to engage extraterrestrials. He had been sound asleep one night with the windows closed and the air conditioner on when a brilliant light suddenly lit up the bedroom, bathing it in an unearthly glow. Three days later, Aybar began receiving telepathic messages from purportedly extraterrestrial entities that promised to develop his psychic capabilities.
Source:UFO PI, Private UFO Investigations
---
Date:   July , 1972
Location:  
Time:  
Summary:  
Source:  
Date: July 1972
Location: Riga, Latvia (USSR)
Time:  2300
Summary: The witness, Sergey Vladimirovich Kotenkov had just returned from working at the local diesel-construction factory and was lying on a cot next to an opened window. His room was located on the fourth floor. Soon Sergey noticed a white "star" above the roof of the house next door, which gradually increased in size. He first thought that it was a low flying satellite but as it approached the object took the form of a female silhouette wearing a white smock-like outfit that covered her arms and legs.
Soon this figure suddenly appeared inside Kotenkov's room standing at about 2- 3 meters from the witness. The figure was harmonious but it had a large head about half a meter in diameter. Stunned the witness rose on his elbows in order to obtain a better look at the figure which was intently observing him. From afar the figure looked like a beautiful woman, but close up Kotenkov could see a bottomless black gap where the mouth should have been, her hair was not visible and appeared to be covered with something white. On the place of the nose she had a black "spot", her head somewhat reminded the witness of a "skull".
The witness then immediately thought that he was looking at "Death" who had come to take him. Terrified he attempted to strike the figure but realized that he couldn't move or shout. He then looked instead at the female figure and noticed that her eyes were much larger than humans', positioned at a distance of about 25cm from each other. In the center of each eye was an absolutely black line which gradually brightened at the edges, the eyes also seemed to be covered with a strange haze, he did not see eyebrows or eyelashes. Her complexion was pale and she was totally silent, but Kotenkov felt her breath on his face. For an unknown amount of time the witness laid there staring at the figure which suddenly floated towards the window and at the same time began to change shape and decrease in size until it was a small luminous sphere which quickly disappeared from sight. Gradually Kotenkov regained his movement and with unsteady feet went to get a glass of water. Four years later he received confirmation as another man that lived in the same building told him about his encounter with a "flying phantom" in white.
Source: L.I. Schneider, Riga, Latvia & Archive of Valentin I. Golts Saint Petersburg, Russia
---
Date:   July , 1972
Location:  
Time:  
Summary:  
Source:  
Date: July 1 1972
Location: Bedford Park, Illinois
Time: 1500
Summary: The 8-year old main witness and a friend were on a field near his house. There were bins that the park district used for dirt and stone, mulch, etc. There was also a garage used to store Native American artifacts from a group visiting the town and performed on this field daily. As kids he remembers that they thought the garage was 'haunted' or had special powers or similar. They used to go try to open the door which was always locked but they would always become frightened or felt something weird inside. On this date they were walking through the field and for some reason looked behind them to see a glowing figure of a person standing near one of the bins. He could only describe the being as a glowing light, human shaped with no facial features but just in the shape of a person. Extremely frightened they ran across the field to their homes. No one believed them and years later his friend could not remember anything about the incident.
Source:NUFORC
---
Date:   July 3, 1972
Location:  South Shore, MA
Time:  7:00 p.m..
Summary:  More than two dozen witnesses reportedly observed a silvery "triangular-shaped" UFO for almost one hour (7-8 p.m.) before it disappeared behind clouds. One witness, a former Air Force Lieutenant, said, "It was translucent and I thought I could see blue sky through it, but its edges were white and well defined." A local Air Force official at Hanscom Air Force Base admitted receiving numerous reports of the UFO but said none was recorded in keeping with current Air Force policy. NICAP's Boston Subcommittee has investigated this case, and has determined that the UFO in question could have been a weather balloon launched earlier in the evening by a local US. Weather Bureau Station. 
Source:  NICAP UFOI, Oct 1972, page 3
---
Date: July 5, 1972: Maureen Puddy's Encounter
---
Date: July 10, 1972
Location: Alcaracejos, Cordoba, Spain
Time: 
Summary: Luminous object beamed light at car, engine lost power
Source: UFOE II, Section VII
---
Date:   July 10, 1972
Location:  Bristol, Tennessee 
Time:  about 10 pm
Summary:  In 1972 I was with group of teens above my house at about 10 pm we had built a bonfire and we were just having a good time talking and joking around as teens do I when spotted a light in a distances. At first to us it appeared as a white light. As it got closer the light got longer in shape. The you could notice pulsing lights started to appear the first color was a reddish orange color then more colors could be seen in all about 5 different colors down the side of this white cigar craft. It made no noises and moved across the sky at a slow speed. We watched until it got out of sight afterwords we all had weird feeling kinda like being scared but more like being a numbing feeling in disbelief. We all had been told all our lives that there no such thing UFOs but yet we were witness to a craft we had never seen before. The very next day in the local news paper the back page news with the picture of the very craft in Texas we all seen but less than 40 minutes after we had watched it pass by us. I told my dad and he added there no such things UFOs.

Source:  MUFON
---
Date:   July , 1972
Location:  
Time:  
Summary:  
Source:  
Date: July 11 1972
Location: Louisiana Missouri
Time: various
Summary: 8-year old Terry Harrison saw "a big, hairy thing with a dog under its arm" in the family's backyard. He yelled for his sister, Doris, who looked out the window and saw "a tall black hairy thing standing in the ditch." Later some faint footprints with black hairs around them were found. Several days following the creature encounter,members of the family saw a series of small fireball-like objects fly over the area and land. There were further observations of the creature subsequently, as well as vaguely reported UFO activity. Elsewhere a woman heard animal sounds, growling and "carrying on something terrible". On July 14 at 2030, a dozen witnesses saw a white 'fireball' soar over a hill and descend into trees. This was followed by a greenlight five minutes later. Forty five minutes after that, a man heard ringing noises followed by a loud growl. There were subsequent reports of monsters associated with a foul odor; sets of tracks; disembodied voices; a glowing light which exploded and left a stench in its wake; a low level fireball which shot spurts of red light;colored lights which appeared to signal to each other; an orange, glowing UFO with lighted windows which landed in a thicket for five hours; and a perfect gold cross on the Moon which lit up the road as light as day. On July 21 a number of witnesses saw an object on top of Marzolf Hill. It was stationary and was blinking on and off.It appeared to have square looking windows, approximately two feet in diameter,from which a yellowish orange light was visible. On July 21 shortly before several witnesses heard 'Momo' (the Missouri monster) emit a big, loud scream-noise from a hill, two lighted objects were seen falling from the sky. They glowed and apparently went across the tops of a stand of trees. There were several other sightings of creatures and aerial lights elsewhere in Missouri.
Source: Walt Andrus Mufon & Richard Crowe, Fate
---
Date:   July , 1972
Location:  
Time:  
Summary:  
Source:  
Location. Kekaha, Kauai, Hawaii
Date: July 15 1972
Time: 1300
The witness was enrolled in a catholic school on the shoreline of Kekaha and it was reported that there were a few Humpback whales spewing water outside near the buoy. While watching from the shoreline he observed a flashing light to the west of his location on the beach near the naval base in Barking Sands. He watched the flashing lights until they disappeared. Later on his father came from the base and the witness asked what had happened at the base. He then told him that what happened was classified, but eventually the witness was able to obtain some information from his father. He was told that a UFO had flown into the airspace near Barking Sands unannounced. They had been asked to identify themselves but there was no response. Immediately 3 F-14 Tomcats were deployed to intercept the object, the aircraft were able to surround the object and force it down into the sea. The UFO was forced down into the channel between 2 islands where it remained for a few days. Soon a Soviet recovery vessel showed up in the vicinity, on a salvage mission. The United States then warned the Soviets that they were violating United States territory and asked them to leave immediately. Neither side was able to recover the UFO because the depth of the channel. As far as the witness knows the case is still classified and the object remains at the bottom of the channel to this day.
Source: NUFORC
---
Date:   July , 1972
Location:  
Time:  
Summary:  
Source:  
Date: July 15 1972
Location:  East Brunswick New Jersey
Time:  early evening
Summary: The five-year old witness was playing in the sand pits near his house with a little girl who had long black hair. He could not remember who she was and none of his neighbors at that time had children that matched that description. He remembered climbing on top of the hill and seeing a landed large silvery disc shaped object sitting in the pit on three leg-like protrusions. He approached the object and heard a "pop" then a section of the object began to lower to the ground. His next memory was of running across a field towards his house. Soon after this incident he saw an unknown creature at his bedroom window, he attempted to scream but no sound came out.
Source:NUFORC
---
Date:   July , 1972
Location:  
Time:  
Summary:  
Source:  
Date: July 15 1972
Location: Near Hamilton, New Zealand
Time: 2230
Summary: The main witness, L.A. was riding his motorbike along a field when he watched a shiny gray disc-shaped object descend and land nearby, at the same time his motorbike stopped apparently loosing all power. He rolled the bike down a hill and saw two other motorists which their cars had also stopped. He called out to them and asked them to come down to have a closer look at the craft, but the motorists refused claiming they were afraid. So the witness then jumped over the fence and began approaching the object on foot. But when he got to within 50ft of the craft the side of the object slid open and a figure appeared which beckoned the witness to come in. He hesitated briefly but then began to walk in. Inside he saw three figures, 1 woman and 2 men, which at no time spoke to him, the woman communicated with him via telepathy in plain English and told him that they lived in a "galaxy outside Pluto (sic)" and the name of their planet was "Zephyr". They apparently then performed medical tests on the witness including a blood test. The craft was approximately 40-42ft across, the walls were like shiny tinfoil, and the "engine" which powered the ship was located in the center and was completely silent. The witness remembers asking many questions and so did the aliens. The aliens then asked the witness to come with them but he declined the invitation. During his conversation (telepathic) with the female alien she asked the witness for three pens that were sticking out of his pocket, which apparently caught her attention. The witness claims he exchanged the pens for an "object" from the ship which he still has locked in a bank safe. He later left the object and when he got home he had lost 20 minutes of time. He claims three further encounters (no details) and still maintains telepathic communication with them. (Unfortunately no detailed description of the aliens is given but these were apparently of the human-type).
Source: http://www.etcontact.net/newsite
---
Date:   July 19 1972
Location:  Near Kuraby Queensland Australia
Time:  0200A
Summary:  Driving to work at 0200A, the witness, an anonymous Ipswich migrant, saw 6 figures in soft gray or cream-colored coveralls standing by the road. As he approached, 5 figures turned away; the 6th stepped out toward the road. He held his hand outstretched, and the witness could see that his face was masked with "a sort of faceted covering," coming to a point like a diamond, and with no features visible. On the other side of the road, near some power lines, was a large silvery object without lights. He accelerated his car and drove by as quickly as he could. During the sighting, he kept hearing a strange, throbbing noise like "p-doing, p-doing."
Source:   Lindsay McKeon & Keith Basterfield
---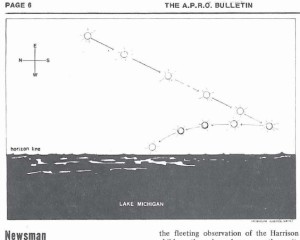 Date: July 19, 1972
Location: Chicago, IL
Time: 10:42 p.m. 
Summary: Peter Reich, aerospace writer for CHICAGO TODAY, saw a UFO and wrote 4 column article. Incredible high-speed of object that looked like anti-collision beacon (red) over Lake Michigan. Estimated at 1/2 mile and 600 mph, object suddenly stopped, reversed course sharply and appeared to fly along a downward curve in opposite direction. 
Source: SL-58, page 12
---
Date:   July 21, 1972
Location:  Bowling Green, Missouri
Time:  night
Summary:  A young, pregnant housewife saw two balls of fire land in a cow pasture near her home. Later she smelled a nauseating odor (like something dead) and she and her family heard grunting and screaming noises, 'like nothing we'd ever heard before'.
Source:  Mark Moravec "The UFO Anthropoid Catalog"
---
Date:
Location:
Time: July 22, 1972; St. Louis, MO
8:30 p.m. Sixteen witnesses. Large UFO observed over highway intersection I-55 and Union Rd. by three children. KXOK received 13 calls. Object descended from North, hovered and appeared to rotate slowly as it launched five smaller objects. The larger object was described as a "football", with other objects 1/12th as large. Larger object took off straight up, others went different directions with crackling sound.(SL-72, page 10) 
Summary:
Source:
---
Date:   July , 1972
Location:  
Time:  
Summary:  
Source:  
Location. Between Frankston & Dromana, New South Wales, Australia
Date: July 25 1972
Time: 2115
Mrs. Maurene Puddy was driving home from visiting her son in the hospital when a blue light flooded the road; peering up, she saw the rim of a large glowing object hovering over her car. She tried to speed up but the engine died and the car slowed down and moved to the side of the road, as if by its own volition. (She had no control over the steering wheel). She then heard a voice in her head, speaking in English, it said, "All your tests will be negative…Tell the media. Do not panic, we mean no harm…You now have control." After the third sentence the motor started by itself and she sped away. Four weeks earlier (7/3) her car had been followed for 8 miles by the same or a similar object, blue luminous "like 2 huge saucers, one inverted on top of another", and 50 feet wide. On this occasion she at no time saw any physical beings, although in the spring of the next year, she would experience a "contact" type encounter.
Source: Bill Stapleton & Garry Little of UFOIC
---
Date:   July 25 1972
Location:  Sinop Turkey
Time:  23:00
Summary:  Early 1970's – Sinop, Turkey. In the mountains on the north coast of Turkey we would experience nightly light shows. White sphere shaped balls of light would "pop" up into the air. Sometimes a large "ball", as I'll call it, would rise with a smaller one orbiting around it. Others would come up and down out of the mountains and just sit there. Usually that's all they would do – just sit there. Occasionally they would leap-frog over each other but would never leave the mountain tops or approach the base. One night working the midnight shift, I had to drive to a remote part of the base to another building. As I was waiting for clearance to enter the building the large "ball" came up with it's smaller companion orbiting around it. I mentioned it to the MP in the guard shack who just smiled and said, "Yeah, they've been real busy tonight." No one ever talked about them and my captain didn't want to hear of it. They usually would string the mountain tops like christmas lights. These things never did anything and would just sit there till dawn when daylight would fade their light. They were all over Vietnam too. Put out a call to GI's who have been in remote areas of the world, Turkey, Vietnam, Korea, Alaska etc.. You won't believe some of the stories. I know a Marine combat veteran who has photos. No name ATT.
Source:  National UFO Reporting Center
---
Date:   July , 1972
Location:  
Time:  
Summary:  
Source:  
Date: July 26 1972
Location: Cradle Hill, Wiltshire England
Time: 2115
Summary: Robert Mason and Stephen Barnett had reached a field beyond the copse of Cradle Hill, it was still light out. After awhile both looked back towards a barn and caught sight of a figure resembling that of a small man or boy in the clearing, just in front of the barn. Upon being noticed the figure dodged behind the side of the barn out of sight. Stephen looked through binoculars to see if the figure would pass the line of trees leading back down the road to the gate, but saw nothing. They searched all around the copse but found no one.
Source:Ken Rogers, The Warminster Triangle
---
Date:
Location:
Time: July 31, 1972; Belleville, IL
9:45 p.m. 3-4 Mins. Four people observed a yellow discoid object, 50-60′ in diameter at 300′ altitude while driving. The object disappeared toward the East of St. Louis. Lights in the middle flashed on and off, but the object had large square windows in the bottom. There was an unconfirmed radar track at Scott AFB. (SL-59, page 13)
Summary:
Source:
---
Date:   late July  1972
Location:  Near Portland, Oregon
Time:  night
Summary:  The witness had been working the swing shift at the local sawmill and got off work at 0200A, at about 0300A he was headed into the local town and came around a corner. He saw a bright light above a house. He thought it was the moon, but the moon was behind him. He had taken pictures of the moon that night. The object was about 600-1000 feet away from him. He pulled over and stopped. The object was hovering over a small house about 20-30 feet in the air. The object was round and lighted up the whole area. It was about twice the size of the house, maybe 100 feet in diameter. He saw and watched it from several minutes and took several pictures of the object. It then flashed twice and dimmed down in brightness and started to move. He jumped into his car and gave chase. It stayed about 200 feet off the ground and made no noise. He chased it for over 2 miles at close to 100 mph and it kept getting farther away. The witness stopped a little store and called the local sheriff's office and reported it. Three days later he was in bed asleep when his mother woke him up. She said he had visitors. He went downstairs and there were two men in the front room. They were dressed in black, including hat and sunglasses. They were very pale in color. They asked him about the sighting and asked if he had pictures. He said yes, but hadn't got them developed yet. They told him never to talk about the event ever. The next thing he remembers was waking up in bed. The camera, which had been in his car, was gone, along with all the film.
Source:  http://www.earthfiles.com/news
---
Date:   July  1972
Location:  
Time:  
Summary:  
Source:  
Related articles