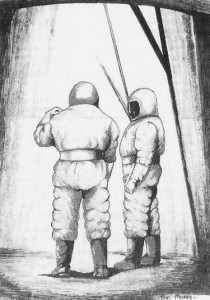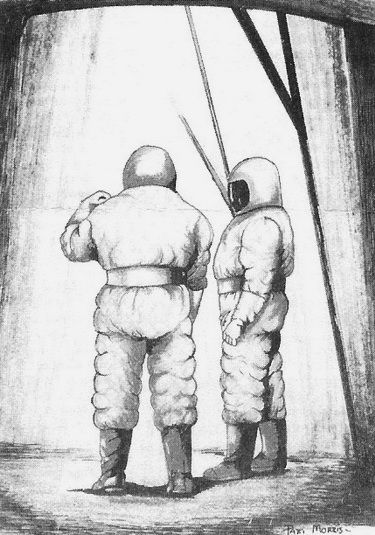 (Last Updated On: January 18, 2017)
Date:  Summer  1972
Location:  Crowborough, Sussex, England
Time:  1130A
Summary:  Howard Johnson was staying at a local chalet bungalow with his wife and her  parents. One morning Howard happened to glance out the bathroom window when something caught his eye. At a distance of barely 400 to 500 yards was a classic "flying saucer" heading very low in his direction at a high rate of speed. Less than 75 yards from the chalet, the solid, silver colored saucer came to an abrupt halt. At which point Howard clearly made out a transparent dome on top, while a bank of very fast, multi-colored lights flickered underneath. Howard forced himself to look away from a couple seconds, but when he turned back the saucer was still there. The craft was about 20 yards across and totally silent. Within the transparent dome, he saw three figures. One was taller than the other two, pale colored, and human in appearance. From his description, the others were archetypal "grays." Though he could only see the upper portion of these figures, Howard said they were dressed in a silver colored uniform. He received the impression that the taller figure was in charge of the others, for he was standing in the center and appeared to be manipulating something out of sight, possibly controls of some kind. Then the craft slowly began to move, until out of view behind the window frame. At this point Howard yelled out for his wife and in-laws and they rushed in to see the craft disappeared into the distance.
Source:   UFO Magazine Vol. 22 # 1
---
Date: Summer 1972
Location: Brodowo, Poland
Time: midday
Summary: The 15-year old witness (involved in previous encounters) looked out his window and spotted a small entity standing next to a cow. The entity had a child-like body and moved around the cow using a strange motion. For a moment the witness thought it was somebody that had never seen a cow (!) but soon a second similar entity appeared. Both were dressed in black clothing and had black hair. He also noticed that the cow moved in a strange manner.
Source:woe_@vp.pl quoting Marcin Mizera "UFO Encounters in Brodowo" "UFO" # 2 April-June 2005, NPN Group Poland
---
Date: Summer 1972
Location: Mount Shasta California
Time: afternoon
Summary: Cosette and Ken Willoughby were staying the night at a turnout about 20 miles from Quincy, when they saw a bizarre figure approach. As he walked he turned his head from side to side like a lizard. He carried a very elaborate cane. It had a large ball carved on top with four cobras wound around the stick. On the second time they saw him; the witness approached the figure and attempted to start some small talk. The stranger acted as if he did not hear her and just walked away. He was described as a white haired man and he was dressed in a white shirt and dark trousers. He was of medium height. He had come out of the woods and then crossed the main road and back into the woods. He had a reptilian appearance. His cane was made of yellowish wood and he held it by the ball on top.
Source: Mike Marinacci & Bruce Walton Mount Shasta Home of the Ancients

---
Date:  Summer  1972
Location:  
Time:  
Summary:  
Source:  
Location. Phoenix Arizona
Date: Summer 1972
Time: afternoon
While DG was working in his leather shop, a man entered; he was of medium height, and his eyes were very strange—a solid yellow with no pupils. He had prominent cheekbones and no hair under his hat, nor eyebrows or lashes. His skin was milky white, almost translucent. His mouth was wide with thin lips that never moved. He seemed to bring into the shop and icy coldness. He communicated with the witness telepathically, saying, "Observe and reflect. We will gather." He touched D G's cheek with a long index finger, saying, "The mark will tell." His yellow eyes seemed to emit rays of light that moved over D G's body. The witness was unable to move, or to reply. The man turned and left the shop and the witness has the distinct impression that he will return.
Source: Dr William McCall & Ted Bloecher 
---
Date:  Summer  1972
Location:  
Time:  
Summary:  
Source:  
Location. Oslo Norway
Date: Summer 1972
Time: 1800
The witness was walking home when she saw a "classic" silvery metallic disc shaped object with windows around its middle section hovering above some nearby gardens. Several people were working on the gardens but did not look up to see the object. The witness hid behind a bush and continued watching. A silvery ladder was lowered from the middle of the object all the way to the ground. She then saw several moving figures inside the object through the windows; the figures were human-like, wearing silvery coveralls and helmets. They appeared to be busy with something inside the object. The object then rose up hovered briefly above the treetops then shot away at high speed.
Source: Ole Jonny Braenne 
---
Date: 
Location:
Time:
Summary:
Source:
Location. Ridgecrest California
Date: Summer 1972
Time: evening
The witness had stepped outside to go her car in order to go on an errand when she noticed a short figure walking around the scrub desert across the street. The figure appeared to be very slender and was wearing a tight fitting outfit. As the witness stared at the figure it started walking towards her. The being came closer, seemingly half walking and gliding and apparently leaving a faint luminous trail of light behind it. The being had huge black eyes, very smooth skin, no hair and very long slender arms and legs. As the witness attempted to run she felt a message in her mind telling her that she would not be harmed. As the creature kept getting closer the witness ran into the house and alerted her husband who dismissed her.
Source: Michael L Lindemann, Mufon UFO Symposium
---
Date:  Summer  1972
Location:  
Time:  
Summary:  
Source:  
Location. Springfield, Virginia
Date: summer 1972
Time: evening
The 7-year old witness was outside with his best friend and another friend and was crossing the street from his house to go over to his best friend's house to play. When they got to the middle of the west street he looked up and saw something very strange. Hanging there just ahead and above to his right in the overcast sky was a big, round, silver/metal orb. Even stranger there were yellow/white glowing symbols, almost letter like, that were rotating around the middle of the sphere. It seemed very close by, right around the treetop level of the tallest trees in the
neighborhood. It seemed to be bigger than a car, but a lot smaller than a house. Stunned he called to his friends who had kept on walking. Oddly they seemed not to recognize anything strange, nor did they even look up to where he was pointing, and they continued on across the street. He was curious and remained in the middle of the street to see if he could "read" what the symbols said, and if he could figure out what the metal ball was. His only frame of reference for anything like a message in the sky was blimps with bulb-flashing messages on the passenger car area or planes that trailed a banner behind them. He had always loved reading and language so he was eager to solve what he thought was a puzzle. However none of the symbols resembled any letters that he knew and he remembers thinking this must be another language that doesn't use the same letters. He had never seen anything like that before. It seemed like he stood there only a few minutes and then found himself continuing on across the street to his best friend's house. Once inside his friends annoyingly asked "Where were you?" He told them excitedly what he had seen but was brushed off by everyone. He never saw the metal orb again.
Source: http://www.ufoevidence.org
---
Date: summer 1972
Location: Huildad, Region de Los Lagos, Chile
Time: evening
Summary: The witness, 15-year old, Blanca Ester Cardenas Rain was on her way to visit her grandmother who lived on a hill in an isolated area of the town. She was alone and at about 3-4 blocks from the location a strange creature suddenly appeared from a ditch on the side of the road, it jumped up onto the roadway and stared at the witness. At this point Blanca was paralyzed with fear as she stared into the creature's huge round shiny eyes which seem to emit a fiery beam of light causing the witness to feel what she compared to an electrical discharge throughout her body. Extremely frightened she began to run towards her grandmother's house, followed by the bizarre creature, which moved making strange jumps and each time it dropped to the ground it made the earth shake. When it stood up, Blanca estimated it to have been at least 2-meters in height, it had extremely long legs and its body was mostly covered in black very long hair, its face was also covered and she could only see its eyes, and a large nose. Blanca also noticed that the creature seemed to possess a small tail, which was curled up on its back ending in a ball. Every time it jumped it emitted a loud screeching sound, it also appeared to have a hunched back. It followed Blanca until they got to a clearing near her grandmother's house. The creature then went back to wherever it had come from. She told her grandmother about the encounter and was told to keep quiet about it or 'it might kill her', her grandmother died two months later and Blanca never returned to the area.
Source: Antonio Cardenas Tabies "Abordaje al Caleuche" http://en.wikipedia.org/wiki/Caleuche
---
Date: Summer 1972
Location: New York City New York
Time: night
Summary: The witness, in a dream like estate, found himself captive in a remote area when a UFO landed. Two large headed beings then took her into an underground tunnel, and she suddenly calmed down. She then saw herself in New York dressed in different clothes and in the company of 2 blond but no quite human men. There is evidence for a more intricate abduction.
Source:Budd Hopkins & Ted Bloecher
---
Date:  Summer  1972
Location:  
Time:  
Summary:  
Source:  
Location. Laurentian Region Quebec Canada
Date: Summer 1972
Time: night
A man camping in a remote area watched three bright white lights skipping very slowly over the area. About the same time he saw a human like figure sitting on a boulder nearby. The figure was dressed in a gray jumpsuit and was staring at the witness intently. They both stared at each other briefly then the witness became frightened and ran away.
Source: Brad Steiger & Sherry Hansen Steiger, "Starborn" 
---
Date:  Summer  1972
Location:  
Time:  
Summary:  
Source:  
Location. Chatyrdag Mountain, Crimea, Ukraine
Date: Summer 1972
Time: night
15-year old Viktor P. Sikilinda was camping alone in the mountains and was spending the night in a sleeping back on the western slopes, about 30km from Simferopol. Late at night he suddenly awoke feeling a very strange sensation. He felt his body become paralyzed and realized that he had completely lost the ability to move his head, legs or arms. He felt someone approaching his location and soon could barely see several strange humanoid figures. The figures were basically human-shaped, about 1.7 to 1.8m in height, male entities, dressed in tight-fitting silvery suits; he could not distinguish their facial details properly. He then noticed a female figure among them. In her suit he noticed a specific ornament or symbol in the chest area made out of a spiral pattern. At this point noticed a strange detail on the woman, she appeared to have three breasts (!) instead of just two. Soon the humanoids began communicating telepathically with Viktor, but he could not later remember what the communication was about. The aliens claimed they were from the planet "Venus". The major part of the contact was apparently erased from Viktor's memory, but he vaguely remembered being taken somewhere into some circular room, apparently onboard the alien spacecraft. There, Viktor claimed he had sexual contact with the alien female. He was under the impression that the supposed "Venusians" were actually reptilian entities, which had the ability to mask their appearance.
Source: Anton A. Anfalov, Ukraine, an@crimea.com
---
Date: summer 1972
Location: Willamette Valley, Oregon
Time: night
Summary: The northern half of Oregon's Willamette Valley was plagued with an epidemic of a very hard to treat strain of Strep bacteria. Hospitals were filled to overflowing. The witness, a 13-year old boy at the time caught the bacteria at a local public swimming pool while taking advanced swimming lessons. He was hospitalized, and lingered for around a week and a half without getting better. His fever was around 104degrees.
The Strep infection had led a major kidney infection that none of the antibiotics seemed to work on. One night a creature that he thought was some sort of nurse came to his bedside. "She" wore a hooded garb like a monks of old, was round of body, and her face was this plastic-like skin, like the burned soldiers coming back from the Vietnam War. Her nose was only a "V" shaped ridge. She said she had a solution to his problem, and told him to relax. Out of her left sleeve came an object that looked like a knobby rod of brushed aluminum. She pushed rod-like device against him like an injection, into her left hip. He felt no needle, only something like an ice cube being pushed against the skin. His fever broke for the first time at around 1100A the next morning.
Source:http://www.unknowncountry.com
---
Date: summer 1972
Location: Kentucky, exact location not stated
Time: night
Summary: The five-year old witness was sleeping on the couch and his younger brother was on the floor right in front of him. They were both awakened by the creaking of the porch boards, right outside the living room window that was across and to their left. They then saw the shadow of a very tall, upright human-shaped shadow through the window that slowly walked to the front door that was half glass and turned the knob. They were both crying hysterically and yet no one could hear them because no sound was coming out of their mouths. As the 8-foot tall creature turned the doorknob they both blacked out. This memory did not come back to the witness until his late teen years. (He would have another encounter)
Source: Your True Tales—May 2009
---
Date:  Summer  1972
Location:  
Time:  
Summary:  
Source:  
Location. Jarabacoa, Dominican Republic
Date: summer 1972
Time: night
A security guard at the local hydroelectric plant reported seeing a strange 'female creature' which he identified as a "Ciguapa" frolicking in the area. He saw her on several occasions and also heard her 'song'. This supposedly mythical creatures as usually described as nude with long beautiful black hair and sometimes bluish to golden skin and feet "bent backwards".
Source: Sebastian Robiou La Marche
---
Date:  Summer  1972
Location:  
Time:  
Summary:  
Source:  
Location. Newton Falls, Ohio
Date: Summer 1972
Time: 2200
Terry Ozanich was meeting three friends in an isolated bridge, which connected two cemeteries and spanned the Mahoning River. As he waited he heard 2 of his friends crossing the bridge approaching his side of the bank at about 4-5 ft from the witness he looked over their heads and saw a glow behind them. He then saw something in the air about 20-30 ft above them that resembled a round glowing ball, he saw it move a few feet going back to the other riverbank. While he watched the luminous sphere it seemed to shoot sparks off it and for lack of a better phrase the witness felt as if the strange sphere was scanning him. In a split second he felt that this object somehow knew everything about him. He does not know how or why. He felt a wave of complete terror as the glowing ball stopped, dropped to the ground and vanished. Terrified, the witness began to run, his friend chasing him not knowing what had occurred, since they did not see it. He stopped and looked to where the glowing sphere had been and saw what he could only describe as the shape of a dragon like on a "Scottish" flag suspended in midair and throwing off sparks like hot metal. His friends did not see it but believed him because of the sheer terror they saw on him.
Source: manager@terrybarrettband.com 
---
Date:  Summer  1972
Location:  
Time:  
Summary:  
Source:  
Location. Central Kansas, exact location not given
Date: Summer 1972
Time: late night
The witness was driving on an isolated road when he saw bright lights on a field. Thinking that it was a farmer with a tractor he drove to the source of the lights. He parked his car and walked toward the lights. Soon he came upon a humanoid figure, described as having four arms, tall, well built and wearing a tight fitting black coverall & a black skullcap. He also wore white gloves & a white belt. His facial features were not quite human; his eyes were large and round. The humanoid spoke English and told the witness that he was fourth in command of the nearby vehicle, which the witness was unable to see due to the glare. The four arm humanoid said that he was making minor repairs to the object and that he himself was a miscreation on his own planet. He appeared able to use his four arms efficiently. The witness conversed with the humanoid and persuaded him to let him onboard the craft. Inside the craft he entered a room and soon went into a trance like state and does not remember the trip. After arriving to what appeared to have been a "space station" he saw many different types of humanoids. During his stay there he was given a translator device and was shown many locations including libraries and large glass like buildings. After what seemed to have been 2 weeks he was returned to the same spot where he was taken from. He saw the luminous craft leave without making a sound.
Source: Dr J Allen Hynek, & Cufos Files
---
Date: Summer 1972
Location: Balham, London, England
Time: midnight
Summary: David Jones and a friend were looking out the first floor window of their flat when they spotted a single light low above the terrace house roofs, some distance away. This light then divided into two then rapidly into three, and approaching their position very fast they could clearly see a wedge-shaped craft, flying so low that they could plainly see a man in a high collared black or navy blue uniform looking back at them, from inside some type of cabin. The craft then passed over their roof, emitting a sound similar to air displacement. The craft then turned around and came back over the roof emitting another whooshing sound. It appeared to be emitting a dull red flame from its center. The craft then disappeared in the direction it was first seen coming from.
Source: BUFOD UFO
---
Date: Summer 1972 
Location: Papoose Lake, Nevada
Time: morning
Summary: Major Steve Wilson had begun his duties at the Papoose Lake installation, still not knowing what existed 30 stories farther down. He had been well indoctrinated in Top Secret work and knew all the consequences of keeping the nation's most guarded secrets. The past six years had been slow and boring, he recalls and other than what he saw at Wright-Patterson AFB he felt that he was in a vacuum going nowhere. He was sitting in his office at S-4 mulling this over one morning when a Lieutenant Colonel Bennett came in. He asked Wilson if he was busy and said, "Let's go". Wilson followed the Lieutenant Colonel and they eventually wound up two stories down at the super secret S-4 UFO technology area. As they came out on a landing, there Wilson saw eight different kinds of UFOs. There were intellectual looking people all over the area, who he guessed were scientists. He glanced at Bennett, who cut off his implied question with a curt "Forget it". The Colonel and the Major went into a cubicle where there were about 20 officers and civilians sitting around. Wilson was startled when a woman came in who was at least eight feet tall. There was not an ounce of excess fat on her body, he recalls. She wore a strange-looking jump suit, which had a "HI" pattern on the right side above the breast line. To this day Wilson recollects the details of this striking encounter. The woman had finely chiseled features. Her blond hair cascaded neatly past her shoulders. Her eyes were the bluest he had ever seen. Somehow she was different. Little did he know how different then. She sat a large crystal on the table and without warning her fingers began to glow as she ran them over the crystal. A 3-D hologram began to form above it. He looked around the room and everyone's mouth was hanging open, and suddenly he noticed his was too. At this moment in time his whole concept of life did a 180-degree turn. Colonel Wilson related that among the scenes, which the female extraterrestrial's crystal hologram displayed for the assembled group was the history of the Earth and of extraterrestrial involvement with it. That involvement included fashioning the consciousness of Jesus and sending him to live among earthlings to point to a better way to understand life and to live. The extraterrestrial woman also showed the officers and scientists' scenes from inhabited planets of other star systems. Wilson was transformed by this experience. "When it was over, I knew that, whatever part I was to play in all of this, my life as I knew it had ended forever."
Source:Richard Boylan
---
Date:  June  1972
Location:  
Time:  
Summary:  
Source:  
Location. 23 miles E of Deming New Mexico
Date: June/July 1972
Time: night
On a clear but dark summer evening Mrs. Hilda McAfee and her elderly mother were on their home by car from Las Cruces to Deming. Interstate 10 was relatively devoid of traffic. About 23 miles east of Deming the evening was disrupted by a beam of blue light directed at them from what seemed to be a short distance straight ahead, emanating from the same lane in which they were driving. The light was huge and blinding and Mrs. McAfee prepared to swerve around an object on the ground just ahead. As she pulled around the object, the women were within viewing distance of two beings bathed in a brilliant blue light, but only gathered a quick glance at them. They appeared to be of average height and rather stocky. They were clad in pale blue, bulky quilted coveralls. Mrs. McAfee's mother noted that they were wearing wide belts, which matched the coveralls and gloves. Mrs. McAfee said they were wearing dark boots which reached the mid-calf. Both agreed that the beings were identically dressed and wore helmets similar in appearance to those worn by motorcyclists, with a dark-colored window which concealed the facial features. The figures appeared rigid and not aware of, or if so, unconcerned about, the presence of the two women. One had his back turned to the women and seemed to be working on something connected with the object located above them, while the other was turned sideways, facing him. Both were standing flat on the pavement, either beside or underneath the presumed object, and the blue light shone down on them from a point somewhere above. At the same time the beam of light which had been focused on the two women was still glaring at them and followed the car as it drove around the beings and object. The entire object was described as being obscure and no sound was heard. It was vaguely discerned as about the size of a truck and sitting off the ground. Mrs. McAfee said she wasn't certain but that they may have passed partially under the in their attempt to avoid hitting it. Following their encounter both women suffered a burning, aching pain in their chest and arms, and even their bones seemed to hurt. Both ladies thought the pain was caused by the light which was so brilliant it lit upthe floor of the car and was much brighter than daylight.
Source: Patti Norris A.P.R.O. Bulletin, December 1975 
---
Date:  June  1972
Location:  
Time:  
Summary:  
Source:  
Location. Near Jequitiba Minas Gerais Brazil
Date: June/July 1972
Time: night
Joao Alves Sobrinho, a worker, was passing through a placed called "Quebra
Perna" when he noticed, beside the road, a large whitish object "a little bigger than
a Kombi," boat shaped, with 2 little windows in the base. Lying beside it & moving
about on the ground were 2 "persons of small stature," who as he passed got up,
muttering to one another, not showing the witness their faces. They were wearing
light colored capes that reached the ground, with long sleeves; they had dark waistlength
hair. The witness returned to the spot with 2 other men, but they saw only the
object in flight, which now looked around and carried a bright searchlight. At the
site was a strong smell of "gas & burnt gunpowder."
Source: CICOANI Brazil
---
Date: June 1972: Occupants seen next to UFO sitting on road
---
Date: June 1972
Location: North Shore, Salem, Massachusetts
Time: evening
Summary: The main witness was driving with his friend when he noticed a bright object in the sky just above the treetops. He got out of the vehicle and watched the object move very slowly through the night sky. It was cigar shaped with square windows and round spot lights between the square windows. There was also the shape of a form moving inside one of the square windows but he could not make out the form clearly. The object was approximately 100feet wide and made no sound and was moving very slowly above the treetops. He watched the object for a few minutes and decided to head to another viewpoint. When he got to a higher overlook in the direction the object was moving he got out of his vehicle to locate the object again, however he did not located the object a second time but the police arrived and asked him what he was doing there. They told him they had followed the object from the other end of town.
Source:http://mufoncms.com 
---
Date: June 1972 
Location: South Africa, exact location not given
Time: late night
Summary: The 31-year old witness, a woman named Irrira got up in the middle of the night to look outside through some large panoramic windows when she noticed two bright orange yellow caplet shaped objects on the ground. They appeared to be about 4 meters in diameter. She soon noticed two men walking towards the house. They wore silvery metallic outfits, with a hood attached. On the hoods there were two radio antennae like protrusions. They looked like normal men. She was somehow glad to see them and embraced one of them. She then woke her husband and all four sat around the bed and engaged in very profound conversations throughout the night. Among the things these men said was that they had been with her for a very long time.
Source: UFO Afrinews # 3
---
Date:  June  1972
Location:  
Time:  
Summary:  
Source:  
Location. Mount Moro near Macugnaga, Novare, Italy
Date: June 1972
Time: 2330
Radio amateur Antonio de Rosa had installed a small radio receiver in the area in
order to track American and Soviet satellites. One evening he was there to tune his
radio receiver when the power went off. While he was trying to find the cause of the
blackout, he suddenly froze in terror because three individuals almost two meters
tall stood in front of him. They had a face framed with fine hair and wore tightfitting
silver plated suits. One of them approached him took him by the shoulder
and showed him "a star" that De Rosa immediately identified as the planet Venus.
Then, a second individual joined them and put a round and shining object
resembling a small piece of quartz stone in the de Rosa's hand. Recovering little by
little from his stupor, De Rosa walked a bit and suddenly distinguished within ten
meters in front of him "a strange apparatus of oval form and of gigantic size."
There was a large door folded back towards the outside in the center of the craft
which was used as an access. A few seconds later, the three unknown individuals
entered their craft which slowly rose, vertically, producing a gentle humming sound,
until it reached an approximate altitude of 200meters and disappeared in a dazzling
flash. De Rosa claims that he remained in telepathic contact with these mysterious
beings thanks to the "stone" they handed him and that he met them again seven
times "under the same circumstances".
Source: Jacques Rivoyre in http://ufologie.net 
---
Date:  June  1972
Location:  
Time:  
Summary:  
Source:  
Location. Near Molong, New South Wales, Australia
Date: June 1 1972
Time: 0800A
The main witness along with her mother and 2 of her friends were driving to the
village of Collage. As she sat in the back seat she looked out the window to her right
and noticed a bright shiny object, very large. She thought that if you were not
looking in that direction you never would have seen it. It was saucer shaped with a
dome on top, along side of it on the left was a very tall person dressed in an outfit
which glowed the same as the ship, another similar figure was walking towards the
road (the craft was about 30 meters away from fence line, which was 5 meters from
the road) and another one was standing on the right side of the object near a dead
tree, all had the same clothing on and helmets with black visors. She described the
aliens as being very tall, approximate 8 ft in height. As the car drove by the witness
noticed that they seemed to be collecting items from the ground. She also noticed
that the one walking towards the road seemed to have turned his helmet and look at
the vehicle as it drove off. The witness never did tell anyone else in the car what she
had seen.
http://www.ufologistmagazine.com/UFO%20Vol.8%20No.1.pdf
---
Date: June 4 1974
Location: Granada, Spain
Time: 0005A
Summary: 14-year old Juan M.A. suddenly woke up and noticed a pulsating light coming from outside the kitchen window. He went to investigate and notice a strange object that had apparently landed on the side of the house. Looking out the window he noticed a huge cylinder-shaped object orange-white in color resting in a vertical position close to the house on a nearby field. A gaseous-like ring encircled the upper half of the object and on it a 2-meter tall dark figure appeared to be walking around, circling the object. The young witness ran into his cousin's room and woke them up. All three boys watched the object from the window. At one point the enigmatic figure in black stopped directly in front of the window. No facial features could be discerned. It seemed to be wearing a tight-fitting black suit. This scared the young witnesses, which quickly ran into their respective rooms. They dare not to look outside again but still could see the strong orange light coming into the house. The light remained outside for two hours. No trace of the craft or being could be found in the morning.
Source:Iker Jimenez, Encuentros, Historia De Los Ovni en España 
---
Date: June 4 1972
Location: Bents Basin Wallacia New South Wales, Australia
Time: 1800
Summary: Six young people, who had driven to Bents Basin, found their car would not start; then they saw, on top of a hill 200 yards away, a disc shaped object resting on at least 3 legs. Its red luminescence pulsed in synchronism with a strong humming sound, and the observers experienced severe pulsating headaches. They got their car started, but before they had gone far their engine caught fire. Two of them set to walk out of the area for help, but came running back to report the approach of a huge human like "shadow." They hid in the grass a saw a "robot" 8-10 feet in height approach the car, gliding rather than walking. This "robot" looked glossy and had "a round, helmeted head, broad shoulders, and arms that came to pointed hands;" the legs were not seen. When it came near, this figure simply disappeared. 30 minutes later, when the terrified witnesses retreated from the area, the red glowing object was no longer there.
Source: Bill Chalker & David Buching UFOIC
---
Date:  June  1972
Location:  
Time:  
Summary:  
Source:  
Location. Near Dayton Iowa
Date: June 6 1972
Time: 1500
A farmer was cultivating his fields in the middle of the afternoon when he saw a flash of light in the sky; an object then approached him and he saw it was egg shaped and silvery in color. It descended and just before it landed, legs "grew out of the bottom;" it set down in a cornfield 100 yards from the farmer. A port opened near the bottom and "some people" 4 or 5 feet tall; wearing one-piece metallic looking "flying suits," got out and moved about in the corn for a while before getting back in. With a "slight roar" and a blue flame the UFO disappeared into the sky. Where it had landed the vegetation had been flattened as if by a whirlwind. Other "nests" were found in several Iowa farm towns about the same time.
Source: Kevin Randle for Apro
---
Date:  June  1972
Location:  
Time:  
Summary:  
Source:  
Summary: June 9, 1972; Algodonales, Cadiz, Spain
Motorist experienced engine failure, pulsating yellow oval object visible on road ahead. Object illuminated trees as it departed (UFOE II, Section XII).
Source:
---
Date: June 10 1972 
Location: Millerton, New York
Time: midnight
Summary: The witness was on her way home after finishing her shift work at a local hospital. And after picking up her mother she had taken her normal route of mostly secondary roads with very few houses, just open fields and a beautiful view of the night sky. As she drove along she noticed right in front of her, very high in the sky, a multicolored lighted object. It was flashing blue, red, green and bright white lights. Her mother sitting in the front passenger seat had also noticed the object. They both thought it was an airplane but then it quite suddenly dropped down from the sky right in front of them. The witness abruptly stopped the car and the both watched in horror as they thought it was about to crash. Then as they watched the object abruptly stopped, just like on a dime, it hovered above two trees directly in front of them, on the right side of the road. In less than 30 seconds it was now not more than 100 ft from the witnesses. The colored lights appeared to implode back into the object itself and now just brilliant white lights flashed. It made a very soft, quiet humming sound as it hovered just above the trees. The witness's hands were shaking as she clenched the steering wheel. The object was absolutely huge, and it was saucer-shaped with a sort of dome. Around the entire dome, they both could clearly see a panel of windows. There were "beings" looking out at the witnesses. They were not human in appearance. She counted 5, her mother until her death five years ago, swore she counted 6. From their view they could see large oval-shaped eyes, with huge bug-like heads attached to what appeared to be very thin necks with long thin arms. They both thought they appeared to be gray in color. The object hovered in front of them, and they sat frozen, watching it for about 5 or 6 minutes, then, suddenly from somewhere on the underbelly of the object, a bright blue white light beam shot out at them, lighting the inside of the car like it was daylight. The light was so bright, so brilliant, that it hurt their eyes and they both had to cover their eyes. This beam kept the car lit up for a minute or two then just as it had appeared it suddenly imploded back into the craft. They both now looked as the object started a very slow movement, again with no sound other than the quiet humming. It moved above the car. The witness then began to drive, anxious to get onto the main highway. As she drove toward the highway the object flew just a slight distance ahead of her car. As they got home they both could still hear, faintly, in the distance the humming as the craft continued on.
Source:NUFORC
---
Date: 
Location:
Time: June 11, 1972; Belleville, IL
10:00 p.m. Couple from Millstadt, IL, were driving on 59th St. Lady noticed strange configuration of lights describing a circle. Man stopped car. Circle of flashing lights "about as large as 50-cent piece held at arm's length," yellow-red lights like portholes in something circular, lit in arcs of several at a time. After 3 minutes observers re-entered car to pursue the objects, which they quickly lost. (SL-56, page 7)
Summary:
Source:
---
Date: June 11 1972 
Location: Pelotas, Rio Grande do Sul, Brazil
Time: evening
Summary: In a field a witness spotted a bizarre humanoid figure short in stature and with what appeared to be luminous legs, it ran into a wooded area and disappeared. No other information.
Source: Revista Brasileira Ovni
---
Date:  June  1972
Location:  
Time:  
Summary:  
Source:  
Summary: June 16, 1972; Gary, IN
No details on this close encounter listed in EGBA. Witness was "Alterwitz". (EGBA, page 672)
Source:
---
Date: June 18 1972
Location: Imjarvi Finland
Time: night
Summary: Aarno Heinonen again was instructed by the same woman's voice. This time he was to go to the crossroads at Antinhaara. From there a path leads some 100 meters up a hill. It was there that he met the woman, this time alone. They discussed the same things as on the first occasion. When he asked her how she had got there she said, "Go home and you will see the beautiful vehicle we came in." He did so, and some 150 meters from his home, he caught sight of this craft. It was low, maybe at an altitude of 100 meters. It wobbled and stopped moving, and hovered above him. He drew up on his scooter, and watched it from below. There were no lights from the silvery disc-shaped object, and neither windows nor portholes. Its diameter was some five to seven meters. After a while it rose swiftly into the sky. On both occasions he had discussions for about five minutes with the woman. She spoke very quickly, and her voice sounded 'tensed', her words, however, came from her mouth. He could see her teeth which were twice as wide as those of ordinary human beings. Her face and hands were very fair skinned and she was beautiful. Her nose somewhat pointed. She was some 140cm tall, and wore a two piece dress with a high polo-neck type of collar. Her shoes were not connected to her trousers. She had large eyes which were perfectly blue. During both meetings she held the same silvery ball-like object in her hand. No sound came from it. Her method of departure was very odd, she seemed to float away and disappear. Her gait was stiff, and her knees did not bend.
Source: UFO Research Center of Finland
---
Date:  June  1972
Location:  
Time:  
Summary:  
Source:  
Time: June 19, 1971; George AFB, CA
1:00 a.m. Two airman at George AFB, California, verified each other's report of seeing a "bright orange object", that seemed to be 375 feet in diameter as it sank behind a building southwest of their security-police beat at the base. The airmen, Gary Corlevy and Randolph Wogoman, said the UF0 sighting apparently went unobserved by anyone else. They reported it to the air police, and to the Victorville Sheriff's Office and Adelanto Police Department. No evidence was found of the object having landed, it was reported by the base information office. (Skylook 57, page 12).
Summary:
Source:
---
Date: June 20 1972
Location: Pocono Mountains Pennsylvania
Time: 0530A
Summary: The witness was driving a truck when all of the sudden he felt very sleepy and pulled to the side of the road. After a few minutes the cab of the truck was filled with an intense white light. He struggled to retrieve a pistol he kept under the seat, but he seemed to be moving in slow motion. He felt pulled from the cab on his truck, and briefly saw eight humanoid figures outside his truck. His next memory was of lying on a flat surface being surrounded by the same figures. His memory ends at that point.
Source:NUFORC
---
Date:  June  1972
Location:  
Time:  
Summary:  
Source:  
Location. Williamsport, Pennsylvania
Date: June 22 1972
Time: 1800
The witnesses lived on a mountain top to the south of the city. It was night and one brother was outside trying to shoot bats with a shotgun when they heard him yell out to come out, they could tell by the tone of his voice that something was wrong. It was dark with scattered cloud cover there was a bright moon backlighting the clouds. Through the clouds they saw a cigar-shaped object flying through the sky. It was just over the top of the trees 25 to 30 ft in the air. It was silver in color with yellowish colored windows. There were no visible engines and it had what appeared to be some kind of pods like those of a lunar Lander. There was no sound at all as it disappeared flying towards the south at about 5-10 miles per hour. The craft was about 30-40 ft in length, and 8 ft in diameter. A few nights later they were watching television and since they lived out in the boonies the father would go outside to use the restroom. But on this night when he came back he grabbed his 50cal flintlock and told the other brother to grab the 12 gauge shotgun. The other brother and the mother followed them out to the porch where the father told them to stay. At about 100 to 125 yards away in the woods and up in the trees were glowing eyes, hundreds of eyes, or the witness thought they were. They first thought there were opossums but did not venture into the woods to check. The next night they were sleeping except for the father who was watching television and again went outside to use the restroom. The younger brother remembers the father again calling out for the other brother and grabbing some firearms. Looking out his bedroom window with his mother they saw at about 50 yards away at a row of peach trees and a shed and garage three sets of eyes, larger than the ones they had seen the previous night. They seemed to be about 3ft off the ground. They were grouped closely together about 4ft from start to finish. His father pulled the truck up into the yard just pass a stone wall that divided the driveway from the yard, he turned the lights on high beam to try to see what they were, but the lights were not bright enough. He started to walk towards them but his wife yelled at him to stay back. He stayed back and along with the other son fired several shots at the eyes which never did move. The next night the eyes were back again but this time on the stone wall, this time his father and brother unloaded almost every rifle they had at the eyes and at one point the father walked up and fired point blank into the eyes or where the body should be. They never moved. The next day they picked up all the empty shell casings. The eyes never returned.
Source: NUFORC
---
Date: June 25 1972
Location: Imjarvi Finland
Time: 1940
Summary: Aarno Heinonen and Esko Viljo saw a humanoid figure in the kitchen of Viljo's house on this date. Suddenly a 140cm figure appeared from behind the oven. The creature (if that's what it was) took two steps from the brick wall and remained standing in the middle of the floor. It wore a gray suit with white stripes. It was impossible to see its face. For about half a minute the figure remained standing where it was, then took two steps back into the darkness behind the oven. A short while later two thuds were heard and the whole house was lit up by a bright light which seemed to move in a wave-like pattern through the room. Heinonen and Viljo searched the house but found nothing.
Source:Anders Liljegren, FSR Vol. 26 # 3
---
Date:  June 26 1972
Location: Fort Beaufort South Africa
Time: 10:00
Summary: On 26 June 1972, a UFO was sighted by several farm workers on a farm called "Braeside" at a town called Fort Beaufort in the Eastern Province in South Africa. The owner of the farm contacted the local police who arrived at about 10h30 on the scene. The UFO was sighted whilst hovering at tree top level in a dense forest. According to witnesses the UFO kept on changing colours. The police officers who visited the scene, saw the UFO. One officer fired several shots at the object. The farm owner also fired shots. Whilst being shot at the UFO stopped changing colours and remained a darkish gun-metal colour. It kept on disappearing behind the tree tops and reappeared. The colour changed to greyish white before it dissappeared. All together fifteen shots were fired at the object. To my knowledge this is the only incident where members of a police force fired shots at a UFO. This event was reported in several newspapers and books. Investigaters from the space agency in USA visited the town several months later and interviewed all those who witnessed the incident. The farm owner is still residing in Fort Beaufort where he owns a hotel. The two police officers are both now retired. These gentlemen are getting on in their years and if anyone wants to follow up on this incident they should do so now while the witnesses are still alive.  I was working in Fort Beaufort at the time of the sighting and did not personally witness the incident. I did however saw all the journalists and investigaters who arrived in the town the following day.
Source:  National UFO Reporting Center
---
Date:  June  1972
Location:  
Time:  
Summary:  
Source:  
Related articles