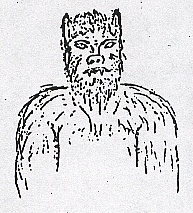 (Last Updated On: January 18, 2017)
Date: August 1973
Location: Lancaster County, Pennsylvania
Time: various
Summary: An ungodly looking creature created havoc among the local god-fearing Amish community. Witnesses described the creature as following: The size of a good heifer, gray in color with a white mane. It had tiger like fangs and curved horns like a Billy goat. It ran upright on long legs, and had long grizzly claws. In one incident, the creature sent a team of horses and two brothers flying when it approached their hay wagon. The following day, a man was cutting weeds on his farm about five miles from the previous incident when he heard a fierce roar and turned to see a monster with three horns and a tail charging in his direction. He raised his scythe to defend himself, only to have the implement ripped from his hands. At that point, the man wisely decided to turn both cheeks to the monster and escaped as fast as he could run. A day later a woman was feeding poultry on a farm midway between the two earlier incidents when she heard a commotion and turned to see the creature in the act of snatching a goose in each of its hands. She bravely ran toward the thing, waving her apron. The woman managed to recover one of her geese when the creature threw it at her, knocking her to the ground in the process. The interloper then escaped with the remaining bird in hand.
Source: Phillip L Rife, America's Nightmare Monsters, quoting Pursuit, January 1974
---
Date: August 1973
Location: Novo Friburgo Rio De Janeiro Brazil
Time: 1400
Summary: Edmund, a 19-year old youth from the Amparo settlement, was in the fruit garden of the farm when he noticed agitation among the nearby fruit trees, although the afternoon was calm and all the other trees motionless. Investigating, he discovered a strange spherical object 2 meters wide hovering just above the ground. Atop the sphere was a 10-meter tall contraption that consisted of a cylindrical rod surmounted by a cone shaped device that fanned outward toward the top. The entire object had a metallic sheen and revolved slowly. Edmund approached to within a meter but, apprehensive, retreated to a distance of about 4 meters. At this point an aperture appeared in the side of the craft with a loud bang; from it emerged a small humanoid figure in a one-piece suit that covered his head. Strapped to his back was a rather large, squarish backpack. The entity did not walk, but floated, with a "feverish" swinging of arms and legs in midair. The entity approached Edmund to within a distance of a meter, at which time the youth became panic stricken and fled, seeking others at the farmhouse. As he ran off, he looked back and saw the little being still "hovering" in the air at the spot where he stopped when the boy ran off. When he returned with others, there was no sign of either entity or object. No traces were left at the site.
Source:  SBEDV Bulletin # 104
---
Date: August  1973
Location:  Elizabethtown, KY
Time:  
Summary:  A news clipping mentioned that a 16-year-old boy had seen a UFO "shaped like a trapezoid, only rounded off on the bottom". This was early August and could have been at the same time as the other cases listed below, however many miles away.
Source: 
---
Date: August, 1973: CE1 in Princeton
---
Date: August  1973
Location:  Punta Galea, Madrid, Spain
Time:  2015
Summary:  Two youths, Jose Gonzalez Arrilaga & Ignacio Arrilaga reported hearing noises in the garden of their home and upon investigating they encountered a luminous human-like figure of "normal" height. The figure was completely white and phosphorescent in appearance. Terrified, the witnesses ran to the house in order to obtain additional witnesses but upon returning the figure was gone. No traces were found.
Source: Cassiano Monteiro, Denys Breysse Project Becassine
---
Date: August 1973
Location: Lochore Country Park, Scotland
Time: 2100
Summary: Margaret and Christine were leaving the park after a visit. Following a lane out of the park they came to a junction where the green ended and a housing estate began. A car drew up quietly behind them. At this point two things happened simultaneously: the radio went dead and the car engine cut out. As if they eyes were drawn by a magnet, Christine, in the back seat with her young friend, looked to the left across an area of open ground. Heading towards them strode two veritable giants moving in a rather mechanical manner, like machines rather than living beings. Both wore one-piece silver suits, emphasizing their over large heads. Christine cannot be sure how long it took the entities to cover the space that separated them, but she does have a vivid memory of the strange beings getting closer and closer to the car, and the car simply refusing to start. When the two beings were almost up to the window, within yards of where Christine sat frozen and unable to move, she experienced a choking sensation and, it seems, passed out. What happened next remains a mystery. When Christine came to, she saw the backs of the two giants as they returned in the direction they had come from. Moments after they had disappeared from view, a cone of light spread around the trees at the edge of the field, as if marking the path of an object heading skywards. At this precise moment the car engine roared into life, as did the radio. A human voice was also heard—the driver of the vehicle behind had rushed up and shouted: "What the bloody hell was that?" When Christine arrived home she noticed that there had been a considerable time lapse.
Source: Ron Halliday, UFO Scotland
---
Date:  August 1973
Location: Endless Mountains, near Harvey's Lake, Pennsylvania
Time:  dusk
Summary: At a local camping site the witness was walking to her girlfriend's house when she noticed a huge saucer-shaped craft hovering over some nearby treetops. There was no one around and she felt a sense of "isolation" as she watched the object. In a lighted window or "cockpit" the witness saw a figure or "being" that appeared to be operating some controls. At this point several small reddish spheres of light emerged from the bottom of the craft and began circling the area. Afraid the witness ran home and did not see the object depart. A strange thought came to her mind during the encounter as if she was "meant to see this".
Source:  Contact Lab sightings Database
---
Date: August 1 1973
Location:  Radium Hot Springs, British Columbia
Time:  
Summary:  I was working in a camp, and at night I would take out my 900 powered telescope to see if I could see any Satellites. When looking in NW direction, I seen a moving object and it disappeared. That is when I noticed other craft doing the same thing. At the same time the craft were going in other craft would come out going in a different direction. In my opinion the large craft that look like a mother ship was very very very large. I did not know what the object was, but it was doing things that it should not have been doing. If it was a satellite it would not disappeared. At the time I sighted this, I wanted to tell everyone but thought I bettered not. I did tell the head cook (My Mother)about it, and she came out and took a look, and the Head naturalist came and took a look (Brain) I do not remember his last name. I watch till about 4 AM and it did not fly away it just disappeared. My mother told me I would have to make my mind up in what I was going to do. This has been on my mind for a long time. And after telling a friend about it he told me to get in touch with MUFON.

Source: MUFON
---
Date: August 4 1973
Location: Tallebudgera Creek Road, Queensland Australia
Time: unknown
Summary: Three youths were reportedly attacked by a two-meter tall furry humanoid with shiny eyes that stepped out of the bush in an isolated area. The three youths fled the area. No other information.
Source: Keith Basterfield
---
Date: August 4 1973
Location: Near Indio California
Time: 2200
Summary: A week or ten days later after observing a mysterious light maneuvering in the sky, the witness had to return to Phoenix for more things and she asked her brother to go along with her for company. While driving up a hill somewhere in the vicinity of Indio, she began to receive pictures in her mind and had a sense of presence. These "images" came in grays and browns; she would counter them by thinking of bright colors. She could sense a kind of puzzlement regarding her color images. She found the "gray" images unpleasant, and had the sense of an interior, with gray green walls, which had three vague "forms" in it. Feeling that she was daydreaming and tired, she forced her concentration back to her driving and noticed colors reflecting on the dashboard and asked her brother if there was something in the sky. She and her brother both observed briefly a light over the highway changing colors from blue, to green, to red, to yellow, then to a brilliant white. Then it vanished, in view less than a minute. Her brother was very excited. The trip continued, apparently uneventfully. Later under hypnotic regression the main witness is asked to examine d her image of gray interior more closely. She describes the gray-green walls, with at least one black line, or slot, on the back wall. She is with three vague shapes or "shadows." It's not a pleasant place; she feels there's another experience at another time. She is asked to go back to that experience and she finds herself in another room with a window looking out on an orange sky. There is a white bench in the room. The room is very sterile. Then she finds herself in a huge place with a domed ceiling; she is standing beside a 20-foot high crystal, set at an angle so that it points toward the sky. It's green on the bottom half, and it turns. There are other similar crystals in this place; about five in all, they are hooked to a large piece of machinery. It's similar to a generator. The crystal is connected to the machine by a rod. The whole room hums. There are two other people with her; one dressed in gray, looks older, with grayish hair. The younger man, in black, is taller. They point out a formula to her, which is on the wall; it is composed of script letters. She is brought out of the trance and is given the post hypnotic suggestion that she will recall the formula and be able to reproduce it on a piece of drawing paper, which she does. No other information.
Source: Prof. Alvin Lawson, John De Herrera & Dr. William Mc Call
---
Date: August  1973
Location:  
Time:  
Summary:  
Source: 
Summary: Aug. 4, 1973; Greenup, IL
Bud Sedgwick had been cultivating beans southeast of Greenup until his wife and her parents Mr. and Mr. Delos Robbins drove to the fields to pick him up shortly after 8 o'clock, Saturday night, August 4th. They were on a country road east of Greenup going west, just south of the Penn Central Railroad tracks when, "All of a sudden there it was, it was coming at us sideways at treetop level," Sedgwick said. He slammed on the brakes and one of the women was thrown against the dashboard of the car. The fast moving object was rectangular "and had the shape of a large boxcar," Sedgwick said. He described it as being "all the same color, a pale color." It wasn't overly brilliant and it didn't hurt their eyes to look at it. "It was right in front of us. We had a clear view, there was no guessing." He estimated the object to be about a half mile from them and he said it appeared to settle into a cornfield, with one end of the rectangle going down first, then the other end also disappearing from view. (SL-71, page 5)
---
Date: August  1973
Location:  
Time:  
Summary:  
Source: 
Time: Aug. 4, 1973; Greenup, IL
Evening. Bill McMorris and his son were on their way home from an evening of fishing near Hidalgo, Ill. Coming north on Route 130 through the hollows south of Greenup they saw the object across the top of a farm house owned by Walter Gabel. "It was as big as a house," McMorris, publisher of the Greenup newspaper, said. It was at least three-fourths of a mile away and seemed to be coming down, he said. He lost sight of it when he went down into a dip in the road, and when he came up the other side of the hill, it was gone. He too said it was evenly illuminated, no one spot any brighter than any other. (SL-71, page 5)
---
Date: August  1973
Location:  
Time:  
Summary:  
Source: 
Time: Aug. 4, 1973; Greenup, IL
Patty Markwell, 13, was in her mother's car on the way to the Tastee Freeze when she saw the object. "I just saw the end of it over the trees," she said. "It was real bright,  it looked like light bulbs. It looked like somebody had a string on it, and just pulled it down." Her mother, busy driving, couldn't take her eyes off the road when Patty called out there was something real bright in the sky, and she didn't see it. (SL-71, page 5)
---
Date: August  1973
Location:  
Time:  
Summary:  
Source: 
Time: Aug. 7, 1973; Tyringham, Australia
A huge light or luminous object manifested as a brilliant V or cone-shaped thing with a small orange "knob" on top. The big light was able to silhouette trees but not cast light on them. It then just turned off, leaving only the orange knob. (Mike Swords; Source: W.C.Chalker. Tyringham-Dundurrabin Flap [mini-monogragh or case file] ,18pp., 1973. (CUFOS files).
---
Date: August 9 1973
Location: Exeter New Hampshire
Time: daytime
Summary: A father and his son were driving along a main highway in the Exeter area when they saw a landed UFO alongside the highway. A tall humanoid figure stood next to the object. The witnesses drove by without stopping. No other information.
Source: Webb in 1973, Year of the Humanoids
---
Date: August 10 1973
Location: Ibague Colombia
Time: afternoon
Summary: Four grade school students and a police officer saw four small human-like humanoids, dressed in white uniforms, beneath a bridge. The beings were only 20 centimeters tall and disappeared when the witnesses approached. Traces were left in the mud and later photographed.
Source:  Webb in 1973, Year of the Humanoids
---
Date: August  1973
Location:  
Time:  
Summary:  
Source: 
Time: Aug.14, 1973; Traverse City, MI
A 19-year-old Lake Ann, Michigan, resident and his companion claim they observed a cylindrically-shaped object, about 50 feet in length, pass in front of their car around 10:30 p.m. near Boardman Lake off Cass Road. According to the couple, the object traveling in a north to south direction passed within 20 feet of the the vehicle and appeared to have approximately 10 lights located on the underside of the craft. The lights flashed on and off and appeared blue lights flashed on and off and appeared blue, pink, and green. The sighting lasted approximately eight seconds. (Reference: UFO INVESTIGATOR, September 1973, page 3)
---
Date: August  1973
Location:  
Time:  
Summary:  
Source: 
Location. Casalincontrada Italy
Date: August 16 1973
Time: 0400A
Young Cinzia Giomi and 10 other persons were returning from a show onboard a small passenger bus when in an area between Casalincontrada & Chieti they saw a bizarre figure almost 6 meters in height, leaning against a light pole. The being was human like, very tall and thin, wearing a shiny white smock like outfit. I had long white hair and had a dark complexion. The witnesses were able to see the figure at a distance of 2 meters. The figure wore tall white boots. The bus stop in order for the witnesses to get a better look at the figure when it suddenly faded away, leaving behind a strong sulfur like odor and a consistent whistle like sound.
Source: Fabio Picasso, Moreno Tambellini
---
Date: August  1973
Location:  
Time:  
Summary:  
Source: 
Location. Kingston Pennsylvania
Date: August 17 1973
Time: unknown
A man driving near Route 30 reported that his vehicle almost struck a huge gorilla like animal, with pointed ears and red glowing eyes. The creature ran away screaming like a man in pain.
Source: Paul G Johnson, Joan L Jeffers
---
Date: August 19 1973
Location: Buffalo Mills Pennsylvania
Time: 2000
Summary: Area residents spotted an eight-foot two inches tall humanoid walking casually down Main Street. The humanoid had human features with a dark penetrating gaze and wore a shimmering shiny outfit cut in an odd way. He took extremely long strides and barely seemed to touch the pavement.
Source:John A Keel, The Eighth Tower
---
Date: August  1973
Location:  
Time:  
Summary:  
Source: 
Summary: Aug. 19, 1973; Greenup, IL
One report report came from a Charleston resident who said a UFO had landed "about 200 feet from my car in the country and then tried to get me on the way back to Charleston." (SL-71, page 5)
---
Date: August 21 1973
Location: Near Derry Pennsylvania
Time: 0230A
Summary: A woman was alone at night and had her bedroom window opened with the drapes closed. She suddenly woke up with the feeling that someone was watching her; she turned around and was horrified to see a hideous face staring at her from the window. The creature was estimated to have been over nine foot tall and had dark oval upright eyes with no whites no eyelids or eyelashes. It had apparently pushed the shades to the side in order to observe the witness. The creature moved back awkwardly as the witness moved. The witness daughter also saw a huge shadow on the wall from a figure outside. A strong odor like rotten meat remained after the creature had gone.
Source:  Stan Gordon, Mufon UFO Symposium 1974
---
Date: August 23 1973
Location:  Tyringham, Australia
Time:  
Summary:  A dull silver object passed overhead bringing [apparently] with it [though not immediately; this took "a few minutes"] an area of cold air, very localized and in a definite sensible volume. Later someone at the same location heard sounds for which they could not find a source [sounded like "a phantom truck"] and found a clock stopped. Later, the noise occurred again, and the witness checked the electric clock; the second hand "twittered a little from side to side, then stopped".
Source: Mike Swords;  W.C.Chalker. Tyringham-Dundurrabin Flap [mini-monogragh or case file] ,18pp., 1973.; CUFOS files
---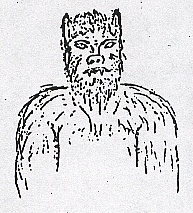 Date: August 27 1973
Location: Beech Hill Greensburg Pennsylvania
Time: night
Summary: A woman reported seeing a large boomerang shaped craft hovering over a heavily wooded area. Upon investigating, her husband encountered a large hairy biped type creature with a wolf like face. He shot at it with no apparent effect. No other information.
Source:  Paul G Johnson, Joan Jeffers
---
Date: August 30 1973
Location:  S. GA
Time:  Midnight
Summary:  Reports of unidentified flashing lights from a wide area of south Georgia were sent over the state-wide police communication network shortly after midnight and into the early morning of August 31. Military authorities in the area were notified. The duty officer at Robins AFB, Macon, said that the reports will be handled by the air police, "who make all investigations of UFO reports."… "The objects changed colors as they moved through the night, flashing blue, yellow, and green."
Source: Chicago Daily News, Sat.-Sun., Sept. 1-2, 1973. Albany, Ga.
---
Date: late Summer  1973
Location:  Richmond (Macomb) Michigan
Time:  1500
Summary:  The witness had been working in her garden and burning weeds when she saw, about 1200 feet away, just above the trees, a round object like two dishes face to face. It was about 60 feet wide and had "lots of windows" around it. She first thought the kids had erected a tree house with old stolen windows, but saw it was too large, and above the trees. She could see a single figure "he couldn't be very tall for sure," walking from window to window. The windows were brightly lit from within. Scared, she and her niece went indoors, with the intention of looking at it through a bedroom window. When they got there, the object was gone. The tops of the trees at the site "seemed tome like they were browned, and as if cut across." She found no other evidence at the site when she examined it the next day.
Source: Witness letter in IUR Feb. 1978
---
Date: August  1973
Location:  
Time:  
Summary:  
Source: 
Related articles