(Last Updated On: January 24, 2017)
Date: April 1974
Location: Near Findlay Ohio
Time: 0215A
Summary: After seeing a mysterious orange object maneuvering over the area, Frank & Kathy had turned off the road and entered a local restaurant, there they were approached by a strange individual, who rushed up to them & asked "What did you see up in the sky?" They described the man as about 5'4″ tall, about 140 lbs, with fingers twice as long as normal. The man's voice seemed to slow down as he repeated the same question. Frank then asked the stranger how did he know about the incident, suddenly the man's eyes bugged out about three inches and he opened his mouth, "wider than normal" & repeated several times "I live by visions." Frank & Kathy then got up and attempted to leave, the man then yelled at them but they ignored him. After driving for a couple of miles the witnesses saw two headlight like lights that flew over their vehicle and got behind them. They then felt a force coming from behind them, turning around they saw a large orange sphere coming up behind the car. The headlight like lights appeared next to the orange sphere along with a little man on a little black object, that kept moving back and forth. The little man was described as having a funny shaped head. The witnesses then drove on by the object apparently striking it. Then the object began following them again, they could still see the little dark man like figure going back & forth on the object. After they arrived home the object departed and did not reappear again.
Source: Jim Keith, Casebook of The Men in Black
---
Date: April 1974
Location: Timmins Ontario Canada
Time: 0515A
Summary: A woman looking out her kitchen window saw a red light descend from the sky. The light was a reddish disc shaped object, which moved closer, and stopped, a hatch opened and a figure emerged and moved towards the top of the craft. After about two minutes the craft moved to the south and disappeared.
Source: John Brent Musgrave, UFO Occupants & Critters Quoting Mitch Leblanc
---
Date: April  1974
Location:  Arras Pas de Calais France
Time:  evening
Summary:   A second hand report describes how an unidentified man of "high social standing" had gone out into his garden one evening. High walls surround the garden. At the far end he saw an egg shaped object of approximately two meters length, luminous white in color, resting horizontally upon the ground. Stupefied, he suddenly observed two very small beings of about 1.5 ft tall moving about the object with a mechanical gait, suggesting robots. He summoned his sister and his wife who, confronted by the sight, screamed and ran back to the house, taking the gentleman with them. Next morning he examined the site and found very small footprints near the spot where the object had rested, moving away in one direction only, toward the foot of the garden wall, where they stopped. Some vegetation near the landing site was seared.
Source:  Joel Mesnard & Jean Marie Bigorne
---
Date: April  1974
Location:  
Time:  
Summary:  
Source:  
---
Location. Aguada Puerto Rico
Date: April 1974
Time: 2100
Summary: In a beach area the witness came upon a landed twenty-foot object, surrounded by a bluish white light. Several human like figures wearing dark scuba divers outfits approached the witness, these were human like except that they had shorter necks. They told the witness of coming catastrophes and invited him onboard, but he declined the invitation. No other information.
Source: Robiou Lamarche, Manifesto Ovni en Puerto Rico Santo Domingo Y Cuba
---
Location. Ivano-Frankovsk, Ukraine
Date: April 4 1974
Time: early morning
Summary: A young cashier was on her way to work one early morning, unexpectedly she hears a high-pitched peeping sound from above her. Looking up she sees hovering at approximately 3 meters above her a black disc shaped object. Somehow she was pulled up into the craft and subjected to a prolonged examination by entities not described the source. According to the witness various devices were used on her. She was finally released in a field close to her home. According to reports, an unexpected after effect was reported by the witness, who was at the time 23-years of age and married: After returning and being examined by her own doctors it was found that somehow the witness was now a virgin again (!).
Source: Max Zhibinov "Flying basins in the Steppes of the Ukraine"
---
Date: April  1974
Location:  
Time:  
Summary:  
Source:  
---
Date: April  1974
Location:  
Time:  
Summary:  
Source:  
Location. Kitami City Hokkaido Japan
Date: April 6 1974
Time: 0300A
Yoshiro Fujiwara, a vegetable farmer, reported that in the early morning he went out to see why his dog was barking and encountered a creature "like a starfish" about 3 foot high. When it extended an arm, the observer was sucked up from the ground into a UFO hovering overhead at about twice the height of a telephone pole. He lost consciousness, and came to find himself being held down by two of the creatures inside the object. He described them as having a toad like skin and said there was a foul odor. He was told not to be afraid but struggled; the craft came down to the ground, the door opened and he escaped. On that same evening, he developed telepathic "contact" with the "spacemen," writing in the "space language." He was able to bent metal spoons. On the evening of April 8 he, again was visited by the UFO and was taken twice around the earth and once around the moon; he was later found semi conscious on the ground. A further contact was reported on April 15.
Source: Jun Ichi Takanashi & Dick Hall
---
Date: April  1974
Location:  
Time:  
Summary:  
Source:  
---
Location. Bardstown Kentucky
Date: April 7 1974
Time: night
A boy in his late teens had compulsively gone out for a late night drive, when a normal looking man appeared next to his vehicle. He asked the startled teen if he remembered him, which he did not. Then suddenly the teen was inside a large room, with his car. He was welcomed onboard by the "man" who proceeded to show him around the craft. The man looked like a normal earthling and wore a shirt and blue jeans. After the tour he told the teen to get back into his vehicle. The boy did so and suddenly found himself back on the road.
Source: Don Elkins & Carla Rueckert, Secrets of The UFO
---
Date: April  1974
Location:  
Time:  
Summary:  
Source:  
---
Date: April 8 1974
Location:  Fayetteville, IN
Time:  
Summary:  Close encounter with two witnesses
Source:  Hynek 4-19?, possibly Don Worley Files
---
Date: April 10 1974
Location:   Near Whitehouse Ohio
Time:  0015A
Summary:  The witness left work just after midnight and was driving toward Waterville on Rte. 64 when his motor and lights died. He got out of the car and noticed a car behind him stop; the driver, normally dressed and gray haired approached and offered the witness "proof" by dematerializing a rock with a small, hand held implement; he told the witness to "save" his marriage, and promised subsequent "contacts."
Source:  Earl Neff & Larry Moyes
---
Date: April  1974
Location:  
Time:  
Summary:  
Source:  
Summary: Location. Near Santa Clara de Olimar Argentina
Date: April 11 1974
Time: 0230A
Virginia Varela was awakened by a sound; looking out the window, she saw "an indefinite figure which seemed to be covered by a light colored garment; it immediately disappeared." It left footprints of shod feet. Later on she noticed a light, and heard noises; after that, she saw 2 shining points moving together across the sky. On the 2 following nights there were also indications that someone was about the house, and the hum of a motor was heard; the cows panicked, and one was found dead.
Source: Prof. Wellington Perrone for OTIFE
Source:
---
Date: April  1974
Location:  
Time:  
Summary:  
Source:  
Time: Location. 14 km from Tandil Argentina
Date: April 14 1974
Time: pre-dawn
On the same morning of the Acevedo CEII encounter in Tandil, in the very early hours of the morning, two men from Olavarria saw at a point some 14 kilometers from Tandil, a being of short stature on the side of the road, who appeared to them to have no face. Then the automobile was illuminated on the inside with a bright, white light.
Source: OTIFE Tandil Argentina
Summary:
Source:
---
Date: April  1974
Location:  
Time:  
Summary:  
Source:  
Time: April 14, 1974; Vedrin & Courriere, Belgium
8:00 p.m. …and continuing for close to two hours a flurry of UFO sightings was reported. The SOBEPS organization conducted a thorough investigation. Sightings included a luminous globe emitting bright silver-white light crossing the road ahead of a car; a spinning circular object with rows of body lights that changed directions, stopping and starting; elongated or cylindrical metallic-appearing objects with body lights; and a disc white on top and bright cherry red on bottom, joined by a dark central band. ("Easter UFO: A SOBEPS Inquiry" by Frank Boitte, Brussels, Belgium.)
---
Date: April 15 1974
Location:   Adelaide, Australia
Time:  1730
Summary:  Two motorists from Adelaide reported loss of power from their automobiles after sighting UFOs. These reports were made simultaneously with calls pouring into RAAF officials regarding other sightings in the area. One of the motorist, Peter Heningsen, described the object as "bigger than a jumbo jet," and claimed it was hovering approximately 600 feet above the road. The witness further described the object to be spinning and sending out three white beams of light. His car suffered a temporary loss of power as the object hovered overhead. The UFO remained stationary for a minute before moving off out of sight in complete silence. Another motorist driving that same evening, described an object as being "green and red and spinning with three beams of light."  Mr. E. O'Neil, 54, of North Glenelg, said he saw an object moving in circles at 35,000 feet at 8:05 p.m. and claimed that all power was drained from his car. The Royal Australian Air Force has been gathering as much additional information as possible concerning the sightings and will continue to investigate these recent events.
Source:  UFO INVESTIGATOR, July 1974, page 1
---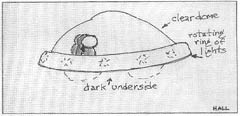 Date: April 16 1974
Location:  Casale Montferrato Italy
Time: 0100A
Summary: Mauro Bellingeri, 26, and his wife. Carla, were driving home to Santa Maria del Tempio when they noticed a bright object in the sky. The object dove abruptly toward the ear, stopping at a height of about 12 meters (40 feet). The Bellingeris both got out of the car to look at the now motionless and silent object. It was disc like with a bright, transparent dome and a central ring of revolving red. green, and yellow lights. Inside the round dome there were three human-like beingswith large round, opaque grayish helmets. At the base of the headgear was a hose like apparatus reminiscent of oxygen equipment used by frogmen.  The being closest to them turned in their direction, then returned to his original position. All three beings then rotated in unison. At this point, three top four jets of flame appeared beneath the craft, the central portion with lights on it began to revolve rapidly, and a whistling sound was heard. The Bellingeris felt a blast of air, and the UFO sped away, continuing to emit a whistling sound
Source: R Franco from CUN
---
Date: April 19 1974
Location:  Altamont New York
Time:  2000
Summary:  Ruth Currie and her daughter, Laurie, observed a brightly lit object on the road a few hundred feet from their home; neighborhood dogs were making a fuss. Going closer, they saw an oval craft with windows around the top from which came a golden light; indistinct, "egg shaped" figures were seen moving through the windows. A neighbor, Rose Curtis, was summoned to confirm their sighting; then Mr. Curtis, but the latter only saw the object rising. The following day, a large burned area, 60′ in diameter, was found.
Source:  Ernie Jahn for Nicap, & Ben Jamison for Mufon
---
Date: April 21 1974
Location:   La Baume d'Hostun, Drome, France
Time:  0100A
Summary:  2 witnesses, J Louis Rimet and Annie Ruchon coming back from a dance in their vehicle on State Road D125. As they traveled along they spotted a luminous trapezoidal shape landing on a field about 500 meters away. A kind of ladder is seen on the left side of the object. Several bright glows, white & yellow in color are seen on the object, one revolving. 3 humanoid shapes are seen moving inside the object, possibly in a cabin. The witnesses feel being watched. Others saw a luminous white shape in the same field.
Source:  Jean Figuet, GESAG # 39, Ouranos # 12
---
Date: April 25 1974
Location: Hawaii
Time: 
Summary: 
Source:
---
Date: April 26 1974
Location:  Near Julio de Mesquita Brazil
Time:  unknown
Summary:  The witness failed to return from a short trip. Five or six days later he was found rain soaked and covered with ticks on a thousand foot high hill near Colatina n the state of Espiritu Santo, 900 km from his home. He said that a light appeared just before he crossed a bridge, and in fact his car was found there. Under hypnosis he revealed that he was taken aboard a UFO and examined, but he resisted giving any details except that a tall, fair haired and blue-eyed young man was one of the aliens. He had given a ride to this same individual on the night of his first encounter.
Source:   Gordon Creighton, FSR Vol. 21 # 3 & 4
---
Date: April 30 1974
Location:  Altamont New York
Time:  2200
Summary:  A young girl looking out a window of a nursing home where her mother worked, saw what looked like a car parked on a road hillside. She notified her mother who also looked out the window. They thought it might have been an accident aft first since they saw red lights. There appeared to be a golden glow coming from the object. The two women left the building to get a closer look. Neighborhood dogs and horses were making noises. As they got closer they could see a huge oval shaped object resting on the roadway. It had a rounded window on top emanating the golden glow. The red lights were coming from the front and back of the object. They then noticed a figure moving about in the craft. Another employee of the nursing home and the woman's husband also witnessed the object as he came to pick them up. The object rose up into the sky and disappeared quickly into the dark sky.
Source:  Celestial Passengers, M Sachs
---
Date: April  1974
Location:  
Time:  
Summary:  
Source:  
Related articles