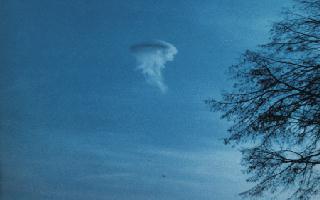 (Last Updated On: January 28, 2018)
Date:  November  1974
Location:   Bald Mountain Washington
Time:   unknown
Summary:   While hunting in the area, Paul Smith was scanning a bluff with a pair of binoculars when a bizarre creature came into view. He described it as roughly horse shaped, but with 4 long tentacles in place of legs, and a head shaped like a football, with an antenna like prong sticking up form the top end. It was surrounded by a greenish glow. Even though armed with a rifle he was too scared to shoot at it. Several days previously an unknown object was seen to "crash" in the area.
Source:  John Michael Greer, "Monsters".
---
Date:  November  1974
Location:   Hantay, La Bassee, Nord, France
Time:   0730A
Summary:   About 10 witnesses, schoolgirls ranging from 13 to 14 year of age were waiting for their bus at the entrance of the village. Suddenly a red luminous point comes down from the sky and lands about 200-250 meters away. They describe the object as a disc about 7-10 meters in diameter and 3-5 meters high. A few minutes later 4 human figures appear from behind the UFO, they appeared to be normal sized. All wear white luminous outfits. They moved briefly around the UFO and then approach the witnesses. At this point the bus arrives and the witnesses board it. The beings then enter the UFO, which goes up at very high speed. The witnesses experienced unaccountable fear after the incident. A circle of burnt grass was found at the site.
Source:  Dominique Caudron, GESAG 71
---
Date:  November  1974
Location:   
Time:   
Summary:   
Source:  
Location: Aisne France
Date: November 1974
Time: 1400
Two young men were driving through a small village in Aisne to meet friends when they found they had to turn around to go in another direction. Just before passing the last house in the village, they slowed for a turn and were stopped by the sight of five small figures, taken at first for females, in the courtyard of the nearby house. Three were in the rear, to the left, in front of a wooded door; a fourth was walking slowly along the wall of the house touching it with both hands; the fifth stood in the center of the courtyard, not more than 3 meters from the witnesses, one of the men, in the passenger's seat, had rolled down his window and found himself almost face to face with this figure. All five were similar in appearance. They were a little over 4 ft tall; complexions were yellowish white; and they were clothed in long loose hanging dresses that reached the ground, covering their feet. These were blue, with multicolored circles in them. Each being had long, straight hair that fell to the waist. Their eyes were outstanding; extremely large and dark with no whites showing, lacking lashes, eyelids, or eyebrows. These tended to bulge out. Their noses were slight and their mouths just a slit. When first discovered, the figures did not appear to noticed the two men; then the figure nearest them turned and stared at them, as did the others, none of them moving, and all with slight smiles fixed on their faces. The men, who were petrified with fear, were at first unable to move; after an estimated two minutes they quickly turned and drove from the scene, badly shaken. Two days lager they reported the incident to the local gendarmes. While their descriptions suggested "little women," the men referred to the beings in the masculine. A third and independent witness is alleged to have seen the little beings from nearby.
Source: Joel Mesnard & Jean Marie Bigorne
---
Date:  November  1974
Location:   
Time:   
Summary:   
Source:  
Location: White Meadow Lake New Jersey
Date: November 1974
Time: evening
A middle aged man, Solomon R, was driving along Route 15 from Route 80 when his headlights illuminated an immense humanoid figure standing by the side of the road. It was not facing the road and the witness could see that it was unlike any normal animal he'd ever seen. It was greenish in color and covered with scales; as the witness drove by the figure turned its head to the left so he was able to see its head in profile; the face was reptilian, with bulging frog-like eyes and a broad, lipless mouth. The driver proceeded without stopping to investigate.
---
Date:  November  1974
Location:   
Time:   
Summary:   
Source:  
Source: Louis Wiedmann for Vestigia
Location. Toronto Ontario Canada
Date: November 1974
Time: 2000
The witness was home alone when he felt a very powerful urge to look out the patio door. He saw a bright white maneuvering light that suddenly made a sharp turn and headed towards him. The light seemed to fly over him as the witness became dazed and confused. Later under hypnosis the witness was able to remember that two beings (not described) descended in a light beam towards his balcony, grabbing the witness and apparently floating him up into the hovering object. Inside, the beings performed a number of tests on the witness taking skin samples and bone marrow.
Source: Stan Mickus, Extraordinary Experiences by John Robert Colombo
---
Date:  November  1974
Location:   The Sideling, Tasmania
Time:   2300
Summary:   On his way home to Scottsdale a man saw a soundless object about the size of an enormous building about half a kilometre away to his left, in the north. His car engine and radio cut out and the figures on his watch lit up really brightly. The object travelled along and was last seen going straight upwards. Duration three to four minutes. The watch broke down shortly after the event. The left hand mudguard of the car changed colour from red to orange and stayed that colour.
Source:  TUFOIC
---
Date:  November  1974
Location:   
Time:   
Summary:   
Source:  
Location: Texas Canyon California
Date: November 1974
Time: 2300
Six teenagers driving through an isolated canyon noticed a cloud of dust on the road ahead of them. As they approached the spot they were confronted by three weird creatures described as tall, hairy, with dog like faces and glowing eyes. As the witnesses drove by the beings these threw stones and dirt at the vehicle and screamed in a monkey like chatter. As the witnesses drove away they could see more approaching figures with glowing eyes. Later a mysterious airplane with a bright white light was seen circling the area.
Source: Peter Guttilla, B Ann Slate, Saga UFO Report June 1977
---
Date:  November  1974
Location:   Kampsville, IL
Time:   6:00 p.m.
Summary:   Lady and her son saw sharply-outlined hovering object through bedroom window, become brighter, made "whirring sound" As it came closer the light changed from white to red, size of plate at arm's length, passed over house
Source:  MUFON, Skylook 89
---
Date:  November 1 1974
Location:   Oil City, Pennsylvania
Time:   
Summary:   Bright lights in the sky separated by several miles moving in odd geometric directions–changing course instantly this was many years ago– I was in high school at the time. My brothers and I were listening on the CB radio (it was big back then). We heard a lot of excited chatter from people saying, "My God, there's another one…" Lots of people were headed to the vocational technical center, adjacent to Oil City High School to get a better view. So, my brothers and I climbed into our family car and drove up to look too.What we saw was clearly three to four bright lights in the sky, separated by many miles moving in odd geometric directions. Almost as if "dancing" in the sky. It was a clear winter night and the stars were vivid. There were hundreds of witnesses to this event. I have NEVER told anyone about this. It so impacted my younger brother that he actually returned to Oil City to interview people for a book he wanted to author. He has the original taped interviews from several police officers who saw more (e.g. saucer shaped craft hovering above the Allegheny River). He also has the notes from several other interviews.My brother told me later after he began his research that the Air Force scrambled F-4's from Pittsburgh to investigate (I don't know if that is factual, however)
Source:  NUFORC
---
Date:  November 8 1974
Location:   Near Badajoz Spain
Time:   night
Summary:   Jose Maria Cravero and another aviator had observed a UFO at close range on November 5 in the vicinity of Talavera Air Base. Three days later, Mr. Cravero returned to the site and observed a strange, evasive entity on the road outside Badajoz; he got out of his car to approach and the being departed without speaking. The witness described the entity as wearing a dark brown jacket, black trousers, and a kind of "Roman helmet" on his head. Cravero saw no nose and the eyes appeared to be slanted. The body was tall and slender but he observed no details about the arms or legs. Cravero was impressed by the furtive nature of the being.
Source:  Gordon Creighton, FSR Vol. 20 # 5
---
Date:   November 10 1974: The Carbondale UFO Crash – Article
---
Date:   November 10 1974
Location: Cagliari Italy
Time: 1815
Summary: Two men passing through the local square noticed a cigar shaped object descending from the sky. It passed slowly about 20 meters above a nearby building. It had four, square illuminated portholes that emitted a white light. Inside, five humanoid figures could be seen, always remaining in profile. The craft then disappeared behind a building under construction.
Source: Maurizio Verga, Itacat
---
Date:  November  1974
Location:   
Time:   
Summary:   
Source:  
Time: Nov. 11, 1974; Central Newfoundland Area
RCMP report of Cessna 150 encounter involving John Breen a Gander Newfoundland Air Traffic Controller who was also a  pilot/instructor accompanied by a student pilot. ATC Gander painted the object for two sweeps then it disappeared from their screns at which time Breen spotted the object down low at he guessed at tree-top level. This latter seems significant-almost as if the damn thing knew it was now being painted and dropped to tree-top level to avoid radar. This event was included in Maritime UFO Files
---
Date:  November  1974
Location:   
Time:   
Summary:   
Source:  
Location: Mount Cross Tennessee
Date: November 11 1974
Time: 1730
Billy Joe Lodnar, driving up Mt. Cross for a weekend of hunting, saw a blinking orange cigar shaped object pass over his truck and then turn back toward him. (The UFO, or another, had previously been seen by the pilot of a Marine A-4C Skyhawk flying from Beaufort, South Carolina, who radioed that it was flying "just off his wingtip.") Lodnar got out of his truck with his rifle in had, and saw the object land in a clearing; he now saw that it was lens shaped with a central dome. He inched his way toward the gully where the object had settled until he was 300 feet away and somewhat above. He saw a door open on the side and a small, stocky humanoid with a large head on a "skeletal" body emerged, walking down a ramp. Its skin was gray and appeared scaly; the eyes were slit-like. As it walked around near the object, Lodnar trained his gun on it, but did not fire. The being re-entered the UFO, where another one appeared in the doorway to pull it inside. Then the object took off silently. In a later investigation on site, broken branches and scorch marks were found.
Source: Ronald Drucker, Saga UFO Report, fall 1975
---
Date:  November  1974
Location:   
Time:   
Summary:   
Source:  
---
Date:  November 11 1974
Location:   Central Newfoundland Area
Time:   
Summary:   RCMP report of Cessna 150 encounter involving John Breen a Gander Newfoundland Air Traffic Controller who was also a  pilot/instructor accompanied by a student pilot. ATC Gander painted the object for two sweeps then it disappeared from their screns at which time Breen spotted the object down low at he guessed at tree-top level. This latter seems significant-almost as if the damn thing knew it was now being painted and dropped to tree-top level to avoid radar. This event was included in Maritime 
Source:  UFO Files.
---
Date:  November 11 1974
Location:   Between Pensacola, Florida and Mobile Bay, Florida
Time:   9:10 p.m.
Summary:    Marine Reserve Squadron  pilot was flying a T-39D Sabreliner with five Naval officer pilots on board on a TACAN instrument penetration training flight. They were at 25,000 feet MSL, approximately 300 mph indicated airspeed, (440 kts true air speed), in straight and level flight, and on a heading of approximately 255 degrees true. The flight instructor sitting in the right-front seat was the first to sight a single, round, red small area of light maintaining position at their 1:00 o'clock position and their altitude. The reporting witness said that everyone "…felt it was a UFO and generally were glad to have finally seen one." Its angular diameter was about the same as half a penny held at arm's length (approx. 15 min arc diameter). After receiving permission to deviate from the flight plan the pilot banked right about thirty degrees to fly directly toward the red light. After about a minute or more, now on the new heading of 270 degree, the red light suddenly and unexpectedly flew left directly across the nose of his airplane stopping abruptly at his 11:00 o'clock position where it remained for several more minutes. While maintaining this new position it never changed size, shape, or intensity,  Its edge was sharply defined and without any haze or blur. After about four or five minutes total observation time the light accelerated toward the West and was gone in about ten seconds; it became progressively smaller until it was no longer visible. Upon landing the witnesses all completed an "incident form" but never heard anything more about the matter.  
Source:  Richard Haines
---
Date: November 12, 1974: Hokkaido, Japan
---
Date:  mid November  1974
Location:   Near Castelleale Romagna Province Italy
Time:   1730
Summary:   The witness was attending to some animals in her farmyard when she noticed that some of the chickens and rabbits were acting strangely, running, and staring upwards. She glanced up and saw on top of the house at roof top height a "man" sitting on a box like object that was swinging back and forth apparently looking for something. The man was described as tall and heavy set wearing a shiny one-piece outfit with green, red, and white markings and large square boots. He wore a helmet with visor that covered his face. He appeared to be dark complexioned. The man sat on the object holding a rod like device rocking slowly to and fro. He then moved slowly towards the east where a vivid white light hovered. The witness saw the light and immediately felt a heat wave from it. The man then flew slowly towards a nearby cemetery followed closely by the bright light. He appeared to circle the area several times before disappearing from sight.
Source:  Gianfranco Lollino, FSR Vol. 32 # 4
---
Date: November 15 1974
Location: Cordova, AK
Time: 09:00
Summary: I WAS 14 YEARS OF AGE AT THE TIME OF THE UFO ENCOUNTER IT WAS A NICE MORNING I MISSED THE BUS FOR SCHOOL SO I WALKED TO SCHOOL IT WAS SUNNY IN THE MORNING WHEN I WAS WALKING IT HAD EARLIER SNOWED AND A FRESH POWDER WAS ABOUT A INCH DEEP IT WAS COLD OUT AND I WENT ON MY WAY TO SCHOOL IN RED TENNIS SHOES I COULD HEAR THE DRY SNOW SORT OF PACKING UNDER MY FEET WHEN I WALKED IT WAS DRY SNOW KNOW I PROCEEDED TO MY SCHOOL AND WHEN I WAS ABOUT 70% THERE I HEARD A SOUND FROM CORDOVAS DORMANT VOLCANO LIKE UP THE VALLEY THE SOUND WAS LIKE ICE BREAKING AND A STRANGE BUBBLING SOUND AND THEN THE SOUND OF LIKE A WATERFALL AND THEN IT STOPPED AND I DID NOT HEAR IT ANY MORE SO I PROCEEDED TO WALK ON AND THEN I SEAN IT THE BIGGER MOTHER SHIP IT WAS A LARGE UFO SAUCER CRAFT AT LEAST 80 FEET ACROSS IT WAS LIKE WHEELS IN WHEELS AND IT HAD WINDOWS AND A CRYSTAL DOME ON TOP OF IT DESCRIPTION IS THIS IT HAD A CRYSTAL DOME AND THEN A BLACK LINE HORIZONTAL BELOW THE BOTTOM BROM OF THE CRYSTAL DOME THEN BELOW THAT BRIM WAS A LITTLE WIDER SECTION IT HAD WHAT LOOKED LIKE METALLIC METAL DEEP SPACE TRAVEL SHIELDS PANELS THEN ANOTHER BLACK VERTICAL BRIM SKURT KNOW BELOW THAT WAS A WIDER PART HAVING SEVERAL ROUND WINDOWS THAT WERE ROTATING CLOCK WISE THE UPPER PANEL PART WAS MOVING COUNTER CLOCKWISE NOW BELOW THE WINDOW PART WAS ANOTHER SKIRT BLACK AND BELOW THAT WAS A MID CENTER FRAME PART IT HAD MANY WINDOWS AND WAS MOVING COUNTERCLOCKWISE BUT TO THE POINT WAS THE 70 TO 80 FOOT ACROSS LENGTH IM ESTIMATING AT A DISTANCE OF 360 FEET OR SO AT THE BOTTOM OF THAT THERE WAS A BRIM AND BELOW THAT THE PANELS SORT OV LIKE ON TO BUT MORE OF THEM THIS SECTION SKIRTED TWICE SMALLER FORMING ITS BOTTOM IT WAS A GOLD METALLIC LIKE SHIP WITH SILVER LIKE SHINE IT KEPT MOVING TOWARDS ME I WAS SCARED AND THE I LOOKED AROUND TO SEE IF SOME ONE WAS THERE AND OF TO MY LEFT WAS ANOTHER OBJECT IT HAD A CRYSTAL DOME IT HAD THE SPACE METALLIC PANELS BUT NOT MUCH SkirTING AND WAS MUCH SMALLER THE LIGHT HAD AN EFFECT ON ME MY HAIR FELT LIKE IT WAS STANDING ON END ALL OF A SUDDEN I FELT STRANGE I FELT LIKE I WAS BEING TAKEN UP AND THEN AS QUICKLY AS IT BEGAN I FELT LIKE I WAS BEING TAKEN BACK DOWN THEY WERE TRYING TO PUT THINGS IN MY MIND A OLD ALUMINUM PIE TIN I DID NOT BUY IT THERE HIPNOSES OR WHAT EVER IT WAS WAS NOT WORKING WITH ME I REMBERED ALL OV A SUDDEN IM STANDING SOME WERE EALSE AT LEAST 100 FEET FROM WERE I WAS BEFORE AND MY FOOT PRINTS ARE MISSING I LOOK AROUND AND THE SKY HAS CLOUDS IN IT KNOW ITS PROBLY ABOUT 1:00 KNOW 5 HOURS OV MY LIFE ARE MISSING YOU CANT STAND OUT SID IN ALASKA WHEN ITS COLD FOR FIVE HOURS WITH OUT GETTING COLD FEET AND HANDS MY HANDS WERE FINE I LOOKED UP AND THE LITTLE ONE WAS STILL THERE BUT THE BIGGER MOTHERE SHIP WAS GONE KNOW SINE OF IT I LOOKED UP THE ROAD AND SEEN A TEACHER AND YELLED TO HIM BUT HE TO SEAMED TO BE IN SOME KIND OF TRANCE ECCLES GRADE SCHOOL MAY HAVE SEEN THE CRAFT IT FLEW OVER IT SO I LOOKED AND ON THE ROAD WAS A GREEN CAR COMMING IT WANT BUY AND IT WAS REAL AND THEN THE OBJECT BEGAND TO DRIFT AWAY SLOWLY AT FIRST THE SCOUT SHIP HAD SOME KIND OVE RADAR DISH IN ITS DOME I COULD SEE IT IT WAS POINTET TOWARDS THE CORDOVA AIRPORT IT DRIFTED TOWARDS THE FOOT HILL LITTLE MOUNTAINS OF THE PRIANCE WILLAM SOUND AND THEN TILTED USING IT GEO MAGNETIC PREPOLSHION TO FLY AND REFRACT OF THE EARTHS MAGNETIC FIELD AND IT SPEED AWAY LIKE A BIG PERAIL NECKLACE BIB BIB SMALLER SMALLER ABOUT 36 DOTS INCREADABLE SPEEDS ABOUT 10 TIMES FASTER THEN A STEALTH FIGHTER THE SOUND IT MADE THE MOTHER SHIP SOUNDED LIKE ELETROMANETIC GENERATORS I PROCEED ONTO SCHOOL I WENT HOME FROM SCHOOL A TRYED TO TELL MY DAD BUT HE NEVER BLIVED ME HE THOUGHT I MADE IT UP IM 48 YEARS OLD KNOW THE TRUTH IS THE EVENT ACTUALLY HAPPENED AND I HAD TO LIVE WITH IT OH INTRESTING I SUFFRED SEVERE DIZZY SPELLS AFTER THE INCOUNTER FOR MONTHS SO BAD THAT I HAD TO HOLD ONTO THE COUCH BECAUSE I FEALT LIKE I WAS GOING TO FLY AWAY THAY ABDUCTED AND MORE THEN LIKELY DID ANIMAL LIKE EXSPEARMENTS ON ME THIS IS THE BEST I CAN TELL YOU I WAS HANTED BUY DREAMS OV LIZARD LIKE CREATURES WITH BIG EYES ABOUT 5 TIMES BIGGER THEN HUMANS AND SLENDER BODIES LIKE SHAVED CATS WITH BIG HEADS STRANGE VERY STRANGE BETTIE AND BARNIE HILL WE ARE KNOT ALONE I HAVE KNOW PROBLEM BLEAVING THEM
Source: National UFO Reporting Center
---
Date:  November 17 1974
Location:   Antigo Wisconsin
Time:   1330
Summary:   For several days prior to the weird encounter there were multiple reports of UFO sightings in Antigo. On Saturday night, Nov. 16 Mrs Eunice H, proprietor of a local bar and restaurant, had seen with her family a maneuvering light in the sky. Next afternoon while on duty at the bar, the witness saw a little man of strange appearance, 4 1/2 feet tall, enter the bar with a kind of "bouncing" gait; he motioned to her to come closer and addressed her in rapid English, saying, "You saw a bright light on Friday night." She corrected him, saying it was Saturday night, but he repeated his assertion four times. He was smiling throughout this rapid-fire discourse, showing "a mouthful of white teeth." His eye level was no higher than the top of the bar, and he wore dark glasses with inch-wide frames; he had a dark complexion, and shiny black hair. His jacket was loosely woven, "like burlap." He continued his monologue and said a meteor was supposed to have landed nearby, adding something unclear to the witness about "Medford," repeating the same name several times. He spoke so fast the witness was unable to follow what he was saying; on perceiving this, he threw his arms into the air and exclaimed, "And the whole world lit up!" He then wheeled about and stalked out of the door. By the time the witness had recovered from her surprise, the stranger had disappeared. She and several patrons in the bar had not heard any car drive away.
Source:  Art Koskela for Mufon & Cufos
---
Date:  November 17, 1974 Wyborg, Denmark
---
Date:  November 21 1974
Location:   Plattenville Louisiana
Time:   1730
Summary:   14-year old Lance Edwards was walking home at dusk when he saw two brightly luminous objects flying low over some nearby houses. He pursued them, running down a farm road, and came upon one of them resting on the ground at the edge of a woods. Its brightness dazzled him so that he had to cover his eyes; then, feeling like someone was watching him, he turned and saw a strange figure just behind him. He started to run, but ran right into the figure and was knocked to the ground. He picked himself up and took off, thoroughly frightened. The figure was small, reaching only to Lance's chest, but was stocky built; it had no neck, and had a "pushed in" nose similar to a Pekinese. The color of its skin was "bluish" like "a bruise." The youngster reported the encounter immediately to his father, who took him to the sheriff's office, where a complete report was made.
Source:  Sheriff Frank Theriot
---
Location. Minneapolis Minnesota
Date: November 26 1974
Time: evening
Mike Grivoski, a teenager saw a large orange luminous ball crossing the sky, ran for his Polaroid camera, and took a picture. His father also saw the object, which was as bright as the full moon. The picture, however, showed 5 small lights, each with a dashed trail leading across the picture. That night, Mike was awakened by the noise of someone in his bedroom; he saw a "creature" with heavy brow ridges, jowls, and large pointed ears, taking the picture out of a drawer. When he sat up, the creature dropped the picture & ran out the door.
Source: Mike Douglas & Kevin Randle
---
Date:  November  1974
Location:   
Time:   
Summary:   
Source:  
---
Date:  November  1974
Location:   
Time:   
Summary:   
Source:  
---
Location. Near Dallas Texas
Date: November 27 1974
Time: night
Dora Ellen Afelbaum, driving home in a new car at Thanksgiving, saw a light following her. She stopped the car and rolled down her window, thinking it may be a helicopter, but she heard no noise. The light then moved ahead of her and she saw what appeared to be dogs, then a "human like form," running toward the light. Suddenly the light, the animals, and the figure vanished. There were others cars on the highway but none stopped, and no one else appeared to have witnessed the incident.
Source: Letter from witness, Fate February 1977
---
Date:  November  1974
Location:   
Time:   
Summary:   
Source:  
Location: Nov. 28, 1974; Shabbona, IL
11:43 a.m. On a bright day with visibility limited to 6-7 miles due to haze, Hugo W. Feugen was flying his own Aeronca Champ aircraft from Dekalb to Mendota, Illinois, at 2,500 feet altitude with a compass bearing direction of 240 degrees to compensate for a cross wind. As he passed over the small town of Shabbona,, Illinois, he was checking his position on the aeronautical map that he held in his lap to determine if he was still on course with visual navigation to his destination of Mendota. When he looked up from his map, he noticed with amazement that the magnetic compass on the panel of his old Aeronca Champ number N82198 was rotating counter-clockwise at a rate of four or five revolutions per minute. He immediately became concerned for the radical behavior of his compass because this was one of the few instruments in the aircraft used for navigational purposes. He looked to his right side and saw nothing but the town of Shabbona below him. When he turned to his left, he saw an object flying parallel to his aircraft at the same speed (ground speed 75 to 80 mph) and altitude, pacing him at 120 degrees at an estimated one quarter of a mile distance. He described the object as being shaped like a disc or an ellipse. If it was one-fourth mile away, he estimated the size as 120 feet long and 30 feet thick. It appeared to be a solid object, white or dull silver in color, without any openings or protrusions. There may have been a depression on the top, but this angle was observed only for a brief second as it was departing. After pacing him for 8-10 seconds, while the compass continued to spin, the object tipped slightly and the pilot could observe that it was not an ellipse, but was round in shape. As it tipped up on an angle, it accelerated to a fantastic speed toward the east and was out of sight in less than one second. The pilot did not have his radio turned on, so there is no report of interference with radio communications. (From Skylook,89, MUFON)
---
Location. Rociana Del Condado, Huelva, Spain
Date: November 29 1974
Time: night
At the local "Finca El Condesito" while investigating numerous and strange phenomena in the area, including strange spheres hovering over fields, bizarre voices, strange fleeting figures inside houses etc, investigator Julio Marvizon photographed in infrared camera a strange humanoid head and face that did not correspond to any of those present at the time. The face is shadowy by with large dark eyeholes and a nose.
Source: Iker Jimenez, Encuentros, Historia De Los Ovni en España
 Date:  November  1974
Location:   
Time:   
Summary:   
Source:  
---
Date:  November 30 1974
Location:    Crosscourt Oise France
Time:   1810
Summary:   After dark, Jacques M. was driving a car following that of Pierre Errecoundo and Maggy Carof, on a saucer hunting expedition. He looked up to see, in the light of his headlights, a man at least 8 ft tall standing by the roadside. This being was all milky white, as if wearing a tight white coverall, and his round head was without hair or features. Panic-stricken, Jacques, drove on past; then, thinking better of it, he turned around and drove back, and returned over the same course; but he saw nothing more of the being. Meanwhile Pierre, noticing that Jacques, was not following him, had gone back to look for him. He saw a white headlight beam and a red light pass, apparently on the road, but silently, and disappearing before reaching the intersection. Then Jacques car showed up. On comparing notes and retracing his path, it was found that Jacques could account for only 8 minutes of the 10-11 minutes he had been absent. He was therefore questioned under hypnosis. He now said that he had got out of the car and watched the being for 3.5 minutes, and had felt that he was benevolent. He said also that there had been a big yellow-white light in the field, which "quickly disappeared." The being suddenly vanished, after which the witness returned to his car and to his memory.
Source:  Maggy Carof & Jean Luc Rivera
---
Date:  late November  1974
Location:   Crosscourt Oise France
Time:   0130A
Summary:   Ms Henault, a house cleaner, was driving her car from Beauvais to Gournay on Route N31. A few km south of Grosscourt she observed, at the side of the road, a human like figure dressed entirely in white, raising his arms as thought he were hitch hiking. Even his feet were white. He was of normal size, and the witness passed quickly by, wondering what someone in "white pajamas" was doing at the roadside at hat hour of the morning.
Source:  Maggy Carof & Jean Luc Rivera
---
Date:  November  1974
Location:   
Time:   
Summary:   
Source:  
Related articles