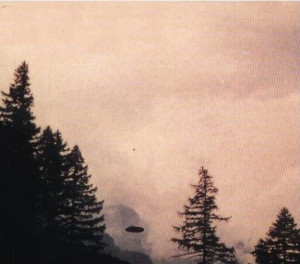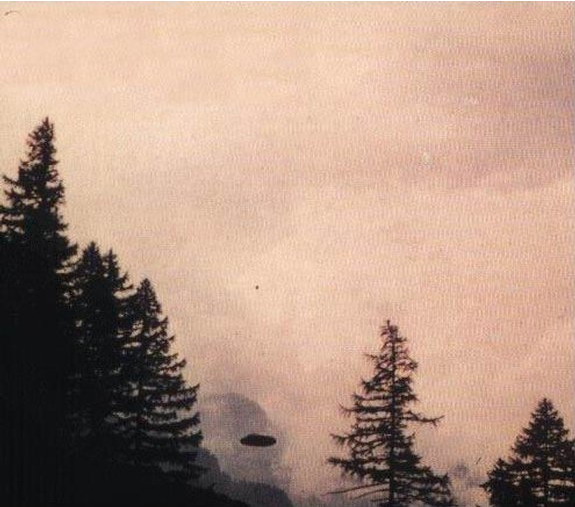 (Last Updated On: January 25, 2017)
Date: July  1975
Location:  Near Radium Hot Springs, British Columbia Canada
Time:  late evening
Summary:  A man driving near the location saw a large silvery disc shaped object with rectangular windows on its side and bright lights shining down. A low swishing sound could be heard, through one of the windows a shadowy figure could be seen moving around. There appears to have bee some missing time reported.
Source:   John Brent Musgrave, UFO Occupants & Critters
---
Date: July  1975
Location:  Gibsonia Pennsylvania
Time:  night
Summary:  Witnesses saw an eight-foot tall creature with large green eyes peering into the window of a trailer. Claw marks were found high on the screen door and 3-toed footprints were found near an abandoned tunnel in the area. No other information.
Source:   Paul G Johnson & Joan L Jeffers The Pennsylvania Bigfoot
---
Date: July  1975
Location:  Near Logan, Ohio
Time:  night
Summary:  The witness (involved in other encounters) saw a huge ship land in a field near the road. Going to investigate he saw 3 huge metallic cylinders holding up the craft. A 7-8 foot tall silver robot looking creature was apparently standing guard at the bottom, at about 20 ft from the base of the craft; it was too dark to see any other details. It had very bright lights on the top. Later that night as the witness chased his dog along a mink trail he heard a loud humming noise and turning around saw a softball size sphere hovering a foot from his face. He collapsed and only remembers seeing the sphere zigzag away at high speed.
Source:   UFORCE Journal
---
Date: July  1975
Location:  Buckland, Tasmania
Time:  06:45
Summary:  An object followed a car driven by a twenty year old man, at a steady eighty km/h. It was described as a round, brilliant glow, of orange and yellow colour, which lit up the surrounding countryside. His car radio appeared to go down in volume for a while.
Source:  TUFOIC
---
Date: July  1975
Location:  
Time:  
Summary:  
Source:  
Location. New Salem Pennsylvania
Date: July 1975
Time: late night
The witness heard a loud noise in the woods across from his house. He looked down into the woods and saw two very large red eyes staring back at him, at first he thought it was a deer but then realized that they were too high up, and heard what sounded like long slow breaths. Grabbing a flashlight he shone into the woods but saw nothing. Strange tracks were found.
Source: BFRR
---
Date: July  1975
Location:  
Time:  
Summary:  
Source:  
Location. Sao Vicente, Brazil
Date: July 1975
Time: 2300
70-year old Jose Edigio Vieira was walking with his 13-year old nephew had just finished delivering bread and were walking their horses to a pasture when suddenly a big light appeared in the sky, frightened and thinking that it was a "flying saucer" both men ran and hid behind some bushes. The object lit up the whole area and resembled two plates, one upside down on the other. It kept going around and around in small circles only about 12 to 15 meters above the men. It emitted a whirring sound like a fan, and it shone a greenish light down from its center. It stayed for half an hour or more and then it went away. When Jose and his nephew thought it was safe they went back home arriving at 0030A. The next day Edigio woke up sick with symptoms of jaundice, and shortly after went to the hospital. He died in the hospital 15 days later. The diagnosis was hepatitis.
Source: Bob Pratt
---
Date: July  1975
Location:  Tasman Highway near Hobart airfield, Tasmania
Time:  9:30 PM.
Summary:  On a cold dark clear night [this is Tasmanian winter], a family of four was driving home. The car became hot; the interior of the car that is. The engine then stalled, and they rolled to a stop. Although there was no smell in the air, the family felt that they could taste something like "gas'. Then they saw an object hovering over the road ahead. It seemed 200-300 meters distant and 20 meters high. It looked round and colored white/gray but metallic, and having its own irridescence  or glow. The diameter was very near road width, perhaps 5 meters. Everyone was scared. They stared at the thing for two minutes. It may have had some narrow appendage extending below, but nothing related to that happened. Suddenly, in a spiralling take-off, the object rushed away to the south at great speed. The husband happened to be a car mechanic, and he lifted the bonnet and made an inspection. Nothing was wrong. He got back in, started the car, and they went home without incident. The object still seemed to be in the sky for several more minutes as a diminishing light.
Source:  Keith Roberts case file, CUFOS files; and thumbnail sketch of case, probably also by Roberts, in ACOS Bulletin, December 1977
---
Date: July  1975
Location:  
Time:  
Summary:  
Source:  
Location. Near Toronto, Ontario, Canada
Date: July 1 1975
Time: 1600
The 8-year old witness remembers riding with her family to a nearby lake and being followed on the way back by some type of flying object. She remembered that as they pulled in the front yard of their farmhouse they found the "ship" on the ground, apparently resting on 4-leg like protrusions, the object was gray metallic in color and had a sphere on top. It had a peculiar door or hatch in what the witness described as in the shape of a "lions head". She saw the hatch start to open and her family began exiting the car. Her memory apparently ended at this point, and her next recollection was of driving with her family and all happily singing as if nothing had happened. Apparently no hypnotic regression has been attempted.
Source: NUFORC
---
Date: July  1975
Location:  
Time:  
Summary:  
Source:  
Location. Between Kailua-Kona & Keauhou, Oahu Hawaii
Date: July 2 1975
Time: 2355
Two men, Neil and John were bar hopping from one hotel to the next on Alii Drive when as they drove around a bend they saw a "maiden" with long black hair, dressed in a black and red "mu'umu'u" (native dress) walking in front of their car. No street lights existed in that remote area. The woman appeared to be walking in the middle of the road, away from vehicle, with her back in view. But her feet nowhere in sight. It was if she was floating gracefully just above the road. Neal felt the hair on the back of his neck start to rise, so he slowly, carefully drove around her and passed her. John, unaware of the legend of Madam Pele, wanted to stop to pick her up. Neal warned him not to stop and not to even look at her. They drove away from the area. Three nights later on July 5 1975, Mauna Loa, after approximately 25 years of rest, erupted.
Source: Rick Carroll, Hawaii's Best Spooky Tales
---
Date: July  1975
Location:  
Time:  
Summary:  
Source:  
Time: July 4, 1975; Fairfield, NJ
Cessna 150 pilot & large oval object
---
Date: July  1975
Location:  
Time:  
Summary:  
Source:  
Location. Kentucky, exact location not given
Date: July 4 1975
Time: night
Nine teenagers were at a campground when Debbie and Nan Kitley ages 16 and 17, had gone back out to their pickup truck to talk on the CB radio. The lights on the truck and the CB radio went dead when four bright lights descended over them. They both had a memory lapse about what happened next.
Source: Thomas E Bullard, UFO Abductions: The Measure of a Mystery Vol. 2, citing 1984 Mufon UFO Proceedings
---
Date: July  1975
Location:  
Time:  
Summary:  
Source:  
Time: July 4, 1975; Parsippany, NJ
12:05 a.m. A college student and friend were on their way home when they observed a huge oval-shaped object approximately 60 to 80 feet in diameter at about 75 feet in altitude. The object traveled in a southwesterly direction and passed directly over the witnesses' automobile. The object was moving slowly at approximately 5 mph. The object had red and green lights at each end of the object. After the couple had observed the object for a few minutes they noticed a bright white light emitting from the bottom of the object which appeared to be sweeping the area below. The witnesses observed the object for approximately 8 minutes when it took no longer that a second for the object to whiz off into the sky. The object made no sound. (Reference: UFO INVESTIGATOR, September 1975, pages 1-2)
---
Date: July  1975
Location:  
Time:  
Summary:  
Source:  
Time: July 6, 1975; Wilkes-Barre, PA
BAC-111 crew encountered daylight disc
---
Date: July  1975
Location:  
Time:  
Summary:  
Source:  
Location. Mount Pleasant Ontario Canada
Date: July 6 1975
Time: daytime
Tobacco farmer Joseph Borda saw a shiny dome shaped object sitting in his field and assumed it was a tank truck spraying his crops. Two days later he discovered that all the tobacco plants in a 20 feet circle had been damaged and burned. Investigators found a bluish tint like substance on the field and found out that it was an oily silicon base substance of unknown composition. Mr. Borda had not reported to police right away and was surprised to see a black limousine with Arizona plates arrive at his farm and proceed directly to the damaged area without stopping for permission. Upset he followed the limo and found three strange men @ the site gathering samples. When he asked what they were doing he was told to return to work, to mind his own business. Strangely, he meekly agreed, and returned to his work without argument.
Source: UFO Joe
---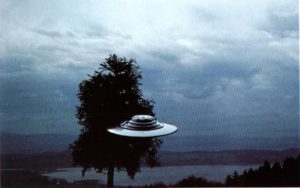 Date: July 9 1975
Location:  Fuchsbüel-Hofladen/Balm/Wetzikon Switzerland
Time:   15:11
Summary:  
Source:  
---
Date: July  1975
Location:  
Time:  
Summary:  
Source:  
Location. Ewloe, Clwyd, Wales
Date: July 10 1975
Time: early afternoon
Mr. And Mrs. Taylor were returning home from the holidays driving through the countryside close to the English border. The roads had been quiet as they rounded a corner with tall hedgerows topping a steep embankment on either side of the curb. Suddenly they spotted a figure, which had apparently just clambered down the embankment. It was facing away from the road, but swiveled slightly to look at them with a startled face as they drove past. At the same time it seemed to pick something up from the roadside. This entity was considered unusual because of its great height. It was at least 6 feet 6 inches tall; probably more than 7 feet, and it wore a one-piece silvery suit and a balaclava-type helmet. The face looked human enough, but the stare was mechanical.
Source: Jenny Randles, Peter Warrington "UFOs, A British Viewpoint"
---
Date: July  1975
Location:  
Time:  
Summary:  
Source:  
Location. Marlborough Connecticut
Date: July 10 1975
Time: 1900
The witness and her family had just finished dinner when she noticed through a large picture window, approaching red and green lights coming in their direction. She noticed about five or six set of lights, resembling police lights. They all went outside and saw a huge round hovering, silent object over some trees n their farm. A white light shone from the bottom of the object on a tree below. As the witness father attempted to approach the object, eight huge green Xs lit up in its middle, possibly meant as a warning to stay away. A faint sound could now be heard. The witness remembers seeing windows on the object at the front, about ten or so. Inside she was able to see several human like figures looking out. Her next memory was of sitting in the living room watching TV.
Source: NUFORC
---
Date: July  1975
Location:  
Time:  
Summary:  
Source:  
Location. Highdown Hill Sussex England
Date: July 12 1975
Time: unknown
Four witnesses walking up a footpath on the hill saw a disc shaped craft land nearby. A gray figure with a large lemon shaped head then appeared. As the witnesses approached the figure, a red shiny beam of light hit one of them, he screamed in pain and fell to the ground. He recovered quickly then all the witnesses fled the area. Some glowing powder is said to have been found on the ground.
Source: Norman Oliver, Quest UFO Magazine Vol. 11 # 6
---
Date: July  1975
Location:  
Time:  
Summary:  
Source:  
Location. Dunedin, New Zealand
Date: July 12 1975
Time: 1250p
"Richard Williams" and three of his friends, Pat S, Nancy T, and Ross K were having lunch together at a coffee bar called "Stewarts" located on the south side of Dunedin's Octagon. On that day the weather was cold and damp and all of the participants were feeling a bit under the weather, with headaches, etc. They sat around the table located opposite the stairs and quietly ate their lunches. All of the sudden time stood still. The noisy and busy coffee bar occupied by about 80 people turned into an absolutely silent place where everything froze. It looked like a still frame from a movie film. People were twisted in strange positions, frozen whilst performing movements. Their bodies looked comic and their positions seemed to be very unstable. Richard remembered a cloud of steam suspended motionlessly in a dynamic configuration above the expreso machine. He also remembered a waitress pulling out burning hot cakes from the oven, and sustaining their heat in the motionless hands. In the whole café only the four of them seemed to remain non affected, thus having the occasion to observe what actually happened. At the top of the stairs that led down to the coffee bar from street level an unusual man appeared. He was about 1.75 meters high and looked about 19 years old. He was dark, slim, thin, with olive skin and black wavy hair. His clothes looked normal, but displayed high taste and elegance. Everything about him looked strikingly perfect. The man was surrounded by a beautiful white glow, especially around his head and chest. The light seemed to be emitted not from him, but from the air that surrounded him. He glided down the stairs without moving his legs. He actually floated in the air slightly above the level of the stairs. Then he moved to the counter and stood first in the queue. As soon as he got there, everything started to happen normally again. People continued their actions from the point when they were suspended in motion. Everything looked as though nothing had happened. The man bought a glass of fruit juice and sat at the last free chair left at a 12-person table. He acknowledged the witnesses attention with a smile. They wanted to talk to him and find out more about his unusual arrival but there was no access to his chair. So they decided to leave the coffee bar and wait for him upstairs at the only way out. After about 5 minutes waiting and not seeing him pass, Richard went down to find that he was gone. There was no other exit from the coffee bar. The group was then surprised to find that their various ailments, which included, flu, migraine, etc were gone. About six weeks later they spotted him again. He stood at the top of the stairs, (at the same coffee shop) intending to enter the café. He moved his head in their direction in a kind of greeting. His clothes were the same, except that this time he was surrounded by a faint green glow. When he appeared nothing actually happened. He walked down as normal people do (his steps somehow lighter than normal humans) unnoticed by anyone but the witnesses. He again bought a glass of fruit juice and again sat in the same place. A few times he acknowledged their attention by a friendly look. This time we decided to interrupt him and to find out who he was. They wanted to stand up and come closer, but none of them could move. When finally they managed to stand up, they directed themselves out of the coffee bar seemingly against their will. Pat desperately tried to turn back to the stranger but her efforts failed. After a while Pat decided to return back to the coffee bar, only to find out hat he had already gone. They never met him again.
Source: Jan Pajak
---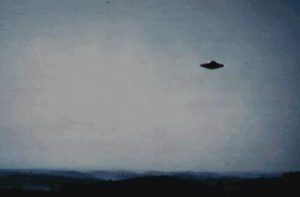 Date: July 12 1975
Location:   Berg-Rumlikon Switzerland.
Time:  10:30
Summary:  
Source:  
---
Date: July  1975
Location:  
Time:  
Summary:  
Source:  
Location. Near Lemastre, Ardeche, France
Date: July 14 1975
Time: 2200
17-year old Eric Darnaud and a friend were walking near the village when they saw a dark silhouette going towards Lemastre. It had a dark human form and appeared to be wearing a robe. The entity appeared to be gliding just above the ground and at one point changed colors to white. Terrified both witnesses see the figure return and come in their direction, always gliding. Both run to the village and bang on several doors, which remain closed. Later they saw a round red-orange luminous form rising into the sky leaving a trail of smoke.
Source: Figeut/Ruchon, Ovni Dossier
---
Date: July  1975
Location:  
Time:  
Summary:  
Source:  
Time: July 14, 1975; Washburn, ND
12:30 a.m. A college administrator and his wife sighted two unknown objects. The objects were highly-illuminated in white light which pulsed intermittently in an irregular pattern. The bar shaped objects moved in arcs across the sky almost directly overhead and traveled in a southwest direction. The second object passed the first then seemed to move straight out of view. (Reference: UFO INVESTIGATOR, October 1975, page 3
---
Date: July  1975
Location:  
Time:  
Summary:  
Source:  
Location. Suva Viti Levu Fiji Islands
Date: July 19 1975
Time: daytime
A group of students at a school in Suva claimed that they saw eight hairy little Dwarfin (Dwarfs) in the reeds near the Latoka Methodist Mission School. The beings, about two-foot high, were covered with black hair and had white, gleaming eyes; they ran off into the bush when the children approached, disappearing mysteriously in a pit and leaving no traces. The children's excitement brought teachers and other adults, but they stuck to their story. They ranged in age from 10 to 14. One of the children, Ruci Murioubu, 11, said, "I saw his white, gleaming eyes and black hair. I was frightened." Stories of the islands ancestors described "little men" living in Fiji when the islands were first settled.
Source: Humcat quoting newspaper source
---
Date: July  1975
Location:  
Time:  
Summary:  
Source:  
Time: July 20, 1975; Williams AFB, AZ
An orange-red metallic disc flew past a plane flying near Williams Air Force Base. The plane was being flown by a man named Royce. It disappeared at great speed. (Source: Dominique Weinstein, Aircraft UFO Encounters, p. 39; Saga UFO Report, July 1977, p. 37).
---
Date: July  1975
Location:  
Time:  
Summary:  
Source:  
Time: July 20, 1975; Bay Village, OH
10:00 p.m. On this cloudy evening an enormous disc-shaped object shot huge beams of energy at four witnesses. It was estimated to be at an altitude of one thousand feet and made no sound. It also reportedly had legs or landing gear. (Sources: Center for UFO Studies case files, report dated August 5, 1975; FSR, April 1976, p. 24).
---
Date: July  1975
Location:  
Time:  
Summary:  
Source:  
Location. Near Rialto, Savona, Italy
Date: July 21 1975
Time: afternoon
Following some sort of telepathic command, 17-year old Anna Mazzanti (involved in previous encounters) responded to a field outside of her family's country home. There she saw a landed silvery metallic domed craft. A door on the craft opened and six bizarre looking humanoids somewhat resembling humans stepped out. The humanoids had large onion-shaped heads, green colored skin with areas that appeared to be phosphorescent. They had large black slanted eyes, lipless mouths, and two small holes where the nose would have been. The humanoids were about 1.70 to 1.80 m in height and possessed four digit hands. They all wore tight fitting silvery uniforms with knee high boots. In a very friendly manner the aliens approached Anna and invited her onboard their object. Inside the object a strange environment confronted Anna. She found herself in a vast room, far larger than it had appeared possible by looking at the object from outside. The whole room was encased in a bluish glow. In the center of the craft she saw a round "table" with a large lens-like apparatus in the center. The aliens told her that the table was an "astronomical table" that they used in their interplanetary and intergalactic travels. They told her that they were from the star cluster known as Antares. She saw in what appeared to be the control or command console a transparent cupola and numerous equipment with multicolored flashing lights. She was then transported to a "mother-ship" in which she walked on a very long gray "road". She was eventually returned to the same field where she had originally encountered the object.
Source: Revista Ovni Portugal, December 1978 quoting Massimo Ferrante "Odisseia 2001"
---
Date: July  1975
Location:  
Time:  
Summary:  
Source:  
Location. Pedrosa del Rey, Valladolid, Spain
Date: July 21 1975
Time: 1900
Farmer Emiliano Velasco Baez was working his fields on his John Deere tractor in an area known as Parcel 21 when suddenly a strange sound attracted his attention. Thinking that the motor had been damaged he was about to stop the tractor when he saw only about 20 meters away from and hovering about 80 cm from the ground, a very bizarre looking object. The craft then began to slowly turn towards the witness at this point he was able to observe it in detail. He described it as a metallic cylinder with a sombrero shaped cupola on top, and a V-shaped support on the bottom. He saw what appeared to be a window and a door on the object. The objects trajectory took it to only about 3 meters from the witness. At this point a deafening whistling sound invaded the area. While performing one of its turns the witness felt and saw a beam of light that apparently struck him and his tractor drilling a perfectly round hole on the rearview mirror of the tractor. Now somewhat scared Emiliano accelerated his tractor and quickly drove away from the area. Years later after suffering from numerous ailments that only began to afflict him after the encounter with the unknown object Emiliano Velasco Baez died. His wife always attributed his death to the UFO encounter.
Source: Iker Jimenez, Encuentros, Historia de Los Ovni en España
---
Date: July  1975
Location:  
Time:  
Summary:  
Source:  
Location. Near Ozhogino, Moscow Russia
Date: July 21 1975
Time: 2230
18-year old Anatoliy Malyshev observed the landing of a disc-shaped object in a glade near the above village. The object was about 13 m in diameter, 4m in height). Three human looking entities (2 males, one female) got out of the object and took him aboard. The entities were very human like, 1.65 – 1.70 m in height. The alien woman had blue eyes, she was very beautiful. The witness was medically examined and taken to the aliens' home planet that he was told was approximately 3 light years from Earth in open space. The planet was supposedly artificially or "terraformed". The planet was surrounded by artificial sources of light (about 3) and had an artificial environment. The aliens told Malyshev that they wanted him to work for them, since his health was very good, but he refused to stay and was returned back. He was given a meal before he was returned to Earth. He reportedly observed 2 other representatives of different alien races on the artificial planet, one was a black skinned giant about 3 m in height, and small Dwarfin (Dwarfs), resembling the typical "grays".
Source: Mark A Milkhiker, & Anton Anfalov
---
Date: July 22 1975
Location:  Near Machynlleth Powys Wales
Time:  1700
Summary:  Trevor, a young boy, on vacation with his family in Wales, wandered alone to the top of Wylfa Hill. At the top, he saw, some 50 feet beyond the ridge, an object, apparently sitting on the ground. About 40 feet wide, it was comprised of a 7-foot round base and surmounted by a clear plastic like hemispherical dome. Large round lights about 5 ft in diameter were spaced evenly around the base, about 7 of which were visible, shining in colors that were strange to the boy; each seemed to be recessed into the silvery, metallic base. Clearly seen within the dome was a 7-foot tall, 15-foot wide, metallic unit; no knobs or dials were visible upon it. Two "jelly like" entities were seen next to the unit, one on this side and the other on the far side. These forms were approximately 7-foot tall, of a whitish translucent color, amorphous like and constantly changing shape. Inside of each form were hundreds of 6-inch, white disc like forms, similar to donuts. From the internal motion of these discs, it appeared as though the central portion of the forms remained inactive. After about 25 seconds from the moment he first saw the object, the boy observed a 7×7 foot panel extend outward to the ground on the extreme right hand side of the base. At the same time, one of the two jelly-like forms began moving downward toward the opening, as if through a duct or unseen passageway. Terrified the boy fled the hill, running in search of his father, yelling, "You won't believe me-come on!" He then turned around and ran back up the hill; his father remained where he was. At the hilltop, Trevor now saw that the panel had disappeared and the two forms were again in their original positions next to the panel. The lights on the base, and another in the apex of the dome, began blinking faster and faster, taking on the colors of the landscape beyond. These "colors" began to envelope the entire object and thus it gradually disappeared from view in place by merely blending in with the natural background. When the boy rejoined his father, the two of them returned to the site but there was nothing to be seen, nor were there any traces at the landing site. In subsequent days & weeks, the witness suffered from a series of physiological & psychological problems and was eventually given psychiatric counseling.
Source:   Andrew Collins, Barry King & Graham Phillips
---
Date: July 25 1975
Location:  Bearsted Kent England
Time:  1300
Summary:  The witness was out hanging her laundry when she noticed a strange metallic object hovering high over the area. The object suddenly descended and hovered above a clump of trees at a nearby garden. The object was described as top shaped with two large portholes. Two men like figures were seen behind the portholes. They could be seen from the shoulders up and seemed to be dressed in silvery outfits and helmets. The men appeared to be operating some controls. They were described as being of fair complexion and with large staring blue eyes. The witness ran inside to alert additional persons but the object and its occupants were already gone when she came out with her husband.
Source:   Patricia Grant, FSR Vol. # 5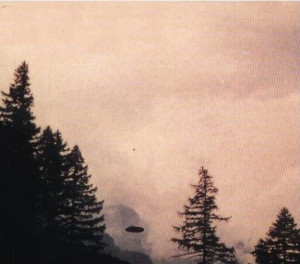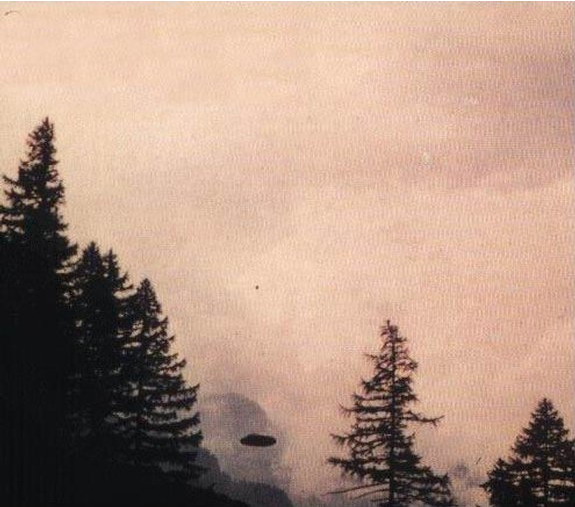 ---
Date: July 26, 1975
Location: Saas-Fee, Switzerland
Time:
Summary:
Source: 
---
Date: July 28 1975
Location:  in the mountains of Sierra Aitana, Spain
Time:   6:00 a.m.
Summary:  A radar installation in the mountains had a close encounter with a dark gray football-shaped UFO. The object was described as the size of a Sabre jet (about 12 meters in length) with well defined edges. It was metallic and appeared to have what looked like rivets. It was first seen at a distance of 150 meters, and moved horizontally toward the witnesses. It made a noise like an electric motor. 
Source:  UNICAT database, case 588, citing Vicente-Juan Ballester Olmos, Lanib, July 1986
---
Date: July 31 1975
Location: Loxton South Africa
Time: 0750A
Summary: Danie Van Graan walked across his land & came upon what he first thought was a "caravan," but as he came closer he could see that it was an oval shaped object with rounded windows. Inside he could see four humanoids 5 ft tall, with very long faces & high foreheads, and fair hair. They all wore cream-colored coveralls with hoods, which were off their heads. One of the men was holding an instrument of some kind; another was near an instrument panel with little triangular lights. The witness heard a pulsating humming sound. As he approached, a flap near one of the windows opened with a bang; and a beam of light shone in his face, causing his nose to bleed. After 10 minutes the humming sound became louder and the craft took off. The landing marks found at the scene were four equidistant and one in the center in which the witness found a green putty like substance which was analyzed by the South African Geological Survey Department. At the landing site nothing would subsequently grow. The witness also found footprints. The witness has suffered from double vision ever since the incident.
Source: Joe Brill & Cynthia Hind
---
Date: End of July  1975
Location:  St. Dizier, France
Time:  2100
Summary:  In an area of the city called "La Noue" benefiting from some excellent weather local housewife, Carmen B had gone out to her backyard to hang some of the linen when suddenly a powerful white light, circular in nature encircled the whole garden. The woman remained in the center of the luminous circle and remains stunned. Everything is silent. The light forms a circular very compact wall, and through it the witness is unable to see anything. The light does not appear to cast any shade. Mrs. B feels paralyzed and suddenly without hearing any noises feels a presence behind her. Still able to turn her neck she turns and sees a strange figure standing no more than 50 cm from her. The figure's size does not reach over 1meter in height. It is motionless and stares intensively at the witness. Its glance seems hypnotic, and has strange eyes, without lashes or eyebrows, nor eyelids and without any irises. The small being is dressed in a kind of one-piece combination suit that also covers its head with a khaki colored hood. Its body is well proportioned, with arms somewhat longer than normal. The head appears larger and egg shaped. The witness only remembers vaguely that the hands were also long. The eyes are a brilliant yellow in color, which appear to glow. The witness appears to be in the total control of the strange figure. Suddenly the witness is able to move and runs into the kitchen, passing through the opaque wall of light without interference. Still trembling she tells her husband which runs outside but everything had disappeared.
Source:   Raoul Robe Regional Catalog, Groupe 5255
---
Date: July  1975
Location:  
Time:  
Summary:  
Source: