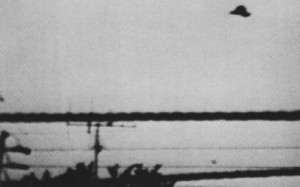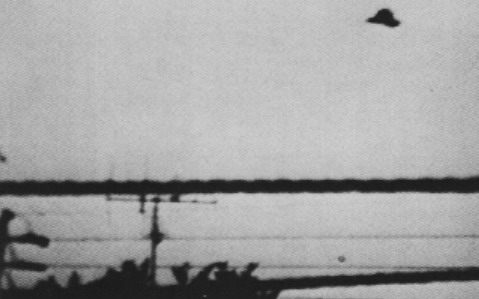 (Last Updated On: January 25, 2017)
Date: October 1975
Location: Milton Kentucky
Time: unknown
Summary: Witnesses reported seeing a giant lizard man type humanoid roaming the woods near an automobile junkyard. It was described as having, a foot long forked tongue, and big eyes that bulged something like a frog's. It was dull white with black and white stripes across its body with quarter size speckles over it. The creature was reported to have run bipedal.
Source:Mark Opsasnick & Mark Chorvinsky Strange Magazine # 3
---
Date:  October 1975
Location: Grey/Belle-Vaivre Forest Haut Saone France
Time: 0100A
Summary: Returning to his car, the witness was walking through the Belle-Vaivre Forest when he had the feeling someone was walking quietly nearby. A companion, whom he believed was playing tricks on him, had preceded him. He turned his flashlight in the direction of the footsteps, calling out, "Cut it out, I can see you." What he actually saw in the flashlight beam was a pair of legs, clothed in a tight fitting material, smooth, and dark green or black in color. They were taking large, sideways steps, gliding smoothly across the ground. Although the witness raised the light beam higher, he was unable to see anything more of the body above the legs than a rather diffuse shape, rather like the lights of a car on a layer of fog. The legs crossed the pathway and disappeared. The witness, normally a composed man, felt a particular calmness while the legs were in view; he believed their appearance had a kind of tranquilizing effect upon him. When he reached his car he said nothing about it to his friend, who had apparently not seen anything unusual. The witness saw no UFO, associated with this experience, but he had seen a UFO several years earlier.
Source:Joel Mesnard & Jean Marie Bigorne
---
Date:  October 1975
Location: Los Baños California
Time: 0100A
Summary: Two men driving outside of town spotted an orange glow ahead, as they drove by the area the orange light began following the car. The witnesses stopped the car to watch and could see that the light was an orange plate shaped object. The witnesses attempted to leave but the vehicle would not start. The object then shot a beam of light from its bottom and what appeared to be black "shapes" floated towards the ground within the beam. Moments later the two men heard noises from a nearby field and saw some figures approaching. A loud screeching sound was heard and a huge black creature with bat like wings suddenly jumped up right next to the car. The being walked around the car and looked at the witnesses, who reported that it had a flat ape like nose, it began jumping up and down making loud squealing noises. As a truck approached the creature spread its wings and flew straight up, it then circled the area then left still making a loud screeching sound.
Source:Peter Guttilla, UFO Report Sept. 77
---
Date: October 1975
Location: Rockville Maryland
Time:  0300A
Summary: The 18-year old witness was sound asleep when he became aware that he was suddenly above the house, looking down. He could clearly see the street, the top of the street light and the trees. Moments later he looked up and could see a brightly polished hull of a classic flying saucer, not four feet away. There was no transition of going in, he was just suddenly inside, there was someone at each side, holding his arms and guiding him past a storage area on his left and further on past a fully uniformed air force officer. He appeared to be in his late 40's or early fifties, with dark hair, and seemed to be very angry at something—possibly at the fact that the witness was still conscious. He did not speak to the witness directly but was yelling at the others. He was then led (floating?) around the perimeter of the craft, for it was round inside, and there was a low railing around the sides that cordoned off the lower center section, which was entered via one or two steps. This was a medical facility there was an operating "table" in the center with equipment of some sort around it. Suddenly he was on the table, and there were at least 3 maybe 4 doctors in scrub gear surrounding him and surgery commenced. The "doctors" appeared to be performing surgery on his head, he felt his whole head being opened up somehow and got a sense that his very brain nerves were being probed. However he felt somehow detached from the whole operation, he seemed to be outside his body and began to float off into a dark corner to cower in fear, while he watched them work. He could see 3-6 people silhouetted around the table, and decided to just wait it out. His next memory was of waking up in the morning, completely aware of what had taken place. (The witness thinks he was abducted twice after the first incident).
Source: NUFORC, Unknown Country March 24 2004
---
Date: October 1975
Location: Saint-Ours, Quebec, Canada
Time: 1700
Summary: The witness, M Arseneault was walking on a field with his dog when he suddenly heard a terrific noise; he felt a strong displacement of air above him and looked up to see a bizarre winged or bird-like creature with huge pointy claws. His dog became mad with range and ran in circles. The winged "bird" was totally black in color and glided over the witness at high speed quickly disappearing from sight. The witness suffered from headaches and eye trouble soon after the incident.
Source:Marc Leduc, CASUFO
---
Date: October 1975
Location: Salt Lake City Utah
Time: late afternoon
Summary: The witness had just arrived at his apartment and had sat down to do some relaxation exercises. As he closed his eyes he became enveloped by a very strong sound in his mind; he felt as if every cell in his body was vibrating. He opened his eyes and found himself standing next to an enormous pyramid. He felt an unusual calm and felt at peace. He began walking around the pyramid and noticed that it was completely smooth. There was a bright sky filled with stars above him. He then arrived to a second structure that resembled a large flattened ball. He walked up to the building and felt compelled to walk right through its walls. He found himself in a large brightly lit room. The walls, floor, and ceiling appeared to be made out of thick glass. Ahead of him stood a group of human like individuals both male and female. They were described as very beautiful and Elegant Humanoid in appearance. These beings communicated telepathically with the witness and somehow made him understand their origin and purpose. They guided him across the room to a specific area on the floor. Out of the floor rose an elliptical glass like shaft and as the witness stared into it, many different concepts began passing through his mind. After a few moments the witness found himself sitting back on his sofa.
Source: Chuck Manetta computer network, quoting "Summum"
---
Date: October  1975
Location:  
Time:  
Summary:  
Source:  
Location. Walnut Creek California
Date: October 1975
Time: night
Independent witnesses encountered what was described as a fearsome winged gargoyle-like creature that at one time was seen perched on a tree and was later seen perched on a roof of a house. It had huge gray wings and was able to glide silently without flapping its wings. It was taller than a man and had a very wide upper torso. It also has a 15 ft wingspan and dwarfed a nearby eucalyptus tree as it flew over it.
Source: Peter Guttilla, The Bigfoot File
---
Date: October  1975
Location:  
Time:  
Summary:  
Source:  
Location. Near Narvik, Norway
Date: October 1975
Time: 2330
The witness was driving on a local overpass when an oval shaped craft descended overhead. The vehicle motor engine stalled. Looking up at the window the witness saw inside an illuminated window a human-like figure that appeared to be beckoning towards him. After a few minutes the object left, and the witness was able to re-start the vehicle.
Source: UFO Norge
---
Date: October  1975
Location:  
Time:  
Summary:  
Source:  
Location. Uintah County, Wyoming
Date: first week of October 1975
Time: after dusk
During a rash of bizarre cattle mutilations in the area a deputized rancher was traveling on a dirt road in his own pickup, equipped with radio, rifle and shotgun. Suddenly, a dark green helicopter swooped down and began to pace the pickup. The chase accelerated to 90 mph, and still the chopper was there beside the truck, almost on the ground with it. The rancher could see a patch or covering on the side of the craft—as though markings underneath were being concealed. And in the "chopper" a pilot and two passengers, looking remarkably and crazily alike—all with cowboy hats, "western" shirts and long blond hair. The rancher was close enough to see their smiles. But they weren't just smiling; they were laughing vigorously. The helicopter accelerated down the road, turned to face the truck and landed in the middle of the road. The deputy/rancher, who had been calling for help on his radio, stopped the truck. A high-powered rifle and a shotgun lay on the seat beside him. Without looking, he grabbed the shotgun and stepped from the truck (if he had grabbed the rifle, he believes, he might have disabled the chopper). As the helicopter lifted off, he fired three shots at it without any apparent effect. A state trooper responding to the call for assistance so the craft as it passed over a hill near Highway 414.
Source: Thomas R Adams, "The choppers…and the choppers"
---
Date: October 1 1975
Location: Near Hakushu Japan
Time: 2000
Summary: Michio Hikawa and Takashi Furuya were parked in a car at a scenic spot in Japan's Southern Alps when Furuya became agitated, claiming to see a group of children resembling beggars near the car. Hikawa was unable to see them. Among the figures Furuya saw was those resembling girls about one meter tall, dressed in white. Pointing them out his companion, Hikawa still was unable to see them, and turned on the car's headlights. At this the group of figures faded away. The car was suddenly pulled backwards several times by an unseen force, although the break was on. Frightened, the youths left the area. Hikawa suggested that the figures may have been "spacemen" and the pair returned to the scene later, where the same mass displacement effects occurred to the car. Again fearful, the pair returned home. The car subsequently malfunctioned and required repairs, the result of a "broken piston." Peculiar "hoof like" marks were observed on a window in the car following the encounter. There were no reports of UFOs seen.
---
Date: October  1975
Location:  
Time:  
Summary:  
Source:  
Location: Oct. 3, 1975; Quincy, MA
On this night a large mass of white light, with smaller blue lights inside, hung stationary over Quincy. (Source: CUFOS News Bulletin, February 1976, p. 7).
---
Source: Jun Ichi Takanashi for Apro
Date: October 4 1975
Location: Near Jakes Corners Yukon Canada
Time: night
Summary: The witness was driving near town when he passed a small five and a half foot tall figure standing by the side of the road. The witness backed up to offer a ride, but the figure ran off and did not reply when spoken to. The figure had a gray face and appeared to be covered with short bluish hair.
Source: John Green, Sasquatch The Apes Among Us
---
Date: October  1975
Location:  
Time:  
Summary:  
Source:  
Location. France, exact location not given
Date: October 4 1975
Time: late night
Summary: The witness was having difficulty falling asleep when suddenly he saw very distinctly what appeared to be a human face of incomparable beauty materialized inside the room. The face took a form of expression that inspired confidence. The lips of the face stirred as if was saying something, but nothing was heard. The witness felt hypnotized and felt detached from his body. He attempted to "resist" mentally and soon the vision gradually faded. (It should be noted that at the same time there were numerous reports of UFOs in Northern France).
Source: Pierre Delval, Contacts of the 4th type.
---
Date: October  1975
Location:  
Time:  
Summary:  
Source:  
---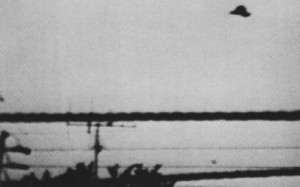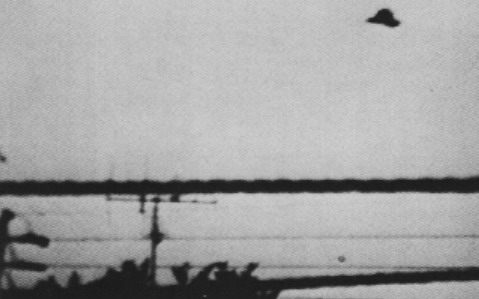 Date: October 4, 1975
Location: Nagoya City, Japan
Time:
Summary:
Source:
---
Date: October 4 1975
Location:  Ramsey, NJ
Time:  2:55 a.m. 
Summary:  Two police officers, Francis J. Gross and C. Ragazzo were on routine patrol when officer Ragazzo received a radio call from Gross informing him of five "strange looking" lights in the south-west sky. Both officers were able to observe the objects for a period of five minutes. The lights were in a straight line formation and moving very slowly. They appeared to be solid and were reddish in color. The rear sections of the objects were blurred but the rest of the cigar shape was distinctly outlined. The officers watched the objects intently until they disappeared from sight.
Source:  UFO INVESTIGATOR. December 1975, page 1
---
Date: October  1975
Location:  
Time:  
Summary:  
Source:  
Location. Utterson Ontario Canada
Date: October 7 1975
Time: 2000
Summary: After being alerted by his sister who thought his barn was on fire, Robert Suffern drove to a side road, in which he saw a non-luminous clam shaped object 12-14 ft in diameter resting on a broad base. It was "the color of the dull side of aluminum foil," with an irregular & wrinkled surface. It rose vertically & disappeared, showing no lights. Driving home, Suffern, saw beside the road, about to cross it, a short being with broad shoulders, wearing a silvery one-piece suit & a whitish globular helmet. This person vaulted over the fence & disappeared into the pasture. Later, when his TV blacked out, Suffern went to the door and saw an orange light traveling away.
Source: Henry McKay for Mufon
---
Date: October  1975
Location:  
Time:  
Summary:  
Source:  
Location. Baca County, Colorado
Date: October 8 1975
Time: night
Gloria Claunch, saw, through binoculars, a helicopter shining a light on the ground, illuminating what she thought were 2 human-like figures moving about in a field. There were reports of cattle mutilations in the area around the same time.
Source: Thomas R Adams, The Choppers…and the Choppers
---
Date: October  1975
Location:  
Time:  
Summary:  
Source:  
Location. Northern Idaho
Date: October 9 1975
Time: 0330A
Summary: A motorist told police that he had been driving along US Highway 95 in northern Idaho when he encountered some 15 masked people forming a roadblock with linked arms. He managed to turn his car around and escape.
Source: Michael D Albers, The Terror
---
Date: October 9 1975
Location:  North Bay Ontario Canada
Time:  0600A
Summary:  A young woman who had got up at 6 to let the cat out saw a 3.5 foot midget running along the street "in slow motion," the feet barely touching the sidewalk, & trailing an aura of sparkling white behind it. Others apparently saw the being. No other information.
Source:  John B Musgrave
---
Date: October  1975
Location:  
Time:  
Summary:  
Source:  
Location. Wrose Yorkshire England
Date: October 12 1975
Time: 1605
Andrew Hammond and Paul Bennett (both 12 years of age) saw, according to the latter, a large figure atop a nearby bluff as they walked home from school. According to his notes in his diary, Bennett said they saw a robot like "monster" nearly twelve foot tall, with a large body and very thin legs, with an oversized head showing no features or hair, and round in shape. The entire figure was a green color, and two long thin arms, like that of a fly's, were about four feet in length. He appeared to have plate like feet. The figure was engaged in picking up samples and putting them inside of his abdomen. Bennett threw some stones at the figure, one of which hit it, making a "ping" sound, like metal. It did not respond but went on scooping up samples of dirt and putting them in pouches on the sides of its abdomen. Bennett was about 100 yards away and watched it for two minutes. When he turned to call it to Hammond's attention, it disappeared. Hammond "thought he saw something" but was not entirely clear what. Bennett said there was scoop marks let at the site. The primary witness has a history of seeing UFOs and entities.
Source: Nigel Watson & Roger Hebb for Mufob
---
Date: October  1975
Location:  
Time:  
Summary:  
Source:  
Location. Maple Ridge British Columbia Canada
Date: October 12 1975
Time: 2000
David Hamel, his wife and a friend were watching television when the set "went snowy" and two figures, clad in metallic suits, materialized out of the screen. The entities telepathically told him not to be afraid and to follow them. Hamel was levitated from his chair and passed through the roof of the house into a spaceship three stories high. Inside he was given a physical examination. On board were 3 crewmembers, a woman named "A" and a man named "On", as well as a bearded man named "Alean." He was shown how the ship operated and told that Canada should stop selling its Candu reactors and that nuclear deposits should be deposited into the sun. They said they were from the planet Kladen, more than 3 billion miles away and that theirs wasn't the first visit made to earth. They told him they left the pyramids in Egypt.
Source: Glen Kask of the Maple Ridge Gazette
---
Date: October  1975
Location:  
Time:  
Summary:  
Source:  
Location. Godfrey Illinois
Date: October 13 1975
Time: 0200A
Hearing her dogs barking "viciously" late at night, Mrs. Mayme L Hicks looked out & saw a small silvery man running towards the woods. He stopped and looked back, & she could see that he was about 3.5 ft tall, wearing a helmet on his large head. He was "luminous from head to toe," the effect resembling illuminated aluminum foil; only the face area was dark. As she watched, 3 more entities of identical appearance came into view from the vicinity of the next house, and joined the first one; then all 4 ran in single file into the woods, running in a stiff legged fashion. The absolute silence struck her as unnatural.
Source: David Schroth & Robert Murphy for Cufos & Mufon
---
Date: October 13 1975
Location: Durango Mexico
Time: afternoon
Summary: In a mysterious area known as "La Zona Del Silencio" (Zone of Silence) Ernesto and Josefina Diaz were driving around to collect unusual rocks and fossils, which can be found there in great abundance. As they busied themselves they noticed that a desert rainstorm was heading towards them. Hoping to avoid being caught in a flash flood, they packed and sped off, but not fast enough to avoid the relentless rain. The tracks ahead of them turned into a swamp and the pickup began to sink in the soft terrain. As the couple struggled to keep their vehicle from submerging into the mud, two figures approached them, waving. The figures were two extremely tall men in yellow raincoats and caps, with unusual butt by no means alarming features. The men instructed the drenched couple to get inside the truck while they pushed. Before the couple realizes it, their vehicle was out of the mud and onto firmer ground. Ernesto Diaz got out of the pickup to thank the two men, but they were gone. He found no footprints and there was no evidence that anyone had departed the area.
Source:Scott Corrales, Fate April 1998
---
Date: October 14 1975
Location: Peers Alberta Canada
Time: 0530A
Summary: Judy Powers was driving home from work when she saw what she at first thought to be a cattle truck with its lights on. As she came up to it she saw it was a strange object with "men or some for of life" standing on top of it, holding rods. They wore helmets; she could not see their faces. When she returned with 2 men 7 or 8 minutes later, the object had gone, but they saw its lights low over the trees.
Source: John B Musgrave
---
Date: October 16 1975
Location:  Davis, CA
Time:  8:20 p.m. 
Summary:  Seven witnesses including the main witness named Landeros sighted two UFOs maneuvering in the sky. The first object was triangular in shape with white and yellow lights. It went down and up rapidly, then back-and-forth. The second UFO was a domed disc; it came from same direction as the first and had red, green, and blue lights spinning on its rim. It hovered, tilted, and shot off toward the west. 
Source:  CUFOS News Bulletin, February 1976, p. 9
---
Date: October  1975
Location:  
Time:  
Summary:  
Source:  
Time: Oct. 18, 1975; 25 miles NW of Helena, MT
12:30 a.m.  John Struble was driving his truck when he noticed a large object, fifty feet in diameter and twenty-five to thirty feet in the air. The object passed over his truck from the rear and then stopped and hovered about one hundred yards ahead of him. As the object did this it directed a very bright light at him, causing the truck's lights and engine to go out. The UFO stayed there for about five minutes before moving away. The object made a noise like a big jet and then rocketed straight up into the sky and moved away to the east at an incredible speed. When the UFO disappeared the truck's lights and engine came back on. Struble noticed that his non-electric watched had stopped for five minutes, the duration of the UFO's appearance. (Reference: Lawrence Fawcett and Barry J. Greenwood, Clear Intent, page 33)
Summary:
Source:
---
Date: October  1975
Location:  
Time:  
Summary:  
Source:  
Location. Llangothlin New South Wales Australia
Date: October 19 1975
Time: 1800
Traveling home a man & his wife saw an approaching light. It became a large silver cigar shaped craft with short stubby wings and a cabin. Inside this cabin were 5 entities in silver colored outfits. Green, red, and blue instrumental panels were seen. The witness reportedly filmed the object. However when the film came back from processing this piece was missing.
Source: Keith Basterfield
---
Date: October  1975
Location:  
Time:  
Summary:  
Source:  
Location. Hailey Idaho
Date: October 19 1975
Time: 2200
Two men walking just west of town noticed a red light approaching their position at high speed. It stopped over them, and was described as an almond shaped craft pointed at the ends. It then turned bluish in color and began to hover. The lights suddenly went out and the craft descended making a hissing sound. It landed among some bushes then a small light came on. At this point both men saw a figure moving within the light and ran back to town.
Source: Cufos Reports
---
Date: October  1975
Location:  
Time:  
Summary:  
Source:  
Time: Oct. 20, 1975;  Priest Butte, MT 
4:30 p.m. A couple living on a ranch near Priest Butte, Montana, reported that they had seen a UFO about half a mile from their home, on the east slope of Priest Butte. Using binoculars, they described it as being egg-shaped, with the large end of the craft on the ground. It had one yellowish-gold light which at first gave off a dull glow and then became brighter. It had two arm-like appendages which came out of the craft, one on each side. The arms made a continual motion similar to a breaststroke. The craft remained stationary for five minutes. Then the appendages retracted into the craft, and it went straight up and out of sight. (Reference: Lawrence Fawcett and Barry J. Greenwood, Clear Intent, page 34)
---
Date: October  1975
Location:  
Time:  
Summary:  
Source:  
Location. Novato California
Date: October 23 1975
Time: evening
Four witnesses observed a ring of light 50 feet in diameter that began to spin then went straight up into the air There seemed to be a small red light that followed closely or was attached to the bottom of the object. Later that evening a woman was in her kitchen when the rest of the family heard her scream. Her husband and son ran to her assistant and she said she saw "a man in a metallic suit that had no eyes, a slit for a mouth and a pointy looking head." When she screamed the being ran up the hill at an extremely high speed faster than a normal person. Later that evening her sons saw out in the distance what looked like glowing object reflecting off of and above the trees. The next morning they went to the site and discovered three 4-foot circles on the ground equally spaced apart in the shape of a triangle. The grass was all spun in circles in the same direction.
Source: World of the Strange, October 2001
---
Date: October  1975
Location:  
Time:  
Summary:  
Source:  
---
Date: Happy Camp Siskiyou California
Location: October 25 1975
Time: night
Summary: Steve Harris, 24, Stan Gayer, 19, and Carl Jackson, about 35, were in a level area in the mountains from which on the preceding night the first two had seen a large orange light take off. A metal detector passed over these imprints gave a positive reaction. At the same time they heard a loud fluctuating high pitched screeching sound, which seemed to come from the canyon below, only 40-50 ft away. Stan turned a powerful (200,000 candlepower) quartz-iodine hand spotlight toward the ground, and all saw two large eyes reflecting the light, 30-40 ft away, silvery blue, 2.5″ in diameter and 8″ apart, 5 ft above ground level. Only a vague black outline could be seen around and below these eyes, in spite of the bright light. After about a minute, the eyes turned away, as if the being were now retreating down the embankment, but still no form could be seen. The 3 men got into their car and started it, but it did not move; all 4 wheels were spinning, as if the car were suspended just above the ground. After 15-20 seconds of this, the car suddenly bolted forward, and then behaved normally.
Source: Paul Cerny for Mufon
---
Date: October  1975
Location:  
Time:  
Summary:  
Source:  
Time: Oct. 25, 1975; Sao Gondolo do Amarante, Ceara state, Brazil
6:00 p.m. A young woman with the surname of Dira had bathed in a lagoon in Sao Gondolo do Amarante on the river and was washing clothes when she felt a heat wave and saw an oscillating blue light in the sky nearby. Frightened, she took cover in some undergrowth, but the light increased intensity. When the blue light approached even closer she ran home. She managed to escape inside her house, but she had a high body temp, bloodshot eyes, and her skin looked like it had a sunburn. (Source: Claude Bourtembourg, SOBEPS News, March 1976, p. 18; Charles Bowen, Saga UFO Report, December 1976, p. 80; both sources cite J. Gualberto.) 
---
Date: October  1975
Location:  
Time:  
Summary:  
Source:  
Time: Oct. 25, 1975; Sao Gondolo do Amarante, Ceara state, Brazil
Bt. 6:00 & 7:00 p.m. A local man was struck by a blue beam of light, reputedly from a disc. He subsequently died. Several other witnesses reported being attacked and terrified by the experience. Some reported being paralyzed by a blue light. (Source:  Charles Bowen, FSR, July 1976, p. 33 and Saga UFO Report, citing La Razon, October 27, 1975).
---
Date: October 26 1975
Location: Near Cahaba Heights Alabama
Time: 0100A
Summary: Driving home late, Mrs. L E Dison and her daughter saw on a dark side road two beings 8 ft tall, wearing silvery shoes & tight fitting clothing of a dull silver color. The daughter saw that they were wearing helmets, whose fronts were either luminous or light reflecting. The one nearest the road had his arm up, pointing at the sky; the second was looking up at the sky.
Source: Professor Ed Planz for Cufos & Mufon
---
Date: October 26 1975
Location:  Happy Camp Siskiyou California
Time:  midnight
Summary:  Steve Harris, San Gayer, and Carl Jackson returned to the spot of their "creature" sighting about an hour later, accompanied by Helen White and Rick Pool. They shone spotlights around, but saw nothing. Then Steve fired his rifle several times. Immediately they heard a loud "wow-wow-wow" sound, and turned around to see in the spotlights 3 dark non reflecting forms about 5 ft high, vaguely human shaped, with a glow around the edges, about 30-35 ft away. These forms were moving about slowly but staying at the same distance; they seemed to absorb the light without reflecting it, but occasionally the whole shape would slightly glow. No details could be made out. After some seconds, during which Helen failed to use her Polaroid camera, Helen and then the others began to feel a choking sensation, "as if the oxygen was being depleted from the air." After 3 or 4 minutes of this, all 5 piled into the Ford Bronco and drove away. Looking back, they saw a glowing orange-disc shaped object rise up from near where they had been; seeming to be about 40 ft in diameter, it followed them 150 ft away and right above the trees, until they reached the highway.
Source:   Paul Cerny for Mufon
---
Date: October 27 1975: Abducted by 5 Aliens
---
Date: October 27 1975
Location:  Loring AFB, ME
Time:  7:45 p.m.
Summary:  Staff Sgt. Danny K. Lewis was patrolling the weapons dump when he saw an unidentified aircraft nearing  the north perimeter of Loring at a low altitude of about 300 feet. Lewis  noticed what appeared to be a red navigation light and a white strobe light on the aircraft. As Lewis watched, the craft entered the perimeter of  Loring. Meanwhile, in the control tower of the air base, Staff Sgt. James P. Sampley of the 2192nd Communications Squadron was on duty at the radar screen. He got a radar return from an unknown aircraft ten to thirteen miles east-northeast of Loring. Sampley made numerous attempts by radio on all available communications bands, civilian and military, to contact the craft, but he got no response. The unidentified craft began to circle, and came to within 300 yards of the restricted nuclear storage area  at a low altitude of 150 feet. Back at the nuclear weapons dump, Lewis notified his Command Post of the of the 42 Bomb Wing that an unknown aircraft had penetrated the base perimeter and was within 300 yards of the nuclear weapons area. The base was immediately put on major alert status, a a Security Option 3, and Security contacted the tower.
Source:  
---
Date: October  1975
Location:  
Time:  
Summary:  
Source:  
Time: Oct. 27, 1975; Loring AFB, ME
8:45 p.m. Sgt. Grover K. Eggleston of the 2192nd Communications Squadron was on duty at the tower when the call from the Command Post came. He began observing the unknown aircraft. Six minutes later, while watching the radar screen, Eggleston noted that the unknown craft appeared to be circling approximately ten miles east-northeast of the base. This action lasted for forty minutes when, suddenly, it disappeared from the screen. Either the object had landed, or it had dropped below the radar coverage. The Wing Commander arrived at the weapons storage area seven minutes after the initial sighting was made. Immediately, other units of the 42nd Police began pouring into the area. Security vehicles with blue flashing lights were converging from all over the base. Through the Loring Command Post, the Wing Commander requested fighter coverage from the 21st NORAD Region at Hancock Field, New York, and the 22nd NORAD Region at North Bay, Ontario, Canada. However, fighter support was denied by both regions. The Wing Commander then increased local security posture and requested assistance from the Maine State Police in trying to identify the unknown craft, which they presumed was a helicopter. A call was made to local flight services for possible identification, without results. The 42nd Security Police conducted a sweep of the weapons storage perimeter inside and out. An additional sweep was made of the areas that the craft had flown over. All actions produced no results. The craft broke the circling pattern and began flying toward Grand Falls, New Brunswick, Canada. Radar contact was lost in the vicinity of Grand Falls bearing 065 degrees, twelve miles from Loring. Canadian authorities were not notified.
Summary:
Source:
---
Date: October  1975
Location:  
Time:  
Summary:  
Source:  
Time: Oct. 28, 1975; Belgrade, Yugoslavia
DC-9 pilot followed by UFOs, E-M, radar
Summary:
Source:
---
Date: October 28 1975
Location:  Sudbury, Ontario, Canada
Time:  12:15 a.m. EST.
Summary:  One cup and saucer hat shaped object, very bright, low about 500 feet, was observed over the slag pit Murray Mine, Sudbury. The object hovered over the slag pit for a minute then departed at extremely high speed. The object then returned for another minute and left. 
Source:  National Research Council of Canada Record Group 77, Vol. 308, reel number 1742
---
Date: October  1975
Location:  
Time:  
Summary:  
Source:  
Time: Oct. 28, 1975; Loring AFB, ME
7:45 – 8:20 p.m. While patrolling the weapons storage area, Staff Sgt. Lewis, along with Sgt. Clifton W. Blakeslee and Sgt. William J. Long, again spotted the lights of an unidentified aircraft approaching Loring AFB from the north at an altitude of about 3,000 feet. It approached to within about three miles of the base perimeter and was noted to have a flashing white light and an amber or orange light. Lewis reported the sighting to his Command Post, and the Wing Commander came out to the weapons storage area to see for himself. He reported seeing an object with a flashing white light and an amber light whose speed and motion were similar to that of a helicopter. The craft was also observed on radar. The craft was then observed over the flight line by Sgt, Steven Eichner, Sgt. R. Jones, and others. They saw an orange and red object shaped like a stretched-out football hovering in mid-air. It turned out its lights, and then reappeared making jerky motions, then hovering about 150 feet over the end of the runway. It was described as about four car-lengths long, solid, reddish-orange, with no doors or windows, and with no visible propellers or engines. It was totally silent. The base went on full alert and a sweep was made by security, but the object turned off its lights and was not seen again. Radar picked up a target moving in the direction of Grand Falls, New Brunswick. SAC Headquarters was again notified.
Summary:
Source:
---
Date: October  1975
Location:  
Time:  
Summary:  
Source:  
Time: Oct. 29, 1975; Loring AFB, ME
1:00 a.m. EST. Actual transcript: One unidentified helicopter was sighted 300 to 500 meters from the weapons storage area at Loring AFB, Maine. The helicopter was at an altitude of 150 feet and penetrated Loring AFB. An attempt to contact and identify the intruding "helicopter" was made by an Army National Guard helo, and was unsuccessful. At 290300 EST the helicopter was sighted over the weapons storage area and the Army National Guard helicopter again responded to make contact but was unsuccessful.  The USAF (Ops Div) has requested that the Army NG helo be provided until 300800 EST under the following conditions: To track and identify the intruder; no apprehension to take place; the Canadian Border would not be crossed; and civilian police on board will be for commo with ground units only. The request is under consideration by MG Snifin, DA Director of Operations, DCSOPS. Col Bailey, Mil Aide to Special Asst to SECDIF/DEPSECDEF has been advised of the situation show DoD approval be required.  The State Department Canadian Desk Officer has been kept informed. (SOURCE:  42 BW CP LORING AFB 291140Z OCT 75; SAC CP OPS CONTROL 291954Z OCT 75. (Actual document below. See page 1 & 2)
Summary:
Source:
---
Date: October  1975
Location:  
Time:  
Summary:  
Source:  
Time: Oct. 29 (or 30), 1975; Wurtsmith AFB, Michigan
4:00 p.m. (?) RAPCON crew contacted by tower and SAC about intrusion north of the base over restricted area. KC-135 made radar passes. One team member walked outside and saw disc hovering in daylight. (Fran Ridge)
Summary:
Source:
---
Date: October  1975
Location:  
Time:  
Summary:  
Source:  
Time: Oct. 30, 1975; Ford Creek at Augusta, MT
12:00 a.m. Football shaped UFO. (NIDS UFO 42)
Summary:
Source:
---
Date: October  1975
Location:  
Time:  
Summary:  
Source:  
Time: Oct. 30, 1975; Wurtsmith AFB, MI
10:10 p.m. Personnel in the vicinity of the family housing area located in the southeastern portion of Wurtsmith reported seeing what appeared to be running lights of a low-flying craft which was thought to be a helicopter. The craft hovered and moved up and down in an erratic manner. Airman Martin E. Tackabury, assigned to the Capehart housing area gate, said that he saw the object for about five seconds near the perimeter of Wurtsmith, due south of his location. Tackabury reported that the object had one white light pointing directly downward and two red lights near the rear. The object seemed to be heading in a west-southwest direction. Tackabury could not hear any sound coming from the aerial craft because a B-52 was in the air nearby to the north. Near the main gate at Wurtsmith, Airman Michael J. Myers, assigned to Police Unit Seven, was on duty at the Wurtsmith motor pool. As Myers looked toward the west, he could see several lights near the western edge of the base. The lights turned north and appeared to lose altitude. He did not hear any sound. Sergeant Robert J. Anderson, also at the motor pool, reported that he observed an airborne KC-135 tanker and another craft with a steady red light. The craft appeared to be flying slower, ahead and below the KC-135. Anderson believed he heard a sound similar to a helicopter. After thirty to thirty-five seconds, the object passed out of view. Airman Roger Skipper, at the Wurtsmith main gate, said that when he responded to the activity at the motor pool, he heard sounds that diminished quickly. (Clear Intent)
Summary:
Source:
---
Date: October  1975
Location:  
Time:  
Summary:  
Source:  
Time: Oct. 30, 1975; Wurtsmith AFB, MI
At 10:14, 10:20, and 10:25 p.m., at the back gate of Wurtsmith, security police reported to the command post that an unidentified helicopter with no lights came up over the back gate and hovered over the weapons storage area at a low altitude. Security police of the 379th security police squadron in the weapons storage area could not make out the type of craft. The craft started to move towards the northern perimeter where its lights were again turned on. Sergeant James A. Miller of the Wurtsmith security police reported his observations of the unknown craft while on duty in the weapons storage area. He stated that he heard the sound of a possible helicopter coming from an area off the base toward the north. He thought he had heard the sound of a flying helicopter fifteen minutes earlier, but he didn't report it. As he listened, the noise became drowned out by a military jet, and when the jet passed out of range, the original noise had stopped. No other similar sounds were heard. Security police at the weapon storage area notified Colonel John J. Doran, Vice Commander, 379th Bomb Wing, that the guard posted at the back gate had reported what he thought was a helicopter overhead. The command post notified Col. Boardman (wing commander) and Col. Doran, and they proceeded to the flight line. It was at this time that Radar Approach Control (RAPCON) reported low-flying objects on their radar scope. They tracked the craft for approximately thirty-five miles on a southeastern bearing from Wurtsmith. 
Summary:
Source:
---
Date: October 30 1975
Location:  Wurtsmith, MI
Time:  10:30 – 11:00 p.m.
Summary:  A KC-135 tanker was returning from a refueling mission. It entered Wurtsmith's traffic pattern and received permission to fly transition approaches. Col. Boardman ordered the KC-135 to attempt to identify the object. Wurtsmith air traffic control vectored the tanker in the object's direction. Aboard the KC-135 was Major Frederick Pappas, the plane's commander; Captain K. E. May, co-pilot; Captain Rick Meier, the navigator; Captain Myron Taylor, instructor navigator; Captain Randy Higginbotham, instructor pilot; and Sergeant Steve Smith. Captain Taylor: "We were returning from a refueling mission and during our first approach into the traffic pattern, RAPCON vectored us to check out a reported UFO in the area of the Wurtsmith Weapons Storage Area. As I recall, this activity occurred between 10:30 and 11:00 in the evening around the 1st  of November (later established as Oct. 30). I remember seeing lights similar to strobe lights which were flashing irregularly. We followed the lights north out over Lake Huron and then the UFO swung south still over the lake toward the Saginaw Bay area of Michigan. At first it was difficult to determine whether there were two different objects because of the irregular flashing of the lights. But, after observing the lights we determined that there were in fact two objects and the irregular flashing appeared to be some sort of signal being passed from one to the other in an effort to maintain the same position. We were able to maintain visual contact most of the time and I was only able to paint an object on the radar scope for about 10 seconds. I would estimate that our altitude was about 2,000 feet and our speed approximately 200 knots. Shortly after turning south in pursuit of the UFO, we called Approach Control and received blanket clearance to follow the UFO at all altitudes and at all vectors. Occasionally, RAPCON would pick-up the UFO and help us by giving us vectors to the UFO's position. I would guess that we stayed close to the UFO most of the time, approximately one mile away, and each time we attempted to close on the object it would speed away from us. We followed the UFO down to Saginaw Bay and started across the Bay when we lost it because of all the fishing boat lights. At first we thought it had landed on one of the large oil tankers but later decided that we had been wrong. We continued to search the Bay area but didn't see it so we changed our heading for Wurtsmith. On the way back, we picked the UFO up again at our eight o'clock position. We turned away, and it proceeded to follow us. Finally, we turned back in the direction of the UFO and it really took off back in the direction of the Bay area. I know this might sound crazy, but I would estimate that the UFO sped away from us doing approximately 1,000 knots. We continued in the direction of the Bay until RAPCON called us again and said they were painting a UFO four to five miles over the coast traveling in a westerly direction. They vectored us to the position of the UFO and we proceeded but at that point we were low on fuel and were forced to return to Wurtsmith. I remember that while on final approach we saw the lights again near the Weapons Storage Area. Following the mission we discussed the incident and about a week later, Captain Higginbotham was questioned by the OSI and cautioned not to discuss the incident."
Source:  
---
Date: October 31 1975
Location:   4 miles NW of Loring AFB, Maine
Time:  At 11:17 p.m. EST
Summary:  a visual sighting of an unidentified object was reported 4 nautical miles NW of Loring AFB, Me. The alert helo was launched to identify the object but was unable to make contact. The alert helo was launched again at 0146 hours EST, November 1, 1975, in response to a slow moving target picked up by RAPCON 
Source:  Radar Approach Control). (See NMCC Assortment #1 Frames 16-17 of 40
---
Date: Late October  1975
Location:  Cheyenne Mountain, CO
Time:  
Summary:  In late October, something happened near Cheyenne Mountain, the home of the National Combat Operations Center, something that triggered a Security Option 5 Alert. According to an informant, nobody was allowed to enter the base, except cleared, high-ranking officers or cleared security patrols. No one was to leave. Those personnel on base who had just completed duty were rolled out of bed. Jet interceptors were scrambled into the air. In fact, everything they put in the air during an attack on the U.S. was airborne.
Source:  UFO Filter Center/Ridge Files. But there was more going on in other places….
---
Date: late October 1975
Location: American Falls, Idaho
Time: 0625A
Summary: The witness had been lying in bed with her husband who was asleep when she heard noises in the living room. Moments later a short figure stood at the bedroom door. It was described as four-foot tall, humanoid, with large pointed ears, normal eyes and nose and completely covered with short hair. It looked puzzled and was breathing very heavy; at times making "gurgling" noises. The witness closed her eyes then opened them again to find the figure standing by the bed staring at her. The witness panicked and attempted to find her husband's gun, who remained sleeping. The creature then walked to the mirror looked at itself, scratched his chin and walked out of the bedroom. The witness remained in bed and did not see how the creature left the house.
Source: Cufos Reports
---
Date: October  1975
Location:  
Time:  
Summary:  
Source:  
Related articles