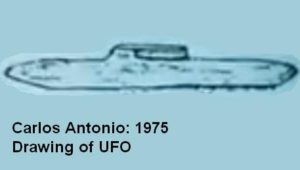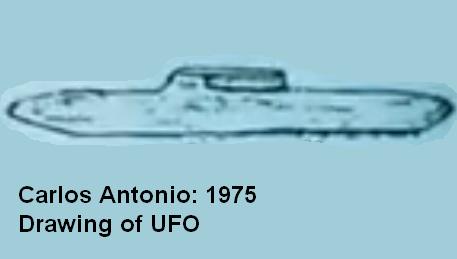 (Last Updated On: January 25, 2017)
Date: Autumn  1975
Location:  Near Kamloops British Columbia Canada
Time:  evening
Summary:  Stewart Sanborn was driving north just beyond Lake Okanagan when he noticed a shiny object in the sky. He briefly lost sight of it behind some trees, then he saw it again It had two lights, one red and one green about 30 feet apart, he also saw what appeared to be a cabin in between the lights. As the object moved slowly a door opened and he saw what appeared to be a man jumping out. On his head was a horseshoe shaped gear consisting of red and green lights. He went down about 50 feet and then the lights went out and the object started off again, veering to the left at very high speed. There was no sign of a parachute and the figure descended at a falling speed. The witness then drove away from the area.
Source:  Bill Allan
---
Date: Autumn  1975
Location:  Jian-Shui County, Yunnan Province, China
Time:  evening
Summary:  Two soldiers of a certain unit of the Chinese People's Liberation Army encountered a huge saucer-shaped flying object that was circling around above their heads and emitting beams of soft orange-colored light. One of the men at once ran into the camp to give the alarm, while the other stayed there to watch it. A few minutes later when the Camp Commandant with about a dozen armed men came running up to the entrance to the barracks, they found no trace of the soldier who had remained behind. The Commandant at once ordered that all personnel, officers and enlisted men, make a general search but there was no sign of him. A few hours later, four soldiers taking over sentry duty, suddenly heard the sound of someone moaning behind them, and, looking around, found that it was the missing man, who in miraculous fashion had reappeared. They at once perceived that his eyebrows, beard, and hair had grown extremely long. When he had fully recovered consciousness it was found that his memory was totally gone. His wristwatch showed that it had stopped long ago. His weapons and watch all were found to be slightly magnetized.
Source:  Zhang Ke-Tao, Chinese UFO Research Society Flying Saucer Review Vol. 44 # 2, summer 1999
---
Date: September  1975
Location:  
Time:  
Summary:  
Source:  
Location. Vineland New Jersey
Date: September 1975
Time: 1500
Several witnesses including the two main witnesses and their father saw a metallic apparently riveted disc shaped craft hovering about 20 ft above the parking lot of the People's bank. It had a wide band around its center with rows of flashing multicolored lights. The object was silent and had several lighted windows around its perimeter where several moving figures could be seen. The craft then suddenly swayed from side to side then shot away at incredible speed.
Source: NUFORC
---
Date: September  1975
Location:  
Time:  
Summary:  
Source:  
Location. Cabin Creek Idaho
Date: September 1975
Time: evening
A forest service employee was checking a corral where some cows had been making a loud racket when suddenly all became extremely quiet. The witness who was riding his horse then caught sight of two men like figures wearing black hooded robes. One was slightly taller than the other and was carrying a canvas sack over his shoulders. The two men were moving very fast away from the area. The witness attempted to catch up to the men but even though he was on horseback he was unable to reach them. A search was conducted by sheriff deputies with negative results.
Source: John A Keel, Disneyland of The Gods
---
Date: September  1975
Location:  
Time:  
Summary:  
Source:  
Location. Near Waterloo Fayette County Indiana
Date: September 1975
Time: 0300A
A farmer on his way to the bathroom happened to look out his upstairs window and noticed a red light the size of an auto headlight in a soybean field about 75 yards away. He also saw at the edge of an area illuminated by a dusk to dawn light, a large, bipedal "animal" walking toward the object with a forward swaying motion. Suddenly the red light changed into brilliant magnesium like light for five seconds, and then vanished. When it did so, the creature disappeared also. That morning when the farmer went out to examine the area where he had seen the mysterious light, he found a 30-foot circle of browned soybeans.
Source: Don Worley, 1982 Annual Tri-County UFO Study Group
---
Date: September  1975
Location:  
Time:  
Summary:  
Source:  
Location. Wisconsin, exact location not given
Date: September 1975
Time: 2300
Beverly Mason was driving home after a PTA meeting when she saw a light in the sky resembling the full moon. The object apparently followed her home since when she arrived there a brilliant flare like light illuminated a wide circle of the backyard area. The glow was accompanied by a muffled whirring sound. Looking up she saw a hovering spherical object slowly descend and separate into 3 glowing blue points. A spiral ladder glided down from the craft, corkscrewing toward her. She then lost consciousness. Later she woke up sitting in a lawn chair. A few nights later she began having bizarre recollections of what had transpired. She remembered being in a large circular room with lights that seemed to emanate from seamless walls. Goggle eyed humanoids bent over to examine her. She struggle to get away but could not. Her naked body was tightly strapped to a cold metal table. The strange thing about the table was that it could shift its shape to fit the contours of her body. She contracted symptoms similar to venereal disease afterwards. Later under deep hypnotic regression she remembered the humanoids as short, all dressed in white shiny glowing clothing, wearing masks with goggles that made them look like "bugs." She remembers being knocked out with a large glowing rod, which merely tapped her forehead.
Source: C L Turnage, Sexual Encounters with Extraterrestrials
---
Date: September  1975
Location:  
Time:  
Summary:  
Source:  
Location. Stevens Point, Portage County, Wisconsin
Date: September 1975
Time: 2300
The witness (involved in a previous encounter) was watching the sky to the south of his mobile home at the Oaklane Mobile Home Court when he saw a large saucer shaped craft slowly proceed down and just above the trees from east to west. He followed it with his eyes as it passed just before him about 100 ft away. It then settled silently in the corner of the next field about 1500 ft away. Downing his jacket and putting on his shoes the witness walked over to where he saw it land. It was a clear, cool, moonlit night. He took no flashlight, or camera and felt no fear. He easily found the craft as a very bright light shone from beneath it, it was in the far southeast corner of the field. He was able to approach it silently. As he reached about 20 ft from the craft he noticed an individual in the light from the bottom of the craft directly before him. The human-like figure appeared to have on a form fitting white suit. The eyes were covered in what appeared to be goggles or protective bubbles of tinted glass or plastic, he then noticed a second similar figure to his right only about 6 ft away. The witness was a bit startled, as he did not notice the approach of the figure. However his attention returned to the figure standing near the object by the light. This figure was busily attempting to catch a grasshopper; he held what appeared to be a glass sample container in his right hand and a stopper type lid in the other. He emitted a strange type of giggle as he finally caught the grasshopper. The one in the trees rejoined this one carrying a sample jar as well. In it the witness could clearly see in the light that it contained a spring of an oak tree with leaves and acorns attached. They were both about 5 ft tall and lean. The witness then heard a sound of someone walking through the field of drying corn just to the south and behind him. It was a slow, steady type of walking sound, which someone would make walking on a field of dry grass. As it approached it stopped and then sped up as it walked around the witness. Into the light of the craft then appeared another figure in the same type of suit. He also carried a sample jar. The jars were about 4 inches around and about 15 inches tall with wide mouths and black stopper caps. In this jar he had an ear of the corn. The third arrival hastily pointed out the witness to the other two as they all looked directly at him. He could only smile and wave, and then turn slowly and walk back to his home. The craft hovered silently about 4 ft off the ground. Nothing protruded from it except the bright light from an opening in the bottom. The opening was about 4 ft in width. He could see no stairs leading up to the opening. The witness did not see the object depart.
Source: UFO Wisconsin, Wisconsin UFO Reports
---
Date: September  1975
Location:  
Time:  
Summary:  
Source:  
Location. Near Lynchburg Virginia
Date: September or October 1975
Time: 2100
Mr. & Mrs. Calvin Peters were walking along the railroad track in the evening near the eastern city limits of Lynchburg, when a group of little men 3 ft tall, green or black in color, appeared & grabbed them. Mrs. Peters was taken some distance from the track and bound hand & foot. After 30 minutes she was released, the little men disappeared & she rejoined her husband. They called the police, who found them "covered with mud."
Source: Fred M Davis for Mufon
---
Date: September 2 1975
Location:  Chesterland, Ohio
Time:  12:30 a.m.
Summary:   A silent, dark disc-shaped object was seen pulsating on the roadside of a highway. It then hovered at treetop level, and shot straight up very quickly. (Source: ).
Source:  FSR, April 1976, p. 25, citing CUFOS
---
Date: September  1975
Location:  
Time:  
Summary:  
Source:  
Location. Near Manassas Virginia
Date: September 3 1975
Time: night
When Miss Melinda Chow got off her homebound bus she saw an orange disc glowing above some nearby treetops & descending. Although alarmed, "for some reason" she ran toward it instead of away. She came out in a clearing to see the UFO resting on stilts 200 ft away. Near it was walking a humanoid being about 5 ft tall, with long narrow legs, very short arms, & "a face that occupied about half the height of his body." His skin was gray & leathery, and he walked "in a bouncing, hopping motion." Terrified, Miss Chow ran to her home.
Source: Richard Hall
---
Date: September  1975
Location:  
Time:  
Summary:  
Source:  
Location. Dos Hermanas, Sevilla, Spain
Date: September 3 1975
Time: midnight
Manuel Beato and his wife Ana Maria Santiago were sleeping in their room when Ana suddenly woke up to see a bright light inside their room. She woke up her husband, and he went to check on the source of the light. After a while he did not return and concerned, Ana went to check on him. She found the front door opened and Manuel sitting on the sidewalk in front of the house, apparently confused and not knowing how he got there. He could only recall seeing a ball of fire entering the house slowly and then leaving out the door and disappearing.
Source: J Mateos
---
Date: September  1975
Location:  
Time:  
Summary:  
Source:  
Location. Moulin Sous Fleron Belgium
Date: September 10 1975
Time: evening
Two children were frightened by a being dressed entirely in black (or black in color) that moved like an ape and jumped from the bushes in front of them. They ran to a neighbor's house. Twenty minutes later the same being was seen. Another witness reported that the being had thrown rocks at him. No UFO was reported.
Source: Denys Breysse, Project Becassine
---
Date: September  1975
Location:  
Time:  
Summary:  
Source:  
Location. Near Rockford Illinois
Date: September 12 1975
Time: 0100A
Bernie, a young Milwaukee truck driver, was driving his truck near Rockford, when he had an "out of body experience" (OOBE), in which he found himself in, apparently, a UFO. He conversed telepathically for nearly two hours with a human like entity whom he identified as "Bob C." He was given a number of apocalyptic prophecies, and then was handed a cube like device (or crystal) with the instructions that if anyone should demand it, he should surrender it immediately. He then found himself back in his truck. When he arrived at his destination and parked his truck, he got into his car to return home and found his passage blocked by a UFO. Several "Man in Black" types confronted him and asked for the device. He turned the object over to the men. Following his experience, he claimed to have had a number of additional telepathic communications with "Bob C."
Source: Lee Jewell for Nicap, Dr Don Mueller, Jerry Clark & Richard Heiden
---
Date: September  1975
Location:  
Time:  
Summary:  
Source:  
Location. Pelotas, Brazil
Date: September 13 1975 Time: night
Next to a landed large disc shaped object a witness saw the very tall figure of a woman with long dark hair and wearing shiny silvery coveralls and boots. There is no other information.
Source: Revista Brasileira Ovni
---
Date: September 14 1975
Location:  Near Geyser, Montana
Time:  2:30 a.m.
Summary:   Round 30′ UFO with two vivid green lights 
Source:  NIDS
---
Date: September  1975
Location:  
Time:  
Summary:  
Source:  
Location. Teba Malaga Spain
Date: September 14 1975
Time: midnight
Two young girls were standing and chatting by their front door when both saw a tiny shiny object descend slowly towards them, one of the girls thinking it was a piece of aluminum foil walked back into the house. The other girl remained, looking at the object realizing it was something more mysterious. She was last seen bending down apparently in an effort to pick up the tiny object. Almost an hour later she had not entered the house yet. Her parents and friends now alarmed realized she was missing and alerted the local Civil Guard unit. A fruitless search ensued. The next night the young girl was seen walking into town with two tall blond strangers, a woman, and a man. They walked the young girl to her house, always holding her by the hand and dropped her off, telling her before leaving that they would one day see her again. The girl could not recall a single detail of where she had been for the last 24 hours, her memory was totally blank. The last thing she remembered was bending down to pick up the tiny shiny object.
Source: Salvador Freixedo, La Religion entre la Parapsicologia y los Ovnis
---
Date: September  1975
Location:  
Time:  
Summary:  
Source:  
Location. Gilroy, California
Date: September 15 1975
Time: night
In August 1975 about 20 people in and around Gilroy saw unexplained red and white lights in the sky on successive nights. On August 10, a lighted object followed and badly frightened 12-year old Imelda Victor and another woman as they were driving to the girl's house; the girl's mother also saw the object, which had "four large landing gear like arms coming out of it." On the above date Mrs. Victor (a doctor by profession), woke up to find two beings in silvery suits standing near her. They had small slits for eyes, the nose and the mouth. She felt very calm. They asked her telepathically to go with them, and she found herself floating up into a hovering UFO. As she floated up she clearly saw the roof of the house and the stars. Inside she had a sensation of intense beauty, with emerald colored floors. The walls were silvery, smooth, with large round instruments. She was then blinded by a white light and woke up in bed. On May 15 1978 Mrs. Victor was at the house of one her elderly patients when she was suddenly thrown violently to the floor and severely beaten by an invisible entity for several minutes. The elderly patient saw her turning and spinning on the floor, hitting obstacles in her path. She suffered multiple bruises, a sliver of wood punctured a vein, and she broke a leg. She had to spend six days in the hospital. (Is this second bizarre incident related to the UFO sighting and abduction?).
Source: David Pratt, Visitors from the twilight zone
---
Date: September  1975
Location:  
Time:  
Summary:  
Source:  
Location. Watertown Massachusetts
Date: September 17 1975
Time: 2010
Two women traveling by car had noticed that strangely enough they seemed to be the only vehicle in the road and there was a total silence in the area. Suddenly a very tall gray figure, with bits of white hair appeared in front of the car. It had luminous oblong shaped eyes and what appeared to be white whiskers. The humanoid figure seemed to be in total "control" and had a "majestic" air to him. The humanoid also had a long tail that narrowed towards the end. The driver swerved to avoid hitting the being and ran off the road and apparently did not see the humanoid depart.
Source: Cufos Reports
---
Date: September  1975
Location:  
Time:  
Summary:  
Source:  
Location. Near Brasilia Brazil
Date: September 18 1975
Time: 2345
Dr Olavo Trindade, a surgeon, & 4 others were being driven near Brasilia when the engine began to overheat. When the chauffeur got out to examine it, the car was bombarded from every direction with rocks, no one being in sight. He drove away, but the stones kept hitting the car. One materialized inside the car and struck the 2 women. When they reached a police station, the barrage stopped. But when they returned to the original site with a police car, the stones again struck the car. Clouds of dust rose up around it, and in the dust were visible men 8-9 ft tall. Both police officers tried to fire at them, but their guns jammed. As they drove ahead to the police station these humanoid shapes, flinging rocks, accompanied the car all the way. When the chauffeur tried to shoot at the figures, his guns also jammed. The surgeon and another passenger, M Queiroz, had to exert all their strength to keep the car doors from being pulled open. When Queiroz began to pray for help, the stones stopped & the shapes disappeared.
Source: The National Enquirer
---
Date: September 23 1975
Location:  Cambrai, Nord, France
Time:  10:30 p.m. 
Summary:  An elongated fuselage-shaped object 15 meters long with several big, lighted portholes appeared. It moved rapidly and vanished instantaneously when chased by a French Air Force Mirage III jet. It made four appearances. 
Source:  Dominique Weinstein, Aircraft UFO Encounters, p. 39
---
Date: September 25 1975
Location:  Mountlake Terrace Washington
Time:  0550A
Summary:  A member of the US Air Force home on leave, awakened by barking dogs, saw a bright red sphere about a foot in diameter hovering 12″ off the ground in front of his parked car. Beside it, dimly visible stood a man about 6'5″ tall. The witness heard a high-pitched beeping sound that made him feel as if he were going to faint. He awakened his wife; the beeping sound stopped abruptly, and when they looked on the sphere & the figure were gone.
Source:   Robert Gribble
---
Date: September 26 1975
Location:  in Asservent, near Maubeuge, France
Time:   9:30 p.m. 
Summary: A very large disc-shaped object was watched by some 12 witnesses. This disc was only 20 meters from the ground. A cone-shaped object detached from it and rose vertically. Eight photographs were taken. 
Source:  Richard Hall, Skylook, May 1976, p. 9
---
Date: September 30 1975
Location:  Orland, California
Time:  at 4 am
Summary:  On a dairy ranch, at 4 am on a clear night with a quarter moon in the sky, Hubert Brown, 22, and Tyrone Philips, 37, were busy moving cows and milking. Brown was in a field to bring in the last string of cows when he saw a bright red glowing object descending rapidly toward him at about a 35-degree angle from the northeast. The object came within a few feet of the ground near Brown. The cattle bolted as did Brown, who ran to where Philips was working in the milking shed about 200 yards away. As they watched, cattle in the holding pen stampeded, and the cattle in the milking barn backed up and crowded together as described above. The clearly outlined domed disc was estimated to be 60-70 feet in diameter and had a bright red light on top that illuminated the craft and the ground around it. There seemed to be windows, but the red glow was so bright, it was difficult to see. There was a moderate humming sound. The object hovered and wobbled just above the ground for 30-40 seconds before it suddenly took off at about a 45-degree angle into the sky, disappearing to the west. No burned or discolored areas were noted on the grass. No EM effects were reported.
Source:  Cerney, Paul, 1983, Red Object Spooks Farmhands, Cattle: MUFON UFO Journal, v. 189, p. 14-15. 
---
Date: September  1975
Location:  
Time:  
Summary:  
Source:  
Related articles