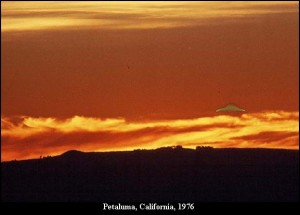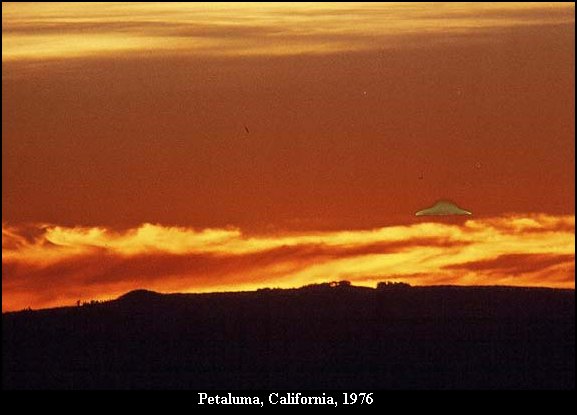 (Last Updated On: May 10, 2017)
Date: August 1976
Location: Petaluma, California
Time:
Summary: Witness states: "I was shooting Ektachrome film on a warm summer evening north of Petaluma, CA, in August 1976. I shot several exposures in a 5 minute period when I was able to capture this shot. Everything is silhouetted as the sun had already gone done but this was easily seen. There are four blue dots on the flat side of the object and the edge would tend to show it was moving very quickly." A copy was sent in the early 1980s to Walt Andrus who was with MUFON then. Having this on film and going through some strange events made me a believer.
Source: 'Zirp Twirp'
---
Date:  August  1976
Location:   Near New Buffalo Michigan
Time:   
Summary:    Several witnesses encountered a misty five-foot tall glowing figure floating silently outside their home, several feet above a field; it drifted slowly away until it was lost from sight. One of the witnesses interpreted the figure as being a "ghost" or "angel."
Source:   David Fideler, Fortean Times # 32
---
Date:  August  1976
Location:   
Time:   
Summary:   
Source:  
Location. Quercianella Italy
Date: August 1976
Time: unknown
Summary: A man observed a transparent cigar shaped object on the ground partly hidden by the brush. It resembled somehow a military gunship. Inside he saw a man wearing gray military style overalls. He was performing some tasks as if attempting to extinguish a fire within the object. No other information.
Source: Maurizio Verga, Itacat
---
Date:  August  1976
Location:   
Time:   
Summary:   
Source:  
Location. New York, exact location not given
Date: August 1976
Time: 0100A
Summary: The main witness was out in a wooded area camping with some friends and at night had been attempting to fall asleep when she suddenly felt a presence near her and became frightened. She then saw six to ten beings that appeared to be floating above the ground on a very slight incline. The figures were very small, grayish silver in color with very large heads, small mouths, and huge black eyes. They wore something resembling a long grayish garment. One of the beings came close to the witness, who sensed that it was a male. At this point the witness was terrified. Another being then approached and motioned to the other ones not to touch her, perhaps sensing her fear. The being eventually moved away and left.
Source: Kenneth Ring PhD. The Omega Project
---
Date:  August  1976
Location:   New Brunswick, New Brunswick
Time:   3:30 AM
Summary:   IN AUGUST OF 1976, AT ABOUT 3:30 AM, WHILE I WAS WORKING AS A SECURITY GUARD WITH MY DOG,I SAW A DOMED DISC SHAPED CRAFT MOVING VERY SLOWLY ACROSS THE OLD AIRFIELD I WAS GUARDING. i GOT OUT OF MY VAN WITH MY DOG TO GET A BETTER LOOK. MY DOG DID NOT BARK. I WATCHED IT TRAVEL VERY SLOWLY ACROSS THE FIELD
IT MADE NO NOISE. THE DOME HAD WINDOWS THAT WERE LIT UP, BUT I COULD SEE NO OCCUPANTS. THE SAUCER AROUND IT WAS GOLD COLORED. THE BOTTOM WAS WHITE AND SEEMED TRANSPARENT WITH ALL KINDS OF BEAUTIFUL COLORS IN IT. IT CAME TOWARDS ME. IT STOPED AT 50′ FROM ME. IT WAS BUILDING HIGH AND ABOUT 300′ TO 400′ WIDE. IT MADE NO SOUND. IT CAME FROM THE NORTH, THEN EAST TOWARD ME, AND THEN SOUTH TOWARDS A MAJOR AIR PORT.
I HAVE ENCLOSED TWO PICTURES MY GRANDDAUGHTER DREW FOR ME FROM MY DESCRIPTION OF THE CRAFT.
Source:  MUFON 77332
---
Date:  August 1976: Close Encounter Near Leeds England
---
Date:  August  1976
Location:   
Time:   
Summary:   
Source:  
Location. Heathcote Road New South Wales Australia
Date: August 1976
Time: 0340A
A motorist watched an object land and a man like figure emerge down a ramp. The figure then re-entered the object, which took off vertically at high speed. No other information.
Source: Keith Basterfield
---
Date:  August 1976: North Reddish, Cheshire, England Sighting
---
Date:  August  1976
Location:   
Time:   
Summary:   
Source:  
Location. Playa Torre De la Higuera Spain
Date: August 1976
Time: afternoon
Several boys playing along the sand dunes were stunned to see, moving nearby a tall metallic robot-like figure that was moving clumsily over the sand. The children ran to fetch their parents and they also watched the metallic figure move along the sand. The witnesses all panicked and ran into some nearby cabins and did not see the creature depart.
Source: Antonio Ribera, Los Doce Triangulos de la Muerte
---
Date:  August  1976
Location:   
Time:   
Summary:   
Source:  
Location. Thermopolis, Wyoming
Date: August 1976
Time: afternoon
The 12-year old witness and a friend were riding on a Honda minibike on a dirt-road adjacent to the Wind River Indian Reservation. It occurred to the main witness that he had never been on this particular road and had never heard of anyone mention it being in the area. They had gone at least 2 or 3 miles along the dirt-bike when the motor on the minibike suddenly died. Due to the way it quit the first thing they checked was to see if the spark plug wire was connected, to their consternation the spark plug appeared to be fine. As the two young witnesses were scratching their heads they suddenly felt the scariest sensation they had ever experienced, they felt sheer terror as the hair all over their body stood up on end. At the same time they both looked up and saw what they were certain was pure evil. They were looking at a "man" dressed all in black, with a black cowboy hat on, riding a black horse, with all black gear. No face was visible at all. If it were a human with a cowboy hat on, even with the shadow from the hat, some detail would have been visible, but there was none on his face, clothing, the horse, nothing. He was approximately 50 feet from the witnesses, and was heading directly toward the witness through the sagebrush. The witness noted that the sagebrush all around this area grows to 2.5 to 3 ft high is very thick, and people and people and animals need to jump over it, or go around it. The horse was somehow walking directly through it. After staring in total shock for several seconds at this entity, they wordlessly spun the minibike around, and one of them jumped on it and began kicking the starter pedal as if their "lives" depended on it. The witness was somehow convinced that his life did. Thankfully after several kicks the minibike fired up. They both jumped on it and got out of there as quickly as possible. After many minutes of this breakneck getaway, during which we never once looked back, the main witness no longer had the feeling of impending doom, and they slowed to a gradual stop to catch their breath. They had been stopped for less than a minute when the feeling of dread returned, stronger than ever. Simultaneously, slowly, they both looked back over their right shoulders, and there was the man in black in exactly the same position he when they saw him last. It was as if they had been looking at a movie screen, and the film had stopped when they had looked away, and started again when they had looked back, even though they were more than a mile down the road from where they saw the strange entity. Needless to say they turned the throttle on high and didn't slow down or look back or lose the feeling of evil until we had the main road in sight.
Source: http://www.hbccufo.org
---
Date:  August  1976
Location:   
Time:   
Summary:   
Source:  
Location. Near Propriano, Corsica France
Date: August 1976
Time: evening
30-year old Michel Ange encountered a large luminous sphere next to a road in a quarry. He approaches the sphere. At 20 meters away he sees 3 thin whitish figures of human appearance that look at him. A sense of peace overcomes him. After the humanoids and the sphere leave a mass of gelatinous "silicon" is found in an area of flattened grass. The witness apparently has several other experiences including a possible abduction episode in which he is taken to a UFO "base".
Source: J P Chambraud La Corse base d'Ovni, Mauge Bufora 89
---
Date:  August  1976
Location:   
Time:   
Summary:   
Source:  
Location. Weyersheim, France
Date: August 1976
Time: 2000
Three women were taking a stroll when they noticed a red sphere of light in the sky just west of their location. It then hovered not to far from the ground and it seemed to have numerous luminous filaments or beams of light shining towards the ground. There also appeared to be numerous little "men" milling about on the ground under the object. Soon the truncated beams of light appeared to retract inside the object and the little figures vanished. The craft then also disappeared.
Source: Catalog CNEGU, Denys Breysse Project Becassine
---
Date:  August  1976
Location:   
Time:   
Summary:   
Source:  
Location. Collinsvale Tasmania Australia
Date: August 1976
Time: 2030
A milk truck driver making his round stops to see a strange figure hovering above the ground to the rear of his truck. The figure is described as being white and cylinder shaped with two black eyes; about five and a half foot tall, it glides towards the witness then disappears behind some nearby bushes.
Source: Keith Roberts, Tufoic Tasmania
---
Date:  August  1976
Location:   
Time:   
Summary:   
Source:  
Location. Near Lincoln Nebraska
Date: August 1976
Time: dusk
A woman sitting on the back of a farmhouse suddenly noticed an eerie silence among the animals. She then saw, standing about 300 yards away a huge hairy figure. The figure moved rapidly through the pasture towards the witness, her dogs panicked and dashed into the house knocking the witness down in the process. The creature then broke down the wire fence only 30 feet away but suddenly vanished in plain sight of the witness as it neared.
Source: Jerome Clark, Unexplained!
---
Date:  August  1976
Location:   
Time:   
Summary:   
Source:  
Location. Enderlin North Dakota
Date: August 1976
Time: night
During a rash of bizarre cattle mutilations in the area a man driving home on highway 46 encountered several figures dressed in white robes and carrying candles. A week later similar figures were seen on a bridge over a railroad near Millsite Park. Shortly after that, a bull died mysteriously.
Source: Curtis Fuller, Fate February 1977
---
Date:  August  1976
Location:   
Time:   
Summary:   
Source:  
Location. Bel Air California
Date: August 1976
Time: 2245
A sizable fireball crossed the skies of Southern California and apparently crashed somewhere in the foothills north of Los Angeles. Later several police units were dispatched to the above location when a woman telephoned frantically saying that several large gorilla-like creatures were digging holes in her large backyard. When the first police car arrived they were bombarded with several good size tree limbs. The creatures were reported to be as tall as a man and yelled and screamed "defiantly." The police had to cordon off the area. No other information.
Source: Peter Guttilla, The Bigfoot File
---
Date:  August  1976
Location:   
Time:   
Summary:   
Source:  
Location. Lanus Buenos Aires Argentina
Date: August 1976
Time: 2330
The witness was sleeping when he was suddenly awakened by a loud buzzing sound. The sound increased in density and the witness felt his will power drained. He then saw bright flashes in the room and became paralyzed. An internal voice seemed to calm him some. Out of nowhere three figures wearing silvery suits appeared. Two were men the third was a beautiful woman. The two men stood there and started at the witness while the woman approached. She bent over the witness and passed her hand over the witness face and body. She did not touch him, but after a few moments the witness felt "sexual" contact with her. Moments later the witness heard the intense humming sound again and apparently fainted.
Source: Alejandro Agostinelli, Richard Heiden and Jane Guma, FSR Vol. 37 # 1
---
Date:  August  1976
Location:   
Time:   
Summary:   
Source:  
Location. St Raphael, Var, France
Date: August 1976
Time: 0030A
Four motorists on a road spotted a luminous top-shaped craft hovering above the road. The witnesses saw what appeared to be eight humanoid figures moving around inside the luminous object. The startled driver honked the vehicle's klaxon repeatedly. This action apparently caused the object to streak away from the area at high speed.
Source: LDLN # 195, Denys Breysse Project Becassine
---
Date:  August  1976
Location:   
Time:   
Summary:   
Source:  
Location. Warren, Manitoba, Canada
Date: August 1976
Time: evening
Some young males were driving in their truck in an isolated area, and were passing alongside a swamp. Out of the swamp ascended a classic domed disc UFO. It rose slowly, but disappeared at high speed. On the surface of the swamp water beneath it, there seemed to be yellow, foam like substance in a roughly circular pattern. They decided to go home, get their wader boots and come back. Which they did, taking only about fifteen minutes to do so. The foam was gone, but they waded in anyway. Near the center of where they guessed the UFO had been they found a sealed plastic bag. Inside you could see what looked like a mummified hand (four fingers and a thumb). For some reason this brought to mind the legend of the Monkey's Paw sort of a talisman of evil or bad fortune. They took the bag back to their truck and decided to go home. The truck started but then, with terrible gasping noises stalled and would not go. Their radio began going on and off. They immediately accused the Monkey's Paw of these difficulties, and threw the bag away. Upon which, the truck started up without problems, and they drove off.
Source: Chris Rutkowski
---
Date:  August  1976
Location:   
Time:   
Summary:   
Source:  
Location. Milwaukee Wisconsin
Date: August 1 1976
Time: 0430A
The witness, a young woman of about 20, heard a noise and looked out her window, she saw 2 persons of average height. She could not see details of their faces. A white light went out form these beings toward the east. She heard a loud voice talking in an unintelligible language.
Source: Richard Heiden
---
Date:  August  1976
Location:   
Time:   
Summary:   
Source:  
Location. New Haven, Connecticut
Date: August 1 1976
Time: 1800
A man told police he had been buzzed by a round silver, dish-shaped object, which froze his car and perhaps took his picture as he was driving on Route 63 between Bethany and New Haven. As the UFO passed overhead, he said, the engine of his car died, and the car came to a stop. When he tried to leave the vehicle, he said, the door wouldn't budge and he began to feel "tingly". Eventually he too became paralyzed. While this was going on, an object which might have taken his snapshot appeared below the low flying disk. Finally it flew off.
---
Date:  August  1976
Location:   
Time:   
Summary:   
Source:  
Source: Mutual UFO Network of Connecticut
Location. Near Hobart Tasmania, Australia
Date: August 2 1976
Time: 0400A
Michael Wood, 26, was driving home when, on Ten Mile Hill, he heard a sound "like electronic music turned up too high." An area lit up in front of the car like a yellow lighted picture screen, on which he saw the side view of a 10-foot tall figure in light trousers and a tight fitting black jacket, which seemed to be turning toward him. He braked but the car went through the "screen." He could find no trace of it.
Source: Jackson of Tufoic
---
Date:  August  1976
Location:   
Time:   
Summary:   
Source:  
Location. Halifax Nova Scotia Canada
Date: August 3 1976
Time: night
Independent witnesses watched a large 30-foot oval shaped object, bright blue in color, with a 20 foot tapering trail traveling parallel and close to the ground, no sound was reported. Just 10 minutes prior to this sighting, in the same area next to a wooded location a witness saw a large wide red light hovering across the road and extending into the woods. Two human like figures of average height were seen standing inside the red light.
Source: Gordon Kijek, Alberta UFO Study Group Quoting The Royal Canadian Mounted Police
---
Date:  August  1976
Location:   
Time:   
Summary:   
Source:  
Location. Bulla Vizcaya Spain
Date: August 4 1976
Time: unknown
A ten-year old boy, Lorenzo Alvarez Vazquez, reported seeing two small "extraterrestrial" beings, about 1.20 or 1.30 meters high, in the Bilbao suburb of Bulla. They had green eyes and noses and wore silvery clothing. They said nothing, but shone a light on the boy, as they stood near a motorcycle. He watched them for 5 minutes, and then went to get local residents who, returning to the spot, saw nothing, although the boy said he could still see one of the entities. One of the residents pointed a gun in the direction indicated by the boy, who then announced the "spaceman" had taken refuge behind a car.
Source: FSR Vol. 22 # 6
---
Date:  August  1976
Location:   
Time:   
Summary:   
Source:  
Location. Near Sterling Logan Colorado
Date: about August 5 1976
Time: 0400A
After 3 successive nights in which cattle where mysteriously killed and mutilated in a feed lot, 2 cowhands were on the watch that night when they saw 3 "human like figures" go over the feedlot fence. The figures didn't move like humans, but seemed to glide. They called police, who arrived within 6 minutes, but the "figures" were not to be found. Although the ground was muddy, no footprints were found near the fence, and no mud upon it.
Source: Sheriff Harry Graves
---
Date:  August 6 1976
Location:   Gaspesian Park Quebec Canada
Time:   1000A
Summary:   Freddy Chiasson, 52, his wife Claire and their two sons Morris & Rony were driving across Gaspesian Park in a thick fog, heading toward Matane, when a beam of red light coming from the sky struck the road in front of their car. In spite of the fog, this beam had very sharp edges, and formed a circle 6" in diameter where it impinged on the road. It paced the car, always at the same distance ahead, for several miles, then broke up into several "sections" which shut up into one another, like a collapsible telescope, and rose back upwards (coherent light?). The witnesses then saw to their left a dazzling white light, which the witness estimated to be half a mile away; this light approached them and stopped over the road, some distance ahead of them. Mr. Chiasson stopped the car. They then felt a very strong sensation of heat, and the car's headlights and radio went out. Then the motor died, and the witness could not re-start it. They could smell a peculiar "acid" odor that irritated the nose. They gout out of the car and walked through the fog toward the fuzzy, intense light ahead. They found that it came from a round, scallop shell shaped object, wider than the road, resting on legs. It was about 40 ft, wide, and 15 ft high, made of a dull metal, and with square circumferential windows 3 ft. square, out of which the light was pouring. About 4 of these were visible. They could hear a dull sound, like wood rubbing on wood, in regular intervals. They approached the windows, whose light diminished as they came nearer; then the wife gave a scream, and pointed to one of the windows, which seemed to be made out of a soft material, in it he could see, as if through water, a massive face with big, round fixed eyes. The sight made him feel like vomiting. All four ran back to the car, which still could not be started. After a few minutes, the 2 youths again walked through the thinning fog toward the object, followed by their father. When they had got to within 10 paces of it, and could see that the light inside it had gone out, 2 rays of blue-green light, of oval cross section and not expanding as they went, appeared, coming from behind the UFO toward the witnesses. Mr. Chiasson felt sick, his eyes watered, and he vomited. Then the light rays went out, and they saw two beings standing, off, as it seemed to Mr. Chiasson, floating, beside the object. They were about 7 ft. tall, bald, and appeared very ugly to the witnesses; they filled him with feelings of terror and rage. They wore khaki brown uniforms, "like a police officer, but closer fitting" and were holding one end of tubes about a yard long, whose other ends rested on the road. The beings were stocky, with wide shoulders, which were "too high" and round bodies. Their square chinned, straw yellow faces had big, round eyes without eyelids and thick red lips; neither Mr. Chiasson nor his sons observed their noses or ears, and they may have had none. They stood still, but turned their heads as if examining the witnesses. After some minutes of confrontation, the 3 witnesses fled back to the car, where Mr. Chiasson vomited again. Then there was a burst of insupportable light in front of them; followed by a wave of unbearable heat that made them all crouch down in the car. This got worse, then gradually passed off. When they got up they could see that there was nothing ahead of them; the fog had practically dissipated. The car could be started. At the place where the UFO had been, there was a slight luminous vapor. For about 10 hours afterwards, all suffered from intense itching.
Source:  Jean Ferguson, Les Humanoides, Lemeac, Quebec, 1977
---
Date:  August  1976
Location:   
Time:   
Summary:   
Source:  
Location. Ampus-Chateaudouble, Var, France
Date: August 7 1976
Time: 2130
50-year old Mr. X a police officer by profession was out in a camping ground when he began to experience interference in his radio. He stepped outside and saw a black rectangular shaped object apparently hovering about 50cm from the ground. The object was on a nearby clearing. It had what appeared to be a small antenna on top. The witness approached the object and suddenly saw coming from the direction of the woods three thin silhouettes. They had long dangling arms and were about 1.20m in height. The figures moved towards the object and disappeared inside through an open door. At the same time the witness began having difficulty moving and experienced a headache. A bright green violet light then appeared on the bottom of the object and it disappeared from sight. Ground traces were reportedly found.
Source: Inforespace # 76, Denys Breysse Project Becassine
---
Date:  August  1976
Location:   
Time:   
Summary:   
Source:  
Location. Malone (Fond Du Lac) Wisconsin
Date: August 7 1976
Time: 2200
Orville Ziegelbauer and his son Mark, 15, saw an object with revolving multicolored lights, "about the size of a small camper trailer," land in a hayfield out of view. Mark drove to the sit; he did not see the UFO, but he saw by his headlights two green men, one slightly taller than 5'7", and the other one smaller. The 2 men put their hands up to their eyes, and somehow disappeared. No other information.
Source: Mary Sondergard, Fond du Lac Reporter
---
Date:  August 9 1976
Location:   Lakeland area by Blackwood New Jersey
Time:   
Summary:   My daughter and I decided to take our horses out riding, like we occasionally did in the Lakeland area by Blackwood. It was August 9, 1976. I remember the date because we knew Hurricane Belle was soon to hit the New Jersey coast, so we wanted to get some riding in before that. It was a windy day, but we followed the usual trails, going along dirt paths that were close to a junkyard. We approached one section of woods when suddenly there was dead silence. We usually heard all sorts of wildlife in the area, but heard nothing now. Then a crow cawed loudly three times, and the horses started acting up—we couldn't figure out what was going on. And then up in front of us, about one hundred feet or so, we saw this "thing"! It was about six feet tall. Its back, which it was scratching against a tree, was facing us. At first to me it looked like a large dog on top of a horse. I asked my daughter, "What is that?" It started walking along the path we were riding on, and we slowly followed it up the hill, but the horses were reluctant to stay calm. They started to go wild. The thing turned around, and I could better see what it looked like. It had whitish hair, with black spots on its hips. It had horns coming out of its head and red, slanted eyes. Its nose had a pig-like snout. It stood on two feet that ended in cloven hooves; its hands were tipped with large claws. And it looked like it was slobbering all over. It jumped into the path with its arms opened wide, lowering its head like it was going to charge us. At the time I felt as though I was in some kind of trance, like I was in a movie or something. Only when my daughter yelled, "Let's turn around and get out of here!" is when I realized we might be in danger. We were certainly afraid of whatever it was. Then it did charge at us, tucking its arms in and running like the Bionic Man. It tried to grab one of the horse's tails, but we took off. When I looked back I noticed it had stopped in the spot we had taken off from. Like in the movies, after we got away from this thing, we saw a Washington Township police car by the junkyard and told the policeman driving it that there was a strange creature in the woods that came after us, and we described it to him. The policeman said, "Well, I hope to hell we don't catch it!" and started to fill out a report. But amazingly, this thing showed up in the junkyard and we all saw as it hopped over the eight-foot fence, galloped in front of the police car and then ran into the woods! After that, we took the horses right back to the stables. The policeman wanted my address so he could speak with me later, but I didn't make it home in time. He had already come and gone. I never found out if he filed the report. Maybe he didn't want to report it. Later on, the owner of a local ranch told me one time he found one of his horses dead in a field, with its stomach ripped open. I am telling you: I believe there is something out there. There were three witnesses that day and my daughter and I can recall vividly every moment of our encounter with this thing even after 40 years. I'll never forget it. I've never told this story to anyone outside of the family, but my daughter convinced me that we should tell it to Weird NJ.
Source:  Weird NJ
---
Date:  August  1976
Location:   
Time:   
Summary:   
Source:  
Location. Near Jaboticatubas Brazil
Date: August 9 1976
Time: evening
Cicilio H Pereira was walking home with Anita & Geralda, two older neighbors of his. They were on an isolated dirt road and were waling down a hill past some charcoal ovens near the road, when they spotted a bright light in the sky. The light soon came straight towards them at high speed, getting closer and closer. All three began running, but Cicilio did not get very far because one of the sandals he was wearing tore its strap. He stopped and the women kept running. Suddenly the huge bright saucer shaped object was on top of him. Cicilio screamed in terror as the object rose up then descended down over him again. He felt a terrible cold wind and rose up a little bit into the air. He also heard a slight humming sound. There was also a smell of sulfur in the air and he was able to see two or three small men inside the object. Suddenly the object disappeared. He ran the rest of the way home, feeling confused, scared, and nauseated. He saw the little men briefly as a door of some kind opened and closed quickly. He became extremely ill after the incident, became bedridden and eventually died.
Source: Bob Pratt, UFO Danger Zone
---
Date:  August  1976
Location:   
Time:   
Summary:   
Source:  
Location. Albufeira, Algarve, Portugal
Date: August 10 1976
Time: 1700
44-year old Francisco Tejero, his wife Teresa Lacave and friends Jose Valles and his wife Pilar Osborne Domecq were on holiday at the local Hotel Da Balaia and had gone into the hotel bar for something to eat. There they saw two men and a woman who were engaged in a discussion and at the same time seemed to be watching the witness's party most intently. The two men were short in stature, "with European features but very dark." They seemed to be somewhere between 40 and 50 years old, and yet they were far too white haired for such an age. Suddenly a couple of strange flashes came from the direction of this mysterious trio, like the flashes of a camera, and although they observed no camera, the two Spanish couples had the firm impression that somebody had just photographed them, no doubt with the aid of some micro-camera concealed in a cigarette lighter or something of the sort. Moreover the presence of the mysterious trio caused the two couples to feel an indescribable sort of malaise—so much so indeed that they rapidly finished their drinks and left the bar, and went to have dinner. Their rooms were on the top floor of the hotel. Later that night Teresa awoke with a start, and to her great astonishment, she observed that, on the curtains of the window (which was opened on this extremely hot night) there was a very vivid luminous rectangle, "like a TV screen." She immediately thought of the strange "spies" in the bar, who had seemed to photograph them the evening before, and her next thought was that maybe the 'spies" had entered the bedroom and were going to rob them or do them some kind of mischief. She turned and shook her husband vigorously. Her husband quickly jumped out of bed and went to the window. In his account he says: "It was as though I was in some sort of trance, as if I had been hypnotized by someone. Outside, all was utterly, infinitely peaceful." He was moving around like an automaton as though he had somehow been turned into a robot. He looked out the window and saw a quadrangular thing, with six reddish lights on it, on the on the hotel, but on another wing of it which made an angle with the main face on which their window lay. All was dark underneath the "thing", and nothing was to be seen. He remained there motionless for a while gazing at the "attic" not without a certain feeling of irritation because one of the lights was being directed in such a special fashion right into their bedroom. He then turned around and went back to sleep. In the morning they were astonished to find out that there was no other wing of the hotel running out at an angle. There was no building or structure of any kind whatsoever there. Simply, there was no "attic."
Source: Ignacio Darnaude, Flying Saucer Review, October 1977
---
Date:  August  1976
Location:   
Time:   
Summary:   
Source:  
Time: Aug. 10, 1976; 140 miles E of Vancouver, BC, Canada
A number of objects were observed at Penticton Tower. The objects had steady flashing green and red lights and were seen by civilians and members of the Royal Canadian Mounted Police. (Reference: Fawcett and Greenwood, Clear Intent, page 47)
---
Date:  August  1976
Location:   
Time:   
Summary:   
Source:  
Location. Near Cincinnati Ohio
Date: August 12 1976
Time: late night
A motorist noticed a break in a local radio transmission. The engine of his vehicle started to miss while the headlights flickered and dimmed. Engine and lights returned to normal almost immediately. A flickering blue light was seen, illuminating the treetops and a figure was noticed moving towards the car. The witness reported that he became aware of some form of communication and understood that the figure was a robot. The witness alleged that a gadolinium ingot package was taken from the car by the robot, which seemed to float along in spite of the weight of the package. The witness followed and came to an object standing in a clearing. The object was about 40 ft in diameter, supported on three legs and with light coming from underneath. Within about 300 ft of the object the witness felt his hair stirring and noted a low humming noise. After ten minutes the being reappeared and the package was placed on the ground. The humming sound and light increased and the object took off, hovering and swaying slightly before it accelerated towards the north disappearing in a few seconds. The witness continued his journey and delivered the package for air shipment. He was later informed that the magnetic properties of the gadolinium were unusual and on analysis a depletion of the highest isotope was found.
Source: Timothy Green Beckley, Strange Encounters, and The Temporal Doorway
---
Date:  August 13 1976
Location:   Between Diepholz & Petershagen, Germany
Time:   17:00 GMT
Summary:   The pilot of a Piper Arrow PA-28 was flying at 3,500 feet when he noticed a strange light approaching from the NE at his 9 o'clock. After 3-5 minutes, the object came closer and took a fixed position off the Piper's left wing. The object was oval-shaped and very bright yellow in its center with an indistinct flame-orange boundary. Its diameter subtented about 3.5 degrees of arc. Suddenly the Piper went into two rapid 360° clockwise rolls from which the pilot had to recover manually. He discovered that he had dropped about 500 feet during the roll and recovery maneuver. When he next checked his instrument panel, he discovered that his magnetic compass was spinning in clockwise direction so fast that he couldn't read the number in its square window. Looking outside again, he saw that the UFO was still behind him, suggesting that he had too had lost the same amount of altitude. The pilot climbed back to his cruise altitude and called on the radio to Flight control at Hannover airport to the east of his position.The air traffic controller told him that the radar showed both his airplane and another object nearby him. The controller said that an aircraft would be sent to investigate. Little more than four minutes later, two USAF F-4 Phantom jets arrived on either side of him travelling brtween 400 and 500 mph. The jet on the right side was slightly lower, closer, and ahead of the jet on the left. The pilot was certain that they were American planes. Just as the jets arrived, the UFO accelerated forward and then upward at about a 30° angle above the horizontal and turned right, passing in front of his aircraft. It quickly outdistanced its pursuers and was out of sight in a matter of seconds. The compass eventually returned to normal operation after the UFO departed. The pilot was interrogated after his landing by "military men". (Source: International UFO Reporter, CUFOS, Vol.24 #4, An aircraft UFO encounter over Germany, by Dr Richard F. Haines, Case 39)
Source:  International UFO Reporter, CUFOS, Vol.24 #4, An aircraft UFO encounter over Germany, by Dr Richard F. Haines, Case 39
---
Date:  August  1976
Location:   
Time:   
Summary:   
Source:  
Location. El Fundo Bani, Dominican Republic
Date: August 14 1976
Time: 1700
Two young boys were playing with their dog in a rural ranch area when the dog suddenly began to bark uncontrollably, they then see coming from behind a nearby shack a strange robot like creature that began walking rapidly away without turning its head. The frightened children now ran behind a wire fence and hedge, soon one of them heard a strange noise behind him and saw a black sphere about 3 foot in diameter pass by rolling at high speed on the ground disappearing into the brush. By now the robot like being had kept walking away stiffly until it was lost from sight in the brush. The being was described, as about five-foot six inches tall, wearing a tight fitting red top and black pants, the skin on his arms appeared green and scaly. The boys were not able to see the eyes or nose but the being's mouth was normal and he had frizzy blond hair. He wore a large white collar around his neck that seemed to prevent the head from moving and his arms were kept straight at his sides during the whole encounter. The dog never attempted to approach the being but appeared exhausted and nervous after the incident.
Source: Robiou Lamarche, Manifesto Ovni en Puerto Rico, Santo Domingo y Cuba
---
Date:  August 15 1976
Location:   Boyer, Tasmania
Time:   0145
Summary:   Two people in a utility noted an approaching light which then drew back. "Something" shone a light in the vehicle's back window. It seemed 125 meters back and 250 metres up in the air, looking like a jelly bean with a dome on top. The vehicle's radio's volume faded and the inside of the ute lit up. The road swung under a cliff and the light wasn't seen again.
Source:  TUFOIC
---
Date:  August  1976
Location:   
Time:   
Summary:   
Source:  
Location. Santo Domingo, Dominican Republic
Date: August 15 1976
Time: evening
An elderly witness reported seeing a large brilliant circular-shaped object descend above the rooftops of some houses and land on a road. A human-like figure briefly exits the object but re-enters the object immediately, the object then shoots away at high speed. No sound was heard.
Source: Apro Bulletin Vol. 30, Denys Breysse Project Becassine
---
Date:  August  1976
Location:   
Time:   
Summary:   
Source:  
Location. Buellton, California
Date: August 15 1976
Time: 1900
The 10-year old witness and some other members of his family lived near to Vanderberg AFB and late one afternoon he looked into the western sky and became aware of an aircraft that looked just like a glider—cigar-shaped with long narrow wings, a vertical tail fin, ailerons, and a white blinking light at the bottom of it. The craft was flying across the top of the western mountain range. Suddenly it quickly moved south over and probably beyond Santa Barbara in a matter of seconds. They all became intrigued (at this point more witnesses had arrived) as they watched it further. It turned east, looped around and began coming closer to the ground right between their house and the neighbor's house in a large subdivision. It was painted black—like a stealth craft of today. It was so close they could have thrown a stone at it, but it made no sound at all—it was completely defying gravity. It seemed to know that it was being watched and picked the witnesses out. The witness looked up and saw a pilot who was dressed in black and wearing a black helmet and gloves. There was an orange-pink glow that seemed to come from the instrument gauges and was glinting off his helmet and gloves. The pilot looked over at the witnesses and then looked back down at his gauges and then turned to wave at them as the craft started to slowly move away gaining speed as it moved. After the sighting the witness was surprised that the sun had already set, as more time had passed than it had seemed. Only his younger sister remembers the incident today.
Source: NUFORC
---
Date:  August  1976
Location:   
Time:   
Summary:   
Source:  
Summary: Aug. 15, 1976; Connersville, IN
10:55 p.m. Object (repeat appearance three days later with artifact.), vacuum cleaner sound, 2.5 mins. Site of events was creek bed off Harrisburg road. Wife of rural family out in backyard notices wide band of white light in creek bed under trees. Family watches glowing white oval slowly rise up and fly away to the northeast where it assumed a dark oval shaped with white green and red lights revolving around its edge or middle. Wife saw hump on top. Lucas (Worley files)
Source:
---
Date:  August  1976
Location:   
Time:   
Summary:   
Source:  
Location. Egg Harbor (Door) Wisconsin
Date: August 16 1976
Time: 0400A
Dean Anderson and Wayne Schutte both noticed a "craft" coming in; then Anderson riding a mower, saw by its headlights a figure on the golf course, running. Anderson chased him on the mower. He saw the man's helmet light up and his belt start glowing reddish; then it glowed green, yellow, pink, and orange, while the antenna on his helmet flashed bright red. Anderson was now within 10 ft of him, and could see that he was 7 ft tall and had a long nose. Then a beam shot down in front of the mower, stopping it, then the figure turned around and looked at the witness, seconds later a small "scout ship" descended and opened a door 3 ft by 3 ft, inside which lights could be seen flashing on a panel. The figure floated into this doorway, "the craft glowed bright blue, red, and orange then took off." The footprints of the man were 20 inches long, 8" wide, and 5 ft apart.
Source: Keta Steebs, Sturgeon Bay Advocate
---
Date: August 16, 1976: UFO seen by many in Namibia
---
Date:  August  1976
Location:   
Time:   
Summary:   
Source:  
Location. Hamden, Connecticut
Date: August 16 1976
Time: night
On Denslow Hill two 14-year old teenagers, Grey and Barnett saw two very short humanoid beings shuffle rapidly across a road. They wore purple-colored luminous one-piece suits and their waists were 20-22 inches above the ground. When the boys followed them a bright white, lemon-shaped UFO blinked on and took off into the air only 15 feet away from the boys.
Source: UFOCAT quoting James P. Barrett case investigation files
---
Date:  August  1976
Location:   
Time:   
Summary:   
Source:  
Time: Aug. 18, 1976; Central Florida
8:30 p.m. A family of four was traveling about 30 miles outside of Orlando, Florida. Suddenly they noticed a saucer-shaped craft appear at a very close altitude of approximately 1000 yards over their auto. The driver stopped his car and opened the windows to see the object more clearly. There was no sound emitting from the object. The driver of the car is an amateur pilot and is trained to observe and report accurately. All of the witnesses stated that the UFO appeared to have a dome-shaped red light on the top and white window-like lights around the saucer-shaped craft. Their CB radio broadcast nothing but static and because of this effect, they were unable to transmit or receive. The UFO was making movement and turns that would be impossible for conventional craft to perform. The family observed the phenomenon for about thirty minutes before losing sight of the craft behind the tree line. They drove directly to the nearest town and reported their experience to the local police. The officer told the witnesses that there had been several other reports describing similar craft. (Reference: UFO INVESTIGATOR, September 1976, page 2)
Summary:
Source:
---
Date:  August  1976
Location:   
Time:   
Summary:   
Source:  
Time: Aug.18, 1976; Fayette County, IN
11:15 p.m. Object, no sound, 2.5 mins., five witnesses. Lady, out shaking rug on porch and sees glow in creek bed. Family watches as object again (See Aug. 15) rises from same place near creek and take the same route into the sky and away. Father watched what he described as luminous ball through his 4-15 power scope on rifle. Father, who had been called , watched object en route to scene. Another witness phoned the radio station who had seen it. (Worley files)
Summary:
Source:
---
Date: August 20, 1976
Location: Allagash Wilderness Waterway, Maine
Time:
Summary: One of the most researched and best documented cases of multiple alien abduction occurred in August, 1976, in the state of Maine. The Allagash Waterway Abduction is a integral piece of the alien abduction puzzle. This case gained world-wide attention when it was dramatized in an episode of television's "Unsolved Mysteries." Twin brothers Jack and Jim Weiner, along with their friends Chuck Rak and Charlie Foltz, would be participants in an event involving a UFO sighting, missing time, and medical procedures performed by beings unknown.
Source: Unsolved Mysteries: Allagash Abductions
---
Date: August 21 1976
Location: Ganshoren, Brabant, Belgium
Time: 2120
Summary: Mrs. E. G. a housewife, was standing on the little terrace of her flat on the 14th floor in the Ave. Sept Provinces when her son drew her attention upon a big "star", saying, "Do you see" that star is giving out signals" He then added that the "saucer" was going to come down. The witness then reminded her son that it was time to go to sleep and tucked him in bed. She then told her husband about the bright star and both went out into the terrace. Now in the place where the star had been they could see a large inverted teacup shape with 4 bright red square portholes and a white spinning headlight on the side. It was bigger than the full moon and the object was at a distance of 300 meters, it disappeared suddenly as if a light had been switched of. The following morning when she told her son, she received a big surprised when he answered that his body had been home but his "second body" (spirit?) had been with them. He mentioned that the aliens had saved the life of a small child on that night and onboard there was a robot-like creature that apparently obeyed his commands.
Source: Catalogue Boitte, Project Becassine
---
Date:  August  1976
Location:   
Time:   
Summary:   
Source:  
Source: Location. Egg Harbor (Door) Wisconsin
Date: August 23 1976
Time: 0415A
Dean Anderson was cutting grass on a golf course when he saw a large orange craft drop down into a culvert behind the road. Anderson stopped his mower. Two figures emerged from a door in the craft and floated down to the ground on a "band of light." The craft then took off. Both figures carried flashlights 3 ft long. They came up to the witness and the man extended his hand, which the witness shook. He said, "We come in peace. I am Sunar from Jupiter. This is Treena; she comes from Saturn." The witness shook Treena's hand while Sunar explained that they were here on a scientific mission, gathering specimens. Treena took off her space suit and appeared in a close fitting light green one-piece suit; the top was of "some glistening metallic material," but the pants were dull. She wore slippers. Her skin was light tan, her eyes blue gray, and she had shoulder length hair. She was 5'2" tall. Sunar did most of the talking; he had copper colored skin, and said he was over 200 years old. The witness was told that the man he had chased on the previous encounter was Muton, from Mars, and that Sunar had once met Baha'u"llah, the founder of the Baha'i religion. After about 20 minutes of conversation, Treena put her space suit back on and gave Anderson an envelope of yellow nylon cloth, which she asked him not to open for 9 Earth days. The spacecraft came in and the two Ufonauts ascended to it on a beam of light. The craft was "30 ft wide at the bottom and 60 ft high." As soon as the light allowed, the witness photographed the footprints of Treena and Sunar in the dirt. Later upon opening the envelope, the witness found a gold colored engraved amulet inside.
Source: Keta Steebs, Sturgeon Bay Advocate
---
Date:  August  1976
Location:   
Time:   
Summary:   
Source:  
Location. Near Blissfield Michigan
Date: August 25 1976
Time: 0230A
The 10-year old witness got up to go to the bathroom; looking out the window, he saw a deep orange luminous globe shaped object blinking on and off and slowly zigzagging in the sky. He watched it for 10-15 minutes, feeling a "pull" from it. Then as it blinked, he suddenly found himself inside it, where 2 "green beings" sat with arms over a table with little black knobs," manipulating the knobs, and a third stood in front of the boy; the being was about an inch taller than the boy. The beings had no eyes, nose, mouth, or neck; instead of fingers they had pincers like a crayfish. They had two small projections on the top of their heads. Their legs did not end in feet; when they walked it sounded 'like a wooded legged pirate." The skin on their cheeks and arms was bumpy, like an alligator, and there were scales on their bodies. They did not utter words, but "hummed like Morse code." After about 5 seconds the boy found himself back in the house, and ran upstairs. Later that same night, about 0500A, his 11-year old sister awoke and saw a blue light outside her window.
Source: Ron Westrum
---
Date:  August  1976
Location:   
Time:   
Summary:   
Source:  
Location. Cerro De La Estrella Mexico City Mexico
Date: August 26 1976
Time: unknown
Enrique Mercado Orue was taken onboard an object after being instructed to go to an isolated area. He found everything very quaint and simple onboard the object. He saw what appeared to be a star-map on a wall. Onboard the craft he met human-like occupants of different statures. Some were over 2 meters tall, others much shorter than that. The women were generally shorter than the men; they were described as beautiful and well built, wearing form-fitting outfits, which seemed metallic in texture. He traveled onboard the "spacecraft" basically a short distance and did not go to another planet. He was shown a guest room where he slept comfortably. Later he was given 4 "crackers" to eat and a small glass of a substance resembling wine. He was told that what he ate would last for four days. Among many things the humanoids said was that they believed "in a higher being" and that the concept of God was a very personal one.
Source: Fabio Picasso
---
Date: August 26, 1976: The Allagash Abductions
---
Date:  August  1976
Location:   
Time:   
Summary:   
Source:  
Location. Near Briare Le Loiret France
Date: August 27 1976
Time: 0030A
In July and August, there had been a number of previous UFO-like sightings (luminous objects at night) in this very small hamlet, the most notable being on August 10, when 7 or 8 witnesses observed a large vertical yellow-luminous rectangle in the air, apparently a few hundred yards away. About 4 more luminous squares appeared in its lower part, like lighted windows in a building; then, turning orange then red, it gradually faded away, terminating in a very powerful flash of light. The next day a ground trace (a 10 ft square of crushed stubble, with imprints in the earth at its corners) was found on a field over which the appearance might have been; those who approached this marking too closely soon suffered a painful sensation of "heavy legs." Thereafter, moving red luminous balls were repeatedly seen by night, and noises were heard at night and even (in the adjacent wood) "howling" and loud metallic noises by day. A woman, who had seen both the luminous rectangle and, on several occasions the red spheres, had borrowed a camera to photograph them. About 0030A, a red sphere was seen approaching by the woman and two other witnesses who were outside at the time. When it had got "fairly close," the witness took two exposures form some seconds, and the witnesses could see there several silhouetted figures running, or walking very fast, and carrying in their hands powerful lights, like torches. They seemed to be of normal stature. Then darkness returned. In the weeks that followed, nearly all the witnesses of UFOs at this place fell ill (of various ailments) and one died.
Source: Joel Mesnard and Jean Marie Bigorne
---
Date: late August 1976
Location: Lake Park North Dakota
Time: late night
Summary: A man driving alone at night had to drive his car into a ditch in order to avoid hitting 10 white robed figures that were blocking a country road late at night. No other information.
Source:  Curtis Fuller, Fate February 1977
---
Date:  end of August 1976
Location: Paris region, France
Time: midnight
Summary: Philippe Chinarro had just left his uncle's farmhouse, which was located in an isolated area surrounded by vineyards. As he walked out into the road he felt a presence around him, he then walked towards a track that led to the vineyards as if looking for something. There he saw a huge luminous white light that did not illuminate its surroundings; its light seemed to be confined to a certain area on the hovering object. The craft was about 50 meters away from the witness, hovering near a wall that encased part of the vineyard. At the bottom of the craft suddenly appeared an intensely luminous rectangular area, which seemed to be composed of solid "coherent" light, it measured about 15 meters in length and about 7-8 meters in width. Suddenly out of the light a very dark human silhouette emerged, it was very tall and had long dangling arms ending in three digits. It seemed to turn and stare at the witness. At this point a smaller silhouette, which the witness estimated it as being the size of an infant also emerged from the light, this one also, seemed to look towards the witness. The witness feeling afraid and very curious at the same time decided to approach the object and figures. But as he attempted to move his body and muscles did not respond and he remained completely immobile. At this point he heard a soft masculine voice inside his head, the voice told him not to approach, that it was not "the right moment", the witness then felt a chill run through his body. At that point the witness seemingly and clearly understood the message and decided to move away, which he did, as he was suddenly able to move again. He left the area and did not look back. Strangely he forgot about the incident for three days, when he suddenly remembered all the details.
Source: UFO France, Temoigne Ovnis
---
Date:  August  1976
Location:   
Time:   
Summary:   
Source:  
Related articles