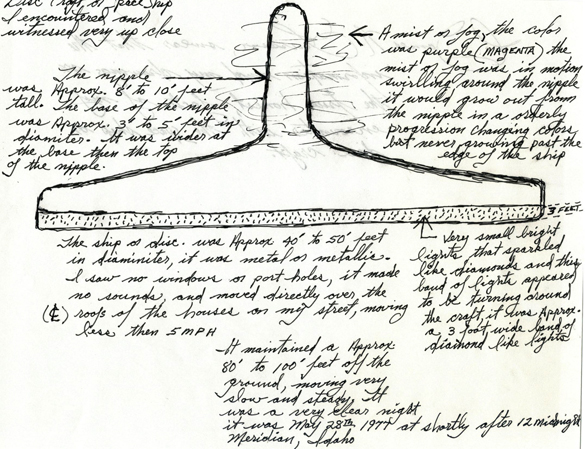 (Last Updated On: January 29, 2017)
Date: May  1977
Location:   Tyler Texas
Time:  0115A
Summary:  Hearing a growling sound outside the witness stepped out to investigate. He then saw two tall dark figures standing on his porch. The beings had no facial features, no hands or feet and were floating ten inches above the ground. Strange tracks were found and on a later night the witness and his girlfriend saw a hovering silvery disc with four blue white lights over the area.
Source:  Allen Hendry, UFO update, Probe Sept 1980
---
Date: May  1977
Location:  Nikobus Mountain, Germany
Time:  0500 A
Summary:  In the Odenwald Forest four young witnesses encountered a tall hairy humanoid that scurried away into the forest. It left behind 45 cm tracks on the ground. Police apparently investigated the case.
Source:   Info Journal # 54, Project Becassine
---
Location. Plains Georgia
Date: May 1977
Time: night
The witness, who was part of a specialized military unit at the time was told that he and several other soldiers were to guard the home of the current president, due to supposedly terrorist threats and other strange incidents in the area. One night on guard duty he was trying to raise the dispatcher but his radio would not work, then he noticed a weird yellowish-green light behind him, turning around he was confronted by a strange creature (not described) that was floating in midair. There was an explosion and apparently he lost consciousness. He was told he had been missing for 5 hours and five rounds of his M-16 were unaccounted for. There are hints of a possible abduction.
Source: CAUS
---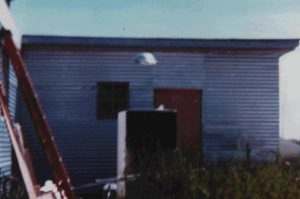 Date: May  1977
Location:  New Mexico
Time:  09:00 
Summary:  
Source:  
---
Date: May  1977
Location:  
Time:  
Summary:  
Source:  
---
Location. Near Pic-St Lou Gard France
Date: May 1977
Time: night
A man was driving home when his car engine failed. A very luminous saucer shaped object was seen hovering near the ground; an indistinct form, of human appearance and stature, appeared. Traces were found at the site. No other information.
Source: Alain Gamard
---
Date: May  1977
Location:  Baldim, Minas Gerais, Brazil
Time:  night
Summary:  Geraldo Da Costa was riding home on his horse when an oval shaped object passed over him less than ten feet above the ground. The craft had many colored lights and gave off potent heat wave. He continued riding and, about 50 yards beyond; he came upon the object on the ground. Two little men were standing near it. These had large eyes, and long hair. One asked him to help them, and then one reached up and touched his shoulder. Suddenly, Geraldo found himself floating down to the ground, with the frightened horse running off. He remembered yelling for help, but then blacked out. The next day he was found lying in a nearby bamboo grove. He had a red, six inch scar on the inside of one arm and five tiny puncture wounds, 2 on each side of his chest and waist and one on his left shoulder. The holes had silver edging around them, which gradually disappeared as the injuries healed. He could barely speak after the encounter and lost his vigorous energy.
Source:   Bob Pratt, UFO Danger Zone
---
Date: May  1977
Location:  Wantage, New Jersey
Time:  night
Summary:  The Sites family had been disturbed by something that had broken into their barn and crushed several of their rabbits to death. The predator returned that night, and the Sites saw it clearly standing in their well-lit yard. "It was big and hairy," Mrs. Sites reported. "It was brown. It looked like a human with a beard and moustache. It had no neck; it looked like its head was just sitting on its shoulders. It had big red glowing eyes." When the Sites dog attacked it, the creature effortlessly swatted it away—sending it flying about 20 ft. On subsequent nights, the Sites saw the creature several more times.
Source:   Stephen Wagner, UFOs About Com
---
Date: May 3 1977
Location:  Hainault Forest, Essex[?], UK
Time:  3:55 AM.
Summary:   Police took an emergency telephone call. The caller said that some strange object was over the forest near the small lake. Two policemen were directed to the scene. Arriving, they proceeded along the lake road and noticed a "large bright red light" across on the eastern shore. They stopped, exited their vehicle and observed a "bell tent" shaped thing, about 300 yds distant. This object continuously pulsated from dull to very bright red for the next 2 to 3 minutes. The UFO seemed to be hovering silently. Then, as they watched apprehensively, the object appeared to "dissolve on the spot". As the thing was no longer visible, the officers decided somewhat reluctantly to go across the lake and investigate the spot. As they were doing this, one of them looked up and briefly saw a shape of a thin, large, white crescent hanging in the sky. This "apparition" also dissolved on the spot. Reaching the location of ground zero, as best they could tell, they found nothing at all, except a strong smell of burning. No cause could be determined. A report was immediately made to the local UFO investigator [The Essex Hotline], and the investigator [Barry King] came out the next day. [actually King interviewed the officer that very night]. In daylight, one large bush was found to have damage–flattened in the center and slightly burned. The gorse bush appeared to have had a very heavy weight set onto its top center, the result of which was to break almost all the limbs including snapping off the central branch. The pattern of breakage was to displace the branches into an outwardly radiating splay. No radiation nor magnetic anomalies were found. 
Source:  "Landing at Hainault Seen by Police", Flying Saucer Review 23, (2):1977
---
Date: May 5 1977: Idaho witness sketches details from low hovering UFO
---
Date: May 5 1977
Location:  Near Ragusa Italy
Time:  midnight
Summary:  A truck driver had made a rest stop at a truck stop on the highway when suddenly a yellow light illuminated the cabin. The light originated from a gray metallic oval shaped object that was hovering near the witness truck close to the ground. It had a rotating ring around its middle and two circular openings, one on the top and the other on its bottom. A figure wearing a dark gray coverall and a helmet could be seen inside one of the openings; it seemed to be controlling and directing the yellow beam of light. He then made some hand gestures towards the witness as if greeting him. A flattened area was found on the grassy field.
Source:   Maurizio Verga, Itacat
---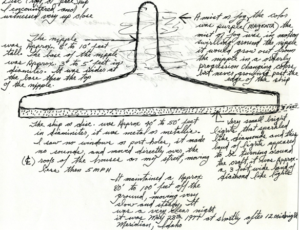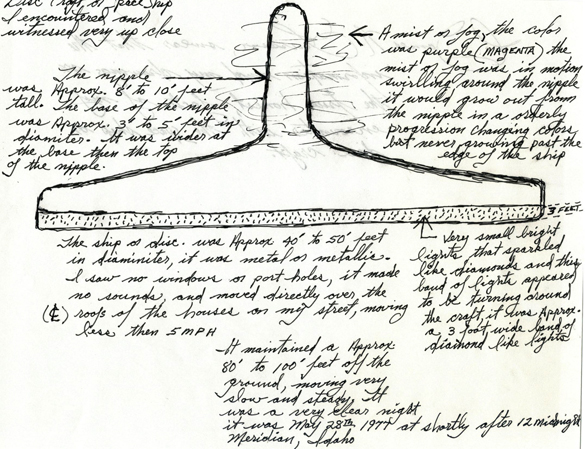 Date: May 5 1977
Location:  Idaho
Time:  
Summary:  A man from Idaho claimed he had an encounter with a UFO in 1977. The strange object reportedly hovered above a home nearby and traveled towards him. The witness was driving his truck to his home late at night on May 5, 1977.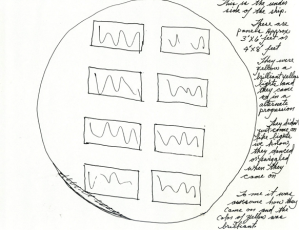 When he pulled into his driveway, the witness spotted a UFO hovering just over a neighbor's roof. As he watched the strange aerial thing, he seemed to hear a voice from a male voice saying 'This is not of this world.' The witness stopped the truck, got out from it, and watched the bizarre object for 20 to 30 minutes. Initially, the witness can't see any detail of the unidentified flying object. It was when the unknown thing passed nearer to him when he saw pulsating, colored lights on the side of the craft. The witness did not hear any noise or emission from the craft. He described the lights as dazzling but didn't illuminate the ground or adjacent buildings. The disc was still in the sky over roofs when the witness got tired and went inside.
Source:  MUFON Case 75381
---
Date: May 5 1977
Location:  Tabio, Cundinamarca province, Colombia
Time:  9:15 AM.
Summary:   A 22-year-old Cessna 150 pilot trainee, Sr. Lopez Ojeda, had a close encounter with a white object that looked like an inverted plate while flying over Tabio, Cundinamarca province, Colombia. There was a brilliant flash of light that temporarily impaired his vision, and the airplane's control would not respond for a short while during which his surroundings seemed strangely altered. 
Source:  Richard H. Hall, Uninvited Guests, p. 291; MUFON UFO Journal, June 1977; Dominique Weinstein, Aircraft UFO Encounters, p. 50; CUFOS files, citing newspaper clipping dated May 6, 1977
---
Date: May 6 1977
Location:  Encinitas, CA
Time:  
Summary:  A large domed disc-shaped object descended into canyon. A school teacher and fifteen students witnessed the descent, and said that they could see figures inside the craft. It was seen again one hour later. 
Source:  Larry Hatch, U computer database, case 12693
---
Date: May 7 1977
Location:  Undersaker, Jamtland, Sweden
Time:  night
Summary:  A powerful spotlight from a silent, delta-shaped object lit the forest in Undersaker on this night. A very large second object, also triangle shaped and with three large windows rose in the beam of light. Both objects hovered over the trees, then changed shape from triangular to rectangular.
Source:   Allan Hendry, International UFO Reporter, November 1977, p. 8; Richard F. Haines, Project Delta: A Study of Multiple UFO, p. 191; UNICAT database, case 195, citing Allan Hendry
---
Date: May  1977
Location:  Joliet, IL
Time:  2:00 PM. 
Summary:  Adult couple driving westbound watched as a silver "straw hat" the size of the moon rush eastbound over I-80 (and their car) making no noise. Object, which was in view 30-seconds, was flying against the wind. 
Source:  IUR,2,6
---
Date: May 8 1977
Location:  Joliet, IL
Time:  2:30 PM. 
Summary:  Adult couple experienced object like a silver sphere with "Saturn ring" or halo around it, heading eastbound. 30-secs. 
Source:  IUR,2,6
---
Date: May 8 1977
Location:  Hainault Forest London England
Time:  1900
Summary:  Two men, were parked in a marshy, densely wooded area of the Forest (a park) near Cabin Hill, and were walking their dog in a light rain when they heard a rustling sound in the bushes. They then observed a huge figure, about 8-foot tall and four foot wide, cross their path about 25 feet away and disappear again into the woods. It was a dark blue color, but brighter that its surroundings. No distinct arms or legs were discerned. A UFO landing had been reported in the area a few days earlier—the reason for the investigator being at the site at the time he encountered the witnesses.
Source:  Barry King, FSR Vol. 23 # 2
---
Date: May 9 1977
Location:  Harding Township, NJ
Time:  9:30 PM. 
Summary:  Mrs. Nancy Allocco and her two children, Lee, age twelve and Nell, age fourteen, observed a large glowing object in the sky. The witnesses were traveling in a car when they first saw the object. When the three witnesses reached their driveway, they again could observe the moon-shaped, orange-white light. The three observers sat in the car after parking in the driveway and watched the glowing sphere. As they watched the light suddenly began to move away and then just as suddenly, it disappeared. The Allocco home in Harding Township is approximately ten miles from the Livingston Shopping Mall where Leslie Hendricks had observed the same or similar object.
Source:  UFO INVESTIGATOR, July 1977, page 1
---
Date: May 9 1977
Location:  Morristown, NJ
Time:   9:30 PM.
Summary:  Leslie Hendricks while walking out of the Livingston Shopping Mall observed a large glowing sphere high up in the southwestern sky. The sphere was about the size and color of a harvest moon. It appeared to be hovering at an altitude higher than that of an ordinary commercial aircraft. Leslie watched the glowing ball for approximately fifteen seconds. The intensity of light of the object kept changing from bright to dim and back to bright. After about fifteen seconds the object suddenly moved to the northeast at a high rate of speed and disappeared. It should be noted that the sky was completely overcast and that neither the moon nor any stars were visible.
Source:   UFO INVESTIGATOR, July 1977, page 1
---
Date: May  1977
Location:  
Time:  
Summary:  
Source:  
---
Location. Serra Branca Paraiba Brazil
Date: May 10 1977
Time: 1100A
3 1/2 year old Maria do Socorro, accompanying her grandmother to do the laundry, vanished suddenly and was gone for 22 hours, when she unexpectedly turned up at the doorway to her family's garden. She said she had seen a beautiful woman with a white scarf on her head, and was irresistibly attracted to a strong beam of light, which she ran behind. The woman spoke to the child but she "did not open her mouth to talk." Friends and neighbors spent the entire day searching the area where she had last been seen, without finding a trace. The child mysteriously turned up at the family's home. It was assumed by all involved that the phenomenon was of an apparently extraterrestrial intervention. No object was seen.
Source: Brazilian newspaper, Noticias Populares
---
Date: May 11 1977
Location:  Clearfield, PA
Time:  3:00 AM. 
Summary:  A housewife reported sighting a green glowing ball with a dark equator hovering near her home. It shot straight up into the sky and was gone in less than a second. (
Source:  Allan Hendry, International UFO Reporter, June 1977, p. 8
---
Date: May 11 1977
Location:  Bonner Springs, KS
Time:  9:45 PM. 
Summary:  A silent disc-shaped object with white windows hovered for 75 seconds, then flew away slowly. 
Source:  Allan Hendry, International UFO Reporter, June 1977, p. 36
---
Date: May  1977
Location:  
Time:  
Summary:  
Source:  
---
Location. St. Brides Pembrokeshire Wales
Date: May 15 1977
Time: 1505
Twin sisters had gone into Middle Cliff field, at St. Brides, not farm from their home at Ripperston Farm, to play games. It was just after 1500 when they saw a silver suited figure walking about 60 to 70 feet away; the figure, walking away from the children, went up to a hedge, seemed to walk through the barbed-wire fence adjacent to it, and then disappeared. On the other side of the field a silvery white "plate like object," with a red light, was seen to land; a ramp like stairway came out and a red "box" was ejected down the stairway to the ground. The mission completed, the stairs were retracted, and a door in the object shut and the object took off. They ran home for their mother, but there was no sign of the object or figure in the field, although an object was again seen flying seaward. Large footprints were found in the grass at the landing site.
Source: Randall Jones Pugh for Bufora
---
Date: May  1977
Location:  
Time:  
Summary:  
Source:  
---
Location. Footedale Pennsylvania
Date: May 15 1977
Time: night
A married couple was driving home when their headlights picked up a seven-foot tall dark hairy figure standing on the road. It had shaggy reddish brown hair over its entire body. The creature seemed to glide above the ground with its head and shoulder slumped. It disappeared into a nearby ravine. Moments later the same witnesses reported a strange nocturnal light maneuvering in the area.
Source: Paul G Johnson & Joan L Jeffers, The Pennsylvania Bigfoot
---
Date: May  1977
Location:  
Time:  
Summary:  
Source:  
---
Location. Milford Town Wales
Date: middle of May 1977
Time: 0300A
A bright light shining into her bedroom window suddenly awakened a 17-year old girl. Looking out she saw a hovering silvery disc that had a green light around its edge. A short humanoid figure then appeared standing at the window. The little man had long hair, slanted eyebrows, normal eyes, and a curved nose. He wore a one-piece silvery suit with a high-necked collar and mittens in his hands. The being stood there staring at the witness who then closed the curtains and went back to bed.
Source: Randall Jones Pugh & F W Holiday, The Dyfed Enigma
---
Date: May 17 1977
Location:  Lothian, Scotland
Time:  9:00 PM 
Summary:  In Tranent and seven surrounding towns in Lothian, a domed disc-shaped object and other objects were seen in the skies on a clear evening. One of the witnesses was a 13-year-old boy named McKenzie. The UFOs generally flew off to the east. The sightings lasted at least 20 minutes. 
Source:   FSR, November 1978, pp. 30-31
---
Date: May 17 1977
Location:  near Belem do Para, Para State, Brazil
Time:  9:30 PM.
Summary:   In the village of Icoaraci, two fiery balls of light were seen in the sky. One was green, and the other was red, and they came from opposite directions and collided causing a tremendous flash and a sound like thunder. The sky filled with a pink smoke, which slowly dissipated after 20 minutes. 
Source:  Otto Raymundo, MUFON UFO Journal, July 1977, p. 8
---
Date: May 18 1977
Location:  Pacific, MD
Time:  
Summary:  Humanoid report. 
Source:  EGBA,576
---
Date: May  1977
Location:  
Time:  
Summary:  
Source:  
---
Location. New Elgin Morayshire Scotland
Date: May 18 1977
Time: 1830
Two ten-year old girls heard a strange humming sound while playing in a field near their house; appearing to come from a nearby woods, they approached and saw an object on or near the ground, of a cylindrical shape, surmounted by a small dome with a steady red light. The object was perhaps 30 feet long and of a metallic color; a red band encircled the lower section. The girls, approximately 300 yards away, believed the object was two feet above the ground—the same height as a fence situated between them and the object. They could see no landing gear. To the right of the object was a very tall thin "man," partially hidden by bushes in between; at least six-foot tall, his arms were disproportionately short, and he was dressed all in silver. When he started to move toward them, the girls became frightened and fled; at a safer distance they turned and saw the man had disappeared; the object then began to ascend, moving off in three jerky "stepped up" maneuvers and then ascending vertically at terrific speed. They hurried home and told their parents, who said they had heard the humming sound. The police were notified, and a circular area of about 100 yards of minor damage, including singed trees and underbrush, was found at the site.
Source: Jenny Randles, FSR Vol. 23 # 4
---
Date: May 19 1977
Location:  West Olive, Michigan
Time:  3.15 AM
Summary:  THE FOLLOWING TOOK PLACE MAY 19 3.15 AM WEST OLIVE MI.
I woke up walking back from somewhere in the woods surrounding our house. In the morning I somewhat remembered the experience and dismissed it as a dream. I got up that morning feeling well rested yet a little bit off. Anyway, I as getting ready for school when I overheard my father telling my mom about the very same dream I had. And when he finished telling her,she gasped and proclaimed too have had the same dream. A couple of days later I noticed a scar on my right side with a black sliver type object in it.Which vanished sometime in my early forties about ten years ago,yet the scar remains. I also woke up many times outside the house with no recollection of how I got there. This also stopped happening when the black sliver vanished. I have nothing to gain from my story and only wished I would have shared it while my parents were around because I know it bothered them both until the day of their passing.

Source:  MUFON
---
Date: May 20 1977
Location:  Vienna, VA
Time:  9:45 PM. 
Summary:  Doris Cuningham and her nine year old son were proceeding toward their apartment building when the child suddenly motioned for his mother to look over the pool. Hovering no more than twelve stories above the ground was a large circular shaped object. The object had a glowing orange top and different colored twirling lights. Within seconds the object sped off. 
Source:   UFO INVESTIGATOR, May 1977, page 4
---
Date: May 20 1977
Location:  West Pittsburgh (Contra Costa) California
Time:  2300
Summary:  Three 4-year old boys, Lenny Young, Pat Morrison, and George Ferrera, were out late playing in a field near Suisan Bay, off Willow Pass Road. They saw a fixed group of red lights in the sky, being circled by a solitary blue light; the lights flew rapidly off into the distance and then returned, landing nearby. They described it as a 90-foot saucer shaped object, with a row of square or rectangular "windows" along the side; one of these was larger than the others. Red lights blinked on and off around the perimeter. The object was less than 300 feet from them and in the darkness in between, at a distance of from 50 and 150 feet, they saw three figures moving toward them. The forms were black "like smoke," up to six-foot tall, and moved as thought they were "linked together." Ferrera said they had a "kind of human shape but no eyes; they walked like robots." Yong said, "It was like they had no clothes on…they had no faces…I know what people look like walking in the dark. They were not people. They were something else." Morrison said, " They were black; they looked like they were wearing long skirts over their heads." The three boys turned and ran, stopping at the street to look back; they saw the figures "slowly fade from view." When they reported the incident to the police, Morrison was crying with fright. No traces were found at the site.
Source:  Richard Haines for Cufos
---
Date: May 23 1977
Location:  Santiago, Chile
Time:  6:00 AM. 
Summary:  8A fiery looking torus-shaped object hovered and tilted over Santiago. A beam extended from the object, and swung back and forth like a pendulum. At ball of light was at the end of the beam. 
Source:   Lumieres dans la Nuit, January 1978
---
Date: May 26 1977
Location: Orange, Australia 
Time:  Around midnight
Summary:  Dog and horse raise alert to bright object near ground. The 16-year-old looked out his window and saw 4 bright lights in a row to the NW.  The lights slowly increased in brilliance, and then began to wane until attaining an orange-red hue before extinguishing. They were estimated to be 90 meters (295 feet) away to the NW and on or near the ground. Alerted by her son, the mother looked out the front door and saw the paddock across the road was brightly illuminated by a monochromatic white light source.  She went outdoors and saw a bright rectangular object that appeared to have four square windows along its side.  The structure appeared to move slowly over and around the crest of a hill.  The event ended with both mother and son seeing a glow that eventually faded. Both witnesses reported the lights were so bright that they had after-image effects.  There is a reference to "noise" without further explanation [I assume this means sound associated with the object–jw].  No EM effects were reported.  Possible traces were found on the ground.
Source:  Woodward
---
Date: May 26 1977
Location:   Dowagiac, MI
Time:  4:10 PM.
Summary:   An ovoid object followed an airliner for 30 seconds according to one of the passengers aboard. The witness, a radio announcer, reported that the object was larger than the airliner and flew away toward the east. 
Source:  Allan Hendry, International UFO Reporter, July 1977, p. 3
---
Date: Late May  1977
Location:  Milford Town Wales
Time:  0500A
Summary:  The witness woke up to see a small object hovering outside her window. The object had a round bottom and a glass like compartment on top. A green beam of light encircled the object's edge and there were also some portholes on the bottom section. As the object hovered at rooftop level a figure came out of it and began walking in midair. The being was short with an oval shaped face, long brownish hair; slanted eyebrows and normal eyes. It wore a silvery one-piece suit. The entity walked around in midair for a few moments then walked back into the object, which then took off at high speed. (Same witness as to the earlier case.)
Source:  Randall Jones Pugh & F W Holiday, The Dyfed Enigma
---
Date: May  1977
Location:  
Time:  
Summary:  
Source:  
Related articles