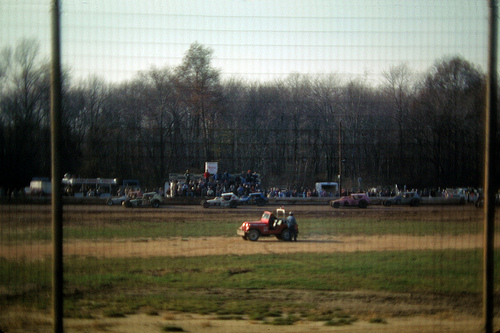 (Last Updated On: March 8, 2017)
Date: early November 1979
Location: Jaguaruna, Santa Catarina, Brazil
Time: evening
Summary: Three boys, Jose Paulo Freccia Coelho, 11, Agnaldo Freccia Coelho, 10, and Hamilton Simao, 11, were on their way a local warehouse when they encountered a bizarre creature described as two meters tall that wore black and red clothing and had a luminous head. The boys were reportedly playing in the woods when they first saw the creature. They tried to catch it but they suddenly seemed to become weak and they felt heat coming from the creature. They told their teacher and other pupils about the man and the teacher told them to prove it by having him to appear. The boys said the creature did appear in the classroom but the teacher and the other kids did not see it but did perceive its presence when flowers in a vase seemed to be moved by invisible hands. The teacher told other teachers and the word of this spread, crowds began to appear where the boys had seen the creature. However, whenever the boys would see the creature, none of the spectators could. The boys further describe the creature as robot-like that would hop along more than two feet wide but three times high, metallic in appearance with a shiny upper surface. In the middle of upper part a red light, red-yellow could be seen.
Source: Chris Aubeck quoting Irene Granchi
---
Date:  November  1979
Location:  Punta De Damas Chile
Time:  unknown
Summary:  Two motorists watched a landed fiery disc shaped object near the roadway. A tall hairy humanoid with gleaming red eyes briefly emerged from the object then re-entered the craft, which quickly took off at high speed.
Source:  J Antonio Huneeus, Mufon Symposium Proceedings 1987
---
Date:  November  1979
Location:  
Time:  
Summary:  
Source:  
Location. Tallaboa Puerto Rico
Date: November 1979
Time: 0900A
A man jogging along some salt flats near the beach was approaching an area covered with brush and coastal vegetation when suddenly he noticed several strange figures standing next to some small trees. There were about five to six beings, six-foot tall and very thin with large baldheads. Their most outstanding feature was their large slanted luminous eyes and their gray blue skin color. They also had long thin arms with long fine fingers and another peculiar feature was a row of sharp pointed teeth in their mouths. The beings appeared to be struggling with a dark haired man that appeared to be in a stupor. They were attempting to carry him to the nearby seashore where a shiny metallic domed oval shaped craft hovered low above the ground. The object had multicolored lights and was completely silent. Suddenly one of the beings noticed the witness and pointed at him. At that moment the witness felt mental communication from the beings that appeared to laugh and make fun of the witness, imitating him by jogging back and forth at very high speed. The witness then heard the being say that he was going to be taken also, but another one of the beings intervene and said that it was not necessary. At that moment the being that had made fun of the witness suddenly threw something at him resembling a large clear drop of water that felt cold as it hit him square on the chest. The witness then felt numb, but kept running and left the area. (The witness was so terrified that he waited eleven years to tell anyone about the incident. Is unknown what happened to the dark haired man the aliens were attempting to kidnap.)
Source: Jorge Martin, Evidencia Ovni # 1
---
Date: November 1979
Location: Near Atlantic City, New Jersey
Time: 2300
Summary: 17-year old John and three of his friends were driving on the Atlantic City Expressway and at a remote area of the road they spotted what appeared to be a hovering saucer shaped object, about 200-500 feet above the ground, so they pulled over to the side of the road to get a better look. The boys, excited by the prospect of meeting aliens, got out of the car and walked around the grassy area, screaming and beckoning to the saucer, which was behind the car at that point, the sole girl in the group was frightened and remained in the vehicle. The saucer had a large row of angled, tapered windows. Alien beings of traditional humanoid form stood and looked peacefully out at the people below for a few moments. No conversation occurred between the aliens and the boys. The craft hovered in complete silence for a couple of minutes, and then quickly and silently moved away. The excited boys got back into the car and drove off. When they arrived to the next town they phoned the police and reported their sighting, the police told them that there had been other reports.
Source:Paul Nahay
---
Date: November 1979
Location: Portsmouth Hampshire England
Time: evening
Summary: The witness was returning home with the family dog when she saw in the light of a street lamp, a tall figure. The figure was completely black and seemed to be wearing some kind of helmet, resembling a "frogman". At this point her husband came out the front door and yelled at the figure; at the same time her dog started barking. The figure then glided forward and disappeared through her neighbor's front garden hedge.
Source: World of The Strange
---
Date:  November  1979
Location:  
Time:  
Summary:  
Source:  
---
Location. Strada Tuscanese, Tuscia, Italy
Date: November 1979
Time: evening
While walking on his property close to the local Ristorante Ada, the witness noticed a large incandescent light descend vertically to the ground about 500 meters away. As it reached the ground the object slowly dimmed. He then briefly saw standing next to the object a short figure about 70-80 cm in height. The entity wore a shiny white tight-fitting suit and an astronaut like helmet. As the witness approached the object disappeared and the figure disappeared into some nearby woods.
Source: UFO Tuscia
---
Date:  November  1979
Location:  
Time:  
Summary:  
Source:  
---
Location. Severo Quinones Carolina Puerto Rico
Date: November 1979
Time: night
The witness, an 18-year old man was alone at home when he was suddenly confronted by two tall thin beings with large heads and eyes that apparently paralyzed him and carried him onboard a large oval shaped craft with a flange around it. He was then taken to an undersea city or installation where he was medically examined and cured of ulcers and hemorrhoids. He was then transported back to his residence. Ever since the incident, animals like cats or dogs react in a strange violent manner in the presence of the witness.
Source: Jorge Martin, Enigma # 1
---
Date:  November  1979
Location:  
Time:  
Summary:  
Source:  
---
Location. Oakenholt Wales
Date: November 1979
Time: night
The witness apparently lost his will to resist and walked towards a hovering object. A beam of light struck him and caused him to shrink somewhat before climbing the ramp into the object. Inside he met a human man that he had encountered before. He was told that the object was malfunctioning. He was then taken into a warm, colorless room and then was released.
Source: Jenny Randles, & Paul Whetnall
---
Date:  November  1979
Location:  
Time:  
Summary:  
Source:  
---
Location. Near Santo Antonio Rio Grande Do Norte Brazil
Date: November 1979
Time: night
The witness was working on his garden when he saw a light descend towards him, he began to walk fast towards the house but the object then shone a beam of light on him. At this point the witness laid face down on the ground. The object descended lower and hovered directly above him. The witness was then suddenly pulled off the ground with a rope with four hooks that apparently dangled from the object. He grabbed a plant and hung on tightly. He looked up at the object and through a window he saw a man and two women looking down at him. The women appeared to have yellow skin and the man had a beard and was wearing boots. The witness overheard the beings say that they were going to take him to their "earth." At this point the witness shirt tore from the hook and he fell to the ground. He looked up and saw the object depart spinning 3 times before leaving. The object was brown in color and had two red lights on its rear section.
Source: Bob Pratt, UFO Report 1991
---
Date:  November 2 1979
Location:  Evansville, IN
Time:  7:10 PM.
Summary:   A 10″ silver ball with an undercarriage, described as an object looking like a water tower, with a popping and cracking sound was reported by two witnesses. Observed in the NW and later overhead at 20′, the object was seen for 5-6 minutes until it moved to the SE and vanished. Report form not completed by witnesses.
Source:  MUFON Indiana, Fran Ridge
---
Date: November 3, 1978
Location: Nezahualcóyotl, Mexico
Time: Night
Summary: The story begins on November 3, 1978, when, according to his report, Anatolio Rios was awaked by a powerful light which penetrated through his window. Astonished, the young person asked her aunt, in the house of which he lived, what was going on. The aunt answered him that he should not go outside because there was a very strong light on the top of a nearby hill. Anatolio did care for this and came out to see the light, but very quickly he lost the notion of time and he remained motionless there watching it. At this time, he says he received "telepathic messages" from the beings which occupied the UFO. According to Anatolio, the beings which communicated with him said they were coming from the constellation Sherox (according to El Sol of Mexico City) or Xer (according to OVNI). The messages announced the need for getting rid of nuclear weapons. According to the young Rios, these xeroxians are 1.35 meters tall, have only one eye and a retina (sic) similar to that of the cats. According to Anatolio's story, he felt urged to write a series of signs he brought to the National Observatory so that they analyze them (?). Among other "information" Rios says that the Galaxy Xer (already not a constellation anymore) is at 11 light years (sic) and 345 degrees 280 minutes of Northern latitude. Shortly after his "experience" young Rios was subjected to an examination by his schoolteachers in order to check his mental state (?). Some judged that it was twaddles and others that he told the truth and some others that it was about a psychiatric case. In this examination young Rios explained, among other things, that he did not watch TV "because it is toxic". There was finally no consensus about the case, this is why there is not more data. However, in our opinion, the phenomenon could come from a starting psychosis of the schizophrenia type, since the story has some details specific to this type of disease. On the one hand the age of the young person, the invention of neologisms (strange words), the great quantity of things that made no sense, like his eccentric behavior.
Source: HECTOR ESCOBAR S
---
Date:  November 5 1979
Location:  Tubarao, Brazil
Time:  night
Summary:  A witness encountered a 2-meter tall humanoid wearing a white and red coverall. As the humanoid approached it seemed to emit heat from its body according to the witness.
Source:  GEPUC Brazil
---
Date: November 9 1979: The Dechmont Woods Encounter
---
Date:  November 11 1979
Location:  Ibiza, Canary Islands
Time:  
Summary:  Las Palmas, Canary Islands (UPI). [Quote] The pilot of a Spanish jetliner that made an emergency landing after being pursued over the Mediterranean island of Ibiza said he was forced to dive 14,000 feet to avoid collision with unidentified flying objects. [Two bright red glowing objects.]
Source:  
---
Date:  November 11 1979
Location:   Spanish airspace over island of Ibiza
Time:  
Summary: According to a CUFOS IUR preliminary report in December of 1979, an object was tracked by radar and sighted visually from a Caravelle jet with crew members and some passengers as witnesses. Also observed from the Barcelona tower, 40 people on the ground at the Valencia Airport, including the airport's director. Observed for 21 minutes (pilot Lerdo De Tejada). Not able to substantiate this report.
Source:  CUFOS IUR
---
Date:  November 16 1979
Location:  Izmailovo Park Moscow Russia
Time:  2000
Summary:  Several witnesses watched a brilliant glowing circular object rise from behind some nearby trees; it left behind a peculiar patch of melted snow on the ground. A woman that saw the object closer than the other witnesses reported seeing a strange short being briefly emerge from the object. The being had large round eyes and four fingered hands; he jumped back into the object as the woman began screaming hysterically.
Source:  National Enquirer UFO Report
---
Date:  November 20 1979
Location:  South of Laborie, France
Time:  6:30 PM. 
Summary:  A witness stopped his car at a certain spot. He reported it was quite possible he felt compelled to do so. He then saw a diamond-shaped UFO hovering and maneuvering in front of him at a low altitude. 
Source:  Lumieres dans la Nuit, May 1981
---
Date:  November 24 1979
Location:  St. Jerome Quebec Canada
Time:  0400A
Summary:  The witness was driving home alone when he felt apprehensive and a sense that something was about to happen. Suddenly some type of cloud began forming in front of the car. He then drove right into it. He heard two small knocks and then remembers leaving the cloud and getting into an accident. He arrived home and realized that there was a two-hour missing time period. Later under hypnosis the witness recalled that the moment he had entered the cloud he seemed to have entered another dimension. He found himself inside an object where everything seemed constructed of a stainless steel metal. Two humanoids, a man, and a woman appear. The man appears hostile towards him, but the woman was friendlier. He was made to lie down on a cold table where several examinations were conducted. Before being returned back he was given instructions not to touch the steering wheel of the car, but he does, apparently causing the accident.
Source:  Francois Bourbeau, Spectra, Quebec Canada
---
Date:  November, 24, 1979: Large circular white object seen in sky
---
Date: November 25 1979: An Unidentified Anniversary – Elk River UFO Crash?
---
Date: November 27 1979
Location:  Porcie-Amblagnieu France
Time: 1715
Summary: A young girl saw in a field a large cigar shaped object with several white lights on it. A very tall man like figure wearing a shiny silvery outfit stood next to the object. The witness became frightened and ran home.
Source:  Denys Breysse, Project Becassine
---
Date:  November 30 1979
Location:  Near La Palma Oaxaca Mexico
Time:  1700
Summary:  A peasant was weeding a palm grove when eight armed very tall men approached, they had apparently come from a nearby hovering disc shaped object that was emitting a green light. The men wore green goggles, had communicators, and carried what appeared to be "machine guns." They were all very dark complexioned. They spoke to the witness in Spanish and ordered him to cut off his penis (!) with his machete. The witness apparently wandered all night in shock and was given medical treatment in the morning.
Source:  Robert E Bartholomew, UFO Lore
---
Date:  November 30 1979
Location:  El Combate Cabo Rojo, Puerto Rico
Time:  night
Summary:  A couple staying in a beachfront cabin saw a bright-multicolored oval shaped object hovering above the water ½ mile off shore. It appeared to emit some type of fog or vapor, the object then began blinking its lights on and off. The witnesses momentarily lost interest and left their observation area and resumed watching television. Minutes later an intense white light flooded their living room from outside, looking out they could see some type of luminous flat platform approaching the seashore, on top of the platform stood a four-foot tall man. He wore a one-piece white outfit with gloves and boots a very wide belt and a large helmet with a dark visor that covered the face completely. The source of the white light was a luminous white sphere directly on top of the platform, which emitted some type of multicolored smoke. Upon seeing this the couple screamed, causing the platform and its occupant to return back to the hovering object off shore. At this point the witnesses returned back inside and did not see the object depart.
Source:  Jorge Martin, Enigma # 1
---
Date:  November  1979
Location:  
Time:  
Summary:  
Source:  
Related articles