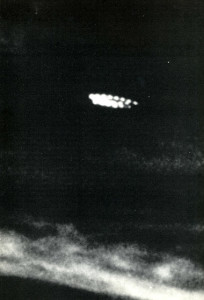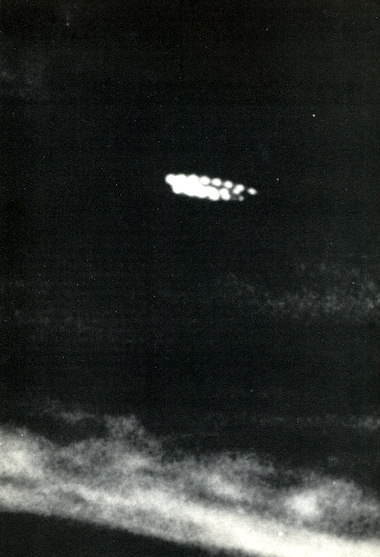 (Last Updated On: March 5, 2017)
Date:  April  1979
Location:  Near Seattle Washington
Time:  night
Summary:  The main witness and a friend were driving on a local highway when a man driving an old white Chevy sedan approached them. The Chevy stayed right besides them preventing them to exit the highway, it acted like a magnet attached to their vehicle. Suddenly a bright light came up on them and they apparently blacked out. The next thing they remembered was being stuck in the gravel besides the road near Edmonds Washington. Later under hypnosis the main witness remembered being taken from his vehicle and into a hovering object. Inside he was met by a beautiful human like female that took him on a tour of the object. In one room he saw many "heads" on a shelf and on the floor were boxes filled with human bodies. In another room he was shown many different types of alien beings standing behind some type of transparent partitions. The witness does not remember seeing his friend inside the object and feels he was used for some type of genetic experiment.
Source:   Aileen Edwards, On The UFO Road Again
---
Date:  April  1979
Location:  El Combate Cabo Rojo Puerto Rico
Time:  afternoon
Summary:  Two young girls playing in their yard suddenly saw a very small humanoid approach them from the brush. It was described as greenish in color with a large mouth, thin lips, and a lock of brown hair on its forehead. It also had long arms and some type of membrane between the fingers. The being asked the witnesses for water, at this point both girls screamed and the being disappeared in a flash of light.
Source:   Jorge Martin, Enigma # 1
---
Date:  April  1979
Location:  
Time:  
Summary:  
Source:  
---
Location. Dago Pakar, Bandung, Indonesia
Date: April 1979
Time: night
Sudjana Kerton (involved in previous sightings) was out in his workshop reading alone when he noticed a luminous disc-shaped object skimming over the nearby trees. He stepped to out the take a closer look at the object. The craft seemed to get closer to the witness who was mesmerized by the light emitted by the craft. Suddenly a strange light enveloped him, he attempted to run away but was completely paralyzed. In that semi conscious state Kerton was suddenly picked up by two robot-like figures about 95 cm in height. In a "stiff" walk the two Robots guided Kerton, who was unable to resist into the disc, which now hovered just above the ground, he seemed to walk up into the craft on a beam of blinding light. He found himself in a strange place, all white, unsure if he was onboard the ship or in another planet. There he met four aliens about 3 meters in height, and wearing all white. The tall creatures had mongoloid features, with small slanted eyes, thin mouths, and totally hairless heads. At this point Kerton memory seemed to end and he does not recall what took place next onboard the object. Suddenly he was standing in the front porch of his house. He could vaguely recall seeing what appeared to be a star map inside the ship. The UFO was now gone. He fell horrible and his feet were covered with mud. He found his footprints and the robotic alien's footprint in the mud. While he fed his chickens in the morning he noticed that the animals appeared to be sick and remained like that for three days. He made plaster casts of the footprints.
Source: Dedy Suardi, "Tafakur Di Galaksi Luhur", Translated by Nur Augustinus
---
Date:  April  1979
Location:  
Time:  
Summary:  
Source:  
---
Location. Ospepal Forest, near Ajaccio, Corsica, France
Date: April 1979
Time: night
The main witness, 50 year Ursula had seen luminous objects previously performing geometrical maneuvers over the area and had gone to the area with two friends in order to see any unidentified activity. There she meets an elderly gentleman, Serge Castel from nearby Ajaccio and another young man. In an area known as Roccapine they wait for a while and are about ready to leave when suddenly Ursula sees a luminous sphere quickly approaching their position. The huge sphere flies over the road and finally stops at about 60 meters away. It occupies the width of the roadway, the young man (unknown name) attempts to talk to Castel but this one is glued to his vehicle's steering wheel, in an apparent trance. Within the sphere Ursula distinguishes two very tall luminous human like figures of about 2.50 meters in height. One of the humanoids apparently attempts to exit the sphere and has one foot on the ground when he possibly perceives the fear on the witnesses, specially Ursula, the humanoid steps back into the object, which then moves slowly behind a nearby hill and disappears. Castel comes to and only remembers the arrival of the sphere; he later is to suffer serious cardiac complications.
Source: Godelieve Van Overmeire
---
Date:  April  1979
Location:  Gormanston Saddle, Tasmania
Time:  0020
Summary:  A green light with a purple edge came straight at a taxi driven by a fifty one year old man, seemingly going straight over the vehicle, and lighting up the interior as if it was daytime. The taxi lost power and would not accelerate, the motor just shook. The driver tried to radio for help but it was dead. After the light passed everything returned to normal.
Source:  TUFOIC
---
Location. El Corozo Cabo Rojo Puerto Rico
Date: April 1979
Time: night
Several area residents were awakened by the sound of dogs barking furiously, some of them looked out their windows to investigate and were startled to see three, three-foot tall beings with large heads, gray skin and long dangling arms. The entities were being chased by some of the area dogs and were last seen running towards the seashore where they disappeared.
Source: Jorge Martin, Evidencia Ovni # 1
Date:  April  1979
Location:  
Time:  
Summary:  
Source:  
---
Date:  April  1979
Location:  
Time:  
Summary:  
Source:  
---
Location. Paciencia, Brazil
Date: April 1979
Time: night
A farmer named Marinho saw two humanoids next to a landed object that illuminated a nearby lagoon. After awhile the object dimmed and shot up in to the sky resembling a ball of fire.
Source: Antonio Faleiro, Brazil
---
Date:  April  1979
Location:  
Time:  
Summary:  
Source:  
---
Location. Paciencia, Brazil
Date: April 1979
Time: night
A young man named Peixoto was returning home when he saw two figures talking in a strange language nearby. As he approached the figures, these suddenly ran and were soon enveloped in a fiery bright red ball of light that shot into the sky and vanished.
Source: Antonio Faleiro, Brazil
---
Date:  April 7 1979
Location:  Bigand, Argentina
Time:  8:00 AM.
Summary:   Several cars experienced electrical system failures on highway 33 in Bigand, Argentina. Mr. Celotto, a farmer, saw an eight meter wide disc land, and circular ground traces were found later in a soybean field. 
Source:  MUFON UFO Journal, November 1979, p. 12
---
Date: April 12 1979
Location: Not stated
Time: late night
Summary: The witness woke up in the middle of the night feeling someone's hand on her back. She turned around to se two beings leaning over her. One held a large hypodermic syringe with a long needle; the being had a gloved hand. The witness attempted to resist but was pushed down gently and told by mental telepathy that it was useless to resist. The witness noticed that the room had a soft glow and the beings wore suits designed with a series of inflated rings resembling a "Michelin Man." Next thing the witness remembered was seeing the beings walking out the door.
Source: Kenneth Ring, PhD. "The Omega Project"
---
Date: April 13 1979: The Jardim Alvorada Abduction
---
Date:  April  1979
Location:  
Time:  
Summary:  
Source:  
---
Location. Jardim Alvorada Maringa Brazil
Date: 
Time: 2330
Two brothers were walking in a remote area when they saw a bright object approach; as they passed a ravine they heard a strange sound and their legs grew weak. They then walked towards a field and fell beneath a tree. Both passed out as the bright object approached. Under hypnosis one of the men remembered floating upwards into the object. Inside he was led by a being described as tall, wearing a shiny silvery uniform with buttons, with generally human features and short cropped hair, to a room replete with computers. In that room he saw images of the earth. He was then taken to another room where he was examined and a sperm sample was taken. Later a beautiful female being entered the room and had sexual intercourse with him. The beings spoke among themselves in an unknown language, but assured the witness by telepathy that they wanted to study the earth and were peaceful. He was eventually released along with his brother.
Source: Thomas E Bullard, UFO Abductions The Measure Of A Mystery
---
Date:  April  1979
Location:  
Time:  
Summary:  
Source:  
---
Location. Near Kostino, Moscow, Russia
Date: April 17 1979
Time: daytime
The witness, Anatoliy Malyshev, 22 years old (abducted in 1975) encountered the same human looking alien, of middle height, dressed in a normal human suit, dark grayish one. The witness recognized the man right away. After a short conversation the alien turned away, walked out of the house and disappeared in a strange way, apparently in plain sight in front of a forest glade.
Source: Mark A Milkhiker, Anton Anfalov
---
Date:  April 19 1979
Location:  Talisay, Philippines
Time:  
Summary: Police witnesses reported seeing a mother ship which later spewed out smaller UFOs, all of which landed in a valley. Military authorities were investigating. 
Source:  Manila, Philippines (UPI), May 1, 1979
---
Date:  April 19 1979
Location:  Croy, England 
Time:  11:00 PM. 
Summary:  Two witnesses to a UFO in Croy ran from their car when the brightly lit object passed low overhead. They reported an abnormal silence, as they could no longer hear the car engine or the door slam when they fled. 
Source:  International UFO Reporter, August 1979, p. 2
---
Date:  April  1979
Location:  
Time:  
Summary:  
Source:  
---
Location. Charleston South Carolina
Date: April 21 1979
Time: daytime
The witness was on the phone with a local UFO investigator in his trailer home when suddenly two short gray skin beings with huge heads and large black almond shaped eyes appeared next to him, amidst a blue glow. During the visit they apparently gave him a piece of metal as "proof" of his experience.
Source: Richard L Thompson, Alien Identities
---
Date:  April  1979
Location:  
Time:  
Summary:  
Source:  
---
Location. Raleigh North Carolina
Date: April 24 1979
Time: 0032A
The witness had gone out in her patio to take out the trash and feed the dogs when she saw a bright glowing craft nearby. It had 3 or 4 lights, a transparent opening in the center, and two windows like slits exhaust type protrusions, and railings around a cone shaped top. Several figures where at the windows. The craft descended making a whirring sound; it then extended three tripods and landed. The witness does not recall how she entered the craft but remembers being examined by probes and something resembling a CAT scanner. She recalled seeing 3 or 4 humanoids described as four-foot tall, with clay like complexions, a large head, no facial hair, and large slanted blue lavender eyes. They all wore silvery suits.
Source: UFONS # 226
---
Date:  April  1979
Location:  
Time:  
Summary:  
Source:  
---
Location. Near Talisay Philippines
Date: April 25 1979
Time: 0400A
Farmer, Mamerto Demetillo, saw a bright light near his home and went outside to investigate. He was surprised to see a saucer-shaped object hovering about 20 yards above the ground, apparently looking for a place to land. The farmer followed the object and saw two similar UFOs, about 300 yards away, which had already landed. Each craft was resting on four legs, which were about two feet long, and a short ladder extended from the door to the ground. From each object, two humanoids came out and formed a circle. The six beings were pointing in all directions and nodding their heads, which the witness assumed, was some form of alien communication. The beings were wearing what looked like gray rubberized suits with brown belts, black gloves, and boots. The humanoids were on the ground for about 15-20 minutes before they got back in their crafts. The objects then rose up into the air and disappeared at high speed.
Source: Ahmad Jamaluddin
---
Date:  April 27 1979
Location:  St. Jacques de Nehou, Manche department, France
Time:  7:00 AM.
Summary:   A four meter in diameter, intense reddish-orange colored sphere with "stiff waving arms" or appendages was seen over a farm in St. Jacques de Nehou. It flew off silently to the northeast slowly. 
Source:  Lumieres dans la Nuit, February 1980
---
Date:  April 29 1979
Location:  Makapu'u, Hawaii
Time:  10:45 PM. 
Summary:  An airline stewardess was at the shore in Makapu'u, when she sighted a huge triangular UFO with many lights. It moved at an estimated 100 mph and made a humming sound. It maneuvered in the sky and flew away out to sea. 
Source:  Larry Hatch, U computer database, case 13689, citing APRO Bulletin, May 1979
---
Date:  April 29 1979
Location:  Passa Tempo, Minas Gerais, Brazil
Time:  afternoon
Summary:  Two tall silver clad humanoid figure with large heads were seem on a hill apparently examining a drainage system into the river Para.
Source:   GEPUC Brazil
---
Date: April/May 1979: Curitiba, Bacacheri, Parana, Brazil Sighting
---
Date:  April  1979
Location:  
Time:  
Summary:  
Source:  
Related articles