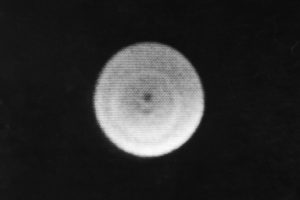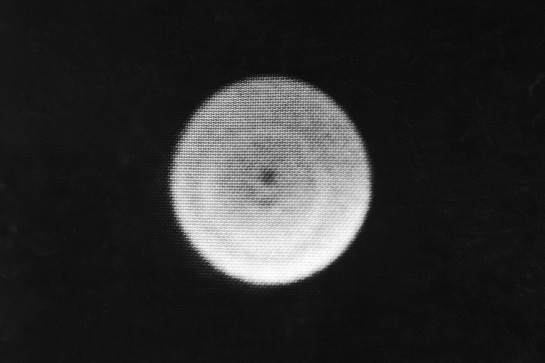 (Last Updated On: May 1, 2017)
Date:  December  1979
Location:  Oklahoma, exact location not given
Time:  early morning
Summary:  The witnesses were driving through a rural area when their car was engulfed in a bright white light apparently causing the car engine to stall and the radio to stop playing. They were not able to restart the car and began to walk to the nearest town for help. A short time later they again saw the bright white light behind a small hill near the road. They walked over to the hill and observed a hovering saucer shaped object with several small men doing something around the object. The terrified witnesses hid behind the hill until the small men returned to the object and it shot straight up and was soon lost from sight.
Source:   Duane Bedell, Heartland UFO Journal December 94 # 33
---
Date: December 1979
Location: Urbanizacion Atenas Manati Puerto Rico
Time: night
Summary: Two short three-foot tall greenish colored humanoids appeared inside the house of the witness and were seen by several family members. They were described as thin with large eyes and ears and at one time were seen looking into a crib where a little child slept. The two beings suddenly vanished when confronted by witnesses.
Source:  Jorge Martin, Enigma # 1
---
Date:  December 1 1979
Location:  Near Saddle Mountain State Park, Oregon
Time:  afternoon
Summary:  A bow hunter was in heavy timber when he saw standing in a patch of Oregon grape, three black objects. About 5½ ft tall, black, heavily built, just standing around. He banged on a stump and they ran off. This was a cut over area of heavy timber, and the objects were about 80 yards away.
Source:  The Western Bigfoot Society Newsletter # 68
---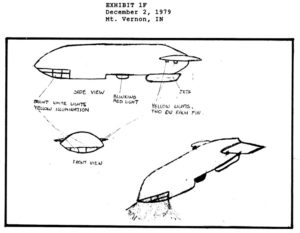 Date:  December 2 1979
Location:  Mt. Vernon, IN
Time:  4:55 – 5:10 PM.
Summary:   Six witnesses (including yours truly) observed a descending object for 15 minutes that went from a bright distant light in the NW to a pair of bright headlights to what appeared to be a huge jet aircraft with external lights, but with NO sound approximating a small business jet or passenger aircraft as one would hear at an airport, and only 500 feet away (or less) and no more than a hundred feet over the W-E highway. We later found that others had seen it and also later on that month. Evansville's Dress-Regional Airport had no explanation. 
Source:  Ridge files
---
Date:  December 2 1979
Location:  Mt. Vernon, IN
Time:  Evening
Summary:   Blimp-like object seen my motorists on Hwy. 62 between Mt. Vernon & Evansville.  On the 13th of Dec., I got a call from a gentleman near Marrs Township, about 8 miles down the highway from Mt. Vernon, IN. At about 5:00 PM on the 2nd, the same night we saw the weird "jet", he had seen what he thought was a jet with a fire on the right engine. At the same time, a lady from New Harmony had seen it, also. A friend of mine, a lady who worked at the Index store down from miy store, hadn't seen it, but her son had. And he drew a picture of it. He doesn't know what the time was, exactly, but the detail he observed and his ability to draw it makes us wonder what in the world (or off of it) flew over that evening. And it made no sound when he saw it. (Ref. 10)
Source:  UFO Filter Center/ Ridge files
---
Date:  December  1979
Location:  
Time:  
Summary:  
Source:  
---
Location. Genoa Italy
Date: December 2 1979
Time: night
While stopped for gas on the Corso Europa way, F Zanfretta was approached by a tall figure with an oval shaped head that wore a loose fitting windbreaker. At the same time a fog like mist surrounded the gas pumps and the figure ordered Zanfretta to accompany him. (Local residents reported a power outage around the same time.) Zanfretta obeyed, he was eventually taken onboard a craft which then landed in a wooded area near Marzano. While flying over the area he reportedly saw the earth looking like a ball of marble free-floating in space. The occupants of the craft also showed him numerous photographs of friends and others, which he did not know. He was also shown a large glass cylinder filled with a blue liquid, inside floated a huge hairy man like creature resembling a "Bigfoot" type humanoid. In another container he saw a horrible creature resembling a prehistoric pterodactyl. In yet another container he saw a large toad-like creature. While onboard the craft he met the tall green colored reptilian humanoid that called himself "Dargos", which he had met on previous occasions. The tall humanoid offered Zanfretta a transparent sphere that contained a rotating golden pyramid as proof of their existence, but Zanfretta refused to accept it.
Source: CUN Genova
---
Date:  December 3 1979
Location:  Lorraine, Moselle
Time:  around 16:50
Summary:  two witnesses observe a triangular shaped object emitting two traces of red smoke. The object flew over a radio tower, then stopped a few seconds before setting out again. The witnesses followed it until it went out of sight, red smoke being visible until the end of the observation. A third witness observed at the same time a very shiny point in the sky without being able to make a correlation between the two observations. The investigation did not make it possible to identify air traffic corresponding to the observations and this observation remains unexplained.
Source:  geipan
---
Date:  December  1979
Location:  
Time:  
Summary:  
Source:  
---
Location. Angeles Forest California
Date: December 3 1979
Time: 1900
Two men out in a hilly and wooded area looking for "Bigfoot" type creatures suddenly heard machine like sounds coming from possibly from an underground source. Later they both saw a silvery disc shaped object land 130 feet away from them. Two men wearing khaki jump suits, with dark hair approached them. The uniform on the men had a patch on one side of the chest resembling a round black planet with a bolt of yellow orange lighting across it. The men questioned the witnesses on their intentions for several minutes while the witnesses remained paralyzed. Their minds seem to go into a blank and when they regained control the men and the disc were gone.
Source: Cuforn Bulletin, July/August 1988
---
Date: December 4 1979
Location: Vastervik Sweden
Time: 0100A
Summary: Lilli Karlsson was taking an early morning walk on the Brevik Hills when she was suddenly paralyzed. She could see a luminous object hovering close to the ground nearby. Two five-foot tall thin humanoids appeared from behind the object. The witness felt that they were discussing her. She heard a voice that told her not to be afraid. One approached and stretched its hand to her, but she remained paralyzed. They talked among themselves then returned back to the object. Smoke came from under the object and it disappeared.
Source: Robert E Bartholomew, UFO Lore
---
Date:  December  1979
Location:  
Time:  
Summary:  
Source:  
---
Location. Drumchapel Scotland
Date: December 8 1979
Time: 0100A
The witness was alone waiting for a taxi when she suddenly heard a strange noise. A shaft of light appeared from above and hit the pavement in front of her, and then the head and shoulders of a figure appeared to rise from the pavement. The frightened witness left the area quickly. No other information.
Source: Martin Keatman, & Andrew Collins, FSR Vol. 26 # 3
---
Date:  December  1979
Location:  
Time:  
Summary:  
Source:  
---
Location. Cergy-Pontoise France
Date: December 8 1979
Time: 0700A
Someone knocking on the door awakened Jean Pierre Provost, one of the three men who experienced a bizarre UFO incident earlier; the other two men remained sleeping. Opening the door he was confronted by three men. One was of medium height, neatly attired in a dark green suit, black tie, white shirt and green vest. He had black hair, mustache, and beard. The other two men were taller and very strongly build. Prevost was stunned to see that these two men had completely white eyes, lacking any pupils and stared at him fixedly. The bearded man asked him if he was one of the three witnesses. When he confirmed that he was, he was warned by the man not to talk anymore about the incident, since they had already said too much. The men then walked silently away and Prevost was unsure how they left since he did not hear them take the nearby elevator.
Source: Hilary Evans
---
Date:  December 10 1979
Location:   Grays Harbor, WA
Time:  Evening
Summary: A fireball or missile flew in over the Grays Harbor area from the sea, executed a 180-degree turn, and headed west. It crashed in a clear-cut forest near Elk River, on the south side of the bay. Many witnesses told of a military roadblock in the area over the next two days, including what looked like National Guard or Army trucks. One former Navy SEAL reported encountering active Navy SEALs at a lunch counter in town during this same time period. 
Source:   APRO Bulletin, March 1980, p. 7; Donald A. Johnson, 1988 on-site investigation
---
Date:  December 10 1979
Location:  Caravaca de la Cruz, Spain
Time:  10:00 PM. 
Summary:  A UFO with blue lights and a light green hue approached a family in their car at a low height. The driver stopped and signaled with his headlights. The UFO responded by flashing its lights.
Source:  UFO News clipping Service, April 1980, p. 13
---
Date:  December  1979
Location:  
Time:  
Summary:  
Source:  
---
Location. Providence Rhode Island
Date: December 10 1979
Time: night
The witness was in bed awake when a white light appeared and she lost consciousness. Under hypnosis she remembered floating up a beam of light into a semi circular room inside an object. A being gave her a smock and she put it on without resistance. She then lay on a table while she saw another man on a different table. She was connected to the man by some instruments and a blood transfusion apparently took place. A giant being dressed in a black metallic suit stood over her and relieved her pain. By using telepathy he said his name was "Tabar."
Source: Thomas E Bullard, UFO Abductions The Measure of A Mystery
---
Date:  December 11 1979
Location:  Near Lake Isabella California
Time:  1400
Summary:  The two witnesses, both husband and wife, were at home watching television when both suddenly blacked out. Their memories returned only partially. The wife remembered being in some kind of operating room, lying naked on top of a table and unable to move. She saw her husband trying to enter the room but was prevented by a panel that rose from the floor and blocked him. The husband recalled being in a room with a gray faceless woman, five-foot ten inches tall that communicated via telepathy that refused to release him. Both remembered feeling cold and hearing the sound of an engine. Other partial memories included a man and a woman entering the house and a feeling of being watched ant threatened b unseen presence's. The couple was found incoherent and suffering various injuries and never fully recovered.
Source:  Thomas E Bullard, UFO Abductions The Measure of A Mystery
---
Date:  December 12 1979
Location:  Romans, France
Time:  11:45 PM. 
Summary:   A multi-colored disc passed by fast a residential neighborhood in Romans, France at a low altitude, spinning as it went. It left behind a luminous trail. 
Source:  Lumieres dans la Nuit, February 1980
---
Date:  December 18, 1979: 2 Humanoids seen in Lan Xi Chekiang Province, China 
---
Date:  December 18 1979
Location:  Lan Xi Chekiang Province China
Time:  0400A
Summary:  A 25-year old truck driver almost crashed into a parked car in the middle of the road, the car occupant explained that he had just seen a strange sight up ahead on the roadway. The truck driver drove on up the slope of a hill and encountered a blue glow and a dome shaped craft on the road. Two small figures stood next to the object, these were under 5-foot tall and wore silvery clothing, and they also had bright glowing lights on their heads. The trucker went out and grabbed a crowbar, but by then the object and figures were already gone.
Source:  Jenny Randles, "Abduction"
---
Date:  December  1979
Location:  
Time:  
Summary:  
Source:  
---
Location. Near Trujillo, Peru
Date: December 18 1979
Time: 1900
After receiving telepathic messages directing him to an isolated area outside of town, Prof Clemente Aragaki drove to the location followed very closely and at a low altitude by a disc shaped object, with bright red, violet & white lights. As he stopped his vehicle, the disc descended over him. The witness was instructed to touch the bright pulsating lights on the object (telepathically) and as he did he found several small white colored crystal like stones in his hands. He never saw the aliens, and only communicated telepathically.
Source: Fabio Picasso
---
Date:  December 19 1979
Location:  Lunel, France
Time:  7:00 a.m. 
Summary:  A white, egg-shaped UFO, one meter in diameter landed in an upright orientation in a yard in Lunel, France. It was then seen moving down the driveway at ground level by three witnesses. 
Source:  Lumieres dans la Nuit, April 1980
---
Date:  December 19 1979
Location:  southwest of Gainesville, FL
Time:  
Summary:  A large bright disc chased a car down a road, hovered over a house, then shot away at a high rate of speed heading south. 
Source:  MUFON UFO Journal, March 1980
---
Date: December 22 1979
Location: Near Toronto Ontario Canada
Time: 1825
Summary: The main witness and her brother were driving just north of town on a foggy evening, when they came upon a really heavy fog bank, they entered a dense black cloud, and when they emerged there was not any other traffic around. They had lost 20 minutes of time. Later under hypnosis they recalled seeing a swirling black cloud and three human like figures approaching their vehicle, they were very human looking, blond and about five-foot ten inches tall. They wore gray green coveralls. They took the main witness apparently into an object, which was green inside; her brother was left in the car. She was later brought back to the car.
Source: Cuforn Bulletin, May/June 1988
---
Date:  December  1979
Location:  
Time:  
Summary:  
Source:  
---
Date:  December 27 1979
Location:  Near Toulouse, France
Time:  1830
Summary:  A 13-year old girl reported looking out her window and seeing hovering over a nearby pond a ringed luminous UFO. The object then descended closer to the ground and the terrified witness saw a silhouette of a man-like figure standing briefly next to the object. Around the same location and a few hours earlier a young boy mysteriously disappeared some say taken away by a UFO. No other information.
Source:  Robert Roussel, UFO hidden truths or official concealment?
---
Date:  December 29 1979
Location:   N. Illinois
Time:  11:00 PM.
Summary:  "We had a call from the sheriff's department at 11:00 PM, and they said they were looking at a UFO. We looked on the radar and observed the target in the area westbound, very fast. There were three controllers and myself. We watched the target and it stopped, changed direction to a north heading, went north for about three miles, stopped again, went southwest for five miles, stopped again, went westbound right up to the Mississippi River, stopped there, then continued westbound. It covered 54 miles in three-and-one half minutes, plus it stopped four times. We were receiving a strong return. There were no known aircraft in the area. I have never seen an aircraft at that speed turn that fast. The stops were very abrupt and the turns were very abrupt. I don't know of any airplane that can turn that fast. We picked up a second object at 11:04 PM and it proceeded southwest until it was directly over the Mississippi River at which time it turned southbound and paralleled right over the river for about half-a-mile and moved away to the west-southwest. After we picked up the second object, I checked back with the sheriff's department and was advised that they had observed another object. The position the sheriff gave me correlated with the targets we saw."
Source:  MUJ-186,13
---
Date:  December  1979
Location:  
Time:  
Summary:  
Source:  
---
Location. Arroyo Sujayar, Albacete, Spain
Date: December 29 1979
Time: night
4-year old Antonita Tamayo was reported missing from her home. During three days and three nights, police, neighbors, family searched for her all over the wooded and mountainous region. It was during the middle of winter and temperatures were extremely low. The Civil Guard brought specially trained dogs but these failed to find the girl. But on the fourth day the girl was found in a wooded area, apparently unharmed and in perfect healthy conditions. She appeared not to be suffering from the cold or exposure. The little girl told rescuers that every night she a tall woman all dressed in white and carrying a torch like instrument kept her warm and fed her, telling her that she was going to be all right and rescued soon.
Source: Bitacora
---
Date:  December 30 1979
Location:  Catania, Sicily Italy
Time:  0130A
Summary:  Laborer Sebastiano Pannitteri suddenly woke up in his bedroom and observed a strange phenomenon. The electricity seemed to be out and he heard his brother in law's dog growling outside. Looking out the window he saw a luminous white mass approaching within the light he could see a human like figure. Stunned he approached the window and saw the back of a very tall figure wearing a very tight fitting luminous white coverall that accentuated its musculature. The head was round and was either bald or covered with a white helmet. The being's shoulders and chest area appeared wider than normal. He had what appeared to be several black dots on his upper back. His arms were at his sides. It seemed to move slowly at first but after five minutes it appeared to glide, quickly disappearing over a nearby wall.
Source:  Archivio CUN
---
Date:  December 30 1979
Location:  Patricia Bay, British Columbia Canada
Time:  0500A
Summary:  On two consecutive nights a witness watched a large white light come from the north and hover briefly over the sea before leaving. The morning after the second night an Indian living nearby was awoken by his dogs barking furiously, looking out he saw an enormous gorilla like creature climbing out of the sea. The creature climbed up the bank, through the trees then ran at very high speed down the road quickly disappearing from sight.
Source:  Janet & Colin Bord, The Evidence for Bigfoot and Other Man-Beasts
---
Date:  December  1979
Location:  
Time:  
Summary:  
Source:  
Related articles