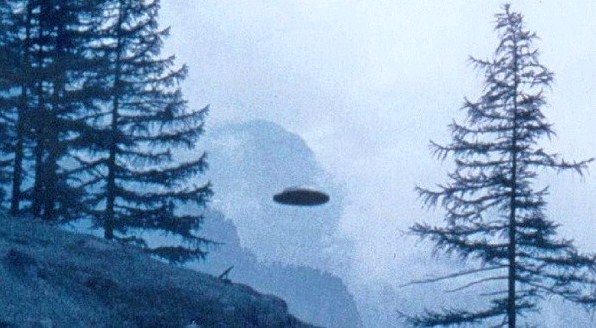 (Last Updated On: January 17, 2018)
Date: mid 1979
Location: Beserah Pahang Malaysia
Time: 1030A
Summary: A small object was reported to have landed on the water tank on a local primary school. Several students rushed forward causing the object to ascend, it then descended again on a nearby field. Three tiny figures emerged from the object but disappeared into the bushes as the students attempted to grab them.
Source: Ahmad Jamaludin, A Summary of UFO and Related Events in Malaysia 50/80
---
Date: Summer 1979
Location: West Jefferson, Ohio
Time: morning
Summary: A truly mind-boggling report, as a couple sees a brilliant orange balloon-like object that swooped down by the back door of the house one nice summer morning. It seemed to deliberately go slowly, so that the couple ended up within touching distance of it. The basket of the balloon had three tiny man-like figures in it. One had on a black suit and the other two wore heavy black jackets with fur on them. The figure in the suit said with a very English accent, "And a good morning to you too." Then the basket rose rapidly up and out of sight.
Source: Don Worley, FSR Vol. 41 # 4
---
Date:  Summer 1979
Location:  Brantford Ontario Canada
Time:  afternoon
Summary:  The witness was traveling by car when a craft with bright lights descended over the highway in front of the car. The witness then sees two short humanoids standing on the side of the road. The beings are described as having large triangular shaped heads, large eyes, small mouths, and small holes for a nose. They had broad shoulders and thin necks and wore one-piece dull gray colored suits. The witness was then floated into the craft. Inside she saw a curved corridor with many rooms. She was then examined on a small table by six small beings that communicated by using mental telepathy. The witness remembers seeing other humans being examined onboard.
Source:  Bonnie Wheeler, Cambridge UFO Research Ontario Canada
---
Date:  Summer 1979
Location:  
Time:  
Summary:  
Source:  
---
Location. Near Mt St Helens Washington
Date: Summer 1979
Time: afternoon
The witness saw a metallic disc shaped object land near his ranch along the river. Several humanoid figures emerged from the craft. These wore shiny blue and white, one-piece suits and were apparently barefooted showing tanned legs. They walked out into the river with some type of equipment that resembled a stainless steel thermos bottle with a handle on it. They entered the water that was about 3-feet deep, and caught several fish. After filling about 4 sacks with fish, they went back into the craft. The object emitted a loud whooshing sound and went straight up and at very high speed. The sand underneath the object was thrown in all directions.
Source: Don Worley, TROFUS June 1980
---
Date:  Summer 1979
Location:  
Time:  
Summary:  
Source:  
---
Location. Near Pinedale Wyoming
Date: Summer 1979
Time: night
The witness was staying in a cabin in the hills of the Wind River Range, when in a dream like state he saw a beautiful female being about 8-feet tall. She had all white hair, very large eyes, but perfectly proportionate to her face, with a very glossy look. She wore a dress that was all white and made of some kind of feather-like material. The witness was so awed by her beauty that he actually flirted with her. He felt compassion and love from her. The day after this incident the witness saw a silver lens shaped object over the Wind River Range.
Source: Direct From witness
---
Date:  Summer 1979
Location: Near Shoreham, England
Time: night
Summary: Joe and Sheila Harper were on the A23 road when they saw two figures wearing light-colored clothing crossing the road a short distance ahead of them. Mr. Harper flashed his headlights to warn the figures, but they instantly vanished.
Source: Paul Devereux, Haunted Land
---
Date: June 1979: Twenty-Nine Palms California Encounter
---
Date:  Summer 1979: Bayamon Puerto Rico Encounter
---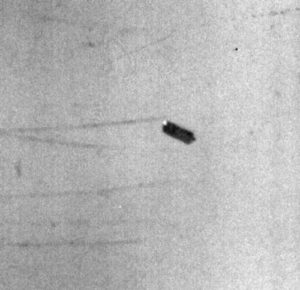 Date:  June  1979
Location:  Venice, Italy
Time:  
Summary:  
Source:  
---
Date:  June  1979
Location:  Nildottie, South Australia
Time:  early evening
Summary:  The two witnesses, Jack and Don, had been experiencing problems with their outside TV antenna being twisted around. The cause puzzled them. One evening, after cooking a meal, the Venetian blinds went up and down. Both went outside to look and were approached by 'European' looking people. They appeared to be wearing dark colored woolen jumpers and were both male and females. A bright light shone on them and both men felt calm. They were then taken over to a mound of gravel adjacent to which a oval shaped craft was located. The men were escorted inside though they never remember entering a passageway. It was cold, so the beings agreed to escort them back to the house to get coats. They were not allowed to take food. They then returned to the craft and it took off. As it rose they saw the TV antenna on the house below twist around. They could see across the Murray River as they rose up. Don, the younger of the two, was given strange, repetitive tests. Many hours later they were returned. Later, a neighbor visited and found them confused. The local police were immediately called in. The two men were taken to a local hospital and seemed to be suffering from yellow jaundice and eye problems. Both men, who were in their 30's, eventually lost their sight and passed away within two years of the encounter. There was an autopsy performed on both men but an official cause of death was never released.
Source:  "The Oz Files" through witness statements
---
Date:  June  1979
Location:  Marion Indiana
Time:  2300
Summary:  The witness who was between 10 and 13 years of age at the time found himself, in a dream like state, wandering through a graveyard. He could see other people doing the same thing, apparently all headed towards some type of rendezvous. The group then reached a pond and they stood by the water not speaking to each other. Suddenly a man, wearing all white appeared standing above the water. He began talking to the group, lecturing them on the misuses of atomic power. He said that it was going to change one day. Everyone in the group then was given a book. The man then called the witness and he stood next to him. Suddenly out of the water a large luminous triangular shaped craft emerged. The witness then found himself back home.
Source:  NUFORC
---
Date: June 3 1979
Location: Paciencia Brazil
Time: night
Summary: Alipino Alves de Morais observed a huge luminous object descend overhead. The craft had several lighted windows and inside the witness could see several human like figures looking out. He hid in his house and watched the craft slowly ascend and disappear from sight.
Source:Antonio Faleiro
---
Date:  June 6 1979
Location: Near Dubois Wyoming
Time: morning
Summary: While camping in a wilderness area the witness looked up toward a sunny hole in the clouds and had an abduction like experience. He found himself in a large room while an entity surrounded by light stood at his side. He looked back on his body and walked on air toward a network structure. There someone placed a helmet on his head and he felt expanded awareness and an inrush of information. He saw the ground from his standpoint in the air, and someone touched a small device to different places on his arm. He conversed with the beings about happiness and helping others.
Source:: Dr. Leo R Sprinkle
---
Date:  June 12 1979
Location:  Pine Ridge, SC
Time:  
Summary:  Members of a rock band practicing in a barn stepped outside to watch an unusual form hovering low over the containment building and smokestack of the Carolina Power & Light nuclear power plant one half mile away to their northeast. An ovoid shaped object, seen primarily by its lights in the clear dusk sky, had two huge bright yellowish-white beams of light. After hovering motionless for 2-5 minutes all the lights faded except a blue light. The UFO moved off and was gone in "three blinks of the eye." After about five minutes, a second sighting took place. It hovered to the right of the nuclear power plant and directed a beam of light at it while hovering for another 2-5 minutes. The second object flew off toward the northwest. No one at the power plant reported seeing anything unusual to the chief of security. 
Source:  International UFO Reporter, July 1979, p. 21
---
Date:  June 15 1979
Location:  Toronto, Ontario
Time:  
Summary:  I do not know if this was a ufo – but something incredible took place. there was no object that we saw. a friend was driving me back from toronto to guelph on the 401 and we weren't talking for a change. i felt the car was lifted off the ground, maybe 2 inches, or was floating on air. also, my mind completely opened up and i could read my friend's thoughts-the only time in my life i have been clairvoyant-my friend was starting to panic ( no words were spoken, i read his thoughts)… he was thinking about steering the car out of the issue, then a message , not voice, comforted me saying he / we will be fine….The experience ended and neither of us said anything for 10 or 20 minutes. finally i said, i need to talk with you about something. he immediately said " did you feel it too?" he experienced the same thing i did except he had no idea i was viewing his thoughts. nothing like that has ever happened before or since to either of us. i have no dreams about it, no flashbacks. but since we both experienced it, it could not be a hallucination. was this a vortex or a possible ufo experience? something exceptional happened. note i put " abduction " under one of your heading as there was no option for unknown and i could not submit without choosing one box. we were not abducted at least not to our knowledge.
Source:  MUFON
---
Date:  June 15 1979
Location:  
Time:  
Summary:  
Source:  
---
Location. I-10, rural Louisiana
Date: June 15 1979
Time: 1630
The witness spotted a metallic object hovering silently above the eastbound lanes. It had a light underneath that was apparently being moved around the outside of the object, shining onto it and into a small, recessed hatch area. A humanoid figure could be seen moving the mobile light source. The object appeared to causing a mild dust disturbance below it.
Source: NUFORC
---
Date:  June  1979
Location:  
Time:  
Summary:  
Source:  
---
Location. Near Oxford England
Date: June 17 1979
Time: night
Graham Allen was driving alone on the A34 road suddenly began experiencing trouble with his radio and as he looked down to work on it he realized that it was suddenly raining. He became aware that he was now on a stretch of unfamiliar road and that he had some lost time to account for. Years later he was suddenly able to remember seeing a golden yellow haze surround his car that was now stationary. He also heard a low humming sound and saw a bright light above the car. He felt the car slowly rising up into the air. Everything became dark and he became aware of being on his back lying on a smooth surface in a very brightly-lit room there he saw three humanoid alien figures looking down on him. These had large eyes, smooth skin, the beings, who Graham was unable to describe in great detail, seemed to be doing something to him. Suddenly Graham awoke to find himself in bed. From above there was a loud humming noise, loud enough to wake his wife and children. For years he received highly technical information through his brain from an unknown source, this apparently after the abduction
Source: Clive Potter, Phillip Mantle, and Andrew Walmsley UFO Universe May 1990
---
Date:  June 18 1979
Location:  Mirassol Sao Paulo Brazil
Time:  0300A
Summary:   Sr. A. Ferreira was returning home from his job as a security guard when a metallic oval-shaped craft landed on three legs near his home. Three humanoids came out of the craft and paralyzed him with red beams of light, from boxes that they carried on their chests. These humanoid beings also carried boxes on their backs and had an insignia on their chests. He was floated onboard the craft alongside and once inside he believed he passed out. However, under hypnosis he remembered traveling to a larger craft where he found himself in a dark room with small lights and what looked like star maps. Ten to twelve humanoids were in the room with him. They were of two different types. Some had skin with a greenish tinge, with black smooth hair, thin lips, thin noses, pointed ears, and large eyes. The others were similar in appearance except that they had brown skin, kinky hair, dark eyes, and thick lips. All were between four and five feet tall and wore white uniforms and gloves. He was taken to another room and laid on a couch, a naked woman the entered the room. She was human like with black almond-shaped eyes, brown skin, a large head, red kinky hair, and very foul smelling breath. He resisted her sexual advances but was forcibly restrained. They spread an oily substance on his body, and forced him to have sexual intercourse with the female. The beings spoke in an unknown language among themselves but by telepathy with him. He was given the impression that they were conducting genetic experiments and were interested in reproduction.
Source:  Thomas E. Bullard, UFO Abductions: The Measure of a Mystery, case 131, citing APRO Bulletin, November 1983, p. 1
---
Date: June 19 1979
Location: Rauma Finland
Time: 1230
Summary: The two witnesses that lived in a rural area were sitting in their living room with the window opened when one of them caught sigh of a silvery gray metallic cupola shaped object resting on the ground not to far away. The bottom of the object was blue black in color and it was emitting a blue-black beam of light form its middle section. The beam briefly swept the nearby woods then switched off. Both witnesses had now seen the object and one of them decided to have a closer look. This witness walked very close to the object and was able to see that it rested on small metallic legs. The upper part of the object was transparent and inside two small humanoids could be seen. These were described a very "ugly" with crooked beak like noses and covered with green brown spots, they had large bulging eyes, pointed chins, large mouths and pointed ears. Both wore shiny gray helmets with antennae with a yellow line on the middle. They also wore black gloves and clothing. The witness was also able to see numerous gauges and levers inside the object. The being nearest to the witness made a sudden move and the witness was suddenly blinded and fell back. The craft then took off emitting a whistling sound. The witness eyes were irritated for the next several hours and he was briefly in a state of shock.
Source: Juhani Kyrolainen & Pekka Teerikorpi FSR Vol. 27 # 3
---
Date:  June 20 1979
Location:  Joao Pessoa Paraiba Brazil
Time:  0030A
Summary:  Near the local forest preserve two men were walking back home engaged in conversation when suddenly from behind a light pole a strange figure emerged. The creature had a horrible appearance according to the men, it was about 5-feet tall, with an oval shaped head, with huge fiery orange reddish eyes. It had very short arms, resembling chicken feet, with sharp claws. It had a crest like protuberance on its head. Its legs were thick and robust looking. As they watched, the creature, it began approaching them, terrified they ran from the area towards the nearby road, where they apparently hitched a ride from the site. (Precursor to the Chupacabra?? The similarities are undeniable)
Source:   Gilberto de Melo
---
Date:  June 22 1979
Location:  offshore of Gorgona, Italy
Time:  3:45 PM.
Summary:   On this afternoon offshore of Gorgona during a beautiful summer day, the yacht Rainbow II was heading for Corsica, after leaving Viareggio. On board was the owner of the boat, who was a businessman in Milano, his wife and children and a crew of 11 people. At about 6:30 p.m. the beautiful and tranquil day was interrupted by a bewildering and disturbing event. About three miles ahead of the prow of the boat they saw a black cylindrical shape. This object was coming out from the surface of the sea like a tower and rose 30 meters into the air. The yacht approached and they noticed the dimensions and shape of the object. When they were within 1.5 miles from the object, it disappeared below the surface with a loud rumble in less than three seconds. This sighting was also observed from the harbormaster's office on Livorno. The harbor captain remained in continuous radio contact with the crew and in particular with its wireless operator, Mr. Guzzi. But this phenomenon did not end with the disappearance of the object. Although the compass showed the yacht as headed in the right direction, the yacht instead drifted about 12 miles south and ended up in Bastia. This change of course was unexplainable because the sea was calm, there were no currents, and the compass was working perfectly. Another strange occurrence was that the dog on board started barking and appeared scared and terrified. 
Source:  Marco Bianchini, USOCAT by Italian Center for UFO Studies (CISU), Carl Feindt
---
Date:  June  1979
Location:  
Time:  
Summary:  
Source:  
---
Location. Oakenholt Flint Wales
Date: June 23 1979
Time: 2300
The witness was lying in bed unable to fall sleep when suddenly she became dizzy while looking at the ceiling. She then found herself traveling along a dark tunnel. At the end of the tunnel she could see some human like figures apparently waiting for her. She then found herself surrounded by light and standing in a field, which contained trees, grass, and a stream. A male and a female alien then approached her. The male was wearing a green top and had "wing like" protrusions on his shoulders. The female wore a pink dress that reached down to her knees. Standing in between them was a 2 to 3 year old boy dressed similarly to the male alien. A short conversation with the aliens ensued. Then the female touched the witness hand and she suddenly found herself flying over a fascinating city that nestled beneath a very large and dark red sun. Here another conversation took place. Later the witness found herself back in the black tunnel then back on her bed.
Source: Nigel Watson, Portraits of Alien Encounters
---
Date:  June 26 1979
Location:  Wheeling, IL
Time:  3:00 AM. 
Summary:  77 year-old man was awakened by his border collie and went outside to see. When he opened the back door he saw a uniformly glowing "balloon", 6-7 foot in diameter and excessively bright. His dog stepped forward and watched it as it hovered rock steady at 60′ up and 100′ away or less. After 4-5 minutes it moved slowly behind the trees to the southwest. Running to the front of his house he saw an identical form 70′ up and moving silently to the northwest. It went behind trees in 3-4 minutes. 10-13 minute observation. 
Source:  IUR 4,2
---
Date:  June 27 1979
Location:  Western Oregon, near Idaho border
Time:  unknown
Summary:  A smooth, oblong, lens-shaped spacecraft crashed for unknown reasons. It was metallic and dull gray in color. One section was damaged. The object was removed and transported to the Nellis test range in Nevada. Possibly two or three humanoids were found onboard.
Source:  Anton Anfalov UFO Crash list
---

Date: late June 1979
Location: Turgay Kazakhstan
Time: unknown
Summary: Several children at a holiday camp encountered five to eight very tall dark humanoids about 8-foot tall with three fingers and no thumbs. The children were chased by the beings. Other campers including a teacher saw the beings also. Military personnel saw an object hovering over some local woods during the same time.
Source: Jacques Vallee, UFO Chronicles of The Soviet Union
---
Date:  June  1979
Location:  
Time:  
Summary:  
Source:  
Related articles