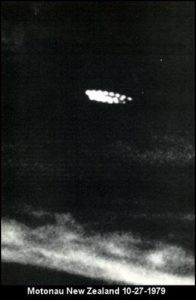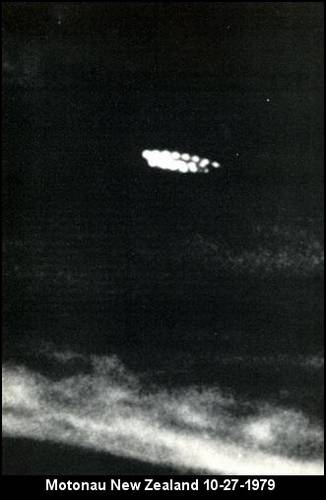 (Last Updated On: March 8, 2017)
Date:  October  1979
Location:  Isla Verde Puerto Rico
Time:  night
Summary:  The witness was asleep at home when he was suddenly awakened by several figures that appeared to have flashing red and blue lights on their faces. The witness lost consciousness at this time. Later with the help of a hypnotist he remembered being taken onboard a large cigar shaped craft by the beings. The object had a luminous H on its side and hovered above the beachfront area. Inside he saw a lot of computer like equipment and terminals and numerous transparent spheres all halfway filled with a clear liquid. He was shown images and was told that the earth was about to enter a cycle of changes. The beings were described as four and one half foot tall, thin, with pale rosy skin, human looking except for their over sized craniums. They had large staring eyes, thin noses and very thin lips apparently they had no visible ears.
Source:   Jorge Martin, Enigma # 1
---
Date:  October  1979
Location:  Santos-Peruibe, Brazil
Time:  night
Summary:  In a field a witness saw a giant humanoid figure about 2.50 meters in height. It wore a white tight fitting coverall and black gloves and boots.
Source:  Antonio Faleiro, Brazil
---
Date:  October  1979
Location:  Rio De Janeiro, Brazil
Time:  night
Summary:  In a wooded field a witness saw a large gray colored disc shaped object on the ground. Next to the object stood two tall human like figures with long black hair, very pale skins and wearing tight-fitting gray coveralls and boots.
Source:  Antonio Faleiro, Brazil
---
Date:  October 4 1979
Location:  Viggiu Varese, Italy
Time:  0320A
Summary:  Garbage collector Aldo Natoli was on his way to work when he spotted two strange figures suspended about 20 cm from the ground and gesticulating animatedly among themselves, without making a sound. Natoli stopped his "Vespa" and continued observing the scene. The figures were thin and man-like wearing dark blue loose fitting coveralls. Their eyes were fluorescent and they had black hair. When the witness restarted his scooter, the figures disappeared into the darkness. The scooter then malfunctioned but in moments it started again. The witness then drove away from the area.
Source:  C.U.N
---
Location. Handsworth Sheffield England
Date: October 4 1979
Time: early evening
A seven-year old boy watched a seven-foot tall silvery figure that was apparently drilling a hole on the ground with a tube. The boy watched the figure until it suddenly spotted him. The figure then disappeared in a puff of pink smoke. Four inhuman footprints were found on the site.
Source: Janet & Colin Bord, Modern Mysteries of Britain
Date:  October  1979
Location:  
Time:  
Summary:  
Source:  
---
Date:  October  1979
Location:  
Time:  
Summary:  
Source:  
Location. Toms River New Jersey
Date: October 6 1979
Time: midnight
The witness had been watching television by himself when a sense of apprehension overcame him and an intense blue light appeared inside the room, it brightened then faded. The witness then armed himself with a gun and went outside to investigate; outside he saw a bright light among the nearby trees. Something then touched his neck and he dropped his gun and fell to the ground unable to move. Several shadowy short humanoids came up to him; they had bright eyes, long fingers, and skinny arms. The beings seemed weak and fearful and lacking any will and felt cold to the touch. A light surrounded the witness and he floated towards a black cloud with a light inside. He remembered a room where the beings touched him with lights and drained him of his energy. The beings never spoke to the witness.
Source: Thomas E Bullard, UFO Abductions The Measure of a Mystery
---
Date: October 7 1979
Location: Heiloo The Netherlands
Time: 1900
Summary: Four 15-year old youngsters playing in a field encountered several strange luminous flashes and lights around them. They soon saw what appeared to be a luminous "mass" behind some nearby bushes. One of them approached and was confronted by a tall humanoid with a large human like face; white hair and large red almond shaped protruding eyes. The figure wore a shiny white robe. One of the other boys then approached the area on a bicycle and saw three other similar figures standing immobile about 50 meters away. Apparently a total of seven humanoids were encountered at one time or another for a period of an hour. They seemed to be able to move around from one place to another at an instant.
Source: Hans Van Kampen
---
Date: October 7 1979: Wabasca Canada Abduction
---
Date:  October  1979
Location:  
Time:  
Summary:  
Source:  
Location. Goiania, Brazil
Date: October 12 1979
Time: night
Two glowing humanoids about 1.20 meters in height that appeared not to have eyes or arms were seen moving in a field using apparent mechanical movements. No other information.
Source: Antonio Faleiro, Brazil
---
Date:  October  1979
Location:  
Time:  
Summary:  
Source:  
Location. Barrio Cantagallo Juncos Puerto Rico
Date: middle of October 1979
Time: unknown
Several human like entities that claimed to be from the "Andromeda" galaxy visited a young woman in her residence. These were described as six-foot tall with comparative short arms, rosy skin, and abundant long black hair. They wore military type one-piece silvery outfits with wide black belts and black boots. The witness was taken into a large circular metallic craft with a luminous H on its side, and then supposedly was taken to an underwater base near the island. The same witness had previously reported numerous paranormal events in her home.
Source: Jorge Martin, Enigma # 3
---
Date:  October  1979
Location:  
Time:  
Summary:  
Source:  
Location. Urbanizacion Villa Capri Rio Piedras Puerto Rico
Date: middle of October 1979
Time: 1400
The witness, a lone housewife, was resting at home when suddenly she heard a loud humming sound and the sound of something falling on the roof. When she looked out the window she felt paralyzed and began hearing a voice in her head telling her "not to be afraid." Consequently five little men, three-foot tall, descended from the roof and began rummaging through the patio terrace. She was able to see some flashing lights in the direction from where they had descended. The beings were described as thin, with child like bodies, short arms, wearing tight fitting one-piece green outfits with yellow hood-like headgear. They wore wide belts around the waist and small yellowish boots. They all had human, but somewhat deformed features. One of them that appeared to be the leader communicated telepathically with the witness and warned her of coming wars and disasters.
Source: Jorge Martin, Enigma # 1
---
Date:  October 15 1979
Location:  Dover, DE
Time:  
Summary:  G,V, AF radar & 2 UFOs, state police vis
Source:  
---
Date:  October  1979
Location:  
Time:  
Summary:  
Source:  
Location. Near Saquarema Brazil
Date: October 15 1979
Time: 2330
Luli Oswald and a 25-year old friend were driving on a coastal highway after apparently taking a wrong turn on the road Suddenly out of the sea, lights climb, pulling the water into a towering mushroom that cascades down below. The car begins to falter. The occupants become terrified. They see above the mountains to their side a large pencil-shaped object with orange windows on the edge. Three dazzling balls of white light roll down the slopes, heading straight for them, illuminating everything as they pass by. The witnesses look around in a panic, trying to decide if they will be safer inside the car or getting out and hiding underneath. The decision becomes academic as their memory fades and they remember nothing more. Later Luli Oswald agrees to be hypnotized by Dr. Silvio Lago and recalls that as they drive along under the gaze of the UFO, they suddenly find that it begins to pull the car up in a brilliant beam of light. Luli screams and finds herself inside a room, with the car alongside. Standing by them are ugly creatures, with long, thin arms, gray skin and pointed features, somehow with rat like facial features. Their mouths and noses are just slits. They are only about 41/2 ft tall. The figures are now examining the now naked woman with lights. The beams in her ear hurt. Hair samples are pulled out, and there is a complete gynecological examination. She is told (by telepathy) that they have contacted her because of her ESP. However (perhaps because she was past child-bearing age), she was no use to them. They are interested only in the man—for "research" they explain. He lies on a marble table looking white "as though he is dead." They are examining him sexually and taking samples. These aliens come from an "a small galaxy near Neptune", Luli is told, although she knows this to be absurd. One of the beings onboard was friendlier than the rest and told the witness that he belonged to a different group. Both witnesses were medically examined and their heads probed with beams of light. After the abduction the two witnesses suffered from several physical ailments.
Source: Thomas E Bullard, UFO Abductions The Measure of A mystery
---
Date:  October 25 1979
Location:  Westmont, IL
Time:  5:56 PM. 
Summary:  Driving southbound through this suburban area of Chicago, 19 & 20-year-old sisters saw flat-bottomed shape like saucer, seen from the side only, 1/4th the size of the full moon. Bright luminous white in the middle, outer edge more yellow. Seen low in SW at first, moving back and forth. When they stopped at stoplight the object was in the west, flipping over clockwise and somersaulting. 3-4 minutes. 
Source:  IUR 4,6
---
Date:  October 26 1979
Location:  Colusa, CA
Time:   12:15 a.m.
Summary:  A silver, bullet-shaped craft with two intensely brilliant beams of light was observed hovering over the Sacramento River north of Colusa, California, by Carlos Genera and his brother Ruben on the 26th [Oct. 26, 1979—jw]. "At about 12:15 a.m., it came out of nowhere and stayed at one point for about two or three minutes, and then came over our heads," Carlos said. "It emitted a nice steady hum like a big electric generator." Ruben said the vehicle created a considerable stir among the animals along the river and nearby farm. "Everything started getting excited all at once. There was a big commotion right away … roosters crowing, ducks quacking and geese honking, even through it was just after midnight. Also, the bullfrogs were provoked into croaking loudly evidently in protest at being disturbed.
Source:  Gribble, Bob, 1989, Looking Back, MUFON UFO Journal no. 258, October 1989, page 24
---
Date: October 27, 1979 Motunau, New Zealand
---
Date:  October 27 1979
Location:  Veyssieres, France
Time:  2300
Summary:  Witnesses saw two luminous balls hovering over a hill during an hour and a half, whereas a third luminous ball maneuvered above the others and flew over a car. The color of the spheres varied between yellow and red. On the spot the next morning, ground traces were found including clear footprints about 36cm in length with a V-shaped sole. Other similar observations were reported in the area.
Source:  Maurice Chatelain, Messengers of the Cosmos
---
Date:  October 29 1979
Location:  Wollaton Park Nottingham England
Time:  dusk
Summary:  Several children returning home after playing, heard a sound like a bell and saw coming out of the wooded area about 60 little gnome like men with Wrinkled Faces and long white beards, they were about 2-foot tall and were riding small bubble-like vehicles. The beings rode over the swamps near the lake and some chased the children towards the gate of the park. Some of the humanoids wore red hats and green pants and seem to be laughing in a peculiar way. The children ran from the area.
Source:   Fortean Times # 31
---
Date: October 30 1979
Location: Wollaton Park Nottingham England
Time: dusk
Summary: A 12-year old girl saw six gnome like bearded little men, riding on small bubble shaped vehicles come from behind Wollaton Castle over a swampy and wooded area. The girl left the area immediately.
Source: Fortean Times # 31
---
Date:  October  1979
Location:  
Time:  
Summary:  
Source:  
Related articles