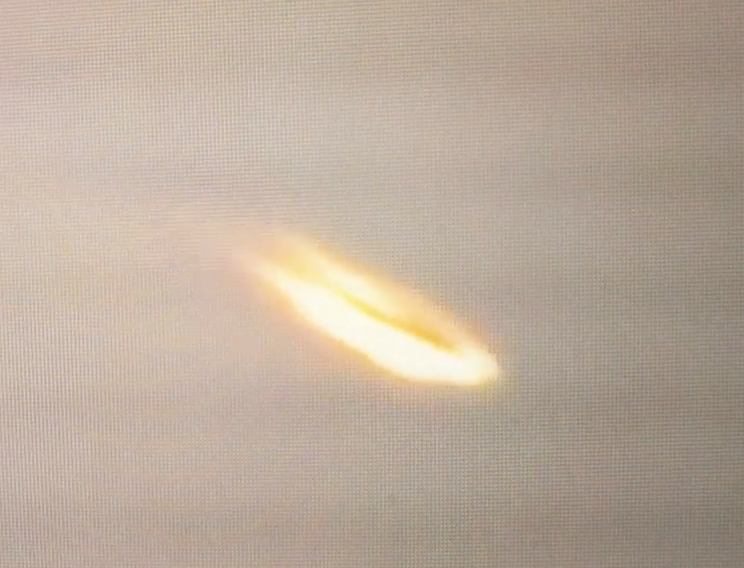 (Last Updated On: March 20, 2017)
Date: Summer 1981
Location:    Marajo Island Brazil
Time:  unknown
Summary:  An elderly, almost blind couple had been in their shack when they saw a shiny object land nearby. Two human like figures emerged from the craft and invited the couple onboard. They refused but felt compelled to go after the men touched them on their shoulders. They were then apparently taken to a strange location where they landed next to a wire fence by a large field of grass where some people were playing a game resembling volleyball. They were then taken to a large city that was all red in color. Onboard the object the aliens placed some type of device in front of the couple's eyes that apparently almost totally cured them of their blindness. They were finally brought back home where they realized that they had been gone for almost a week but it had only felt like two hours to them.
Source:   Bob Pratt, UFO Universe, September 1988
---
Date: Summer 1981
Location:   Westmoreland County, Pennsylvania
Time:  afternoon
Summary:  The 10 year old witness was playing alone in a wooded area when he saw what she first thought was a young boy standing on a nearby clearing, she could only see his back at first. He was somewhat shorter than her and had light sandy brown hair that looked light brown mixed with dark blond streaks. It almost looked like a wig that was haphazardly thrown on top of his head. She called out to him and he started running. She chased him and tried to grab him several times but he wore some type of shiny slippery material that prevented her from grabbing him. When she was about ready to catch he suddenly turned around and she stepped back stunned and confused. She noticed that he had large black eyes, inhuman in appearance. The witness screamed and fell back into the some leaves and rocks. Suddenly out of nowhere other similar figures appeared and surrounded her. At this point she apparently blacked out.
Source:   Unsolved Mysteries.com
---
Date: Summer 1981
Location:    San Angel, Districto Federal Mexico
Time:  evening
Summary:  Elia Colmenares was resting in her backyard on a lounger when she suddenly noticed several small square shaped robotic beings approaching. The beings spoke with a hollow sounding voice and asked the witness several questions. The voice appeared to emanate from two little holes where the mouth would have been. One of the creatures then scanned the witness with a thin light beam that illuminated her whole body. The beings insisted in asking questions, like: What type of liquid runs in your internal system? But the witness was completely unable to move or speak. After what appeared to have been an eternity, her dog suddenly staggered into her backyard and apparently snapped her out of a sleep like state, she then realized that the small robot-like beings had departed.
Source:   Erika Palmer, Reporte OVNI # 15
---
Date: Summer 1981
Location:   Olympia, Wa on Hwy 8
Time:  
Summary:  Was driving home from work approx. 11pm at nite on Hwy 8 west of Olympia and spotted what looked like at first a helicopter above the highway. I had thought at first maybe a search helicopter was out looking for someone. My radio began not to work in my car so then my attention was this thing in front of me above the highway. It's like it knew what I was thinking. There were a few other vehicles on the highway but it chose to follow me. I noticed how round it was and it had bright lights all around it flashing. It was not a helicopter. It had then followed me a few more miles till I got home off the highway and by then I was scared. I got out of my car and ran into the house and looked out the window and it was directly above my house. I tried to wake up my mother so someone else could confirm what I saw. But after a few minutes it had left. Size(s) of UFO(s): 2 cars
Source:  UFO.net
---
Date: Summer 1981
Location:   
Time:  
Summary:  
Source:  
Location. Elmhurst, Illinois
Date: Summer 1981
Time: night
Ron Bogacki and several other young adults were hanging out at a local park near the park's gothic mausoleum when the four teenagers were awestruck by an incredible creature sitting atop the mausoleum's stonewall. They described the being as perhaps 9 ft tall, if standing—with dark gray leathery skin, a muscular body with strong arms, golden horns on its head, huge wings and a long curling tail. They were close enough to have smelled its breath, which they described as "full of the stench of decay and sulfur." It soon flapped its wings, flew straight upward and disappeared.
Source: Unknown Magazine, number unknown Quoted by Paranormal about.com
---
Date: Summer 1981
Location:   
Time:  
Summary:  
Source:  
Location. Cascinetta De Varallo, Pombia, Italy
Date: June 1981
Time: morning
A woman encountered a tall "beautiful man like figure" standing in her bedroom. It wore a light blue coverall and had long light blond hair. No other information.
Source: CUN
---
Date: June  1981
Location:   
Time:  
Summary:  
Source:  
Location. Pardubice, Czech Republic
Date: June 1981
Time: 1000A
The witness was walking through town and had just visited a department store; the weather was cloudy and very cold. Walking near some cross roads he suddenly saw two very tall women. The women were about 2 meters in height, with long black-brown hair down to their waists. They were holding each other hands and looked like twins. When the witness was about 3 meters from them he noticed that their eyes were given out a bright blue beam of light, the women made some strange movements with their tongues and lips (?) and then their belts started to blink. The witness felt stiff and could not turn his body. He passed quickly by them, a few feet away he turned around and the women had vanished.
Source: Jaroslav Svarc
---
Date: June 6 1981
Location:   Little Rock, AR
Time:  1:00 AM. 
Summary:  Two teenagers in Little Rock saw a small, four-foot long rectangular UFO and a small disc cavorting over a backyard garage and shed. They came very close and the leaves on some trees were withered. 
Source:  MUFON UFO Journal, June 1982, p. 6
---
Date: June 8 1981: Adelaide South Australia UFO Sighting
---
Date: June 12 1981
Location:   near Alice, TX
Time:  2:10 PM. 
Summary:  Robert Gomez, a vacuum truck driver, was headed west on highway FR 665 toward Alice, Texas after finishing a job. His vehicle had about 165 gallons of water in the tank and no pressure. He saw a bright object in the sky that he first thought was an airplane. It increased in brightness and stopped in midair. The object was domed disc-shaped, brilliant white in color and with a dark ring around the rim and another dark ring around its center. Gomez felt the truck slowing down and tried to accelerate. The truck's exhaust stacks were blowing smoke, but the truck had apparently been lifted a foot off the ground. Although his AM radio quit working, his CB radio was still working, so he reported what was happening to his dispatcher. Shortly later the UFO disappeared into the clouds. Smoke was discovered coming out of the water tank valve, which now showed 55 pounds of pressure on the gauge. He opened the valve to drain the remaining water, but only steam came out.
Source:  Richard Hall, Uninvited Guests, pp. 313-314; MUFON UFO Journal, January 1982; Richard H. Hall, The UFO Evidence, Volume II: A Thirty-Year Report, p. 276
---
Date: June 13 1981
Location:   Chia-Li, Taiwan
Time:  12:20 AM.
Summary:   A spinning transparent cone, 3 meters in length, touched down on the ground in Chia-Li, Taiwan. It expelled a mist, then took off and shot away to the north. 
Source:  Paul Dong and Wendelle Stevens, UFOs over Modern China, p. 272
---
Date: June  1981
Location:   
Time:  
Summary:  
Source:  
Location. Rock Creek Ohio
Date: mid June 1981
Time: midnight
The witness was taking a short cut to his grandparent's home, via an old railroad track cutting through the deep woods, there was a very old graveyard nearby as well as numerous gas and oil wells. As he walked down the tracks he started hearing some sort of weird noises resembling grunts and wheezing coming from the woods. He kept walking and heard the same sounds behind him about 20 feet. He stopped, turned around and saw a huge ugly black hairy creature about nine-feet tall. The creature had long arms hanging down below the waist, and real long legs. Even though armed with a shotgun, the witness took off running down the path. The creature then followed behind him for about 20 feet at a fast walk. The witness stopped briefly and so did the creature that began making weird wheezing noises again. The witness finally ran off towards a field and the creature did not follow him. He could not recall any facial features just a large black hairy figure.
Source: Dennis Pilichis
---
Date: June  1981
Location:   
Time:  
Summary:  
Source:  
Location. Near Stone Mountain Georgia
Date: June 23 1981
Time: afternoon
18-year old Mark James was playing basketball with a neighborhood girl when he and she saw a figure lurking in the nearby woods. Mark sent the girl into the house and felt compelled to walk into the woods. There he encountered a short humanoid that was holding his hand up and was wearing a coat resembling a black trench coat, and also wearing a large hat. The being was thin with long skinny arms. It was holding something in his hand and held it up to the witness face. The being was a typical "gray" entity with large dark oval shaped eyes. The object that the being was holding up was described as circular with a "little black thing in the center of it." The object was held up to Mark's left temple region near his left eye. He then felt "little pulses" traveling through his body. After this procedure was done, Mark was told that he could leave. He felt very tired afterwards.
Source: C Leigh Culver
---
Date: June  1981
Location:   
Time:  
Summary:  
Source:  
Location. Mount Podbrdo, Bosnia-Hercegovina
Date: June 24 1981
Time: afternoon
Two young girls, Mirjana Dragicevic, 16, and Ivanka Ivankovic, 15, had gone hiking up the mountain in order to smoke some cigarettes and enjoy the view when as they reached the summit they saw strange lights flashing in the sky above the cross on Mount Krizevac. Then a brilliant light appeared on Mount Podbrdo, about 40 meters away, and they saw "a beautiful lady in a gray dress with a long white veil" appear at the heart of the glow. Both girls ran down the hillside in a panic. Halfway down the mountain, they encountered some friends from the village and told their story. A group of them returned to the mountain and saw the woman again. They all ran away in terror.
Source: UFO Roundup Vol. 7 # 14
---
Date: June 25 1981
Location:   Rome Ohio
Time:  late night
Summary:  The witnesses who were living at an isolated farmhouse reported seeing a black form about 8-foot tall with two large glowing red eyes standing in their front yard. One of the men blasted it with a shotgun, it then screamed and ran into the woods. Later several gorilla-like figures with sharp fangs and glowing red eyes were seen moving in and out of the woods. Other figures, one carrying a dark blue light were also seen. Mutilated and oddly wounded animals were also found in the area along with strange tracks.
Source:  Jerome Clark, Unexplained!
---
Date: June 28 1981
Location:   
Time:  
Summary:  
Source:  
Location. Rome Ohio
Date: June 28 1981
Time: late night
As it got late the witnesses saw some forms moving around the wood line. Upset, the family put their youngest boy on the tractor and drove out into the field. As they did this they noticed out back a "black form" waving back and forth some sort of dark blue light. One family member prepared to shoot at this form, but as he did, the light went out, and the figure vanished. They continued on out to the clearing with the tractor, as they did, they began seeing forms and red glowing eyes. They opened up with their guns and used full two boxes of 12 gauge mag shells. One of the creatures was standing near a water pond and was apparently hit. It fell to the left of the pond, going down on its stomach. At this point its red glowing eyes were observed to go down on the ground on the side of the pond, with the black form. The witnesses kept shooting at the creature on the ground. Suddenly two more sets of red glowing eyes were observed coming up to the one on the ground, from back in the woods. The witnesses fired at these too. One set of red glowing eyes/form took off to the west; the other took off to the east. Frightened the family members ran back to the house for safe cover. In the process they lost sight of the one on the ground. They stayed around the house the rest of the night, every once in a while seeing forms running on the wood line. Later, ground disturbances and three toed footprints were found in this area of the wood line.
Source: Dennis Pilichis
---
Date: June 29 1981
Location:   Rome Ohio
Time:  0500A
Summary:  The witness and his family reported being awakened by loud growling and activity in the front and backyard. When he went to check the disturbance they reportedly saw a black colored creature sanding about 7 to 9-feet tall. Each time they shone a light on the creature or attempted to shoot it, it would run off into the woods. The witness and his sons chased the creature toward a clearing in the north tree line, where they then saw three pairs of large eyes. They then fired several shots at the creatures and then waited for daylight. Police were called in and found mysterious footprints.
Source:  Dennis Pilichis
---
Date: late June  1981
Location:   Rock Creek Ohio
Time:   late night
Summary:  Three young men, including the previous witness, were hanging around a secluded area, hoping to see a strange creature reported lurking about. Soon they heard weird sounds and brush breaking. The creature then suddenly stuck its head out the wood line running alongside the abandoned railroad tracks. One of the boys panicked and shot at the creature. The creature fell down into the bushes, apparently as a result of the shot, got back up again, and ran into the woods, screaming as it did. There was a very strange feature observed on this creature by the witnesses. It appeared to have one eye way off to the side of its face. The other eye was normal looking, centered on its eye socket.
Source:  Dennis Pilichis
---
Date: June/July 1981 Kingston, Jamaica Humanoid Sighting 
---
Date: June  1981
Location:   
Time:  
Summary:  
Source:  
Related articles