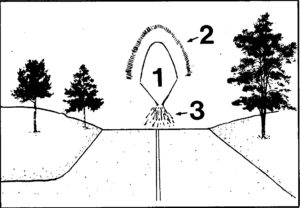 (Last Updated On: March 20, 2017)
Date: Autumn 1981: Asum Funen Denmark Close Encounter
---
Date: Autumn 1981
Location:  Sauk Village, Illinois
Time: night
Summary: The 8-year old witness was in his room when all of the sudden he felt instantly cold and every single hair on his body stood up. He felt terrified and his heart was racing. His 8-track cassette player got stuck on the same tune and would not go play on. Curiously his toy robot eye's now began to glow bright red. Then he felt a magnetic pull. Like something was pulling him to his right. He turned his head and looked out the east window and saw "something" that has haunted him for the rest of his life. Sitting just barely outside his window, levitating, was a creature about 2 ft tall, but sitting Indian style. His skin was snowy white and you could see the outlines of his bones because he was very thin. He wore some sort of white cloth draped sideways on his body. The creature's head was too big for his body. He was completely bald with two horrible big dark piercing eyes that stared at the witness. He opened his mouth and grinned at the witness revealing a mouth full of long gnarly sharp looking teeth, dripping with blood (!). He raised his hands and reached for the witness. His fingernails were at least 4 inches long, gnarled looking and with sharpened points, also dripping with blood. The witness wanted to run and scream but he could not move. He felt as if his brain was being scanned and "his soul raped." His grin became larger and he opened his mouth wider. He stared at the witness as if he knew him. Using superhuman willpower the witness was able to avert his gaze away and leap off the bed and out the bedroom door, screaming. When his father and his other brother burst into the room the creature had already disappeared. The witness could not sleep in that room for almost a year afterwards.
Source:  Castle Of Spirits
---
Date: September  1981
Location:  
Time:  
Summary:  
Source:  
Location. Krefeld, Germany
Date: September 1981
Time: 0100A
Horst Wirtz was driving home after going bowling and was supposed to drive straight ahead at a certain traffic light, but instead he followed an inner compulsion and turned right. Immediately afterwards he made a second right turn. His car was brought to a halt 6 to 8 meters after crossing the railroad tracks. In the field to the right, about 3-4 meters away, stood a small human being, about 1.60 m tall, clad in a silvery overall. Some 30 meters behind it was a bright object 4-5 meters in diameter, about which bright colored lights were revolving. Remaining seated in his car, Horst Wirtz asked what was the matter and received the non-acoustic answer: "I see that you are afraid. I wont come any closer." The entity, which carried a small device in front of its chest, did not move its lips while these words were spoken. Again the witness asked: "What is going on here?" He glanced all around him looking for help. He then heard something like "Zeta Reticuli" and "you are not yet ready, but we shall meet again." Afterwards the humanoid turned around and walked towards the object. The revolving lights increased in brightness. Horst looked around again and then back to the field and everything was dark. Only a small bright dot was ascending towards the sky. His car started again.
Source: Interdisciplinary UFO Research, Illobrand Von Ludwiger
---
Date: September  1981
Location:  Todmorden, West Yorkshire, England
Time:  
Summary:  Over several nights over 20 members of the public saw a cigar shaped UFO over the town of Todmorden in West Yorkshire. On one of those nights two uniformed police officers also saw the object. 
Source:  Daily Star 30/03/82, The 5TH ANNUAL PRUFOS POLICE REPORT 2006 by Detective Constable 1877 HESELTINE, British Transport Police
---
Date: September  1981
Location:  
Time:  
Summary:  
Source:  
Location. Solomon Kansas
Date: September 1981
Time: 0300A
The five-year old witness woke up in the middle of the night, to find a short gray figure sanding by his bed. It appeared to be doing something to his abdominal area. He felt a slight discomfort, and a slight pressure on his upper legs. The terrified witness closed his eyes until the gray being left.
Source: NUFORC
---
Date: September  1981
Location:  
Time:  
Summary:  
Source:  
Location. Bryan, Texas
Date: September 1981
Time: evening
Taking a short cut through a local nature trail the witnesses began to hear nearby dogs barking furiously. Feeling afraid he picked up two large rocks in order to protect himself. Suddenly, as he continued on the trail a huge hard to describe creature jumped in front of the witness on the trail. Terrified the witness began screaming and threw the rocks at it. The creature then scurried into the woods. As the witness ran from the area he looked back to see a huge bright light shoot straight up into the air and vanished.
Source: NUFORC
---
Date: September  1981
Location:  
Time:  
Summary:  
Source:  
Location. Dusheti, Georgia (Russia)
Date: September 1981
Time: evening
The main witness was coming back from school when she saw a man pointing up to the sky. She looked up to see a ball shaped object about 3 meters in diameter slowly descending over them. The object stopped at about 5 meters above the pair. It was described as white in color with some visible figures on its surface. One of the figures was of a short man like being, the other a rhombus and the third what appeared to be a horse. After 15 minutes of hovering the object left. Later they saw a wedge shaped object rising slowly over the area. Others saw bright lights in the sky.
Source: GUFOA
---
Date: September  1981
Location:  
Time:  
Summary:  
Source:  
Location. Wever Iowa
Date: September 1981
Time: night
The witness woke up feeling dizzy and with bruises in her body. Later under hypnosis she recalled being escorted into a bright room with lights and placed on a soft couch by several short child like humanoids with large black eyes and hairless heads. Their skin was soft and pale. She then found herself in another room. There she saw a tall "soldier like" humanoid with a V-shaped device on his uniform. She felt sharp pains on her back during her captivity.
Source: Brad Steiger, The UFO Abductors
---
Date: September  1981
Location:  Mainau Island, Bodensee, Germany
Time:  midnight
Summary:  The witness was vacationing in the area and had camped on the south side of the lake. While he slept that night a very loud noise awakened him, looking out of the tent he saw a bright sphere descending rapidly overhead. Through an open port he was briefly able to see a humanoid figure apparently wearing a green outfit. Then the craft rapidly zigzagged away from area and vanished.
Source:  UFO Nachrichten # 279, In Project Becassine
---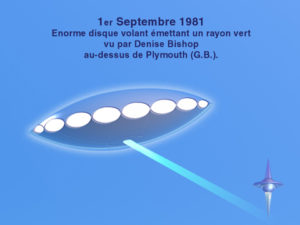 Date: September 1 1981
Location:  Plymouth UK
Time:  
Summary:  A huge flying disk sending out a green ray,
seen by Denise Bishop above Plymouth (UK).
Source:  
---
Date: September 5, 1981: Bell-shaped object seen by people in Queens, New York
---
Date: September 12 1981
Location:  Trino Vercellese, Piemonte, Italy
Time:  0300A
Summary:  After having dinner with some friends, Mauricio Cavallo decided to drive around Monferrato hill. He parked his vehicle and proceeded to explore the area on foot. Soon he saw a bright football-shaped light that appeared to descend into the thick woods. After checking the area where he thought the light had landed and failing to locate anything he decided to drive home. At home he felt uneasy and could not sleep. Inexplicably he decided to drive back to the site where the light had descended. Upon arriving in the area he was overcome by a strange malaise and soon saw a reddish orange yellow light floating at about 100 meters away. Terrified, Cavallo felt himself levitating towards the light. His next recollection was of being inside a sphere where he was able to perceive numerous lights and movement around him. He then heard a metallic voice in his head telling him not to be afraid. Soon a tall woman about 1.90 meters in height appeared in front of Cavallo. She had black hair in a bun, oriental eyes, and lacked any nails. She wore a long sleeveless habit with white boots. Among other things, the female alien told Cavallo that she hailed from the planet "Clarion" (Shades of Bethurum), and that her name was Ciama.
Source:  Moreno Tambellini, Alieni in Italia
---
Date: September 13 1981
Location:  Rafaela, Santa Fe Argentina
Time: morning
Summary: Two women in the northern part of the city encountered a strange "beautiful" blond haired woman, with two toddlers and a baby. All were very lightly dressed (similar description to the June 1980 incident). The blond woman appeared to be the same one as before, but incredibly the toddlers and the baby appeared to be of the same age as before, as if time had stood still for them. A cat approached the two toddlers, and was cuddled by them. The cat later disappeared and was never seen again.
Source:  Eduardo Adrian Ficaretti, FAECE-ONIFE
---
Date: September 18 1981
Location:  Conejo Valley, CA
Time:  
Summary:  Triangular objects with body lights, humming sound, observed three times over freeway and valley area 
Source:  Volume II, The UFO Evidence, Section VI
---
Date: September 20 1981
Location: Genoa Italy
Time: unknown
Summary: A man reported seeing a luminous bright object on the ground next to a local bridge near his residence. As he approached the object he noticed a very tall creature wearing a shiny outfit and with very large dark eyes that was apparently standing near the object. Originally frightened the witness became very calm as the being gazed at him with a very gentle stare. After a few moments the being entered the luminous object that was partly hidden in the bushes. The object then rose and disappeared quickly from view.
Source:  Mauricio Verga, ITACAT
---
Date: September 25 1981
Location: Blue Springs, Missouri
Time: 2200
Summary: The 15-year old witness was lying in bed unable to fall asleep when she closed her eyes she distinctly heard a scurrying sound coming from the back of the closet. Thinking it was a squirrel she ignored it, soon she heard the sound of crinkling paper. Then the crinkling stopped and she heard the sound of murmuring voices (like a crowded room). She thought of getting up and looking out the window, as she debated whether to get up and look out the window or not she suddenly heard a loud voice that spoke next to her right ear. It said something that she did not quite catch, but the last words were "the gun". In a split second she was turning to see who had spoken, she then found herself flat on her back, vertical with her bed with her right arm extended upward. It was pitch black, and she strained to see the tip of her extended arm. She was paralyzed but not in pain. Her whole body had an electrical current running through it. She was stunned because she had no recollection coming into that position. Then something else began to happen, she realized that she was now levitating over her bed and now began moving slowly counterclockwise. Soon as she was vertical with the bed again her whole body dropped onto the bed. She still felt the strange electrical current and in a panic reached for the phone, but it had no dial tone. She jumped out of bed and as she attempted to run out her bedroom door she realized that the door was gone and it had been replaced by a by a very black hole (tunnel like) in front of her. The strange hole was blacker than black. Scared she began to scream. When she opened her mouth to scream, her voice sounded like an electrical vibration. In utter shock she covered her mouth with her hand. Suddenly in a split second she was back in bed, turned to the left and head on her pillow. Ten minutes had passed.
Source: NUFORC
---
Date: September  1981
Location:  
Time:  
Summary:  
Source:  
Related articles