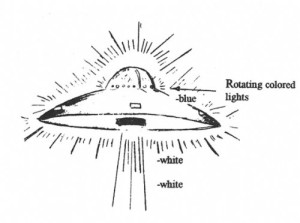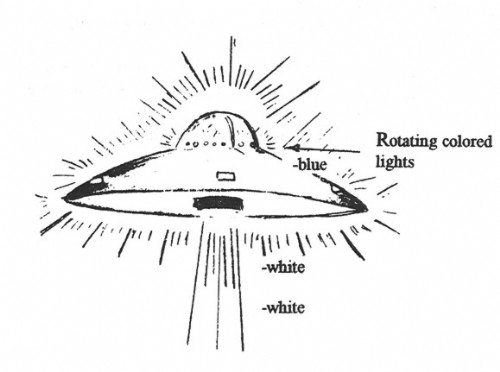 (Last Updated On: March 22, 2017)
Date: July 1982
Location: Mersin, Turkey
Time: unknown
Summary: A lone witness reported seeing a 15-meter diameter disc-shaped object hovering at about 100 meters from the ground. The craft appeared metallic, resembling two plates placed together. Through an apparent opening he saw several short helmeted humanoids moving about in stiff mechanical movements resembling those of robots.
Source:  Jean Pierre Troadec in Project Becassine
---
Date: July 1982 
Location: Ronchamp France
Time: 0130A
Summary: A man walking his dog along a trail noticed a short humanoid figure with a vaguely human form and a deformed head standing ahead on the trail. The dog became disturbed and began barking. The figure then apparently vanished.
Source: Denys Breysse, Project Becassine
---
Date: July  1982
Location:  
Time:  
Summary:  
Source:  
---
Location. Fyn Island, Denmark
Date: July 1982
Time: 0445A
Between Odense and Bogense, the 15-year old witness was traveling by motorbike when suddenly at a turn on the road he spotted a luminous disc-shaped object on a field about 50 to 60 meters away. The object was about 3 meters in width and 2 meters in height. Five small humanoids, about 60 cm in height with large heads and short legs emerged from the object. The humanoids "marched" to the nearby field and appear to collect grass samples from the ground. After a few minutes, the humanoids re-entered the UFO in a single file through an opened port. A bright white light then shone from the bottom of the object and it shot away at high speed towards the south in the direction of Odense. Flattened grass was found at the site.
Source: SUFOI News January 1987, Aabenraa UFO Study Group 3-85, Project Becassine
---
Date: July  1982
Location:  
Time:  
Summary:  
Source:  
Location. Columbia Valley British Columbia Canada
Date: July 1982
Time: evening
The main witness and tow of his friends were walking along a field when they noticed on the other side of a nearby wire fence what appeared to be several white "horses." The witnesses for some unknown reason became frightened and became disoriented. They later discovered a long period of missing time. Later under hypnosis the main witness recalled that the horses had been really been several tall white thin humanoid figures. He also remembered seeing a landed object on a nearby field. One of the figures inserted some type of device in his head. No other information.
Source: John Robert Colombo, "Dark Visions"
---
Date: July  1982
Location:  
Time:  
Summary:  
Source:  
Location. Manta, Ecuador
Date: July 1982
Time: 2200
The main witness was standing at a 2nd floor balcony with a relative when they saw to their left side an object that was apparently not man-made. The object had multicolored lights. The witness could not be sure as to the distance between the object and the balcony but could tell that it was huge with several wide windows and in one of the windows a human-looking figure was apparently looking out. The object then moved quickly away and disappeared behind two nearby buildings. Immediately after it passed their field of vision an "eerie" wind picked up, which apparently accompanied the strange craft.
Source: http://www.etcontact.net/newsite
---
Date: July 6 1982
Location:  Hampshire, Tasmania
Time:  About 7:30 PM local time.
Summary:  A man driving alone, found that his car was gradually loosing power, and finally stopped. He turned off the ignition, and the lights which were still on. He started to get out of the vehicle, when he noticed, 20-30- metres beyond the fence-line, and 6 metres off the ground, he saw a stationary, noiseless, object; looking like a large, Army helicopter, and estimated to be the size of a bus. It was blue/black in colour. It seemed to be gradually going away to the west. This took about one and a half minutes. He then started the car's engine and departed the area. An inspection of the car found nothing to account for its behavior. A check of the paddock revealed nothing unusual.
Source:  Advocate (Burnie) newspaper, dated July 7 1982.
---
Date: July 20 1982
Location: Vejer de la Frontera Cadiz Spain
Time: 1500
Summary: A local cattleman was on his motorcycle using a little traveled road when his motorcycle suddenly came to a halt and would not start. The witness then walked to what he thought was a tanker truck one hundred meters away, when he was about 30 meters away he saw two huge human like figures standing in the middle of the road, these two wore shiny metallic armor-like suits and round crystal-like clear helmets. One stood near a wire fence and was looking at the cattle on a nearby field. These two beings then walked back to the object, moving as if in slow motion they entered the object through an opened hatch, which took off silently towards the north. Ground traces were reportedly found.
Source: Fernandez-Peri, and Ballester Olmos Enciclopedia de Los Encuentros con Ovnis.
---
Date: July 20 1982
Location: Bethersden, Kent England
Time: 22:30
Summary: Travelling horizontally, approx' 1 mile away, a green glowing fireball travelled with no sound. During a camping week whilst in the boy scouts, the entire camp was around a camp fire singing songs. A car was heard travelling at high speed through country lanes, the only car heard that night. We all expected a police car chase but no other vehicle emerged from the countryside. Within seconds we all saw a glowing green fireball travelling at what seemed a slow pace. We watched it for approx' three mins' during which it made no sound. It was guessed that it was about a mile away from us. The object travelled horizontally (east to west I think). The next day we all checked the local newspapers for any reports, nothing was reported.
Source: National UFO Reporting Center
---
Date: July 22 1982
Location:  Katy, TX
Time:  9:30 PM. 
Summary:  Three witnesses saw a dark boomerang-shaped (or V-shaped) object with bright orange-yellow "headlights" hovering in the sky. As they watched, they noticed a total silence in the area. The object finally began moving and as it passed by their location, they heard a deep humming sound. While parallel to them, they could see small round white lights inside of the V shape. Clear weather, unlimited visibility. 
Source:  John Schuessler case summary and MUFON UFO sighting questionnaire
---
Date: July 22 1982
Location:  Wigan Manchester England
Time:  2300
Summary:  Three women were sitting outside talking by an apartment complex when they noticed a bright light above an empty piece of land across from their location. The light moved to the north becoming a little elongated, it then became top shaped and reddish in color and finally disappeared above Winter Hill. Later a dog that was with the women began to bark then ran into the house. The women then heard a peculiar sucking or croaking noise repeated four times, then a figure appeared suddenly on the empty field. It was described as of normal height, wearing a one-piece suit, with a round helmet with visor. There was a hose-like protrusion coming out of the visor. With one hand it held a square box that seemed to connect with the hose. The women became terrified and ran into the house. The police searched the area but failed to locate anything.
Source:  DIGAP Report, Northern UFO News # 100
---

Date: July 23 1982
Location: Saint Dorothee Quebec Canada
Time: 0200A
Summary: Several witnesses watched a huge object hovering above a field; the object projected a powerful beam of white light towards the ground. The object had flashing multi-colored lights around its edge; it then vanished from sight behind some buildings. Moments later some of the same witnesses heard strange "electronic beeps" coming from a nearby cornfield. Shining a flashlight at the field they caught sight of a six-foot tall figure with a huge brown head and large orange glowing eyes. A sudden gust of wind enveloped the witnesses with dust; all of them experienced strong stomach pains and ran into a nearby house.
Source: World Round-up, FSR Vol. 28 # 2
---
Date: July 25 1982
Location:  Latrobe, PA
Time:  
Summary:  Several independent witnesses reported seeing a blunt gray, 300-foot long cigar-shaped object with windows fly over woods and the sewage treatment plant heading west. 
Source:  MUFON UFO Journal, October 1983
---
Date: July 25 1982
Location:  Near Punta Umbria Spain
Time:  0400A
Summary:  The witness, a well known bullfighter was driving alone and was approaching a crossroads when he noticed some blinking red and yellow lights. These appeared to be on the side of the road in a sandy area near the beach. He approached the site slowly thinking that it was a car accident, and then he parked and left the vehicle and proceeded to walk towards the lights. He then saw on the side of the road a bright silvery square shaped craft with flattened edges. He now felt queasy and stopped the meters from the object. Then a strange figure appeared on the side of the object. It was described as almost 3 meters tall and robotic in appearance. It lacked arms and its head appeared to be covered by metallic mesh. The being emitted a low guttural sound and then somehow disappeared into the object which suddenly rose up and shot away silently towards the ocean.
Source:  J J Benitez, La Quinta Columna
---
Date: July 30 1982
Location:  Mendoza Argentina
Time:  2210
Summary:  The two witnesses had just finished their supper when one of them noticed a light outside the window. Looking out they saw a glowing small figure among the branches of a nearby tree. It appeared to be dressed in a robe and had a very small head. The witness called her husband who described the being as transparent, luminous and somewhat triangular shaped. The being oscillated up and down on top of the branches emitting a soft rustling sound. One of the witnesses approached the tree with a broom and saw the branches full of lights and "tiny stars," he fled as he heard a loud sizzling sound and smelled smoke. The broom seemed to become electrified and he dropped it. The figure slowly faded away and vanished.
Source:   Gray Barker's UFO Annual 1983
---
Date: July  1982
Location:  
Time:  
Summary:  
Source:  
Related articles