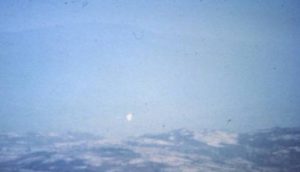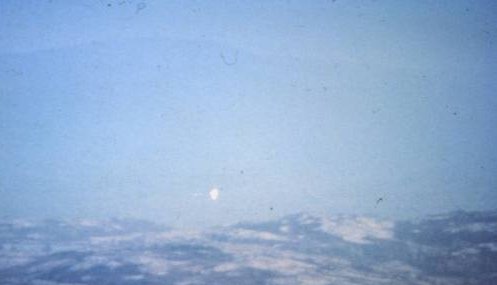 (Last Updated On: March 24, 2017)
Date: September  1982
Location:  Girard Pennsylvania
Time:  evening
Summary:  A man driving around dusk on the I90 road saw an object hovering above the tree line. The craft was wedge shaped and triangular from below. It seemed to taper up to 12 foot high. There was silver or metallic globe shaped device on the bottom, which resembled a convex department store security mirror. His vehicle engine ran rough then stalled, and the lights inside flashed as the object approached. He could see a large window in the top of the object. He was then able to see two figures that seemed clothed in silver like material. These were engaged in rapid, jerky activities, and seemed to be manipulating unseen controls inside the object. The object had red/white and green lights and seemed to pulse with a dull purplish brown color on the bottom. The object moved silently always at about 20 mph and was lost from sight. There was a second witness inside the vehicle.
Source:  Andy Page
---
Date: September  1982
Location:  Beausejour Manitoba Canada
Time:  1830
Summary:  The witness had been playing with his dog in his front yard and had just lain down on the grass, on his back. The next thing he knew, it was over two hours later, and he was sitting on the grass. Gradually he regained his memory and was able to recall some details of the missing time. He remembered being onboard a "spacecraft" that had passed over his house. While onboard he heard a voice, which spoke to him and tried to explain how the craft operated. The "control panel" had on it two silver balls, and a pilot could control the movement of the vehicle by rotating one for vertical direction, and the other for horizontal travel. The craft was apparently shaped like a letter 'S."
Source:  Chris A Rutkowski, "Visitations? Manitoba UFO Experiences
---
Date: September  1982
Location:  
Time:  
Summary:  
Source:  
Location. Conil Beach, Spain
Date: September 1982
Time: night
Evaristo Fandino, on vacation in the area, had gone to the beach one night during low tide in order to enjoy the sea breeze. In the distance he noticed several figures that under the weak moonlight appeared to be, men mounted on horses. They seemed to be wearing luminous capes that gave off bright flashes of light. At first he thought that the figures were approaching him but as he neared them he noticed that they seemed to be receding into the distance. Fandino now hurried and approached to within 15 meters of the figures. He then realized that these figures were not men on horses but tall slim figures at least 4 meters in height. They appeared to have some kind of luminous pointed halos surrounding their heads. Frightened he stood and watched as the figures quickly disappeared from sight into the distance.
Source: Carlos Fernandez, Gaceta Ovni
---
Date: September  1982
Location:  Corby England
Time:  late night
Summary:  Ros Reynolds and her boyfriend were driving to visit friend when their vehicle was suddenly engulfed in light and an object then flew over them. The object then began to follow the car, traveling alongside them. Suddenly the car engine went dead, the car stopped and then she went blank. She could only remember getting back in the car and by the time she arrived at her friends they had lost nearly three hours. Later she was able to recall being inside an object and seeing two "aliens." They were about 3-feet 6 inches tall with large black, almond shaped eyes and a slit for a mouth. They had two little holes for a nose, no ears and were gray blue in color. They had no hair or eyebrows and had four fingers on each hand. She was then taken into a room with a table. A larger humanoid, about 7-feet tall prodded the witness all over her body. It took skin samples and fluid with a needle inserted into her stomach. They then apparently extracted half of her reproductive system. She is now unable to have children because her ovaries are missing.
Source:  The People News 2-20-94
---
Date: September 6 1982
Location:  Auberry, CA
Time:  
Summary:  The witness went outdoors on a clear night at 10 PM to turn off sprinklers when his two dogs began barking as if a car were approaching.  Seeing no car, the witness looked up and saw a disc-shaped light moving from E to W.  The light appeared to be following the path of power lines leading to a house 100 yards away.  The dogs continued barking throughout the estimated 2-3 minutes of the sighting, and the outdoor lights were noted to dim. 
Source:  Joan Woodward files
---
Date: September  1982
Location:  
Time:  
Summary:  
Source:  
Location. Near Los Fresnos Texas
Date: September 14 1982
Time: 0355A
James Thompson, an ambulance technician, was driving along Highway 100, on his way back from an inspection on South Padre Island, when he suddenly spotted a "a large bird-like object" pass low over the highway 150 ft in front of him. Its strange looking tail almost literally stopped him on his tracks. He hit the brakes, pulled the vehicle over, and stared intently at the peculiar object, which at first he had a hard time believing was a living creature. Thompson described it as having a black, or grayish, rough texture. "It wasn't feathers," said Thompson. Its thin body, which ended with a "fin," stretched over eight feet; its wingspan was five to six feet. The wings had indentations on their tops and possibly their bottoms as well. At the back of the head it had a hump like a Brahma bull. There was no neck at all.
Source: Jerome Clark, Unexplained!
---
Date: September 17 1982
Location:   Ipswich, MA
Time:  10:45 PM. 
Summary: While walking his dog, a man saw a boomerang-shaped object traveling southeast with erratic, zigzagging motions. His wife came outside to join him, and together they saw three disc-shaped objects pass overhead.
Source:  MUFON investigation report by Marge Christensen
---
Date: September 17 1982
Location:  South Atlantic
Time:  11:03PM 
Summary:  A bright patch of light exploded into an orange fireball near the M.V. Strathdee, a Romanian registry ship sailing in the South Atlantic at the geographical coordinates -11.62 S 33.47 W. According to the article in the MUFON UFO Journal, it flashed rays of light and made no sound. A Geiger counter reading indicated a radiation level of 5-7 rads. There were 16 witnesses. 
Source:  William R. Corliss, Remarkable Luminous Phenomena in Nature, p. 283; MUFON UFO Journal, September 1984
---
Date: September 22 1982
Location:  Montaña Santa, Puerto Rico
Time:  night
Summary:  Two local girls, Migdalia Cintron & Aida Rivera, involved in previous encounters with an entity interpreted to have been the Holy Virgin Mary again encountered a beautiful female figure that held on firmly to them, telling that they should come with her because she needed them. Nearby onlookers could only see whirlwind of multicolored lights next to the girls. The two girls became frightened, as they could not remove themselves from the presence of the "Virgin." They were saw visions of a beautiful location and of a "path" among the stars. Suddenly the frightened girls were suddenly levitated up into the air. Two onlookers, including a retired police officer and Felito Felix ran towards the girls and attempted to grab them, both felt strong electrical dischargers and were knocked to the ground. They struggled against the bizarre electrical force and were able to pulled the two crying girls free. One of the girls, Migdalia reported that as the entity touched her, she felt being elevated and felt as she had "died." During the initial encounter, Felito Felix and some of his friends were intently looking at the two girls and at the indistinct luminous figure next to them. As they approached the girls, a strong rose-like fragrance enveloped the area. Felix then saw a short figure next to the girl which he initially thought was the "Virgin", but then it seemed to transform itself in front of his eyes into a 3 ft tall little man, with wide shoulders, a slightly large than normal bald head, large oriental eyes, and pointed ears. It wore a tight fitting beige colored outfit. It was touching the girls and then noticed the men staring at him. It then looked at the men and smiled then disappeared from sight, at that moment the two girls were momentarily lifted into the air. Around the same time other locals reported seeing bright balls of light that maneuvered over the area, shining luminous beams of light towards the ground.
Source:   Jorge Martin, Milenio X, # 7
---
Date: September 25 1982
Location:  Hessdalen, Norway
Time:  
Summary:  Featured Image
Source:  
---
Date: September 30 1982
Location:  Hampton, New Hampshire
Time:  night
Summary:  A very important multiple witness, nocturnal close encounter occurred in this city located near Pease A.F.B. This latter, large UFO departed from the witnesses by descending silently from the treetop height of a low hill, down into a swamp area; hence going conveniently out of sight, and out of possible radar coverage. The two main witnesses describe how they had to run almost directly under the large, hovering, soundless UFO, which had a huge, oval beam emanating downward from it. Then while they stood transfixed (apparently under a degree of alien mind-control), during a matter of perhaps several seconds, one of them received a powerful telepathic communication. The stunning chief part of the communication was — from the witness' unmistakable understanding of what the UFO-aliens were telling her – that: there really are evil humans, and that they (the UFO aliens) are going to get rid of the evil human individuals. The other of these two witnesses readily attested to the heavy impact that this communication had had on her friend in the weeks following the encounter.
Source:   John Paul Oswald, UFO & Paranormal Perceptions Winter 1994
---
Date: September  1982
Location:  
Time:  
Summary:  
Source:  
Related articles