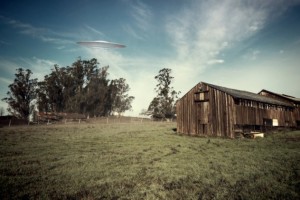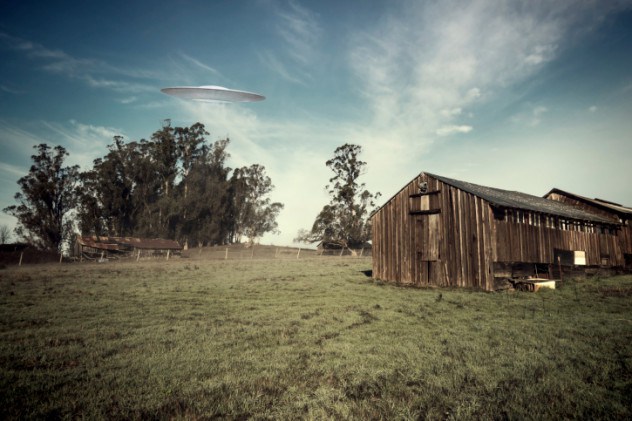 (Last Updated On: December 18, 2016)
Date: 1982
Location: Rosario Argentina
Time: unknown
Summary: A carpenter watched a circular saucer shaped craft with lighted windows that gave off bright flashes of light land on a park. Several very short humanoids, less than a foot tall, with thick and wide torsos, long arms, short legs, and slanted eyes walked out of the craft. The beings walked around for a few minutes then re-entered the craft which promptly took off at high speed. Pure titanium pellets are said to have been found at the landing site.
Source: Gray Barker's UFO Annual 1983
---
Date: 1982: Large object with windows cruises by house
---
Date:  1982
Location:  Isla de Roque, Puerto Rico
Time:  unknown
Summary:  Witnesses saw a hard to described being that ran at incredible speed among the brush and trees. It broke tree branches in half as it ran. It was seen entering the nearby ocean and disappearing. Witnesses could only say that it was tall and heavyset. 
Source:  Marleen Lopez de Martin, Evidencia OVNI # 13
---
Date:  1982
Location:  
Time:  
Summary:  
Source:  
Location. Wembley, London, England
Date: 1982
Time: unknown
Lorraine Parry was walking in a suburban road, north of London. When she felt a distinct change of surroundings. She describes seeing it as desert-like, though she perceived herself as standing in a lake. She could "feel" the wetness against her skin. While looking at the desert she saw, a craft going through the air. It was metallic, oblong shaped, silvery in color and it had some windows. She could see faces staring back at her. "They were all excited, and pointing, and I thought, "They are pointing at me."
Source: P-Files Database
---
Date:  1982
Location:  
Time:  
Summary:  
Source:  
Location. Near Marynsk, border of Amur & Khabarovsk regions, Far East, Russia
Date: 1982
Time: unknown
After a dogfight between UFOs a cylinder-shaped alien spacecraft was shot down in a remote area of taiga (dense northern pine forest) in northeastern Siberia, Evenkian autonomous region of Krasnoyarsk beyond the polar circle. The closest habitable place was the tiny Evenkian village of Murukta. Several months after the crash the UFO was accidentally located from the air. The military was notified. An-12 reconnaissance airplane was dispatched to check and the crew reported seeing a metallic object imbedded into the taiga, reflecting the sun. The military dispatched a special team of experts to the crash site by helicopter and organized a retrieval operation. The crashed object was cylinder shaped approximately 10 meters long and 2.5-3 meters in diameter. The craft was split open by an explosion and separated into two fragments, with lacerated edges. The larger fragment was retrieved. It was burnt and melted from the inside obviously by intense heat of some alien weapon used against it. Very few of its inner structure remained. The craft was metallic silver, having 2 small horizontal protrusions along its hull on the sides on its front part. The recovered fragment was about 5 meters long. As was established, the craft was piloted, but what remained of the crew was only ash and slag. But even those remains of the alien biological payload were intensively studied in governmental Soviet laboratories. The fragment was suspended under a helicopter and most likely moved to the Norilsk aerodrome. The whole operation was under the aegis of Kazakhstan based mobile airborne units of military space forces that had extensive experience and trained for rescue and evacuation of Soviet space vehicles. From Norilsk in order to provide proper secrecy, it was reportedly transported inside a military cargo airplane to Leninsk airbase in the isolated Tura-Tam (Baykonur) NIIP-5 range in Kazakhstan, where it was hidden in an underground bunker. According to the information it is still being kept there in an agreement between Russian and Kazakh governments. The metal alloy and remaining chemical compounds of the craft were studied in several different labs.
Source: Emil F Bachurin, RUFORS, Lenura A. Azizova and Larissa Chora, Anton Anfalov
---
Date: 1982 (or 1983)
Location: Gobi Desert, Outer Mongolia, China
Time: unknown
Summary: Chinese military units accidentally stumbled upon a crashed alien spacecraft in this isolated desert region. A retrieval team was summoned and the site properly cordoned off. Everything possible was done to avoid any information leaked to civilians and to other Chinese military (?) sections. The craft was slightly damaged and abandoned by its crew. It was about 10 meters long and about 2.5-3 meters in diameter. Its shape was cylindrical, with a very durable surface. Sophisticated equipment apparently used by alien entities was found inside the cabin, with chairs for 2 or 3 entities. The cylinder was loaded upon a platform on a flatbed truck or railroad carriage and moved to a must secured underground Government research installation in a military range southwest of Beijing under the Taihang-Shan Mountains. The alien spacecraft was subjected to extensive study and research. Another UFO, which crashed in 1973, was also stored at the site.
Source: Anton Anfalov personal contacts
---
Date:  
Location:  
Time:  
Summary:  
Source:  
Location. Redant, North Osetiya Republic, Caucasus Russia
Date: 1982
Time: unknown
Four witnesses were traveling by car on the Voenno-Gruzinskaya Road (military Georgian road) when suddenly the engine of their vehicle stopped working. They stepped out of the car to see what had gone wrong and suddenly saw an approaching object that at first looked like a large foggy spot, gradually taking the shape of a flying craft as it approached further. As the craft neared they could see that it was a huge circular craft the size of a "volcano crater" and about 15-17 meters in height. The witnesses were able to see a large window and what appeared to be sophisticated equipment visible inside the cabin. The object descended and landed on three props. A hatch opened and a ladder jutted out. Soon several humanoid figures descended down on the ladder. They were huge, exceeding the normal human height three times over or about 5 meters in height. The humanoids paid no attention to the witnesses who felt numb and completely confused during the encounter. After a short stay on the ground the humanoids again climbed onboard the craft, which was then slowly covered by a mist (cloak) and literally melted from sight in front of their eyes. Everything was observed from a distance of about 30-40 meters.
Source: Nikolay N. Churkin, Yekaterinburg region Ural Russia in: World of the Unknown, Moscow # 23 December 1994
---
Date:  
Location:  
Time:  
Summary:  
Source:  
Location. Forte dos Andradas, Brazil
Date: 1982
Time: 0330A
Soldier Paulo Silva Dos Santos was on guard duty one night when he saw a hovering orange colored sphere about 300 meters over the ocean. Other military personnel arrived and saw the same thing. He was later interrogated by military intelligence. A couple of months later while standing guard at another section of the fort, he saw on a nearby road two huge white garbed heavy set figures, that wore loose fitting outfits. The figures were extremely tall. He attempted to follow them but became frightened and returned to his post.
Source: Revista Brasileira de Ufologia
---
Date:  
Location:  
Time:  
Summary:  
Source:  
Location. Paddington New South Wales, Australia
Date: 1982
Time: 0600A
During the night a woman saw 5 men dressed in black outside her unit, after dogs woke her up. She heard chattering apparently coming from the men. They were wearing all black outfits and were of normal human height. One of them turned around and she received a telepathic message telling her to go to sleep, which she did.
Source: UFORA Hotline
---
Date:  
Location:  
Time:  
Summary:  
Source:  
Location. Houston, Texas
Date: 1982
Time: 0630A
A woman reported seeing a strange creature walking in the street. She saw the creature for about half a block. She described it as being about 3 ft tall, with red eyes like a mutant, kind of furry. It resembled a goat or baby cow, it had four or five legs and it moved like it was hurt or injured, wobbling, walking and hopping erratically very slowly.
Source: Paranormal about.com. Your true tales, December
---
Date:  
Location:  
Time:  
Summary:  
Source:  
Location. Near Simferopol, Crimea, Ukraine
Date: 1982
Time: daytime
The crew of an Antonov-24RV civil aviation aircraft on a routine flight with 50 passengers noticed a strange UFO flying near their aircraft. The UFO was shaped like a globe, but the most interesting detail was that the main section of the object was transparent and two huge humanoid figures were clearly visible inside the object. Both figures were seated inside the craft with their backs to the Antonov's pilots; their faces were not visible. Soon the aircrew flew by the UFO and lost sight of it. The flight crew was reluctant at first to report the incident out of fear of being mocked or hospitalized for a "mental examination". They kept silent and told only some of their most trusted colleagues.
Source: Viktor E Yuzva, Anton Anfalov
---
Date:  
Location:  
Time:  
Summary:  
Source:  
Location. Clacton England
Date: 1982
Time: afternoon
At the local Jaywick Frobisher Primary School two girls watched a couple of fairy folk described as resembling little old men with long beards and pointy hats, somehow gnome-like in appearance. The two little men appeared to be digging a hole in the school playing field.
Source: Paranormal Database, Essex
---
Date:  
Location:  
Time:  
Summary:  
Source:  
Location. Cheshire England
Date: 1982
Time: evening
Three young men were standing by the edge of an embankment when they noticed a figure that appeared from under the overpass bridge. It was about 3 1/2 feet tall, wearing a brown monks type habit, with hood. The entity had huge eyes and a pursed slit for a mouth. The figure apparently approached to within 6 feet as the witnesses stared at it. It then walked back into a nearby clearing and vanished.
Source: UK Sightings Page
---
Date:  
Location:  
Time:  
Summary:  
Source:  
Location. Bronx, New York
Date: 1982
Time: evening
Two young boys, 1 seven years of age the other eight had been playing outside when they decided to go back into their apartment complex. Both boys entered the building and walked to the apartment on the bottom floor near the stairway. As one of the boys knocked on the door, the other one glanced casually up the stairs and was shocked to see a tall, leathery, winged creature with glowing, blood red eyes, standing directly under the light of the sunroof. He described the entity as somewhat reptilian, but with visible human characteristics, albeit gruesome ones. It stood upright on two legs, if not a bit stooped over like an old man; it had abnormally long arms with what appeared to be talons at the ends of its spindly fingers. The arms were thin, yet muscular. Its torso was unnaturally long as well. Its legs appeared long, but gangly, with knobby knees and large bony feet. It had long sharp looking talons on its toes. Its wings were rather large, with taut, thin, greenish-gray skin. The skin itself looked to be dry, yet with a bit of gleam to it. As the witness stared he noticed that the creature's fiery eyes were indeed fixed firmly on both boys. The being had a large gaunt skull set on impossibly bony shoulders. By now both boys had noticed the creature and stood terrified staring at it. Both boys ran out and scream for their mothers to open the door of the apartment.
Source: Paranormal About.com
---
Date:  
Location:  
Time:  
Summary:  
Source:  
Location. Laguna De Brealito, Argentina
Date: 1982
Time: evening
Several families picnicking at the edge of the lagoon were astounded to see something resembling a waterspout rise above the waters and quickly approach the shore. Within the water witnesses were able to see a semi-human figure of gigantic proportions. According to the witnesses, the entity had female characteristics and appeared to be wearing some type of aquatic veil. Panic stricken, the witnesses ran to their vehicles and left the area.
Source: Ovnis Salta
---
Date:  
Location:  
Time:  
Summary:  
Source:  
Location. Phoenix, Arizona
Date: 1982
Time: evening (year is approximate)
The 20-year old witness was crossing the street in order to visit some neighbors when she looked upward toward the right between the horizon and 12oclock high and saw an orange globe-shaped object with a dark center. Thinking it was a reflection from behind (she wears glasses) she looked back but could not see anything that might be reflected off the lenses. He looked up again and there was this round, orange globe with the dark center. The dark center had opened up larger, like an iris. She looked toward her mother's direction (across the street at the neighbors) and was going to tell her to look at the object when she heard a voice in her head saying "Don't tell". She looked back at the globe and this time the "iris" had opened up wider and she could see something that resembled a "frog" or reptile in front of a console or table. Its hands were holding two control levers and it would move them back and forth with its arms. Its feet appeared to be operating pedals. The witness then decided to tell her mother what she was seeing, but she again heard the voice in her mind advising her not to tell anyone. She looked back up again and the object and its occupant had vanished. Later she could not remember what she had seen when her mother asked her.
Source: http://paranormal.about.com/library
---
Date:  
Location:  
Time:  
Summary:  
Source:  
Location. Lonnavale Tasmania Australia
Date: 1982
Time: night
On various occasions a dark humanoid shape was seen near a number of houses, also paranormal sounds, flashing lights and other events, including animal reactions were reported.
Source: Keith Roberts TUFOIC
---
Date:  
Location:  
Time:  
Summary:  
Source:  
Location. California, exact location not given
Date: 1982
Time: late afternoon
The six-year old witness had followed some coyote pups to the edge of a canyon and was standing by a metal railing looking out into the hills when he suddenly heard a loud popping sound and the air around him became noticeably thicker. A green-yellow light that seemed to come from the canyon area then surrounded him. He then noticed a tall dark figure standing across from him blocking out some of the light. The being appeared very wide and wore a tight fitting jacket, its arms were folded in front of him. There appeared to be something attached to the being behind him but this was not very clear to the witness. The being was described as reptilian-type with large slit eyes. The being suddenly opened its arms and unfolded something resembling a music panel sheet illuminated by a bright white blue halogen type light. After a few moments the light went out and the sheet refolded. The thick atmosphere and the yellow-green light quickly dissipated and then the being vanished.
Source: Josh M Berg, Unicus Vol. 3 # 2.
---
Date:  
Location:  
Time:  
Summary:  
Source:  
Location. Not given
Date: 1982
Time: late night
The main witness and her boyfriend were both removed from their bedroom by entities with large eyes late at night. The witness dog apparently attacked and injured one of the intruders. The witness also fought back but was rendered unconscious. Later she woke up inside a craft lying totally paralyzed on a table. One of the beings was holding the witness head down while the others worked on her body. The witness was terrified and was in great pain. The beings were apparently indifferent to her plight. She was eventually released.
Source: Kenneth Ring PhD, "The Omega Project"
---
Date: 1982: Ulysses Kansas Abduction
---
Date:  
Location:  
Time:  
Summary:  
Source:  
Location. Northview Missouri
Date: 1982
Time: unknown
Witnesses reported seeing two short silver suited humanoids at a local field near a pond. They were described as having child-like bodies. No other information.
Source: Donald M Ware, Mufon Journal # 289
---
Date:  
Location:  
Time:  
Summary:  
Source:  
Location. Queensland Australia, exact location not given
Date: 1982
Time: night
The witness woke up from her sleep and found herself onboard an object. She was surrounded by several human-looking entities both men and women. She also saw several other human abductees onboard the object. She refused to be examined because of her pregnancy. The humanoids acted disturbed when they realized that she was pregnant. They gave her a tour of the object and was later released.
Source: Keith Basterfield, Vladimir Godic, and Pony Godic IUR Vol. 15 # 3
---
Date:  
Location:  
Time:  
Summary:  
Source:  
Location. Near Guayaquil Ecuador
Date: 1982
Time: early evening
In a ranch area the witness had stayed home alone when she suddenly suffered a dizzy spell and nausea, she walked to the window and opened it to get some fresh air. She then looked at a tall tree nearby and watched fascinated as a leave detached itself from a branch and fell as if in slow motion towards the ground. Incredibly the leave suddenly transformed itself into a large silvery metallic disc shaped object that hovered low above the ground close to the house. The witness suddenly felt pulled through the window and floated into the craft. Inside she found herself in a large brightly lit silvery room. There she was confronted by 3 men and a woman all very tall, muscular and with blond hair and blue slanted eyes, they also had slightly pointed ears. They all wore tight fitting silvery coveralls, boots, and silvery caps. They communicated by telepathy with the witness and conducted several mental experiments with her. She was told that they belonged to the group headed by one "Ashtar Sheran." She subsequently experienced numerous out of body incidents in which she met similar beings.
Source: Monica Girard
---
Date:  
Location:  
Time:  
Summary:  
Source:  
Location. Carleton Moor North Yorkshire England
Date: 1982
Time: afternoon
A married couple out walking their dog spotted two very tall men standing behind some hawthorn bushes, the men were at least seven-foot tall and had their arms stretched out. They wore blue-green tight fitting overalls. They had pale thin faces with pointed chins and a waxy complexion. They had a menacing effect on the witnesses who quickly fled the area.
Source: Janet & Colin Bord Modern Mysteries of Britain
---
Date:  
Location:  
Time:  
Summary:  
Source:  
Location. Abralaite, Jujuy, Argentina
Date: 1982
Time: night
12-year old Galindo Cola reported encountering a small dark gray shiny humanoid with a "square shaped head". It had pincer-like hands that emitted bright beams of white light. Another local man reported seeing the same entity and that as it ran through a field it emitted multi-colored sparks from behind it.
Source: Patricio Parente, Gaceta Ovni
---
Date:  1982
Location:   Euclid, Ohio
Time:  night
Summary:  For several nights in a row a 10-year old boy was found outside the bedroom of his parents fast asleep. When confronted he would tell his parents that there was something in his room and he was afraid to go to sleep. Both his father and mother then entered the room one night and saw a bird-like creature with big red eyes sitting on the headboard. The three watched the bird-like creature stare at them and fly through a closed window and disappear from sight.
Source:  Hauck Report Vol. 3 # 2
---
Date:  
Location:  
Time:  
Summary:  
Source:  
Location. Near Gisamo, La Coruña, Spain
Date: 1982
Time: night
Bruno Alabau and some scout friends were camping in a wooded area when he decided to explore the vicinity of the encampment as he approached a path in the woods he noticed a group of lights. Thinking that it was his friends looking for him, he hid behind some bushes and waited. Soon he saw seven strange figures walking in two groups of three, Indian file, with one in front. The figures all wore the same black monk-like outfits. The one walking in the front was carrying a large wooded cross, and the two directly behind him carried what appeared to be lighted candles, the other four did not carry anything. The witness remained behind the bushes paralyzed unable to move until the enigmatic figures disappeared into the woods. The terrified witness ran back to the campground and did not tell anyone what he had seen.
Source: Scott Corrales, Boletin Contacto # 53, July 2003
---
Date:  1982
Location:  Mercedes, Corrientes, Argentina
Time:  various
Summary:  A woman named Irma Medina de Lopez claimed to have been abducted by extraterrestrials that took her from her bedroom into a hovering spacecraft. Soon she found herself being transported to a strange "world". She reported that during her abduction they placed what appeared to have been an "oxygen mask" on her face as she felt herself elevate. Later while inside the spaceship she looked out a hatch and was able to see the planet earth, and described it as a "blue colored world". She could only described the aliens as vaguely human-like who passed on numerous predictions of future events in Argentina including the future presidential elections in which Carlos Menem was elected. On another occasion she was given a secret formula supposedly for the cure of AIDS, consisting of a balanced combination of citric acids. On another occasion while in her patio along with her friend Lia Demyryi de Tessaire she saw two luminous flying objects cruising overhead, from one of them a viscous white substance seemed to drop to the ground. This substance fell on a small vegetable garden she possessed. She was able to collect some of it for future analysis. A test conducted at a local university concluded that the substance was "artificial" On another occasion she was transported onboard a spacecraft and given numerous medical analyses, blood was extracted from her via a glass tube. As a result of the tests 24 hours after the abduction her cholesterol level was miraculously reduced to normal levels.
Source:  Al Filo De La Realidad Archive # 16
---
Date:  1982
Location:  Near Voronezh, Russia
Time:  after 2200
Summary:  Two local militia sergeants were driving a "UAZ-469" vehicle (Russian patrol jeep) in an area about 10-15 kilometers from the city when suddenly they saw a very bright beam of light shining down to earth from somewhere in the sky. The beam of light appeared to be scanning the surface of the ground, and every blade of grass appeared to be lit by it. One of the sergeants went out of the vehicle and at the very same moment a strange flying craft landed on a field. The craft was shaped like a lenticular disk with bright white rectangular-shaped windows or portholes, which emitted bright whitish light and a small shallow dome on top. The craft's diameter was estimated at about 120 meters and about 70 meters high. Several seconds later a hatch opened on the hull of the craft and several tall (about 3-4 meters in height) humanoids exited the object and went to a nearby field. After walking for a while around the craft they returned inside the craft and flew away. Both sergeants then became very confused and forgot why and where they were. They hurried back to their barracks reporting to their superiors. The men could only speak in stuttering voices. At first they were subjected to alcohol tests but it proved negative, both were then sent to a mental hospital.
Source:  Nikolay Varsegov reporter of "Komsomolskaya Pravda", Voronezh UFO Research Group, Genrih Silanov, Feydor Kiselyev, Yuriy Lozotsev and Alexander Mosolov "UFO in Voronezh" 1990
---
Date:  1982
Location:  
Time:  
Summary:  
Source:  
Related articles