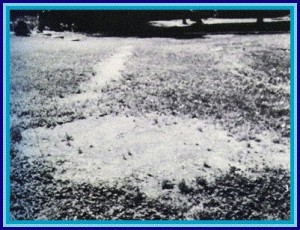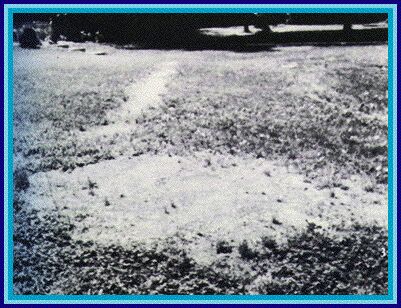 (Last Updated On: March 29, 2017)
Date: Summer  1983
Location:  Paso Palma, Barrio Utuado, Puerto Rico
Time:   late night
Summary:  Marvel Bermudez was sleeping late at night when she was awakened by the sound of the bedroom door being slowly pushed in. The she saw a tall dark indescribable shape enter, it seemed to be wearing a white shimmering outfit and had a round head, no other features could be seen. The shape approached the bed stood by her husband briefly then walked over to her. The being then touched the witness chest, at this point she pushed him back, and it disappeared in plain sight.
Source:   Personal Communication

---
Date: Summer  1983
Location:  Liberty, KY
Time:  
Summary:  Abduction report 
Source:  Ridge files
---
Date: Summer  1983
Location:  Near Subic Bay Naval Base, Philippines
Time:   after midnight
Summary:  Robert Carlson & his brother had just exited the bus and were walking home, when about halfway there they noticed a strange object hovering up in the sky. It was described as a circular band of light the size of ¼ football field. Across the diameter of the circle was an X. The object was about 300 feet up in the air and was now traveling to the observer's right and toward a hill. It appeared to be spinning and was moving relatively slow; it then disappeared over the hill. That same week Robert Carlson was sleeping on the floor of his living room, while the rest of the family slept in their rooms. He suddenly woke up and felt someone was there, scared he went upstairs. He then saw several short black men about 1 ½ feet high coming up the stairs behind him. The beings had large heads in ratio to their bodies and their foreheads were bulging with veins. Their skin was shiny black and they wore some type of uniform. Frightened he banged on his parents door to wake them up, they did not respond, so he ran to his room (which he shared with his little brother). He closed & locked the door and started to wake up his brother. Meanwhile the little "men" were fiddling with the door apparently trying to get in. They didn't seem to be in any hurry and the witness could hear their voices mumbling as if they desperately needed him for something. As soon as his brother started to wake up, the noise at the door stopped and the house was very quite for a few seconds. Later he opened the bedroom door and the little men were gone.
Source:  UFO Sightings in New Mexico and The World
---
Date: June  1983
Location:  St Peter Port, Guernsey, UK
Time:  Night 
Summary: Terrible smell like rotten eggs. An object was sighted that had an appearance and performance beyond the capability of known earthly aircraft. One metallic ball was observed by one female 31-year-old witness on the shore. A fizzing sound was heard.
Source:  Picknett, Lynn Mammoth Book of UFOs Carroll & Graf, New York, 2001  ISBN:0-7867-0800-X
---
Date: June  1983
Location:  Pasadena, California
Time:  18:30
Summary:   Fat disc with rounded bottom and dome of three cylinders of different sizes, topped by an appendage like an antenna or weather vane. Purple-Gray. An abduction of a witness was reported. One violet domed disc, about 20 feet across, around 1500 feet away, was observed in clear weather by three female witnesses, typical age 31, in the suburbs for 120 minutes. A sound was heard.
Source:  CUFOS
---
Date: June  1983
Location:  Kitley Woods Indiana
Time:  afternoon
Summary:  Debbie Tomey left her apartment and saw a strange longhaired man in jeans and blue jacket who stared at her. She drove several blocks, and then saw the same man again while waiting for a light. A miler farther on she stopped at a gas station and the same man walked past her car and entered the station, then when she arrived downtown the man again appeared and stared at her from the sidewalk.
Source:  Budd Hopkins

---
Date: June 1 1983
Location:  British Columbia, Canada
Time:  
Summary:  Photos of brightly lighted, bizarre objects while camping in Canada. Photos received at National UFO Reporting Center
Source:  National UFO Reporting Center
---
Date: June 1 1983
Location:  Phoenix, Arizona
Time:  21:30
Summary:   Monstrous round silent UFO I've never talked about this with anyone but the people who were there because I doubted anyone would believe me. The thing I remember most about this event was that – for something so stupefyingly amazing – I don't remember a lot about this event, and none of us talked much about it afterward. This happened when I was in high school and I don't know the exact year, but it would have been approx 1982 or 1983. Four of my friends and I were in the desert north of Phoenix in a very rural area where it was pitch dark except for the stars and the light of our fire. We had been there long enough to build a camp fire and at the time the sighting occurred we had not consumed more than one beer each. At some point we all noticed something looming in the distance, coming very, very slowly towards us. The only way I can describe its size is monstrous. It was way bigger than a house, or even a couple of houses. It was virtually silent for its size – I do remember a sort of low humming sound. There were definitely lights on it, but I don't remember how many; I seem to recall that it had lots of little lights on it. We couldn't see into it; I don't remember seeing "windows" in the craft. It was definitely round in shape, but it is possible that part of it was "cut out" – I don't remember. 
It moved directly over top of our group at an extremely slow rate of speed. I remember feeling a sense of awe, stunned and amazed, but very calm. We all were. No one was hopping up and down and going crazy with excitement, like one might think you would in such a weird circumstance. We just watched it go over. I "think" I remember seeing it disappear behind a mountain. The next day, I remember the radio station KUPD had a few people call in and they were talking about a UFO sighting in the same area (approx 7th Street and Union Hills Drive). But the weirdest thing is, none of my friends who were there, none of us talked about it much. It might as well have been like we'd seen a kite flying. No big deal. About 10 years ago I had the chance to talk to one of my friends who was there, who ended up marrying the boyfriend she was with and who was there that night. I asked her if she remembered it and she said she did. I asked her to ask her husband if he remembered it, and she did that while we were on the phone, and he said he did. But again, it was like "no big deal." I know what I saw, and I know we all saw the same thing. I wouldn't expect anyone to believe it unless they'd seen it for theirself. I've always thought that maybe whatever was inside of it had a way to make our reaction to it numbed or dulled, because aside from seeing it, the most fascinating part of the experience for me has been that we didn't alert the media or that every time we got together that wasn't all that we could talk about.
I fact, we never talked about it except that one time I mentioned above when I asked my friend and her husband if I remembered it correctly – that was probably 8 years after the fact. I've always kind of wondered if we lost time and just didn't realize it, but I simply don't know. That's all I know. I wish I could remember more details. I've never seen anything like it since, and I had never seen anything like it before, but I wouldn't mind seeing it again! I don't remember if the thing left a trail. I don't remember there being an aura or haze around it – it seemed crystal clear. It was dark brown or black, hard to tell. It was matte, not shiny. I can't remember if the lights on it were blinking at all and I can't remember if there were colored lights, just remember white lights. Our vehicles were turned off, so I don't know if there were electrical or magnetic effects. I just watched the Peter Jennings special and that is what inspired me to come to this web site, to see if maybe someone else had seen it and reported it here. Like I said, I've never talked about it to anyone other than the people who were there, for fear of being sent directly to the nuthouse. 🙂
Source:  National UFO Reporting Center
---
Date: June 1 1983
Location:  Botucatu, Brazil
Time:  0020A
Summary:  the wife of the main witness suddenly woke up feeling suffocated, she saw standing by the door a shadowy figure. The main witness then came into the room and said that a being had placed a mask over his face as he slept. He felt a strong suffocating odor. Later he heard a very loud buzzing sound in the air. And then later he suffered from convulsions.
Source:  Casellato, Da Silva, Stevens UFO Abduction At Botucato

---
Date: June 1 1983
Location:  Ciudad Lazaro Cardenas Mexico
Time:  20:30
Summary:  We were watching TV that Saturday night when suddenly an earthquake struck, we all got up and ran outside, we lived in the second floor and we had a large terrace, there we all gather and waited for the earthquake to stop, that's when we looked up and saw a gigantic sphere moving south, you can tell it was huge because there cumulus clouds in the sky, and this aircraft was just as big as the clouds. The sphere was dark and it had thousands of lights going around it,it hover over the city for about 2 minutes, and then it disappear behind a cloud. The next day, everyone was talking about it at school. I became a believer right then.
Source:  National UFO Reporting Center
---
Date: June 5 1983
Location:  Vidor, Texas
Time:  
Summary:  Star shaped object with three rounded protrusions, seen hovering for two hours, leaves when aircraft arrived on scene. A hovering object was observed. One star was observed by six witnesses for two hours (Cherry).
Source:  APRO
---
Date: June 5 1983
Location:  Varzi, Italy
Time:  05:50
Summary:  Mist, fog, vapor: UFO moved skimming grass, emitting vapor. Animal reaction: barking dogs. Silver domed disc, like pear without stalk, orange headlight, 5m diameter. Alfalfa bent in a circle 2-3m diameter. In Varzi, Italy at 5:00 a.m. dogs began barking when a cigar-shaped UFO approached the ground. The object emitted a foggy vapor at ground level, rose up and hovered in the air. It extended a rotating dome and orange light, and then flew away toward the south-southwest. In Vidor, Texas six people watched a star-shaped object with three rounded protrusions hover in the sky for 2 hours. It left when aircraft arrived on the scene.
Source:  APRO
---
Date: June 6 1983
Location:  Core Olona, Italy
Time:  Night 
Summary:   Nocturnal lights were reported.
Source:  APRO
---
Date: June 6 1983
Location:  Pavia, Italy 
Time:  Night 
Summary:  One ovoid object was observed
Source:  APRO
---
Date: June 6 1983
Location:  St Tropez, France
Time:  23:00
Summary:   A cigar-shaped object was observed. One cigar-shaped object, about 300 feet across, was observed on the ocean for five minutes
Source:  Lumieres dans la Nuit
---
Date: June 11 1983
Location:  El Bolson, Argentina 
Time:  21:00 
Summary: Police incident. An unidentified object was sighted, that had an unusual appearance or performance. One multi-colored cone-shaped object was observed by a male witness (as reported to the police).
Source:  FSR
---
Date: June 11 1983
Location:  Newcastle, New York
Time:   21:35
Summary:  Police track V-shaped formation of about 10 lights, moving very slowly, toward police hq. A V-shaped object was observed. One V-shaped object was observed by four experienced male witnesses (as reported to the police) (Walsh).
Source:  CUFOS
---
Date: June 12 1983
Location: Near Sierra Vista Arizona
Time: 2300
Summary: During a moving trip, the witness girlfriend reported seeing a large humanoid standing by the roadside somewhere west of Texas Canyon on I-10. Shortly after a bright star-like light paced their vehicle. Minutes later the vehicle seemed to "drive itself" with no control by the driver. After turning into Route 90 the witness saw a bright flash of light in the sky to his right. Still later down the road the witness found himself in the driver's seat and his girlfriend in the passenger seat. They then turned off onto a gravel trail to the left in preparation for turning around, he then saw a large disc shaped craft in front of the vehicle with eight to nine short humanoids milling around it. Three of them started to approach the vehicle, and the witness remembered nothing else until they appeared to be traveling on the proper highway again. There was a substantial amount of missing time reported
Source: E C Whitey Reese, Arizona Mufon 
---
Date: June 14 1983
Location:  Peekskill, New York
Time:  20:30 
Summary:  Construction engineer watches V-shape formation pass overhead, detects dark gray solid triangular object, 100 feet wide, no sound. A hovering object was observed. Multiple independent witnesses. One gray delta-shaped object, about 150 feet across, was observed by one male 33-year-old witness for ten minutes (Morrissey). No sound was heard.
Source:  CUFOS
---
Date: June 17 1983
Location:  Thornlie, WA
Time:  0645
Summary:  Mr Pragnell, was enroute to work on his motor bike when he saw what he at first took to be an aircraft. It was delta shaped, soundless, with two very bright white lights on each wing. Suddenly his motor bike engine stopped and he rolled to a halt still watching the mysterious object. It disappeared at a speed faster than a plane.
Source:  Perth UFO Research Group
---
Date: June 19 1983
Location:  Cumberland Hill, Rhode Island
Time:  23:30
Summary:   Dark, circular object with bottom beaming white light that filled yard. 100 and ' altitude, 300 feet away, object size of car. object suddenly moved upward and out of sight. An object was observed. It buzzed a witness. One white object, about 20 feet across, around 300 feet away, was observed in clear weather by two witnesses, typical age 69, in the suburbs for 24 seconds. No sound was heard.
Source:  MUFON
---
Date: June 21 1983
Location:  Dubno, Ukraine
Time:  
Summary:  A wingless cigar-shaped object circled a strategic nuclear facility at Dubno, Ukraine for 18 minutes. 
Source:  Larry Hatch, U computer database, case # 13365, citing FSR, volume 37, no. 4
---
Date: June 21 1983
Location:  Rivadavia, Argentina 
Time:  17:30 
Summary:  An unidentified object was sighted, that had an unusual appearance or performance. One silver object was observed. Several hundred people at a football match in Mendoza, Argentina saw a silvery daylight UFO at dusk.
Source:  FSR
---
Date: June 21 1983
Location:  Mendoza, Argentina
Time:  Dusk
Summary:   Soccer Match incident.
Source:  FSR
---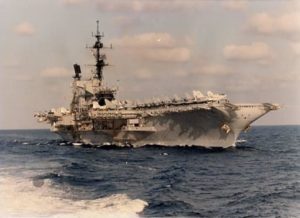 Date: June 23 1983
Location:  North Sea of Japan
Time:  12:10 p.m.
Summary:   They USS Tuscaloosa were travelling in formation with the aircraft carrier USS Midway and its battle group which consisted with approximately 30 ships. At this point in time the USS Midway radioed them and other ships in the battle group that they were tracking 5 unknown objects moving in a V formation from the coast of Russia and the USS Midway just picked them up on their air search radar.
Source:  Fran Ridge:
---
Date: June 30, 1983: Copely Woods Encounter – Article
---
Date: June 30 1983
Location:  Indianapolis, Indiana
Time:  22:50
Summary:  Mother and daughter separately witnessed large light appear over pool house. Under hypnosis, remembers egg-shaped object landed in yard, burned grass. Mental warning not to remember more. Nausea. An abduction of a witness was reported. Physiological effects were noted. Ground traces were found. Witness reported that a period of time could not be accounted for. Telepathic phenomena were said to have occurred. One ovoid object was observed by two female witnesses, one of them an experienced observor, in a yard for two hours (Tomey). A grey being was seen.
Source:  Bullard, Thomas E.  UFO Abductions: The Measure of a Mystery. Volume 1: Comparative Study of Abduction Reports FUFOR, Bloomington, 1987
---
Date: June  1983
Location:  
Time:  
Summary:  
Source:  
Related articles