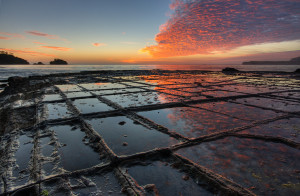 (Last Updated On: April 2, 2017)
Date: 1983 
Location: elford, Shropshire, England
Time: 0200A
Summary: A circular cluster of lights along a deserted road causing them to stop the car followed the witnesses. They reached home at 0300A revealing a time gap. Under hypnosis both witnesses recalled floating into circular doors. Both then lay on beds in a semi-circular room while four 4-foot tall hairless humanoids with bulging eyes examined them.They had thin arms and spoke in gruff voices. They all wore green robes. One of the witnesses was held down and felt pain while "things" were removed from her body. They scanned her head and carried her back to the car. The other witness was also carried back and was told not to be afraid.
Source: Thomas E Bullard, UFO Abductions The Measure of a Mystery
---
Date: 1983 
Location: Rural farm area, Illinois
Time: morning
Summary: The witness was nursing a hand injury sustained several days prior to the incident and was walking on a field near her house when she saw a luminous egg-shaped object descending from the sky. The next thing she knew she found herself in a brilliantly lighted room filled with what appeared to be high tech equipment. Three small humanoids, each wearing surgical masks surrounded her. At this point the witness became unconscious. Later she awakened back in the field and realized that her hand was now completely healed.
Source:  Brad Steiger, Sherry Hansen Steiger, The Rainbow Conspiracy

---
Date: 1983
Location: Riverview Kentucky
Time: daytime
Summary: The witness was sitting in her front porch and her two children were sitting on top of a nearby tree, when suddenly she felt paralyzed and three strange white face figures appeared. These wore black suits, dark glasses, hats, and gloves. They approached the witness. One carried a suitcase and took out a tube-like device with a flat needle and took blood from the witness. After the beings left the witness apparently could not recall the incident and only remembered much later.
Source:  Don Worley, UFO Universe Summer 1993

---
Date: 1983 
Location: Forcett, Tasmania, Australia
Time: 1700
Summary: The witness was staying at a friend's farm when she felt the urge to look outside. She then saw a bright light to the north. She and her friend went outside, the light resolved into a gray squarish shape with windows and flashing lights. Visible through a window at the front were black human-like figures. The object lost height and was obscured from view.
Source: TUFOIC 
---
Date: 1983 
Location: Near Hwange Game Preserve Zimbabwe
Time: 2000
Summary: Four men had arrived back from the capital and were walking to their village. They were walking along some thick brush when they suddenly noticed a very bright light in the sky. They stopped to watch as the light descended towards them. The men hid behind some trees as the light came lower and lower. They now could see that it was a bright disc-shaped object that hand landed nearby. A door on top of the object opened and two men with light skin stepped out. They floated towards the ground. At this point the witnesses panicked and ran towards the village
Source: Cynthia Hind, Phenomenon 40 years of Flying Saucers 
---
Date:  1983
Location:  
Time:  
Summary:  
Source:  
Location. New Zealand, exact location not given
Date: 1983 Time: night
A Chinese woman woke up in the middle of the night to see a bright light shining through the bedroom window; she then felt intense heat and heard three men speaking. After going to the bathroom she returned to bed and thought she had fallen asleep. She then walked through a door into an object. There she saw six non-human ugly men present. The men then undressed her. She recalled seeing a number of other human beings onboard the object. Later she found herself back in bed.
Source: Keith Basterfield 
---
Date:  1983
Location:  
Time:  
Summary:  
Source:  
Location. Edinburgh, Scotland
Date: 1983 Time: night
Bonnie, a concert pianist performing at the University of Edinburgh, was returning back to the dormitory late at night with a friend. By the side of the road both Bonnie and her friend saw a white four-foot tall creature that looked like "a cross between a puffin bird and a penguin" with "huge black eyes." The creature seemed to have appendages instead of arms. They drove by the creature and did not return back to investigate. A short distance down the road the police had cordoned off the road and asked the pair for ID.
Source: South Florida Skyscan, Vol. 2 # 7 
---
Date:  1983
Location:  
Time:  
Summary:  
Source:  
Location. Addingham, West Yorkshire, England
Date: 1983 Time: night
A witness reported seeing a "man" wearing dark clothing that seemed to be peering at her through the front window. He suddenly vanished in plain sight.
Source: Steve Gerrard, quoting Northern UFO News # 140 
---
Date:  1983
Location:  Passa Tempo, Minas Gerais, Brazil
Time:  night
Summary: In a rural area Sebastiao & Eduardo Santos were walking back home when they saw a strange figure standing behind a nearby gate. The figure seemed to be wearing a dark cape with numerous luminous pinpoints of light. It was of medium height, with a short beard, mustache and dark hair. "He resembled Jesus Christ wearing a cape." The humanoid stared at the men and both ran away from the area, not looking back. 
Source:  Revista Brasileira de Ufologia 
---
Date: 1983: Unidentified landed enormous craft on legs
---
Date:  1983
Location:   Monroeville, Pennsylvania
Time:   late night
Summary:  The witness was driving alone on the Turnpike when he suddenly found himself in the small town of Zelienople having no recollection how he got there. Later under hypnosis he was able to recall that the cab of his truck had been suddenly filled with white flashes of light and he blacked out. He later regained consciousness and found himself in a circular room where three short beings with pointy-heads placed him on a table. There the beings gave him an elaborate examination using a green light. He also remembered looking down at the earth from the object, which was silvery in color and shaped like a bowl.
Source:  UFONS # 244 
---
Date:  1983
Location:  
Time:  
Summary:  
Source:  
Location. Miami Florida
Date: 1983 Time: late night
The witness remembered waking up in the middle of the night and confronting a tall being resembling a human-like black woman. The entity communicated with the witness by using telepathy. As the being stood in front of the witness it seemed to transform itself into a reptilian type entity with bright red eyes and yellow pupils. The being seemed to be giving some type of information to the witness that she was unable to remember. At one point she stood by the window with her young son and reported seeing a huge hovering bright object outside.
Source: Personal Communication 
---
Date:  1983
Location:  
Time:  
Summary:  
Source:  
Location. Campos Gerais Brazil
Date: 1983 Time: 2030
A local farmer, Joaquim Antonio Luiz was returning home on his bicycle when as he rounded a curve he saw what he at first took to be a nun wearing white clothing. The woman like figure wore a short dress and a blouse with a light blue belt, tilted to the left. She had long light colored hair. She seemed to be waiting for Joaquim, who felt attracted to the strange woman. She had a voluptuous body, and very nice "plump" legs. He approached and greeted the woman and then came up to her, hoping to have a more intimate encounter. As he attempted to embrace her, she suddenly made an incredible 500-meter long jump. She quickly disappeared from sight, becoming a small white dot in the night sky. Terrified, the witness quickly pedaled home and went to sleep.
Source: Revista Brasileira de Ufologia
---
Date: 1983 
Location: Fazenda Morro das Pedras, Brazil
Time: 1900
Summary: A few weeks after a similar encounter by another witness, three young girls, Isabel, Elenice, & Ercilia were returning to their home when they saw a woman with long light colored luminous hair. She wore a yellow blouse, a tight fitting cap on her head and a skirt of the same color. She was about 1.40 meters in height and had a serene look on her face as she floated 70 cm above the ground. As she floated over a nearby creek the waters under her suddenly became agitated, emitting a loud roar. The strange figure then disappeared behind some bamboo plants.
Source: Revista Brasileira de Ufologia
---
Date: 1983 
Location: Lagamar do Sal, Ceara Brazil
Time: late night
Summary: Jose Ferreira de Souza and his 7-year old son, Ademar had gone fishing at an isolated area and had become separated, when the terrified screams of his son attracted De Souza to his location. Arriving at the spot he was stunned to see a short fat humanoid, with human features and wearing a red shirt, attempting to grab Ademar. Behind them nearby hovered a glowing red object with a large clear window. De Souza armed himself with a knife and lunged at the heavy set humanoid. The humanoid escaped and boarded the nearby hovering object. The object was semi-spherical in shape and inside two other heavyset humanoids with red puffy faces could be seen looking out. While both hid behind some bushes they noticed that the object emitted multi-colored beams of light, it then left at high speed.
Source:  Pablo Villarrubia Masso, Ano Cero
---
Date:  1983
Location:  Santa Cruz, California
Time:  sundown
Summary:  "It was a beautiful day and we had been on the beach all afternoon. The sun was starting to go down so we thought, let's pack up and hit a local pub/restaurant and get a beer and something to eat. We walked to the car about a half mile from the beach. As we were putting our towels and beach stuff in the back of the car, we noticed two young people standing looking at us: a young male around 20 and a female the same age. Both looked zoned out, kind of strange just standing there watching us. I walked up to them and asked if they were okay and if they needed any help. Neither one of them said a word. All of a sudden, Katia started screaming at me, "Get away from them!" I turned to look at Katia. She was very pale and shaking. I then turned back to the couple. I noticed their eyes and saw that they were totally black. The feeling that came over me was very, very scary and heavy. A thick darkness seemed to cover me. I felt a little numb and my legs would not move. The guy with the black eyes asked me if they could get a ride. His voice was so shallow and unemotional. Before I could answer, Amy stepped in and said, "Sorry, we are not leaving right now." She grabbed my arm to help me walk away from them. I started to trip out and wanted to get the hell away. I could barely move. The weird girl reached out her hand to touch me, but I moved away from her. Her face looked so sad and her eyes, so black. The whole time this was going on, Katia was in a paranoid state. Amy got the three of us to start walking away and then the guy called us 'bitches.' My friends and I kept walking, never looking back. We went into a bar near by and did some shots; forget about the beer. No one believed our encounter with these black-eyed people. We used to talk about that day and get creeped out. I sometimes feel like they are around just watching me, but when I look for them, there is no one there. I will never forget this bizarre day at the beach. Katia and Amy won't even talk about it anymore. I have terrible dreams about them getting inside of me. I know there is something real going on out there, I'm just not sure what it is or why."
Source:  paranormalabout.com, quoting Bellflower
---
Date:  1983
Location:  
Time:  
Summary:  
Source:  
Related articles