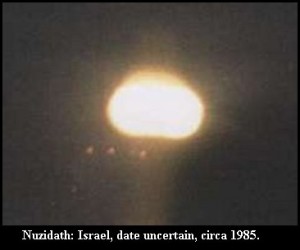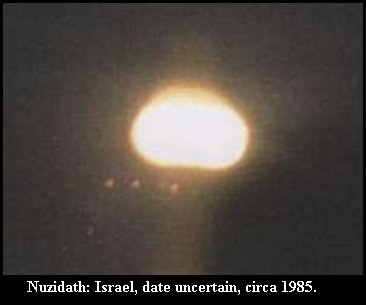 (Last Updated On: April 11, 2017)
Date: January  1985
Location:    Loxley Edge England
Time:   night
Summary:   Two women on horseback were frightened by the sudden appearance of a glowing white figure that disturbed the horses as it suddenly appeared on the path. It suddenly disappeared abruptly.
Source:   Paul Deveraux, "Earth Lights Revelation"
---
Date: January  1985
Location:    The Bungalow, Hopshort England
Time:   night
Summary:   The witness suddenly awoke in the middle of the night and was confronted by a 6-foot tall humanoid figure wearing a tight-fitting overall outfit. The figured muttered something incomprehensible and disappeared in a circular swirl of white smoke.
Source:  UFONS # 225
---
Date: January  1985
Location:    Near Sydney, Australia
Time:   night
Summary:   Three men reported seeing a glowing humanoid figure on top of a vacant property. Later they were followed briefly by what appeared to have been a motorcycle light. At a crest the light suddenly disappeared.
Source:   Keith Basterfield
---
Date: January  1985
Location:    Sierra del Potosi, Mexico
Time:   night
Summary:   Student Francisco Cavazos Flores and several friends watched a large disc shaped object land on a field about 30 meters from them. Three humanoids exited the object; all three were about 1 meter in height, with egg shaped heads. The beings seemed to be carrying sophisticated "weapons" and collected rock specimens from the ground. They soon left the area. A scorched area along with a sulfur-like smell was found in the area.
Source:  Ruben Manrique
---
Date: January  1985
Location:    
Time:   
Summary:   
Source:  
Location. Orange New South Wales, Australia
Date: January 1985 Time: late night
Two men in a motel saw a strange display of point-like sources of light that changed formation and appeared synchronized. At one time they also saw a short luminous or "neon" figure, the head was apparently more visible. No other information.
Source: Keith Basterfield
---
Date: January 1 1985
Location:    Lancaster, California
Time:   night
Summary:  I was asleep in my bed when I was awoken with a persistent ringing in my ears, their was light everywhere brite I remember being lifted out of my bed and feeling weightless, at first I thought I was dreaming till I cut my hand on something not sure what. as I left my room the light got brighter, I was in a large dark room with a table in the center, with a blue haze covering it. I was placed their and when I looked around I saw other children with me all of them around my age I was 13 at the time. the rest is fuzzy but I know the experience was real, I know their are others out their who have shared this experience. thanks for listening.
Source:  UFO.Net
---
Date: January 2 1985
Location:    Jamestown Pennsylvania
Time:   0610A
Summary:   Two young men had gone out early one morning to check some hunting traps in a wooded area and as they approached the location they saw three sets of glowing eyes looking at them from the woods. The witnesses lay down on the ground as a gray metallic oval shaped object with a series of flashing lights and emitting a low humming sound flew slowly above the treetops. The object stopped briefly above a grove and ejected a bright ball of yellow light from its bottom front section. The sphere slowly descended and went down behind the trees. Shortly the oval shaped craft moved slowly away from the area. The boys then ran home to alert additional witnesses, and as they returned to the area they noticed the figure of a very tall muscular man run through a nearby ravine and across the road into the woods. A later search of the area found damage to the tops of several pines. Close encounter with a an unidentified craft and its occupants. Two discs, about 20 feet across, around 300 feet away, were observed by two witnesses. A humming sound was heard. One tall being was seen. 15′ disc at 200 feet altitude, hums, 4′ fireball exits and drops tall figure that runs. Traces.
Source:  Stan Gordon, Mufon Journal # 206
---
Date: January 6 1985
Location:    Val-De-Reuil, Haute-Normandie, France
Time:   
Summary:   
Source:  http://www.cnes-geipan.fr/geipan/index.html
---
Date: January 8 1985
Location:    Cantwell, Alaska
Time:   
Summary:  Blinding white light passes overhead, lit up sky for 30-40 seconds, illuminated mountain range for 15-16 miles. One white light was observed by several witnesses (Wallace).
Source:  APRO
---
Date: January 14 1985
Location:    Mormoiron, Provence Alpes Cote d'azur, France 
Time:   
Summary:   
Source:  http://www.cnes-geipan.fr/geipan/index.html
---
Date: January 16 1985
Location:    Ooldea, South Australia, Australia 
Time:   Night
Summary:   – Aust. National Railways stated enginemen on Perth-bound train reported seeing bright lights.The train had broken down. ANR said two events were unconnected. An object was observed. Electromagnetic effects were noted. One light was observed by several male witnesses at a military facility.
Source:  APRO
---
Date: January 16 1985
Location:    Hessdalen, Norway
Time:   Night 
Summary:   An object was sighted that had an appearance and performance beyond the capability of known earthly aircraft. An unidentified object at close range was observed by several witnesses.
Source:  Haines, Richard F. CE-5: Close Encounters of the Fifth Kind Sourcebooks, Naperville, 1998 
---
Date: January 18 1985
Location:    Waldeslust, France
Time:   20:00 
Summary:  Green glowing disc crosses road at low altitude. Plasma glows around object. On this evening around 8 p.m. a green glowing disc crossed a road in Waldeslust, France at a low altitude. There was a plasma glow surrounding the object. One green disc was observed by two witnesses on a road for over one minute.
Source:  Lumieres dans la Nuit
---
Date: January 21 1985
Location:    Cosne-D'Allier, Auvergne, France 
Time:   
Summary:   
Source:  http://www.cnes-geipan.fr/geipan/index.html
---
Date: January 24 1985
Location:    Saint-Germain, Midi-Pyrenees, France 
Time:   
Summary:   
Source:  http://www.cnes-geipan.fr/geipan/index.html
---
Date: January 24 1985
Location:    Châtillon-Sur-Seine, Bourgogne, France 
Time:   
Summary:   
Source:  http://www.cnes-geipan.fr/geipan/index.html
---
Date: January 26 1985
Location:    Moirans-En-Montagne, Franche-Comte, France 
Time:   
Summary:   
Source:  http://www.cnes-geipan.fr/geipan/index.html
---
Date: January 26 1985
Location:    Los Angeles, California
Time:    18:30 
Summary:  Orange ball of light, aircraft on final approach to LAX passes directly underneath. Estimated altitude 30k. A hovering object was observed. One orange ball was observed by one experienced male witness in a yard for ten minutes.
Source:  APRO
---
Date: January 29 1985
Location:    Minsk 120Km, Belarus
Time:   04:10
Summary:   Tu-134A Flight 8352 incident.
Source:  Weinstein, Dominique Aircraft UFO Encounters Project ACUFOE, Paris, 1999
---
Date: Late January  1985
Location:    T'Bilisi, Georgia
Time:   04:10
Summary:  Yellow cone of light from object, trained on airliner. two UFOs showed on Tbilisi Airport radar. Observed by second airliner. Objects were tracked by radar and sighted visually. Two objects were observed.
Source:  APRO
---
Date: January  1985
Location:    
Time:   
Summary:   
Source:  
Related articles