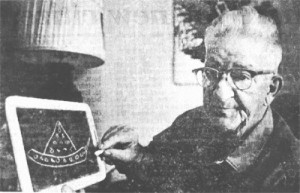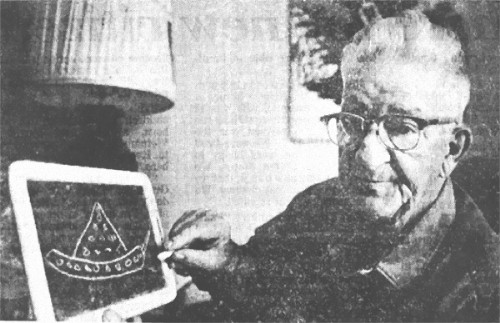 (Last Updated On: April 11, 2017)
Date:   1985
Location:    Hessdalen Valley, Norway 
Time:   
Summary:  An object was observed and photographed. It moved with a falling-leaf motion. Nocturnal lights were reported.
Source:  Spencer, John Wallace World Atlas of UFOs Smithmark, New York, 1992 
---
Date: 1985
Location: Perth Scotland
Time: unknown
Summary: In the center of town a woman reported seeing a metallic 40-foot long object hovering low overhead. It had one large glass window and several humanoid figures could be seen moving behind it. No other information.
Source: Ron Halliday, Scottish Earth Mysteries
---
Date: 1985: Utrecht, Netherland A Dark Triangular Shaped Craft
---
Date: 1985
Location: Hartford City Indiana
Time: unknown
Summary: Brad Baker reported encountering a bright white disc shaped object on the ground and standing next to it a tall human like figure wearing a long white robe that had long black hair and a beard. The light suddenly went out and everything disappeared. Baker interpreted the figure as being an "angel" or "Jesus Christ" himself.
Source: Tim Swartz
---
Date: 1985: Zimbabwe UFO
---
Date: 1985
Location: Utah, exact location not given
Time: 0130A
Summary: The witness was lying in her bed along when she heard a "clicking" sound coming from the kitchen area. She went to investigate and checked all the doors without finding anything amiss. As she turned to walk back she saw a pale gray face peering at her from around the corner of the hallway. She turned the lights on and decided to go through the dining area, but there a short gray figure blocked her path too. She woke up two hours later in bed with no memory of what had happened.
Source: James L Thompson, Aliens and UFOS
---
Date: 1985
Location: Cape May New Jersey
Time: night
Summary: The witness and her son were driving back home when they noticed a bright light over the water. The witness drove towards it and watched as it flew over them and landed. They could now see that it was a deep black object with one light and a flat bottom. All of the suddenly they realized it was gone, all that was left was a burned area of grass. Later under hypnosis she remembered being taken inside the object by several short gray-colored humanoids that gave her several physicals. No other information.
Source: UFONS # 235
---
Date: 1985: Unusual object in night sky over Amherst, Ohio
---
Date: 1985
Location: Near Loyalhanna Dam Pennsylvania
Time: 2230
Summary: Two men were driving back home when they spotted a bizarre object on the side of the road as they came up over a hill. The object was described as a clear cylinder about 12 feet high that appeared to be sucking up twigs, dirt and sticks from the ground. Next to a tree nearby stood a huge 8 to 10 foot tall muscular humanoid that appeared to be operating the machine. The witnesses quickly left the area.
Source: UFONS # 244
---
Date: 1985: Bob White Alien Artifact
---
Date: 1985 
Location: Near Toronto, Ontario Canada
Time: before sunrise
Summary: Veronica, who lived on the ground floor of an apartment complex on the outskirts of Toronto, saw a small craft of some sort land in the back alley near her window. She thinks mass autosuggestion was used on the drivers of vehicles in the area at the time. Veronica was taken by the occupants of the craft out her window and told she was being placed in a black limo. However the "limousine" took up 2 parking spaces & made a whooshing sound. On board the craft the aliens removed "eggs" informing her they were merely examining them. They also operated on her kidney leaving behind an "implant." Veronica had the impression that the aliens were human in appearance, but discovered they were actually the so-called "grays," possessing large baldheads and large wrap-around eyes, projecting the telepathic illusion of human appearance. While captive on the alien craft, Veronica was shown adult human bodies that had been "grown" from fetuses floating in liquid-filled tanks.
Source: Chris A Rutkowski, Abductions & Aliens What's really going on?
---
Date:   1985
Location:    Lake Chud, Nr Minsk, Belarus 
Time:   
Summary:   Aeroflot 8352 incident.
Source:  Spencer, John Wallace World Atlas of UFOs Smithmark, New York, 1992 
---
Date:   1985
Location:    UNKNOWN
Time:   
Summary:   Abduction, mindscan, emotional manipulation. When returned to bedroom nightgown on inside out. An abduction of a witness was reported. An abduction by aliens was reported by one female witness, age 23 (Layne, Patti). A grey being was seen.
Source:  Jacobs, David Michael Secret Life: Firsthand Accounts of UFO Abductions Simon & Schuster, New York, 1992
---
Date:   1985
Location:    New Jersey
Time:   
Summary:  Probe inserted vaginally, feels desire created to have a baby. An abduction of a witness was reported. An abduction by aliens was reported by one female witness, age 30 (Miller, Lynn).
Source:  Jacobs, David Michael Secret Life: Firsthand Accounts of UFO Abductions Simon & Schuster, New York, 1992
---
Date:   1985
Location:    Shah Alam, Malaysia 
Time:   
Summary:  Large silver ball flew zig-zagging through sky. An object was observed. It zig-zagged through the air. One silver ball was observed.
Source:  Jamaludin, Ahmad Centre for Malaysian UFO Studies Internet website
---
Date:   1985
Location:    Krasnovodsk District, Turkey 
Time:   
Summary:   Huge UFO at 20,000m altitude, stationary. Small disc 5m diameter flew out of huge object, landed at Krasnovodsk spit. Landed 5 times evading patrol boats. Shot up into space. An object was tracked by radar and sighted visually. One object, of huge size, was observed by military witnesses at a military facility (Valuev).
Source:  MUFON
---
Date:   1985
Location:    Perth, UK
Time:   
Summary:  Witness enveloped by sudden silence while walking across river bridge. Became aware of translucent object, 30-40 feet long, hovering only few yards in front of her, had porthole through which saw beings. One translucent circular object, about 40 feet across, about ten feet away, was observed by one female witness, an experienced observor, on a river (Humphreys, A). A masked sound was heard. A dwarf was seen.
Source:  Halliday, Ron UFO Scotland: The Secret History of Scotland's UFO Phenomenon BW Publishing, Edinburgh, 1998 
---
Date:   1985
Location:    Beeville E12M Hwy202, Texas
Time:    08:00 
Summary:  Rotating ball of light that looked like aluminum metal, disc shaped, descended in front of car. After pacing for one minute, passed directly over car. An object was observed from a car. One metallic disc, about 10 feet across, about twenty feet away, was observed by two female witnesses, one of them an experienced observor, at a military facility for over one minute (Nesloney). No sound was heard.
Source:  MUFON
---
Date:   1985
Location:    
Time:   
Summary:   
Source:  
Related articles