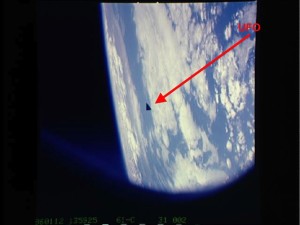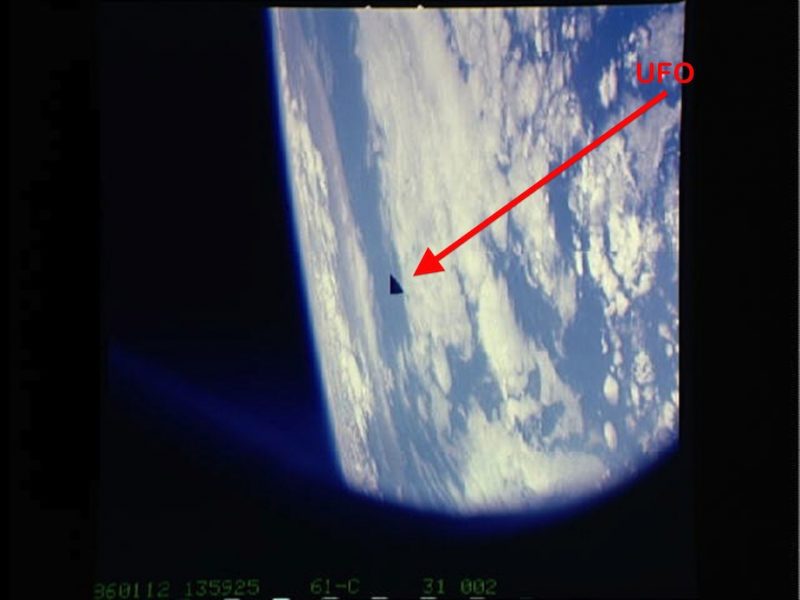 (Last Updated On: July 4, 2016)
Date: 1986
Location: Hudson Flordia
Time: 4am
Summary:  i was out for an early morning swim in my canal  i usually swim on my back so i can see the stars it was around 4am  i happen to notice a round shape craft with multi lights colors from the center of it  at first o thought it was a round blimp as i  got a hold of the dock at look at it it notice a storm was coming and this craft was just slowly moving into it and that when the water starting to vibrate, it was a fighter jet heading straight for the UFO and the craft shot into the clouds and it was a lighting show i never forget the fighter jet went after it into the clouds the UFO shot straight up out into space in a blink of an eye the fighter jet vanish then another fighter jet was coming very fast from the gulf and all i could see is it aborted away from those clouds. Ive seen this same UFO several time over the years.from what i seen this is nothing man made and there is no way a human can stop and take off that quick .
Source:
---
Date: 1986
Location: Near Padova Italy
Time: various
Summary: A strange creature, described as reptilian in appearance was seen by independent witnesses in the region. It was said to have been tall, greenish and with red luminous eyes. No other information.
Source:Prof. Sebastiano De Gennaro, USAC
---
Date: 1986
Location: Krasnodar, Russia
Time: various
Summary: The young female witness, Galina, had been unable to become pregnant and was very close to committing suicide. As she sat in her bathroom preparing a blade, a strange voice in her head told Galina: " What are you going to do? A brilliant future awaits you, you will have a son. Believe me and change your mind." Her first reaction was that she had been contacted b a spirit, but the voice then told her that he was a representative of an extraterrestrial civilization (planet and constellation name was given but this information was not recorded). From that time on, this alien "guardian" accompanied her all the time, in all situations and places. Later on she was able to physically see the alien. He was tall, 2.2 to 2.30 meters in height, eyes bigger than humans, slightly slanted; the arcs over the eyes were distinctly marked; eyelids were present. She saw neither eyebrows nor eyelashes. The head was covered with some type of white headgear. The skin was very white, resembling sour cream and covered by transparent hair follicles. He wore a white satin sleeveless jacket, very tight-fitting, with embroidery and a large shiny buckle. His countenance was striking. He showed a lot of nobility and sensitivity. He had large irises, large white pupils with a black center. The nose was not visible; he wore something resembling a respirator or mask made out of a white material. The face was more elongated than humans. The mouth was slightly visible through the mask; it was slit-like, like a fish. The hands were gray in color with very long fingers. (5 on each hand). Galina asked him once if his race was the only one present on Earth. The answer was a resounding no, that there were many other races present and there were many who wanted to control human affairs. His race had been visiting earth for six years. He also said that not all races were warm-blooded, that some were cold-blooded, or reptilian in nature. He also mentioned a fierce and aggressive race, of huge alien men, 4.5 to 5 meters in height, with red skin and cyclopean in nature. The contacts continued and additional data was obtained; he mentioned that they could not interfere in human affairs unless requested by the humans. A picture of the alien's home was shown to Galina. It was a cozy home with sharp pointed roofs, clear front garden, with numerous trees containing lilac-like flowers. In 1989 she received information that her guardian had returned to his planet that his watch was over.
Source:  Elena E Ustinova, N Prostosova, and Anton Anfalov
---
Date:  1986
Location:  
Time:  
Summary:  
Source:  
Location. Lee County South Carolina
Date: 1986
Time: unknown
George Plyler saw a bluish gray humanoid prowling around a wooded area. No other information.
Source: Mark Chorvinsky, Fate November 1989
---
Date:  1986
Location:  
Time:  
Summary:  
Source:  
Location. Near Mingus Mountain Arizona
Date: 1986
Time: unknown
A motorist passing by the summit of the mountain noticed some bright flashes of light on a side canyon. He stopped and left the car and proceeded to investigate. There he came upon a landed disc shaped object on the side of the canyon. Three humanoids were walking around the craft. One of the humanoids raised his hand in a gesture of greeting; at this point the witness ran back to his vehicle and sped away. The disc then followed him briefly, positioning itself in front of him, and then it departed at high speed.
Source: Tom Dongo, Alien Tide
---
Date:  1986
Location:  
Time:  
Summary:  
Source:  
Location. Cayey Puerto Rico
Date: 1986
Time: unknown
The main witness and her son heard the sound of water running outside. The son went outside to investigate and then shouted at her. He had seen a short white entity holding the water hose from which the water was running. As he watched the little being floated away and vanished. The main witness wasn't wearing her glasses and only saw a blurred white object.
Source: Karla Turner PhD, "Taken"
---
Date:  1986
Location:  
Time:  
Summary:  
Source:  
Location. Paraipaba, Brazil
Date: 1986
Time: unknown
A tall heavyset humanoid wearing a dark, tight fitting suit was seen entering a bullet shaped object on the ground. It then took off. No other information.
Source: GEPUC Brazil
---
Date:  1986
Location:  
Time:  
Summary:  
Source:  
Location. Hudson Valley New York
Date: 1986
Time: 0200A
Several days after seeing a huge boomerang shaped craft hovering over a field, the 16-year old witness was home sleeping when he suddenly woke up. He then noticed a 4-foot tall very slender figure standing in his room. He couldn't make out any features. There was also a bright light directly outside his room. He was completely paralyzed and naked, his body was suspended a few feet above the bed. He tried to scream but could not. The next thing that happened was that the figure walked to the side of the bed and the witness felt something very cold and extremely sharp enter his back, pushing its way into the spine. He felt no pain. The figure then walked back to the foot of the bed. There was a flash of light and it disappeared.
Source: CAUS
---
Date:  1986
Location:  
Time:  
Summary:  
Source:  
Location. Ulyanovsk Russia
Date: 1986
Time: morning
The witness was alone at home getting ready to go to work when someone rang his doorbell; he opened the door and was confronted by a seven-foot tall man, wearing a silver coverall and large boots. In a low gruff voice, the intruder told the witness that he was an "alien" and needed food. The witness gave him some groceries. The man left on foot carrying the items wrapped in old newspapers. The witness proceeded to his job but felt an urge to return home early, upon doing so he found his pantry ransacked, all the food items missing.
Source: Jacques Vallee, UFO Chronicles of The Soviet Union
---
Date:  1986
Location:  
Time:  
Summary:  
Source:  
Location. Near La Jolla California
Date: 1986
Time: evening
The witness, who at the time was wheelchair bound was resting alone in a beach near la Jolla when out of nowhere a large 100-foot long torpedo shaped craft approached and began hovering above him. The witness entered into a light trance and was somehow lifted into the hovering craft. He was then examined by several small humanoids with large heads and huge slanted eyes. He felt no fear. Later he found himself seated inside his van, his wheelchair neatly tucked away in the back. Incredibly, over the next few weeks his condition began to reverse itself until he was finally able to walk again with the help of a cane.
Source: Brad Steiger, Sherry Hansen Steiger The Rainbow Conspiracy
---
Date:  1986
Location:  
Time:  
Summary:  
Source:  
Location. Worsley, Manchester, England
Date: 1986
Time: evening
The main witness and a friend were standing in the backyard when all of the sudden a large round glowing red object descended overhead. His friend ran into the house frightened. The object hovered about 100 ft above the house emitting a slight humming sound. Through some large lighted portholes the main witness saw several tall thin man like figures looking out. These were described as having blond hair and wearing some kind of blue uniforms.
Source: UFO Sightings in the UK
---
Date:  1986
Location:  
Time:  
Summary:  
Source:  
Location. Brooklands England
Date: 1986
Time: evening
The 17-year-old witness was walking along a wooded path near the local technical college. He had walked a 3rd of the way along the path, when he decided to relieve himself against a tree. As he did so he looked back and saw someone coming from over the brow of the hill but continued on. He looked back again and noticed the figure had gained some 30 odd yards. He thought it must have been someone on a bike to travel that distance so quickly. He took one more glance and noticed that the figure had gained a lot of ground again. Still thinking that it was someone on a bike he walked back to the path and was confronted by a figure at least 8 ft tall, wearing a black Hessian style cloak with a hood over the face. The cloak reached the floor and was hung over the body in a triangular shaped fashion. It was now motionless as it stood 10 yards from the witness. The witness found himself almost drawn to it and took one step forward. He faced the figure for a few minutes; he then came to his senses turned around and gingerly jogged away without looking back.
Source: Fortean Times
---
Date:  1986
Location:  
Time:  
Summary:  
Source:  
Location. Fazenda Nossa Senhora de Gloria, Brazil
Date: 1986
Time: 1800
Jose Maria Resende had gone to a field in order to round up some of the farm animals when he noticed that the animals were in an extremely agitated state. Suddenly he saw a strange creature about 1.50meters in height, with yellow eyes, long hair, and large pointy ears and a snout-like nose. The humanoid wore a tight-fitting brown suit and boots of the same color. The creature pointed an object at Resende that apparently paralyzed him. The creature then began to gesticulate and to speak in an unknown language. After about 15 minutes of speaking incomprehensible words, it walked back into the brush and disappeared from sight. Soon after that Resende was able to move again. Around the same time at Joao Del Rei, a short man like figure was seen near a military installation.
Source: Revista Brasileira de Ufologia Type: E
---
Date:  1986
Location:  
Time:  
Summary:  
Source:  
Location. Piura, Peru
Date: 1986
Time: evening
The 8-year old witness, Renzo, was out playing in some woods when saw, not to far away a short hair covered creature wearing what appeared to be some type of helmet on his head. The creature moved in a strange sideways fashion and quickly entered a landed metallic diamond shaped craft that had been partially concealed by some brush. The craft remained on the ground for about 3 minutes and then lifted up and flew slowly above the trees. It emitted a very low buzzing sound. It quickly disappeared from view into the distance.
Source: Direct From witness
---
Date:  1986
Location:  
Time:  
Summary:  
Source:  
Location. Corona California
Date: 1986
Time: night
The witness saw several small beings that came to her bedside. They seemed to glide and move in graceful leaps. They had round eyes, no hair and were about four-feet tall with wrinkled foreheads. Another curious detail is that she noticed tiny sharp teeth in their mouths. No other information.
Source: Abductee Anonymous
---
Date:  1986
Location:  
Time:  
Summary:  
Source:  
Location. Pinellas County Florida
Date: 1986
Time: night
The witness was reading in bed when suddenly the bulb in his lamp began to dim. Thinking it was a bad bulb he turned it off and went to sleep. Still awake he then heard a noise in the kitchen. Upon investigating he found, much to his surprise, that the kitchen window above the sink was completely gone, even the blinds were missing. Only the window frame remained. Suddenly a small gray figure with a large head began climbing through the window. The witness ran to the front door and looked through the front screen door to see another short gray being standing there, he appeared to be guarding the door, standing there with his hands behind his back. The witness slammed the door and turned around looking for the other creature. Suddenly he felt a sharp pain behind his left ear and then blacked out. He woke up in his bed, lying on his left side and looking directly at a 3-foot tall white colored being. It had a large head with large coal black oval shaped eyes, no ears were visible, a small nose and a slit for a mouth. The being had a rectangular device on its chest with what appeared to be pockets and buttons on it. The witness sensed that this being was a female. He then attempted to kick at the creature but was unable to move, he also attempted to grab a knife from the night stand but was not able to either, as he was attempting to do it, everything went dark. Later he woke up and the beings were gone. All his electrical appliances were flashing, apparently due to a power failure.
Source: Florida Mufon News, Vol. 3 # 3
---
Date:  1986
Location:  
Time:  
Summary:  
Source:  
Location. Sao Joao Del Rei, Brazil
Date: 1986
Time: night
Soldier Ivanir Siqueira was patrolling the campgrounds, when at a secluded spot he noticed a crouching figure. Approaching it, the figure suddenly rose up to a height of 1.30meters in height. The humanoid had a relatively large head, a normal face and was wearing a transparent outfit and a close-fitting helmet. Terrified, Siqueira pointed his rifle at the creature, but suddenly the small humanoid stared fixedly at him and smiled. The witness then perceived that the visitor was friendly and meant no harm. He quickly walked away from the area and did not see the creature depart.
Source: Revista Brasileira de Ufologia
---
Date:  1986
Location:  
Time:  
Summary:  
Source:  
Location. Chicoutimi, Quebec, Canada
Date: 1986
Time: night
8-year old Karine suddenly woke up and it was dark and the house seemed very quiet. She heard the sounds of spiked heels coming from the kitchen, heading towards her bedroom. She tried to scream for help but no sound came from her mouth. She then saw a strange being, green in color, surrounded by an aura, apparently the shape of a man. The humanoid was about 5 ft tall, unclothed, and apparently having no sexual organs. His head was like a cone with a wide forehead. He had large eyes close to a small nose and a small mouth. He glided towards the witness and stopped about 5 ft from the bed. He looked at the witness and his lips started moving as if he was talking, but there was absolutely no sound. The figure suddenly left the room.
Source: GREPI
---
Date:  1986
Location:  
Time:  
Summary:  
Source:  
Location. Ferland Park, Quebec Canada
Date: 1986
Time: 2100
Approximately 10 individuals were inside a local bar, including the main witness (the waitress) when suddenly 2 persons dressed in black walked in. They were both 6 ft tall, of athletic built, wearing similar shoes. Their apparels were made of a superior material with very discrete lines of about 1/8 of an inch running down their clothes. They looked very much alike, like twin brothers. They sat at a table 20 ft away from the witnesses, asked for water, and stared at the group. They seemed to want to communicate to one of the witnesses (the waitress) that claim she used telepathy to ask them to leave her alone. After about 10 minutes the two strangers apparently left, however no one in the bar could recall seeing them leave.
Source: GREPI
---
Date:  1986
Location:  Hamakua Coast, Oahu, Hawaii
Time:   late night
Summary:  A local elderly resident, Mrs. Gomes that lived near a place called "Menehune Bridge" reported hearing chanting coming from outside her home. Going out she reportedly encountered several little men about 3 ft tall, wearing cloaks that glowed in the dark. The men had thick beards and the women long, beautiful black hair. Their bodies are perfectly formed. She reportedly gave the little people cookies. (These little men are reputed to have been the mythic "Menehune" of ancient Hawaiian tradition).
Source:  Hawaii Folklore & Legends
---
Date:  1986
Location:  Mafra, Santa Catarina, Brazil
Time:  2200
Summary:  After hearing undefined noises coming from outside in the front yard, a family of three including a 5-year old girl opened the door to see a terrifying sight. Her mother opened the wooden door and her father armed with a piece of wood peaked outside to see a bizarre creature standing no more than 4 meters from the front door. After seeing the look of terror on her parents the little girl ran to the door and also saw the creature, which years later she described as about 2.80m in height, man-shaped, with a pair of huge wings covering its back, shiny black in color. It had large pointed ears, and brilliant red triangular shaped eyes. It carried in one hand an object resembling a "trident". The little girl does not remember seeing a mouth or nose. The little girl screamed and the terrifying humanoid stared at her. Her mother then pulled her back from the door, not before she saw her stepfather fling the piece of wood at the creature, but before it reached the figure the piece of wood vanished in plain sight. The creature remained immobile. It then suddenly pulled what appeared to be some kind of cape over its body emitting something that the witness could now only describe as a "magnetic field" and vanished in front of the terrified family. They never spoke about the matter and her mother always prohibited any discussion about the encounter. Strangely soon after the encounter, her mother developed a fulminating type of cancer, which killed her in a very short time.
Source:  Portal UFO Genesis, Brazil (Relatos)
---
Date:  1986
Location:  
Time:  
Summary:  
Source:  
Related articles