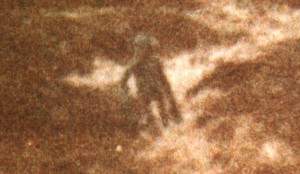 (Last Updated On: July 5, 2016)
Date: December 1987
Location:  Vaxholm Sweden
Time:  unknown
Summary:  Several figures wearing "frogman" type outfits were seen in the water by Swedish soldiers who were under orders to only shoot in self-defense. Later that month another witness in Braviken reported seeing a frogman riding a "water moped." One fisherman was so close that he tried to tear off the frogman's equipment with a boat hook. (Of Soviet origin?)
Source:   Fortean Times # 51
---
Date: December 1987
Location:  Morongo Valley, California
Time:  night
Summary:  A man was awakened by the sound of something going through the garbage can outside the camper where he was sleeping. Peering outside, he was startled to see an animal-like creature unlike any he'd seen before. It resembled a large, tan colored dog with a huge lion-like head. When it moved off, it reportedly hopped like a kangaroo.
Source:  Phillip L Rife, America's Nightmare Monsters
---
Date: December 1987
Location:  Aguas Nuevas, Spain
Time:  night
Summary:  Ivan Carcelen had just finished working out at the local school gym and was walking home when he noticed what appeared to be a very tall man looking at him from behind a nearby fence that ran parallel to the school. The huge figure was man-like and totally dark red in color and appeared not to be wearing any noticeable clothing. He could not see a mouth or nose but did notice two large green round eyes. The figure was at least 3 meters in height and had very long arms that came down below his knees. The being suddenly made an abrupt turn and began walking silently away, moving a pair of very strong looking legs very slowly. The witness attempted to yell for additional witnesses but there wasn't anyone around. When he looked again, the giant had disappeared.
Source:  Iker Jimenez, Enigmas sin Resolver II
---
Date: December 1, 1987: The Ilkley Moor Alien
---
Date: December 2 1987
Location:  Gulf Breeze Florida
Time:  0330A
Summary:  At 0300A Ed Walters had heard some strange voices that spoke Spanish. Thirty minutes later his dog started barking, he went to check the porch area and pulling a blind he saw a 4-foot tall being with large almond shaped eyes looking at him. The being wore some type of shield over its head, chest, and lower body and was holding a lighted rod in its right hand. The being turned around and ran towards a nearby open field. The witness was chasing the creature when he was suddenly struck by a blue beam of light, he was unable to move his legs and he fell to the ground, it felt as if the beam was holding him down. When he was finally able to move he ran back to the house and grabbed his camera and photographed a large bowl-shaped craft with darkened portholes and an illuminated orange ring on the bottom, he could also see the beam of blue light shining down on the ground.
Source:  Donald Ware, Walter Andrus, And Charles D Flannigan Mufon Journal # 239
---
Date: December 10 1987
Location: Nuremberg Germany
Time: 21:00
Summary: I have no idea if this was an alien abduction case or not, but i experienced missing time and displacement. It still haunts me to this day and i have no other ideas but to see what you all think. I was in the army at the time in germany, stationed at ferris barracks erlangen. I was in nuremberg one night when this all happened. One minute i was in a spielhalle the next minute the barracks light came on and my platoon sgt. Says pt formation in 15 minutes. My clothes were stacked in my locked wall locker, and i was really confused. I had 3 room mates and none of them heard me come in. The charge of quarters at the front door didn't recall me coming in. I remember the whole thing before and after the event vividly. But have no idea what happened to me. Please if you have any ideas as to what might have happened, please let me know. I don't know where else i can can turn with this. Thanks!
Source: NUFORC
---
Date: December 1987
Location:  
Time:  
Summary:  
Source:  
Location. Malvesi France
Date: December 12 1987
Time: 1050A
The witness had gone to a wooded area near the local uranium treatment plant to gather some firewood. As he looked at a pile of wood he was suddenly confronted by six beings that were standing by four smooth white "machines" resembling snow scooters. He approached the group and noticed they were short and "Asian" in appearance. Two were shorter and appeared to be feminine and all had brown skins. All wore dark one-piece combination suits and two had tight fitting hoods. He observed what appeared to be silvery hair on two of the beings. He spoke to the beings but all he heard was some very nasal mumbling sounds. One of the beings approached the witness squatted down and drew two symbols on the ground, at the same time he said, "Sky demon." The witness spoke for several more minutes with the beings. He was told by one of the beings that "he was of no interest to them, but a few humans are departing with us." A seventh similar being now appeared and spoke to the others in a nasal incomprehensible language. The beings now mounted the machines, which rose slightly and disappeared towards the nearby hill. The witness then heard a loud piercing sound and apparently lost consciousness for a short time. He recovered his senses and went home without any firewood.
Source: Denise Lacanal & Theodore Revel FSR Vol. 33 # 4
---
Date: December 1987
Location:  
Time:  
Summary:  
Source:  
Location. Lake of The Ozarks Missouri
Date: December 12 1987
Time: 2100
Moments after several huge oblong shaped objects were seen flying at a low altitude over the border at Eudora Kansas, a man that lived at the shore of the lake had stepped out to get some firewood and was looking across the lake when a cloud or mist descended over the area engulfing the top of the trees. He now could see three huge oblong shaped objects that suddenly stopped over the lake area, as the clouds thinned out he could see a row of lighted openings extending along the length of all three objects. The witness was stunned and felt unable to alert the others inside, the objects were dark green and appeared metallic. He then could see several human-like figures looking down at him from behind the windows. The figures had human shaped heads with larger than normal eyes. They stared down at the witness and appeared to be talking amongst each other. The witness was finally able to call the other witnesses and these were able to see the objects as they moved over the lake and disappeared form view.
Source: Bob Gribble, Mufon Journal # 254
---
Date: December 14 1987
Location:  Launceston, Tasmania
Time:  
Summary:  A man noticed lights behind his car, then later they passed over his car and landed on the road ahead. His car lights and engine failed. He stopped some fifteen meters from the object which he said looked like an egg, five to six metres wide and two meters high. He left the car and hid. The man said the car was then pulled some ten metres down the road towards the object. Another vehicle came the other way and its lights failed although the engine kept running. The object then rose and left.
Source:  TUFOIC
---
Date: December 15 1987
Location: Nafpaktos Greece
Time: 00:00
Summary: A fireball come from the sky I was a boy 13 years , i was with my father and an other man for hunting at the night. In nafpaktos Greece. We walk in a plain area the mountain are to the north we walk to the north and see around the area to find birds I look to the mountains up and see a very small light that come down from the top of the mountain i speak to my father and to the other my father see it and the other say it is an airplane but my father say no it is not i say that this time that was a star but nothing of this was this thing come like a bus slow down the speed an come bigger and red like fire with a tail from fire. This thing was big like a house and it was 400 m far from us my be more . My father take me at his neck to if i could see it more and i could see it until live .Sorry for my english. No sound we did not hear sound . I have not photos but i can drawing this thing if you want.
Source: National UFO Reporting Center
---
Date: December 16 1987
Location: Longue au Perche Orne France
Time: 0705A
Summary: A lone witness watched a luminous white rectangle of light flying at a low altitude over the area. Two human like figures of average height wearing greenish hooded outfits were seen inside the craft and apparently descended by using a ladder as the object briefly hovered.
Source: Denys Breysse, Project Becassine
---
Date: December 1987
Location:  
Time:  
Summary:  
Source:  
Location. Near Haslev Denmark
Date: December 23 1987
Time: near midnight
Two men traveling on a road watched a small humanoid figure suddenly cross the road ahead of them. The figure wore a short-sleeved shiny metallic outfit and appeared to be encased in a red glow. It disappeared in the direction of Haslev.
Source: UFO Nyt in Project Becassine
---
Date: December 1987
Location:  
Time:  
Summary:  
Source:  
Location. Regina Saskatchewan
Date: late December 1987
Time: late evening
A man named Nunzio was alone in his home during the evening and had decided to go to sleep early. In a "dream like" state he saw three small beings with slanted eyes standing by his bed and another waiting at his bedroom door. The beings were about 3 or 4 ft tall. No other details were remembered. Later, a metal object resembling a bone chip was removed from the witness's hand. (Possible implant?).
Source: Chris Rutkowski, Abductions & Aliens What's really going on?
---
Date:  late 1987
Location: Laguna Cartagena Lajas Puerto Rico
Time: night
Summary: As a result of numerous strange incidents in the area the six witnesses, all adult men were keeping watch on the lagoon one night. They were all standing by the shore when they heard a noise and saw some mud thrown up into the air. Then they all saw five little gray beings with large heads apparently floating on the surface of the lagoon. The frightened witnesses fled the area and did not returned.
Source:  Jorge Martin, Enigma # 58
---
Date: December 1987
Location:  
Time:  
Summary:  
Source:  
Related articles