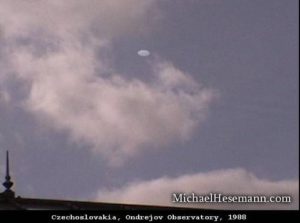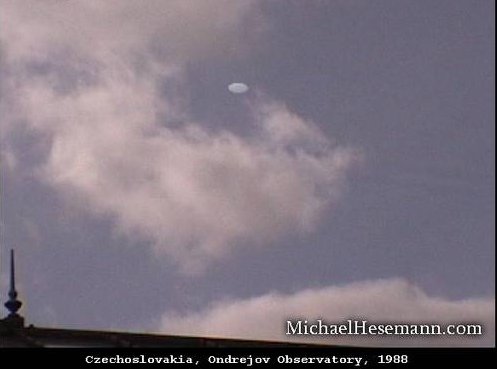 (Last Updated On: May 4, 2016)
Date:  August 1988
Location:   Near Vyatsky, Kama region, Russia
Time:  0300A
Summary:  A brigade of soldiers was in the area engaged in fishing and foraging when one night the brigade commander suddenly awoke feeling uneasy. After walking out of the camp and approaching the area where the launch was at the edge of the lake he felt someone looking at him and turned to see at about 50 meters away the silhouette of a giant figure about 2.8 meters in height with long dangling arms, a round head and no discernible neck. The witness felt terrified and was unable to move a muscle; he attempted to pull out his pistol but was unable to. The figure finally disappeared from sight. In the weeks that followed other men reported seeing a brilliant yellow sphere hovering above the forest.
Source: UFOZONE, Russia 
---
Date:  August 1988
Location:  Butler, Pennsylvania
Time:  early morning
Summary:  On a Sunday morning the witness was traveling on the road alone and had pulled up to a red light and was waiting for the light to change. As he did he saw a black limo pull up directly besides his car. As he looked over to the limo he noticed that the back window started to come down. He then saw two figures in the back seat. He then noticed that the limo started to pull forward although the light hadn't changed. He then saw one of the figures come closer to the back window that was down. As he did, the witness noticed that his skin was very pale in color and had a green cast to it. He was also wearing a black hat, suit and sunglasses. He then took off his glasses and the witness saw the strangest eyes he had ever seen. They looked reptilian in nature. The stranger then motioned for the witness to follow him. Terrified the witness drove quickly ahead of the limo and when he looked back he realized the limo was quickly approaching. He accelerated and then looked back again to see that the limo had now mysteriously disappeared.
Source:  David Icke Reptilian Research Network
---
Date:  August 1988
Location:  
Time:  
Summary:  
Source:  
Location. Cottonwood, Arizona
Date: August 1988
Time: 1600
The witness was sitting outside her home on a metal fold up chair smoking a cigarette when she heard a low thrumming sound that seemed to vibrate above her and inside of her. And then she saw three ships moving towards her in a V formation, as the ships came over her she could see that they were metallic black and segmented. As the ships hovered directly over her some sort of energy beam was sent down and enveloped her and immobilized her. She then saw two little blue beings beam down, one on her right the other on her left. They were very short, blue and she could vaguely see through them. The little beings did not communicate and just stood there, looking at the witness who felt total love and compassion coming from them. After about 30 seconds the little blue beings vanished and she felt a distinct change of vibration. The energy around her then disappeared and she was able to move again. She thought of the experience as totally positive.
Source: UFO Resource Center
---
Date:  August 1988
Location:  
Time:  
Summary:  
Source:  
Location. Miami Florida
Date: August 1988
Time: 2000
A couple watched from their living room window a tall humanoid figure that was entirely dressed in black, standing in front of their house. The figure was strongly built and was wearing a hood-like outfit over his head. The figure began walking slowly south and the husband jumped into his truck and began following it. The dark figure suddenly ran and turned the corner into a dead end street. The witness quickly drove behind it, thinking that it was now cornered but as he turned into the street the figure was nowhere in sight. It had nowhere to go but it had simply vanished.
Source: Personal Investigation
---
Date:  August 1988
Location:  
Time:  
Summary:  
Source:  
Location. Northern Minnesota, exact location not given
Date: August 1988
Time: night
The witness was in a wooded area when she watched a luminous object approach and hover above some nearby pine trees. The witness stood mesmerized as she began to hear her name being called over and over again. The next thing she remembers was being taken inside the object by several "little men" that wore one-piece jumpsuits with a belt around the waist. On the belt buckles they had a symbol resembling a "snake with wings." She was then sat down on a reclining chair and examined. Apparently the ufonauts were angry with her because she had tied her fallopian tubes.
Source: Brad Steiger, Sherry Hansen Steiger "Starborn"
---
Date:  August 1988
Location:  
Time:  
Summary:  
Source:  
Location. Tennessee exact location not given
Date: August 1988
Time: night
The witness woke up in her bedroom and was confronted by two short gray beings. She was paralyzed but felt calm by staring at their large hypnotic eyes. She was floated through the house and outside towards a large hovering silvery disc with revolving red, green, and yellow lights. She attempted to touch the object but one of the gray beings prevented her from doing so, telling her that it would be dangerous. An opening on the craft appeared and a tall blond handsome young man came out, he wore a tan jumpsuit. The witness was then somehow teleported inside the object. She was then placed in a black chair where the blond man "scanned" her visually apparently inducing a sensation of orgasm. The craft apparently began to move and through an oval shaped opening the witness saw what appeared to be stars. Four short gray beings then entered the room and gave the blond man a case. The blond man removed a glowing green sphere from the case and floated the witness to a nearby table, and then he placed the sphere on the witness stomach and moves it around in a circular fashion. She was told that she had been altered a little (genetically?) to fulfill a special purpose in the future.
Source: Karla Turner, PhD. "Taken"
---
Date: August 10 1988
Location: Outside Prohladnyi, Russia
Time: 1100A
Summary: Soviet radar military units in the north Caucasus detected an unidentified target in the area near the town of Prohladnyi in Kabardino-Balkar Republic. The object did not respond to all attempts of communication and was labeled as hostile. Air defense systems including surface to air missile batteries and Mig-25 Foxbat interceptors from Rostov and Krymsk were alerted and ordered to intercept and identify the UFO. The UFO was approaching from the south, just like a foreign military airplane or missile and the order was given to arm and use the weapons. A surface to air missile was launched that struck and downed the object over the Caucasian mountains. Search and rescue teams onboard a M1-8 Hip helicopter was dispatched and found the disk in the mountainous area near a ravine outside of Nizhniy Chegem. The object appeared lenticular in shape, resembling a cockleshell, 6.9 meters long and 3.0 meters high and had smashed into the rocky surface at tremendous speed creating a long gash on the ground. That together with the impact of the missile had damaged the disk extensively causing its original shape to be substantially deformed. The crash site was cordoned off and a special research team equipped with protection suits and dosimeters was dispatched to the scene. Radiation was detected coming from the crashed vehicle and precaution procedures were conducted, though some of the military personnel received high doses of radiation. The helicopter was used to evacuate the object and deliver it to Mozdok Air Base, which housed nuclear warheads and TU-95 Bear strategic bombers at that time. A team of military specialists arrived from Moscow and performed a preliminary examination of the downed vehicle. These included different branches of the military and several scientists from different branches. These included KGB and GRU who were used to cover up the operation. Upon examination of the object a partially opened door (like an elevator moving outside the hull) was discovered, and entry into the object was gained. The research team entered the object dressed in protective suits with oxygen containers. Inside the cabin together with simple smooth controls panels and other equipment, 3 aliens were found, lying on the cabin floor, 2 were dead and the third was giving obvious signs of life. The two dead aliens had apparently being killed on impact by falling equipment. The live alien had apparently been trying to leave the object and had opened the door, but did not succeed because of several wounds to its body and its state of disorientation. Unfortunately, medical attempts to save the entity failed and the surviving being died in a short period of time after it was extracted out of the wreckage. The beings were Dwarfs about 1.0-1.2 meters high, with white-grayish skin that appeared to be an outer covering, while the real skin under it was bluish-greenish and looked more like reptilian like in structure. The entities had large hairless heads, almost round large black eyes and (established during an autopsy) covered by eyelids. The hands had three webbed fingers. Further preservation of the dead aliens was secured in glassy containers in a top-secret underground bunker, isolated amid the forests under a building in the military biomedical research center east of Solnechnogorsk. From Mozdok the damaged disc was delivered to the territory of Kapustin Yar central range and placed into an underground bunker west of Ahryomkin. It is still there at present.
Source:  Anton Anfalov, Lenura Azizova and Alexander Mosolov
---
Date: August 12 1988
Location: Elliot Lee County, South Carolina
Time: unknown
Summary: A local man told police that he had seen something "not human", green and scaly running across a field by SC road 527. No other information.
Source: Mark Chorvinsky, Fate June 1990
---
Date: August 13 1988
Location: Hubei, Jiulongshan, China
Time: 1620
Summary: In a reforestation center 62-year old forester Huang Yongsheng had gone out to check on his herd of deer during a violent thunderstorm. As he opens the door he sees a dark shape (like dark lead), hovering 1 meter above the trees, at 120 meters away, it appears to be vibrating gently. The UFO lands in a clearing and begins to shine brightly, it then begins to swing back & forth, now the witness could see that the craft was shaped like a reversed bowl. Then two blood red beams of light come out of the object. One strikes the witness and at the same time his wife comes out and promptly faints. The beam become smaller and levitates the witness towards the object, which by now had become transparent and is about 5 meters in diameter. Inside the object he sees, 2 thin humanoids, with gray skin, mouse-like faces (?), pointed ears, very small beady eyes, pointed chins and very long arms. They have no visible noses or mouths. Both are wearing gray suits. The first one sat in front holding a lever. He has a calm demeanor almost euphoric in nature. The second humanoid seems to be operating a small box. He is apparently making the witness levitate. At this point Huang sees a screen in front of him and hears a voice in his head, the voice talks about cosmological concerns and the witness, who is illiterate, does not comprehend what is being told to him. He then sees pictures of planetary landscapes. Before returning to the ground he is told that they will return on August 20 and will give him an "initiation" lesson. When he returns back home, his wife is in bed and he realizes that he has been gone for two days. During the encounter the witness felt no fear and was completely at ease. For Huang it felt that only minutes had passed. On August 20 Huang journeys to the meeting point but is rebuffed by the aliens who tell him that he had broken his promise not to tell anyone.
Source: Liu Xiaoqiang, CURO, Francois Couten "Les Ovnis en Chine" Circulaire CIGU # 42
---
Date: August 13 1988
Location: Putnam County, New York
Time: night
Summary: On Upper Magnetic Mine Road, Harold Egeln and a friend were looking around when Harold's friend decided to meditate. Harold walked away and looked towards the nearby reservoir, he noticed what looked like large and glowing slanted green eyes in large, hairless heads, floating through the woods many yards out. There were five. He could not see their bodies, only their heads. Calling out to his friend, she saw them too and they stopped moving. Harold aimed his large flashlight, at which moment the immediate scenery changed, with branches in front them that were not there a split moment before. A barking black dog was getting closer to them, so they ran into their rented car. They rested there for over an hour only seeing a "parade" of raccoons crossing the road in front of them.
Source: S.P.A.C.E. Search Project for Aspects of Close Encounter
---
Date:  August 1988
Location:  
Time:  
Summary:  
Source:  
Location. Ruby Arizona
Date: August 14 1988
Time: 1330
Date: The witness had driven to an isolated area near this location, which is an old abandoned mining town and was engaged in taking pictures of ancient ruins when he suddenly heard a loud swishing sound followed by what resembled a sonic boom. Looking up he saw nothing, thinking it had been a low flying jet he walked down a dry wash and as he rounded a rock outcropping he saw a short "man" standing a short distance away at the edge of the wash. The figure looked directly at him and the witness quickly snapped a picture of the man, then the figure turned and ran quickly up the brush-covered hill. The witness gave chase but the little man quickly disappeared over the summit. The figure was described as short with light gray skin, large bulging eyes, a small thin mouth, and a rather large hairless head, it had small nostrils and a very long and broad chin. It had a slender built and his fingers appeared slightly longer than average. It wore a dark metallic loose fitting garment. The witness described the expression on the humanoid's face as "pleasant."
Source: UFONS # 234
---
Date:  August 1988
Location:  
Time:  
Summary:  
Source:  
Location. Lee County South Carolina
Date: August 15 1988
Time: 1930
A local woman informed officials that she had seen a humanoid, resembling a green scaly creature standing in front of her door. No other information.
Source: Mark Chorvinsky, Fate June 1990
---
Date:  August 1988
Location:  
Time:  
Summary:  
Source:  
Location. Near Nome Alaska
Date: August 24 1988
Time: 0300A
Several teenagers were driving on the Beltz Road outside of town when some of them noticed a strange glow in the car's rearview mirror. They turned around and drove towards the direction of the glow. As they got closer they noticed that within the greenish glow stood a short muscular little man with glowing red eyes. The little man began running very fast on the road and the witnesses began chasing it. The car passed by the little man and it seemed to veer into the center of the road apparently being run over by the car. No sound of impact was heard, as the entity seemed to flatten out and vanish. Frightened the witnesses drove back into town and collected more witnesses. Upon returning, the short figure was seen standing on the side of the road. The figure then began to change colors from green to silver. At one point several of the witnesses chased the figure on foot, but it stopped and turned and began chasing the witnesses who ran back into their vehicle and left.
Source: Mark Chorvinsky, Fate Vol. 43 # 11
---
Date:  August 1988
Location:  
Time:  
Summary:  
Source:  
Location. Mar Del Plata, Argentina
Date: August 25 1988
Time: afternoon
Several independent witnesses, mostly juveniles reported seeing small green humanoid figures in the area. Omar Amur reported seeing a figure about 60 cm tall standing next to his window. Other students reported seeing two "dwarfs" in the school bathroom that ran away upon being seen. Another youngster reported seeing two Dwarfs one red the other green next to abandoned wood house. They were about 60 cm in height, they appeared to be looking at the house. Another child saw two little men walking in a field that appeared to be talking among themselves. Another student saw a little men in the bathroom, green colored with little horns on its head and blue fingernails.
Source: Fabio Picasso
---
Date:  August 1988
Location:  
Time:  
Summary:  
Source:  
Location. San Diego California
Date: August 25 1988
Time: 0130A
Gerardo Vazquez was walking along an isolated area of the city when he noticed a strange maneuvering light over the area. The light quickly shot away, flaring up like an explosion. Vazquez then felt the hairs on the back of his neck rise and felt something behind him. Turning around at first he did not see anything but then saw about 100 feet away a hovering craft. The craft was a round disc about 40 feet in diameter, it had a squared off top with a row of windows around it, the windows appeared very thick but he noticed a dim yellow light coming from inside. There was also a row of lights around the middle of the craft and it had 4 round bubbles like objects protruding from the bottom. The object hovered about 6 feet from the ground, it appeared to have some type of cloaking effect around it, since part of it appeared to be transparent or invisible. Vazquez grabbed a rock and approached the object, but then noticed several dark humanoid shapes suddenly appear at the object's windows. At that point the object seem to emit some type of heat wave or ripple effect and begun to turn invisible. It then disappeared, apparently shooting up into the clouds at high speed.
Source: UFO Sightings in New Mexico and The World
---
Date:  August 25 1988
Location:  Nome Alaska
Time:  0230A
Summary:  Several witnesses in a three-car contingent spotted a glowing green colored little man that stood in the middle of the roadway. One of the vehicles reportedly ran over the little man but without any apparent effect. Quoting one of the witnesses "It ran through him." This entity resembled others seen in the area. (The entity was sometimes compared by some of the witnesses to a holographic image.)
Source:  Mark Chorvinsky, Fate Vol. 43 # 11
Location. 
Date: August 25 1988
Time: 
Source: 
---
Date:  August 1988
Location:  
Time:  
Summary:  
Source:  
Location. Near Nome Alaska
Date: August 26 1988
Time: 0230A
Another group of witnesses encountered three glowing green little men on the roadway. One of the entities changed color from greenish to silver, one remained green, and the third changed colors to black. A blue-green glow was seen to remain around all three of the little men. The entities apparently changed colors three times during the encounter.
Source: Mark Chorvinsky, Fate Vol. 43 # 11
---
Date:  August 1988
Location:  
Time:  
Summary:  
Source:  
Location. Near Nome Alaska
Date: August 26 1988
Time: 0230
That same night a number of people gathered on the Beltz Road just outside of town sighted three glowing little men standing on the side of the road. One was silver in color, one black and the other blue-green in color. They all had a green glow around them.
Source: Mark Chorvinsky, Fate Vol. 43 # 11
---
Date:  August 1988
Location:  
Time:  
Summary:  
Source:  
Location. Nome Alaska
Date: August 27 1988
Time: 0200A
Several witnesses gathered on the Beltz Road saw two little glowing green men with red eyes that "seemed to dance in the middle of the road." Witnesses who approached the entities reportedly heard a whistling or hissing sound.
Source: Mark Chorvinsky, Fate Vol. 43 # 11
---
Date:  August 1988
Location:  
Time:  
Summary:  
Source:  
Location. Near Trilport France
Date: August 28 1988
Time: night
Two witnesses driving along the outskirts of town came to a sudden stop when they noticed a bright light ahead on the roadway. They then noticed a bright white dome-shaped light apparently on the ground. In front of the light stood a huge 3-meter tall dark humanoid figure, which apparently lacked arms and was not moving. The witnesses noted an eerie total silence. They then apparently drove away from the area. Ground traces were reportedly found the next day.
Source: Denys Breysse, Project Becassine
---
Date:  August 28 1988
Location:  Near Scape Ore Swamp, South Carolina
Time:  night
Summary:  An Army Colonel driving on McDuffy Road saw a creature described as a small bipedal "dinosaur" run across the road in front of his car.
Source:  Mark Chorvinsky, Fate June 1990
---
Date:  August 29 1988
Location:  The Netherlands, exact location not given
Time:  1630
Summary:  The witness was outside weeding her garden when she suddenly had the feeling that someone was standing behind her. She looked around and saw a figure standing about one meter away. The figure had a penetrating gaze, was very tall, and was wearing a shining white garment. The figure stood there for a few moments and the suddenly vanished.
Source:  Dr. HC Moolenburgh, Meetings with Angels
---
Date:  August 1988
Location:  
Time:  
Summary:  
Source:  
Related articles