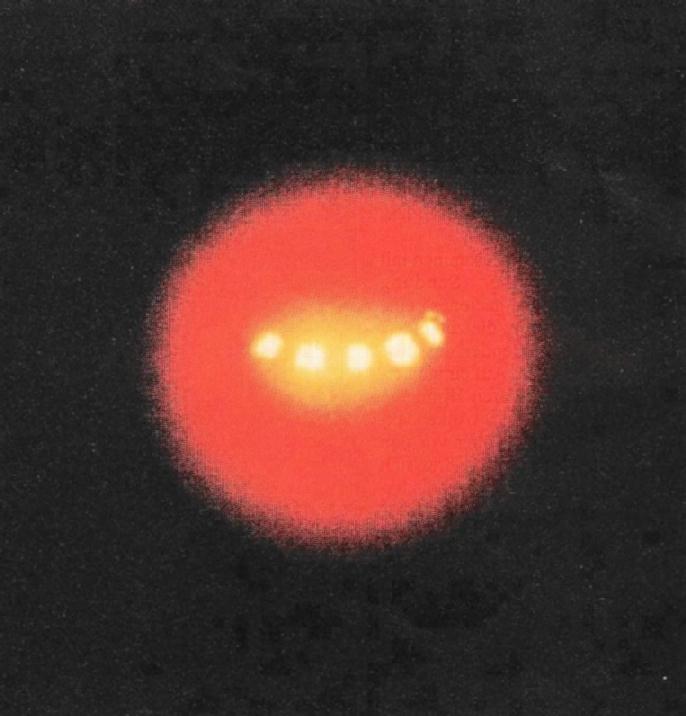 (Last Updated On: December 19, 2016)
THINK ABOUTIT SIGHTING REPORT
Date:  June 30 1988
Sighting Time:  
Day/Night:  Night
Location: Chennai City Madras India
Urban or Rural: – 
No. of Entity('s):  
Entity Type:  
Entity Description:  
Hynek Classification:  CE-I (Close Encounter I) Observation of an object in close proximity to the witness (i.e. within 500')
Duration:  
No. of Object(s):  1
Height & Speed:  
Size of Object(s):  
Distance to Object(s):  
Shape of Object(s):  sharp oval shape
Color/Description of Object(s):  began to change in waves of pink,yellow,orange,red…. it appeared that it was emerging from the bottom of the craft , perhaps from a single light point having the characteristics of changing its color like a chameleon.
Number of Witnesses:  1
Source:  National UFO Reporting Center
Summary/Description:  05.04.02 On a pleasant evening it was still sunny, the sun was on its way to say goodbye for the day – it was during the end of summer – (CHENNAI, a Sea port city, in the South of INDIA , usually enjoys SUMMER and PEAK SUMMER. The rainy season is during monsoon around oct /nov.)
My first sighting was certainly not during the rainy season. I was a bachelor then and as usual I entered my hostel room and opened all the windows and went on to remove my shoes and all most at once the windows slammed crazily with a sudden gust of wind and simultaneously it became dark , I came on to the balcony and scanned the sky and to my surprise the sky which was so clear hardly 5 min before had turned into inky blue, but only to a limited area. Above the dark clouds I saw a flash of red light and thought that it was an aircraft perhaps going to land. Then all of a sudden I noticed that the moving light was not flickering and that it had already come to a stand still . My mind was trying to figure out 'is that a chopper, no chance if it was one then the sound of the chopping blades should be audible.
( from the time of the sudden slamming of the window my mind was strangely working on the UFO lines) Then I saw that the RED light had changed to ORANGE and as well grew larger in diameter – I should say it was almost having a sharp oval shape. Now the colors began to change in waves of pink,yellow,orange,red…. it appeared that it was emerging from the bottom of the craft , perhaps from a single light point having the characteristics of changing its color like a chameleon.
The light flowed from that point and simultaneously increased the sharp oval diameter and as well as the luminosity. I knew that I need a witness now and therefore dashed to the next room and found one of the inmates and forced him out to have a look at the unbelievable phenomenon. He gaped at it for a while and then asked me what it was and went on to say whether it is a plane or a helicopter. I asked him to observe as keen as possible with out diverting the concentration.
Then the craft began to HOVER so very slowly and majestically with all its splendor and glory circling elliptically and moving in our direction and stopped again , then after a moment it started to move fast in a straight line parallel to the Earth's surface maintaining the height perhaps around the height of a 6 to10 story building (we were on the 2nd floor) . Then the light which was so wide spread , shrunk back to its point of origin , the mid point of the bottom of the craft and then it zipped into nothingness perhaps changed into another dimension?????
CHAPTER : II The story of this sighting went around and finally surfaced a couple of days later when there was a gathering of the hostel mates around 10 pm and the location was an open balcony on the II floor of the building. The entire group which was all set to make fun of me on the subject of UFO , began to do so by countering every detail which I was providing them,emphasizing that what I saw, (which was as well witnessed by the next room mate ) was an UFO and not an imagination. Even the witness kept tight lipped during the entire course. And as the commotion got heated up, I said that someday I will show them what I had seen and that could happen even today , saying so I look up into the sky, My God , I saw the craft circling almost above us, the sky was so clear and almost above that UFO was the bright full moon , it was like a heavenly spotlight focusing on the UFO.
What more do I need , it was My turn to bully them and asked them what on earth they were seeing , each one began saying that it was an airplane, a helicopter etc but then finally they realized that what so ever they were seeing was unexplainable .An UFO????
CHAPTER III There after for over a period of more than an year and a half , I used to see the UFO frequenting the Chennai sky (Madras sky). During most of my sightings, I observed that the UFOs would be coming from the direction of the airport towards the sea coast, to be more specific that was the landing route of most of the aircraft . Most of the time these UFOs were moving very lazily stopping here and there and when once they reach the coast line they would fly parallel to the coast towards the nearby rocket launching station. On two occasion I saw the UFO chasing an aircraft almost zipping from far behind and on reaching the top of the aircraft it used cut down the speed almost at once effortlessly and then travel along with the speed of the air craft . Am sure that these UFOs will be seen everyday in the Chennai skys, but when I realized that I was going nowhere by simply observing them, I gave up sky watching. Am willing to answer any specific questions on the above sightings which could help the science of UFOs. Regards ((name deleted))
Related articles