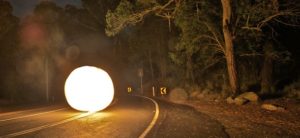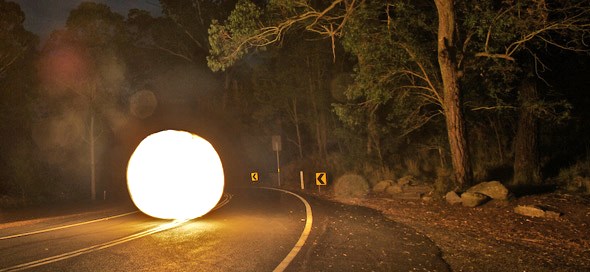 (Last Updated On: July 6, 2016)
Date: Winter 1988
Location: west of Vanderhoof British Columbia
Time:
Summary: one 3 dimensional rectangular shape red and partially transparent the size of a football field in sky ufo: approximately 200 ft in air motionless
Source:
---
Date:  Winter 1988
Location:  El Dique Los Alazanes, Argentina
Time:  daytime
Summary:  During a spate of wildfires in the area and on numerous occasions local firefighters sighted a strange man-like figure that did not answer their calls and moved at very high speed never letting anyone approach him. This being ran at very high speed among the burning foliage and was able to make prodigious jumps and athletic feats. No footprints were ever found.
Source:  Alejandro Cesar Agostinelli, Año Cero 1992
---
Date:  Winter 1988
Location:  
Time:  
Summary:  
Source:  
Location. Montauk Point, Long Island New York
Date: Winter 1988
Time: night
Several witnesses were out walking in the woods one night when they noticed a jumble of multicolored lights shining through the trees. Curious they moved towards it and parted the branches. They then saw a creature at least 3 meters in height meandering around a field. They could only make out its shape not its features, since it was covered or made out of some kind of orange and yellow neon fluid. There were no eye sockets or mouth that they could see. Suddenly the creature stopped in its tracks, as if detecting something. It then let out a wail that sounded like a combination of air raid siren and grating metal. The bizarre creature then headed towards the witnesses and "they ran like hell from the area." As they ran away from the area they noticed that as the creature passed by several power poles they seemed to spark up.
Source: The Unexplained
---
Date:  December 1988
Location:  
Time:  
Summary:  
Source:  
Location. Dalnegorsk, Russia
Date: early December 1988
Time: evening
After her children had gone off to a local store the female was alone at home when the doorbell rang. When she opened the door, two figures somewhat resembling her children but wearing silvery scaly overalls entered the house. The terrified witness stepped back and watched the strangers approached the window and suddenly disappear in plain sight. After the incident the television set acted strangely sometimes displaying black and white screens and refusing to operate.
Source: UFOZONE Russia
---
Date:  December 1988
Location:  
Time:  
Summary:  
Source:  
Location. Outside Mexico City, Mexico
Date: December 1988
Time: early morning
A man named "Pedro" and a friend had gone to play an early morning game of tennis at the clay courts facing a large auto assembly plant on the outskirts of the city. While waiting for other colleagues to join them, the two men suddenly felt that "the sun was rising behind them." Turning around they were astonished to see a descending circular vehicle that radiated formidable amounts of white light, illuminating the entire area. The saucer shaped craft touched down on a nearby field. Pedro and his companion forced themselves to remain and see what further incredible developments would occur. Their courage and patience was rewarded as they saw two creatures, clad in tight fitting gray outfits and standing about four ft tall. Pedro indicated that their heads were of normal proportions, with small mouths and noses and slanted eyes. After some 20 minutes the short humanoids returned to their craft, which rose into the air and disappeared. Later Pedro was gripped by unexplained seizures and was taken to a medical facility. Later a psychiatrist sent him to a mental health facility. Thanks to the other witness he was later released from the facility.
Source: Luis Ramirez Reyes
---
Date:  December 1988
Location:  
Time:  
Summary:  
Source:  
Location. Honolulu Hawaii
Date: December 1988
Time: 1400
Norma Joiner was vacuuming her living room when she began to feel very sleepy. She then decided to take a nap on the couch. She seemed to have fallen into a deep sleep right away but somehow felt a presence in the room with her. In a sort of altered state she "saw' herself asleep and at the same time she was wide awake. She heard a sound and turned her head to see a small dog playing with her 2 birds on the floor. The dog seemed friendly and his tail was wagging. She then heard "voices" and saw two persons standing in back of the dog, talking to each other. They were dressed in brown robes with hoods that came forward and covered their faces. They began to glide over the carpet past the couch. Joiner tried to get their attention but she could not make a sound. The dog followed them as they glided right through the front door. She was "awake" immediately and got a very strong sense that they had been there, the birds were still on the floor.
Source: Aliens and UFOs among us
---
Date:  December 1988
Location:  
Time:  
Summary:  
Source:  
Location. Rio Piedras Puerto Rico
Date: December 1988
Time: 2215
The witness was lying in bed watching TV with her husband when she suddenly felt a strong buzzing sound in her head. Her husband fell asleep and the witness now saw several small bright balls of light enter through her window. The balls seemed to chase her around her bedroom. She suddenly found herself in an arid rocky place near the ocean. On a field nearby she saw a silvery circular object with a dome on top. Two short humanoids now approached the witness. These were about 4-foot tall, with large egg shaped heads and huge black almond shaped eyes. Their skin was gray white and they had long thin arms and fingers. As the beings approached, the witness could now see that one of them had a "bundle" in his arms. The "bundle" turned out to be a semi human baby. It was more human than alien and appeared to be a beautiful girl with grayish skin and a lightly larger head than normal. They would not let the witness touch the baby. The witness felt a sense of happiness from the humanoids as a result of them having the baby. The witness feels that the baby was indeed a copy of herself.
Source: Jorge Martin, Enigma # 37
---
Date:  December 1988
Location:  
Time:  
Summary:  
Source:  
Location. Torre Orsaia, Salerno, Italy
Date: December 1988
Time: night
A farmer spotted in a field a huge 2-meter tall greenish scaly humanoid, with serpent like eyes that ran towards him. Terrified the witness fled the area and notified local police. The same or similar creature was seen at various locations in the area.
Source: Ovni Domus, Italy
---
Date:  December 1988
Location:  
Time:  
Summary:  
Source:  
Location. Lomagna, Como, Italy
Date: December 1988
Time: late night
A security guard patrolling a road in the area spotted a tall scaly greenish creature standing on the side of the road. As he approached it, the creature quickly scurried away and disappeared into some woods. No other information. (Apparently a scaly reptilian creature was also on the loose in Italy as well as in South Carolina).
Source: Ovni Domus, Italy
---
Date:  December 26 1988
Location:  Chatsworth California
Time:  late night
Summary:  The witness was sleeping with a friend when some time in the middle of the night, she awoke, puzzled, because she was lying on her side, since she always slept on her back. The alarm clock then started ticking unusually loud almost making the bed vibrate. She tried to get up and yell at her friend but she could not move at all. As she struggled to move something with long fingernails grabbed her ankle, making it hurt. She attempted to scream but still could not; suddenly whatever was holding her ankle released it. She was finally able to move then saw a small ghostly white figure that appeared to shrink and then fly out the window. She noticed a bright light coming in through the window and when she looked outside she was a luminous round object lift up and disappeared into the sky.
Source:  Preston Dennett, UFO Universe Spring 1992
---
Date: December 27 1988
Location: Dobrich, Bulgaria
Time: evening
Summary: 84-year old Dochka Chaprazova and her 11-year old granddaughter were surprised by a series of vigorous blows on the walls and furniture of their house. During this period of bizarre poltergeist like phenomena, the mother named Stefanka encountered a tall figure standing on their porch. It resembled "something like a very tall black clothed man, with his head, as if cone-shaped touching the ceiling". The "phantom" stood at the same spot for a few seconds before vanishing in plain sight of the witness.
Source: Miroslav Minchev, Bulgaria

---
Date:  December 1988
Location:  
Time:  
Summary:  
Source:  
Related articles