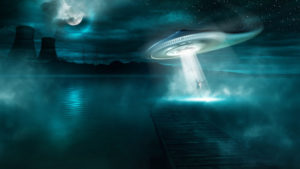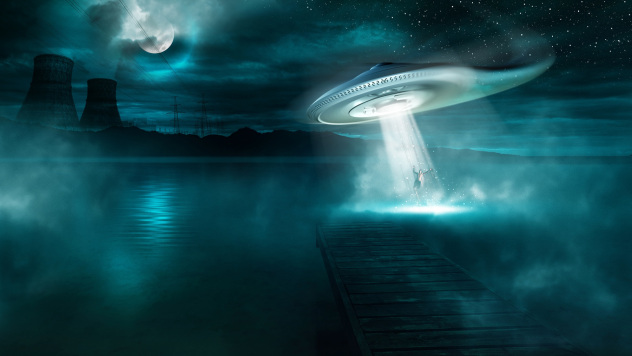 (Last Updated On: March 28, 2017)
Date:  Summer 1988
Location:  Little North River, near Aberdeen Washington
Time:  afternoon
Summary:  A 12-year old boy, fishing for crayfish on a small creek, having arrived at the site by motorcycle, looked up to see a white "Sasquatch" with a 'pot" belly, bloodshot blue eyes, a pink complexion, a wide, flat pink nose, and buckteeth hunkering and looking at him from the opposite bank, approximately 20′ or less away. He thought at first that it was an "alien". He described the hair as mostly white, very white from the chin down to the chest and belly, gray on the head, shoulders, arms and back and gray from the knees on down. He estimated its height to be over 6'. As the witness attempted to flee the area, the creature also departed down the creek bed, showing a pronounced limp. Later on the boy and his father found footprints in the area.
Source:  Norka of Ohio
---
Date:  Summer 1988
Location:  Lake Elsinore California
Time:  late night
Summary:  The witness had gotten up to look out her window when she saw several maneuvering star-like lights. The lights came closer to the witness location that then began feeling a tingling sensation. She felt as if she was being pulled out of her body. She began screaming and attempted to wake her husband, at this point she began losing consciousness. Her next recollection was in being in some type of compound with several one-story buildings, huge yellow lights shone over the area. Several tall humanoid female aliens appeared to be in charge of the location. At one point a little girl that appeared to be a human-alien hybrid approached her. The girl briefly spoke to her. She woke up the next morning in her bed next to her husband.
Source:  Linda Biafore letter, UFO & Paranormal Perceptions summer 1994
---
Date:  
Location:  
Time:  
Summary:  
Source:  
Location. El Yunque, Puerto Rico
Date: Summer 1988
Time: 0300A
The witness, who was participating in a survivalist camping trip was returning down to the camp site late at night when he saw about 60 feet away a cluster of multi colored lights floating over the ground. Suddenly the lights floated behind a rock. There was a sudden flash then a tall man stepped from behind the rock. The man was about six-foot two inches tall with long blond-whitish hair, he wore a white outfit. At this point the witness felt paralyzed and could not move and began crying. The being walked towards him and told him to stop crying that he was here in a peace mission. The being then knelt down and began drawing symbols on the ground, resembling a circle with a triangle inside and a human figure within the triangle. The being then walked away and disappeared behind the rock. At this point the witness was able to move again.
Source: Jorge Martin, Enigma # 52 & 53
---
Date:  
Location:  
Time:  
Summary:  
Source:  
Location. Ingen Norway
Date: Summer 1988
Time: 1700
An observer saw a hovering metallic oval shaped object encircled with bright blinking lights. It hovered silently at about rooftop level. A bright rectangular window could be seen. On top of the object there appeared to be an opening, and a slightly luminous humanoid figure with a round head or helmet was seen looking out. It saw the witness and apparently waved at her. After a few moments the craft flew away.
Source: UFO Norge
---
Date:  
Location:  
Time:  
Summary:  
Source:  
Location. Glenmalure Valley Ireland
Date: Summer 1988
Time: evening
The main witness and a friend who were staying in an isolated country area with their families had gone out for a walk and a cigarette. Some distance down the road both men stopped dead in their tracks when they looked into a field besides the road. With the faint light of some nearby farmhouses they could make out a large, dark disc sitting in the field, quite close to the gate beside them. Both men became terrified as lights began to flash all over the object; they ran back to their home. The next evening several others joined the two men for a walk past the same field. As they neared the field, they all noticed a small figure in overalls at the top of a telephone pole, examining the apparatus closely. They all walked by and suddenly stopped, realizing the diminutive stature of the stranger and the fact that it was a holiday and they were miles from any telephone office or depot. They all turned around but the small man had already vanished, and could not be seen either hiding in the hedge or crossing the open field.
Source: Irish UFO ET Paranormal Research Association
---
Date:  
Location:  
Time:  
Summary:  
Source:  
Location. Wellington Ohio
Date: Summer 1988
Time: late night
The witness, who lived at the edge of a wooded area, remembered waking up late one night feeling groggy. He tried to get out of bed but could not move at all. He was frightened and tried to yell, but no sound came out. At his feet he saw two short wide figures. They seemed to be little men wearing hoods. He attempted to scream again but nothing came out. He then looked to his left and saw a taller figure with big black eyes. It seemed to stretch it neck towards him and smile or open his mouth. The witness closed his eyes and tried to scream. At that same moment, he seemed to snap out of his stupor. He opened his eyes and sat up. The creatures were gone, but terrified he sprang up and ran to his parent's room.
Source: UFOs and Aliens Among us
---
Date:  
Location:  
Time:  
Summary:  
Source:  
Location. Delaware, exact location not given
Date: Summer 1988
Time: late night
The witness was lying in bed staring at the ceiling when she suddenly heard a voice in her head telling her not to worry that she would be okay. "That she was not strong enough." She then fell asleep. Hours later she woke up and realized that she was floating near the ceiling, next thing she knew she was standing in a very bright room. Then she lay on a metal table while several beings stood around her looking down on her. The beings were described as light gray in color with huge dark eyes, hairless and with tapering heads. Suddenly she found herself back in her bedroom, still floating, she then crashed back into her bed.
Source: Carl Nagaitis, Phillip Mantle, Without Consent
---
Date:  
Location:  
Time:  
Summary:  
Source:  
Location. Kharkov, Ukraine
Date: Summer 1988
Time: late night
Irina Subbotina (involved in a previous encounter in January) was alone at her home and retired for the day when she felt a presence in her house. Going to the living room she noticed that the balcony door was opened and next to the balcony there was a table with five identical men sitting around it. The men were tall, resembling ancient Vikings, with long blond-white hair and beards, naked torsos and wearing animal skin slacks. They wore some type of bandana on their hair. Upon seeing her four of the men rose and approached her. They took her by her hand then carried her towards the balcony. Terrified she was unable to move but was suddenly able to emit a loud yell, at that moment the men disappeared and she was placed gently on the floor.
Source: UFO Ukraine
---
Date:  
Location:  
Time:  
Summary:  
Source:  
Location. Sierra Bermeja Puerto Rico
Date: June 1988 Time: late night
The witness was trying to fall asleep but could not because of the heat. He went to the living room and then saw a flash of light outside and heard a loud buzzing sound. Moments later there was a knock at the window, he opened the window and saw three small humanoids, described as 4-foot tall, with large pear shaped heads, pale gray skin, big black slanted eyes and a slit for a mouth. They had acne like bumps on their skin and their arms were longer than normal, all were dressed in tight fitting sandy colored one-piece suits. Two of them took the witness by his hand and walked him to a nearby landed disc shaped craft with a dome with windows on top and multicolored lights around the rim. There was an opening on its underside from which a long stairway came down, he was invited inside where he saw more little humanoids and many panels and machines with multi colored lights. He was introduced to a taller more human looking being, that was dressed in white and told the witness that he was the leader. The witness was then taken to an underground facility on a nearby mountain where he saw numerous barrack style structures and many other craft. He was eventually taken back home and was told that someday they will see him again.
Source: Jorge Martin, Alien Update
---
Date:  
Location:  
Time:  
Summary:  
Source:  
Location. Near Spalding South Australia
Date: June 1988
Time: late night
The witness who lives in a remote farm saw a red light descend and hover above some nearby trees. Later the witness was in the house when he was alerted by the dogs going berserk. Going out the back door he saw a round shiny silvery object on the ground below a clump of trees supported by several metallic struts. He ran into the house and found a flashlight but it would not work. He then slumped into a lounge chair and waited, suddenly he heard footsteps that sounded as if someone was walking on plastic. The lights of the house suddenly flickered on and the witness saw a blurred figure in the hallway. He then went to the front door and saw the dogs barking at something behind some trees. He then apparently blacked out. Ground traces were found on the ground by the clump of trees.
Source: John Clamp, FSR Vol. 36 # 3
---
Date:  June 3 1988
Location: Near Narbonne, France
Time: 2235
Summary: A man riding his moped between two villages slowed down when he saw standing on the side of the road two pairs of short one meter tall humanoids with slightly larger than normal egg shaped heads and large almond shaped eyes. The beings wore blue one-piece outfits with helmets and appeared to be talking among themselves in an unknown language. Moments later all four of them walked into the bushes and disappeared from sight.
Source: Denys Breysse, Project Becassine
---
Date:  
Location:  
Time:  
Summary:  
Source:  
Location. Bridger Teton National Forest Idaho
Date: June 11 1988
Time: 1945
The witness was riding her pony accompanied by her dog in a wooded area when her last memory was passing an abandoned campsite. Her next recollection was sitting on the horse with her dog besides her but at a completely different location on the other side of the forest near a swamp. Later after finding her way back to her campsite she recalled being taken onboard a large oblong shaped craft along with her horse and dog. Inside she was met by very tall beings with a beautiful green skin; there were seven of them. They had long narrow heads with wispy reddish hair on top that stood straight up. They had long pointed chins, small delicate noses, no mouths or ears and tiny dark slanted eyes. They communicated by using telepathy. They all wore plain long white robes with three quarter length sleeves that came up to just below the elbow; they also wore dark colored boots without laces. The witness recalled being seated in a white round fitted chair next to a stainless steel table. She saw various instruments and other rooms including two where her dog and pony were being examined. The beings apparently argued among themselves if the witness should be used for "breeding" purposes. She was eventually released.
Source: Alice Bryant, Linda Seebach Healing Shattered Reality
---
Date:  
Location:  
Time:  
Summary:  
Source:  
Location. Scape Ore Swamp South Carolina
Date: 3rd week of June 1988
Time: unknown
Summary: Two men drawing water from an artesian well by a bridge leading to the swamp reported seeing a huge scaly humanoid creature jump out of the woods and run towards them. It reportedly had large glowing red eyes.
Source: Mark Opsasnick, Mark Chorvinsky
---
Date:  
Location:  
Time:  
Summary:  
Source:  
 Location. Scape Ore Swamp South Carolina
Date: June 20 1988
Time: 0200A
Summary: The witness had stopped on Brownstown Road to change a flat tire when suddenly a seven foot tall, green colored, scaly creature with glowing red eyes began running towards him on two legs from an adjacent field about 30 yards away. The witness jumped into the car and sped away but the creature caught up with him, grabbed the door handle, and then jumped on the roof of the car. The witness was able to see that the creature had three fingers on each hand and long black fingernails.
Source: Mark Opsasnick, Mark Chorvinsky, Strange Magazine # 3
---
Date:  
Location:  
Time:  
Summary:  
Source:  
 Location. Brownstown South Carolina
Date: June 22 1988
Time: night
Summary: Joseph Thomas heard noises outside his house and upon investigating, saw a tall green scaly humanoid, or a "Lizardman" standing by his 1974 Ford LTD. The creature had glowing red eyes.

Source: Mark Chorvinsky, Fate June 1990
---
Date: June 24 1988
Location: Redmond Washington
Time: 0200A
Summary: Four girls that had been at a slumber party reunion were looking out the window in the hope of finding a lost dog when they sighted a domed disc shaped craft hovering over the area. It had white and red lights and faint green lights around its rim. The object eventually descended down behind some tall evergreen trees and possibly into a clearing at the old Nike missile base. Some time later two of the girls noticed a shadowy figure on top of the stairs leading to the kitchen. They ran and hid in their sleeping bags. Later when they pulled their sleeping bags they saw a greenish humanoid face with red glowing eyes looking at them. One reported that it had pointy ears and bushy eyebrows. It suddenly faded away. Moments later the two girls saw some multicolored lights in the kitchen area.
Source: UFO Information Service
---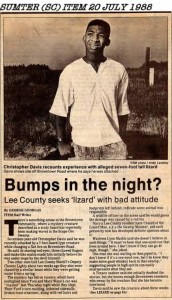 Date: June 29 1988
Location:  Scape Ore Swamp South Carolina
Time: 2 AM
Summary: He is described as 7 feet (2.1 m) tall, bipedal, and muscular, covered in dark hair with scaly lizard like skin on hands, feet and face.  It is said to be quite strong and may have a tail with six spikes. The first reported sighting was made by Christopher Davis, a 17 year old local, who said he encountered the creature while driving home from work at 2 AM on June 29, 1988.  The sheriff's department made several plaster casts of what appeared to be three-toed footprints which measured 14 inches (36 cm) in length.  South Carolina Marine Resources Department spokesperson Johnny Evans said the tracks neither matched, nor could be mistaken for, the footprints of any recorded animal.
Source:
---
Date:  June 30 1988: Chennai City Madras India Sighting
---
Date: June 30 1988
Location:  Roundhay Park Leeds England
Time: 2230
Summary: A man was walking through the park when he was suddenly confronted by a purple glow, he then felt lifted up from the ground, his body went numb, and he felt dizzy. Some human-like figures that appeared to have long hair approached the witness who then blacked out. He was found the next morning by a jogger in the park, that noticed a purple glow and went to investigate and found the witness unconscious on the ground. No other information.
Source: UFONS # 231
---
Date:  June 30 1988
Location:  Linden, CA
Time:  night
Summary:  I was about 7 or 8 years old visiting my brother in Linden, CA at his group home roughly around the summertime. i woke up to flashing lights and the dog barking at something, and i thought at the time it was like police lights outside, the bedroom, so i looked outside. i saw a cylinder shaped object in the front yard, with bright multicolored flashing lights and spinning around the top in a circle. it was hovering, close to the ground if i were to guess now probably 10 feet off of the ground, and i remember a strange buzzing noise. my brother was sleeping in the same room, so i tried to see if he was awake but he didn't wake up. time was very slow, almost like everything stopped, but i could still move. i saw a bright white light coming from the hallway, in the room my brothers group home mother slept in. the light was so bright almost like a big spot light almost blinding, and i thought i was dreaming, and being curious i walked over toward the door to see what the bright white light was down the hall. what i saw i will never forget ever in my lifetime. i saw a tall dark skinny almost human shaped body, figure come out of the room and stand by her doorway, it was not dressed it had no clothes, no genitals, it had dark charcoal grey skin, long fingers but it only had two or three fingers. the figure had a strangely large head, no hair, but the shape of the head was round with a point on the top. i remember the dark black eyes the most like black mirrors, that where teardrop shaped, they slanted up on the right and left side and they did not close, it also didn't have a nose, just 2 small slits below the eyes and a small mouth. i stood there trying to figure out what i was seeing and it stared at me. then i saw 2 more and they looked at each other, they didn't speak or make any noises at all, and then they started walking toward me, at first i froze, i was so scared, i panicked. is all i could think to do was to run, so i turned around and jumped on my bed, and put the covers over me and crawled into a ball, and closed my eyes, i was shaking so bad, i prayed that it was only a dream, and that they would not come. i don't remember anything after that. i also remember i wasn't scared at the site of the first alien it kept tilting its head while it was looking at me, i was trying to understand what i was seeing, and i was curious as we just stared at each other for about 1-2 minutes about 8 feet away from each other, i did have the urge to walk towards it but never did, something initially was comforting to me, i cannot explain that feeling. it seemed to somehow report to the others without talking that i was awake and that is when they came. i did get spooked when the other two of them came towards me, and i remember not feeling the same way about them, i felt an uncomfortableness with them. i remember feeling like time stopped or slowed in some way, and everything around was completely oblivious to what was happening around me. the part that i find odd was that the group home mother later had tumors, and deceased because of them. i always wondered if that was the cause, or if they were there to help her. i have only shared this story with 2 people, only because i don't know what to make of it. i usually questioned myself if it was just a dream, but i can remember everything, the feeling, the lights, slow movements, the encounter, the fear. i of course do not have any evidence also another reason for not really discussing it with anyone because i thought people would accuse me of making it up. 
Source:  MUFON
---
Date:  
Location:  
Time:  
Summary:  
Source:  
Related articles