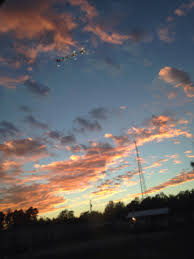 (Last Updated On: July 6, 2016)
Date: October 1988
Location: Tehachapi Mountains California
Time: 0200A
Summary: A couple that had driven to a plateau on the south side of the mountain saw a large flashing orb of light rise from the ground and fly slowly up into the sky. They then experienced two hours of missing time. Later under hypnosis the man recalled being taken into an underground facility that was occupied by "human" military personnel and short gray humanoids. The gray humanoids apparently examined his wife. No other information.
Source:  William Hamilton, "Alien Magic"
---
Date: October 1988
Location: Near Natchez, Mississippi
Time: 1700
Summary: The witness was riding his three-wheel ATC on a deer hunting expedition along the Mississippi River when the engine suddenly stalled. He then noticed two of his friends up ahead pointing at the sky, looking up he saw a huge object about 400 yards away moving in a westerly direction moving very slow. It emitted a powerful humming sound and it had red, white, amber, green and bright blue lights. There was also a long object attached to it that tapered at the end to a u-shaped fork. This fork moved up and down and had electricity arcing from tip to tip. He also saw numerous other antennas on other protruding objects on the saucer shaped object. On the upper middle section there seemed to be lots of windows with amber lights coming from inside. On several occasions he seemed to remember seeing a couple sets of large eyes looking down at him. He felt as though he received a telepathic message but could not remember its contents. It disappeared out of sight towards the west behind some trees.
Source:  Southwest Mississippi UFO sightings
---
Date:  October 1988
Location:  
Time:  
Summary:  
Source:  
Location. Stara Jarzabka, Poland
Date: October 1988
Time: 1900
A man observed a large cigar shaped metallic object, which had apparently landed on a field. A hatch opened and a ladder was lowered to the ground. A humanoid figure (not described) then appeared, stood briefly outside then craft, and then re-entered it. The hatch closed and the object flew away emitting a strange sound.
Source: Grupa Badan Nol, Poland
---
Date:  October 1988
Location:  
Time:  
Summary:  
Source:  
Location. Near Palmas, Brazil
Date: October 1988
Time: night
Jose Tadeu Alves was driving on his way to town when he saw a 6 meters long bright disc shaped object rapidly approaching in his direction. He stopped the vehicle as the object landed nearby. Four human like beings exited the object and invited Alves inside the object. He could not remember what happened inside the object since he apparently fell asleep once inside. Later he was returned back to the same location.
Source: GRESUPE
---
Date:  October 1988
Location:  Cheadle Cheshire England
Time:  night
Summary:  A girl sleeping on a bench in the ground of an old abandoned mansion woke up to see a strange dark form hovering in mid air directly above her. The witness was unable to move as a hand stretched out towards her from the hovering form. She suddenly regained her senses and ran away from the area without looking back. 
Source:  Jenny Randles, "Mind Monsters"
---
Date: October 1988: Karachi, Sind, Pakistan Five Or Six Boomerang Shaped UFOs
---
Date:  October 1988
Location:  Monterrey Mexico
Time:  2130
Summary:  Security guard Antonio Aguirre was standing duty in his guard shack at the local university when he noticed a strange fog forming about 30 meters away around the area of a nearby pond. Suddenly in that same location there was a sort of "whirlwind" From inside the whirlwind two figures emerged. These figures moved slowly around the pond. The figures appeared to be at least 2 meters in height from the witness vantage point, emitted a bright white being of light from the palms of their left hands. Aguirre decided to leave his post and go investigate the figures. He notified another guard via radio then headed towards the figures. As the two strangers noticed the witness they stopped and one stood on in front of the other and then walked towards the witness. As they came to about 10 meters away, the witness noticed that the beings were over 2 meters in height, maybe 2.30meters; they wore thick gloves, from which the beams of light seemed to originate. They wore very tight fitting black clothing. Strangely their facial features appeared to be obscured by a smoke like veil so were the legs. The frightened witness walked backwards to the guard gate never taking his eyes off the two humanoids. He watched as the humanoids walked back to the pond and disappeared back into the whirlwind, and then the whirlwind and fog disappeared.
Source:   Jeronimo Flores Cavazos
---
Date:  October 1988
Location:  
Time:  
Summary:  
Source:  
Location. New York City, New York
Date: October 1988
Time: late night
The witness was abducted from a friend's apartment. His memory of the event was virtually non-existent. The only indications that something had happened were a time lapse and some scratches, marks and bruises on his body. Later he was able to recall being taken onboard a craft. He was given a standard medical examination, and sperm was extracted. While in the "medical room", he saw other operations occurring. He observed one animal injected with a needle, which extracted fluid from the animal's body. He also saw a nude woman lying perfectly still on a table. She apparently had a large surgical incision down the center of her chest. Unable to move he watched several gray type aliens insert their hands inside the woman's chest cavity. He also noticed that the woman's leg were spread eagle with clamps around her ankles, and a long tube-like instrument was inserted in her vagina. He had the impression that the examination of the woman and the animal were all part of a related experiment involving reproduction. At one point the witness saw another gray humanoid approach the woman with a hand held object with a light on it. The humanoid pointed a laser-like beam of light at the incision on the chest and healed the cut.
Source: Preston Dennett, "UFO Healing"
---
Date:  October 1988
Location:  
Time:  
Summary:  
Source:  
Location. Cheadle, Cheshire England
Date: October 1988
Time: late night
A security guard patrolling the grounds of an old mansion was confronted by several small figures wearing black and green loose fitting uniforms, which quickly vanished as if they had melted into the night. No other information.
Source: Jenny Randles, "Mind Monsters"
---
Date:  October 1988
Location:  
Time:  
Summary:  
Source:  
Location. Illinois-Wisconsin Border
Date: October 1988
Time: 2300
The 15-year old witness and his father were on a hunting expedition in an isolated area and were following a blood trail of a deer they had shot. They were in the middle of a field walking towards the tree line when he noticed a purplish glowing craft in the air above the middle of the woods, moving slowly to the right. It quickly shot away from sight. Later while the witness slept in the back of the truck he woke up to find several large headed, large black eyed gray figures looking at him through the windows of the truck. The eyes felt piercing, as the figures surrounded the car. He tried to wake up his dad, but his father was soundly asleep. Something made him open the back of the truck to get out. His memory gets a little fuzzy here but he remembers the figures reaching out and touching his hands. There appeared to be short and tall figures around him. His next recollection was of waking up in the truck again.
Source: Mystical Universe website
---
Date:  October 1988
Location:  
Time:  
Summary:  
Source:  
Location. Marseille, France
Date: October 3 1988
Time: 0825A
Two witnesses walking along a path noticed up in the sky a flying human-like figure wearing a brilliant silvery outfit with flashes of red. It seemed to propel itself without any apparent or visible means. It rose up as if carried by the wind and vanished.
Source: Denys Breysse, Project Becassine
---
Date:  October 1988
Location:  
Time:  
Summary:  
Source:  
Location. Wood Village, Oregon
Date: October 20 1988
Time: unknown
A local artist, Michael Patterson saw an "aluminum-colored disk that was about 30 ft in diameter and was hovering 20 feet over his home." The craft never moved at more than three miles an hour and was surrounded by green and red flashing lights. Before it moved away Patterson was given a psychic (telepathic?) message. It told him not to be afraid. The object then left.
Source: Chris Bader, Strange Northwest
---
Date:  October 24 1988
Location:   Adelaide South Australia
Time:  night
Summary:  The witness woke up to see a group of short human-like beings standing at the foot of his bed. Three or four stood back while one approached. This being was short, with a large head and large glowing white eyes.
Source:  Keith Basterfield
---
Date:  October 28 1988
Location:  Pergamino Argentina
Time:  1230
Summary:  Four young men walking along a road suddenly sighted five or six little green men. The beings had no hair and only one eye each. Their hands had three fingers only. These beings walked in a strange fashion as if joined together in a block. The beings also made growling noises. Strange tracks were found at the scene.
Source:   Fabio Picasso, Strange Magazine # 9
---
Date:  October 1988
Location:  
Time:  
Summary:  
Source:  
Related articles