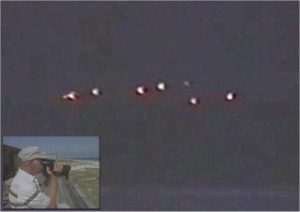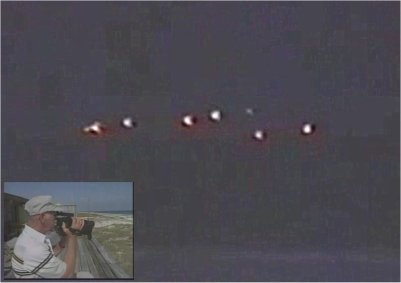 (Last Updated On: May 16, 2016)
Date:    Fall 1988
Location:  Hamilton Ontario Canada
Time:  2300
Summary:  A couple was walking home after having dinner at a friend's home when they saw a small light resembling a car headlight flying towards them. Both became extremely frightened and hid between two houses nearby. Next thing they knew they were sitting in their apartment, sitting straight up, facing the balcony door. Later they recalled that as they were hiding in between the two houses they ran towards a bridge near a small "village" resembling a German storybook village. They both saw standing next to the bridge railing a seven-foot tall dark human like figure that stood staring at them with an amused look. He seemed to have a very long face. Then they remembered running some more and then appearing back at the apartment.
Source:  Bonnie Wheeler, Cambridge UFO Research Ontario Canada
---
Date: Fall 1988: Couple Encountered Triangle UFO
---
Date:    September 1988
Location:  Ostamark Sweden
Time:  afternoon
Summary:  80-year old farmer Gottfried Johansson was harvesting a field when several human-like little men that blocked his path suddenly surrounded him. The police investigated the case and found out that a "UFO" had also been see over the area. No other information.
Source:  UFO CUN Europa
---
Date:    September 1988
Location:  
Time:  
Summary:  
Source:  
Location. L'Herault, France
Date: September 1988
Time: 1500
A tall very pretty fair woman who was accompanied by a tall male character wearing dark clothing confronted Mrs. Marilyn Hollinger. The two strangers drove a very large and beautiful "car", metallic gray in color that apparently did not make any noise when it drove away.
Source: Joel Mesnard
---
Date:    September 1988
Location:  
Time:  
Summary:  
Source:  
Location. Itacuruca Brazil
Date: September 2 1988
Time: nightfall
The witness noticed several small flickering lights in the woods near his house. He felt compelled to investigate, he then heard a sound like chirping grasshoppers and suddenly found himself surrounded by five little men that wore light beige uniforms with a thick vest and boots. All carried wand-like instruments that emitted lights from the tips. The beings were white skin with thin arms, dark green eyes and short ash blond hair. The apparent leader of the group took him very gently by the arm and led him to a nearby cave. The cave was large and had a brightly lit chamber and there was a long rectangular white stone on which he was made to lie. They apparently healed the witness from a wound on his leg caused by an accident a few days prior. He was also given some sweet fruit to eat. The witness finally left the cave and went home. He reportedly felt light headed and confused for the next several days.
Source: Irene Granchi, FSR Vol. 35 # 4
---
Date:    September 1988
Location:  
Time:  
Summary:  
Source:  
Location. Atoka Oklahoma
Date: September 4 1988
Time: 2300
In a farm area a woman reported seeing a lighted circular object on the ground, which she mistook at first to be a helicopter, but it was completely silent. Several undescribed "persons" appear to be coming in and out of the object. The police was notified and apparently officers saw the object also. No other information.
Source: UFONS unknown #
---
Date:    September 1988
Location:  
Time:  
Summary:  
Source:  
Location. Near Ilkley Moor England
Date: September 4 1988
Time: 2330
The witness had been hitchhiking in an isolated area and was standing next to a signpost by the roadway when he became aware of a white light that appeared and disappeared in pulses. As he stared at the light the road sign opposite went out, he then heard a rustling sound and turned to see the bushes shaking violently as if in a strong wind. Standing only a few feet away was a four-foot tall figure that resembled a goblin with long dangling arms. The frightened witness threw a lighted cigarette at the figure then ran onto the road and out onto traffic. The figure did not follow him.
Source: Steve Gerrard, Northern UFO news # 157
---
Date:    September 1988
Location:  
Time:  
Summary:  
Source:  
Location. Bridgend England
Date: September 10 1988
Time: 2100
A man and a woman were walking across a bridge over a motorway when they saw what appeared to be a star descending in a diagonal pattern. As it grew closer, they could see that it was semi-circular in profile and had windows with silhouettes of figures in them. It hovered motionless for about 7 to 8 minutes and was about 300 yards from them. One of the witnesses motioned to the craft to come closer but it shook from side to side three times as if to say "no." It then flew towards the horizon quickly disappearing from sight.
Source: NUFORC
---
Date:    September 15 1988
Location:  Brampton, Ontario 
Time:  
Summary:  I was in grade school (not sure what grade) between grade 4-7 and I was walking home for lunch. My route brought me through the park behind my house where the public schools yards were, I went to catholic school. As I was getting closer to my house I noticed these 3 objects hovering and moving slowly (in a row) coming from the south. They were low I would guess 50-100 ft from the ground. I couldn't figure out what they were. They were shaped like diamond and triangle put together, they were dark , they were completely silent. I went through a checklist in my head, helicopter-no, balloon- no, kite-no. They were moving too slow to be an airplane (besides looking nothing like an airplane). I looked at the other children in the school yard to see if they were also looking at the objects and they weren't. I watched as they passed over my head and drifted west over the roofs of the houses and I lost sight of them. I didn't feel scared or anything just curious. I remember thinking that I was just a kid and no one else was looking at them so there must be an explanation that I just didn't think of, but all these years later I still don't know what I saw. The other factor that made me dismiss what I saw was that they came from the direction of the airport which is less than 20-30 km south of us. Lately I have been recounting the experience in my mind and I just wonder if anyone else reported something like this around those years in brampton Canada or if you guys have an alternative explanation. Thanks

Source:  MUFON
---
Date:    September 22 1988
Location:  Walcha, NSW
Time:  1930
Summary:  Loss of power occurred to a car being driven by a man. This loss persisted for ten minutes then full power returned. Moments before the loss he had sighted a bright red/orange light directly ahead of the vehicle. On the return journey at the same spot the same thing occurred. During this second time though, the air temperature inside the car dropped from normal to chilly.
Source:  Bryan Dickeson & Moira McGhee
---
Date: September 28 1988
Location: Niva, Denmark
Time: 2330
Summary: On a rainy evening the witness was driving her car through the town of Niva when suddenly she saw in the headlights of the car two small olive-green beings, about 50-55 cm in height, in the gutter's grating where the water ran into. They both gestured with small arms to each other. Their heads were almost egg shaped, but very pointed towards the chin. She could not see any nose or mouth. The humanoids wore overalls, which were grooved, similar to plastic and covered them completely. She became unexplainably frightened and drove home quickly. She further described the beings as, heads "a little bit to large," wide shoulders, very slim hips, slim elbows and knees. The feet were pointed and the hands had only one "finger."
Source: SUFOI
---
Date:    September  1988
Location:  
Time:  
Summary:  
Source:  
Related articles